Published by Jeremy. Last Updated on March 27, 2020.
Disclaimers: Our site uses demographic data, email opt-ins, display advertising, and affiliate links. Please check out our Terms and Conditions for more information. Listed prices and attraction details may have changed since our visit and initial publication.
Not being able to travel is rough. We get it. There is nothing fun about being stuck at home with no plans for the future.
To help things out, we're publishing a virtual trip series where we share 15 of our favorite photos from a previous trip and share some of the backstories behind the images.
For our second entry, we're traveling to Asia to hit up South Korea, a country we explored for two weeks in 2019!
Virtual Tour of South Korea – 15 of Our Favorite South Korea Photos
Changdeokgung Palace Secret Garden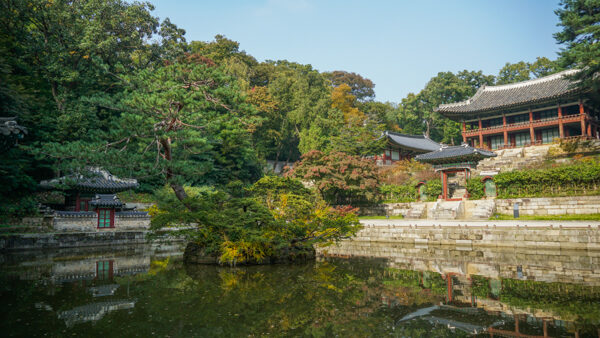 Changdeokgung Palace in Seoul was our first major stop after arriving in Korea, and part of our visit we took some time to explore the Secret Garden area alongside the temple. This area turned out to get a highlight as it had some stunning views with temples mixing in almost seamlessly with nature. One of the reasons why I love this shot is the lack of people in it, which was only achieved by the fact that we entered the garden on a timed admission and opted to skip the guided tour. This gave us a few minutes at this beautiful site almost alone before the masses showed up.
Inwangsan Hike Near Seoul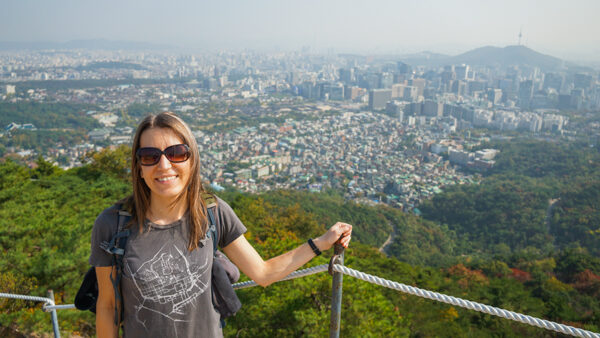 For our first hike in South Korea, we made our way out to Inwangsan, just outside of the city, for a multi-hour hike up and over the mountains. We opted to hike from the Changuimun Gate (northern side) to just outside of the Donuimun Gate which ended up being a great decision as descending from the mountaintop in this direction was much easier for us than those who were going up (even then, our hike was still fairly intense). In the middle, we were given some pretty stellar views of Seoul- smog and all.
Jogyesa Temple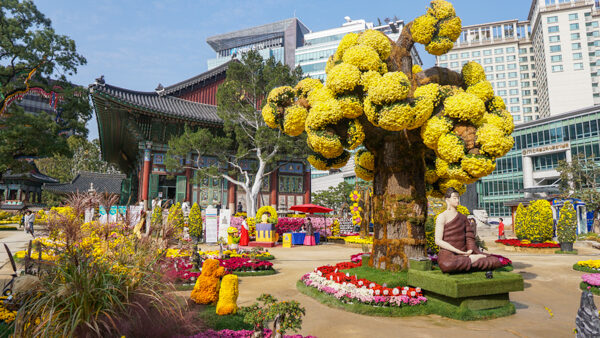 Jogyesa Temple stood out as being one of the most colorful temples we visited in Korea. This was because we visited during the annual Crysanthemum Festival which takes place mid-October to mid-November, where almost the entire temple grounds are covered with beautiful and vibrant flowers!
Seoul Lantern Festival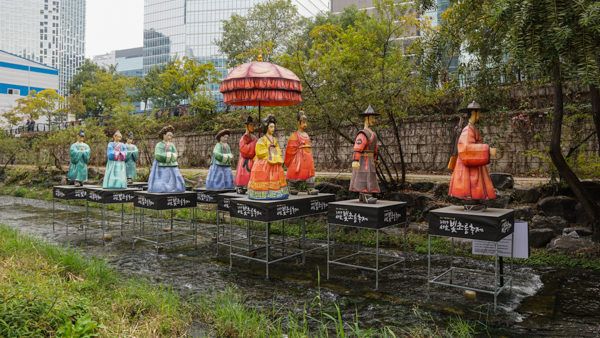 On our last night in Korea, we returned to Seoul for an overnight stay before our morning flight home. The timing of this worked out well as we were able to be in the city for the annual Seoul Lantern Festival– taking place during the first 17 days of November. This festival features dozens upon dozens of life-sized paper lanterns setup along Cheonggyecheon Stream, and is worth a visit both during the day and at night to see them all lit up. Just be prepared for the crowds!
Naejangsan National Park Near Jeonju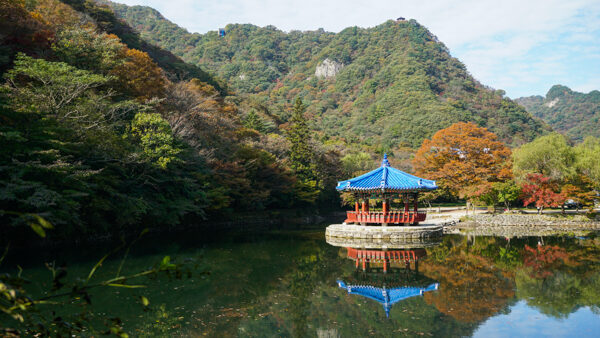 We timed our visit to South Korea to try and be in the country during optimum fall foliage, but sadly that ended up being a week or so later than most predictions suggested. Still, we decided to take a day trip from Jeonju to Naejangsan National Park to go hiking, and were really blown away by the serenity of the park. In fact, you could almost say that this one not being at peak was a good thing, as we later heard stories from friends about how the park becomes overwhelmed with visitors during peak colors.
A Perilous Hike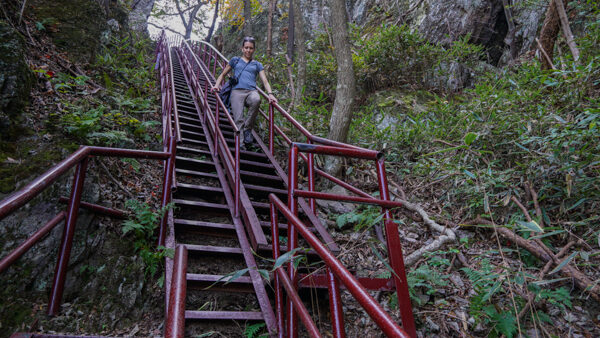 The reason why we were glad the park was not too crowded was that the hike between the various mountain tops was, in a word, perilous. The hike here is not as simple as walking across a ridge from peak to peak, but involved climbing up and down some rather steep (and sketchy) iron ladders. This photo doesn't do this one justice as the pitch on these left much to be desired. I can only imagine what this one would've been like if it was actually crowded.
Hiking the Peaks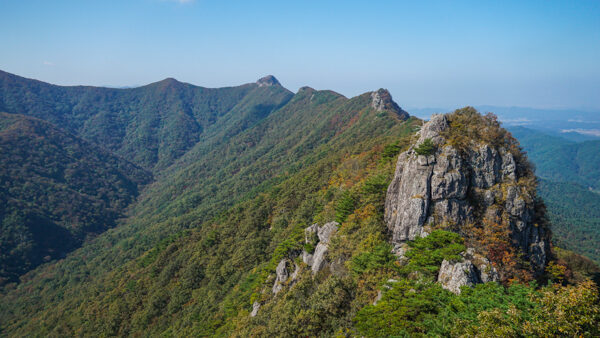 Still, the ladders were worth the effort as we were able to stand on top of mountains and look across this beautiful ridge. By the time we hit just a few of the peaks our legs were weary and we made the return trip down to the temples (and subsequently back to Jeonju). But for those who are really adventurous, the full-day hike across all eight (~11 km) would require a whole day and will be quite the workout. Considering our day trip was about 10 hours out-and-back from the city we'll take what we got all the same.
Haedong Yonggungsa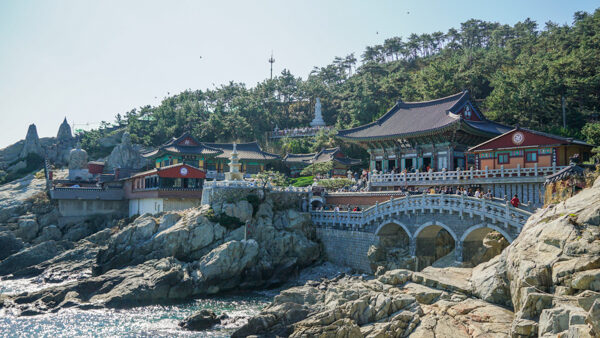 It is very much possible to get "templed out" in Korea. You'll be seeing dozens of these beautiful buildings all over the country. But even if you are at the point where you no longer want to see any temples, a trip to Haedong Yonggungsa outside of Busan is a must. The reason for this is because it is a seaside temple that is perched above a rocky coastline and has a really beautiful ambiance. But just expect the crowds at this one, when we went it was packed with people!
Korean Barbecue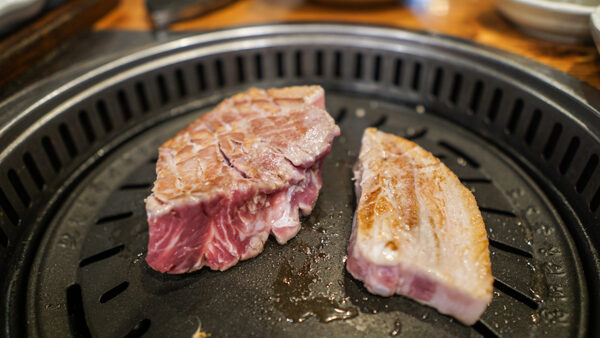 Out of all of the world's best food cultures, we think Korean food is at the very top. There are many reasons why we think this, but it mostly stems from the fact that there are tons of amazing Korean dishes to try and we simply never got sick of it at all. It isn't unreasonable to state that you could visit the country for two weeks and never eat the same thing twice, although if you find a favorite you'll do well ordering it a few times- like us with Korean barbecue. During our travels around the country we got to enjoy pork neck and belly barbecue five times and still wanted more. Expensive? Sure. Worth it? You know it!
Tumuli Park in Gyeongju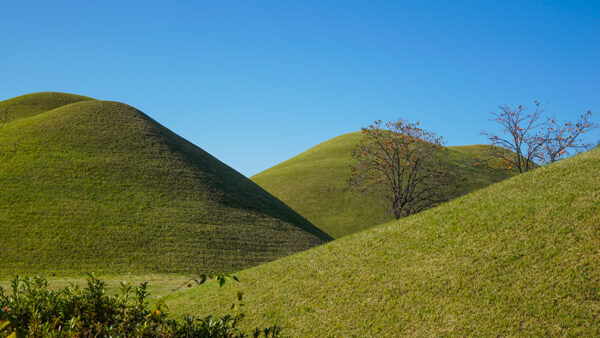 Gyeongju is a solid day trip from Busan and is known for being home to many remarkable temples scattered throughout the mountains. But the real highlight of our visit here was actually Tumuli Park. The reason for this is because the park is home to dozens upon dozens of burial mounds back well over 1,000 years and, thanks to their perfect grooming, offer a mesmerizing look in every direction as you walk through. While you can access some of these for free, the paid section of the park is worth a visit for more views as well as being able to go inside one excavated mound!
Climbing Up a Volcano Crater on Jeju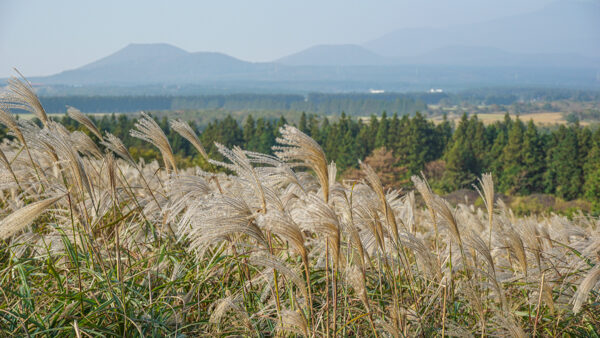 There are several volcano craters worth exploring on Jeju Island, and when you visit you'll get to enjoy some fairly amazing crater views like you would expect. However, at Sangumburi Crater, I was more impressed by the abundance of plant life growing on the slopes. In the morning light these had a beautiful glow about them and were worth the early wakeup!
Yeongsil Trail on Mount Hallasan, Jeju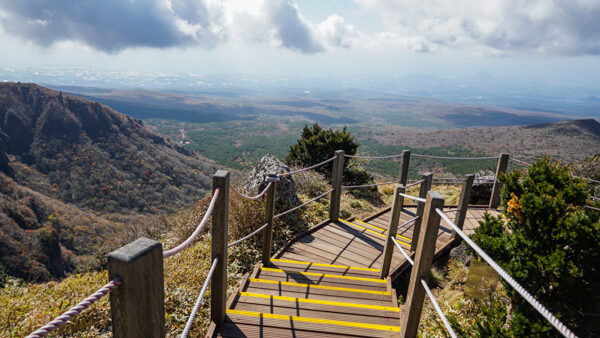 It is hard to miss Mount Hallasan on Jeju Island. It is the tallest mountain in Korea and can be seen from quite the distance on Jeju itself. Many visitors here like to summit this mountain; however, due to the length of hike required and parking logistics (which are especially bad during peak fall foliage- right around when we visited), we opted to the Yeongsil Trail. This was a five-hour out-and-back trail that took us quite close to the summit and offered some pretty commanding views of the horizon- sometimes even from above the clouds!
If you visit this one, just be prepared to go early. The park stops hikers at various checkpoints throughout the day to ensure they have enough time to make it down the mountain before dark.
Peanut Ice Cream on U-do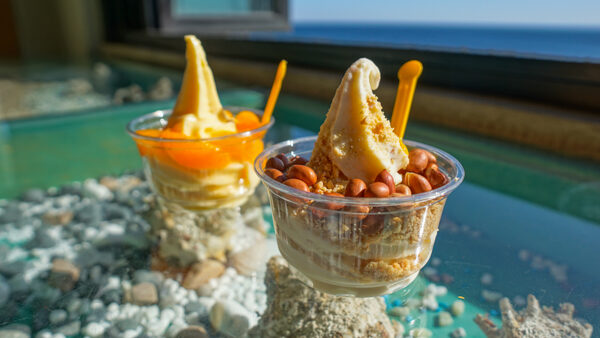 Just next door to Jeju is a smaller island, U-do, which is a popular day trip. Guests here can rent motorized bicycles and ride around the island in a few hours to check out the unique views. One of the specialties of U-do is rather surprising- peanuts! There are numerous ways to enjoy this one including straight up, in makgeolli, or as ice cream. If you are wanting the latter, you'll do well to stop at the famous ice cream store, Jimmy's, for his wonderful creation (plus Jeju mandarin orange too!).
Visitors to U-do will need to take your passport in order to board the ferry. Be mindful of the last ferry time to avoid getting stuck!
From the High Point on U-do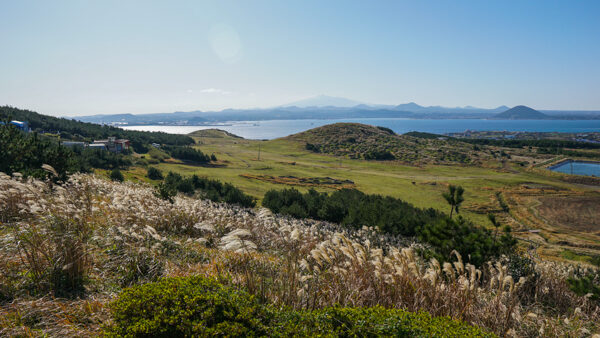 Much like on Jeju proper, we hiked up to the highest point on U-do which had some rather impressive views of the island itself but also Jeju Island in the distance. The trailhead for this one is reached just about 500 feet west of Jimmy's, at the intersection of Udohaen-gil and Yeongil-gil (if looking at Google Maps). Worth the extra 30-45 minute detour if you have time!
A Seafood Feast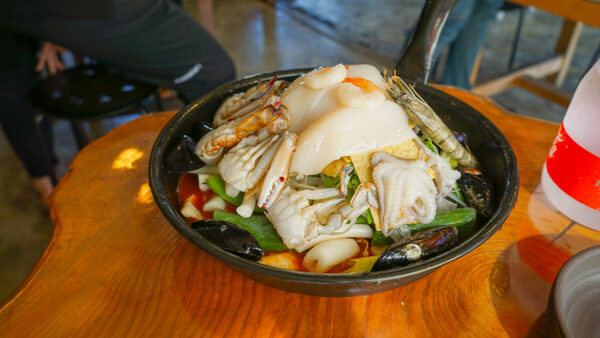 Finally, we end this photo series with one of our favorite meals in Korea- a seafood stew from 한치앞도모를바다 on Jeju Island. This one was a family-style feast that contained all manner of seafood including shrimp, crab, calamari, octopus, clams, mussel, and even abalone all in a spicy red broth with tteokbokki. This meal was so large that we barely could finish it between the two of us, but the biggest surprise came at the end of the meal with the bill. The price? Just $21. Call us impressed!
Do you have a favorite photo from this tour of South Korea? Comment below to share! Also be sure to check back soon for another virtual tour from around the world!
Check Out More Virtual Trips
About Jeremy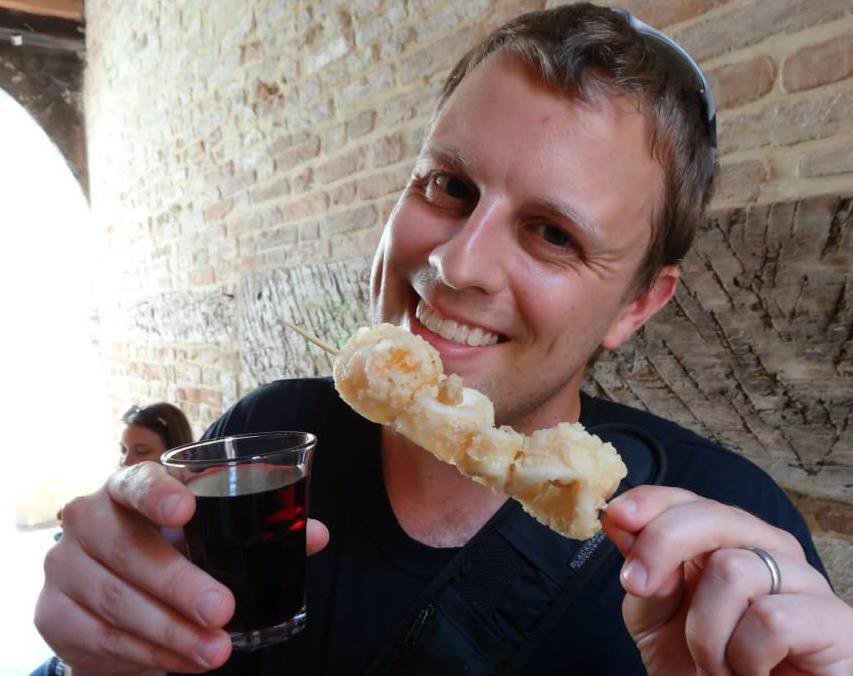 About the Author: Jeremy is a full-time travel writer based in Pittsburgh and primary author of this site. He has been to 70+ countries on five continents and seeks out new food, adventure activities, and off-the-beaten-path experiences wherever he travels.