Last Updated on November 4, 2019 by Jeremy
Disclaimers: Our site uses demographic data, email opt-ins, display advertising, and affiliate links. Please check out our Terms and Conditions for more information. Listed prices and attraction details may have changed since our visit and initial publication.
Naejangsan National Park is one of the gems of South Korea and is a 76,000 square kilometer park located less than two hours south of Jeonju.
We decided to take a day trip from Jeonju to Naejangsan National Park to hike through the park's famed fall foliage. While we arrived a bit too early for peak colors, we still had a pretty amazing day out in the park all the same!
What You Can See at Naejangsan National Park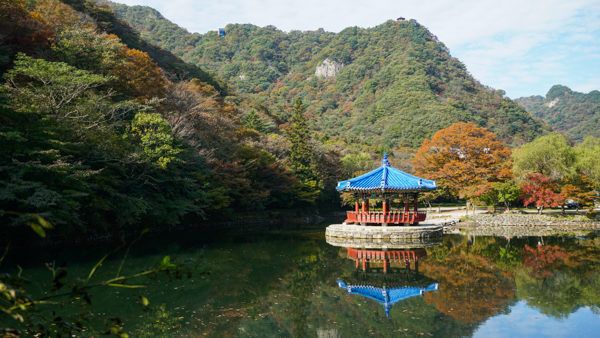 Naejangsan National Park is famous for several things- Baekyangsa and Naejangsa Temples, Uhwajeong Pavilion, a cable car, and numerous mountain peaks- all specifically in late October and early November for fall foliage thanks to the natural beauty and abundance of gingko and maple trees.
Most of the sights are easily accessible in the park, making this one a destination hotspot for those who simply want to see temples or ride the cable car as well as hike. As such, it is quite popular (and during peak foliage is known to be shoulder-to-shoulder with long waits for cable car rides).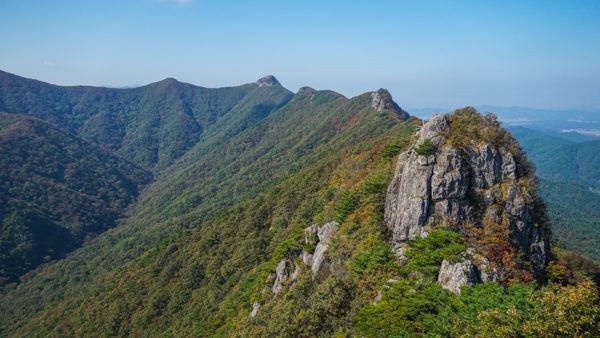 For those who visit this park to hike, you'll thin out from the crowd a fair bit (again, outside of peak foliage, at least) and get stunning views of the mountain range, the nearby lake, and so much more- and that is exactly what we did!
Hiking at Naejangsan National Park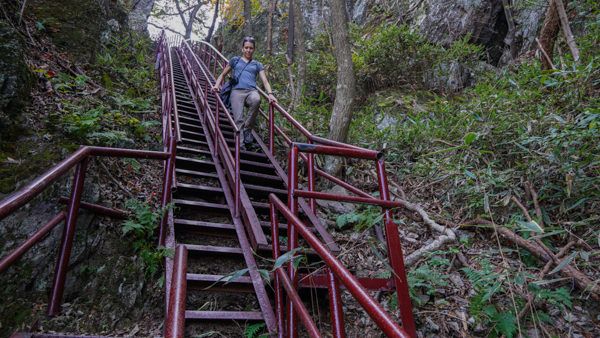 For those who want to hike into the mountains at Naejangsan National Park, we think it is quite worth it- but you have a few considerations to keep in mind.
The park itself consists of eight peaks with a ~11km ridge trail that connects them all together. While you could make a rather large day of it and tackle the entire trail, the intensity of this hike puts most visitors into one of two categories.
The first is for those who hike up to a peak and return down on the same path you took in. Many of the peaks have access trails to do this, and an up-and-down hike will likely take anywhere from 90 minutes to three hours depending on the peak and your hiking abilities. Apart from a ton of steps, the two peaks we hiked were not too crazy at these sections.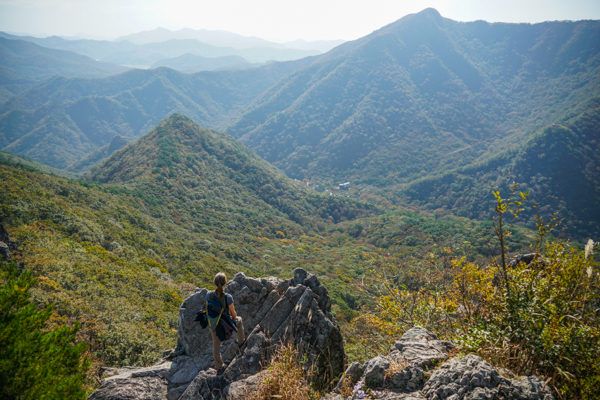 The second is for those who want to hike between peaks via the ridge trail. We hiked between Seoraebong to Bulchulbong which was just a kilometer or so but added on nearly two hours of somewhat extreme hiking that wrecked our legs (they really felt like jelly by the end). The reason for this is because the connecting trail is full of steep and narrow metal staircases that are precariously attached to the side of the mountain (plus a few more segments of rocky hiking).
Hikers going between the ridges will get to enjoy many up-and-down climbs on these stairs, and over the span of about two hours between the two ensured we did not want to go much further after the already four-hour hike.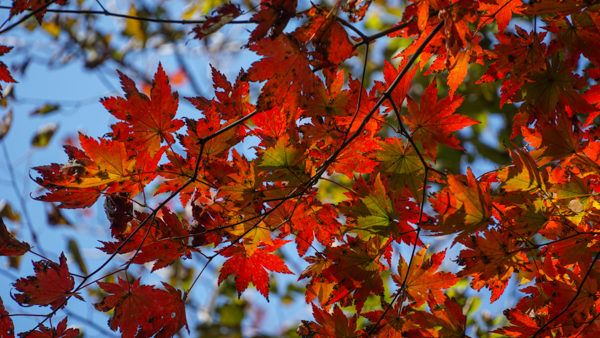 So while I cannot say if the connection points between the other peaks are as intense as the section between Seoraebong to Bulchulbong, my best speculation is yes- odds are good if you want to tackle the entire 11 km ridge you are looking at a 7+ hour hike in total if not more.
For those who may want to do more, most peaks have trails that take you back down to the temple so you could likely bail at your own discretion, which is something we quite liked about this park. From where we were my best guess would be that the next peak would be another hour, but judging by the state of our legs it likely could've been much longer.
One final note about hiking is that Naejangsan National Park gets quite busy during peak fall foliage. While we timed our visit to try and hit this, we actually got there on a weekday on pre-peak due to a slight delay in the color change for the year. Hiking up on the ridge was relatively empty at this time, but we're told that during peak color it can be fairly intense due to the large number of people. As such, if you visit during peak leaves I would recommend planning for extra time to account for any delays up in the mountains.
How to Get to Naejangsan National Park from Jeonju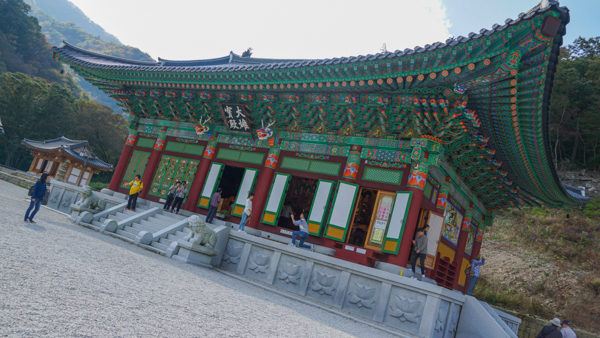 We decided to visit Naejangsan National Park from Jeonju, and despite being about 50 km away we thought it was rather easy for those wanting to visit by either train or bus.
While trains are relatively frequent, the best way to reach the park, in our opinion, is to instead take a bus from Jeonju to Jeongeup. This bus takes about an hour and leaves quite often from each respective bus station (I believe every 15-20 minutes during the day). As Jeongeup is still a bit far from Naejangsan National Park, you can then take a local bus (information available in Kakao Map app) or a taxi straight to the park. A taxi takes about 25 minutes whereas the bus takes closer to an hour, meaning the taxi splurge could be worth the additional money.
During our visit to the park in late 2019 bus tickets were about 5,000 won per person and a taxi was 15,000 each way- or about $40 for all transit round-trip for two. This could be significantly cheaper for those who catch the bus from Jeongeup as well; however, the extra ~$20 for a taxi was worth it for us to save about an hour of travel time.
Most cars drop you off near the entrance of the park which requires a short walk to get to the gate. From there, you can either pay for a shuttle bus (1,000 won during our visit) to take you to near the temple or walk the ~1 km path. We walked going in to enjoy the fall colors and took the shuttle on the way out.
Overall, our day trip to Naejangsan National Park from Jeonju was a pretty epic outing. In the end, it took us over 10 hours to get to the park, hike for over four hours, explore the temples, and return, and the changing fall colors made for a pretty wonderful ambiance. While we are sad that we missed peak colors, we are a bit relieved to miss the crowds all the same.
Don't miss this one when visiting Korea, especially in the fall!
Looking to visit Naejangsan National Park from Seoul or Busan? Check out day trip options from Viator by clicking the respective city names at the previous links!
About Jeremy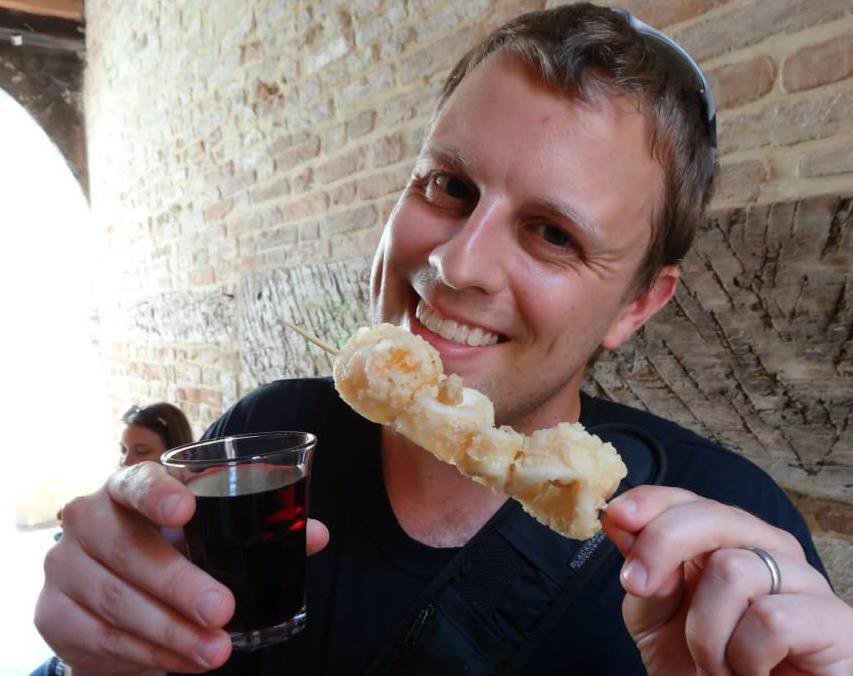 About the Author: Jeremy is a full-time travel writer based in Pittsburgh and primary author of this site. He has been to 70+ countries on five continents and seeks out new food, adventure activities, and off-the-beaten-path experiences wherever he travels.