Published by Jeremy. Last Updated on July 29, 2020.
Disclaimers: Our site uses demographic data, email opt-ins, display advertising, and affiliate links. Please check out our Terms and Conditions for more information. Listed prices and attraction details may have changed since our visit and initial publication.
One of the top things to do in Jeju is most certainly hiking in Mount Hallasan National Park.
This mountain is actually a shield volcano and is the tallest mountain in South Korea (at just under 7,000 feet), and the national park covers just about 8% of the island itself- truly making for a great space to get out and enjoy nature!
One of the most popular hikes on Mount Hallason is summiting the peak itself. But after having read about its intensity and how it often takes 8-10 hours, we decided to hit the Yeongsil Trail instead which was a much more approachable 4-5 hour hike. Coupled with peak fall colors, we made our way out to the park to enjoy Jeju's beauty.
What You Can See on Mount Hallasan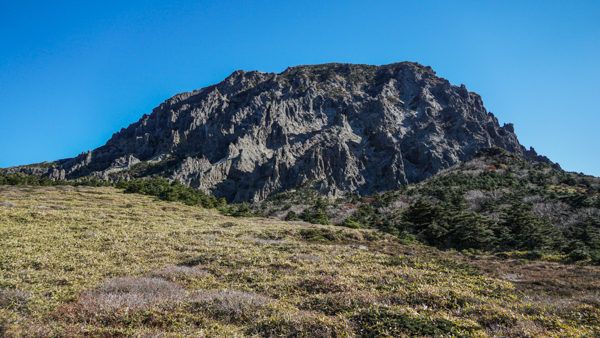 Mount Hallasan is a stunning mountain right in the center of Jeju Island, and getting out on the Yeongsil Trail is a great way to see the beautiful nature found in the park.
The trail itself covers some pretty solid elevation gain (about 2,000 feet), allowing for you to hike through sections that are heavily forested, areas where the trees and shrubs reduce in both height and density, and an area that is more like a rocky plain near the peak with some stellar views overlooking all of Jeju Island.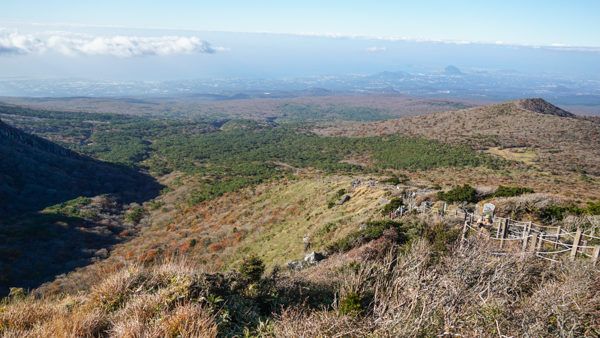 The latter was our favorite part, and we were lucky to have an unseasonally clear day that allowed us to see out all the way to the sea in some spots. So while you can't technically summit Mount Hallasan on this trail, getting close coupled with these epic views more than makes up for it.
As the day went on more clouds rolled in, and we also enjoyed a great vantage point above the clouds for our return hike to the car park. Definitely a cool experience!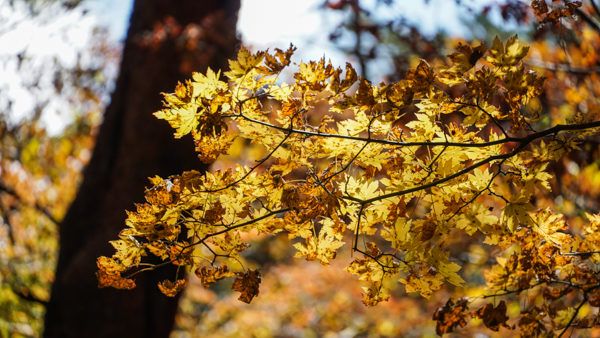 For visitors to Jeju during peak fall colors (often around the last few days of October or the first few days of November), Mount Hallasan National Park is a great place to chase the leaves as the lower section of the Yeongsil Trail is full of many vibrant colors to enjoy.
We arrived at the park at what was projected to be peak, and found that the most vibrant colors were at the lower section of the trail (and more on the drive leading up to it, if we are to be honest). Very shortly thereafter the treeline returned to green, and then the larger trees disappeared almost completely at the higher elevations.
As such, you may find that the colors here only appear in a very narrow band depending on what elevation is at peak at any given time.
Hiking Tips for the Yeongsil Trail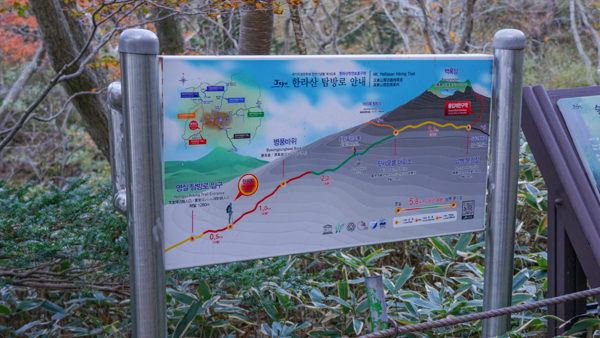 For those who hike the Yeongsil Trail, it is worth noting that it is a fairly consistent hike up. You will have a nearly 2,000 feet elevation gain in the span of five miles, with a good chunk of that occurring in the first section.
The maps for the trail (which are posted every half kilometer or so) break up the hike into multiple sections, including a roughly one-mile hike from the entrance to just beyond Byeongpungbawi Rock, a mile and a half section to the Witseoreum Shelter, and a mile and a half section to Nambyeok Junction. It is worth talking about each on their own as the hiking varies a fair between the sections.
(The trail also continues on in a different direction from the shelter and also past the junction, but we're going to focus on this stretch in this guide as it is what we hiked.)
The section between the entrance and Byeongpungbawi Rock is among the most intense in elevation gain and is color-coded red on the park map accordingly. Hiking here starts with a small path on mostly rocks and dirt but quickly changes over to a fairly well-maintained staircase for the ascend. The rocky parts do require some careful footing at times but are pretty easy to manage overall (although if you can get hiking poles, they are a huge help at times).
The volume of people in this section makes it more difficult than anything else.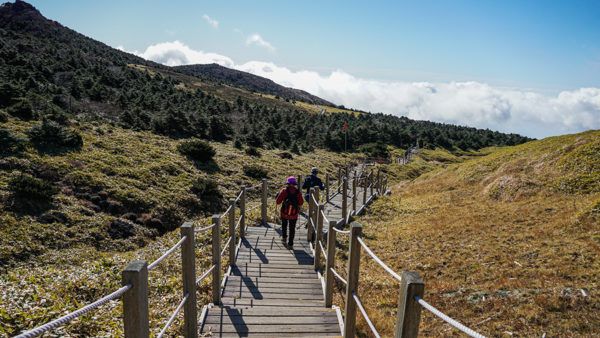 The next section that leads to the Witseoreum Shelter is much flatter and is also a mix of wooden walkways and rocky paths. Hiking-wise it was a nice reprieve from the first stretch as the elevation change is minimal and the crowds thin out considerably. It is worth noting that the map said there was a drinking water fill station here, but we never saw it.
By the end of the first two stretches (about 90 minutes for us), we were feeling pretty good and decided to continue on to the Nambyeok Junction a further mile and a half down the trail. This one had more upward and downward elements with a mix of wooden paths and rocky segments. Much like the second section, this one wasn't too bad, but the mix of up and down on our weary legs started to be felt a bit more.
By the time we got to the junction and turned around, we realized we were probably the first people to make it out during the day- which is a testament to just how much the crowds thin out as you go on. It was just us and the most avid hikers.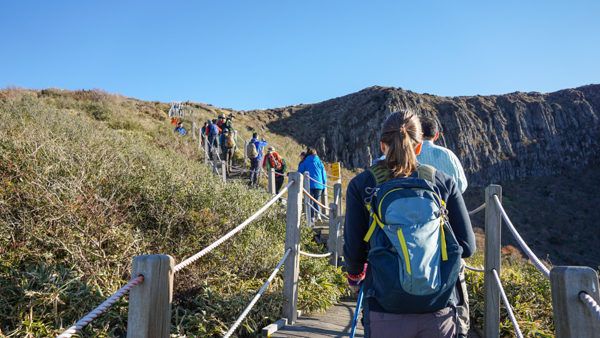 While all the hiking on this trail can be considered to be quite easy, what makes it hard is that you then have to turn around and do it all in reverse! This a toll on us quite considerably as we definitely felt the 2 1/2 hours up in our 2-hour hike down. By the end, our legs were quite jelly and the massive influx of hikers in the first section of the trail made navigating at times a bit challenging.
So the biggest considerations at this one are the elevation changes and volumes of people over trail conditions at large, which is most certainly more noticeable on your return trip than the initial ascent (if you arrive early for the crowd aspect, at least).
It is also worth noting that many parks in South Korea are quite safety-focused and have strict limits in place on when hikers can go out onto the trails. The Yeongsil Trail is said to not allow hikers out onto the trails at all past about 12 or 1 pm, and there is a second section (between the Witseoreum Shelter to Nambyeok Junction stretch) that is said to close access after about 2 pm.
I am speaking in generalities on this one as we've seen conflicting reports on the times (they can also vary seasonally), and we were finished with our hike before any cutoffs were enforced so we do not have first-hand insight. But we did see the signs that are put off to note trail closures for arriving too late in the day, so it is something worth considering all the same. You do not want to start your hikes late in Korea!
Parking for the Yeongsil Trail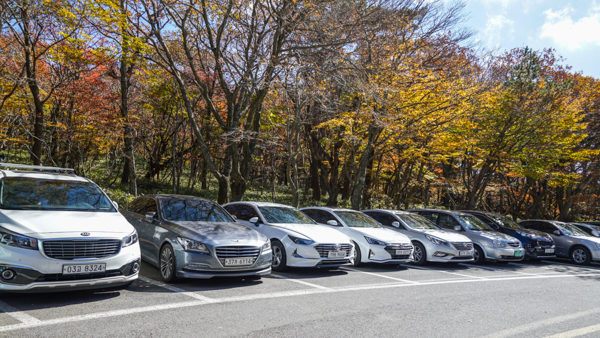 In most hiking guides we do not include a section about parking (often its quite easy), but for the Yeongsil Trail we think it is important enough to call out in greater detail.
The parking area is clearly found on the Kakao Map app (note Google Maps doesn't work in Korea for drivers) and is located off of the 1139 a few kilometers up the mountain. The bus drops visitors off towards the start of this road and would be a fairly long walk in just to start the hike. As such, visiting with a car is recommended as you can drive up all the way to the trailhead- if you get in early at least.
We say this with the last caveat because there are two parking areas at this section of the mountain, and a long, winding road that connects the two that is often used for overflow parking as well. The lower parking area is where you pay to enter (a few thousand won) and the higher parking area is right next to the trailhead. Both are quite small and fill up fast.
We arrived shortly before 9 am and were one of the first cars to park in the lot. By the time we left the pay station was limiting the number of cars going into the park as all of the parking spaces were full. This led to a long line of cars down the mountain, and a pretty good walk for those who want to access the trail from that point.
I would note that we visited during the fall, where we would expect traffic to be especially bad due to fall colors (it was), but as Jeju Island receives 20,000,000+ visitors per year I would like to believe that this one is busy more or less year-round when there is good weather. So, do yourself a favor and get to this one as soon as possible. You won't regret that decision.
Overall, our hike at Mount Hallasan was one of our most memorable of all our hikes in Korea (even moreso than hiking at Naejangsan National Park outside of Jeonju a few days earlier). If you can allow for half a day to hike this mountain and get lucky with the weather, we highly recommend it!
Looking to take a day trip while exploring Jeju? Check out the tour options from Viator to get out and explore the island!
About Jeremy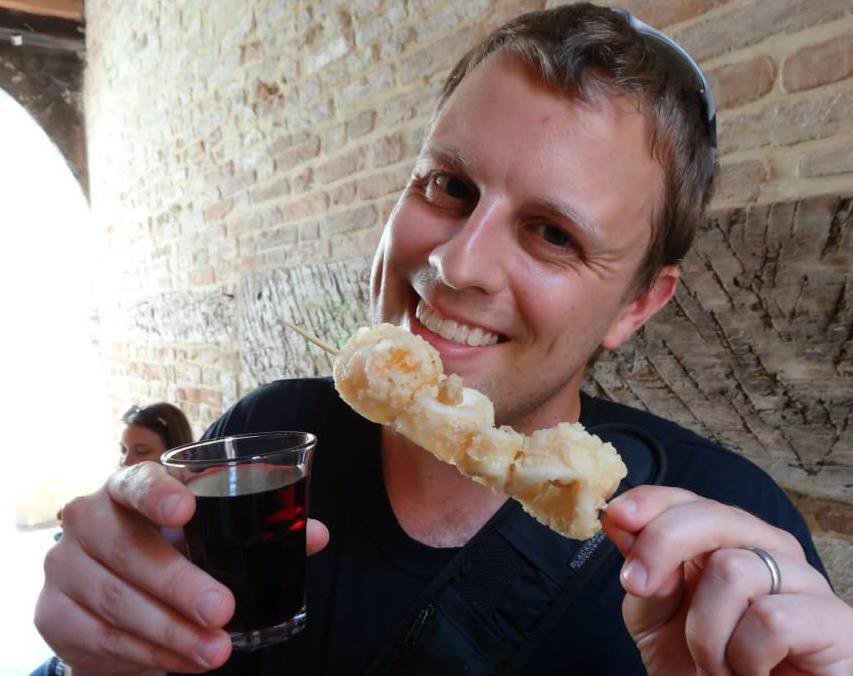 About the Author: Jeremy is a full-time travel writer based in Pittsburgh and primary author of this site. He has been to 70+ countries on five continents and seeks out new food, adventure activities, and off-the-beaten-path experiences wherever he travels.