Published by Jeremy. Last Updated on January 30, 2020.
Disclaimers: Our site uses demographic data, email opt-ins, display advertising, and affiliate links. Please check out our Terms and Conditions for more information. Listed prices and attraction details may have changed since our visit and initial publication.
Jeju Island is often called the Hawaii of South Korea and is one of the most popular vacation spots for both visitors and locals alike.
In fact, Jeju is so popular that the flight between Seoul and the island is considered to be the busiest flight in the world with over 80,000 annual flights (that's 200+ per day) servicing over 20,000,000 annual visitors. This is a pretty insane figure, but it only really hits home when you see the departures board in the airport- almost every one of them is to Jeju!
Naturally, we had to go and hit it pretty hard during our five-day visit. While there are a lot of spots we checked out, we settled on the following as the ten best things to do in Jeju!
1. Hike Mount Hallasan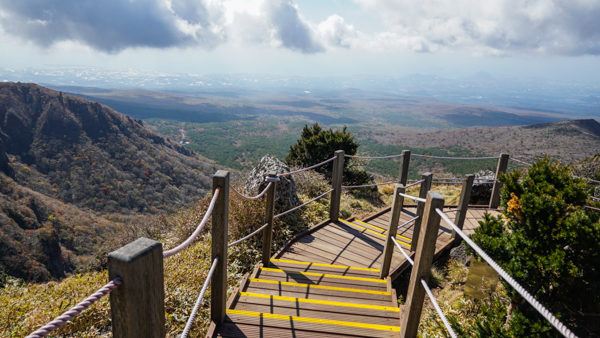 It is hard to visit Jeju without noticing Mount Hallasan. This volcano is the highest mountain on the island (and South Korea as a whole) and on a clear day is visible from just about everywhere. Naturally, you must go hike on it!
There are a number of trails on Mount Hallasan including a summit trail and others that go around the mountain. As summitting is a bit time-intensive and also rather strenuous on its own, we decided to do the much more manageable Yeongsil Trail. This five-hour hike had some pretty significant elevation gains and looks out over the beauty of Jeju Island from above the clouds throughout most of the route.
When hiking in Jeju, keep in mind that most of the parks have strict time limits on when you can enter to lower the risk of being out on the trails too late in the day. This happens at the gate and at various check-points as you go. As such, getting in early is highly recommended (also to grab a coveted parking spot as these trails are popular!).
2. Visit the Seogwipo Market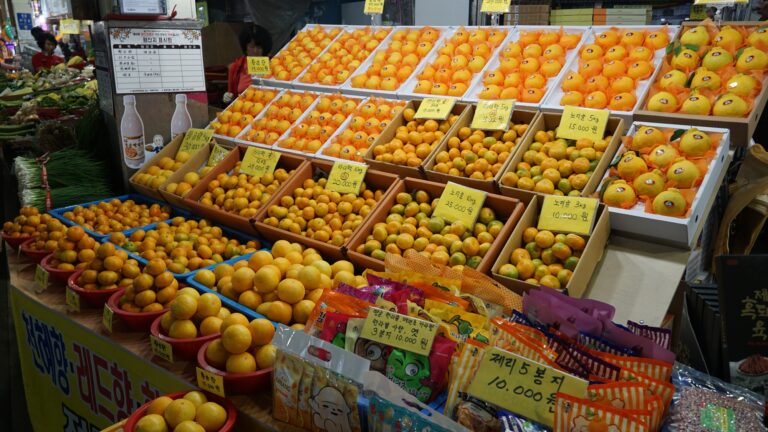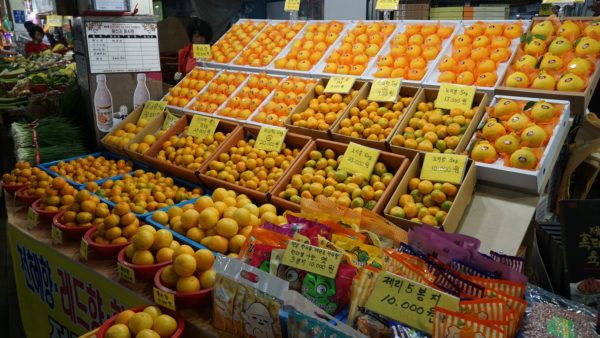 South Korean markets are no joke, and on Jeju Island the Seogwipo Market was one of our favorites. While not a mega-complex like some of the markets of Seoul or Busan, the Seogwipo Market covers many city blocks and is home to street food vendors, restaurants, and shops that sell some of the island's many famous products.
When visiting this one, do yourself a favor and get some hallabong- a mandarin orange that the island is famous for. The vendors are everywhere and sell it both fresh, as packaged candies and pastries, and even as flavored makgeolli (rice wine)!
3. Walk Through the Lava Tubes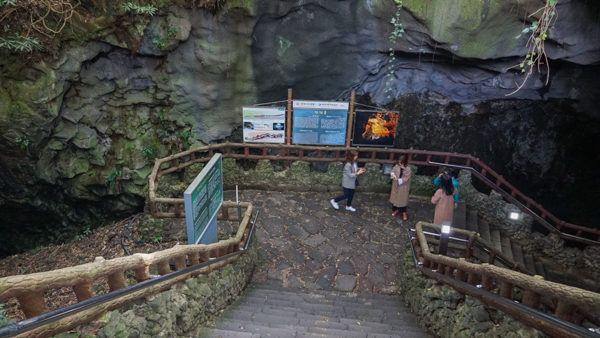 In being a volcanic island, it isn't surprising to find out that Jeju is home to some lava tubes that you can explore.
Manjanggul Cave is home to what is considered to be the longest lava tube in Asia (~8 miles) and has a roughly one-mile section that is open for visitors to explore. Some sections of the lava tube are quite large (over 20 feet tall), and the end of the walking path is home to the world's largest known lava column at just about 25 feet tall!
When visiting this one keep in mind that the floor is uneven, wet, and the lighting is quite dark. There is limited infrastructure in place inside the lava tube so if you are hesitant on walking on uneven surfaces this one may be worth skipping.
4. Dine on Seafood (including Abalone)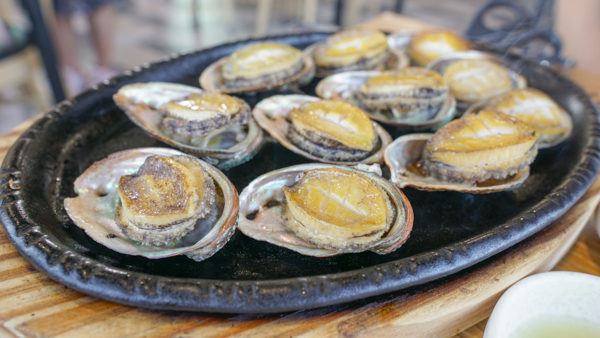 Jeju is known as a tourist hotspot, but fishing and fisheries are also one of the island's biggest industries. So it is no surprise that you can get some pretty incredible seafood while there.
While you can get just about every kind of seafood imaginable on the island, a local specialty that is hard to find elsewhere is abalone. This mollusk is reminiscent of a mussel or clam but is large enough that the meat is the size of a large scallop. As meat from these can go for well over $100/lb elsewhere in the world, getting a feast of them right from the source is a real treat!
Looking for great seafood restaurants on Jeju? Check out 한치앞도모를바다 on the western side of the island for an incredible seafood stew or 명진전복 on the eastern side for an abalone feast (it is literally all they serve!). These were two of our most memorable meals in not only Jeju but all of Korea.
5. See the Free Diving Women (Plus Museum)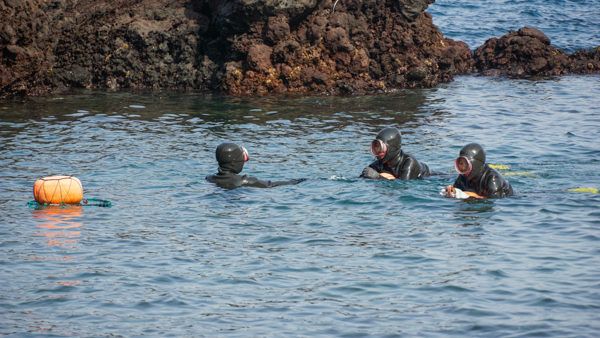 Since fishing is such a big industry in Jeju, it is not surprising that many people find work in this field to make a living. On the historical side of things, Jeju is famous for the Haenyeo- the free diving fishing women.
The practice of diving for seafood dates back centuries in South Korea, and at some point became a female-led industry that it is known for today. These women are known to be able to hold their breath for quite some time as they go out and search for octopi, abalone, and more seafood off of the coast.
Today the numbers of Haenyeo are declining (partly due to industrialization of the fishing industry), and the history of the freediving women is preserved in a local museum and a daily demonstration by the remaining practitioners in a cove near Seongsan Ilchulbong (sunrise peak). We recommend doing both to get a full picture of this historic profession- although we'll admit the demonstration is a bit simplistic!
6. Eat Jeju Black Pork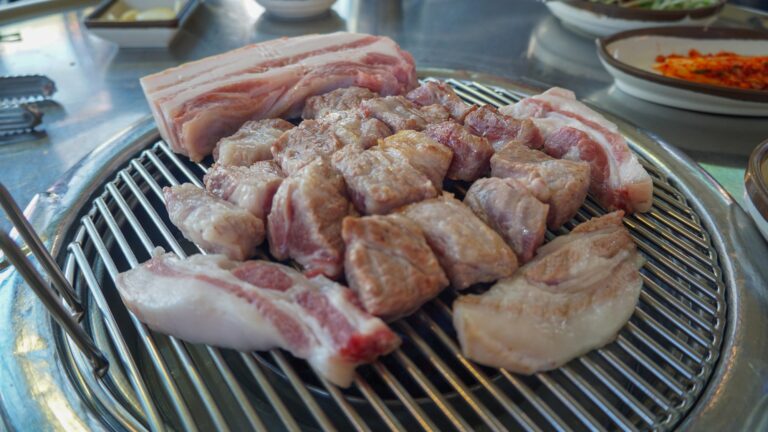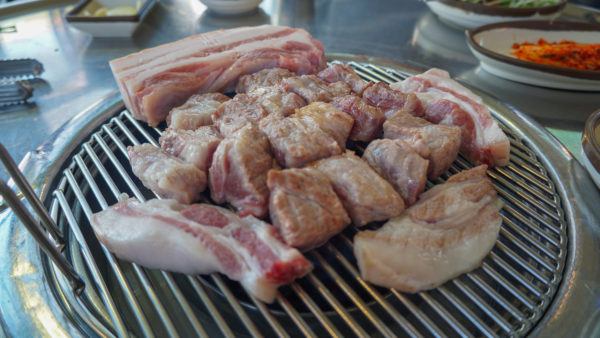 Korean barbecue is one of the best food experiences we had in the entire country (which is really saying something), and some of the best pork for this one comes from the island of Jeju.
These pigs, known for the color of their skin and hair, are smaller than most pigs and produce marbled meat that is more like a steak than pork. It all comes together for a wonderful fatty texture and some rather unreal flavors as far as pork is concerned.
Just be aware that this one is a fair bit more expensive than barbecue on the mainland, but is worth the experience of you love Korean barbecue as much as we do.
7. Check Out Jeju's Waterfalls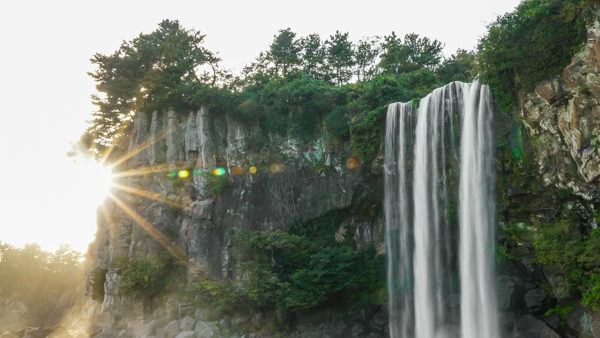 The waterfalls on Jeju Island are pretty stunning natural wonders, and two of them are located quite close to each other just outside of Seogwipo town on the southern side of the island.
Cheonjiyeon and Jeonbang waterfalls are two 70+ foot tall waterfalls that are quite easily accessible within a short walk and staircase from the parking area respectively. While simply gorgeous falls on their own right, Jeonbang is an interesting one because it is the only waterfall in Asia that empties directly into the sea!
If you are on a budget and want to limit your paid entries on the island (almost everything costs a few thousand won), these are your best bet as other spots, like the rock pillars at Daepo Jusangjeolli, are less than impressive.
8. Take a Stroll on an Olle Trail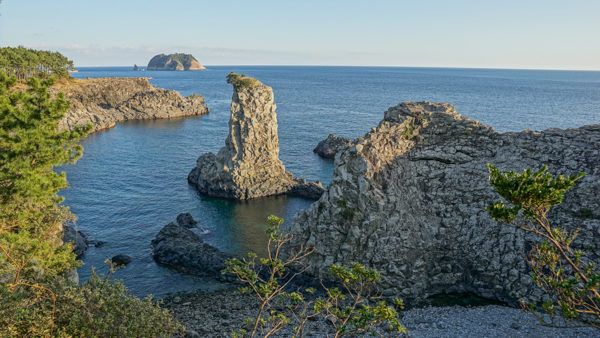 The Olle Trials on Jeju Island are interesting because they are 21 connected walking paths that quite literally wrap around the circumference of the island.
As the total trail length is roughly 260 miles, odds are good you're not going to hit them all on a single visit. In fact, you may not even finish any given one considering their length!
We really appreciated just stopping on these trails, walking a bit in any direction, and taking in the views over picking any strategic spot for further explorations (partly due to our time limits), but you can really dig deep and find some hidden gems in this one in the Olle Trail guides!
9. Climb Up Sunrise Peak (Seongsan Ilchulbong)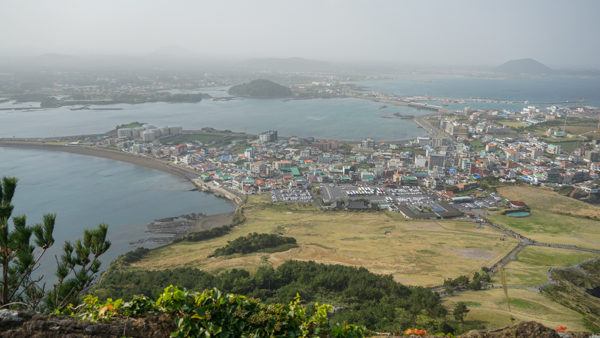 The cone crater known as Seongsan Ilchulbong is often referred to as sunrise peak as it is one of the most popular spots on the island for watching the sunrise.
We did not wake up early enough to check this one out for sunrise (partly because we were staying over an hour away), but we did ascend this volcano after watching the free diving women demonstration in the lagoon at the base of the mountain.
This peak is incredibly popular for hiking and is quite full of visitors at any given time. But the well-developed infrastructure (namely stairs) makes this one a great spot for climbing for stellar views for anyone who is hit enough to tackle the 600-foot climb.
During our visit to Jeju, the island had a lot of haze in the middle of the day. So if you notice this during your visit we would recommend summiting this one earlier rather than later- although this is often hard to time around the afternoon demonstrations for the divers.
10. Day Trip to Udo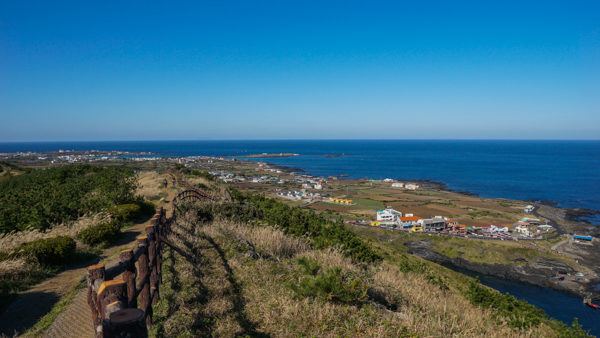 Our last thing to do on Jeju Island is actually a recommendation to leave. Really!
But you're not going far to this one as the island of Udo (or U-do) is a short ~10-minute ferry ride away. This island is just over two square miles in size and is a popular spot for biking (e-bikes), checking out the spectacular scenery (including a few absolutely gorgeous beaches), and sampling the island's culinary specialty- peanuts! (Go for Jimmy's famous peanut ice cream.)
A fairly inexpensive electric bike trip around the island takes just a few hours at most and is pretty safe for you to stop, leave your bike, and explore wherever you please. Just keep in mind that passports are required to buy ferry tickets for visitors, and the last ferry of the day is somewhat early (~5 pm but changes with the seasons).
Bonus – Go to a Tourist Trap Museum on Jeju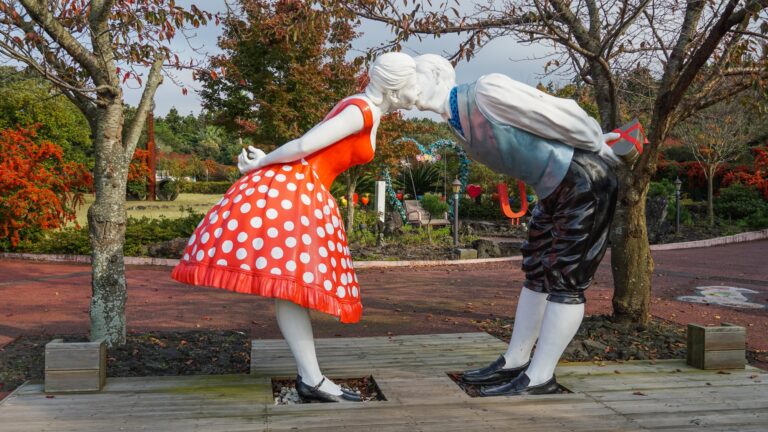 There is one final Jeju attraction we would like to highlight, and that the museum scene as a collective. Why? Well, because they appear to be tourist traps!
While we would not consider the museums on Jeju to be a top 10 or must-see by any means, it is worth noting that the island offers some rather impressive tax incentives for anyone looking to open a museum. As such, there is a museum for more or less every topic you could think of (over 100 by some reports)!
There is a tea museum (a glorified store but with some admittedly stellar products), a museum to international liquor, chocolate museums, several teddy bear museums, a glass museum with the world's largest glass ball, and multiple sex museums to name a few.
While we made our way to Love Land for some giggles at some very X-Rated statues (also to kill some time before we could get into our Airbnb), we also found it was the most expensive entry fee out of any spot we visited on the island and was completely kitschy with its over-the-top statues and shops.
As such, if you have a bit of extra time to kill and can find a museum to match your favorite interest, making a detour to visit it could be a good idea. Just don't expect much if our experience at Love Land is any indication. A tourist trap is a tourist trap, but you still have to do at least one for the novelty.
Overall, there are a number of amazing things to do on Jeju Island in South Korea. While the above list is most certainly not comprehensive, it does give a great cross-section into many of the top attractions and is perfect to tackle with four to five days on the island. If you do them all, we guarantee you'll have a fantastic time on Jeju!
Looking to visit Jeju island during your South Korea trip? Get a car rental deal on Rentalcars.com today!
About Jeremy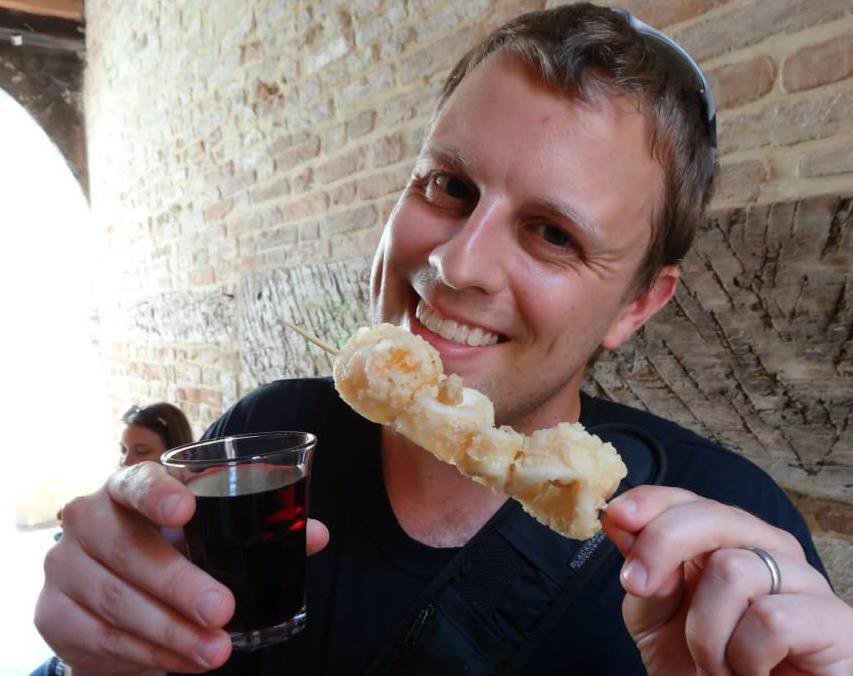 About the Author: Jeremy is a full-time travel writer based in Pittsburgh and primary author of this site. He has been to 70+ countries on five continents and seeks out new food, adventure activities, and off-the-beaten-path experiences wherever he travels.