Published by Jeremy. Last Updated on May 7, 2020.
Disclaimers: Our site uses demographic data, email opt-ins, display advertising, and affiliate links. Please check out our Terms and Conditions for more information. Listed prices and attraction details may have changed since our visit and initial publication.
Not being able to travel is rough. We get it. There is nothing fun about being stuck at home with no plans for the future.
To help things out, we're publishing a virtual trip series where we share 15 of our favorite photos from a previous trip and share some of the backstories behind the images.
For our sixth entry, we're traveling to Cuba- a country we explored for a long weekend in 2017!
Virtual Tour of Cuba – 15 of Our Favorite Cuba Photos
Old Buildings in Old Town Havana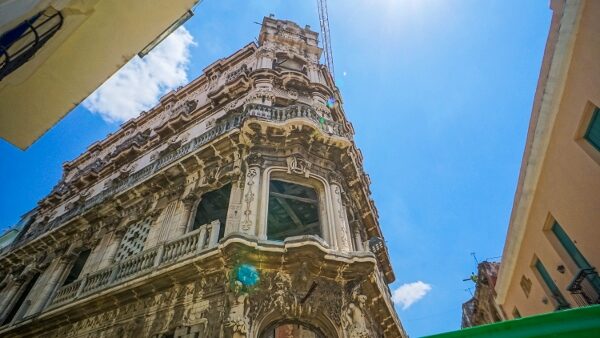 Our first stop in Cuba was Havana, where we spent most of our time in the old town to check out the historical sights. One of the first things you'll notice here is the stunning architecture which is, sadly, in every kind of state imaginable. Some buildings are wonderfully renovated and look like they just received a fresh touch-up of paint and others show their age. This all comes together for a really interesting scene.
An Obligatory Mojito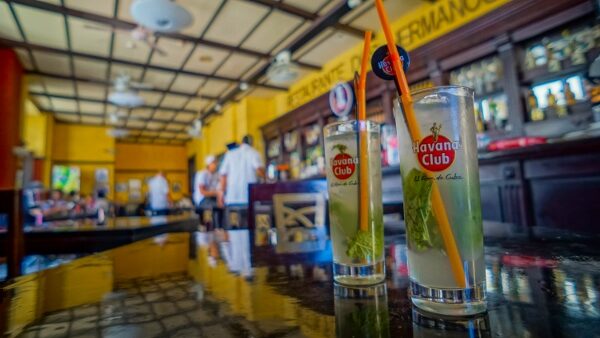 When visiting Cuba, it is obligatory to have a mojito or three. Many people consider the country to be the birthplace of this cocktail, and it is a refreshing option to have in the mid-day heat. The best part? Most mojitos run just a couple of dollars even at the nicest of bars!
Empty Town Square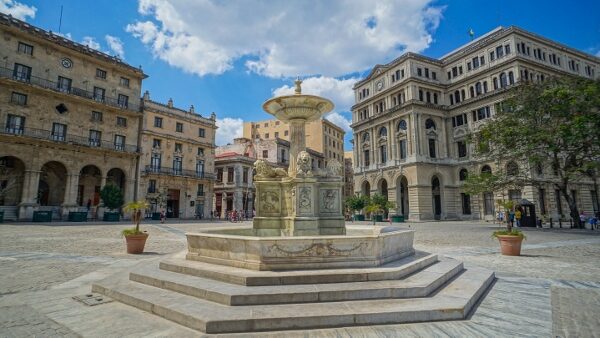 Continuing the architecture trend in Cuba with this town square. We caught it at just the right moment to appear empty, which allowed for the fountain and background architecture to really pop.
The Colorful Classic Cars of Cuba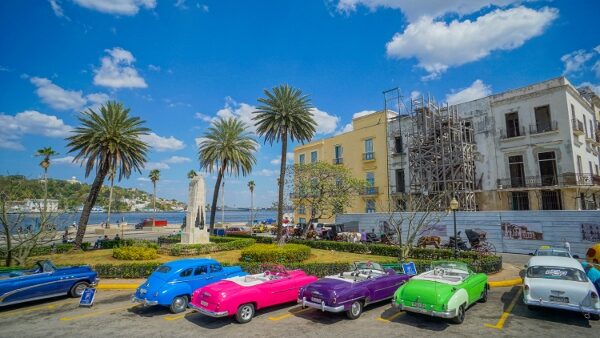 It won't take long after arriving to Cuba for you to start seeing the overload of classic cars. In fact, even in just a few short days you're liable to see hundreds. These were found parked near Morro Castle (presumably waiting for tourists). If only all parking lots were this colorful!
Old Time Advertising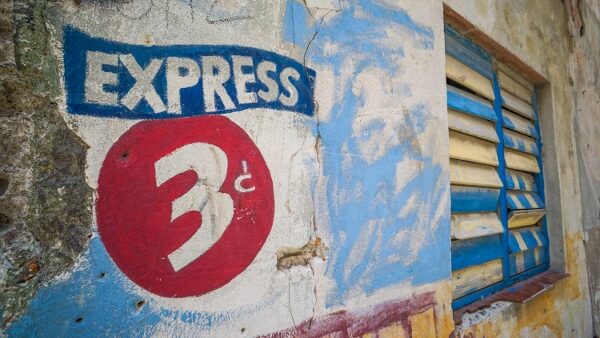 Whitewash and handpainted advertisements are the name of the game on many buildings in Cuba. I found myself drawn to taking photos of them as some show their age much more than others. I'm not sure what Express 3c is in reference too, but it sounds like a heck of a deal by today's standards.
The Grand Architecture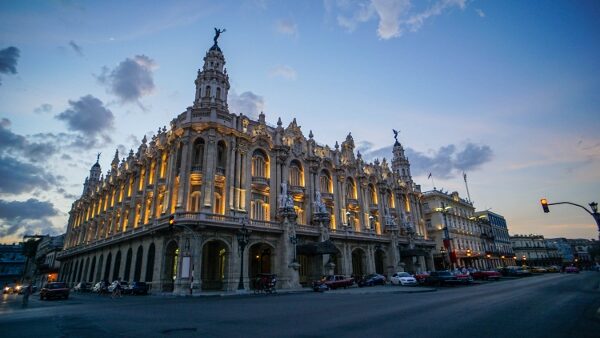 Speaking of more architecture, some of the grandest buildings in Cuba know how to go all out. The twilight lighting here was simply stunning.
Our Classic Ride to Vinales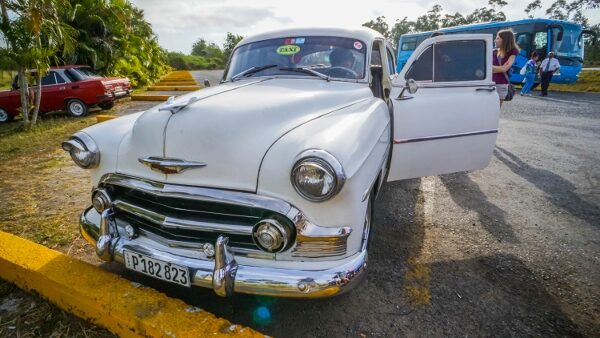 Our main trip outside of Havana from the short visit was to the mountainous region of Vinales. While most conventional tours simply have a bus or private driver take you out, we opted for a premium package with a classic car in order to get the full experience. Like our ride? It's a beauty (and worth the splurge)!
The Mountains and Jungle in Vinales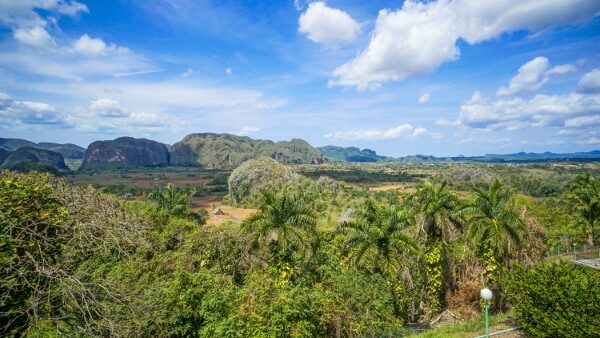 I want to say it is hard to appreciate the vast beauty of Vinales if you don't get up to a high point lookout, but to be honest it is stunning everywhere you look. Getting up to a high point does not suck though, and there is a reason why this vista is one of my favorites from the region.
Sampling the Regional Specialty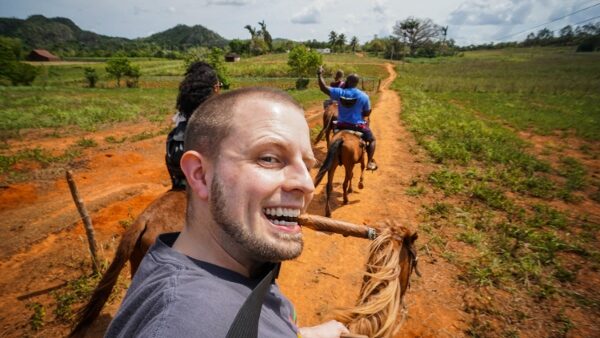 Vinales may be known for its beauty, but it is probably more famous for its tobacco farms which are used for the production of cigars! I have to admit, I had never tried a cigar before this. In fact, I have never even smoked before this either. But there is something about enjoying an all-natural cigar on horseback in the Cuban countryside that seems like a match. Even better was that these bad boys were just $3 each!
Cigar and a Mojito – A Winning Combo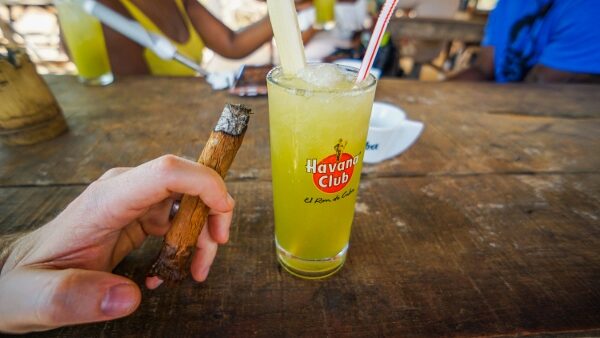 If this isn't the most stereotypical Cuban photo, I am not sure what is. One thing that is going on in this photo that is worth highlighting is that the tip of my cigar was dipped in honey. Apparently it is popular in Havana to dip the end of a cigar in honey (or rum) in order to add some extra flavor when smoking. I don't think I could ever try one without it again!
More Cuban Architecture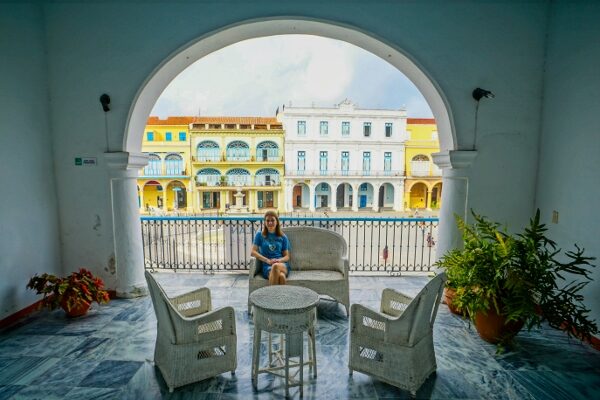 While exploring an art gallery back in Havana, we found this gorgeous little alcove overlooking a plaza and decided to sit for a while and watch life pass by.
A Lobster Feast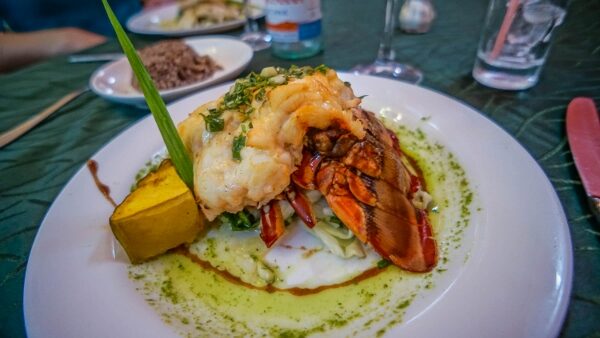 The food scene in Cuba is striking as the meals sold at local restaurants are vastly different from those served at the higher-end, tourist-forward spots. During one of our meal splurges, we ended up ordering a monster lobster as one of our entrees. The price? About $10.
On the Road in Cuba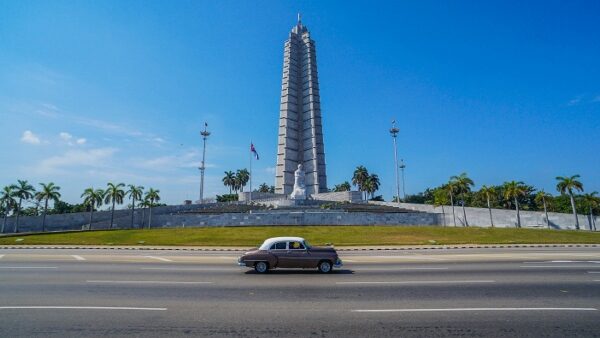 One of the must-see spots in Havana is Revolution Plaza for its historical significance, memorials, size, and more. Many classic car-led city tours stop through here, making for a great opportunity to spot these beautiful cars along with the architecture. If you didn't know when we visited Cuba, this picture looks like it could've been taken at any point in time since the monument was built in the 1950s.
Classic Car with Che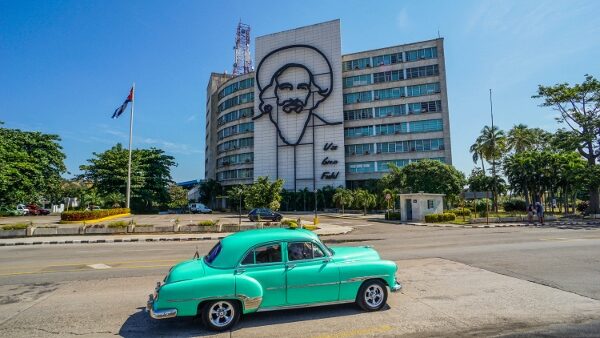 Turning around at Revolution Plaza you'll find a beautiful piece of art dedicated to guerilla warrior Che Guevara. Wait a few moments and you'll see, you guessed it, more classic cars!
A Poke at Foreign Politics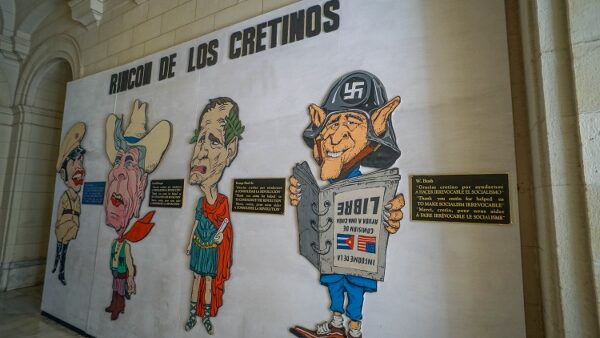 To end this one, we finish wit ha little political art- the Corner of the Cretins at the Museum of the Revolution. This one is not posted with any political commentary.
Do you have a favorite photo from this tour of Cuba? Comment below to share! Also be sure to check back soon for another virtual tour from around the world!
Check Out More Virtual Trips
About Jeremy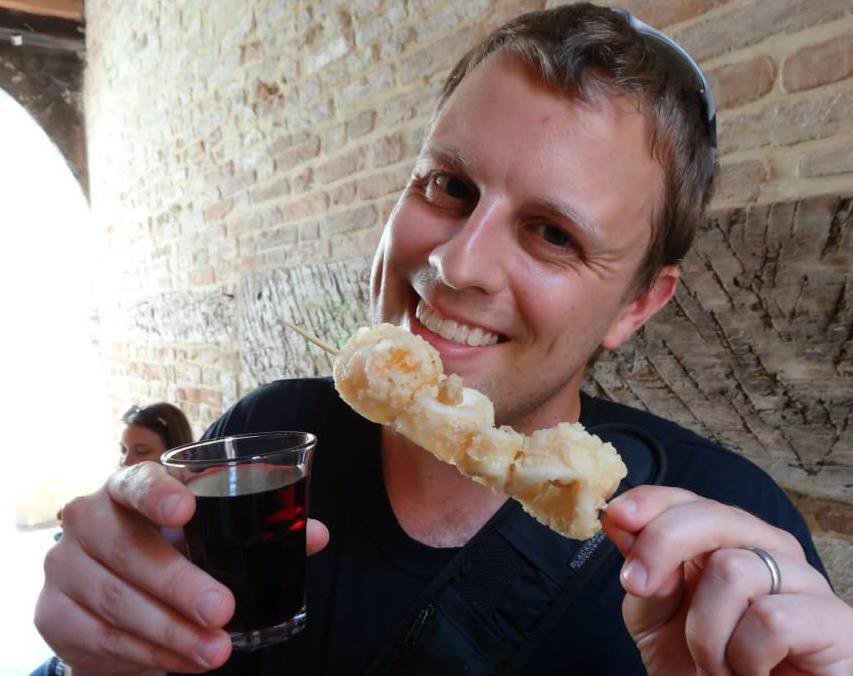 About the Author: Jeremy is a full-time travel writer based in Pittsburgh and primary author of this site. He has been to 70+ countries on five continents and seeks out new food, adventure activities, and off-the-beaten-path experiences wherever he travels.