Published by Jeremy. Last Updated on June 8, 2020.
Disclaimers: Our site uses demographic data, email opt-ins, display advertising, and affiliate links. Please check out our Terms and Conditions for more information. Listed prices and attraction details may have changed since our visit and initial publication.
Not being able to travel is rough. We get it. There is nothing fun about being stuck at home with no plans for the future.
To help things out, we're publishing a virtual trip series where we share 15 of our favorite photos from a previous trip and share some of the backstories behind the images.
For our seventh entry, we're traveling to Sri Lanka- a country I explored for about five days in 2014!
Virtual Tour of Sri Lanka – 15 of Our Favorite Sri Lanka Photos
Elephants of Kaudulla National Park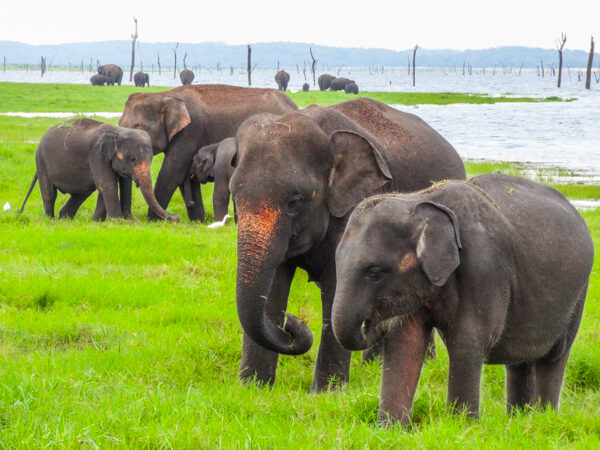 The elephant migration in Sri Lanka is an acclaimed event that draws in wildlife photographers from around the world. During the October/November monsoons, hundreds of elephants make their way into Kauldulla National Park where guests can get rather close to them on an organized tour.
A Majestic Migration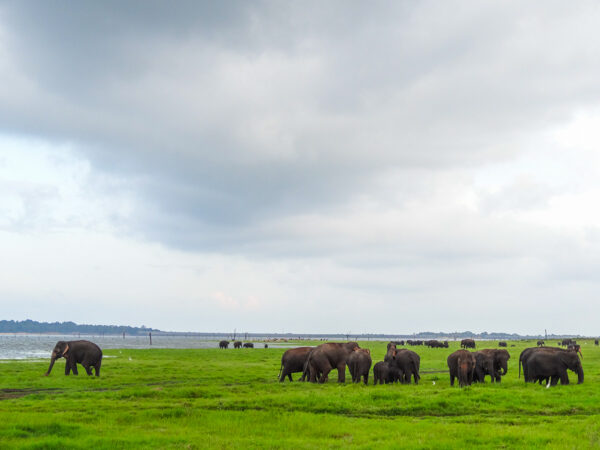 To say that there are a ton of elephants in Kaudulla National Park during the migration is an understatement. We saw hundreds in our quick visit, and in this one view you can see several dozen. Now imaging turning in every other direction and seeing the same exact scene. This is the beauty of the migration at Kaudulla National Park!
Sigiriya Rock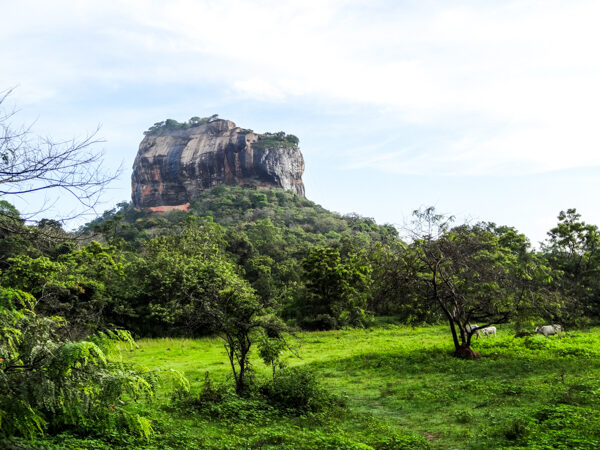 Sigiriya is a massive rock monolith in central Sri Lanka that was once home to the capital and royal palace of King Kashyapa in the 5th century AD and was subsequently used as a Buddhist monastery til the 14th century. Now the ruins are open for visitors to explore and was one of the highlights of my visit.
Sculptures While Climbing Sigiriya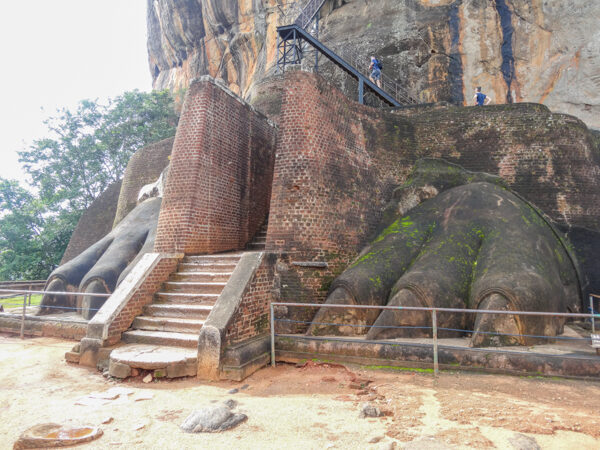 Sigiriya is known as Lion Rock, and this is perfectly highlighted at the Lion Gate, where massive paws remain and serve as the entrance to the ancient city. Shortly after climbing up from this one, we had to be quite careful as hornets have called the cliffside their home and they are quite sensitive to loud noises!
A Surprise Guest By The Pool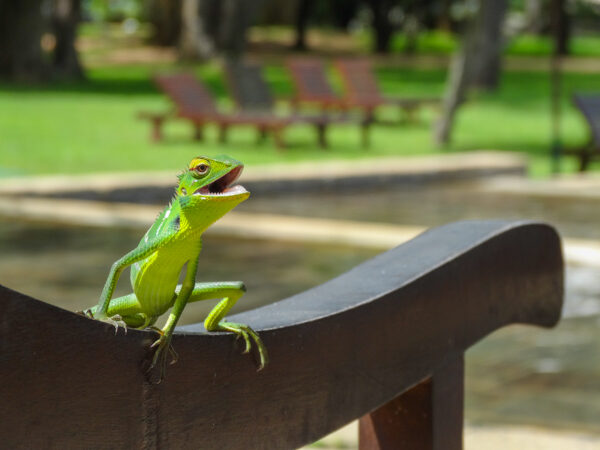 One of our overnight stops was at a resort, and we found this little guy hanging out on one of the pool lounge chairs. I'm 99% sure he was hamming it up for the photos here.
Ruins at Polonnaruwa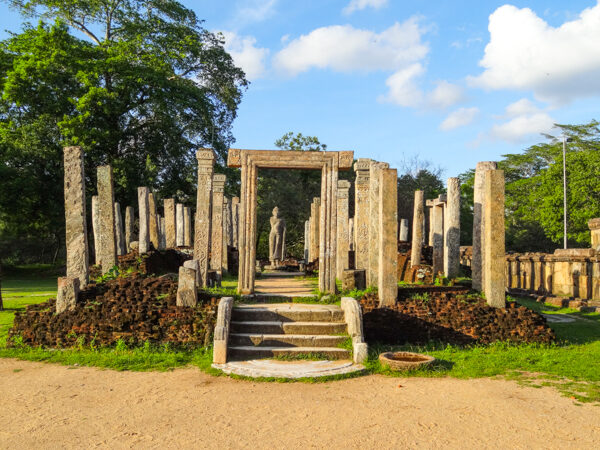 Polonnaruwa was once a sprawling capital city when it was built in the 10th century that has since fallen into ruin. It is now a popular UNESCO World Heritage site and home to many ruins that are considered one of the best things to do in Sri Lanka.
The Ancient Capital of Sri Lanka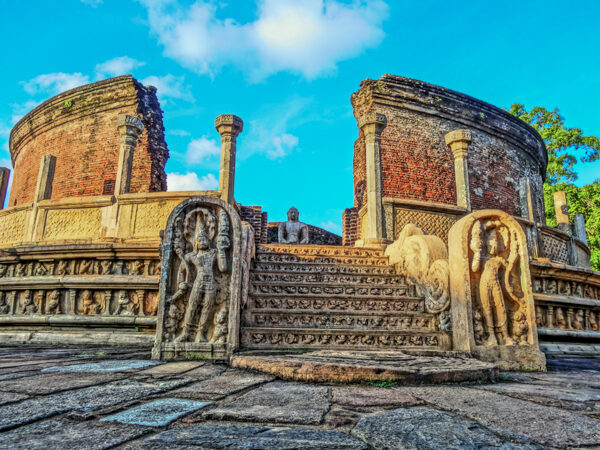 Out of all of the ruins at Polonnaruwa, the Vatadage Temple was my favorite to photograph. The design and the intricate carvings were simply fascinating to look at and the lighting near golden hour was simply perfect here.
More Ruins at Polonnaruwa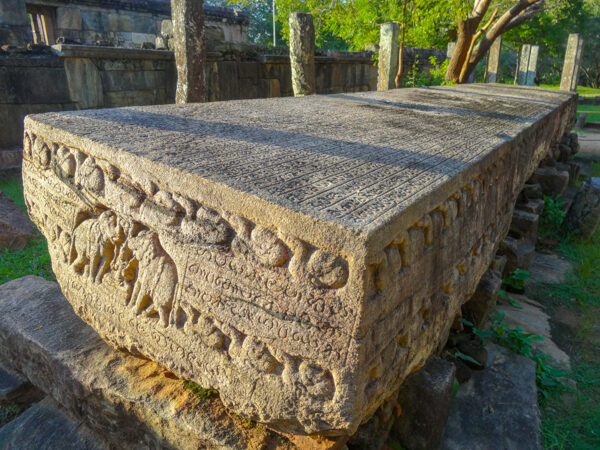 Some of the ruins at Polonnaruwa may seem simple from a distance, but as you get closer they unveil a wealth of detail. The carved writings on this one were quite comprehensive!
Sun Setting Over the Ancient City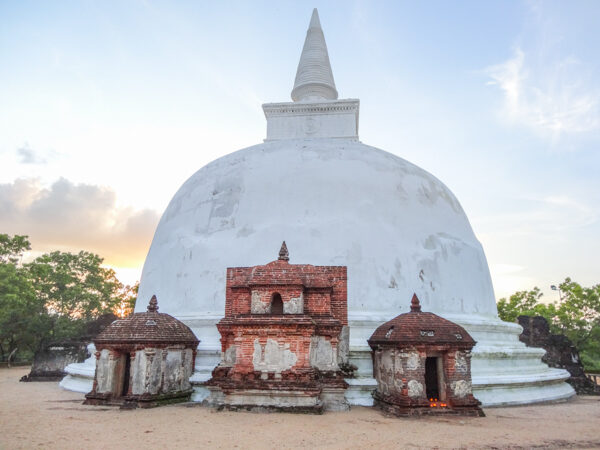 The Kiri Vihara stupa is my last shot from Polonnaruwa and jumps out as it is entirely white! Previous stupas we've visited can be fairly colorful, but this one stood out for the lack of color and certainly popped right around sunset.
Prepping a Sri Lankan Feast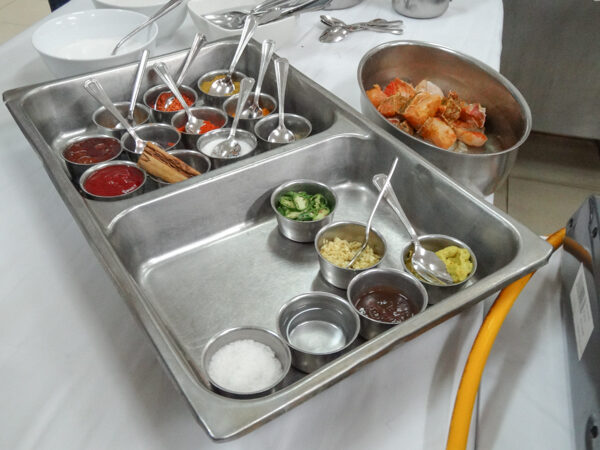 Sri Lankan cuisine is one of my favorites anywhere in the world, as the variety of dishes and ingredients is quite vast- allowing for a great adventure in sampling new dishes every day. I wanted to feature a photo revolving around food, but couldn't quite find a single dish that I loved. Instead, this shot from the kitchen at one of the resorts we stayed at jumps out at me as it highlights all the spices that go into cooking Sri Lankan food- delicious!
Outside the Dambulla Cave Temple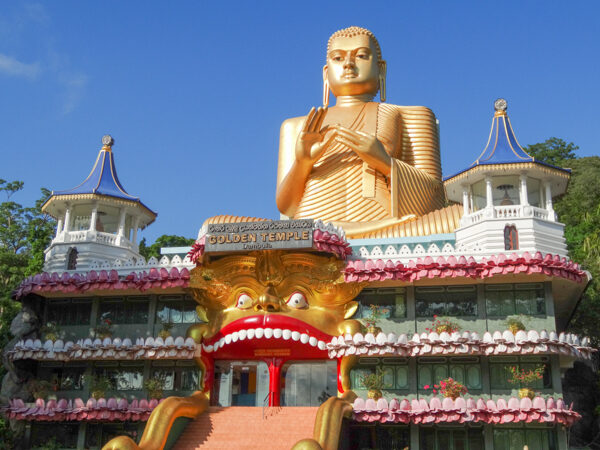 If you stop at the Dambulla Cave Temple, odds are good it is because you want to go inside to see the cave art, statues, and more as some date back to the first century BCE. But for this one, I wanted to share a photo of the exterior building as it is, well, simply wonderful.
Entering the Temple of the Sacred Tooth Relic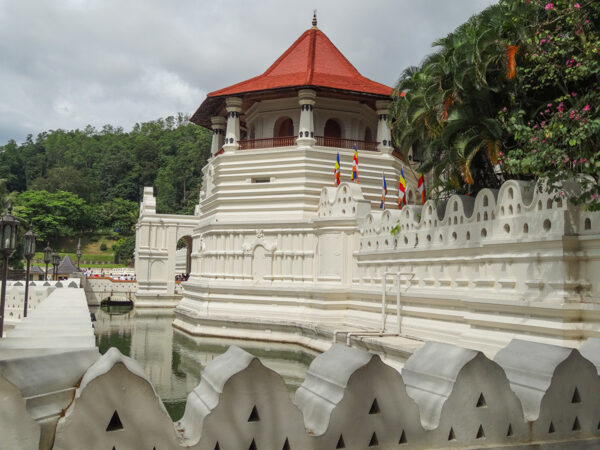 The Temple of the Sacred Tooth Relic in Kandy is an interesting spot as it is said to be home to a relic of Buddha- a tooth! But beyond this, the complex is also fairly large and has some really beautiful designs throughout!
Inside the Temple of the Tooth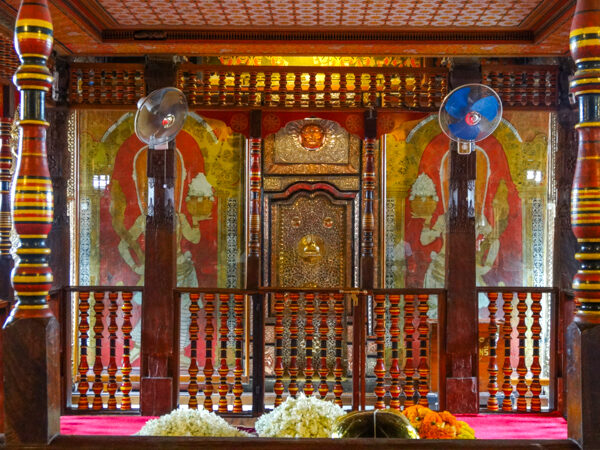 While not my favorite photo, this was one of a few clear shots I was able to capture inside the Temple of the Tooth. This is a popular pilgrimage spot and was absolutely packed with visitors.
Old Fort of Galle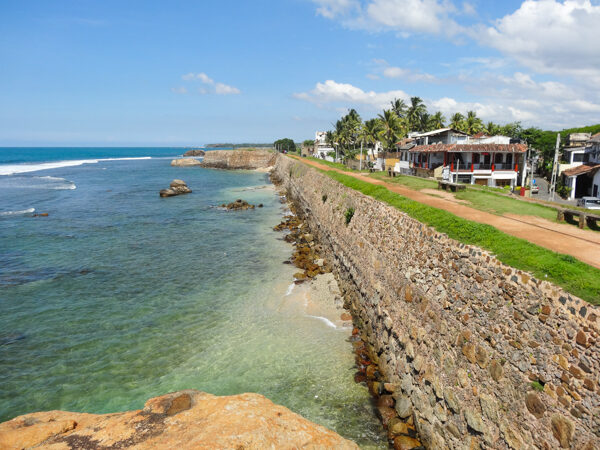 Galle was once home to a fortress that was built by the Portuguese in the 16th century and then fortified by the Dutch shortly thereafter. Many aspects of the fort remain today, with this fortification down the coastline being one of my favorites.
A Welcome Coconut at Our Resort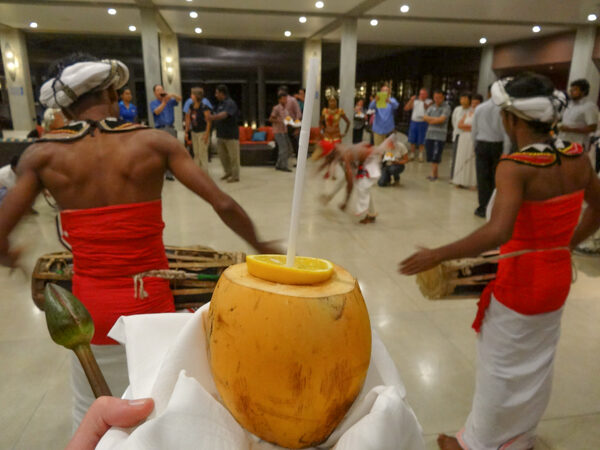 Finally, I wanted to end this one on a lighthearted note, specifically around a welcome coconut and music we received when arriving to one of our hotels. Certainly an unexpected surprise after a long day of exploring!
Do you have a favorite photo from this tour of Sri Lanka? Comment below to share! Also be sure to check back soon for another virtual tour from around the world!
Check Out More Virtual Trips
About Jeremy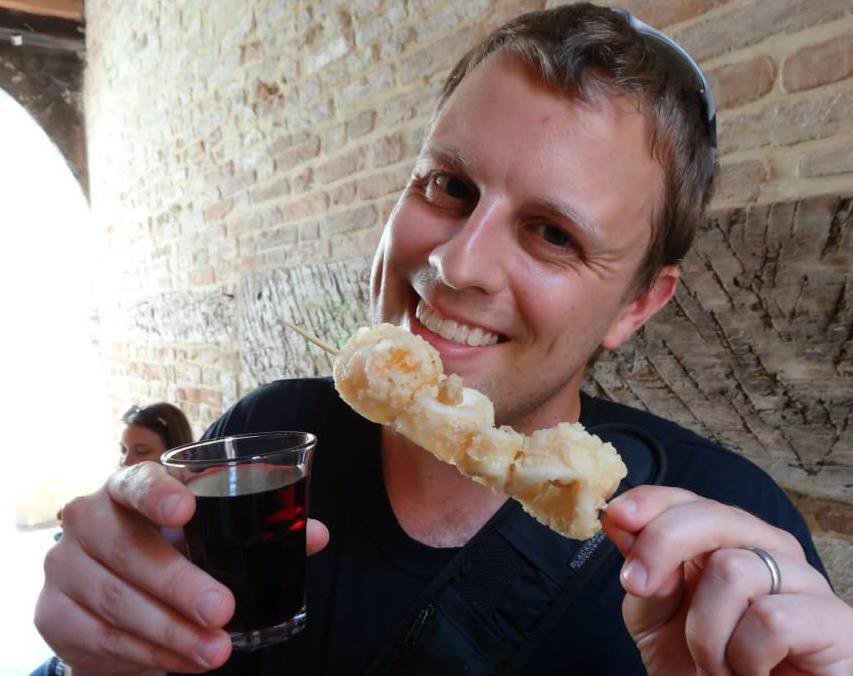 About the Author: Jeremy is a full-time travel writer based in Pittsburgh and primary author of this site. He has been to 70+ countries on five continents and seeks out new food, adventure activities, and off-the-beaten-path experiences wherever he travels.