Last Updated on April 21, 2020 by Jeremy
Disclaimers: Our site uses demographic data, email opt-ins, display advertising, and affiliate links. Please check out our Terms and Conditions for more information. Listed prices and attraction details may have changed since our visit and initial publication.
Not being able to travel is rough. We get it. There is nothing fun about being stuck at home with no plans for the future.
To help things out, we're publishing a virtual trip series where we share 15 of our favorite photos from a previous trip and share some of the backstories behind the images.
For our fifth entry, we're traveling to Africa to explore Morocco- a country we explored for ten days in 2017!
Virtual Tour of Morocco – 15 of Our Favorite Morocco Photos
The Blue City of Chefchaouen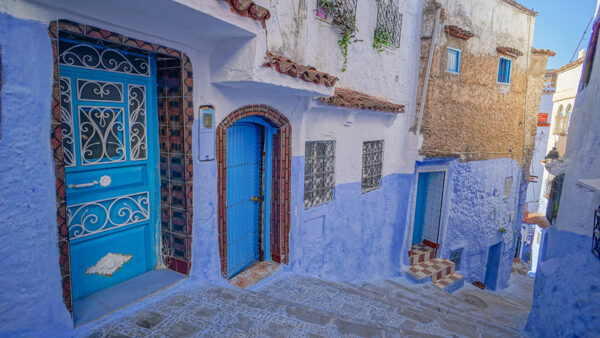 Chefchaouen is a photographer's dream as nearly every building in the old town is covered in a gorgeous shade of blue! This makes for a lot of fun just getting lost, exploring back alleys, and finding what stunning view will greet you at the next turn.
A Color Pop At Our Airbnb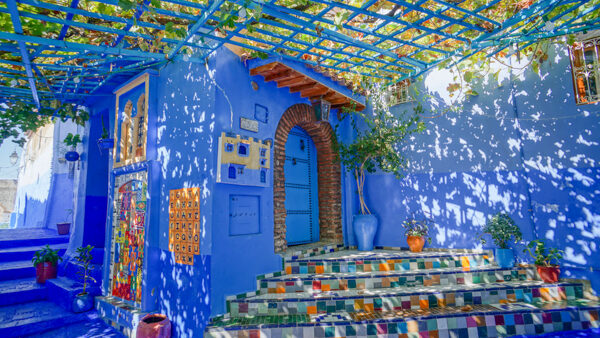 Our Airbnb in Chefchaouen was one of just a few buildings that diverged from exclusively having blue walls and added a colorful pop with mosaic tiles, painted designs, and added color from the vines growing overhead.
Chefchaouen from the Overlook at Sunset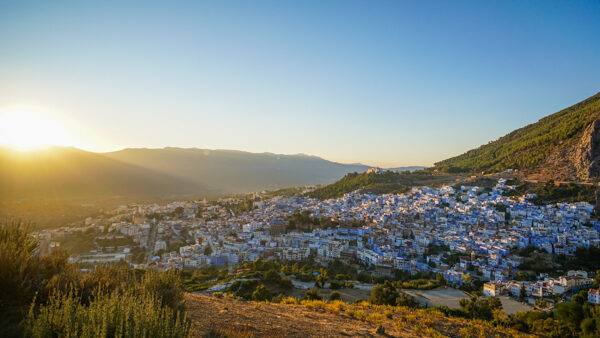 Visitors looking for a scenic view of Chefchaouen from a distance will do well to make the quick hike to the Bouzâafar Mosque just before sunset. Here you'll get an impressive view over all the blue buildings in the city while, if the weather cooperates, basked in a golden hue as the sun goes down!
Our Airbnb's Rooftop Patio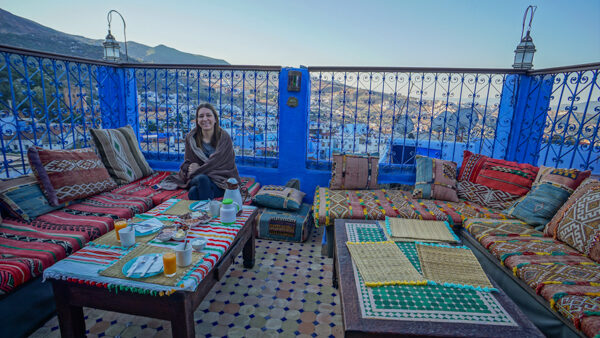 One of the best parts about staying in the old town of Chefchaouen, other than the color of course, is the rooftop patios available at most Airbnbs. Ours was right in the heart of it all, and it never got old waking up and having breakfast with this view.
Shadows in Chefchaouen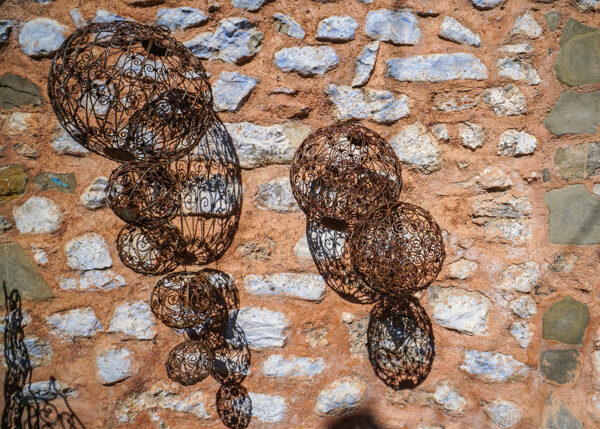 In a rare photo without blue comes this one with hanging baskets. Why is it a favorite? Well, the intricate patterns are one, and the long shadows showing them off perfectly is another. You need to look closely to determine which is a shadow and which is real!
Fes Airbnb in a Traditional Riad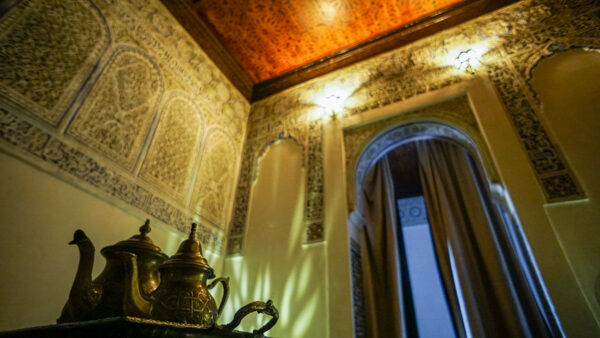 Moroccan riads are traditional homes that in recent years have been used for guest houses, hotels, and Airbnb rentals. While the historical riad is known for private rooms with shared common areas wrapped around a central courtyard, the term today can be a bit more generic for most guest houses. That being said, when staying in one of these in an old town odds are good you'll be in for some ornate designs to enjoy during your stay- like this one in Fes!
Gorgeous Architecture All Around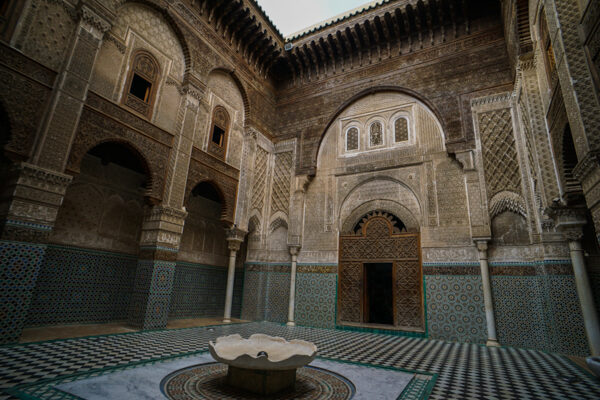 The palaces of Morocco are home to ornate designs everywhere you look, including courtyards like this one!
The Leather Tanneries of Fes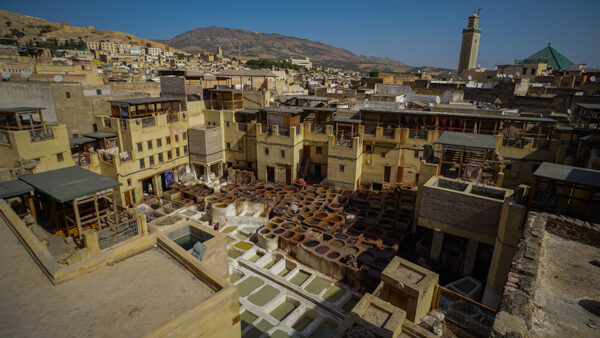 The leather tanneries of Fes are quite famous, and a must-stop for many visitors to the medina. These consist of open-air vats of chemicals and dyes that are used to create the city's famous products. Visiting these is interesting as you typically go to a viewing terrace above a shop and get an aerial view of the facility- complete with dried herbs to help mask the pungent aroma. Despite this being a very quick visit, it still left an impression on us all the same and was one of my most memorable photos.
Road Side Tagine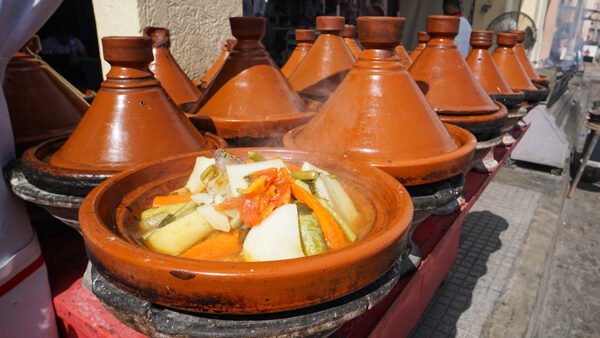 During our stay in Morocco, we hired private drivers to get around from city to city and for a multi-day tour out to the desert (Erg Chebbi). While driving through many small towns, you'll quickly notice all the road-side tagines being prepared for lunch and dinner and a fragrant aroma filling the air. We were fortunate to stop for these several times during our trip, and have to admit that these ended up being our favorite meals while in the country (no doubt thanks to our guide going to top spots!).
Spice Markets Aplenty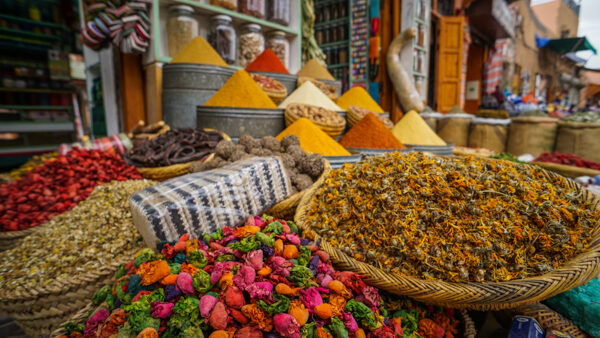 When you think of markets in Morocco, your first thought may go to mounds of colorful spices piled high in perfectly groomed rows. You wouldn't be wrong to think that way as these vendors are everywhere. No matter what market you visit, odds are good you're only a few steps away from perfectly piled spices, herbs, flowers, and more that are a feast for the eyes and the lens!
Morning Light in the Desert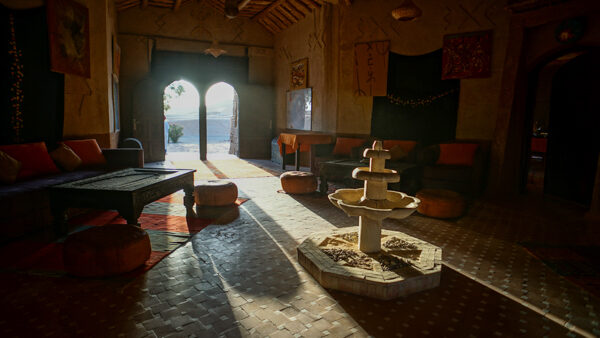 Prior to going out to a desert camp, we spent one night at a resort on the edge of the sand dunes at Erg Chebbi. To say that the start of the dunes is striking is an understatement, as you go from flat desert to immense dunes almost immediately- making resorts like this one a perfect base before mounting a camel to reach camp. In the morning before our departure, we had some rather beautiful lighting come into the entry of the resort and produced this rather serene scene.
A Break While Trekking Out into the Desert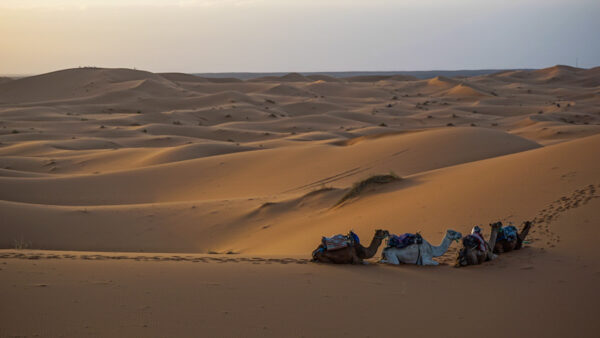 For those who go out to a desert camp in Morocco, your mode of transport here is likely to be a camel in the form of a caravan. This shot comes from one of our breaks to catch golden hour lighting and allow the camels to rest for a bit before carrying on to camp.
Shadows of Wanderers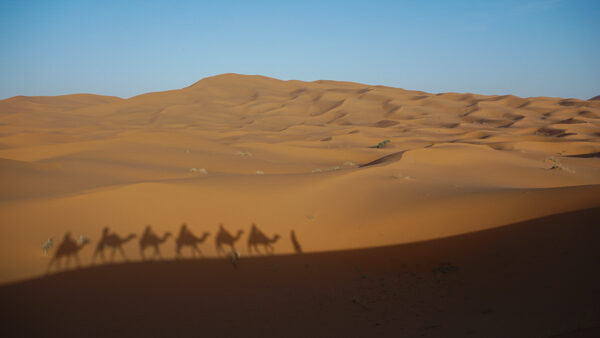 Shadows of wanderers heading into the desert in Morocco. Our only company for several hours.
A Selfie With Our Sun Protection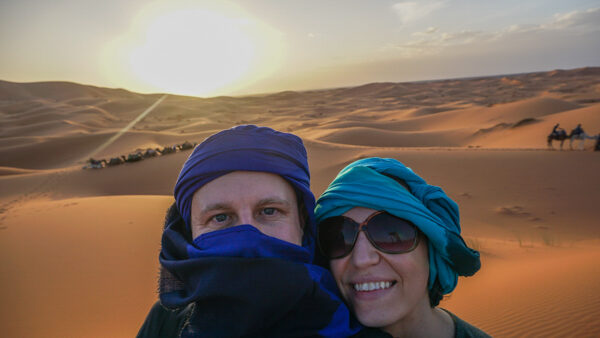 Even though we ventured into the desert near sunset, the heat of the sun was oppressive all the same. Our guides folded up some cloth to make a headband to help protect us, and made for one of our favorite selfies to-date.
Sleeping on the Job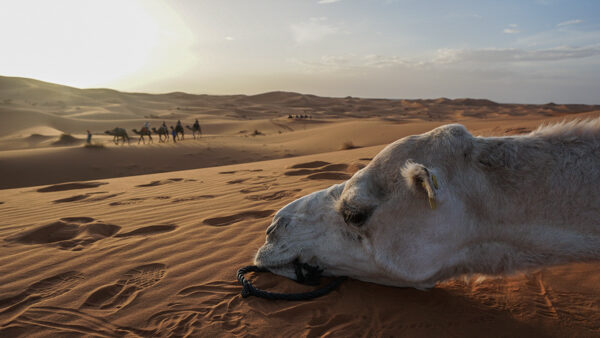 To end this virtual tour, we thought it only fitting to share our camel taking a well-deserved break while venturing out into the desert. In the background you can see a few other groups continuing the journey on to camp.
Do you have a favorite photo from this tour of Morocco? Comment below to share! Also be sure to check back soon for another virtual tour from around the world!
Check Out More Virtual Trips
About Jeremy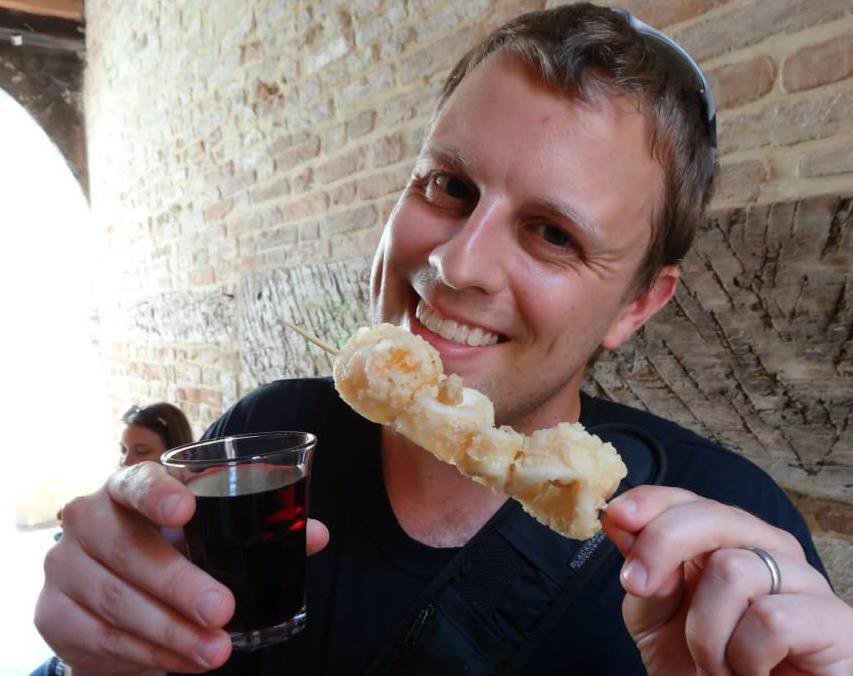 About the Author: Jeremy is a full-time travel writer based in Pittsburgh and primary author of this site. He has been to 70+ countries on five continents and seeks out new food, adventure activities, and off-the-beaten-path experiences wherever he travels.