Last Updated on April 13, 2020 by Jeremy
Disclaimers: Our site uses demographic data, email opt-ins, display advertising, and affiliate links. Please check out our Terms and Conditions for more information. Listed prices and attraction details may have changed since our visit and initial publication.
Not being able to travel is rough. We get it. There is nothing fun about being stuck at home with no plans for the future.
To help things out, we're publishing a virtual trip series where we share 15 of our favorite photos from a previous trip and share some of the backstories behind the images.
For our fourth entry, we're traveling to Africa to explore the islands of the Seychelles- a country we explored for two weeks in 2018!
Virtual Tour of Seychelles – 15 of Our Favorite Seychelles Photos
Hilton Northolme Infinity Pool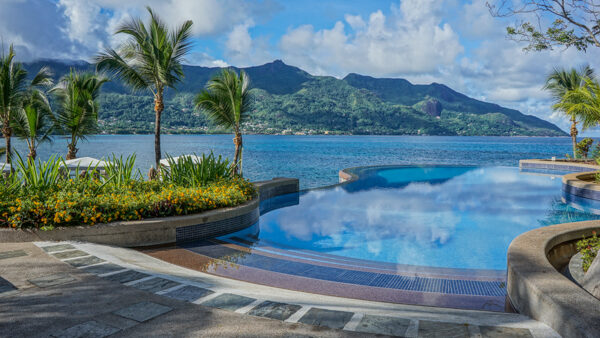 Our first stop in the Seychelles was on the island of Mahe (home to the airport) where we stayed at the Hilton Northolme– considered to be the world's smallest Hilton. Despite having a pretty amazing bungalow here, we were in awe with the resort's infinity pool which had a rather impressive view across the bay overlooking Beau Vallon and Bel Ombre. Suffice it to say, we spent a fair amount of time here.
Crystal Clear Water on a Rocky Coast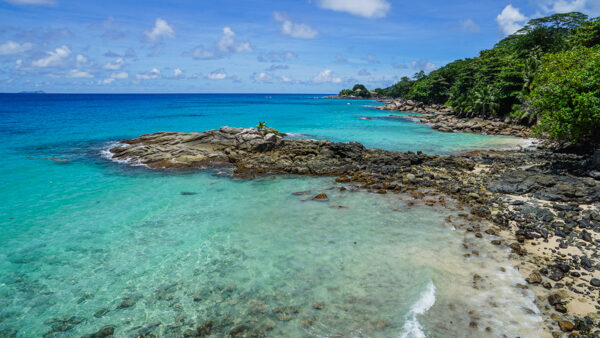 The beaches near the Hilton Northolme are, well, not so great as they are covered in tiny rocks. Still, there is something to be said about the various shades of blue you can see as the water gets deeper and deeper away from shore. This was the start of many beautiful beach views to come on this trip.
Mahe Island Perfection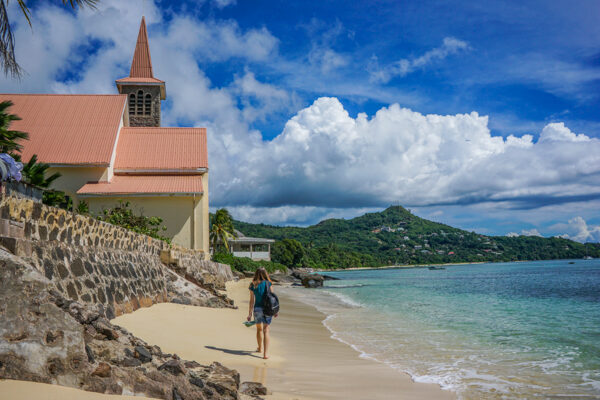 To really get the most out of the Seychelles, you need to rent a car. The islands of Mahe (pictured) and Praslin are easy to get around in under a day, but accessing the beaches sometimes is tricky. All beaches in the country are open to the public, but sometimes there are no public parking places for miles as resorts are often less-than-friendly to non-guests. This makes accessing some beaches easier for those who explore by bus (as there are frequent stops), but come at some trade-offs as well in terms of time you have to travel. Still, even with renting a car and missing a few beaches, we got some pretty epic beach stops like this one.
The First Boulder Sightings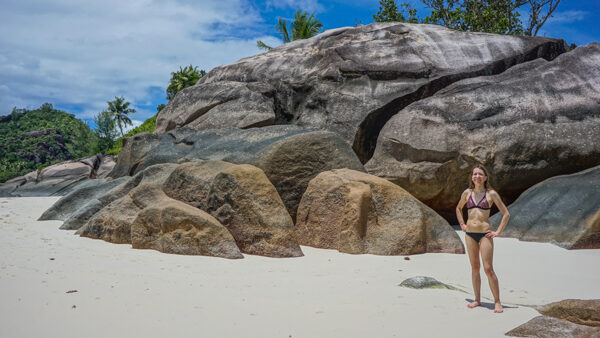 This virtual tour is going to be heavy on the beaches, and there is one good reason for it- they're incredible! The beaches of the Seychelles are known to be somewhat different than those on other islands as many are home to monster boulders. This makes for a rather dynamic view when looking down the coastline as some rocks may be as small a child while others are bigger than a house! This photo comes from our first boulder spotting, and we were pretty ecstatic when we first saw it.
A Perfect Sunset – A Rarity for Us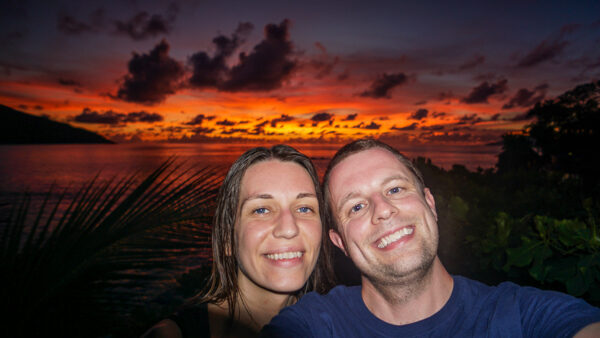 If you've read a number of articles on this site, odds are good you've heard us lament about the lack of good sunsets when we travel. At this point in our lives of visiting 70+ countries and dozens upon dozens of beach destinations, we have simply called our poor sunsets a travel curse. But one night in Mahe made up for the poor shows of the past as we caught a perfect sunset from our bungalow at the Hilton.
On the Cliffs of Silhouette Island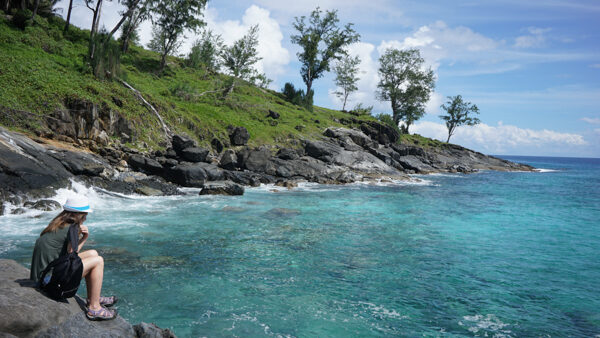 Guests who visit the Seychelles often visit the three main islands of Mahe, Praslin, and La Digue. We did the same, but added in a trip to a fourth island- Silhouette. This island is the near-exclusive home of the Hilton Labriz, one of the nicest hotels we've stayed in to-date. While most guests stick to their villas, the pool, and the closest beach, we spent a day exploring the island and found some solitude on this rocky coastline.
Silhouette Island Beach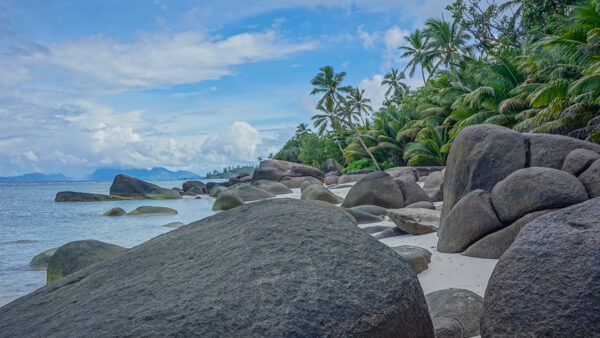 The main beach of Silhouette Island near the resort is covered with many of the iconic boulders you'll come to know and love while in the Seychelles. If you keep walking down the beach just beyond the main stretch, you'll find even more boulders and (likely) no guests in any either direction. A photographer's dream right here!
Our Own Private Pool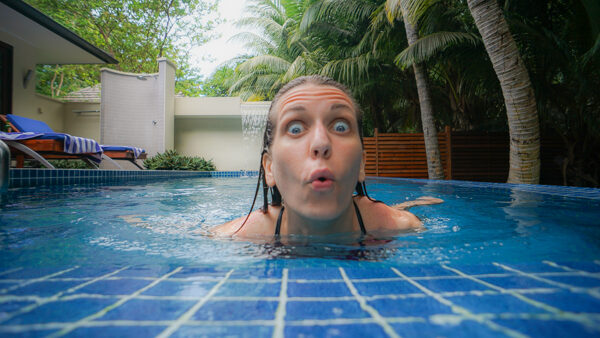 We're fortunate enough to be Diamond members with Hilton and that means we get periodic room upgrades when traveling. At the Hilton Labriz, we got upgraded to a garden village. At first, we were a bit bummed because we were hoping for beach-side access, but that went away quickly after arriving. This villa had everything we could dream about and then some- a monster room, a bathroom bigger than most hotel rooms, a private garden complete with our own large boulder, and a plunge pool large enough you could do laps in. So we did, and this fun photo was a result.
Snorkeling with a Turtle on Praslin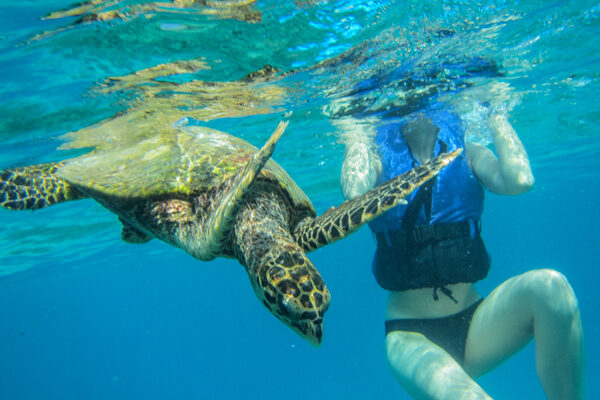 During a snorkel trip on the island of Praslin we came across a very inquisitive turtle that showed no shame in coming right up to us. Although we spent most of the time trying to back away to give it space, the turtle kept coming closer. In the middle of it all, I got a great shot of the turtle with a bit of perspective.
Sunset at Les Rochers Restaurant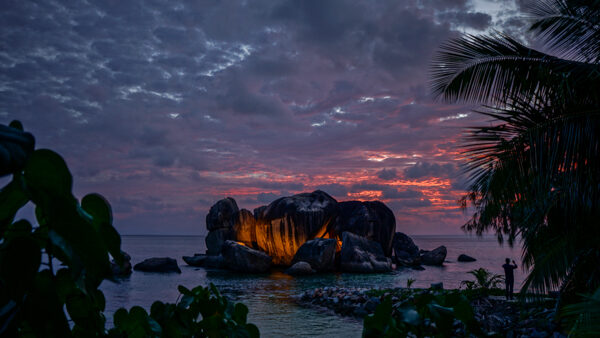 One of the best meals we had in the Seychelles was at Les Rochers restaurant on Praslin. A fairly big splurge compared to typical restaurant prices, we have to admit, but a stellar evening all around. This photo is not of the food, but rather of the rocks that the restaurant gets its name for. Another gorgeous sunset added some color to this gorgeous scene.
Idyllic Seychelles Beaches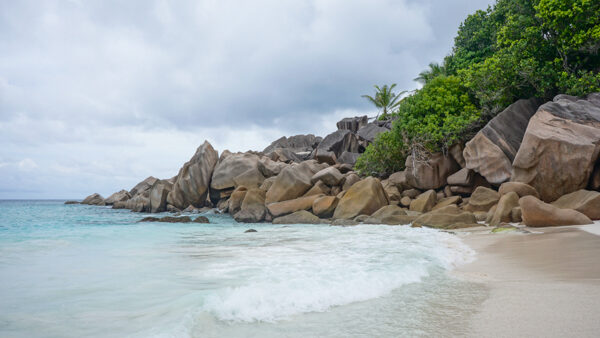 More boulders? Why not! They're everywhere on Praslin.
Seychelles Cuisine on La Digue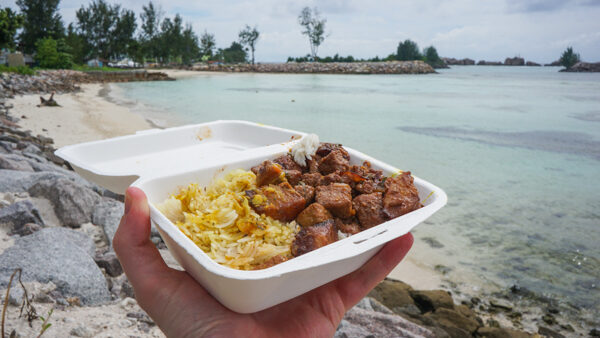 La Digue was the smallest inhabited island we visited in the Seychelles. So small, in fact, that visitors cannot rent cars but instead are able to explore the island via bicycle! As part of that, we made it our mission to stop in the local "town" many times throughout the day to snack, and this one is a traditional fish curry lunch. Pick up an order to go, walk across the street to the beach, and enjoy!
La Digue's Stunning Beaches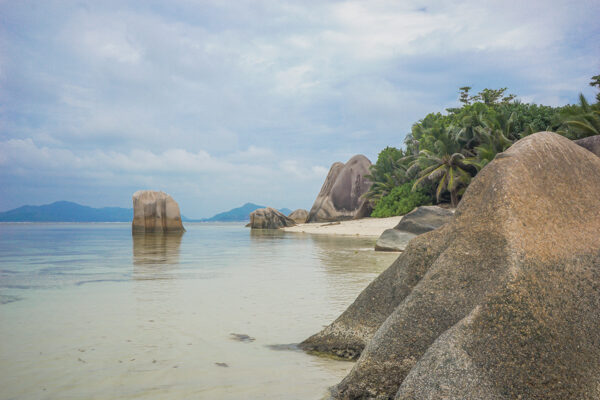 It is hard to say which island in the Seychelles has the best beaches, but La Digue is often considered to be a strong contender as the boulders here are some of the most stunning to explore. The way they dot the landscape is just wonderful!
Impressive Boulders at Golden Hour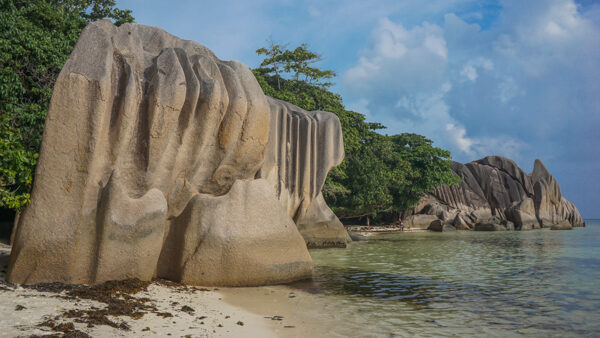 Golden hour light with the boulders, anyone?
The Seychelles Rocks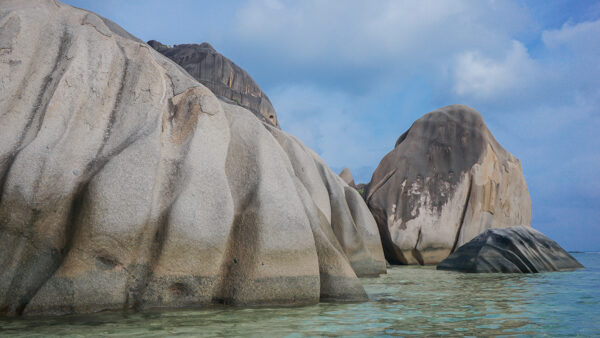 It is only fitting to end this post with one last boulder picture on the island of La Digue. We still dream of these rocks, and if you ever get the chance to visit the Seychelles in person so will you. So naturally we have to end with a shot of these!
Do you have a favorite photo from this tour of the Seychelles? Comment below to share! Also be sure to check back soon for another virtual tour from around the world!
Check Out More Virtual Trips
About Jeremy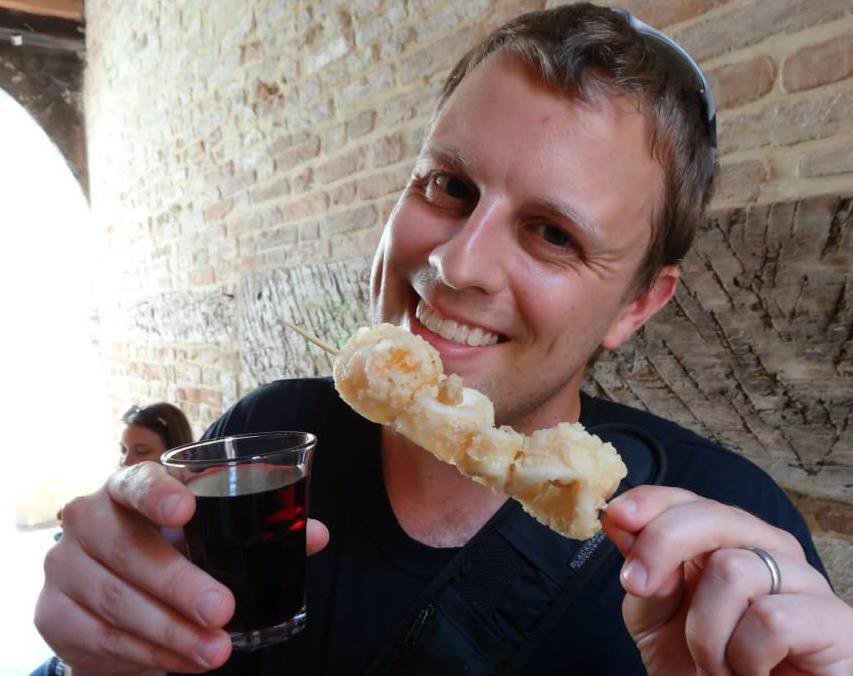 About the Author: Jeremy is a full-time travel writer based in Pittsburgh and primary author of this site. He has been to 70+ countries on five continents and seeks out new food, adventure activities, and off-the-beaten-path experiences wherever he travels.