Last Updated on January 23, 2023 by Jeremy
Disclaimers: Our site uses demographic data, email opt-ins, display advertising, and affiliate links. Please check out our Terms and Conditions for more information. Listed prices and attraction details may have changed since our visit and initial publication.
When you visit the Seychelles, odds are good your first thought is not about driving logistics- it's about the famous Seychelles beaches!
But when you come down to reality, you quickly realize that if you want to hit all of the beaches, exploring the islands via some sort of transportation will be required.
On Mahe and Praslin, one popular way of getting around is by renting a car. In this one we are going to share some tips and advice from our experience driving around these two islands.
Unlike other posts in this series, where we are able to capture regional driving tips and advice in one spot, in this one we have to break it up as driving on Mahe and Praslin are two slightly different experiences.
What to Know About Car Rentals in the Seychelles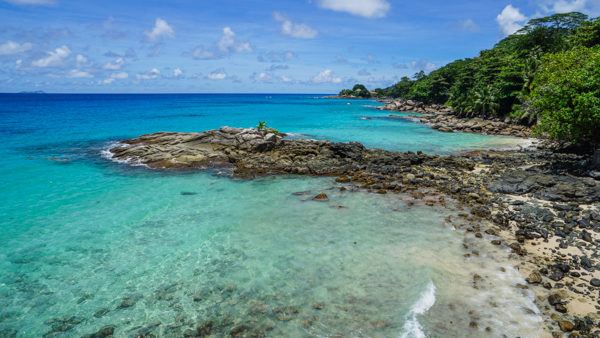 Before we get into the more detailed tips and advice, we would be doing you a disservice if we did not highlight a few general points about getting a car rental in the Seychelles, namely:
Cars drive on the left-hand side of the road, much like you would expect in England, Australia, India, etc.

The airport and jetty's are right off the main roads so you will be right in the mix of it if it is your first time driving on the opposite side. They are not an appreciative distance away from the action like other countries, such as renting a car in Mauritius.

You should not need an international driver's license for the Seychelles. Your normal license will work just fine (note: we only verified this for the USA). Please re-confirm prior to visiting as these rules often change.
Gas stations are not self-pump, and an attendant will pump the gas for you.
Most roads outside of towns do not have street lights, so driving at night can be tricky. We generally just tried to get home shortly after sunset on any given night to minimize this.
Main roads have speed limits of often 40-65 kph, and mountain passes are almost always 40 kph, but signs are few and far between. When in doubt, assume 40/45 kph outside of the two-lane, divided "highway" between Victoria and the airport. Very few spots were above 40/45 kph outside of this.
Victoria is known for traffic jams, which is about 8 cars stuck at the one red light at the main intersection. It makes sense when you get there, but is almost impossible to explain.
The Seychelles is pretty strict on drinking and driving and some restaurants will ask if anyone is driving and will make a note prior to serving you. It is that serious.
Getting beyond these, there are a few more things that are specific to each island that we want to get into more below. When it comes down to it, they are what you really need to be aware of when driving in paradise.
Driving on Mahe in the Seychelles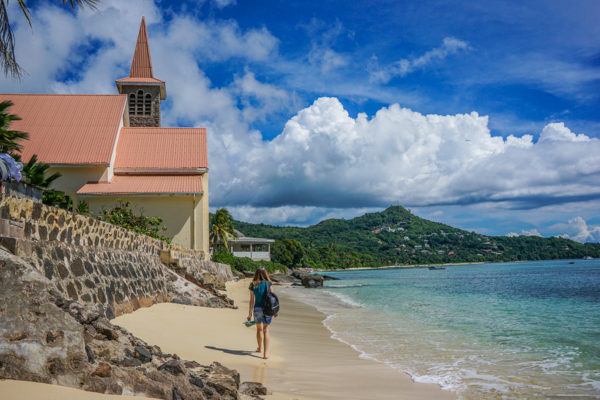 Driving in Mahe is… interesting.
The roads themselves are often two way, with only a bit of wiggle room in either direction between the opposing lane and deep gutters without covers. Go too far on one side, and you'll be pushing close to other cars. Go to close on the other, and a two-foot drop off that could devastate your car is saying hello (seriously, they're huge).
Throw in the fact that there are hardly any sidewalks and pedestrians walk in the roads, and you've got a few challenges to work with.
Clearly you're going to be hugging the middle as best as possible, which is fine in most cases but as the roads are fairly curvy, especially in the mountain passes, you just have to watch out for opposing traffic coming around the bend- many times much faster than the 40 kph speed limit as well.
The buses and private tour vans are notoriously bad for driving in the exact middle and getting upset at you for not moving over more (even when you cannot). So always be on the lookout for what is coming. As these are quite frequent on Mahe, odds are good you'll be dealing with them regularly.
As you get towards the end of the roads, especially going to Cap Ternay or the hiking trail to Anse Major in the north, or towards Anse La Liberte or Police Bay in the South, the roads stop being two way and become very narrow. So narrow, in fact, that they're barely wide enough for one way traffic, but instead support two way on their modest width.
Hold your breath and hope no one is coming that will cause one of you to have to reverse to a pull off (if your lucky) or to the point it became one way! We had to do this a few times, and it was not pleasant mentally.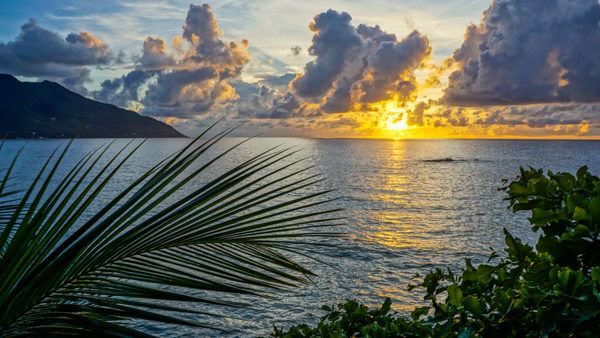 With regards to parking, options at the beaches are hit or miss. Some beaches have dirt spots carved out between the palm trees for cars. Others are blocked off by hotels that may or may let you park (we had more luck with this on Mahe than Praslin). Many beaches have no visible parking at all such that only those traveling by bus (or on foot from quite a distance) could easily access them.
So while you will have more freedom in exploring with a car over a local bus, which truly goes almost everywhere, keep in mind you may not be able to park at every single beach.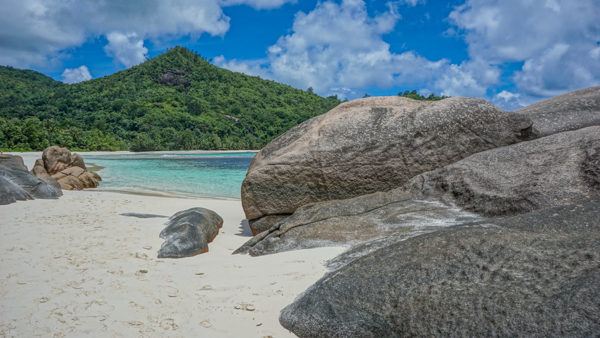 If you choose to visit Victoria, the main "city" of the Seychelles, there is a car park right off the main road just behind the market selling tourist gifts (you can't miss it). Parking is about 5 rupees for one hour ($0.37), 10 rupees for a half day ($0.75), and so on based on our recollection from our visit in 2018.
You have to go to a mini market/convenience store across the street (opposite side of the road from the gift shops) to purchase a permit to display on your car's dashboard. Do not be surprised if a random person will ask you if you want them to get it for you for about 3x the cost. Our scam radar was not going off here despite them not being employees due to the low cost they asked for, but it is just as easy to walk over and get one yourself.
In terms of gas, we drove around the island roughly two full times over the course of three days and spent about $40 in total. Expensive, but not outrageous.
Driving on Praslin in the Seychelles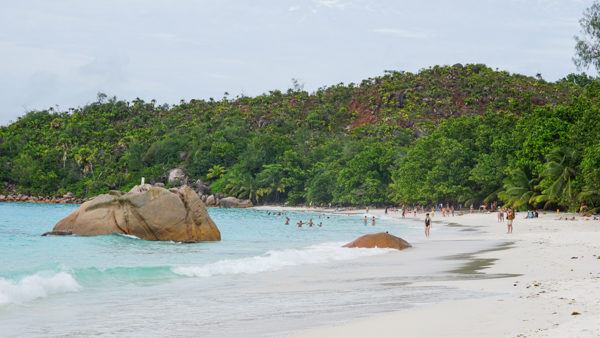 If you have any of the above concerns with driving around Mahe, you can rest easy that they are not nearly as bad on Praslin. The roads are a bit wider, the mountain pass is a bit less twisty, the buses are less frequent, and the gutters along the side of the road are less frequent. So take just about everything mentioned above and reduce the severity slightly, and that is driving in Praslin.
The only one that is of similar difficulty is the roads becoming one width apart at times just as they do on Mahe. You'll notice this as you head to Anse Lazio, Anse La Blague, and as you go around the southern tip of the island (between the jetty on the southeast and Les Rochers Restaurant on the southwest)- the latter one having some fairly steep segments at times as well.
In fact, we highly recommend taking the mountain pass instead of this section of the road because the road is just that intense. You can certainly do it if you want to go see the beaches along that side of the island (which you'll mostly see from the road only) or to eat at Les Rochers (highly recommended for a splurge), but beyond that, we can safely say you don't want to drive on that one regularly. Take the mountain pass!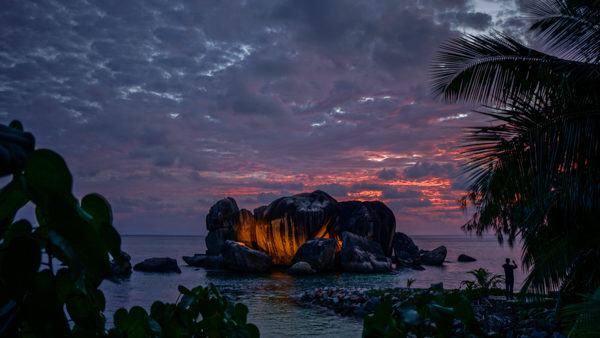 Driving on Praslin is about what we expected driving in the Seychelles to be like prior to visiting, and was relatively stress-free outside of some of those narrow roads mentioned above. But it also helped that we drove on Mahe first and were already used to slightly more intense driving conditions before moving on to the easier ones here.
With regards to parking on Praslin, more beaches had options to park than on Mahe, but was still simply dirt spots carved out between palm trees and not dedicated parking like you may be used to.
The famous Anse Lazio had two decently sized parking areas which were surprising to see. It is worth noting that the first one you'll find has signs saying something to the extent of "parking ahead is limited, park here" but the lot closer to the beach is actually much larger (and we found parking each time while others waited for a spot at the smaller lot).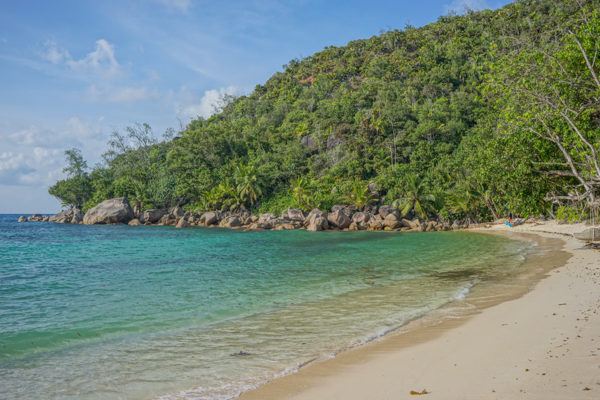 A few beaches, like Anse Kerlan, Anse Georgette, and a couple of others had hotels on the land surrounding the beach and would not allow access to visitors who either did not have a reservation or were heading to the "beach bar." We opted to do the latter for Petite Anse Kerlan, and $64 later we could say we "enjoyed" the beach (but we did go for a second round which was not necessary).
So where you may miss some beaches on Mahe by having no parking at all, you may miss some beaches on Praslin because the hotels are not welcoming to non-guests.
In terms of gas, we drove around the island two full times, over the course of three days, and spent about $15 in gas. The perks of being a smaller island!
Driving on La Digue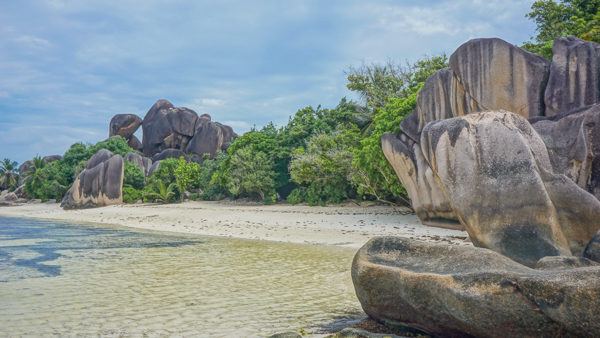 Just kidding, there are few cars on La Digue and none are available for visitors. Pick up a bike for 100-125 rupees ($7.50-$9.00) per day and go for a ride.
It is a welcomed break!
Enjoying a Car Rental in the Seychelles is Not That Bad
Overall, getting a rental car in the Seychelles is not terrible. In fact, I would call if easy from one point of view and am probably being a bit too critical (at times) in this post.
That being said, there are still things that make driving in the Seychelles stressful beyond what you would expect elsewhere- especially on the mountain passes and with the steep gutters on Mahe. You get used to them, but it is still a bit nerve-wracking at times.
So do what you can to be mentally prepared for this, go slow, and watch out on the tight bends when cars (or more likely, buses) may be coming around a bit too fast. Get into the habit of that, and you'll be just fine.
When it comes down to it, a car rental in the Seychelles is almost a must for those truly looking to explore. You can do this with local buses, but both have their perks and drawbacks. But to us, we'd do it no differently. The car is the way to go!
Looking to rent a car in the Seychelles? We went with Maki Rental Car who sources their cars via local suppliers. We were paying customers here but worked with them in the past in Mauritius (we're now just fans). Otherwise, click here for a quote!
Looking to book a room in Seychelles? Check out these great options!
About Jeremy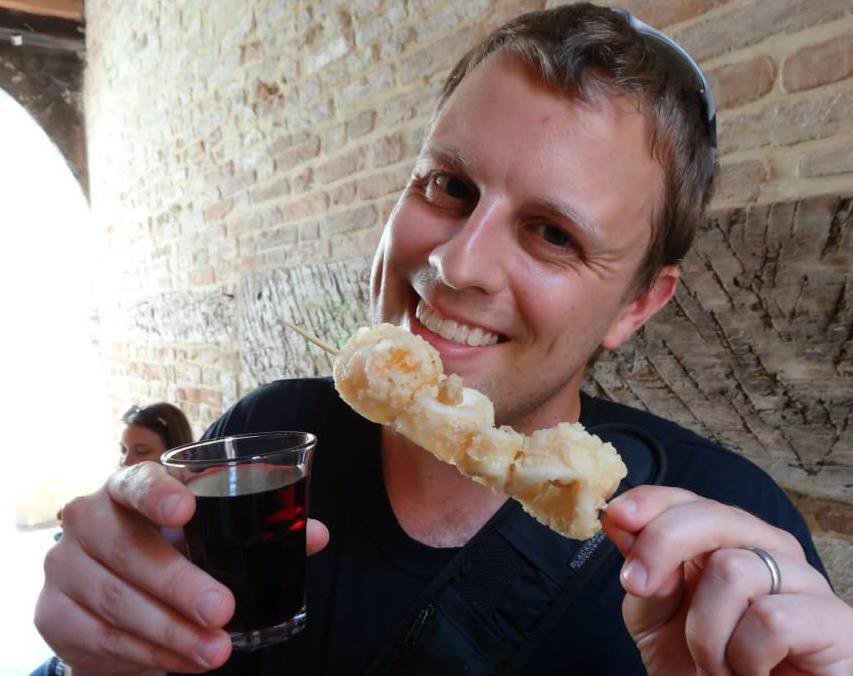 About the Author: Jeremy is a full-time travel writer based in Pittsburgh and primary author of this site. He has been to 70+ countries on five continents and seeks out new food, adventure activities, and off-the-beaten-path experiences wherever he travels.