Last Updated on February 7, 2023 by Angie
Disclaimers: Our site uses demographic data, email opt-ins, display advertising, and affiliate links. Please check out our Terms and Conditions for more information. Listed prices and attraction details may have changed since our visit and initial publication.
The Seychelles beaches are what dreams are made of- with white sand, crystal clear water, beautiful rock formations, and picturesque palm trees.
While this may seem like a wonderful thing, if you're actually vacationing there, it can be a bit overwhelming to try to prioritize which beaches you want to visit.
That's where we come in!
During our two weeks in the Seychelles, we spent time on Mahe, Silhouette, La Digue, and Praslin, and we're here to share our favorite beaches from these four islands. There are lots of different kinds of beaches – some are good for sun bathing, swimming, snorkeling, walking along and exploring, watersports, and the list goes on.
Here we will try to describe the features of each Seychelles beach so you can find the ones that are right for you!
Another point to keep in mind is the time of year that you visit the Seychelles – certain beaches have strong currents at particular times of the year, making swimming dangerous. Others have lots of seaweed during certain months. It's best to do some research about the conditions during the time of year you'll be traveling so you won't be disappointed.
Beaches on Mahe
While there are plenty of beaches worth exploring around the entirety of Mahe, the ones on the southwestern side of the island are the most well-known.
Anse Intendance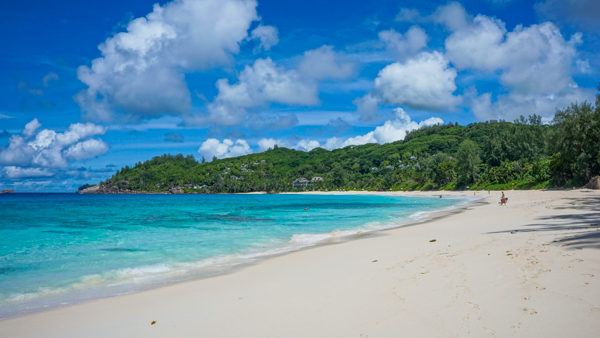 This beach stretches for half a mile and features beautiful white sand. The waves are quite intense here, meaning swimming isn't all that easy, but it's a great spot for walking along the beach or sunbathing. The Banyan Tree resort is on one side of the beach but on our visit the whole beach was pretty quiet with few visitors.
Baie Lazare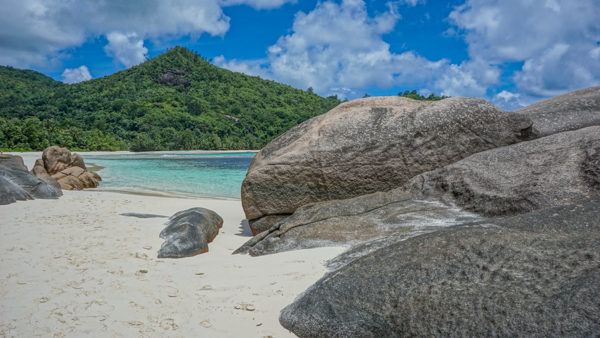 This was without a doubt our favorite beach on Mahe. The water was incredibly calm and relatively shallow, making it a super spot for swimming. The water was so warm it was basically like taking a bath. (Note: From June through October the water is rough here). There are some really cool rock formations in the middle of the beach that we had fun climbing and walking through and around. Bonus: there were hardly any people here!
Police Bay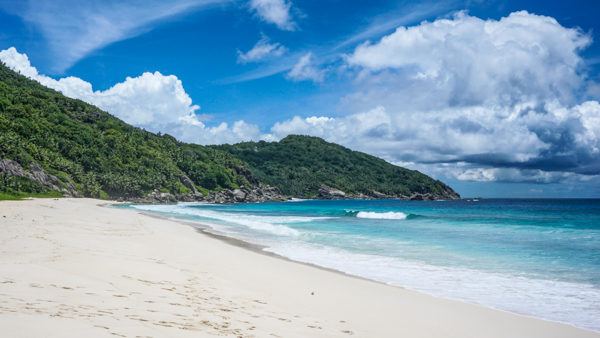 Located on the southern side of the island, to reach this beach we had to park the car and walk the last 5-10 minutes (the road got narrow and rough). Many people describe Police Bay as a "wild" beach, and I would certainly agree with that. The waves are quite rough and the water is deep – not good for swimming, but surfers may enjoy it. Another thing to note about this beach is that there is virtually no shade. We only lasted a little while here because the sun was so intense.
Anse Major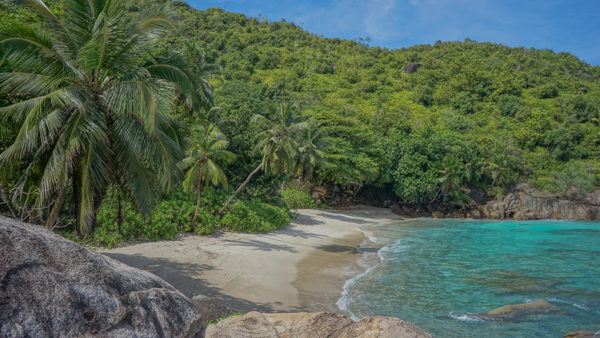 If you're the adventurous type, you can hike for about an hour to reach the small, secluded beach of Anse Major. (Of course, you can also take a boat, but that's both cheating and genius to avoid the hike to get there!) The water was rough here in February, but after a hot, sunny hike like this one nothing could stop us from jumping in!
Beaches on La Digue
One of the smaller islands in the Seychelles, there are (relatively) no cars on the island, so bikes are the main form of transportation. The famous beach here is Anse Source d'Argent, but there are several other great beaches on La Digue that are worth your time!
Anse Source d'Argent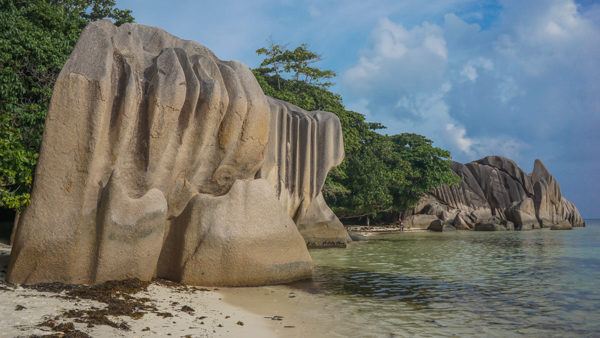 The one and only Anse Source d'Argent always ends up on lists of the world's best beaches. It can get quite crowded with day trippers, but we stayed on La Digue for two nights and visited early in the morning and at sunset when only a handful of people were there. If you're willing to wade through the rocky water you can walk quite far (waterproof sport shoes like Keens are helpful) and explore in and around all of the rock formations. In February the water was calm and perfect for swimming. Note that to reach the beach you have to cross L'Union Estate which has a 110 SCR entry fee, but the ticket is good the entire day so you can leave and come back.
Anse Patates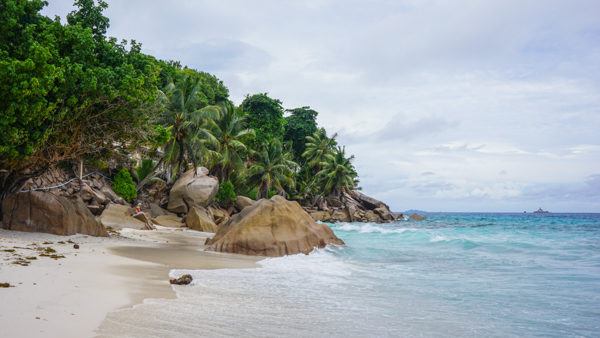 A very tiny beach studded with fascinating rock formations, this one is cool because it is situated below the road. It's a great spot to grab a photo of you on your bike with the beach in the background. The water seemed a bit too rough for swimming, and because the beach is so small it's not necessarily a great spot for sunbathing, either. That being said, it's a supremely beautiful spot worth a stop to explore. We've also heard there's some good snorkeling here.
Anse Severe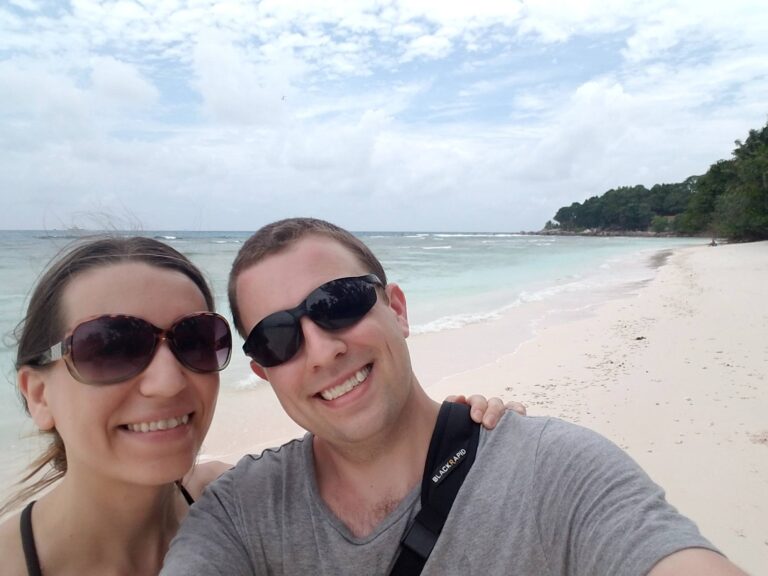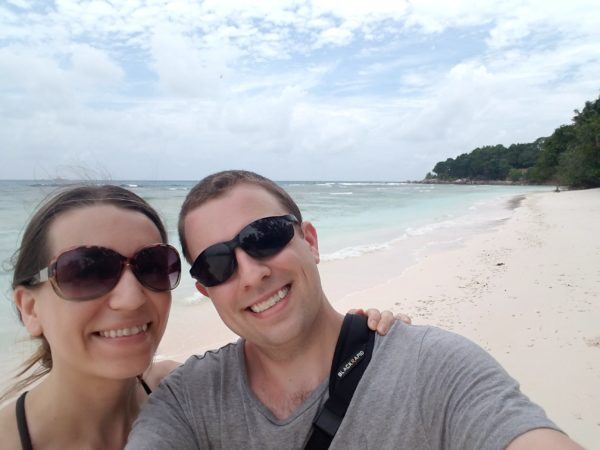 Another solid Seychelles beach, Anse Severe is a long beach with shallow, fairly calm waters. We spent an afternoon here people watching and eventually the peacefulness lulled us to sleep in the shade. It's an all around great beach.
Grand Anse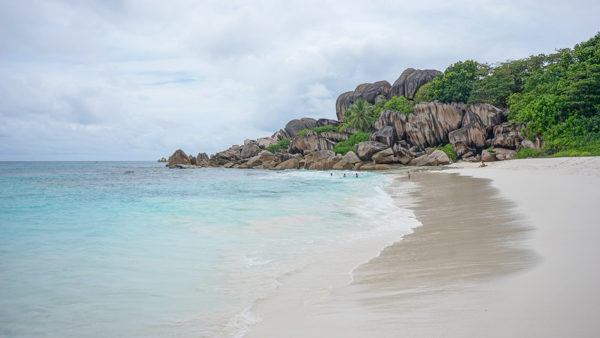 The bike ride to get here is super intense and seemingly uphill both ways. The waves were pretty rough but we were so sweaty from biking that that didn't stop us from jumping in. The beach itself is quite long and has relatively little shade. There was a moderate number of people here during our visit, but nothing too crazy.
Beaches on Praslin
Praslin is another popular island for both day trips and overnight stays with the most popular beaches being on the north and west sides of the island. As with many other beaches in the Seychelles, seasonal seaweed can affect them so do some research before planning your trip.
Anse Lazio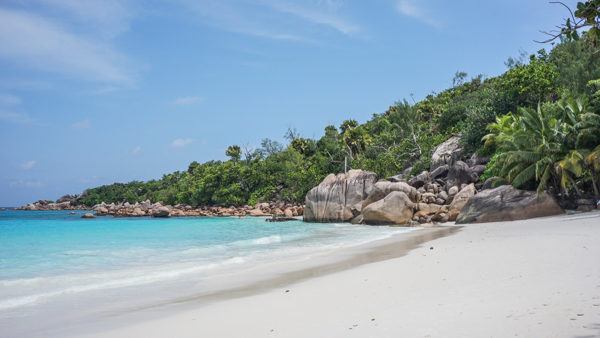 The most famous beach on Praslin, this one understandably draws tons of crowds. It's a long beach with some shade in the first half of the day, and there are cool rocks at either end of the beach. It's an overall great beach for swimming or sunbathing, and there is some great snorkeling amidst the rocks just off shore. We don't really like crowds so we made sure to get here around 10 AM to grab our spot and enjoy the calm before the masses showed up.
Grand Anse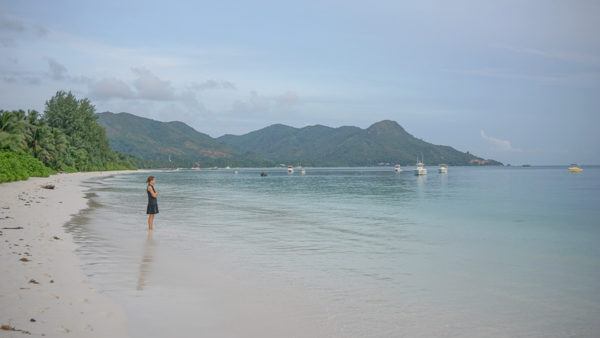 We stayed at Dhevatara Beach Hotel located along this beach, and we thoroughly enjoyed this low key, beautiful beach. In fact, I would say it was one of our favorite beaches of the trip. It's an extremely long beach (over a mile long) and we loved just walking up and down the beach, watching tourists and locals go about their business. You can also see the sunset from here. We also loved watching the marine wildlife here – we saw several sting rays and other types of rays every night. Additional pluses are that the beach is practically deserted, and the water is shallow and calm!
Petite Anse Kerlin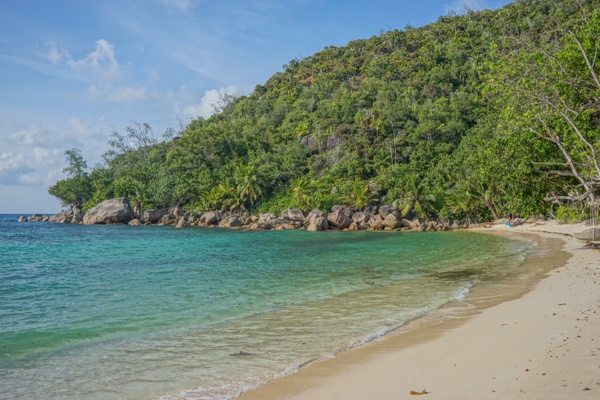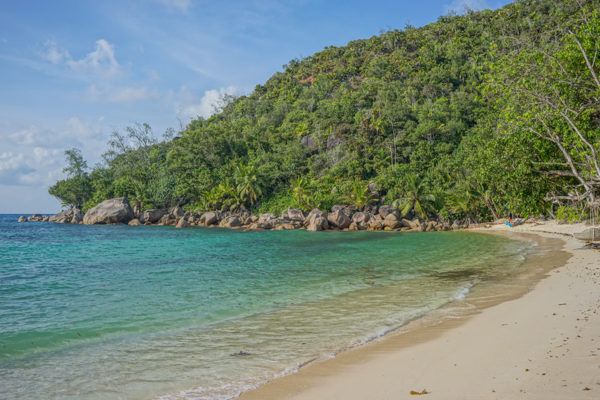 Petite Anse Kerlan is located on the property of the Constance Lemuria resort, and is a bit tricky to access. You have to call ahead to the resort and let them know you're coming. Unfortunately, when our hotel called, they said that they were "booked" for the entirety of the next week and that we couldn't come. We ended up getting in anyway by heading to the beach bar, and we were so glad we did. We watched the sunset from the beach bar with cocktails in hand. Although the beach is small, it is quite beautiful – we even saw a ray jump out of the water here!
Beaches on Silhouette
Silhouette island is a very special place as 93% of the island is part of Silhouette National Park with the remainder consisting of the Hilton Labriz hotel. There are many beautiful beaches on this island, but the best part? They're nearly all deserted.
Anse La Passe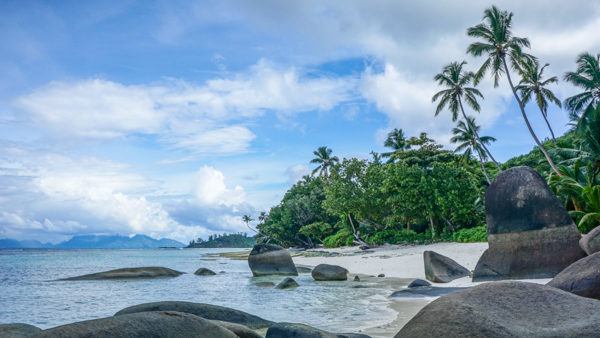 This is the main beach in front of the Hilton Labriz that spans over a mile. It's a great beach for walking, swimming, or sun bathing, although the water gets quite shallow at low tide and sun bathing is best done in the first half of the day due to the beach facing northeast. While the main part of the beach in front of the pool area is quite lovely, our favorite part was the northern end of the beach near the spa and the Silhouette Estate. Up here the rocks rising out of the water, the palm trees, and the wildlife all make for a picture perfect experience. We even watched an eel hunting a school of fish right from the beach here!
La Cimetiere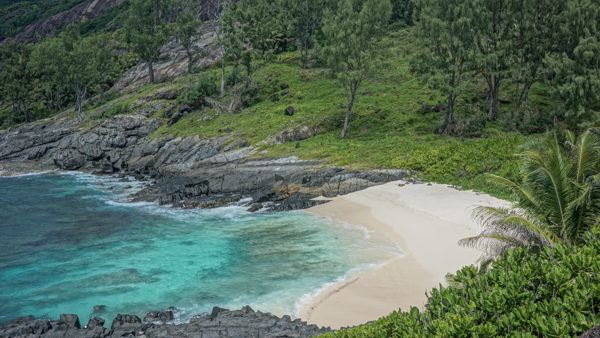 This beach requires a short hike to reach. If you walk from the main jetty in La Passe along a dirt trail to the south, you will see a sign for Point Ramasse Tout. You should definitely check out this photographic spot that's on rocky cliffs high above the water. From here you can see La Cimetiere directly below. The waves are fairly rough here so we consider this beach best just for exploring and maybe taking a quick jump in the water.
Whether you want to swim, snorkel, surf, sunbathe, or just appreciate natural beauty, it's easy to find a Seychelles beach that suits your interests. Just do some research on the tides and seaweed patterns for the time of year you're going, and a vacation in a tropical paradise will await you!
Looking for more Seychelles posts? Check out how we got a $13,000 Seychelles vacation for just $3,000 or our guide to how to visit the Seychelles without spending a lot of money!
About Angie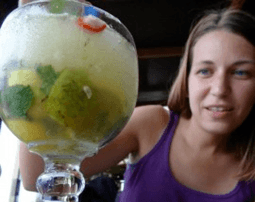 About the Author: Angie is a contributing author. She has been to nearly 60 countries and seeks out the best restaurants, bars, bakeries, and other unique food items wherever she goes- often with her husband, Jeremy.