Last Updated on February 7, 2023 by Angie
Disclaimers: Our site uses demographic data, email opt-ins, display advertising, and affiliate links. Please check out our Terms and Conditions for more information. Listed prices and attraction details may have changed since our visit and initial publication.
The Seychelles are full of world class beaches, many of them easily accessible via roads.
But there are also numerous beaches in the Seychelles that are a little more difficult to reach, ones that you can only get to on your own two feet or via a boat.
We love the challenge that comes with trying to get to this type of beach, and during our recent trip to the Seychelles we did a few short hikes to see some of them- including Anse Major on Mahe island.
Anse Major is considered one of the most beautiful secluded beaches on Mahe, so we of course had to check it out.
But one thing we did not know was how intense that journey would be, and that gives us reason to pause in recommending this hike to others.
Getting to the Trailhead is a Challenge in its Own Right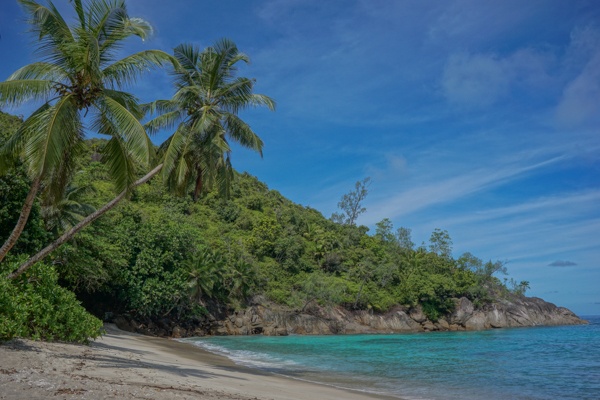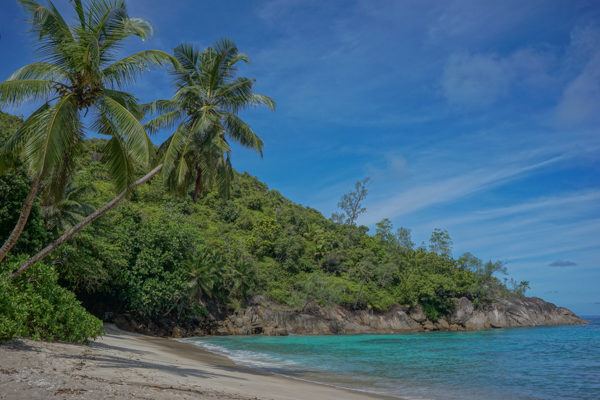 We were very lucky that we had a rental car in the Seychelles because before you even get to the trailhead, you have to go up a very steep, windy paved road.
As we were leaving we saw numerous people walking up this road presumably to the trailhead (after being dropped off by a bus), and it did not look fun in the hot, humid weather.
Driving up this road was pretty scary, we're not going to lie. The road is very narrow with a rock face on one side and a steep drop off on the other. There aren't really any clear places to park and at first we didn't even see the trailhead from the road.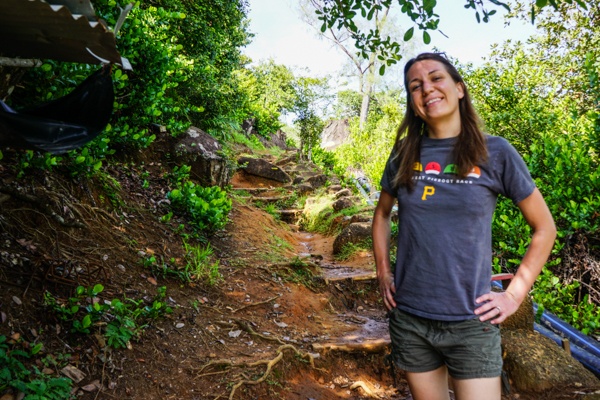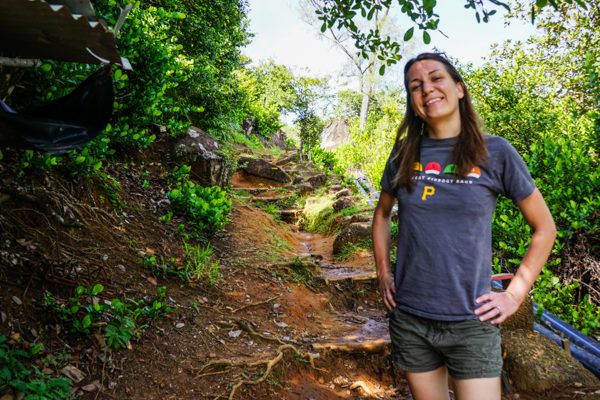 We ended up driving all the way to a dead end in the road where there was a house and a small parking space. The residents of the house quickly alerted us to the fact that we couldn't park there, which makes sense because it's the only place to turn around on the entire road.
We found a small spot to pull mostly off of the road near the trailhead. It was close to a sign that said "Anse Major Drinking Water" and a driveway that had a "no parking" sign. We asked some construction workers where the trail began and they happily pointed the way to the uphill steps that began the trail.
It'll be a recurring theme in this post that getting started early is important, and it is especially so for finding parking.
There are, at most, five parking spots within a mile of the trailhead, and as we were one of the first cars to arrive at about 9:15am we got one of the closest spots.
Those who arrived later? They weren't so lucky (for a number of reasons).
What is it Like Hiking to Anse Major?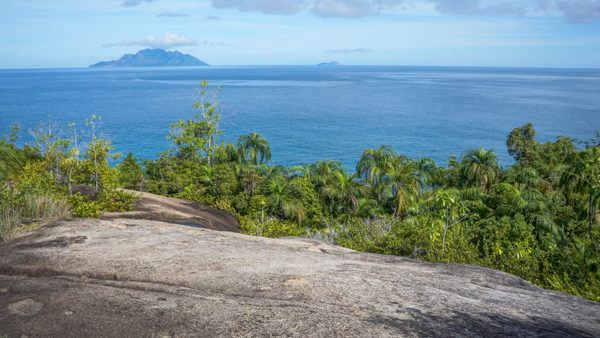 The trail is very well marked and easy to follow. Most of the trail is completely exposed to the sun after about 10am, but there are a few points where it passes through tree cover which is most welcome. (Although there are lots of mosquitos to go along with the trees.)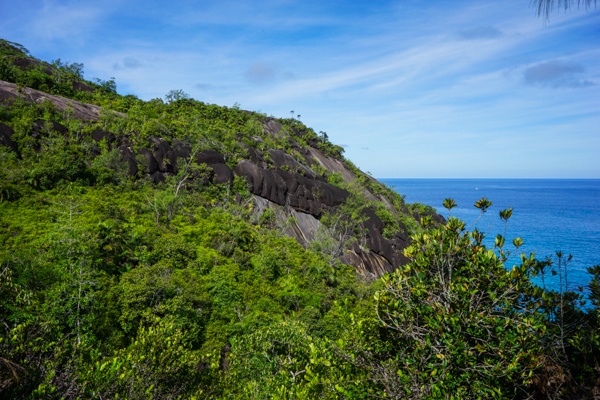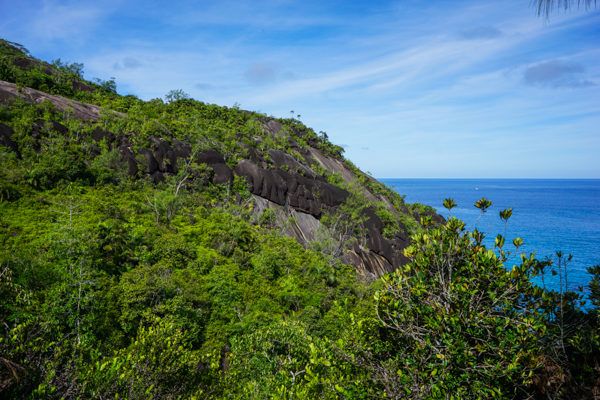 The trial has a number of different sections of terrain, including climbs, drops, extremely rocky areas, and a brief walk through a forest just before you arrive to the beach.
The first part of the hike doesn't seem that bad, but as the terrain changes, more and more challenges present themselves that you have to pay attention to (the rocky segment being among the trickiest).
Much of the trail has stunning views down to the ocean below and over to Silhouette Island. As you get closer to the beach, there is a fantastic view point where you can see Anse Major down below.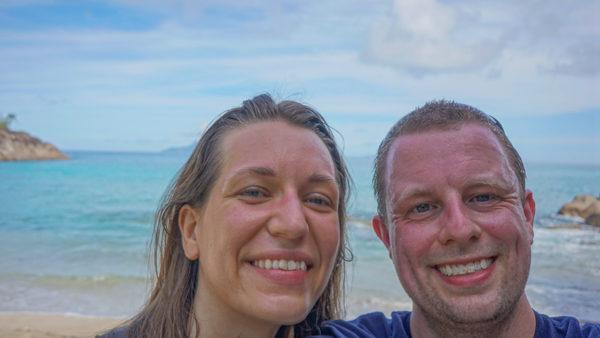 Immediately after starting the hike we were drenched in sweat and already burnt. I really mean it when I say the trail is exposed to the sun, and it's pretty hilly with lots of rocks to scramble up and down. We were mostly okay with this, because the destination of Anse Major was worth it to us.
But on our way back we saw more than one person turn around because they couldn't handle the heat and sun, and had a few others ask us if it was worth it at all. We reluctantly said yes, but only because they had already walked part of the way when meeting us.
We read widely varying time estimates for how long this hike would take – anywhere from 45 minutes to 2 hours one way. It took us approximately 45 minutes one way, and we were walking at a moderate to fast pace and took a few pictures along the way.
Anse Major is a Gorgeous Beach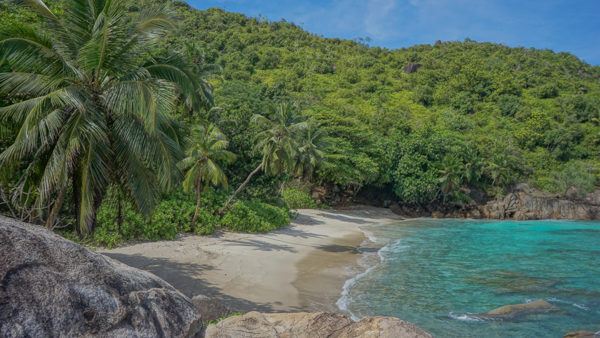 The beach is small but definitely beautiful, with a few palm trees and lots of vegetation all around. The water was a bit rougher than what I normally like to swim in, but after sweating intensely for 45 minutes straight, you better believe I ran right in.
Although we were the first people at the beach around 10AM, within minutes there were a dozen or so other hikers joining us. There was also a boat that brought another dozen or so people. It looked like they were going to stay for a while as they brought a cooler full of lunch and drinks.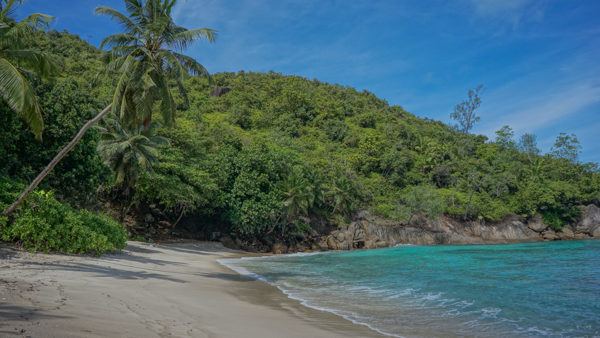 Part of me felt like they were cheating by taking a boat to the beach, but the other part of me thought they were smart for avoiding the sun and sweat.
While we enjoyed our time at the beach, we didn't stay long because we knew what awaited us – an hour-long hike back to our car in even more intense sun.
As more and more people passed us going towards the beach, many looking much more miserable than we did, we have to think that we made the right choice in going early.
But we wouldn't do it again- once is more than enough!
Tips for Hiking to Anse Major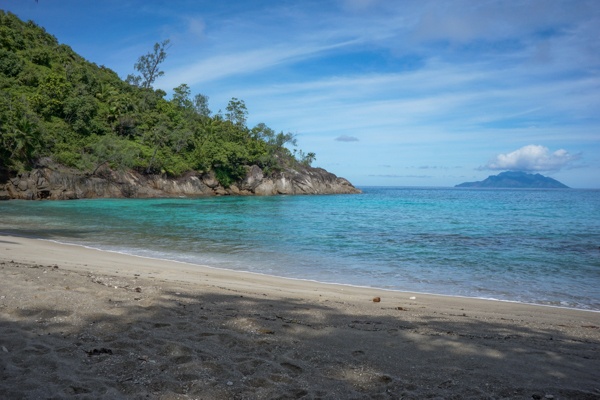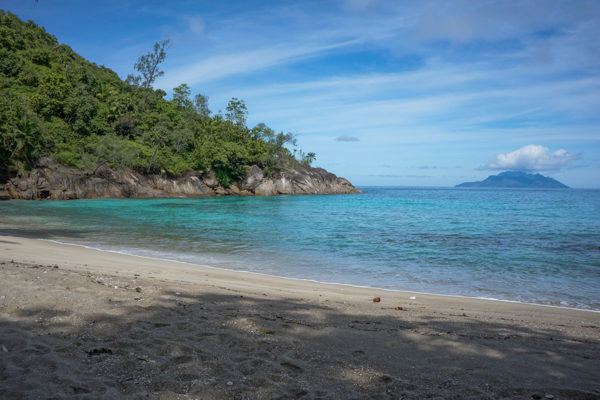 As hiking to Anse Major is quite challenging, we have a few tips that we wished we would've known before tackling this one ourselves:
Wear sunscreen and bring some extra along with you. If you only follow one tip, let it be this one. Otherwise you will be burned to a crisp.
Wear a hat and cover your shoulders/back. Even with sunscreen, the sun was so intense that I ended up draping our beach towel over my shoulders to cover them. A lightweight long sleeve shirt would have been a savior.
Start the hike as early in the morning as you can stand, no later than around 9AM- both to minimize your sun exposure and to get a good parking spot.
Bring at least 1 liter of water per person, if not more.
Wear hiking shoes or waterproof sport sandals (we love our KEENs).
If you have bad reactions to mosquito bites, wear bug spray. The bugs are quite active in some parts of the trail.
If you're visiting during peak season, ask your hotel about ferry services which exist on a not-very-frequent schedule.
You'll still have a relatively strenuous hike to get to the beach, but these tips will help make it all go just a bit better. If only just a little.
About Angie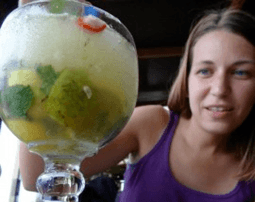 About the Author: Angie is a contributing author. She has been to nearly 60 countries and seeks out the best restaurants, bars, bakeries, and other unique food items wherever she goes- often with her husband, Jeremy.