Last Updated on July 29, 2020 by Jeremy
Disclaimers: Our site uses demographic data, email opt-ins, display advertising, and affiliate links. Please check out our Terms and Conditions for more information. Listed prices and attraction details may have changed since our visit and initial publication.
When we first began planning our vacation in the Seychelles, we knew we wanted to hit up the Hilton resorts due to Angie's Diamond status and her obscene number of points (plus extra from our travel rewards credit cards).
We found out that the country has two- the Hilton Northolme on the island of Mahe (also known as the world's smallest Hilton) and the Hilton Labriz.
The latter of which was an interesting one to come up as it is a private resort on Silhouette Island. An island that, if you removed Hilton from the equation, would consist of just one small village and a little guest house.
We started calling it Hilton's private island, and after we arrived we have to admit, the Hilton Labriz felt just like that.
So come join us in our full Hilton Labriz Seychelles review!
Hilton Labriz is an Experience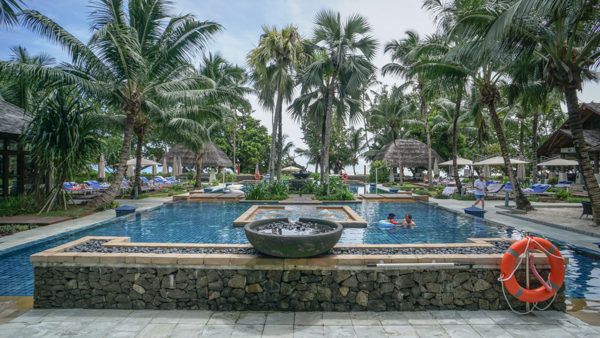 Everything about the Hilton Labriz is an experience.
It starts when you head to their private jetty at Bel Ombre and check in before taking the 45 minute ferry to the island. Yes, you check in at the departure jetty.
When you arrive, you are welcomed at yet another reception jetty with cold towels and a waiting team with golf carts to either take you to your room (if ready) or to the hotel lobby for a meal/refreshments.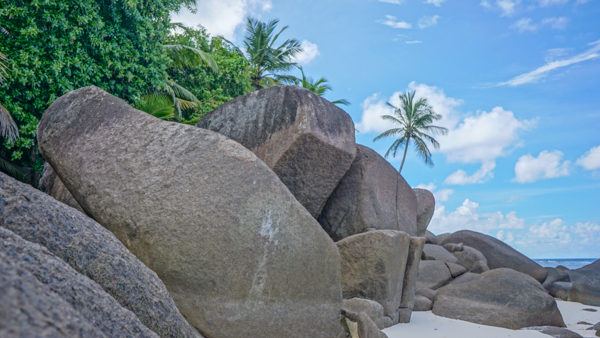 Diamond members are escorted in their own carts with a manager, while everyone else takes larger golf carts for groups of about eight. Being Diamond, we got the former and our Labriz experience began with a private tour of the property from the front desk manager before being dropped off at our room- which was fully prepared for arrival despite being several hours before proper check in.
Compared to other Hilton's, like the Hilton Mauritius or Hilton Dubai Jumeriah (where we didn't get to check in for the better part of the day), this is a big win!
After getting settled in, we called the concierge up to make reservations at some of the property's restaurants as well as a reservation at the spa. As we found out by the manager, Diamond members get a nice discount which was enough to seal the deal for us without a moment's hesitation.
It was then time to do what we set out to do when visiting Silhouette Island- relax!
Relaxation Begins in the Room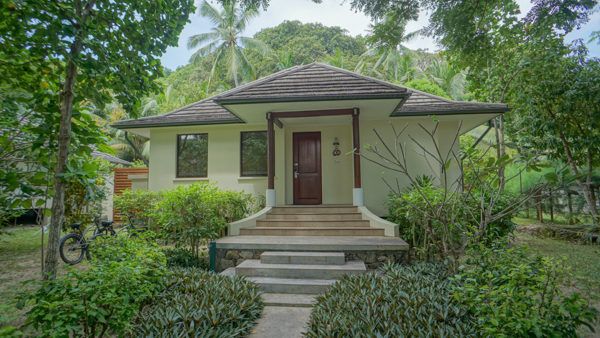 One of the things we absolutely loved at Hilton Labriz is that each room is its own villa, and the buildings go on for the entire length of the property (which for some is one of the few complaints of the resort- its long!).
We received an upgrade thanks to Angie's Diamond status to a hillside/garden villa with plunge pool- the second to highest premium villa class. (The most expensive is a beach front villa with plunge pool that we were happy to not receive an upgrade to for reasons we'll get into later).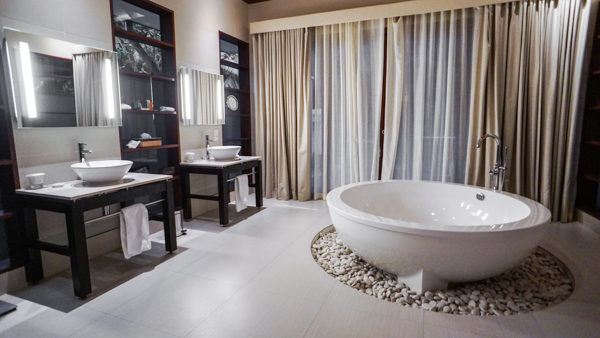 Our villa itself was well over 1,000 square feet in size and included a massive bed (one of the most comfortable we've had), a full living room area, a walk in closet, a bathroom that is the size of most hotel rooms with a tub to match that took over an hour to fill, and an outdoor area with a plunge pool, hammock, and beautiful views of the famous rocks the Seychelles are known for.
Ironically, despite its name it was not actually on a hill, but rather the back wall was a hill itself- win!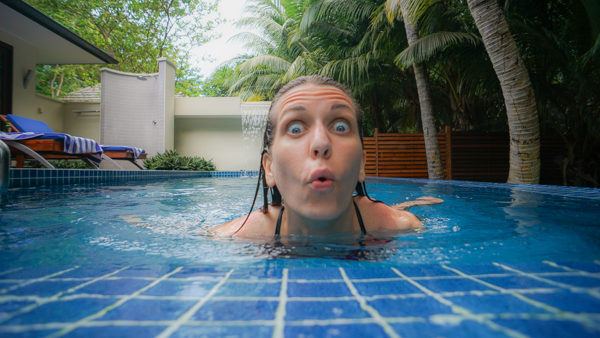 As far as relaxation is concerned, the villa provided everything as the privacy was unrivaled by anything other standard room on the property- those beach front villas had wide-open beach access, meaning you could see inside each villa's outdoor area. No one could see us relaxing!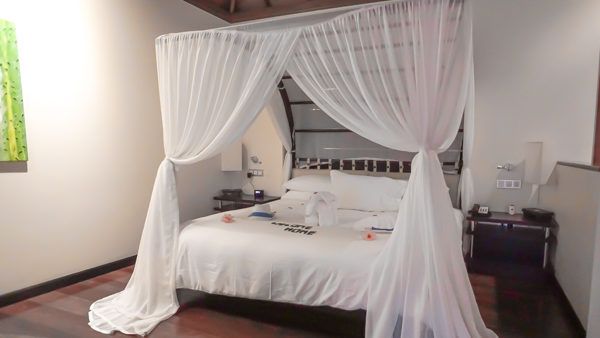 Had we not visited the island to actually explore, this room would be the kind of place we could hole up for a few days in and be perfectly happy. It is in the running for the best room we've ever had with Hilton, and that is truly saying something.
A Monster Property to Explore and Enjoy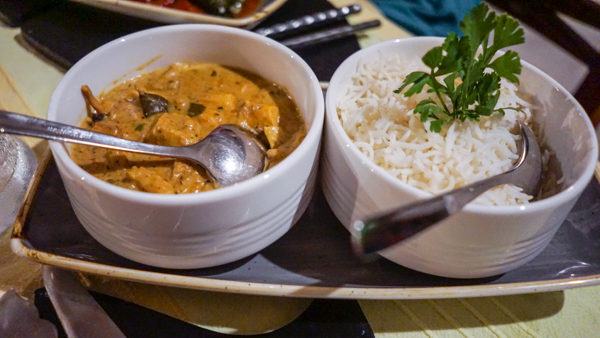 As mentioned above, the property at Hilton Labriz is huge. This is an understatement.
The property itself runs about a half mile in length, has seven restaurants of various themes, several bars, a beautiful pool, and has access to many other interesting things to see on the island.
What we quickly noticed after arriving is that most guests do not get out of the hotel / beach / pool cycle to enjoy the rest of the property. But as Diamond members the hotel was actively encouraging us to do so with things such as free bike rentals (dedicated to our villa), free kayaks, discounts to the spa, and a special elite member breakfast at Portobello where we were quite literally the only guests one morning.
Take the bikes out to the nature center to see the baby turtles, they said. We did. Take a kayak for a spin! You know it! Join us for all day happy hour today. Yup!  Walk to the end of the coast where the rocks and sand are the best. It really is stunning, and empty!
We had a hard time saying no when so much was being thrown at us, and we wouldn't have it any other way.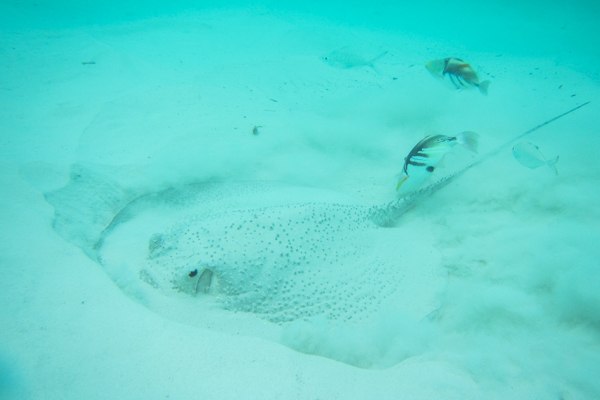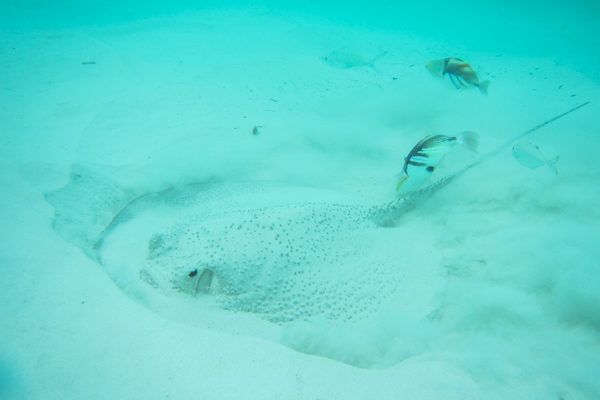 In fact, the only thing we didn't do on the island was simply going snorkeling, as the crystal clear waters off the shore let us see eels, sting ray, and an array of fish simply by walking out into the water and standing there.
Perfection.
Do Not Miss the Hikes!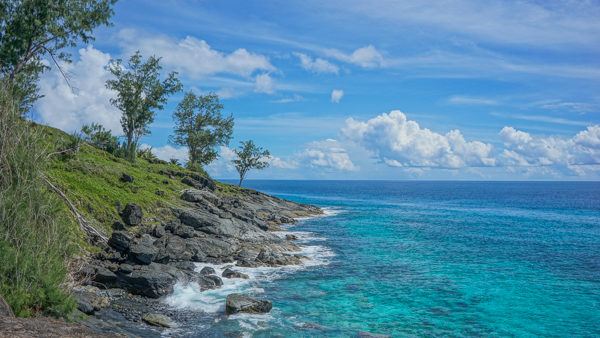 Now, we could probably stop right here and tell you that the Hilton Labriz is one of the best hotels in the chain we've been to so far, but we have more.
The reason for this is because the Hilton Labriz hotel is pretty much the only hotel on Silhouette Island, and despite its large size it occupies only a small percent of the island. The rest is an undeveloped nature reserve that is waiting to be explored!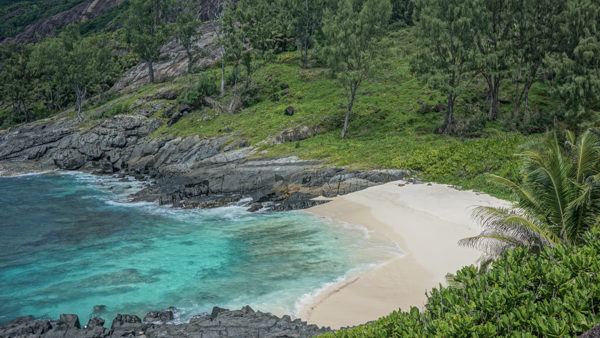 During our visit we opted to not take any of the guided hikes as they were quite expensive, and instead went on one hike that looped around the southern edge of the island to Anse Cimetiere, and also attempted a hike to Anse Mondon which we had to turn around on due to a pending deluge (it gets quite muddy when raining so we thought it'd be better safe than sorry).
The best part about these hikes? We were the only ones on them!
Just like how the number of guests who go outside of the standard resort bubble was low, we had the island practically to ourselves to self-explore and we wouldn't have had it any other way.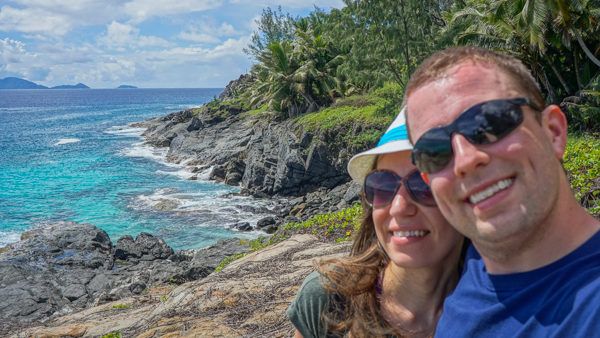 So if you are wanting to get out one morning to explore a slice of the island and get absolutely alone with the beautiful nature reserve of Silhouette Island, a hike is an absolute must to top off what is an already damn-near perfect stay.
Overall, the Hilton Labriz is an expensive hotel through and through. Despite the fact that we paid for the room on points, received complimentary upgrades as well as bike and kayaks, and discounts on happy hour and spa treatments, our three night stay still cost us about $850 out of pocket- making it one of the most expensive destinations we've been to even with the massive savings!
But I have to admit, it was worth every penny when it was all said and done.
To book a room at the Hilton Labriz Silhouette Island, click here.
Looking for more Hilton hotel reviews? Click the previous link to check out our database of everyone we've stayed in so far!
About Jeremy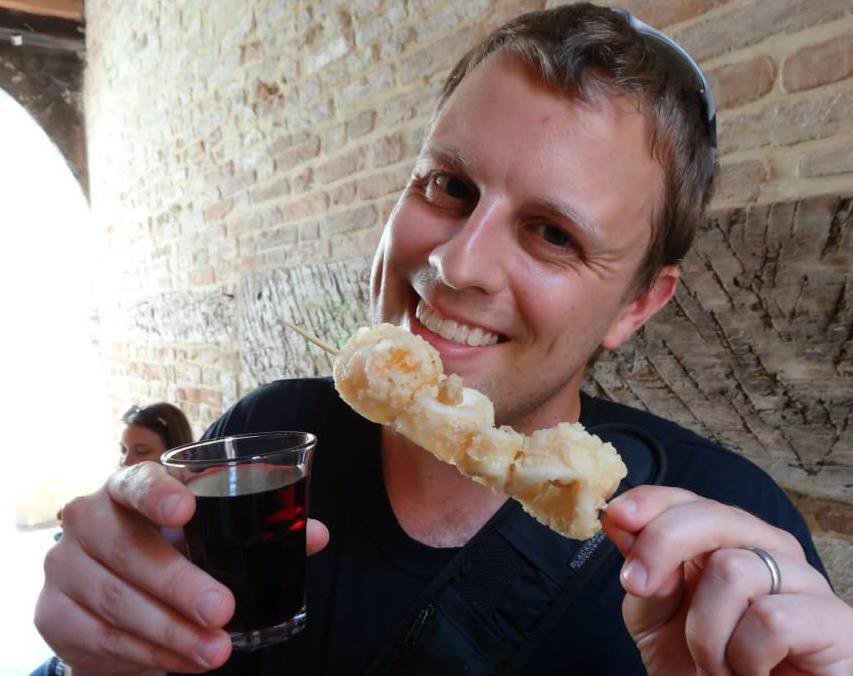 About the Author: Jeremy is a full-time travel writer based in Pittsburgh and primary author of this site. He has been to 70+ countries on five continents and seeks out new food, adventure activities, and off-the-beaten-path experiences wherever he travels.