Last Updated on January 24, 2022 by Jeremy
Disclaimers: Our site uses demographic data, email opt-ins, display advertising, and affiliate links. Please check out our Terms and Conditions for more information. Listed prices and attraction details may have changed since our visit and initial publication.
We're no strangers to staying in nice hotels when we travel, and more often than not when we need a really luxurious hotel stay we find ourselves checking out the Hilton hotel property chain as Angie amasses close to 1,000,000 points a year on the hotel chain for her day job travels (not to mention, that highly coveted Diamond status).
In this one, we wanted to compile a database of the Hilton reviews we've published over the years, and give a quick snapshot of each property we've stayed in to-date. Suffice it to say, we've stayed in a few gems (and a few misses, too).
We will also be sharing status perks we received at each of the Hilton hotels as well as part of our gold and/or diamond status (depending on visit dates). Some of these may be as simple as a room upgrade or a free cocktail, others are a bit more unusual like spa access, free bikes or water sports, special breakfasts, and more. It is worth noting that perks often change and are only a reflection of the things we received during our visit.
Disclosure: We are not partners with Hilton in any capacity. We have paid for every hotel featured in this guide on points or weekend certificates received from credit cards (although we do pay for all of our meals and incidentals). We received Gold status through a credit card and later Diamond status through Angie's work travels to more conventional properties- those hotels are not featured herein.
Hilton Imperial Dubrovnik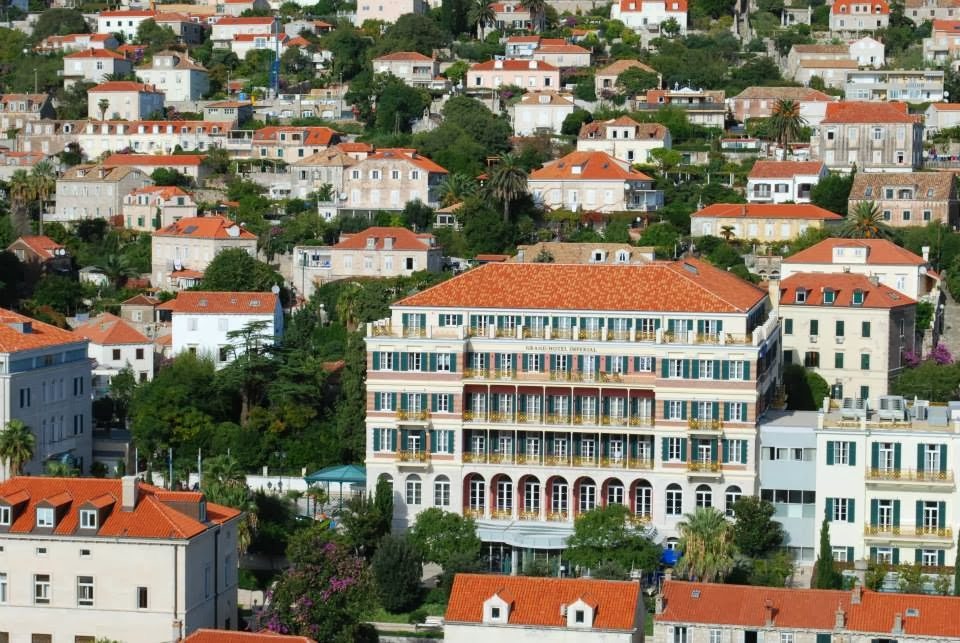 The Hilton Imperial Dubrovnik in Croatia was our first proper Hilton stay and really set the tone right. This building is historic, over 100 years old, opulent, and gives off a grandeur that most modern buildings decidedly lack, but its location, just steps from old town Dubrovnik, makes for a fantastic option for tourists who want to get out and explore and have accessibility on the mind. When visiting this one, if you value a view you'll do well going for an executive room with sea view as the views from the balcony are simply stellar.
Things to consider: The hotel is located just steps from old town Dubrovnik, making for a great base for those who want to explore the city.
Status perks: We received a room upgrade to the Executive level with our gold status that came with excellent balcony views of Dubrovnik. The executive lounge also had a good evening cocktail hour as well.
Click here to book your stay at the Hilton Imperial Dubrovnik.
Hilton Vienna Plaza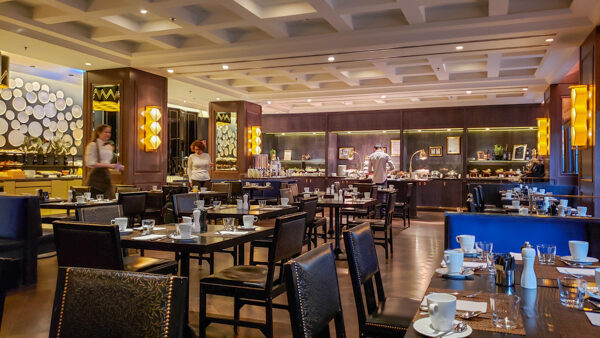 Much like the Hilton Imperial Dubrovnik, the Hilton Vienna Plaza is located in a historic building just outside of the city's old town. Despite being a historic building, we enjoyed the modern rooms and on-site amenities including a stellar breakfast buffet that was one of the best out of any city-based hotels we've been in. Although we only stayed here for a quick overnight between flights (and can only take in so much of the property as a result), it left a memorable enough impression on us that we'd return for a longer visit whenever we find ourselves in Vienna again.
Things to consider: There is another Hilton property in Vienna that is closer to the Old Town (and the train station that connects to the airport), but this one is not much further walking and has quick access to public transit.
Status perks: We received a room upgrade with our Hilton Diamond status and had a corner executive room with a stellar view. We also got a free buffet breakfast and a cocktail bottle plus almonds delivered to our room at night.
Hilton Reykjavik Nordica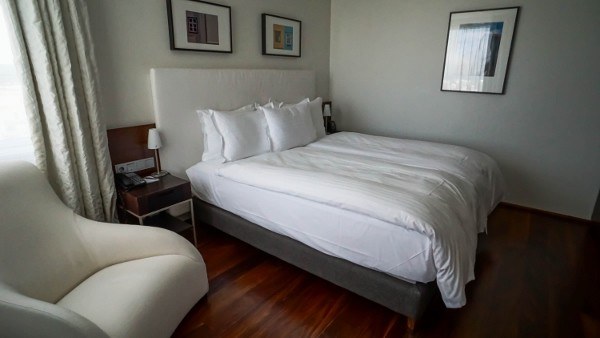 The Hilton Reykjavik Nordica is among the newer Hiltons out of all of the ones we've stayed in and is located just a bit outside of the old town in Reykjavik, Iceland. While this one somewhat lacks in location it makes up for it with modern rooms, a quiet ambiance, and a pretty impressive on-site spa that we received some excellent perks for our gold status.
Things to consider: The hotel is not located within the old town in Reykjavik and is a quick car or bus ride away. You may be able to receive a bus pass with your stay; however, we are unsure if this perk is still available.
Status perks: We received a room upgrade to a suite on the Executive level with our gold status. This also included free access to the on-site spa with jacuzzis, steam rooms, and a 10-minute shoulder massage from the on-site masseuse.
Click here to book your stay at the Hilton Reykjavik Nordica.
Hilton Cartagena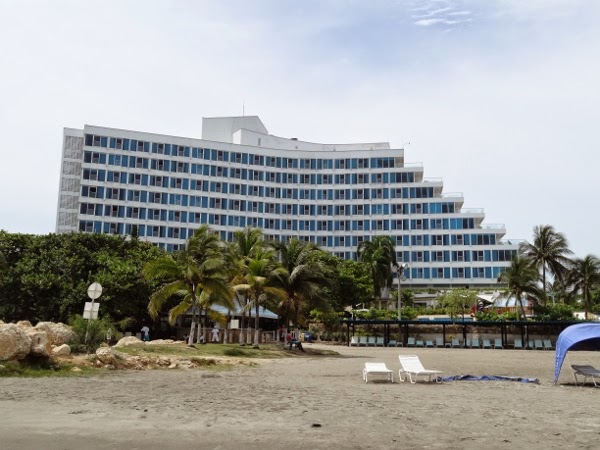 The Hilton Cartagena in Colombia is another large hotel that is located quite far away from old town Cartagena but makes up for it with comfortable rooms and beachfront access to the Caribbean. For us, this was all we needed to cap off our six-month tip-to-tip South America journey (completed all by bus). Dipping our toes in the admittedly cool Caribbean waters and having a nicer Hilton property was all we needed to relax and recover, while still having access to the historical sights in just a short bus or taxi ride away.
Things to consider: This hotel is quite far from the old town of Cartagena but was easily accessible via a frequent bus that picked up a short walk away.
Status perks: We received a room upgrade to the Executive level with our gold status. This included lounge access with happy hour drinks and breakfast and was quite appreciated.
Hilton Dubai Jumeirah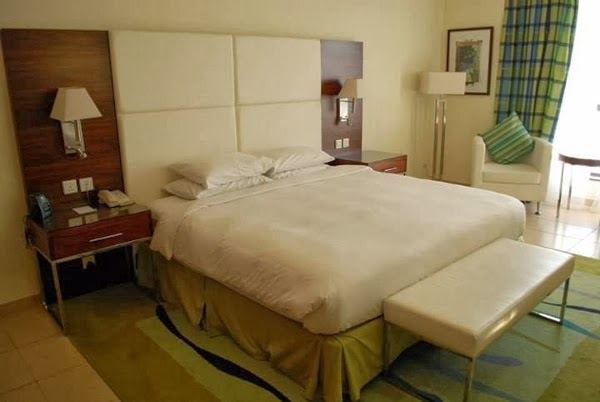 Hilton Dubai Jumeirah in the Emirates is a lot like the Hilton Cartagena in that it is somewhat away from the action, has its own private beach, and focuses on guest comforts over anything else. There are actually two Hiltons here and one is traditional hotels and one more apartment-style rentals in a high-rise. We stayed in the latter and were upgraded to a three-bedroom suite that offered commanding sunset views and glimpses of the Burj al Arab and The Palm Jumeirah to name a few. Our only regret with this one was that check-in took a considerable amount of time, so much so that we almost asked to not receive the upgrade just to get into any room at all.
Things to consider: The hotel is located on a private beach near The Palm Jumeirah. As with most of Dubai, the city is spread out and requires public transit to fully explore. We stayed at the on-site "Residences" (apartments) which may not be re-branded as "The Walk" but we have not seen any official press releases stating as such- as such, a bit of extra research may go a long way here.
Status perks: We were upgraded to a high-floor three-bedroom suite (plus extra fourth room for a maid or butler's corner). Likewise, we received free breakfast each morning with more high-floor views.
Hilton Mauritius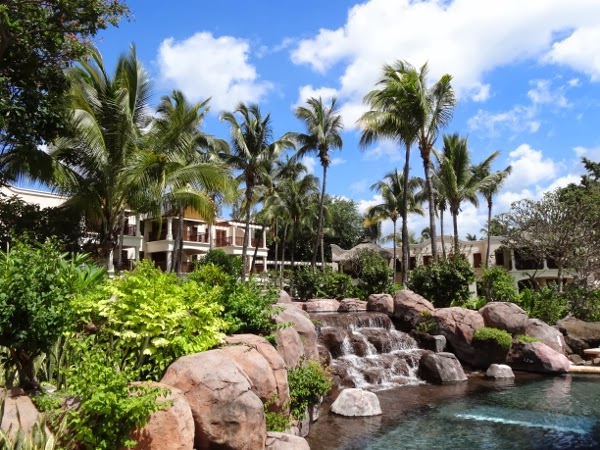 The Hilton Mauritius is located on a gorgeous beach in Flic-en-Flac and is a sprawling complex with many rooms, a gorgeous infinity pool, watersports, and more. Nothing beats watching the sunset go down over the waters at this one with a rum cocktail in hand, and those who rent a car will find the location an easy base for exploring as well (highly recommended). That being said, we had several issues at check-in here and a few other oddities come up during our stay as well. As such, our overall experience wasn't the best despite the property being gorgeous.
Things to consider: We had some big issues checking in and other on-site curiosities that pulled down an otherwise relaxing stay.
Status perks: We were given a preferred room due to our gold status, but was not necessarily an upgrade. We also received free breakfast buffets each day which offered enough food to keep us stuffed and offset other meal costs. Free wifi in the room as well but only after calling and asking about it (where an employee brought in a router just for us).
Hilton Labriz Silhouette Island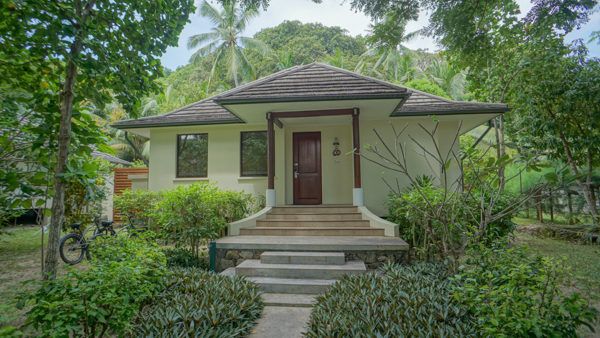 The Hilton Labriz Silhouette Island in the Seychelles is perhaps one of the most expensive Hilton resorts we've been to so far, and it doesn't take long to realize why that is. First, it is on its own almost private island which requires a private ferry to reach. Second, many of the rooms are private villas that increase in comforts with as much as you're willing to spend. Aside from the fact that the island was gorgeous, what we loved about this Hilton was how much they took care of guests- especially those with Diamond status. Between the room upgrade, drinking and dining perks, free bikes and kayaks, and more, we were really sad to leave this one.
Things to consider: The hotel is on its own private island (shared with just one other boutique hotel) and requires a fairly expensive private ferry from Mahe. Once there, you'll be buying everything through the resort. Make your restaurant reservations as soon as you arrive (if not before) as they book up fast. Don't miss a meal at Grann Kaz.
Status perks: We received a room upgrade to a garden villa with plunge pool (which were much more private than beachfront rooms, in our opinion), free breakfast in a non-buffet restaurant (which was delicious), a semi-private transfer from the hotel manager after our ferry arrived, free bike and kayak rentals, half-off happy hours, spa specials, and more. This hotel certainly took care of status holders and went above and beyond for us.
Hilton Northolme Mahe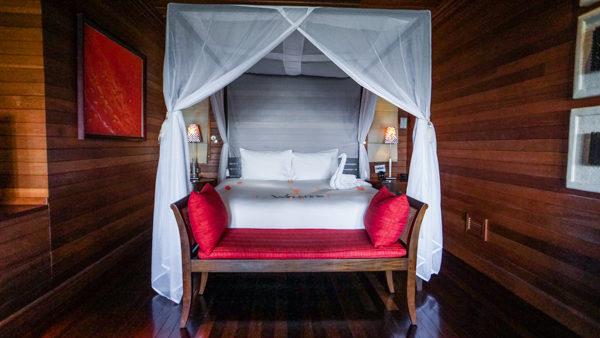 The Hilton Northolme Mahe is the second Hilton we stayed at in the Seychelles and this time was on the island of Mahe (the same island international visitors fly into). This is considered to be the world's smallest Hilton by room count, but you would not realize that upon first glance. Every bungalow here is quite spacious and features a westerly view to (hopefully) get a commanding sunset every night. Between that and the gorgeous infinity pool and modest restaurant space, we had a relaxing stay here during our visit. Just be sure to rent a car to get out and explore the island!
Things to consider: Despite being the world's smallest Hilton, every room is a bungalow and some have a further walk to the main lodge over others. Still, we enjoyed the relative seclusion here all the same. The beaches on or near the property aren't the best, and you'll do well renting a car to really explore the island.
Status perks: We did not receive a room upgrade but did receive welcome cocktails and a free breakfast buffet with a mimosa bar each morning with our Diamond status, and a bottle of wine magically appeared in our room one night as well. The breakfast buffet was one of the nicest of any Hilton property we've stayed in.
Hilton SAII Lagoon Maldives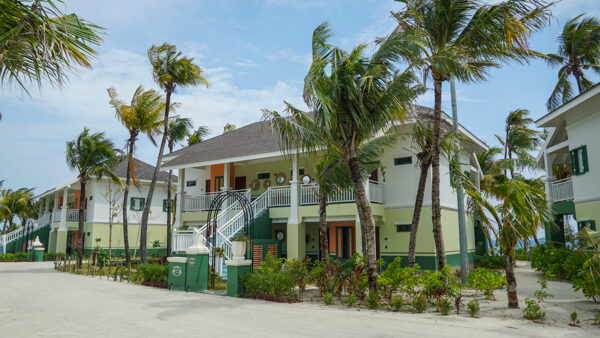 The Hilton SAII Lagoon is nestled in an island grouping with the Crossroads marina and the Hard Rock Hotel and makes for an interesting resort stay just a 15-minute boat ride from Male airport. While we stayed in a basic room here in a unit with eight rooms, we found ourselves rather enjoying the island's amenities, mostly quiet beaches, and insanely colorful waters (seriously, the shades of blue here are borderline unreal). While the excursions and restaurants were a bit of a letdown, this one was an effective use of points at the start of a trip purely due to its proximity to Male as we were checked in within about 90 minutes of passing customs. Would we go back? Probably not. But we are also not upset we went once, too.
Things to consider: The island that SAII Lagoon is on is manmade and is fairly commercial in nature. There are some ethical concerns regarding this practice in the country that you should be aware of. Likewise, despite only being a 15-minute speedboat ride from the airport the fee for this was $150 per person during our visit.
Status perks: Unlike other Hilton hotels, this property does not do room upgrades. But we received a welcome bottle of champagne, a happy hour with free cocktails at the pool (entire menu), and free breakfast to name a few with our Diamond status.
Conrad Rangali Maldives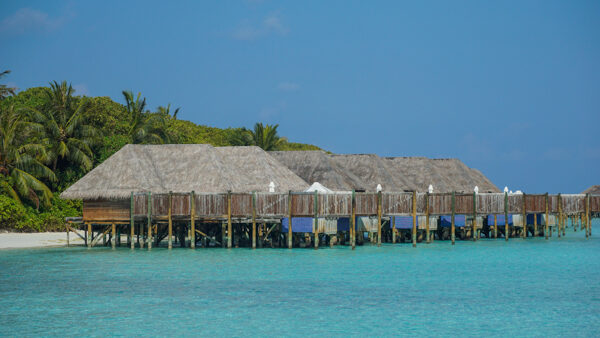 The Conrad Rangali in the Maldives is perhaps the favorite of any Hilton property we've been to so far. The ambiance of the resort, the lovely overwater bungalows, and the service all came together into a nearly perfect stay. The best part about this one was that points redemptions for overwater bungalows were quite reasonable (95,000 per night during our visit, with fifth night free promotions) and is a tried and true favorite of many guests with status- several of which who return time and time again.
Things to consider: This is one of the most expensive hotels we've been at, and even with our points we spent over $3,000 in five days. Part of this was because the seaplane ride to get there was $600 per person round trip, but also because we tried a few prix fixe menus at ~$500-$700 each for two. Go in with a budget here.
Status perks: Like the SAII Lagoon, this hotel does not upgrade rooms. But with our Diamond status we received a welcome bottle of champagne, free wifi in our room, daily water in our room, 20% off select restaurants at lunch, a daily happy hour with select free drinks (at Vilu), 50% off late night drinks at Rangali Bar (10:30pm to 11:30pm), free breakfast (and a plated option at Vilu), and higher-end toiletries to name a few.
Millennium Hilton Seoul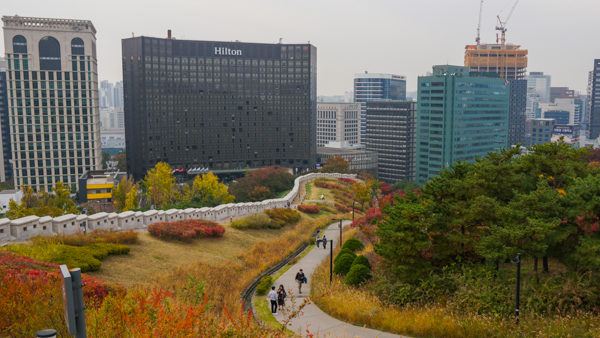 The Millennium Hilton Seoul is one of the few letdowns we had during our travels, if only because we consider this one a business hotel. Despite the comfortable rooms, the location is not the best for sightseeing and the on-site restaurants are astronomically priced. Likewise, its location atop a hill gives a deceptive appearance due to its proximity to Seoul Station (you will do well taking a taxi between the two). Still, a bus route does stop right at the hotel and one of our favorite mandu street venders (Gamegol Son Wangmandu) is just a few blocks away, so there are some perks to this one all the same.
Things to consider: While in downtown Seoul, we like to think of this one as a business hotel. It is best suited for those who will take taxis to most destinations and the on-site bars and restaurants are almost prohibitively expensive.
Status perks: We received access to the executive lounge which had complimentary beverages during happy hour (we did not partake) and a pretty nice breakfast buffet with a mix of western and Korean dishes (but was more western overall).
Click here to book your stay at the Millennium Hilton Seoul.
Hilton Bonnet Creek Orlando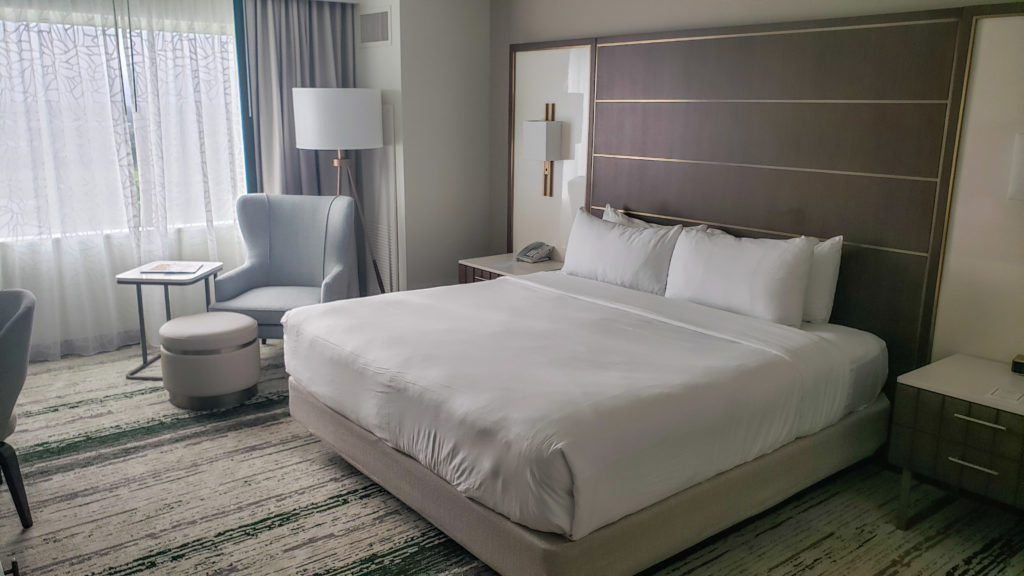 The Hilton Bonnet Creek is an interesting one in Orlando, Florida, as it is one of the closest non-Disney affiliated hotels you can get to the theme parks. This allows for a few bonus perks of shuttle service, an on-site Disney concierge, and more which really did wonders for our Disney World trip (although the shuttle service left us wanting a bit more). But beyond this, the hotel offered spacious rooms, some even with views of several parks (great for fireworks albeit at a distance), and a relatively large pool and a lazy river to enjoy when taking a break from the parks as well.
Things to consider: The hotel is one of the closest chain hotels to the Disney parks and offers an on-site shuttle throughout the day. However, the shuttle could take 15-45 minutes to get to/from a park as they operate on a loop, so we supplemented Uber rides for some trips. For couples and smaller families, you may not need to get a car for this one as the daily parking fee both here and at Disney parks add up fast when compared to Ubering.
Status perks: The hotel did not have an executive lounge, and instead gave Diamond members a $10 per adult room credit each day. This could be used at the bar or restaurants or used to offset the continental breakfast fee (which was, coincidentally) reduced to $10 as well. Free breakfast it is!
Click here to book your stay at the Hilton Bonnet Creek.
Looking for more Hilton reviews? Check back soon as we visit more properties in our travels. Our next visits include the Hilton Saii Lagoon and Conrad Rangali Island in the Maldives!
About Jeremy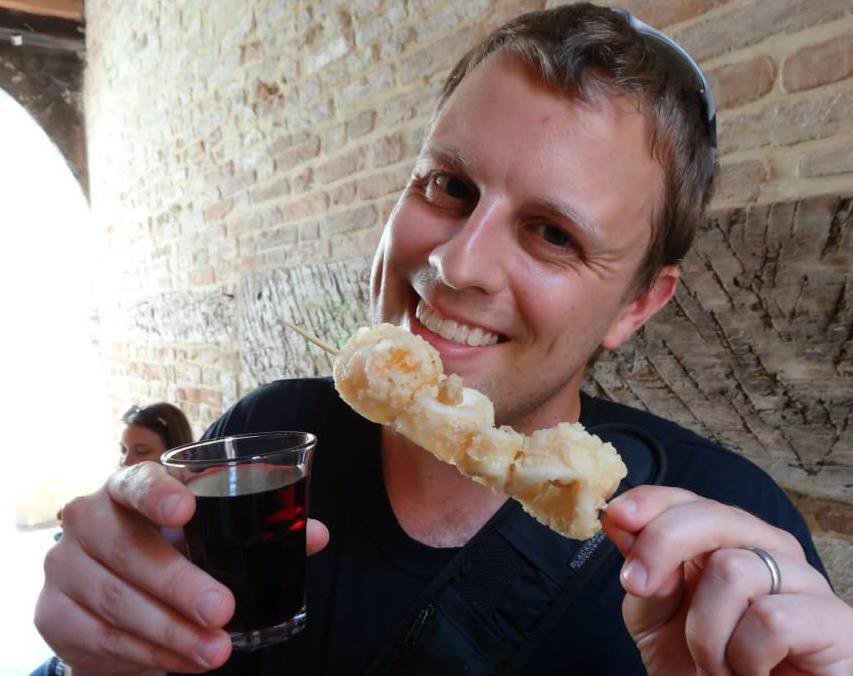 About the Author: Jeremy is a full-time travel writer based in Pittsburgh and primary author of this site. He has been to 70+ countries on five continents and seeks out new food, adventure activities, and off-the-beaten-path experiences wherever he travels.