Published by Jeremy. Last Updated on January 24, 2022.
Disclaimers: Our site uses demographic data, email opt-ins, display advertising, and affiliate links. Please check out our Terms and Conditions for more information. Listed prices and attraction details may have changed since our visit and initial publication.
If you're reading this and are trying to decide if you should visit the Conrad Rangali in the Maldives, I'll make it easy for you. The question is not a matter of if you should visit, but rather when and for how long.
I can safely say that the Conrad Rangali was the highlight of our Maldives vacation, and, in fact, it is the first resort we've ever visited where we could imagine returning again in the future. Considering most guests we met were on their 2nd, 3rd, or even 4th visit to the property, I can also safely say this- we are not alone in that thought.
In this review, we're going to share why that is.
Notes: As with all of our Hilton stays, we used points for booking this hotel. Our ~$1,300/night overwater bungalow cost 95,000 points per night and we used a buy four get the fifth-night free promo to extend our stay. As such, our bill was reduced by nearly $7,000. This should be kept in mind when reading and will be addressed at the end.
Overwater Bungalow at the Conrad Rangali and Island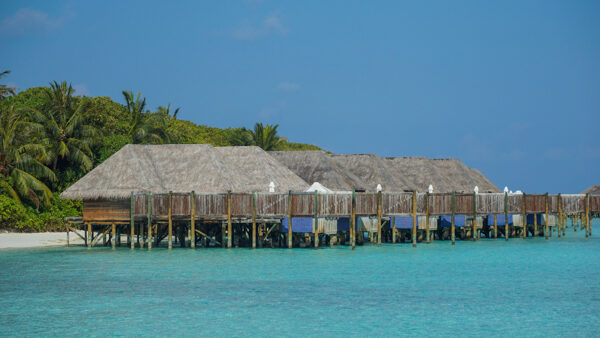 If you were to close your eyes and envision an ideal Maldives scene, odds are good it involves white sand beaches, crystal clear water, and an overwater bungalow with a staircase leading down straight into the ocean. This is what it was for us prior to visiting, and we knew that at some point during our trip we would have to book one in order to have a robust Maldives resort experience.
Thanks to the relatively low points redemption at the Conrad Rangali, we got just that and booked a base overwater bungalow room for our stay.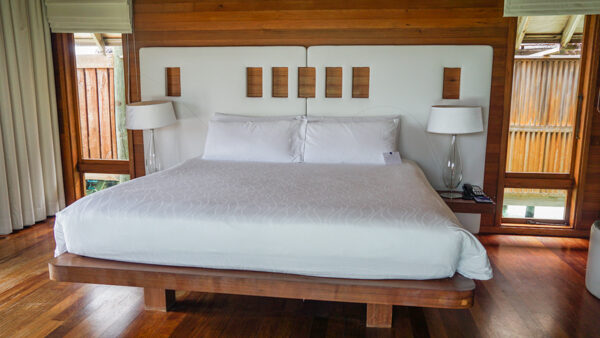 Shortly after arriving via seaplane, our on-site concierge took us to our bungalow (#306 on the "quiet island" away from reception) and gave us a tour. Despite being the base room in this category, we were impressed with the generous space and amenities which included a walk-in shower, full tub with window-view over the ocean (non-jacuzzi), an expansive deck, a plunge pool (with jets), and a whole lot more.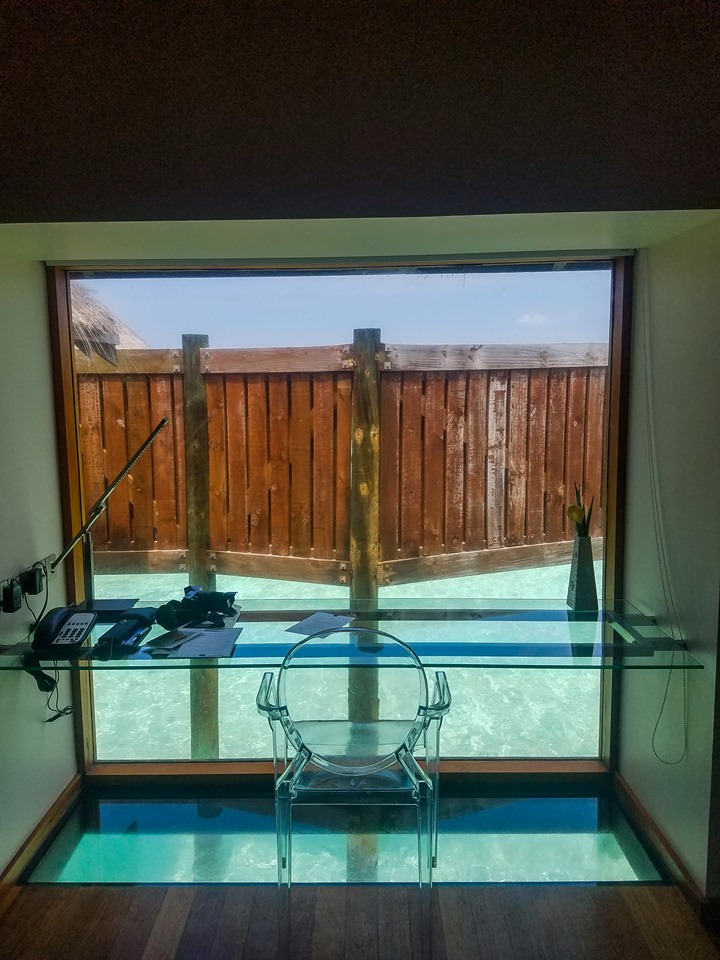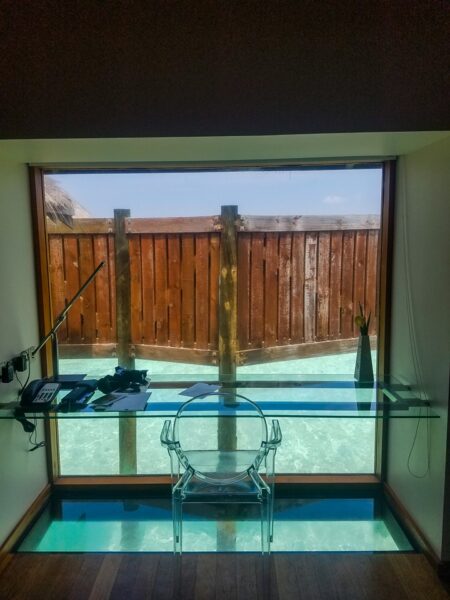 While I would say that most of the amenities of the room were not out-of-the-box crazy or high-end, one design feature of note did jump out- the desk. This desk was built in a floor-to-ceiling window cutout with a clear workspace and a clear chair. Despite my goal of not working on vacation, I was more than happy to utilize the space to "work" (read: edit photos) every day just to be able to look down and watch fish swim by in the exceptionally beautiful water.
But, as with most overwater bungalows, the deck was the place we spent a fair bit of our time during the day, and our northeast viewing angle allowed us to look out over the main island and the overwater bungalows on that side. This meant we sadly did not have a view out over sunset (we could walk to a great and empty lookout point in two minutes), but if I had to choose between overlooking the open ocean with no defining features or a separate island, I'll gladly take the island view every time.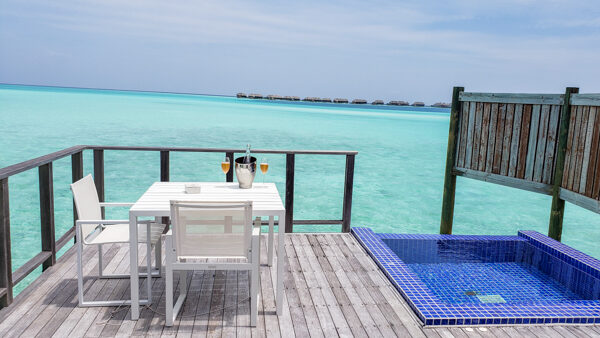 While I could go on about the room itself, really the biggest selling points of the Conrad Rangali are less about the room space and more the amenities you can find on the island.
That being said, it is worth noting that most of the overwater bungalows at the resort here are in clusters of about six units littered throughout the islands (the notable exception being the premium spa villas on the main island which are along one large boardwalk). Despite our close proximity to our neighbors, we hardly noticed them at all even when we were on the deck at the same time.
The Islands of Rangali Are Idyllic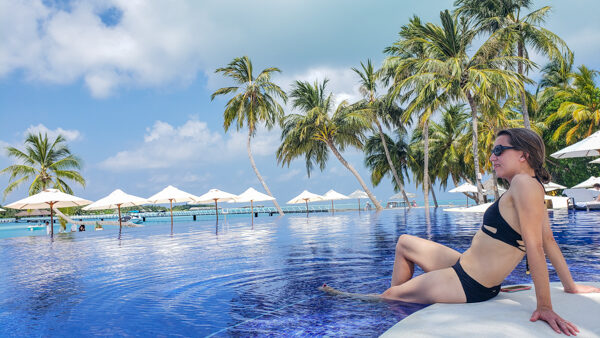 Our favorite part about the Conrad Rangali is the layout of the three islands themselves. To define them for this post, we called one the "main island" (where reception is located), one the "quiet island" which was where we stayed, and the employee island that guests do not visit.
The main island is home to the most amenities and the resort's best beaches (one on each side). The accommodations here are entirely beach villas on the island plus spa villa bungalows that are a moderate walk down a boardwalk. Ignoring the restaurants, this island is also home to a large pool and the eastern beach has direct access to the house reef where you can swim out through a narrow channel and snorkel around a drop-off (this was where we spent most of our time when on this island apart from eating).
While most of the coral is bleached, as is most of the coral throughout the Maldives, the reef here is like swimming in an aquarium. You'll do well to pick up the free snorkel and fins from the dive shop to explore this area many times during a visit as the fish and shark viewings here are simply exceptional.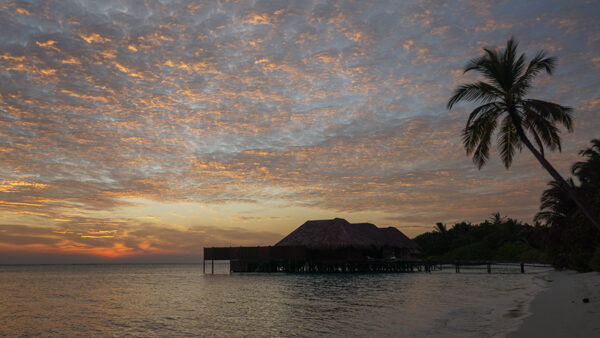 The quiet island gets its name for two distinct reasons. First of all, this island is home to just about 30 overwater bungalows and one restaurant (Vilu). Apart from the reward members happy hour and breakfast, you can walk around this island and feel very much alone (there are only two small beach areas, and most guests do not use these for swimming- we were alone watching the sunset on them every night). The second reason is there is a distinct "Quiet Zone" here that features a modest-sized infinity pool built about 30 feet out from the beach over the ocean. This is an adults-only section that we gravitated towards a fair bit during our stay.
Like our room, the pool at the Quiet Zone looks towards the main island and provides a great view as well.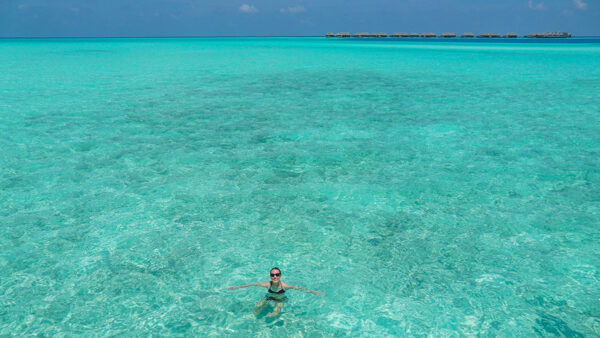 The employee island is just as its name describes, and guests will not go there during a stay but it is located in close enough proximity that you can see it all the same.
Connecting the two guest islands is a long bridge with the seaplane lounge located directly in the middle. During the course of any given day you can watch the seaplanes come in from both islands, and adds a nice little contrast to the otherwise quiet life on the islands. For those who do not want to walk, the resort also operates a dhoni connecting the two islands as well and runs on 10-minute intervals (but you may need to call to ensure they come over- the boat tends to stay idle if guests aren't using it. We found ourselves using the free buggy service instead to get around).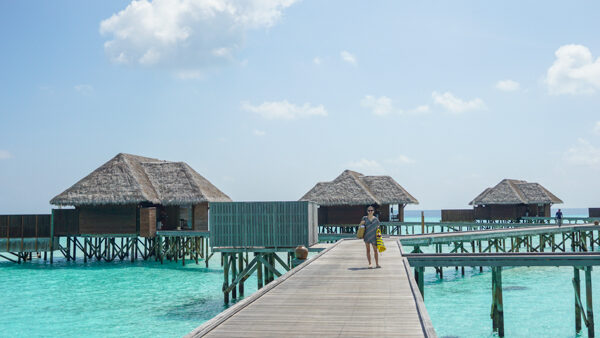 Overall, the biggest thing that jumped out to us about the islands at the Conrad Rangali is that it felt empty. While you can always see an employee running around, you will hardly see many guests (my guess is the employee to guest ratio is 2:1 if not more). In fact, I even asked our concierge if bookings were down as the resort felt empty, and she replied back saying they were at 93% capacity! We did the math, and this equates to just about 300 guests on the islands at any given time, and somehow still feels intimate and empty all the same.
We'll take that.
Restaurants at Conrad Rangali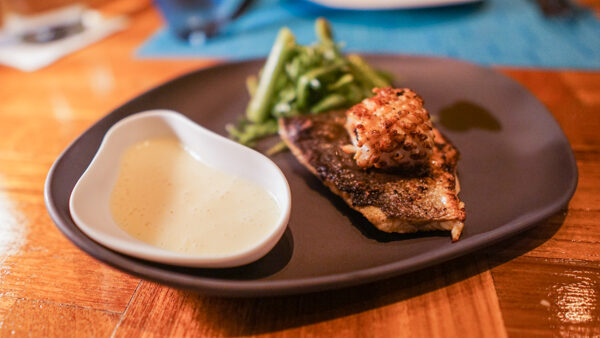 The restaurants at the Conrad Maldives run from an on-site buffet to health-forward (Mandhoo at the spa), Chinese (Ufaa), Mediterranean (Vilu), and set dining experiences like the underwater restaurant (Ithaa) and The Wine Cellar to name a few. While everything had some sort of theme to it, they did not feel too out-of-place or overly themed as you may notice at other resorts.
During our stay, we ate at a fair number of restaurants on the island and generally found the food to be quite good- despite the fact that most meals ran $125 to $180 without drinks (including $15 for water). Ufaa was the best value for portion sizes and also had some of the most memorable dishes from our visit as well. Mandhoo, on the other hand, was delicious but had exceptionally small portions with one of the highest bills for an a la carte restaurant during our stay.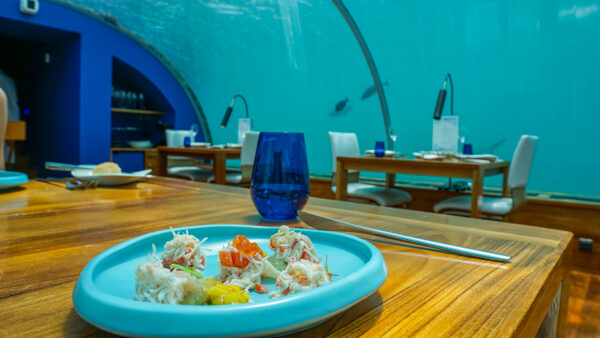 Ithaa was our first fixed price menu and ran about $500 for two after tax and tip. This one was the world's first underwater restaurant and offers about seven tables roughly 15 feet underwater. While we would say that the four-course lunch was generally a good meal, it was not very substantial in portion sizes. Here, the true novelty is eating in the underwater space and having fish and sharks swim around and above you throughout the experience. Good, but something we'd probably only do once from a novelty aspect.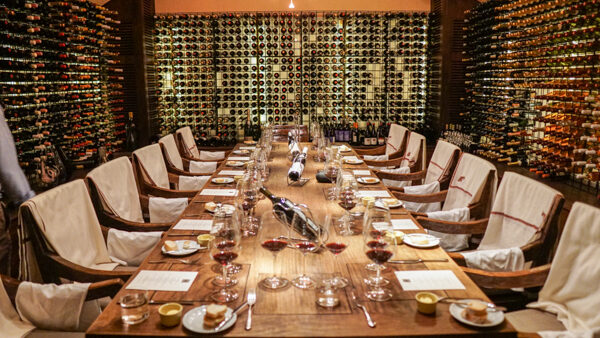 The Wine Cellar was our second fixed price menu and ran about $700 for two and was a five-course menu with eight wines. This one took place in the underground wine cellar at one large table where new friends could discuss high-end wines along with a stellar meal. As we are getting into wine and building our own cellar at home, we found this meal to be exceptional and was worth the admittedly steep price tag. Everything here from the food, ambiance, to the wine which was up to a higher caliber, but we have to admit that you also probably should be very much into wine to justify the cost.
Overall, we spent most of our money on food at this resort, and while expensive, we have few regrets.
An Array of Experiences Available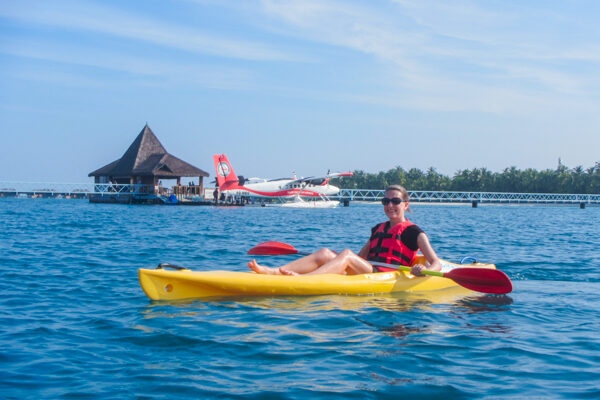 Like most resorts in the Maldives, the Conrad Rangali offers a number of experiences both free and paid.
On the free end, you have snorkeling and some water sports like kayaking and paddleboarding. You can get free snorkels and fins from the dive center and keep them your entire stay, which makes for easy access to the house reef as mentioned above. We also took a kayak out for a spin in the bay where the seaplanes land, but the overall space to explore is inherently limited.
On the paid side there are more premium watersports plus day tours like whale shark watching (seasonal), diving, snorkeling, and more. As we visited during whale shark season we opted for this tour and got lucky in not only seeing three whale sharks but two manta rays as well- just be sure to book this one before you go as it fills up (and they offer a nice discount for pre-bookings). It is also worth noting that whale shark spottings are never guaranteed, either. We met people who went out on different days and did not see any at all.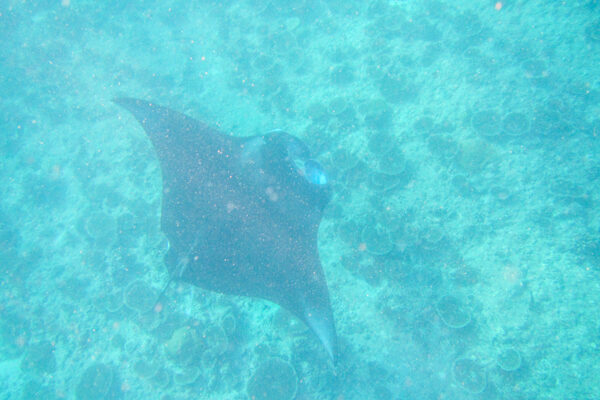 The resort is also known for being able to dive at a manta ray cleaning station, which I was going to do on my stay, but the dive center said that sightings were poor in the days leading up to our visit. Us getting to see them on the whale shark excursion was purely a fluke as a manta was spotted on our way out, but they never saw any on any other day while we were there.
Hilton Diamond Perks Aren't Awful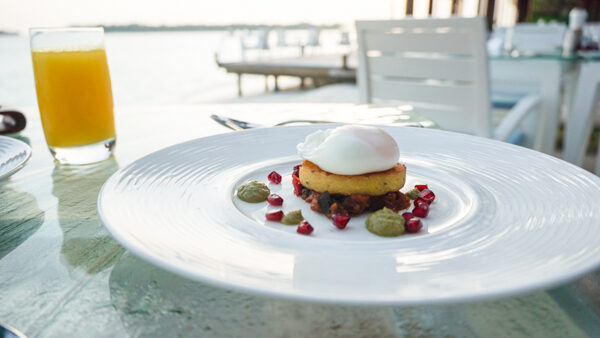 A final note worth highlighting is the perks for rewards members. As we are Hilton Diamond members (the same as virtually every other American we met at the property), we got a few extra perks during our stay.
The biggest thing we always hope for in having status is getting an upgrade. This hotel, sadly, has a blanket policy to not upgrade status guests. Part of this is because they're mostly at occupancy, but also because it is a premium hotel where many guests are status members staying on points. So if you're hoping for an upgrade here, get rid of that thought now. It won't happen.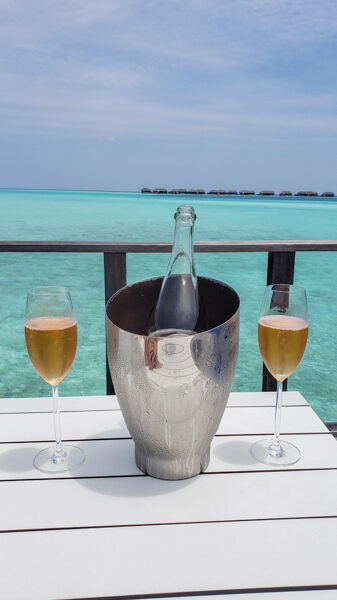 Instead, the hotel makes up for this with a number of small perks. These include common benefits like a welcome bottle of champagne, free wifi in the room, and two bottles of water daily. But then there are additional specials like the daily happy hour with a selection of free drinks (daily cocktail, one red, white, and sparkling wine, one beer) that are topped off regularly, 20% off lunch at two restaurants (Ufaa and Mandhoo), a late-night happy hour at Rangali Bar for 50% off drinks (admittedly its start time of 10:30pm made it hard for us to get to more than once), and free breakfasts with an exclusive plated option at Vilu with a small buffet to go with it.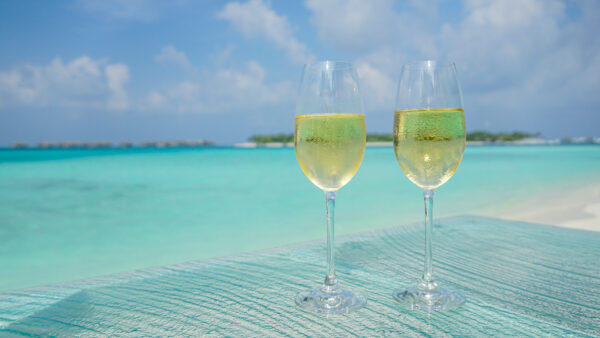 While its no room upgrade, these perks really added up during our stay as we ate enough at breakfast in order to skip lunch and save a fair bit of cash in the process.
The Final Bill – 380,000 points and $3,500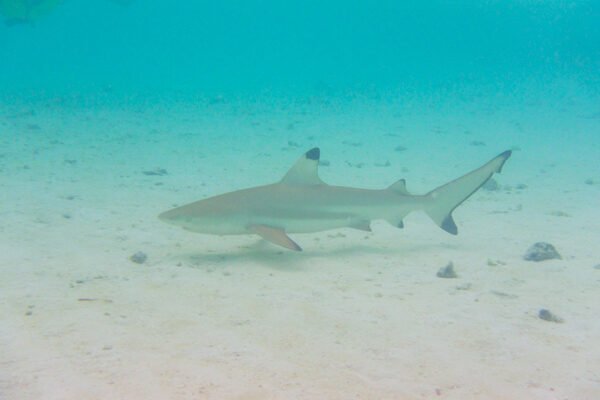 Despite all our praise about the property, we have to brace you for one final thing- the bill.
Our five-night stay at this resort cost us $3,500 even when you factor in we paid for our room on points. This is, to put it bluntly, a pretty crazy bill (but even crazier when you think the cash equivalent bill would've been closer to $11,000).
The biggest charge here that was unavoidable was the $600 per person seaplane ride from Male. From there, the $125-$180 dinners ran and two set course meals caused a steep rise accordingly (and a $150 per person whale shark tour didn't help matters, either). Throw in a 22% tax and tip charge and it really adds up fast- and all this was with getting free breakfast and free happy hour!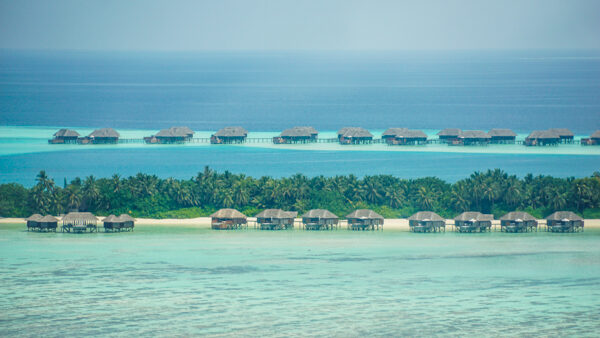 Overall, even with paying for our room on points the Conrad Rangali was one of the most expensive stays we've ever had anywhere in the world (Hilton hotel or otherwise). Remove the set menus, this would still be true. Remove the seaplane ride, and yes, this would still be true.
Even getting all of this out of the way, we have to say that our stay at the Conrad Rangali was also one of the best resort experiences we've ever had. The ambiance, amenities, service, and more made this one an almost perfect stay (we can really only argue about the price). This is why virtually everyone we met at dinner and happy hour was a repeat guest- some on their third or fourth stays.
At first we thought this was odd, but by the time we left we were already talking about when we could go back. This is why you need to ask yourself not should I go there, but when and for how long? This is truly the only question that matters.
To book your stay at the Conrad Rangali, click here.
For frequently asked questions about the Conrad Maldives, check out the following.
Where is the Conrad Maldives located?
The Conrad Maldives is located on Rangali Island about 30 minutes west of Male by seaplane.
How much is a night at the Conrad Maldives?
Base rooms at the Conrad Maldives can start at $500 per night. Overwater bungalows can start at $1,000 per night.
How do you reach the Conrad Maldives?
The hotel offers its own seaplane to reach the island and costs about $600 per person round trip including tax.
Can you pay on points to stay at the Conrad Rangali?
Yes! The Conrad Rangali is part of the Hilton Hotel chain and they offer an attractive points redemption option and is a favorite among guests.
Is the Conrad Rangali worth it?
Yes! This was one of just a handful of resorts we've stayed in where we thought we would easily return- price and all.
About Jeremy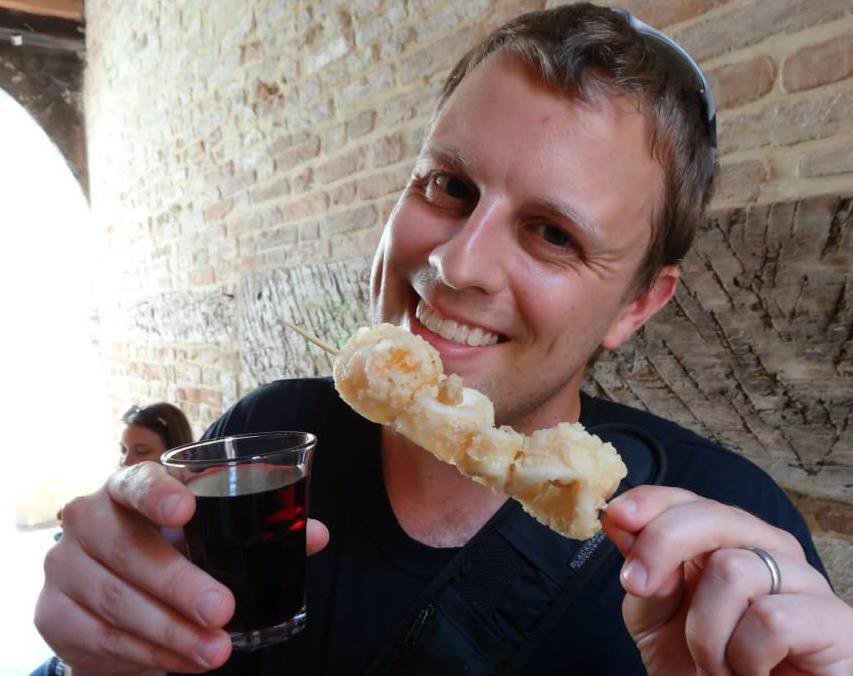 About the Author: Jeremy is a full-time travel writer based in Pittsburgh and primary author of this site. He has been to 70+ countries on five continents and seeks out new food, adventure activities, and off-the-beaten-path experiences wherever he travels.