Published by Angie. Last Updated on February 3, 2023.
Disclaimers: Our site uses demographic data, email opt-ins, display advertising, and affiliate links. Please check out our Terms and Conditions for more information. Listed prices and attraction details may have changed since our visit and initial publication.
The Conrad Maldives Rangali has more than a dozen different restaurants and dining experiences, and as you might expect for such a luxurious island resort, none of them are cheap. We tried six different restaurants and dining experiences during our recent stay, and we came away with a few favorites that stood out from the rest.
Here we outline our opinions on the restaurants at which we dined, and which meals we think were worth the splurge.
Vilu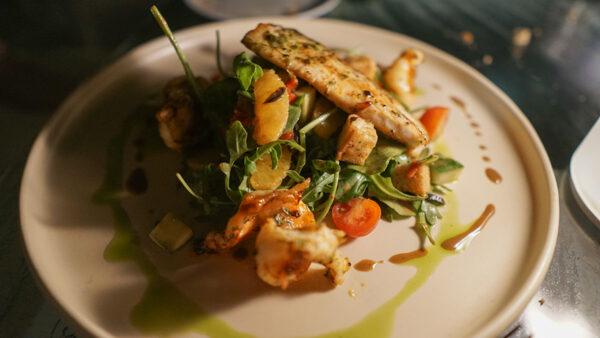 Vilu has quite possibly the most beautiful setting of any of the restaurants at the Conrad. The food is Mediterranean themed and it has a solid wine menu with a focus on wine pairings. We particularly enjoyed the complimentary amuse bouche (a fried lobster bite) and make your own bruschetta (a mini loaf of sourdough bread with tomato confit, whole heads of roasted garlic, balsamic, and olive oil).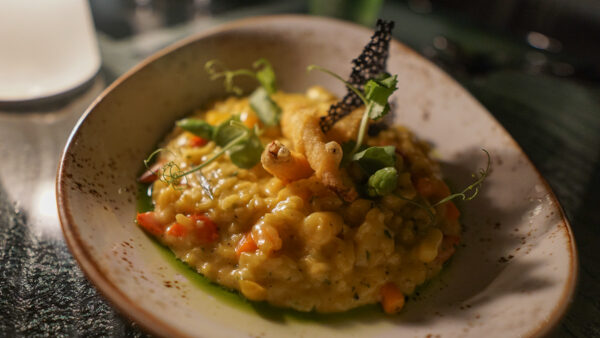 A baccala stuffed squash blossom appetizer was delicious, but the entrees were the most memorable. We tried a risotto of the day which was a creamy saffron risotto with a huge variety of seafood including crab, shrimp, scallops, and calamari. Our second entree was a shrimp and fish panzanella salad which was so light and refreshing. The quality and execution of the food here was absolutely great.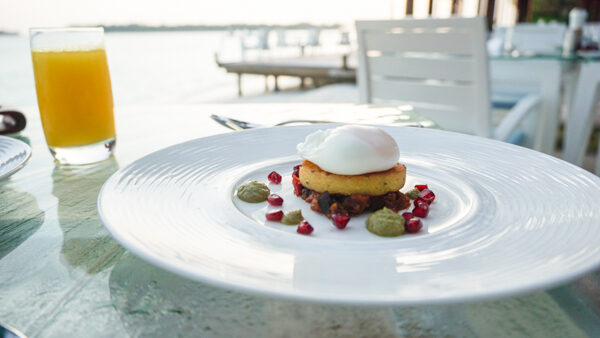 For Hilton Honors Diamond members, you'll likely be seeing a lot of Vilu – it has a wonderful a la carte complimentary breakfast, and an excellent complimentary evening happy hour.
Ufaa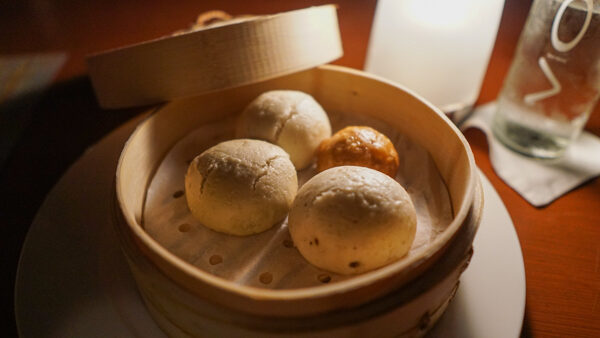 Ufaa is a Chinese restaurant serving up hot pot, dim sum, noodles, and more. We had heard the hot pot was excellent, but the price point in comparison to the rest of the menu seemed outrageous so we stuck with regular entrees.
The meal started with a complimentary steamer basket full of different flavored buns – red bean, plain, mint, and cumin/peppercorn. They were all so incredibly soft and fluffy. Our favorite was the mint bun dipped in the accompanying passion fruit and olive oil sauce.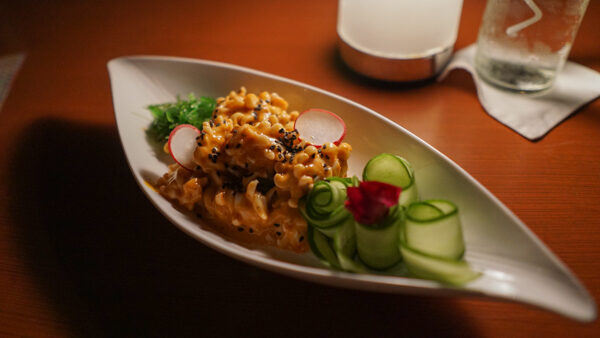 We tried the squid appetizer which was a huge portion of tender bites of squid in a significantly spicy, sweet, and vinegary mayo. The memory of this amazing dish lingered in our minds for days!
Many of the Conrad's restaurants feature Maldivian lobster and we knew we had to try it at some point, and we were so glad we tried it at Ufaa. The lobster dish was six huge chunks cooked to juicy perfection in a slightly spicy red chili sauce swirled with scrambled egg. Crispy deep fried buns were served along side for mopping up the delightful sauce.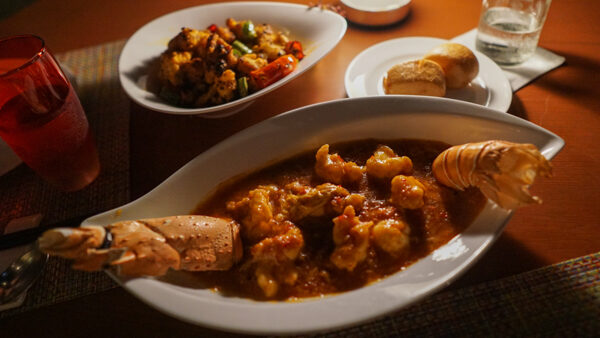 We also tried the Sichuan chicken dish which was fried and dry seasoned with chili peppers. Chunks of hot peppers and lotus root were in the mix, too. This was a huge portion and a decent value.
On our last day we ate lunch at Ufaa before departing. We split a spicy Sichuan noodle dish which was a massive portion and more than enough for two people. It had so much seafood – scallops, calamari, mussels, and shrimp – in a super spicy broth with noodles. The Hilton Honors Diamond perk of 20% off at lunch turned this into one of the most affordable and delicious meals during our stay.
Overall we really enjoyed the food at Ufaa and thought it was the best value at the resort.
Mandhoo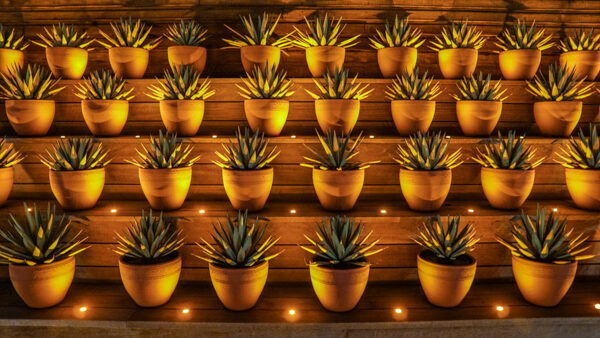 Mandhoo is built over the water and is adjacent to the spa so the food here tends more towards healthy; they also have a separate "spa menu" that is even more health-conscious.
The complimentary amuse bouche here was fine but nothing amazing; it included a shot of green juice and bread with two different spreads.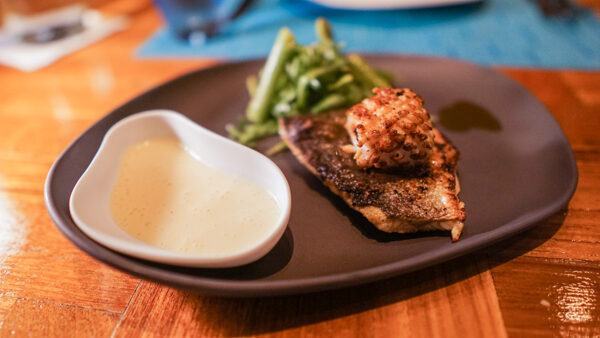 We were so impressed with the calamari at Ufaa that we decided to order another calamari appetizer here – the grilled sea bass and calamari. Again, the calamari was off the charts tender. The seafood was served with a size salad and a refreshing citrus yogurt sauce.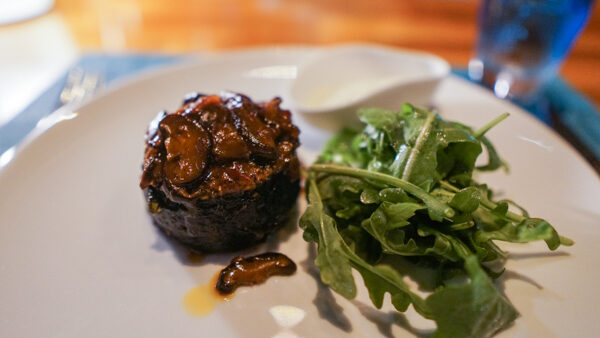 For entrees I opted for the sage chicken with pumpkin risotto which has a weird cult following on the internet. I honestly didn't think it was worth the hype. But we also tried the beef tenderloin topped with mushrooms and served with a side salad. The tenderloin was cooked to perfection and the only thing we regretted was the size for the price.
Ithaa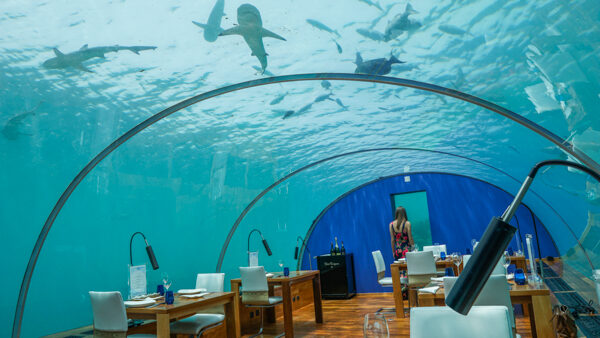 Ithaa is famous for being an entirely underwater restaurant serving contemporary European fare. The restaurant is open for lunch and dinner and serves a set menu of four courses.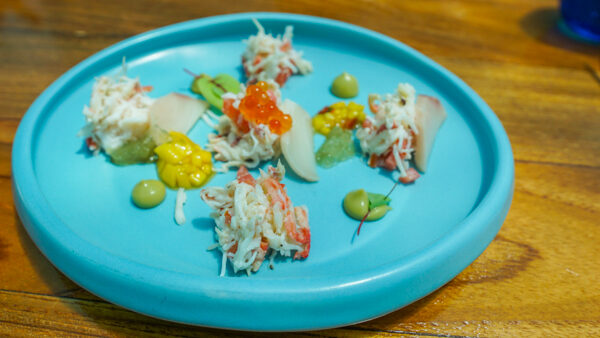 We went for lunch and thought that although the dishes were all cooked well, the flavor combinations in most of the dishes were just weird. Our menu was snow crab and hamachi salad, sweet corn veloute with a duck confit tortellini (the duck was a weird combination with the corn), veal tenderloin (the best dish of the meal) or lobster ($45 up charge), and a strawberry mille-feuille for dessert.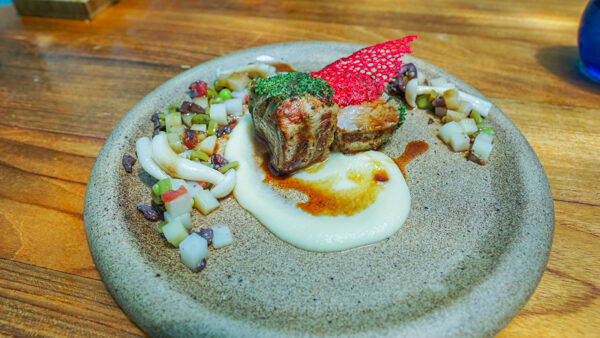 This meal was a huge splurge and we're glad we did it but honestly you're paying more here for the experience than really excellent food.
Rangali Bar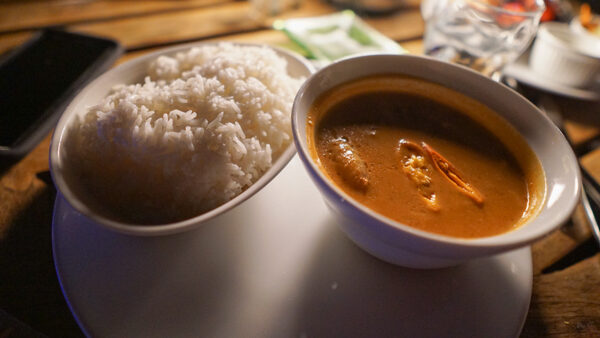 Rangali Bar is the a la carte restaurant on the main island near reception and the pool, so there's always a lot of people dining here. But after having dinner here ourselves, we left wondering why it was always so busy. It was definitely the worst meal we had at the entire resort, and it wasn't cheap, either.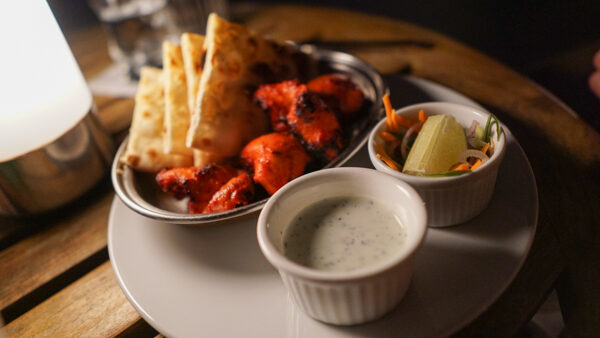 The menu includes items off the grill, sandwiches, pizzas, and other bar type food. We tried the chicken tikka masala which had incredibly dried out meat and was served with "naan" which was stale and more like a cracker. We also tried the red curry with duck which wasn't any better with meat that was almost inedibly chewy. This was by far the least inspiring food at the resort with bad overall quality and execution.
Wine Cellar Dinner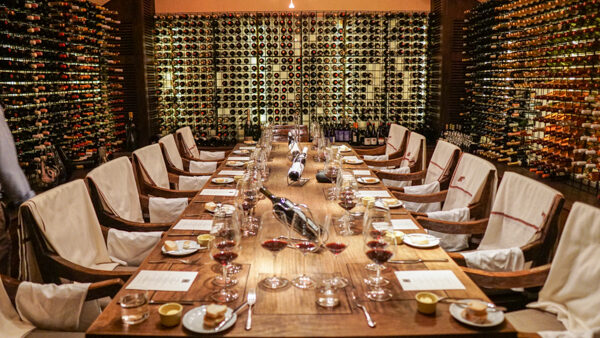 If you love food and wine but can only splurge on one meal, definitely make it the Wine Cellar Dinner. This is a five-course meal with eight wine pairings served in a massive underground wine cellar below Vilu. The resort's sommelier leads you through each wine while the chef presents each food course. The whole meal was so luxurious and it was one of the best food experiences we've had anywhere.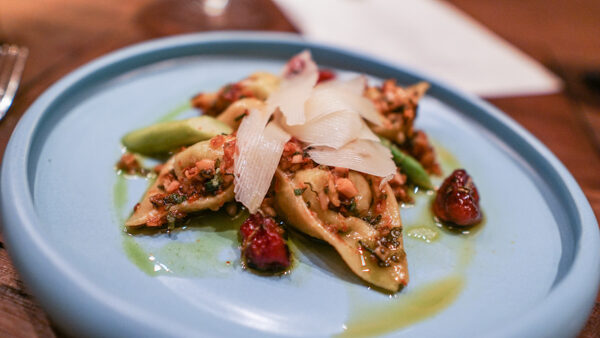 The meal started with champagne and an amuse bouche up at Vilu before going down into the wine cellar. Each course was expertly matched with wines by the head sommelier, including typical pairings like a Bordeaux blend with veal but also surprising and amazing pairings like a miso marinated black cod with a Pommard.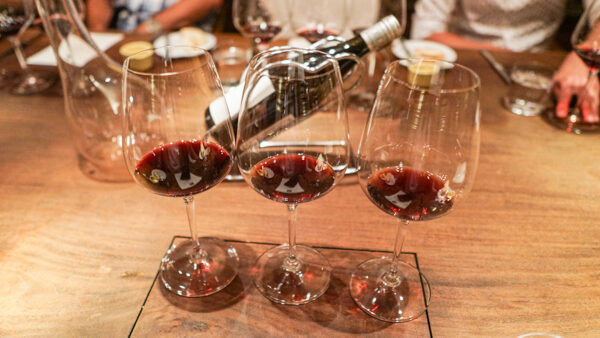 There were also a few fun elements to the meal like tasting a super fragrant and intense South African chardonnay in a balloon glass and a narrow black glass. The wine in the narrow black glass smelled like nothing and tasted like nothing – something you intuitively expect but was fun to experience first hand.
Another fun part of the dinner was a blind tasting of three red wines alongside the main course, the veal tenderloin. We had time to taste and ponder each wine before they were revealed as a Bordeaux blend, Aglianico, and an Australian Grenache.
The Wine Cellar Dinner is only once a week and is limited to twelve people, making this a unique and intimate experience.
To book your stay at the Conrad Rangali Maldives, click here.
Have you been to the Conrad Maldives? Which restaurant was your favorite? Comment below to share!
About Angie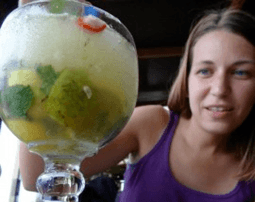 About the Author: Angie is a contributing author. She has been to nearly 60 countries and seeks out the best restaurants, bars, bakeries, and other unique food items wherever she goes- often with her husband, Jeremy.