Published by Angie. Last Updated on February 3, 2023.
Disclaimers: Our site uses demographic data, email opt-ins, display advertising, and affiliate links. Please check out our Terms and Conditions for more information. Listed prices and attraction details may have changed since our visit and initial publication.
The Conrad Maldives Rangali is full of over-the-top dining experiences, but perhaps the most extravagant is Ithaa. Ithaa is an underwater restaurant situated five meters below the surface where you can dine surrounded by views of coral and fish. Options for dining include a four-course set menu lunch, a seven-course set menu dinner, or a mid-morning champagne hour.
As you might imagine, the prices for this once in a lifetime experience are steep. The champagne hour will set you back $85, lunch is $220 per person, while dinner will run you a cool $330 per person (and these prices are all before taxes and fees which are an extra 22%).
We decided to take a middle of the road approach and have lunch at Ithaa. Note that reservations are required, but on the day we dined only three out of the seven tables were full.
Dining in the Underwater Restaurant – Ithaa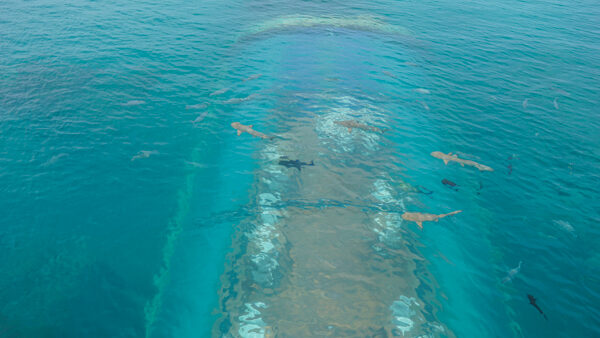 There are several quirky things about the Ithaa experience – for one, shoes aren't allowed so you have to remove them before entering. Also, when you arrive you have to wait upstairs or in the neighboring Sunset Grill and then all parties descend the staircase together to the restaurant.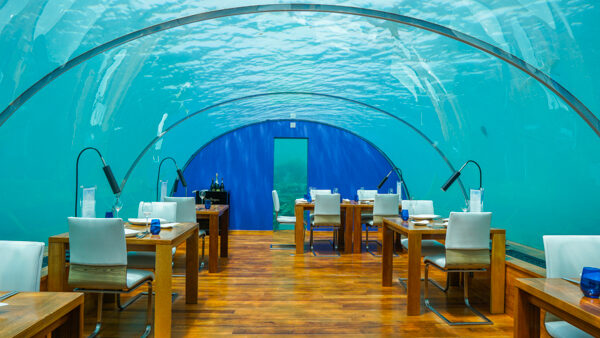 Because we showed up on time while both other parties were late, we actually got to go down to the restaurant by ourselves and take lots of great photos. I have to admit, seeing the space for the first time with sunlight streaming in and hundreds of fish swimming around and overhead was truly magical.
We were free to choose any table and sat down at the middle table on the right hand side which had slightly better coral views than the others.
Lunch at Ithaa at the Conrad Rangali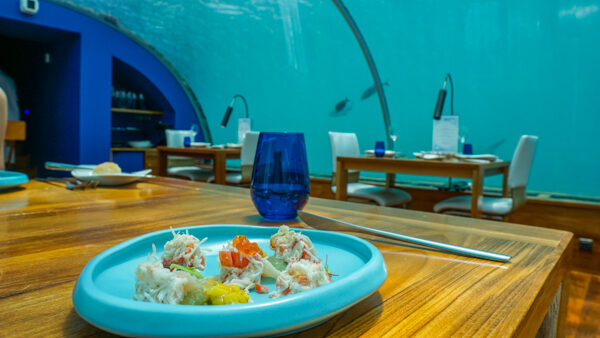 Ithaa has a set lunch menu with four courses. Our meal included a snow crab and hamachi salad starter, a sweet corn veloute with duck tortellini, a veal tenderloin or lobster for the main course, and a strawberry mille-feuille for dessert.
The meal started off with bread which was not that memorable but there were several different flavored salts on the table which were fun to try. The snow crab and hamachi starter included little mounds of crab which were quite sweet and delicious and actually amounted to quite a bit of crab. Thin slices of raw hamachi accompanied the crab as did avocado puree, salmon roe, cucumber jelly, and fresh mango. The avocado and cucumber jelly flavors did not jibe well with the seafood, but the mango was enjoyable with the crab.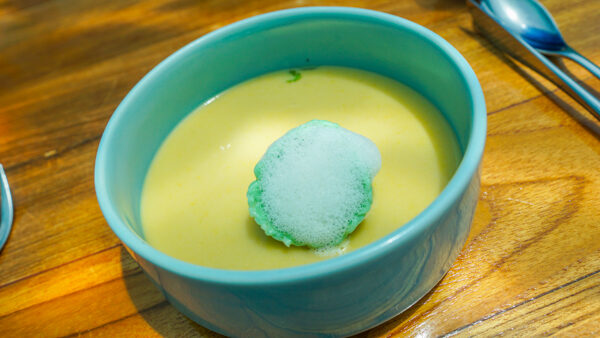 The next course was the sweet corn veloute with duck confit tortellini, grain mustard, truffle, and watercress. The veloute was poured into our bowls table side which was fun. The truffle oil was a nice savory, earthy compliment to the sweet corn. The tortellini was a single tortellini stuffed with super rich, tender, fatty duck confit. We thought the richness of the duck was a bit too stark of a contrast with the sweet and light corn flavors.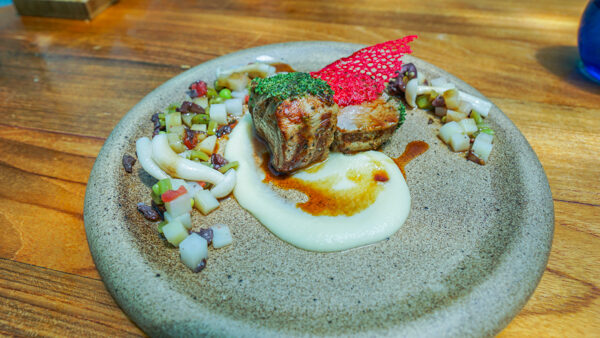 The third course was veal tenderloin or lobster (for an extra $45); we chose one of each. The veal was delicious and super tender, although it seemed more done than medium rare which we had ordered. It was crusted with herbs and had a parsnip puree and pickled shimeji mushroom sauce vierge, and beetroot tuile. The pickled mushrooms were a little sweet and the sauce vierge included little bits of potatoes and peppers. The crunchy texture and briny flavors of the accompaniments just seemed a bit incongruent and harsh next to the veal.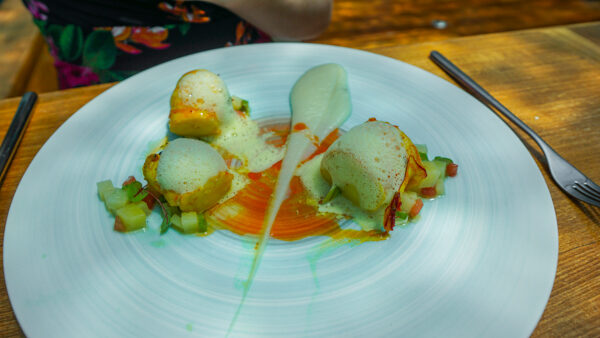 The lobster was saffron poached and served with a saffron emulsion, cauliflower puree, and sauce vierge. The saffron flavor was light and the lobster itself was tougher than the one we'd had at Ufaa (just do yourself a favor and order the lobster at Ufaa!). The pickled and crunchy veggies on the side were the same as those with the veal and again just didn't seem to jive with the delicate flavors of the lobster very well.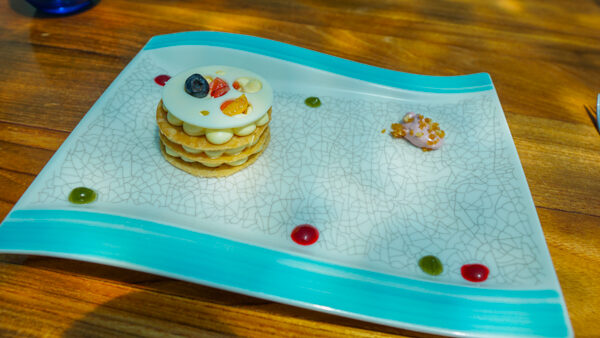 Dessert was a strawberry mille-feuille and was probably my favorite course. Buttery layers of crispy, flaky pastry were layered with a vanilla pastry cream and topped with white chocolate, strawberry jam, strawberries, and blueberries. Strawberry and basil sauces dotted the plate along with a dollop of strawberry cream that was tart and tangy like a yogurt.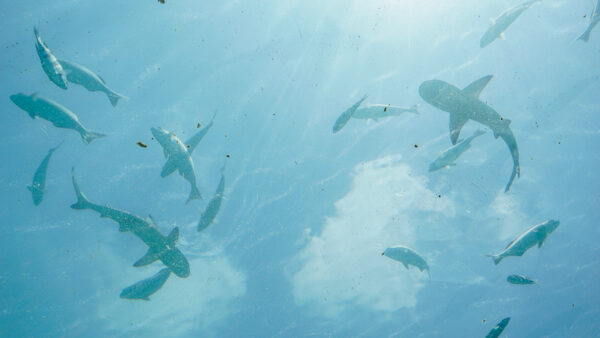 Although the food and service at Ithaa was fine, watching tons of fish swim right by us as we ate was definitely the highlight of the meal. Overall we are glad we dined at Ithaa but we wouldn't need to return. We would say if you're really intrigued by the novelty of dining underwater you should give it a shot. But if you're more into really great food and wine, save your money for one of the other excellent restaurants at the Conrad Maldives.
Ithaa is located on-site at the Conrad Rangali in the Maldives.
About Angie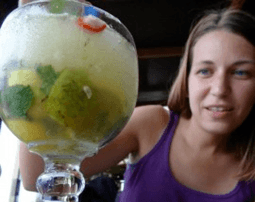 About the Author: Angie is a contributing author. She has been to nearly 60 countries and seeks out the best restaurants, bars, bakeries, and other unique food items wherever she goes- often with her husband, Jeremy.