Last Updated on January 24, 2022 by Jeremy
Disclaimers: Our site uses demographic data, email opt-ins, display advertising, and affiliate links. Please check out our Terms and Conditions for more information. Listed prices and attraction details may have changed since our visit and initial publication.
For our weekend at Disney, we had a hard time deciding between staying at a full-fledged Disney resort or off-property for a discount. We opted to split the difference and use points to stay at the Hilton Bonnet Creek– an independently operated hotel that is located just off Disney property (but still close enough for a short drive to the parks).
As it turns out, we had a really nice stay at this one and some of the hotel's amenities really made up for the fact that it was not an official Disney hotel!
Rooms With a View at the Hilton Bonnet Creek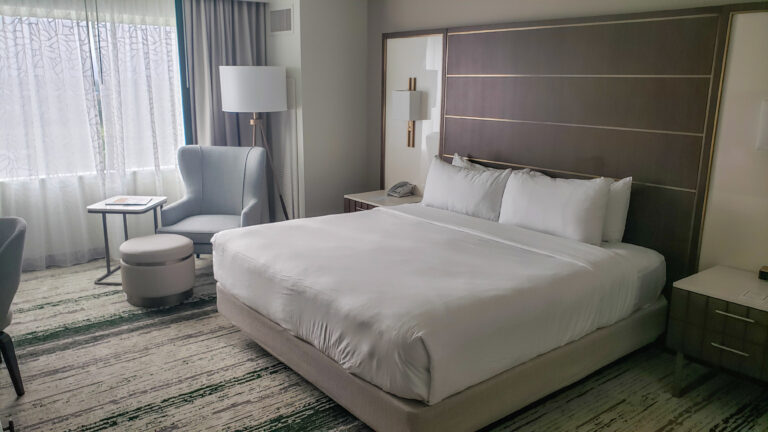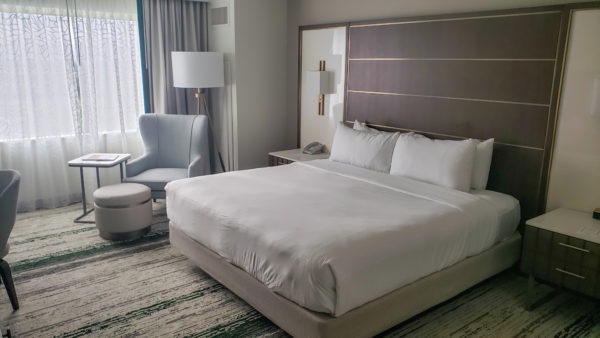 The rooms at the Hilton Bonnet Creek were among the nicest and most spacious Hilton rooms we've had in recent memory and included a fairly standard array of amenities.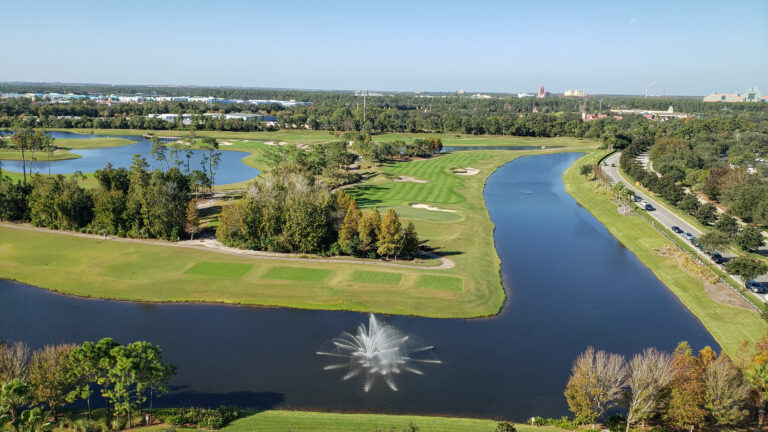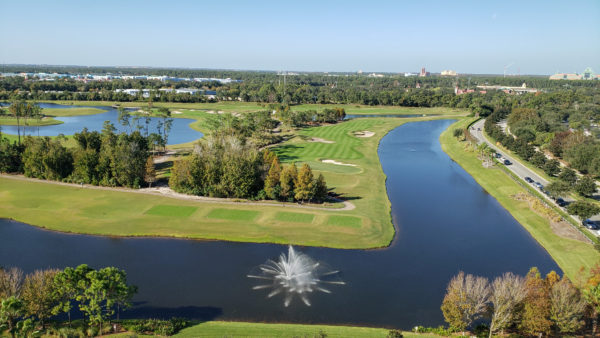 For those who can choose a room, go for a higher numbered room ending in 01. We stayed in 1401 and had views of all four parks, with Hollywood Studios being the closest and Epcot/Magic Kingdom being at a somewhat extreme angle. Despite this, we could witness all of the fireworks shows at night from the comfort of our room- albeit at a fair distance.
Overall, while the rooms were comfortable and allowed for a great night's sleep, we have to admit that the hotel's location and on-site amenities really made this one a great stay.
A Plethora of Hotel Amenities Are Available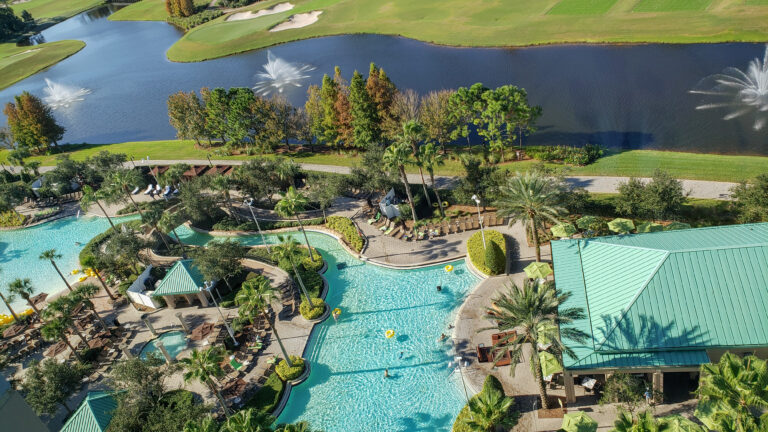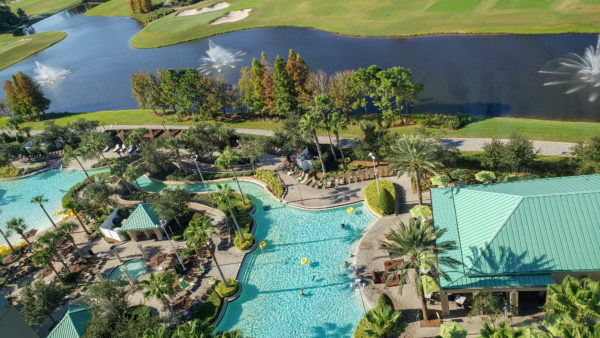 To say that the Hilton Bonnet Creek is a large hotel is an understatement- it is huge and features an on-site conference center and is connected to the Waldorf Astoria next door!
Apart from the on-site restaurants, store, and bar (which we admittedly did not get to enjoy), the biggest feature we enjoyed was the hotel's large pool with lazy river. While not the largest of lazy rivers we've ever experienced, for a hotel we have to say this was a pretty nice way to relax at the end of a long day at the parks.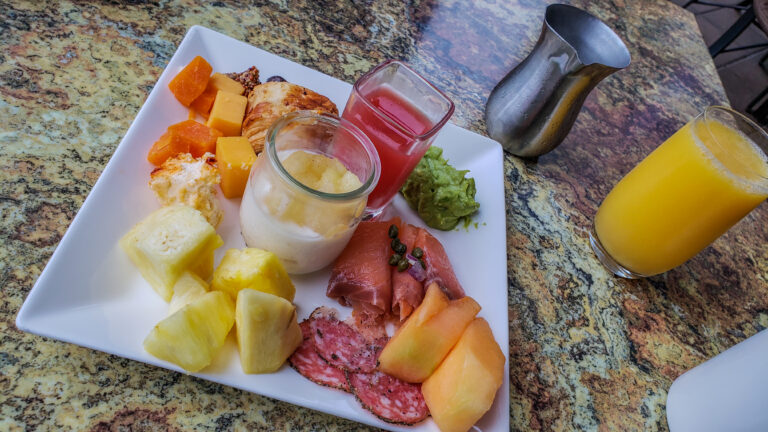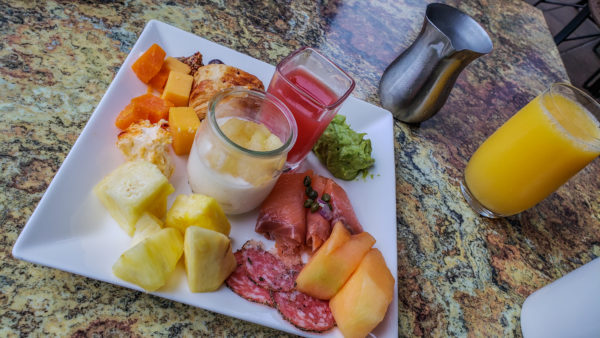 For Hilton Diamond Members, this hotel does not offer an Executive Lounge but instead offers a $10 per adult (max 2) credit per night to spend at the on-site store or restaurants as a credit against your bill. Likewise, the continental buffet breakfast is discounted to $10 per person (a premium buffet with hot breakfast is a bit more expensive but also discounted for Diamond members).
This means that if you choose to eat breakfast, it is essentially free, but if you opt to skip breakfast (as many Disney-goers often do), you can still utilize a nice credit for a snack or drink at the end of the day. We ended up using our credit for breakfast each day, but really liked the flexibility in case we wanted to skip breakfast and hit the parks.
The hotel also has an on-site Disney concierge who can offer tips about the current status of rides at the park. The concierge offered some stellar advice for me to get on Star Wars: Rise of the Resistance during the opening week rush.
Disney Shuttle Service Helps But Isn't Always Convenient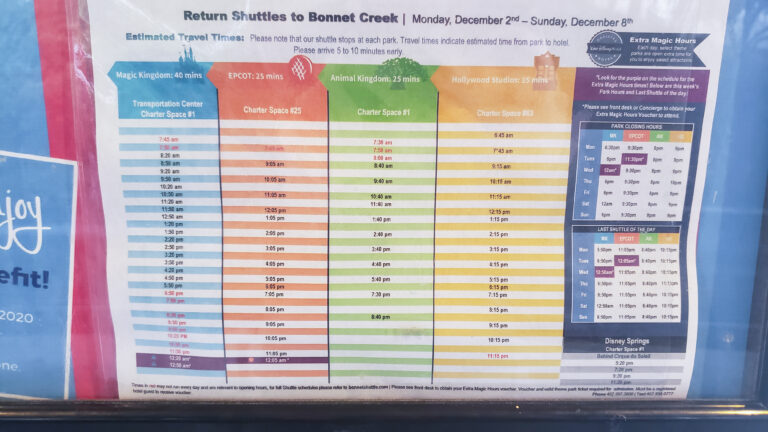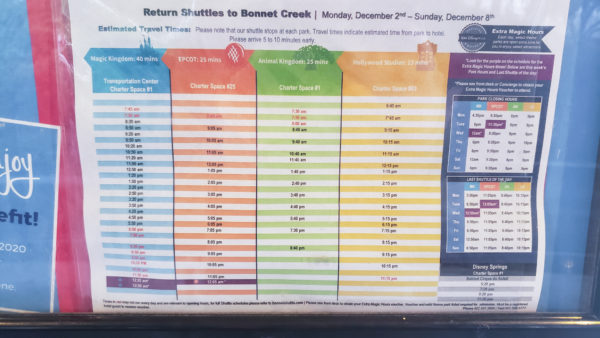 One of the biggest perks from our stay at the Hilton Bonnet Creek was that they had a free shuttle service to the Disney parks. These generally ran about every 60 minutes to most of the parks and during prime hours every 30 minutes at Magic Kingdom (Note: these times may vary week-to-week).
The problem with this service is that it is only convenient for some of the parks as the shuttle often makes one big loop between all of them in a single journey (which during our visit was Magic Kingdom first, Epcot/Animal Kingdom second, and Hollywood Studios third before returning to the hotel). As such, it was quite convenient to get to Magic Kingdom and back to the hotel from Hollywood Studios, but not so much for the other parks.
If you were wanting to do the opposite and return from Magic Kingdom or take the shuttle to Hollywood Studios, the trip could take close to 45 minutes for what would otherwise be a 10-15 minute drive (the time to get to/from each park is noted at the top of the schedule, but we think a number of guests miss this based on some conversations we heard between them and the drivers).
As such, we found ourselves being strategic with our shuttle choices and balancing that with a few $9-$10 Uber rides in order to save time.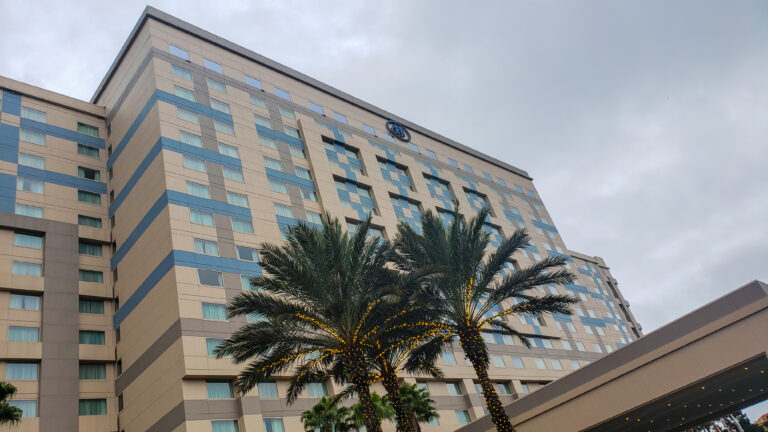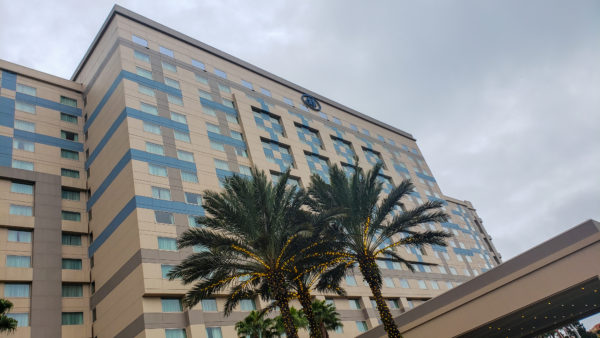 While the shuttle schedule is a bit confusing, my only real knock here would be that there is not an included shuttle to and from the airport like other official Disney properties have. Instead, you'll have to pay a nearly $40 round-trip fee for a private service from the same company that offers the park shuttles.
For solo guests, this shuttle service saves money over two round-trip Uber rides, but for those coming with a party of two or more, an Uber would likely make more sense if surge pricing was not in effect. Not to mention, the return trip requires 24-hour advanced reservation which was not explained to me in the slightest when I purchased my ticket (it is written on your receipt; however).
Still, when compared with no shuttle options at all, it is hard to say no to the above, slight inconveniences and all- you'll likely still come out ahead than renting a car and utilizing the hotel's $29/night parking fee (plus additional fees to take your car to the parks)!
Overall, we had one of our best Hilton stays in recent memory at the Hilton Bonnet Creek. Between the comfortable rooms, buffet breakfast with Diamond member discount, lazy river, and the limited shuttles we quite enjoyed staying at this property during our Disney trip and would most certainly stay at this one again in a return visit.
Hilton Bonnet Creek is located at 14100 Bonnet Creek Resort Lane. To book your room, click here.
About Jeremy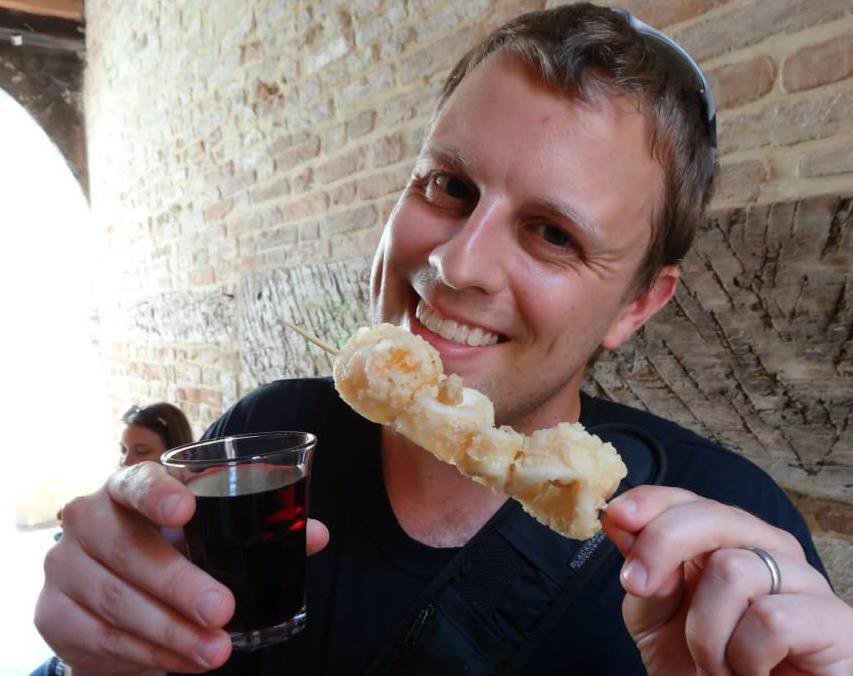 About the Author: Jeremy is a full-time travel writer based in Pittsburgh and primary author of this site. He has been to 70+ countries on five continents and seeks out new food, adventure activities, and off-the-beaten-path experiences wherever he travels.