Published by Jeremy. Last Updated on January 24, 2022.
Disclaimers: Our site uses demographic data, email opt-ins, display advertising, and affiliate links. Please check out our Terms and Conditions for more information. Listed prices and attraction details may have changed since our visit and initial publication.
During our South Korea trip, we decided to splurge on a couple of nights at the high-end Millennium Hilton Seoul with points.
Thanks in part to our diamond status with the hotel chain, we ended up getting a rather nice room on a high floor which was quite comfortable and had a stunning view.
But while the room and property itself was every bit of what we expect of a Hilton chain, we have to say, this one is perhaps not the best for tourists- it feels like a business traveler hotel more than anything!
The Millennium Hilton Seoul is a Business Traveler's Dream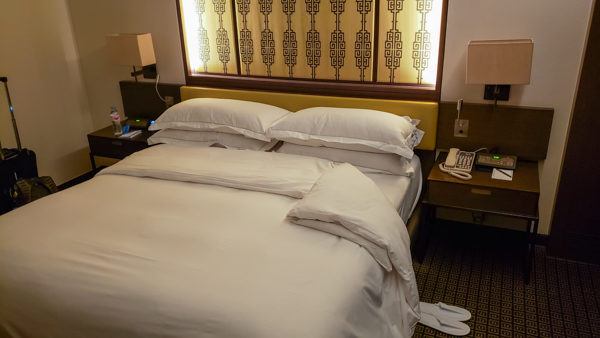 The first thing that came to mind after we arrived at the Millennium Hilton Seoul is that it was quite well designed. The hotel is meticulously well kept, the employees were among the most hospitable of any Hilton we've been to, the rooms are quite comfortable (albeit a bit on the warmer side), and compared to the rest of our trip the minor details in the room all came together for one of the best night's sleep we had in the country.
While this may be a bit relative to the hotels we stayed elsewhere in Korea, as opposed to other Hilton properties at large, we were pretty satisfied with the hotel during our stay and really have no concerns with the room itself.
In fact, what stuck out the most to us was not the room itself but rather how much the hotel seemingly catered to business travelers, and how we felt a bit out of place as guests visiting for tourism purposes.
It is hard to put our finger on why that is, but when you are walking through a lobby (or lounge) full of business travelers, or checking out restaurant and bar menus so disproportionately priced that only those who can expense it may not care, then it starts to come together more. But our biggest instance of this occurred in one of the property's bars.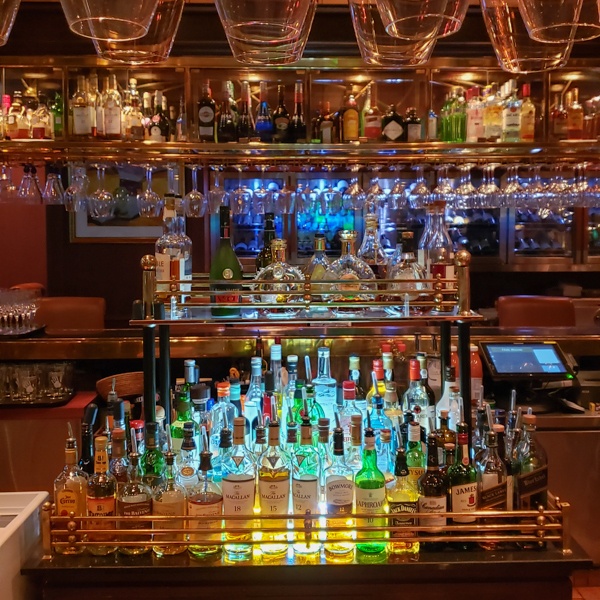 During our visit, we decided to have an end-of-trip celebratory drink at the Oak Room- an English style pub with an array of beer and cocktail options. We opted for a couple of their house-made cocktail recipes to get something a bit different and found the drinks to be decently made but not worth the nearly $40 price tag for two in the slightest (although was quite in line with other spots in the hotel itself).
With prices like this, you'd likely expect the bar to be empty, but it was instead full of, you guessed it, business people- including a large group that appeared to be on a work outing with many, many rounds of drinks that resulted in vigorously dancing to the singers who were performing. In that respect, our tab was worth it for the entertainment alone.
Still, I couldn't help but feel a bit out of place here, and I kept going back to the thought that we were quite alone in staying as a tourist. This trend continued when we left the hotel as it is in quite a unique location as well.
This Hotel is in a Good Location With a Few Caveats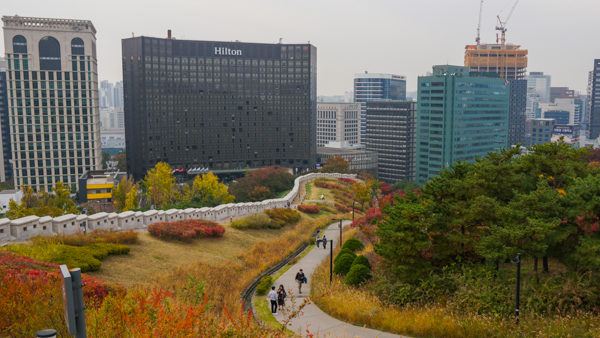 When you look at a map, the Millennium Hilton Seoul is in a great location. It is less than 1,000 feet away from Seoul Station, a short walk from Namsan Park (with a bit longer of a walk getting you to Seoul Tower), and the hotel even has a dedicated bus stop just a few steps away from the front door.
While all of these are great perks for visitors, there is one thing that may not be readily apparent when looking at a map- it is located on a decently-sized hill.
In a way, this is not too much of an issue. It is an easy walk to Seoul Station all the same, and for those who do not like to walk the hotel offers a periodic shuttle to the station as well (and the nearby bus does connect to other routes to get you to where you need to go). But much like the setting inside the hotel, something about this one simply felt odd.
To us, the hotel felt like it was distinctly removed from the hustle and bustle of Seoul and was set more in a modern business district where a taxi is likely your primary mode of transportation (as indicated by the roughly dozen or so parked out front at any given time). This, coupled with the overall design and pricing of the hotel as noted above, really made us feel like it was designed more for business travel than those visiting for tourism and was something we couldn't quite get over during our stay.
All That Being Said, We Had a Great Time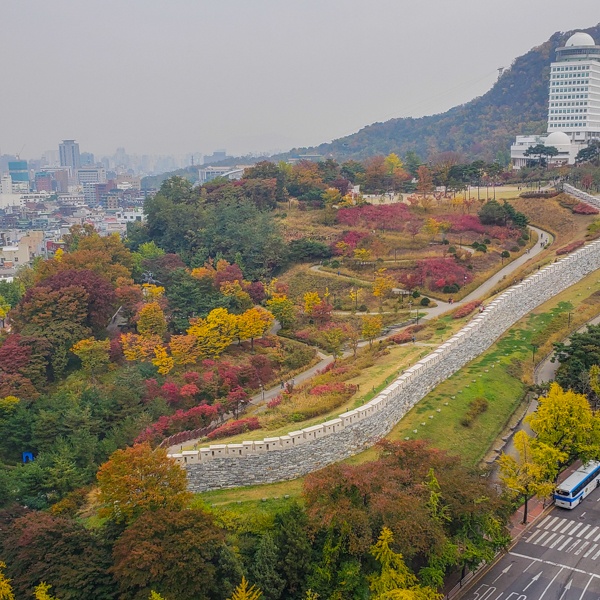 Apart from the cost, we really have no complaints about the Millennium Seoul itself. Our room was lovely, we had a quiet and relaxing stay, and everything was up to the bar we expect from a premium Hilton hotel. But this does not necessarily make it a great hotel for those who are visiting for tourism purposes. Admittedly, this is through little fault of the hotel itself and more our own expectations and needs.
If you are the kind of traveler who will hop into a taxi to get you from A to B in almost every instance, then most of the above concerns are a non-issue. But if accessibility (more appropriately, walkability) and being in the center of a city's historical, tourism, or even culinary scene is for you, well, we may have some reservations in recommending this one.
Its location is not the best and will require just a bit more effort to get out and explore than other options in the city. And as for the food, well, if you're eating at a Hilton in Seoul I have many questions for you because the country's cuisine is worth any effort you can make to eat it.
I will fully admit that this review of the Millennium Hilton Seoul is not like our standard reviews of Hilton properties. Normally we take a deeper dive into the rooms, on-site amenities, and more, but here we found our room itself to be quite fine and were a bit too hung up on the hotel's location and apparent targeting of high-end business travelers which was, sadly, not for us.
This is quite the minor detail and is so small that I even debated not publishing this post at all. But as this little detail was noticeable enough that it made us second guess our choice to stay there, it seemed worth publishing all the same.
So, if you are traveling to Seoul on business and find the Millennium Hilton Seoul to be a viable option, I can safely say you will not be disappointed. If you are visiting to explore the city as a traveler you may have a few reasons to pause- however small they may be.
To book your stay at the Millennium Hilton Seoul, click here.
Looking for more Hilton hotel reviews? Click the previous link to check out our database of everyone we've stayed in so far!
About Jeremy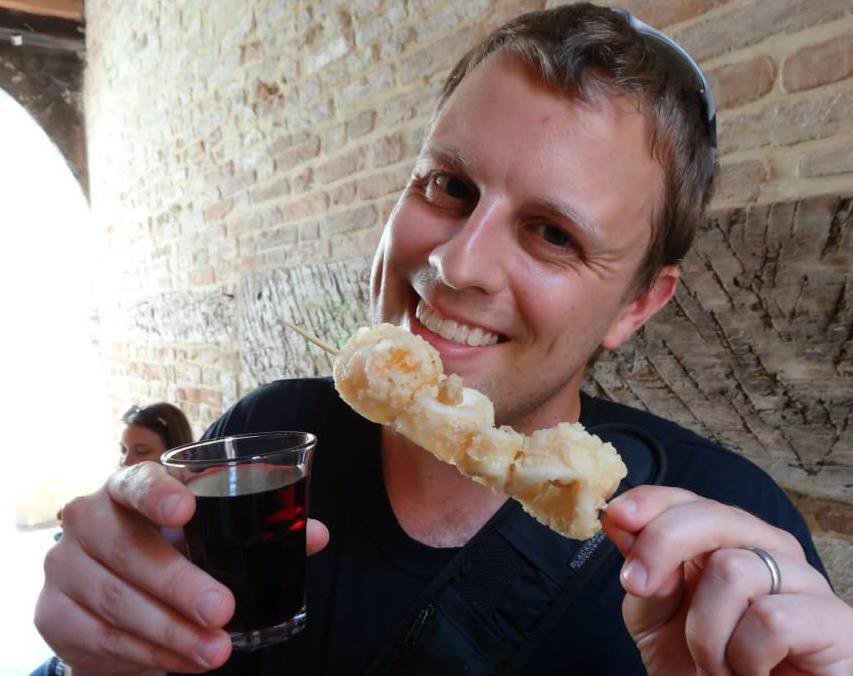 About the Author: Jeremy is a full-time travel writer based in Pittsburgh and primary author of this site. He has been to 70+ countries on five continents and seeks out new food, adventure activities, and off-the-beaten-path experiences wherever he travels.