Last Updated on June 20, 2019 by Jeremy
Disclaimers: Our site uses demographic data, email opt-ins, display advertising, and affiliate links. Please check out our Terms and Conditions for more information. Listed prices and attraction details may have changed since our visit and initial publication.
When we tell people we travel the world for free (well, mostly for free), they often look at is with a bit of incredulity.
Those who know us instantly assume it is because of this travel blog and that we bounce around from press trip to press trip. But we often shock them when we say that is not our scene and we go on few, if any, hosted trips. In fact, when we travel we don't even pitch brands to work with.
It is something that we never enjoyed doing, so we don't do it.
Our travels are instead primarily paid through points which we acquire in a mix of Angie's travels for her day job and travel rewards credit cards.
In the past we've published a detailed travel hacking guide to how we've acquire nearly a million points in any given year (link above- highly recommended to read in tandem with this article). But today we want to dive down deep into the cards that we have in order to make this happen.
All cards featured herein are cards we personally have in our wallets right now (both of us in most cases-  double the rewards!), and we will do our best to update this guide as we open or close cards in the future.
A Few Upfront Disclaimers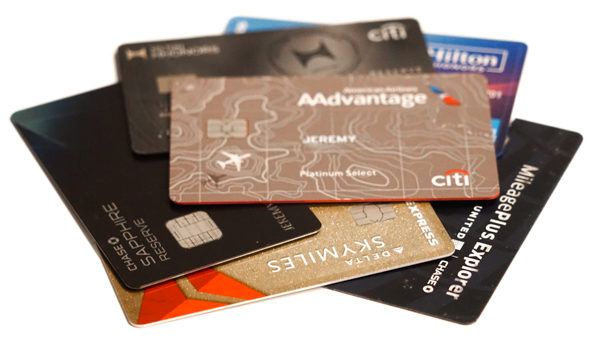 Before getting into it, a few disclaimers are necessary.
We were not requested to publish this article in any capacity. Some links within this post do contain referral codes, however. If you sign-up for a credit card via our links we may receive additional points into our accounts.
In addition, please note that sign-up perks, requirements, and fees are based on the offering at the time of publication and are prone to change without notice. We will update this post from time to time to reflect any changes, but we cannot guarantee that what you see below will be what is available when you click.
Finally, please review all T&Cs before signing up for a card. If you spot a discrepancy from anything posted below, please contact us and we will update this post accordingly.
Alright, now that those are out of the way lets get to the cards that we currently use to gather up points to travel with!
Chase Sapphire Reserve
Sign-Up Bonus: 50,000 points after spending $4,000 in 3 months
Other Perks: $300 in annual travel credit, 3x points on travel and dining, 50% bonus redemption on Chase's portal, Global Entry credit, Priority Pass Select lounge access, specials with car rentals, points transfer to major hotel and airline alliances (we do United), and more.
Annual Fee: $450 annual fee
We signed up for this card right before a planned points devaluation when you could still get 100,000 points on the same minimum spend. While the reward offering of 50,000 points is far less than what was previously available, it does get you well on your way to a round trip ticket to Europe which is nothing to scoff at (especially so if most of that $4,000 spending is on travel and dining for the 3x multiplier).
Factor in all the bonus earnings on travel and dining, plus other credits and perks, and the sign-up fee practically pays itself off in the first year.
Pay for a vacation to Europe and get your next Europe flight for free? I'll take that return.
Will we keep the card? While the perks for this card pay for the vast majority of the fee every year (and the 3x points on travel and dining adds up fast if you spend like we do), we may not hold onto this one long-term as it still requires a hefty out-of-pocket cost all the same.
We are holding in year two for a few simple reasons- the travel spending we do have right now is timed well with the annual fee (so its mostly shifting money around vs a big out-of-pocket expense) and we really like the 3x points on dining since we eat out multiple times a week.
Chase United MileagePlus Explorer
Sign-Up Bonus: 40,000 points after spending $2,000 in 3 months
Other Perks: Free checked bag on United, Priority Boarding, Two United Club Passes a year, 2x miles on United per dollar spent.
Annual Fee: $95 annual fee, first year free.
This was our very first rewards credit card, and is one we've kept on hand for many years now purely because the free checked bags pays for itself in just a few flights and the lounge passes are an added bonus (not to mention our long history on this one helps our credit score).
The typical sign-up bonus when meeting minimum spending is 40,000 points and gets you 2/3 of the way to a round-trip ticket to Europe. Not bad for a $2,000 minimum spend! This one is a great middle-ground card for those who cannot hit the $4,000 minimum spending requirement like with the above Chase card but want a bit more than what free cards offer.
Will we keep the card? We have no intention of canceling this card as long as the lounge passes and checked bags are included. We fly with United often enough to make this one worth it even when factoring in that Angie is platinum and gets some of those perks automatically (I have no status, however, making this great for when I fly solo).
Admittedly, the spending bonus of 2x per dollar on United with this card vs 3x per dollar on travel with the Chase card above (that can then transfer to United at a 1:1 value) means we very rarely use this card for airfare purchases despite being United loyalists.
Thinking of grabbing this card? Click here to sign up for the Chase United card.
American Express Hilton Honors Ascend
Sign-Up Bonus: 75,000 Hilton points after spending $2,000 in 3 months and an additional 25,000 for another $1,000 in 6 months.
Other Perks: 12x on Hilton Purchases, 6x on restaurants, gas stations, and super markets, 3x on other purchases, complimentary gold status, weekend night certificate after $15,000 spending in a calendar year.
Annual Fee: $95 annual fee
We originally signed up for this card when it was under Citi Bank and the rewards were a bit different, and as of early 2018 the card was migrated to American Express with somewhat downgraded perks. That being said, this one is still a great deal for those who travel on Hilton often and can hit the $15,000 minimum spend for the weekend certificate every year.
The latter is not a great use of that amount of spending when you can hit the minimum spend for a few other cards like we do, but we really love the certificates when we both get them. We've used these certificates in tandem with the complimentary gold status to receive upgrades to a three room suite at the Hilton Dubai Jumeira, a luxury room at the Hilton Dubrovnik, and a mini suite at the Hilton Reykjavik Nordica to name a few!
Our next trip involves a few beachfront Hilton properties in the Seychelles and we're looking forward to seeing if our luck will continue now that Angie has Diamond status through her work travels. Fingers crossed!
Will we keep the card? As we are Hilton loyalists in our personal travels odds are good we'll cancel this card and upgrade to the premium, $450 annual fee version in the near future. That card offers 14x / 7x / 3x points respectively (an extra night on Angie's Hilton spending for work alone), Diamond status, 100,000 bonus points for spending $4,000 in 3 months (roughly two nights in a base room at most hotels), one weekend night certificate a year outright, and $250 in Hilton Resort statement credit.
As long as we stick with Hilton we'll come out ahead handily for that fee every single year.
Thinking of grabbing this card? Click here to sign up for the American Express Hilton card.
American Express Delta SkyMiles Gold
Sign-Up Bonus: 50,000 Delta miles after spending $2,000 in 3 months and an additional 10,000 for another $1,000 in 6 months.
Other Perks: $50 statement credit from Delta, first bag free, 2 miles per dollar on Delta flights, priority boarding, pay with miles features.
Annual Fee: $95 annual fee, first year free.
We signed up for this card on a whim based on a mailer for a similar 60,000 point offer. We know that this one tends to vary between 30,000 and 60,000 points (or at least, it seems) so we jumped on it despite not having a trip planned with Delta in the near future (something we always try to target when doing a points run to make it easy planning-wise).
We ended up using 60,000 points for a $700+ round trip ticket to Alaska with a favorable connection. Not the best use of our points as for the same spend we could get a round trip to Europe, but it worked for us since we got the card on a whim to begin with. We won't complain! If you are a Delta loyalist, this card should be on your radar.
Will we keep the card? Now that we've exhausted our points odds are good we won't hold on to this card much longer; we'll see if we end up flying with Delta more before our annual fee hits.
Like the United card above, the 2x multiplier on Delta spending is not nearly as good as Chase's 3x multiplier although in this case you cannot transfer Chase points to Delta like you can to United. Odds are good this one will be dropped before our renewal date.
Thinking of grabbing this card? Click here to sign up for the American Express Delta card.
Citi American Airlines AAdvantage Platinum Select
Sign-Up Bonus: 60,000 American Airlines points after spending $3,000 in 3 months.
Other Perks: 2x points on spending on American Airlines, 10% of redeemed miles back as bonus, first bag free, preferred boarding.
Annual Fee: $95 annual fee, first year free.
This card by Citi is offering one of the higher sign-up rewards for the minimum spend, and is enough to get you to South America or Europe on an American Airlines reward ticket if you purchase early a the saver rate (minimum availability). Not a bad deal at all!
Much like the above Delta card, this one is best suited for American Airline loyalists who can get $95 worth of fees from the bag fee waiver and preferred boarding. We do travel with American periodically such that we would be close on the waived checked bag fee, but I don't think we get there every year like we do with United.
Will we keep the card? Much like the above Delta card, our decision to hold on to this card will depend on if our travel situation changes with our day jobs. If we end up flying more with American this year due to them having preferred routes (a very real possibility from our hub) we'll likely keep the card for the side perks as our spending would outweigh the card fees.
But again, our Chase card gets 3x on travel and is simply the best for airline purchases for a 1:1 transfer, even if the best option is to still send those points to United.
Thinking of grabbing this card? Click here to sign up for the Citi American Airlines card.
A Few Notes About Opening Credit Cards
When it comes down to it, we love opening and using credit cards to help us out in accumulating a massive amount of points to travel the world for free (or close to it).
But we have to provide a word of caution in say that just because we can open several cards and keep them open, that does not mean it is the best course of action for everyone.
The reasons for this are simple, and boil down to the fact that we can simply afford the fees ($830 year for the cards above for each of us), can easily meet the minimum spending requirements, never pay interest, and even when factoring in all of that still come out ahead over simply paying for our trips outright.
We cannot tell you if that would be the same for your situation.
As such, if you are looking at opening credit cards for their sign up rewards we urge you to strongly look at your financial situation and see if it is practical.
If it isn't, many of the above companies offer free cards that have no annual fee but still provide some rewards upon opening or meeting a lower minimum spending limit (typically $1,000 to $2,000). We started with these and as our income and spending grew, we upgraded. As far as maintaining good credit, there is no shame in going slow.
About Jeremy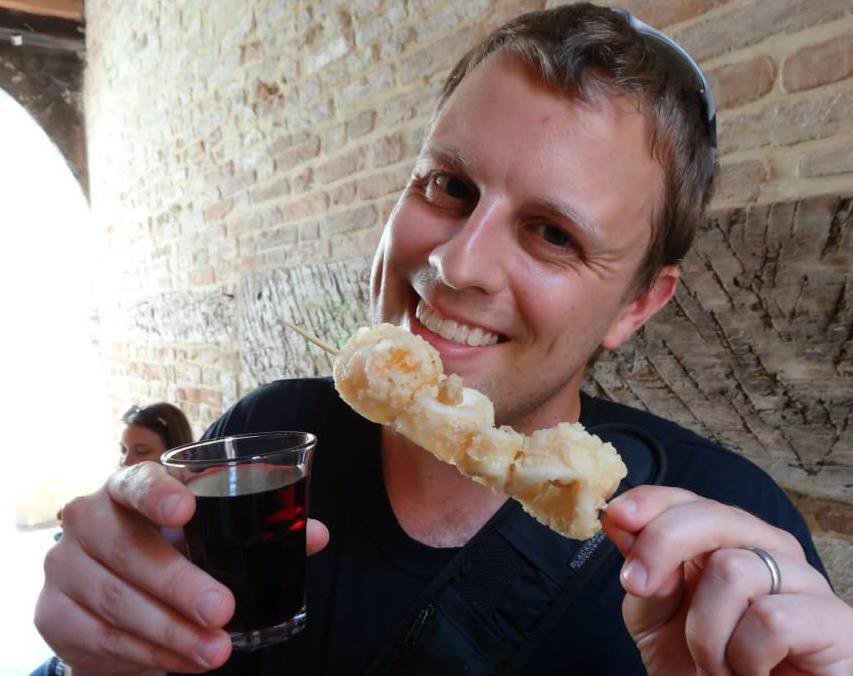 About the Author: Jeremy is a full-time travel writer based in Pittsburgh and primary author of this site. He has been to 70+ countries on five continents and seeks out new food, adventure activities, and off-the-beaten-path experiences wherever he travels.