Published by Jeremy. Last Updated on August 5, 2022.
Disclaimers: Our site uses demographic data, email opt-ins, display advertising, and affiliate links. Please check out our Terms and Conditions for more information. Listed prices and attraction details may have changed since our visit and initial publication.
When we are at home, we like to have constant reminders of our travels. From the random knick-knacks to hand painted artwork we pick up on the road, our house is covered with decorations that remind us of where we've been over the years.
But one of our favorite pieces of travel art is one that does not come from our travels, but is about our travels- our world map!
For many years we were settled with a DIY travel map with push pins we made ourselves, but after a while we knew we were in need of an upgrade. We searched the internet, read countless reviews, and settled on one that appeared to be leaps and bounds better than the rest- Conquest Maps.
It was the best decision we ever made.
Conquest Maps is the Only Travel Map You'll Need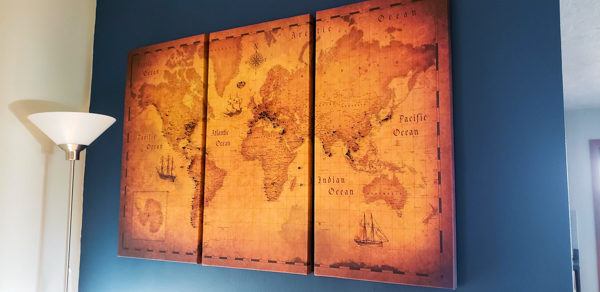 When it comes down to it, there are two reasons why we fell in love with Conquest Maps when looking at all the options, and they are simply the following.
First, the designs are elegant. We opted for the three panel, 48″ x 32″ Golden Aged map which looks like an antique scroll, but others are also available such as a modern slate and rustic vintage map. No matter which one you select, the maps are designed to look like a piece of art in their own right rather than something you'd find in an atlas or Google maps (and truly put our DIY map we made to shame).
If it is going to be the focal point of your room like it is for us, aesthetics are incredibly important, and to be quite honest we had a hard time forcing ourselves to put the push pins in at all- the design is just that stunning.
Another aspect about the design that won us over is that Conquest Maps actually displays a good number of cities ranging from well known to some more obscure. It is a bit shocking for us to have to even say this, but many competitors only showed just the capital city, and we felt like the addition of more spots added a nice depth.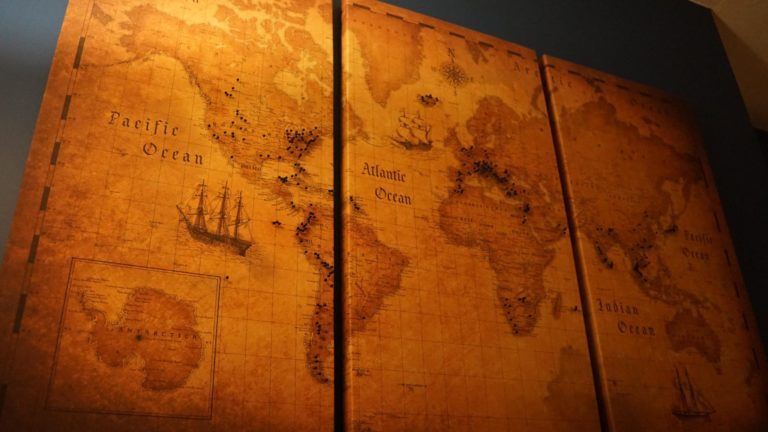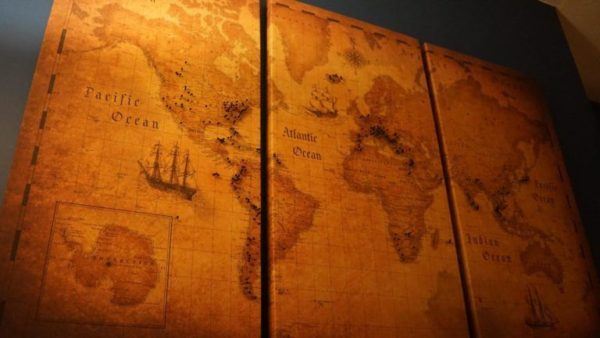 Second, the quality is shockingly good. As someone who has a number of stretched canvases at home, we are well aware of what a cheap canvas feels like. But Conquest Maps exceeded our expectations in this category as being a robust product all around.
The moment you pick a canvas up in your hands you can get a feel for the workmanship as they are sturdy and, in all honesty, significantly heavier than we anticipated.
The cork board is integrated in such a way that you have no indication that it is there- both visibly and to the touch. (And, in fact, the cork board also has a fairly hard backing which ensures you can't push a pin in too far, either!)
The map is one seamless design and is one of the reasons they come across as being so aesthetically pleasing- you'd really have no idea it was a push pin map if you didn't put any pins in it!
Spend a Bit of Time Thinking About Your Pins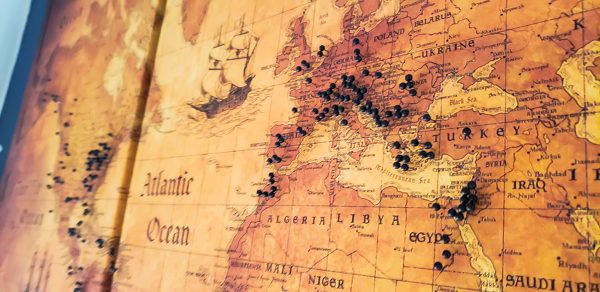 For the push pins themselves, while we like the ones Conquest Maps offers we decided to purchase our own on Amazon as 50 of two colors was simply not enough for our travels (not to mention their 1/4 inch head size by 3/4 inch pin length was simply too big for our liking- we have a ton of pins and needed smaller ones to take up less space).
We found that the 1/8 inch head size and 3/5 inch tack length made for a nice size on our map. They're big enough to add a bit of pop while not being too obtrusive at first glance.
From our estimations the cork depth appears to be about 3/10 an inch before you get to the hard backing, so the 3/5 inch tack we had about half of the tack length inside the cork and half sticking out- a good balance in our minds.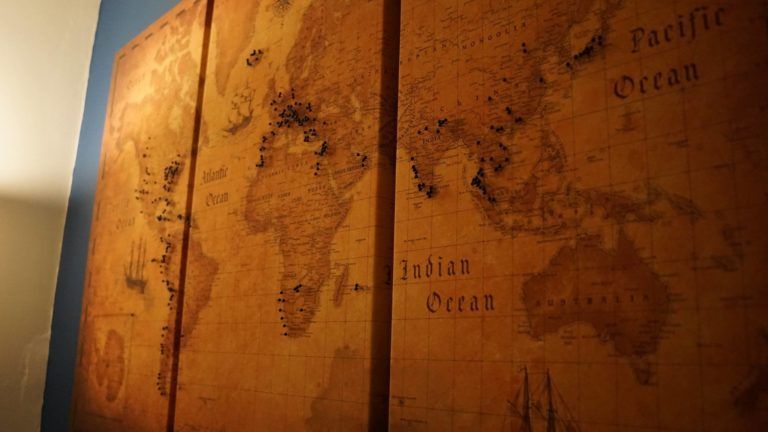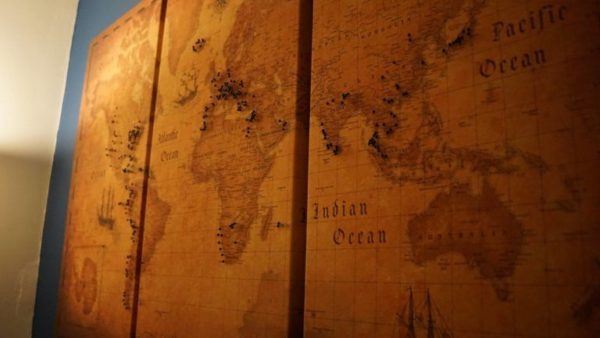 Likewise, it is worth keeping in mind that the 1/8 inch head size works out great for our 48″ x 32″ three panel map, but may be pushing a bit too large if you opt for a significantly smaller map like the 24″ x 16″- depending on how many pins you want to place at least.
You may want to check out 1/16 inch tacks as well just to confirm, but keep in mind the tack length may cause them to stick out more too- it is a hard balance finding the best fit!
In this instance, buying a few different kinds of pins to check them out in person goes a long way to having the best overall design- we know it did for us. If you are going all out for a premium pin map, a few extra bucks on pins should be the least of your concerns.
Conquest Maps Has Other Products, Too!
Now, our above review is solely based on the pin board world maps, but we'd be remiss if we did not mention that Conquest Maps has been expanding rapidly in recent years to add more map products into their arsenal.
We are heavily biased to pin boards over traditional posters for our personal aesthetics, but if you like that style better they have one for you!  Likewise, the company also offers wall decals, US maps, and even state maps for those who want to take their design to a different level.
We cannot comment on the quality of these as we unfortunately do not own any, but if it is anything like the quality we've come to expect based on our pin board map, you will likely not be disappointed!
Overall, it took us a ton of time researching the map we wanted to upgrade to, and we are beyond pleased with the product we got from Conquest Maps. Everything about their designs is of the highest quality, and we are looking forward to filling in the gaps in our travels over the coming years.
Looking to buy your own wall map? Check out Conquest Maps today!
Read More Lifestyle Design Articles
About Jeremy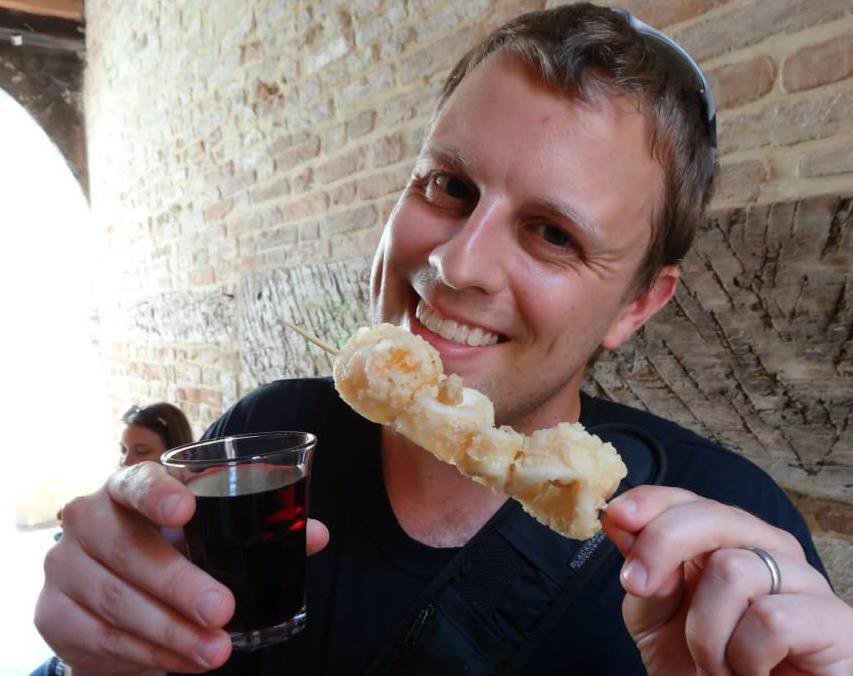 About the Author: Jeremy is a full-time travel writer based in Pittsburgh and primary author of this site. He has been to 70+ countries on five continents and seeks out new food, adventure activities, and off-the-beaten-path experiences wherever he travels.