Last Updated on January 23, 2023 by Jeremy
Disclaimers: Our site uses demographic data, email opt-ins, display advertising, and affiliate links. Please check out our Terms and Conditions for more information. Listed prices and attraction details may have changed since our visit and initial publication.
Not being able to travel is rough. We get it. There is nothing fun about being stuck at home with no plans for the future.
To help things out, we're starting a virtual trip series where we share 15 of our favorite photos from a previous trip and share some of the backstories behind the images.
For our first entry, we're traveling to the not-so-distant past of early 2020 when we were in the stunning Maldives!
Virtual Tour of the Maldives – 15 of Our Favorite Maldives Photos
Seaplane Over the Maldives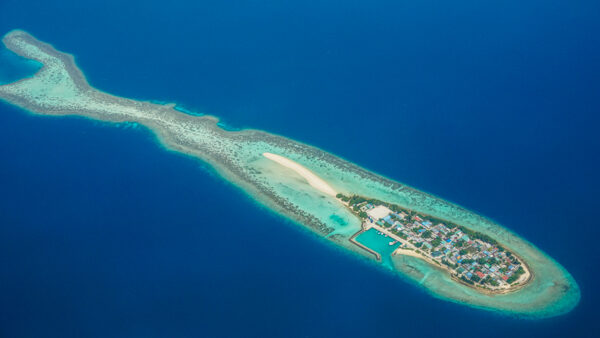 When you think of the Maldives, what are your first thoughts? Overwater bungalows, white-sand beaches, and crystal clear water probably come to mind. After these, our next thought is often that the country is a collection of atolls, forming about 1,200 individual islands spanning hundreds of miles in the Indian Ocean. As such, when flying over (like we did in a seaplane flight to Rangali), we got some pretty stunning views like this one.
Sandbanks and Reefs from the Air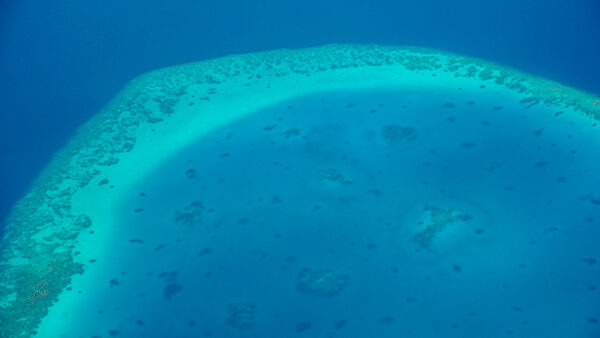 Not everything in the atolls is a landmass, as some formations are simply reefs and submerged sandbanks just below the surface. They make for a pretty mesmerizing sight from the air all the same.
Maldive Overwater Bungalows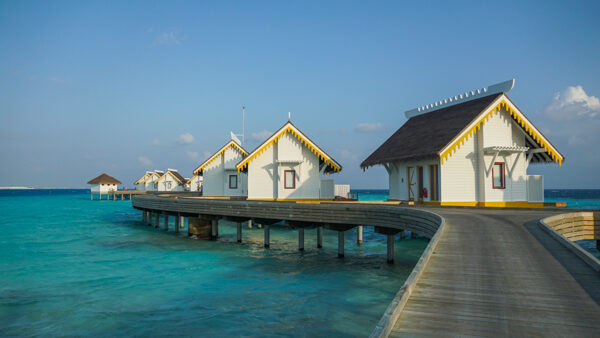 Our first overwater bungalow sighting was at the Hilton SAII Lagoon, our first stop in the Maldives. These were gorgeous little chalets on an impressively long boardwalk to nowhere. Each bungalow was beautifully designed, had their own staircase going straight into the ocean, and, for those who weren't fortunate enough to be staying in one to enjoy the amenities, also caught some of the best golden hour light of our trip for external viewing.
Daily View on the Beach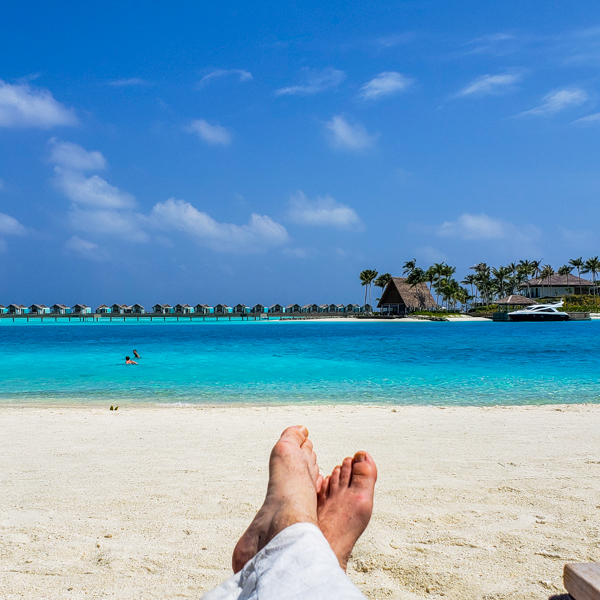 So what do you do at a resort in the Maldives? To be honest, we weren't quite sure as we were so used to active vacations where we drive around islands to explore. On an island that you can walk around in 15-20 minutes, well, you've got a lot of free time. So for part of the day, we planted ourselves in a beach chair, enjoyed this view, and read a book or two (I actually got up to nine in two weeks)!
Sunset on the Local Island of Fulidhoo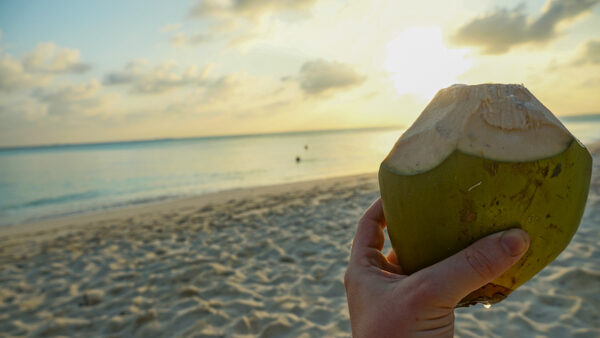 We added a trip to a local island, Fulidhoo, to get more out of the Maldives beyond resort hopping. These islands are quite small (this one was 2000 feet long), have just a few citizens (ours was about 300), offer just one bikini beach, and give a much more intimate look at what life is like in the country. But at the end of each day we ended with sunset on the one bikini beach, and sometimes picked up a cheap coconut to enjoy with it as well.
Mas Huni – Maldivian Breakfast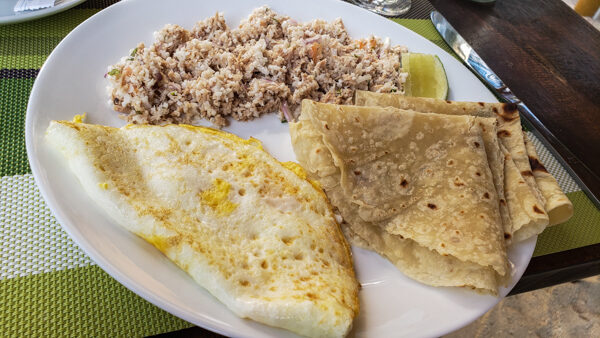 One of my favorite parts about visiting a local island in the Maldives was actually getting to try Maldivian food, which, as you can imagine, involves a lot of fish. For breakfast, we found ourselves eating mas huni. This is a dish made mixing tuna, coconut, onions, and chilies together for a meal that is not unlike tuna salad (minus any sauce- although the lime juice adds a nice pop) and served with roti. And you know what? It was delightful. We ordered it five days in a row because we absolutely loved it!
Passing the Time on Fulidhoo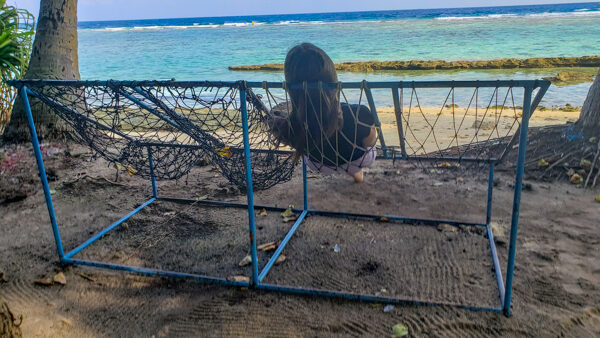 So, if you have just one beach and even fewer activities to enjoy on a local island, what do you do all day? Again, read. But instead of reading on Fulidhoo's bikini beach (which offered little shade after about 11 am), we found these netted chairs along different beaches and enjoyed a shady view of the water and nearby reef.
Enjoying the Sandbar Life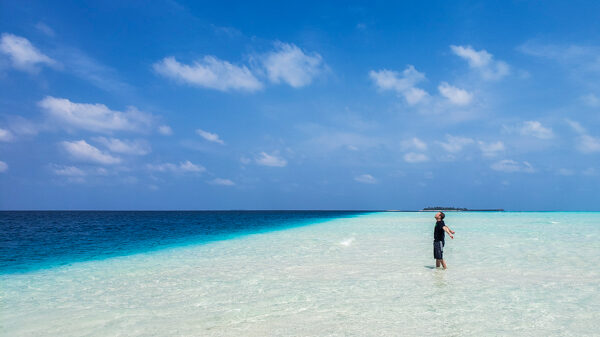 Fulidhoo is a great spot to go diving as there are numerous interesting dive sites within an hour's trip by boat. While I couldn't get any photos while diving due to the depth (my underwater camera isn't rated beyond 30 feet), we did get to stop at a sandbar between dives, and it was about as magical as this photo suggests. You may only need 10 minutes at one to get the full experience, but was it stunning.
Nurse Shark Snorkeling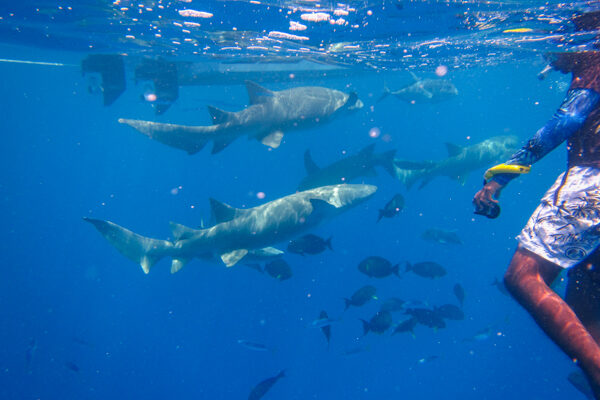 One of the things that was somewhat tricky about visiting Fulidhoo was that we were at the mercy of the weather for some of our day trips. If it was too windy, the smaller boats wouldn't go out to popular sites (we appreciated that) and things got pushed back. With five days there our snorkel trip was pushed back three days and went out while I was scuba diving. Since Angie doesn't dive, she opted to go snorkel at a shark point with others from our hotel (Seena Inn), and had a pretty incredible time getting up-close to nurse sharks!
A Whale Shark Excursion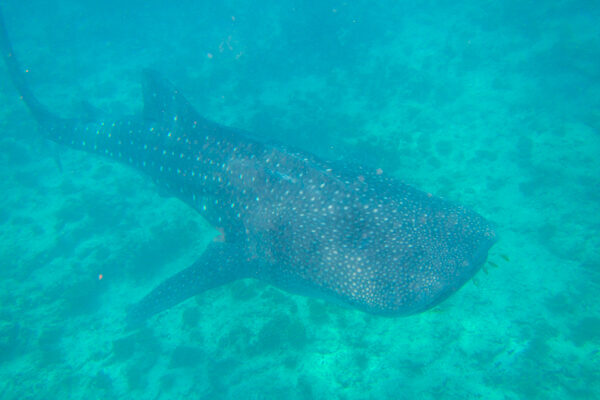 During our around the world trip, I was fortunate enough to go on a whale shark excursion outside of Cancun, Mexico, where I got to swim with these monstrous fish. Angie opted to skip it due to the rough waters and not wanting to get seasick, and she regretted it immensely. I promised we'd do a whale shark excursion the next chance we got, and it wasn't until six years later that we were at the Conrad Rangali that we timed our visit right to be able to go out on a whale shark trip and see these beautiful creatures once more.
Spotting a Manta Ray Near Rangali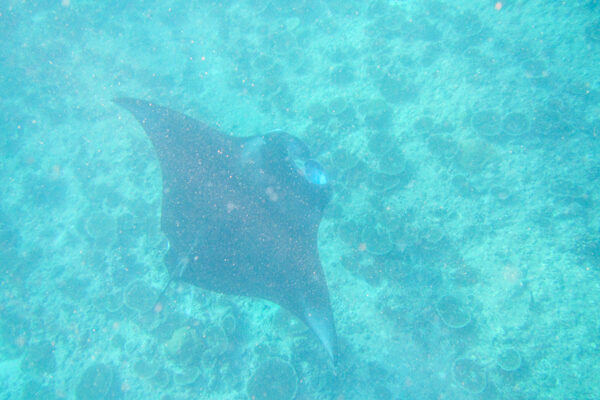 Like our whale shark experience, we knew that spotting a manta ray would be very much by chance. There is a known cleaning station near Rangali, and I tried to see about diving there during my visit (cost be damned). But when I spoke to the dive shop, they said they hadn't seen any mantas in the last few days and thought it'd be risky for me to spend money on a low chance. I agreed and gave up hope. But it was actually on our whale shark point when we were zooming out to a different island that we came to a stop. Our location? Manta point. They had spotted one, and we got to spend about five minutes in the water snorkeling above this beauty.
It turns out that we were in for even more luck. We spotted another one ten minutes later, and then saw one quite close near the bridge at the Conrad Rangali at midnight on our last night as well!
Underwater Dining at Ithaa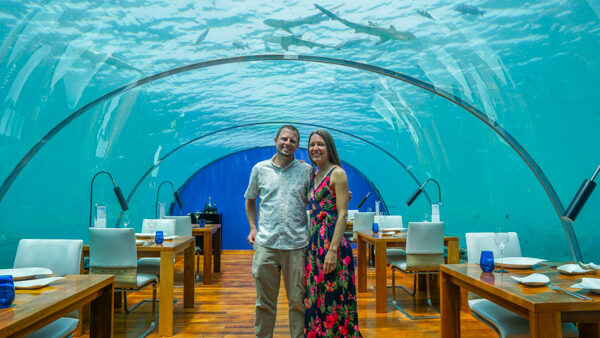 The Conrad Maldives built the world's first underwater restaurant in 2005 and offers a rather surreal dining experience with coral off to your sides plus fish and sharks swimming all around you. Was it worth about $550 for lunch? For the food alone probably not, but this view is something we'll never forget.
Flying Sharks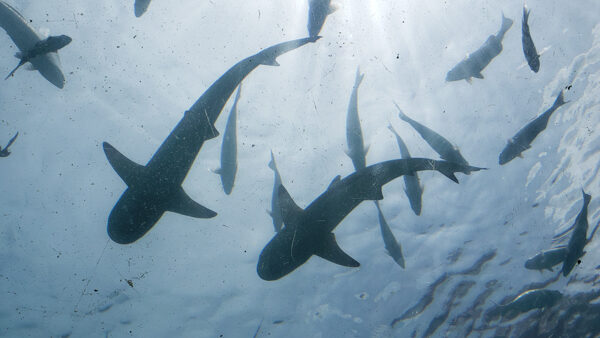 One of my favorite moments during the lunch at Ithaa was when the clouds parted and the sun came out directly overhead. This made for a really interesting effect where we saw silhouettes of the sharks and fish which made it seem like they were flying through nothing. I stopped eating just to enjoy this one for a while.
An Opulent Wine Dinner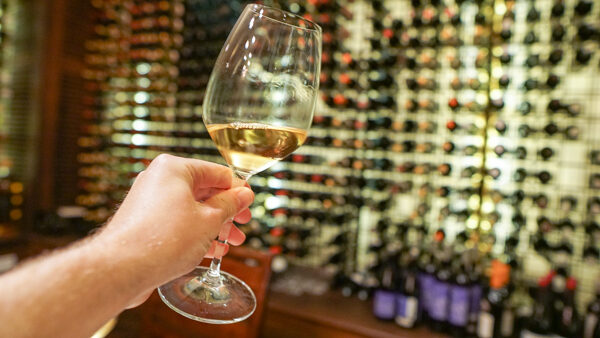 Our second prix fixe meal at the Conrad was at their famous Wine Cellar, home to one of the largest collections of wines in the country. This five-course dinner included eight wines, with three in a blind tasting session between courses. The room itself fit about twelve, and between the communal table and the nearly free-flowing wine, we all became fast friends over the course of the night. Was this one worth the nearly $700 price tag? Well, as growing wine fans we have to say that yes, yes it was!
The One Perfect Sunset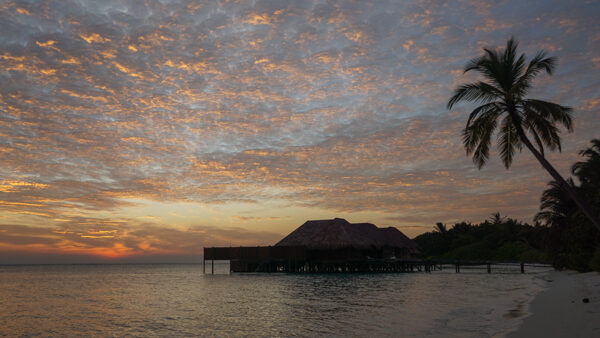 We end our virtual tour around the Maldives with this sunset, taken on our first night on Rangali. I knew this sunset would be a good one when the cloud pattern was moving through during the day and was over the moon excited to see this gorgeous display unfold before us. One reason is that we were completely alone on this beach, enjoying the view all to ourselves. But the second was that I never really have great sunset luck when I travel. I can think of days upon days of defeat hoping for that perfect sunset, and here Rangali was the place that finally delivered.
Do you have a favorite photo from this tour of the Maldives? Comment below to share! Also be sure to check back soon for another virtual tour from around the world!
Check Out More Virtual Trips
About Jeremy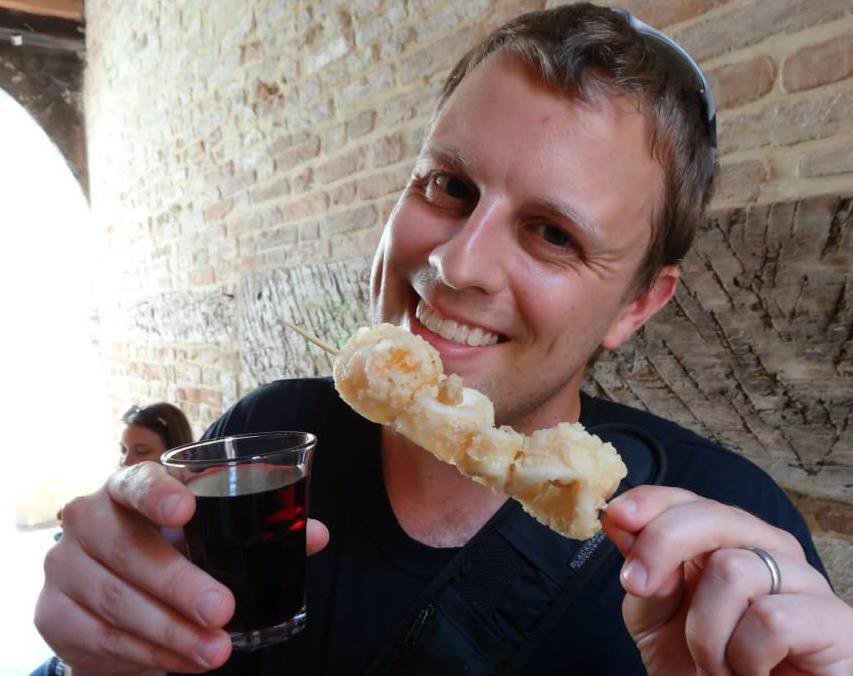 About the Author: Jeremy is a full-time travel writer based in Pittsburgh and primary author of this site. He has been to 70+ countries on five continents and seeks out new food, adventure activities, and off-the-beaten-path experiences wherever he travels.