Last Updated on July 26, 2023 by Jeremy
Disclaimers: Our site uses demographic data, email opt-ins, display advertising, and affiliate links. Please check out our Terms and Conditions for more information. Listed prices and attraction details may have changed since our visit and initial publication.
When it comes to visiting Bar Harbor and Acadia National Park, odds are good hiking is on your radar.
But this beautiful stretch of northern Maine is home to far more than simply checking out the trails within Acadia National Park and includes great walks along the harbor, the ability to feast on a ton of great seafood, boat tours, and so much more.
So in this one, we thought we'd share some of the best things to do in Bar Harbor and nearby to get a full experience when visiting!
Walk the Bar Harbor Shore Path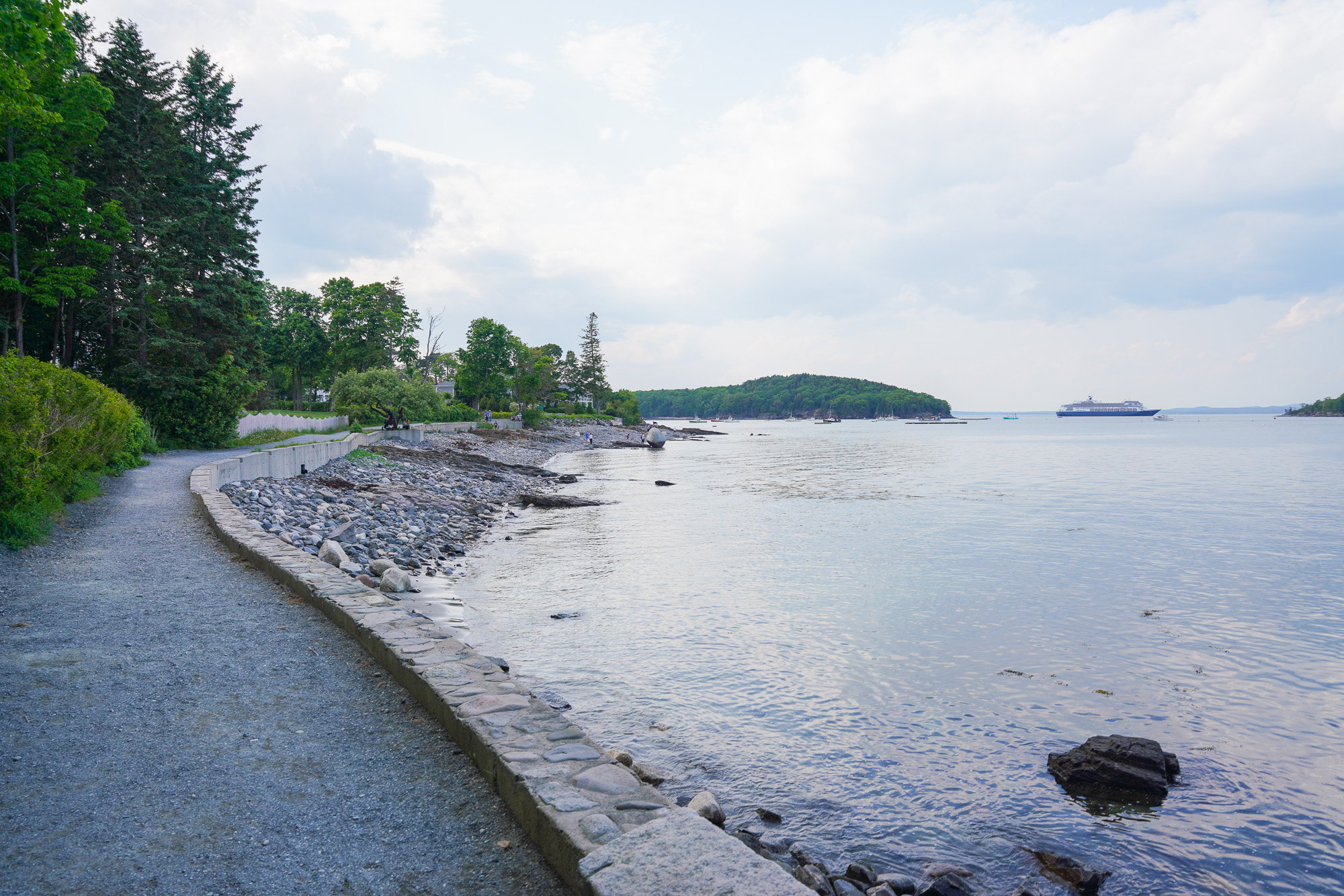 With a name like Bar Harbor, you would rightfully expect to be able to enjoy a beautiful harbor when visiting.
One of the best ways to get the full seaside experience in this town is to simply walk the aptly named Bar Harbor Shore Path- a roughly 0.5-mile walk around the coast of Bar Harbor. This one offers gorgeous views of the harbor that can and should be enjoyed several times a day to enjoy different lighting conditions, be it fog in the morning, peak sun, dusk, high tide, and even low tide!
The Shore Path begins on the North Edge of Bar Harbor at the terminus of West Street next to Bar Harbor Whale Watch and loops around in a southeast direction until terminating at Wayman Lane. For those who do not want to walk to the end, numerous paths link up to the side streets heading back into town, making this walk be as long or as short as you wish.
Visit Bar Island at Low Tide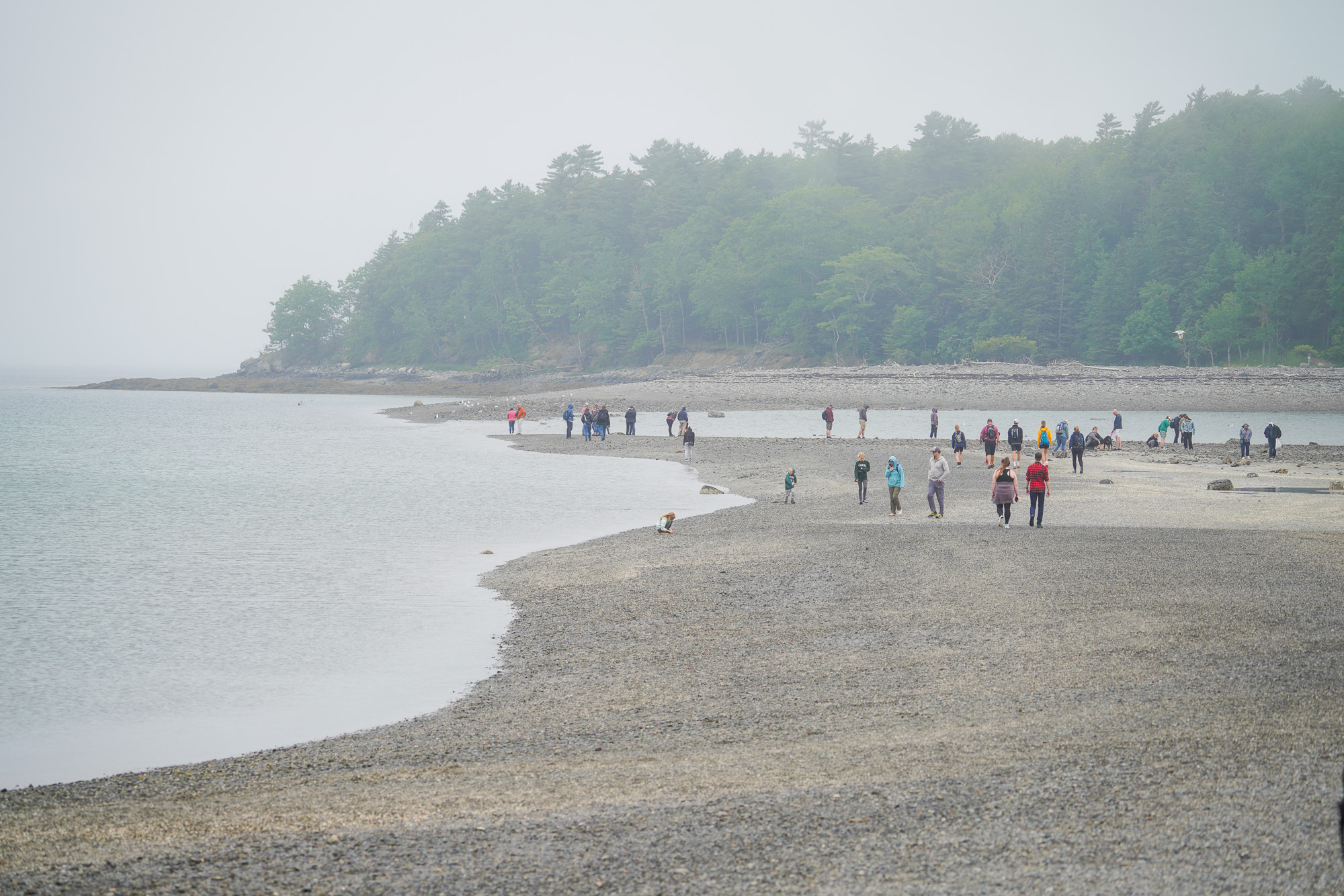 Another quick walk that can be enjoyed in Bar Harbor proper is the Bar Island trail. This one is a bit different in that the 0.5-mile land bridge only appears in the 1.5 hours around low tide, where a gravel and sand bar seems to rise out of the harbor and connect Bar Harbor with the nearby Bar Island (which is technically part of Acadia National Park).
Once you cross the bridge, a short loop of the island can be made with a short hill climb to a lookout to see Bar Harbor. A quick trip out to nature with gorgeous views all without having to get in your car in Bar Harbor? This is one not to miss!
But there is one significant risk to note about the Bar Island hike- your ability to access this one solely depends on the tides. The land bridge itself only appears for about three hours during low tide, which changes daily, and for the next nine hours after that is submerged underwater. As such, timing your visit for this one is incredibly important otherwise you'll be paying for an expensive boat pickup or have to wait until the next low tide!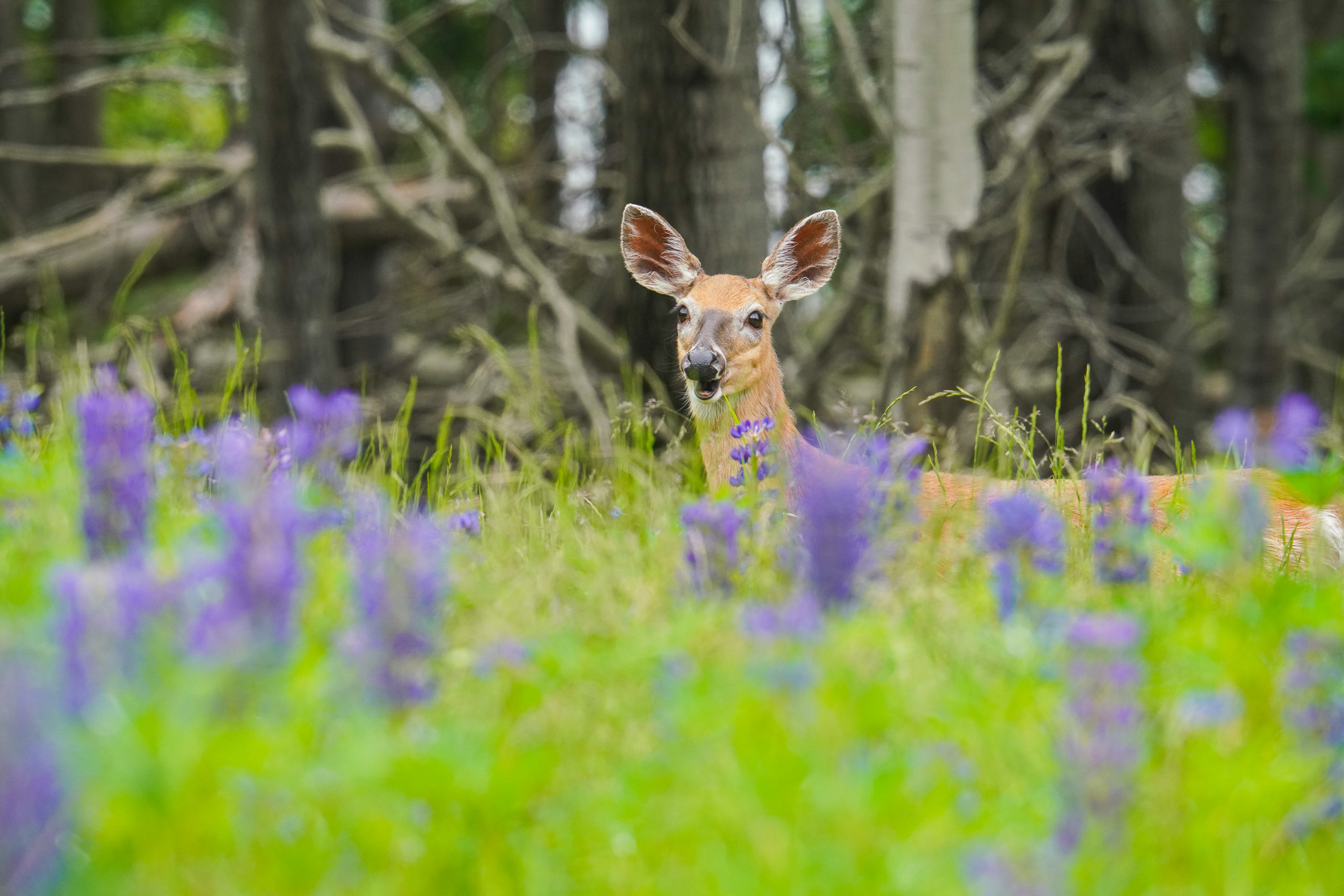 All told, able hikers can do an entire loop around the island and be back in town in under an hour, but slower walkers may need closer to 90 minutes. We personally recommend arriving at the land bridge crossing a few minutes before it emerges from the water to witness this unique aspect of nature (roughly 100-110 minutes or so before low tide), but no matter what arriving within the window before listed low tide will give you the best chance to enjoy the walk without having to rush.
Hike in Acadia National Park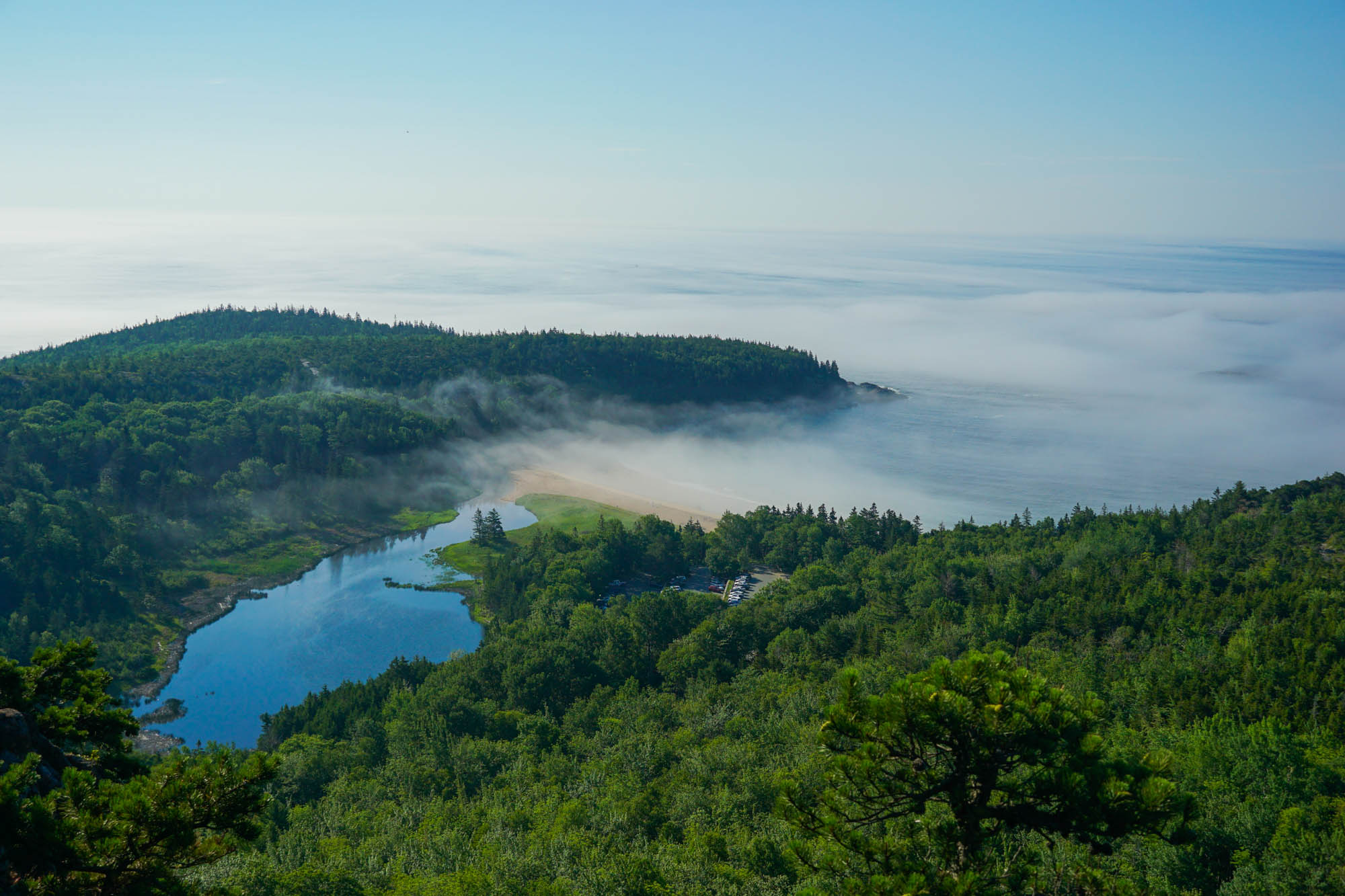 If you find yourself in Bar Harbor, odds are good it is because hiking in Acadia National Park is high on your list. This gorgeous park is home to some of our favorite hiking trails and has great options for those of all skill levels.
From the easily accessible Ocean Path, Thunder Hole, and Sand Beach, to the moderately straightforward walk around Jordan Pond, to more difficult hikes like the Beehive and the Bubbles, there are options to enjoy in the park for all interests!
Although we have a full article sharing more details on the best hikes in Acadia National Park, for now, we simply want to leave you with one main tip. No matter what interest level you have in hikes at Acadia, do yourself a favor and hit the park early.
The reason for this is twofold. First, the parking areas at any given trailhead can be quite small and fill up rather quickly. By about 10 or 11 am on a day with good weather it becomes impossibly difficult to get a spot, especially at highly sought-after hikes like Jordan Pond. Second, going early allows you to have far less crowds on the trails, which is especially critical on some of the harder hikes like the Beehive or Bubbles.
Fewer people, easier times parking and hiking, and a more enjoyable experience all around? We'll get up early for that. As a bonus, you can be done with the hardest hikes before the heat of the day kicks in, too!
Drive Up Cadillac Mountain for Sunrise or Sunset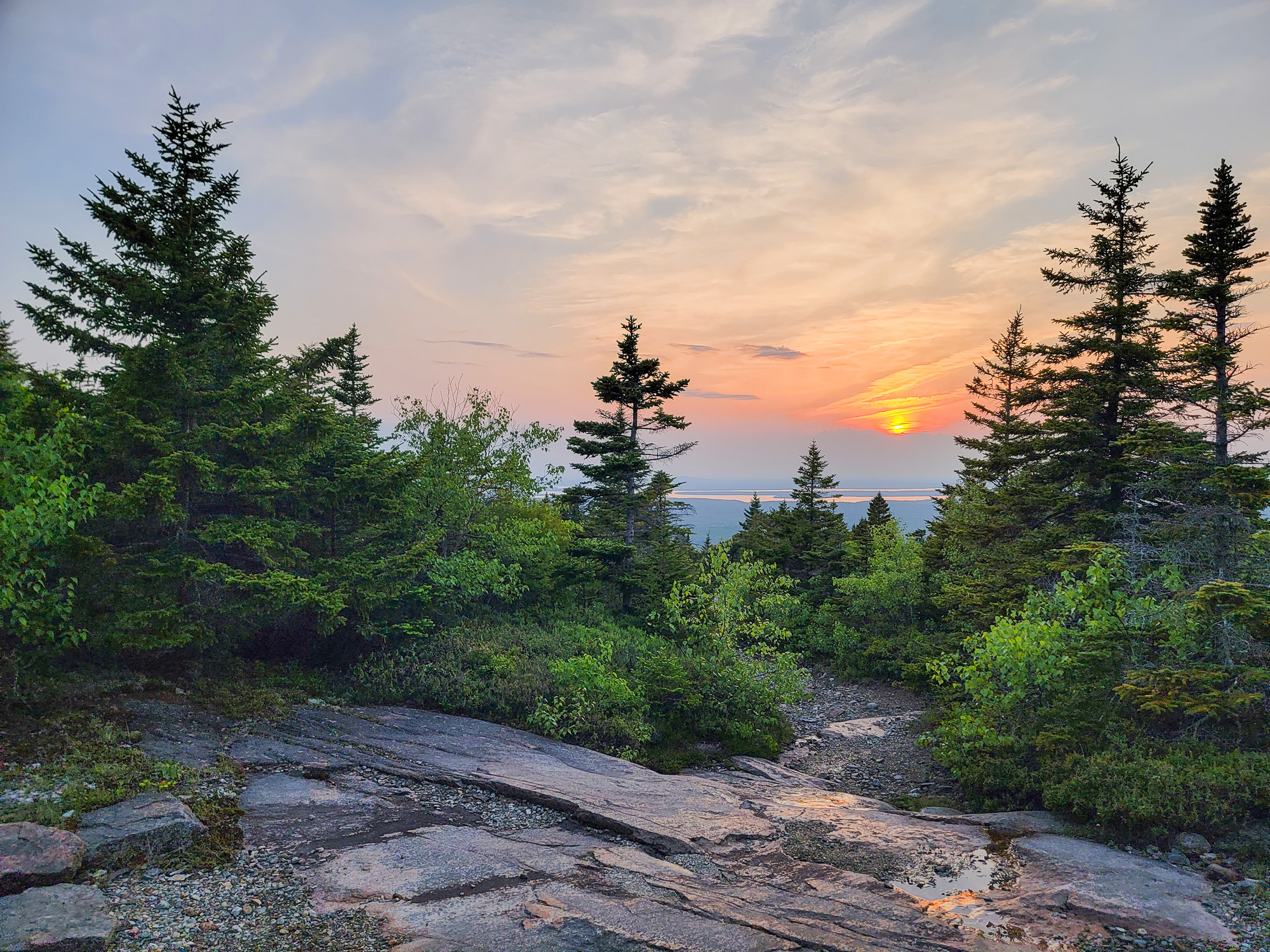 Cadillac Mountain is known as the tallest mountain on the North Atlantic seaboard and is a must-see spot within Acadia National Park for its sprawling vistas, sunrise and sunset views, and easy walking paths.
Although you could theoretically hike up and back down Cadillac Mountain, as there is no public transportation for a one-way hike, most visitors instead reserve a timed entry slot from the National Park Service (seasonal) to drive up to the summit of the mountain, walk around, and enjoy the views leisurely.
The main issue with exploring Cadillac Mountain is simply weather dependent. As you are about 1500 feet above sea level, this means you are often either inside or above the fog line around the park. Since reservations for the summit open up a few days in advance, getting in for a summit visit in good weather is all about luck and persistence.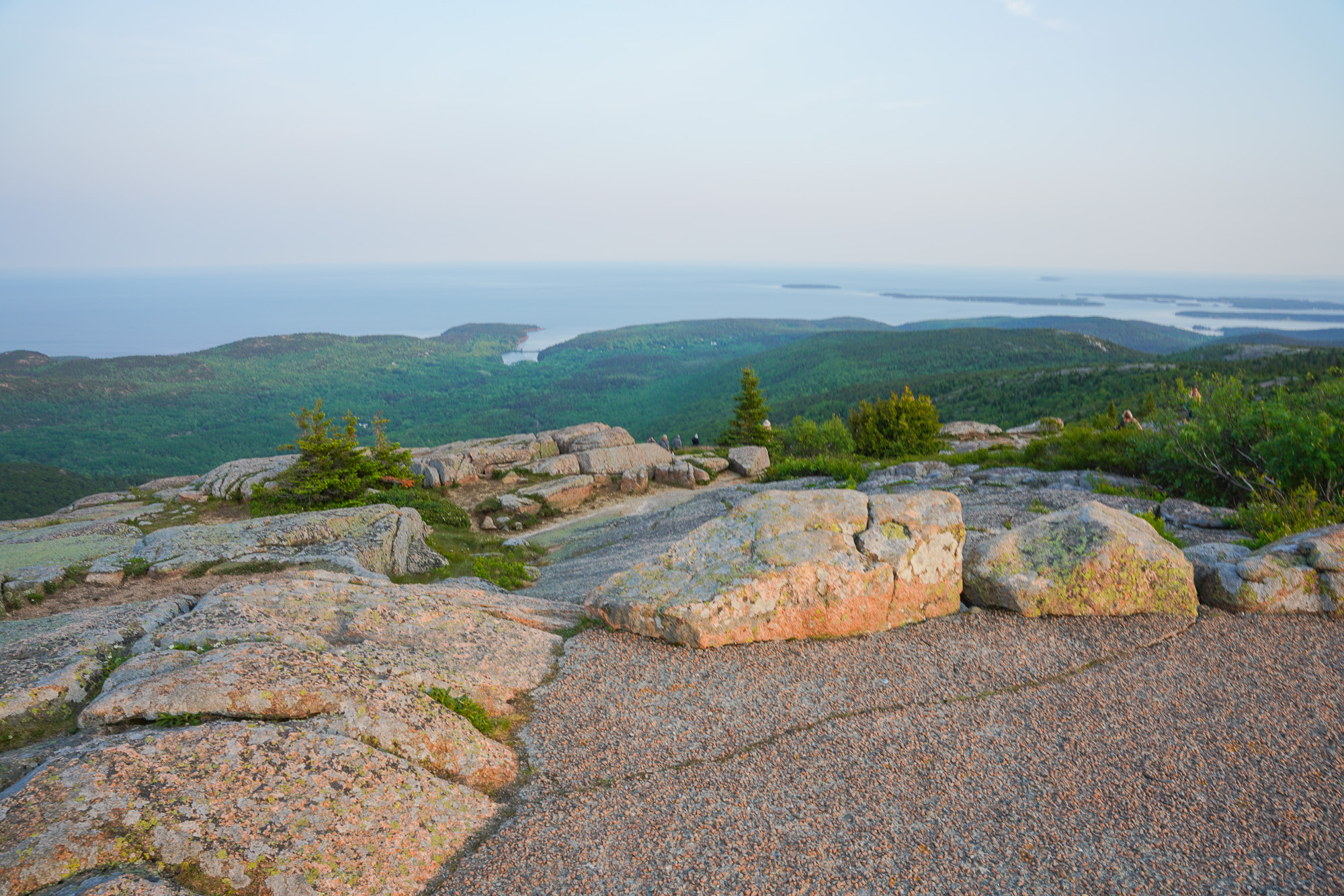 As of our last visit in 2023, Acadia National Park allowed one vehicle pass for Cadillac Mountain reserved per day. This is a separate reservation from the car pass required to enter Acadia. As the summit passes are quite affordable (just a few dollars), it is easy to simply visit the summit two or three times during a stay to try and coordinate around the weather. Even better, changing timeslots within an already reserved day is also quite easy pending availability- we switched our timeslot once to avoid rain just a few clicks!
For us, we would recommend trying to get a ticket as early in a stay as possible. Then, pending your experience, book additional timeslots on subsequent days around the weather forecast. Even if you drive up to the summit and are in the fog, it is still quite the experience- but seeing it on a clear day beats everything else!
Visit Bass Harbor Head Light Station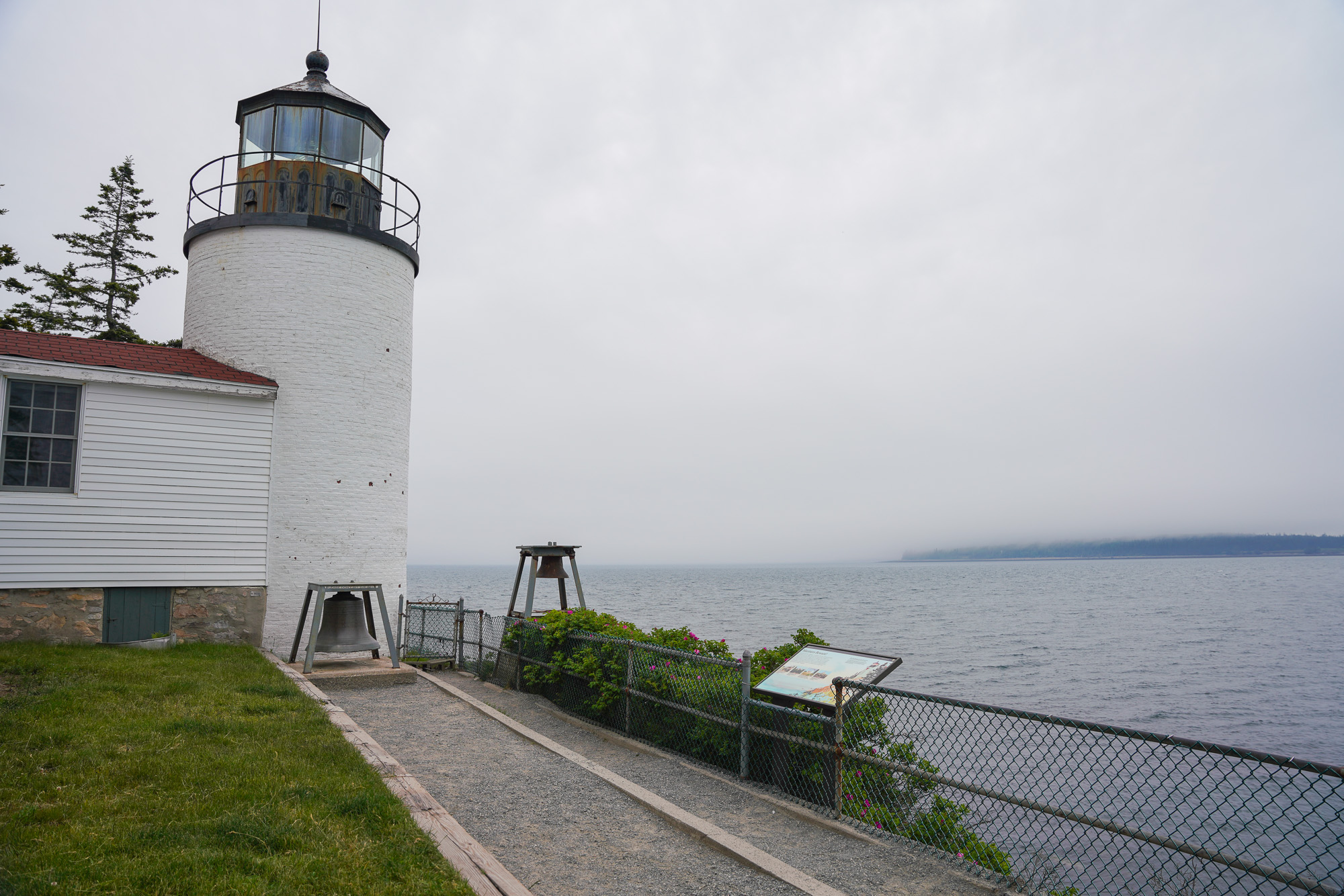 Bass Harbor Head Light Station is a beautiful little light house outside of Tremont in the Southwest harbor of Acadia- also home to a lesser visited stretch of Acadia National Park with great trails, a lake beach, and more.
For those who want to see a lighthouse near Bar Harbor and do not necessarily want to take a boat cruise out into the harbor (more on that later), a short drive to Bass Harbor Head Light should be on your radar- especially if paired with a visit to Thurston's Lobster Pound a few minutes away!
When visiting Bass Harbor Head Light Station, please note that parking is extremely limited. If there is a line of cars at the entry to the parking lot, do not fret. This area is rather small and cars leave regularly. So sit back, wait your turn, and snag a spot before making a quick visit to this lighthouse.
For more great lighthouses in Maine to check out on the road trip, check out our article at the previous link!
Ride the Carriage Trails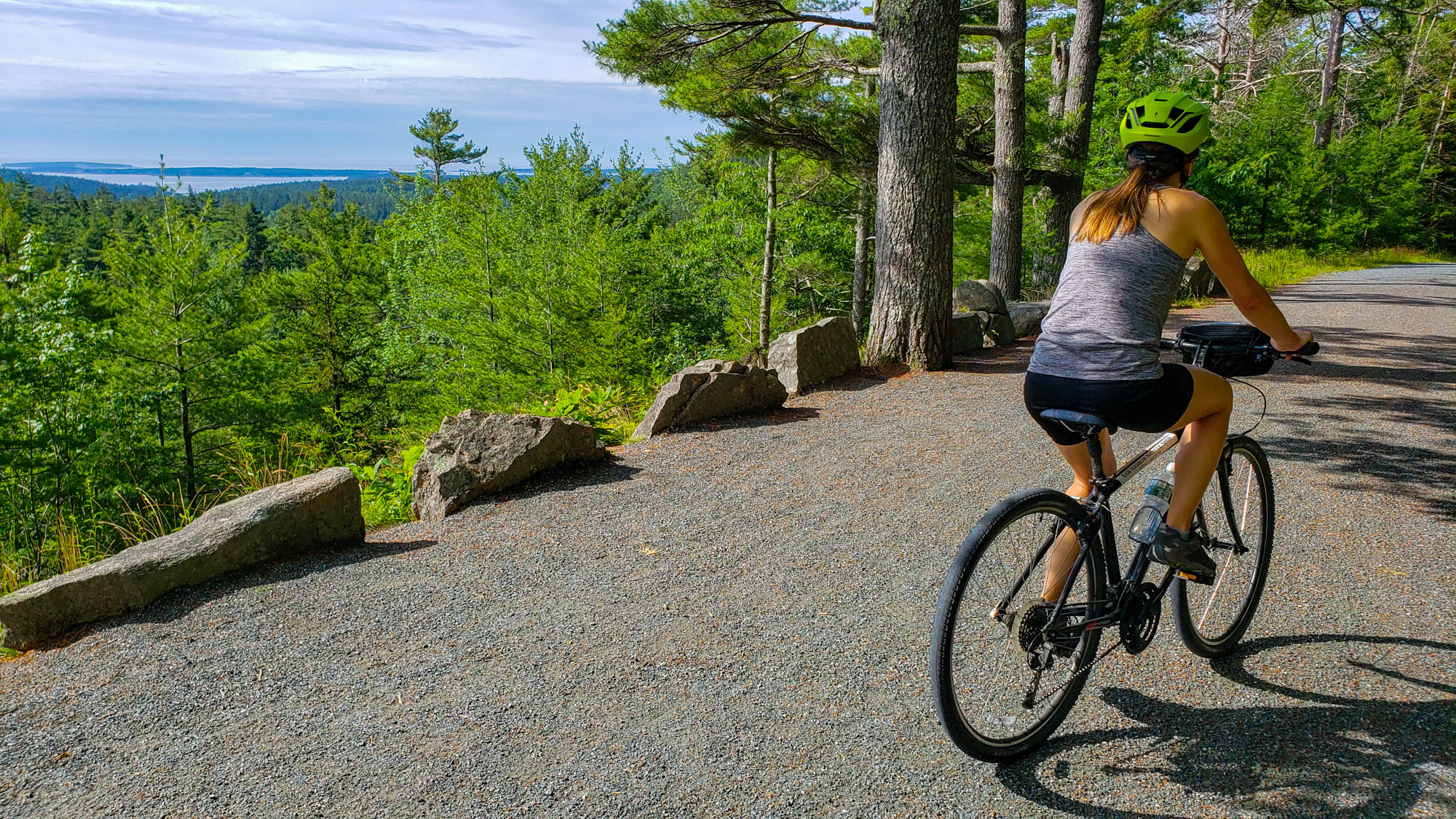 When it comes to driving in Acadia National Park, you'll quickly come to realize that the main road is essentially a loop around the exterior of the park. While some trails do head into the interior of Acadia, the vast majority of this is off-limits to vehicle traffic.
To explore this section of the park, you need to hit the 45 miles of Carriage Trails that weave all over the national park. These roads were built by John D Rockefeller Jr who wanted to enjoy the park via horse and carriage, thus giving the park its name and car-free experience.
Although you can still enjoy the roads on a proper horse and carriage experience, those who want to cover the most ground will do well to rent bikes in Bar Harbor and make the journey into the park for a long bike ride!
Much like with hiking in the park, as it can get fairly hot here in the summer, it is often best to reserve a bike before a shop closes for the day, get up early, and go for a ride shortly after sunrise. Otherwise you may have to wait until the bike shops open somewhat later in the morning when the sun is already high overhead. The extra few dollars for a possible overnight fee is worth it if you plan on an early start!
For more about the Carriage Trails in Acadia, click here.
Enjoy Popovers at Jordan Pond House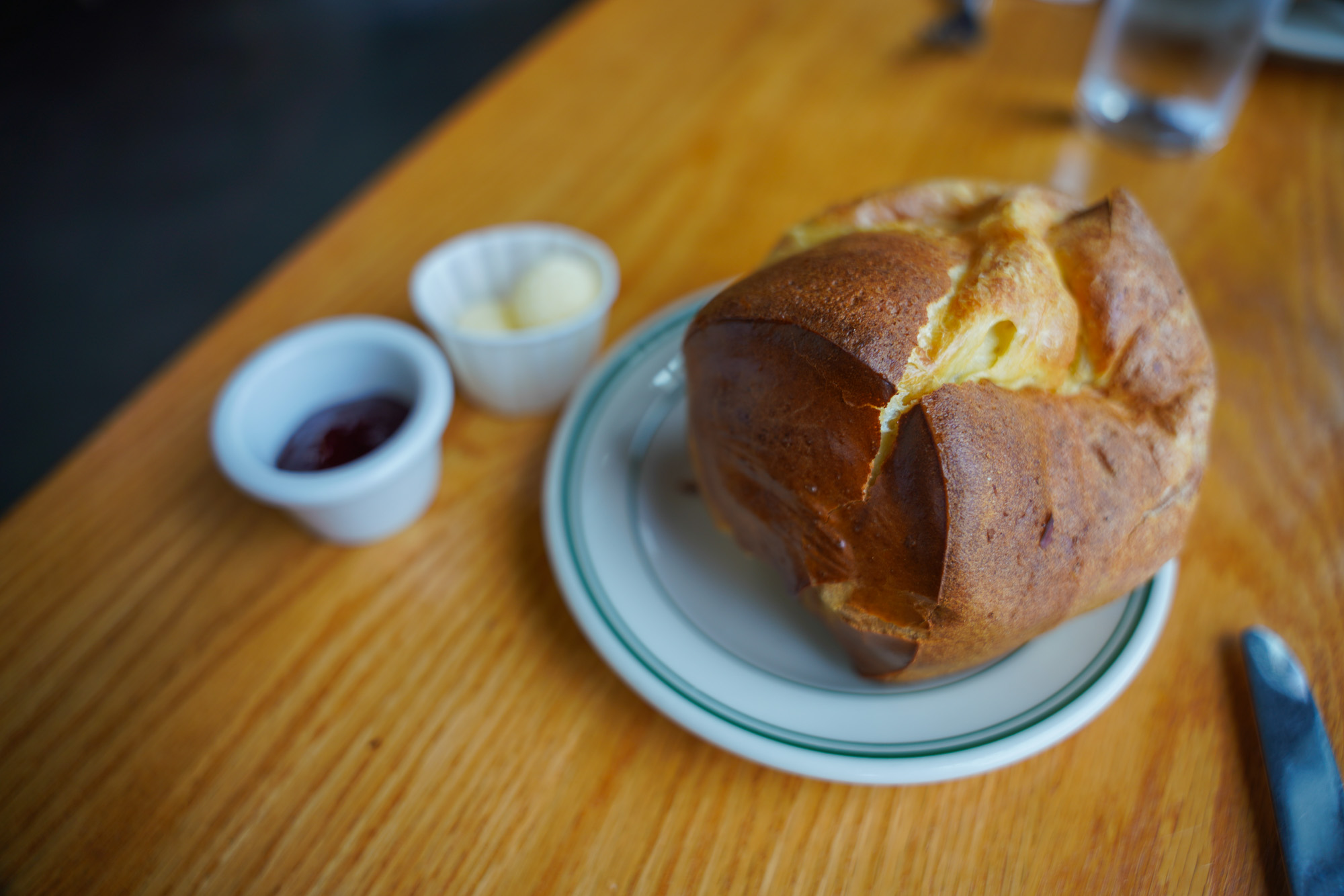 Jordan Pond House has been a popular dining spot in Acadia National Park for years, and has amassed almost a cult following for their housemade popovers- rolls made from egg batter without yeast, not unlike Yorkshire Pudding, and served with strawberry jam.
We have to admit, we were rather skeptical of this one as the lines for getting a table here are nothing short of impossibly long. But after finally waiting for a table and trying them for ourselves, we have to say these are the real deal and are a great snack after a long hike around Jordan Pond.
That said, there are a few important details to note.
First, if you are looking to hike Jordan Pond and/or visit the Jordan Pond House for popovers, arrive early. Plan to either be at the doors of Jordan Pond House within a few minutes of opening or otherwise expect your wait to be 30, 45, or 60+ minutes. Yes, it fills up that fast. In fact, the parking lot fills up even earlier than the house opens, partly due to the popularity of the hiking trail, so as such it really benefits you to arrive as early as possible.
Second, while the popovers are excellent, the rest of the food we sampled at the Jordan Pond House was fairly overpriced and somewhat disappointing. The lobster roll popover, while tasty, was pushing $50 and was the most expensive lobster roll we've had to date for a little amount of meat.
That said, we still adore the popovers!
Take a Boat Tour for Puffins or Whales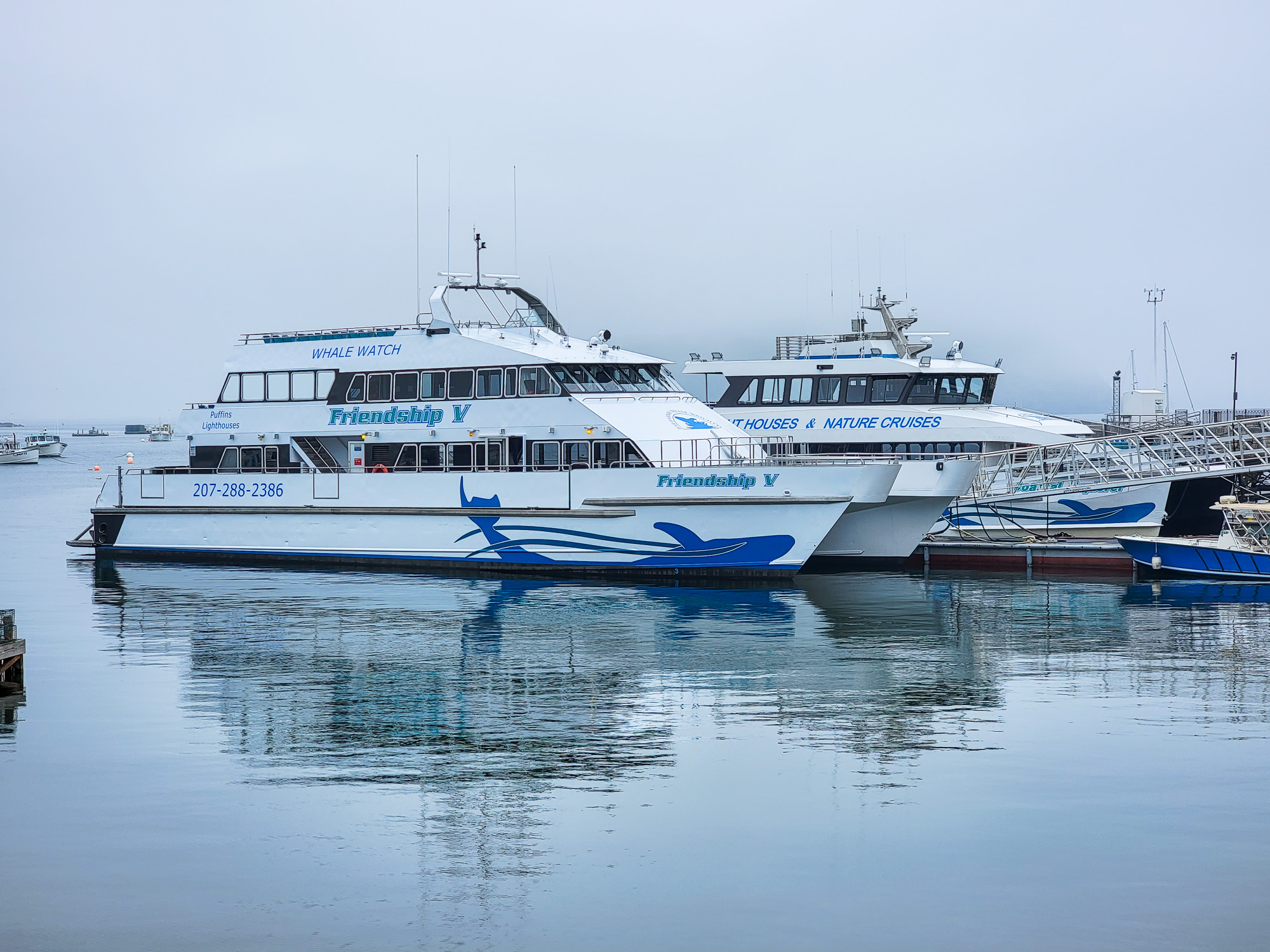 When you are as close to the ocean as you are in Bar Harbor, you likely will have a natural urge to get out on the water. Many boat companies have no shortage of tours on offer be it to go whale watching, check out puffins and lighthouses, a more straightforward nature cruise, island tours, sunset tours, lobster fishing, and more. (For more day tours in Acadia, click here.)
For those who want to take a boat tour in Bar Harbor, we would recommend booking an outing early in your stay. This is because boats generally do not leave the harbor in the event of inclement weather. As this includes fog, something the harbor sees regularly, boat tours get canceled often.
In fact, we have personally never been able to take one of these tours because every time we tried they got canceled. As such, you may find that your ideal day has gets canceled and you have to push back to the next, or the next, or the next, and then suddenly you may run out of time and have to depart Bar Harbor for your next destination. This was the case in all of our visits, although hopefully one day soon we'll personally get to experience these tours as we're told they're quite fun.
Learn Native History at the Abbe Museum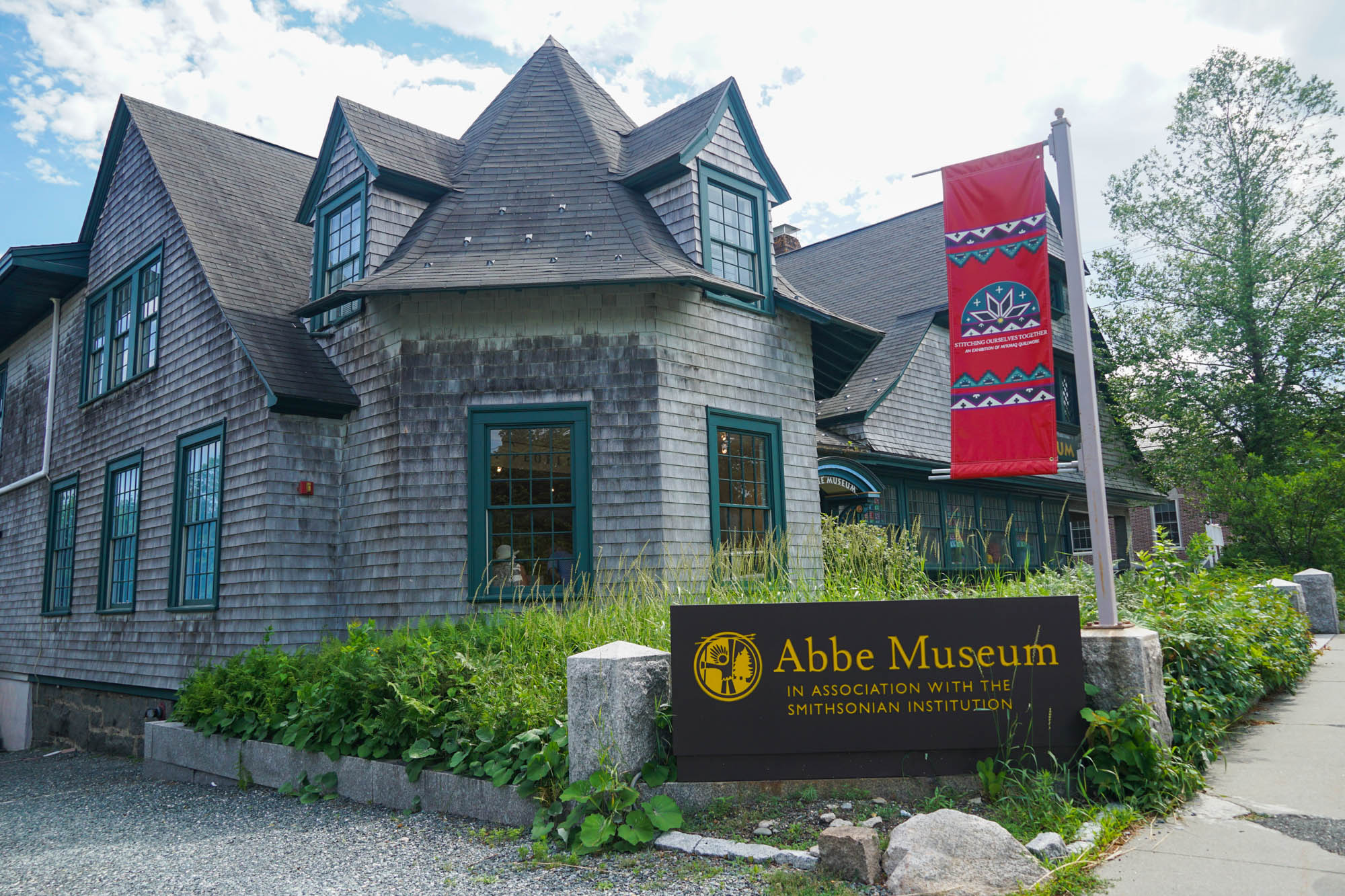 Bar Harbor is also home to a lovely little museum all about the native Wabanaki Confederacy – the Abbe Museum.
This one covers the history of the Wabanaki and covers approximately 12,000 years of history, culture, dress, and life within the native population that once resided in and around what we now know as Maine.
Although this museum is small, it is exceptionally well done, thought-provoking, and is worth a visit during your stay in Bar Harbor. So if you have a day where you need a fun indoor activity, do not overlook this gem!
The Abbe Museum is located at 26 Mt Desert Street in Bar Harbor.
Seafood Crawl Around Town
Finally, we would be remiss if we didn't end this one with some of the best suggestions of where to eat in and around Bar Harbor as there is no shortage of delicious food to try!
Naturally, your first order of business should be to eat all the seafood you can get your hands on. This includes spots like oysters at The Barnacle and happy hour oysters at the Black Friar's Pub, whole belly clams at The Thirsty Whale Tavern or Stewman's, taking a small road trip over to the southwest harbor to load up on all things lobster and lobster rolls at Thurston's Lobster Pound (one of our very favorites in all of Maine!), or enjoying a fine dining seafood experience at Salt & Steel!
Although there is also a wealth of other great restaurants, ice cream shops, and breweries to enjoy in Bar Harbor, when you're this close to the water, seafood is always the answer.
Note: Some restaurants are seasonal.
For more great lobster rolls in Maine, click here.
Overall, while it is likely that your first goal for visiting Bar Harbor is likely to go hiking in Acadia National Park, there is a wealth of fun activities to do in the area to round out a visit. Hit a few (or all) of these and a great time will be your reward!
Looking for an apartment rental in Bar Harbor? Click here to check out prices!
Looking for more information on how many days in Acadia Park are necessary? We've got you covered with a complete breakdown!
About Jeremy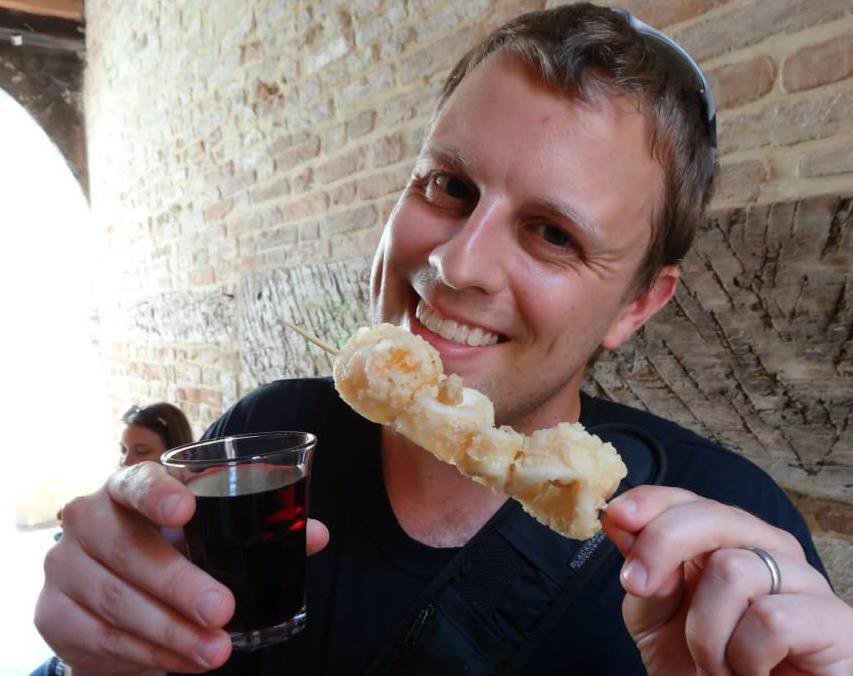 About the Author: Jeremy is a full-time travel writer based in Pittsburgh and primary author of this site. He has been to 70+ countries on five continents and seeks out new food, adventure activities, and off-the-beaten-path experiences wherever he travels.