Last Updated on February 16, 2023 by Jeremy
Disclaimers: Our site uses demographic data, email opt-ins, display advertising, and affiliate links. Please check out our Terms and Conditions for more information. Listed prices and attraction details may have changed since our visit and initial publication.
Oh Acadia National Park. Breathtaking isn't a strong enough word to describe how stunning the hiking trails are here. We spent the better part of three days out exploring all we could in this park and felt like we did this one a great deal of justice.
Naturally, we have to share a few of our favorite trails from all of our hikes.
But before we do, we have to take a step back and mention a big caveat that could change your plans outright. When it comes to hiking in Acadia National Park, the biggest thing we would advise visitors is to not get your heart set out on exploring any specific trail. Seriously!
While it is good to have an idea of the trails you'd like to hike, the reason we say this is that hiking trails in Acadia regularly close for routine maintenance, fixing washed-out paths due to inclement weather, and also seasonal issues things like falcon nesting season. All closures can be seen on the National Park Website, although keep in mind that trails can close without advanced notice for any reason.
During our July visit, for example, the Precipice Trail was both due to falcon nesting, the brief hike out to the Sand Bar didn't work out due to tide timing, and many of the carriage trails were closed for repairs as well (including one that was seemingly only closed the day we were there). As there is nothing you can do about this in most cases, we simply think it is best to go in with a mindset of you can get what you can get here.
So, with that, let's talk about some of the trails we love!
Beehive Loop
Distance: ~1.5 Miles, Difficulty: Intermediate+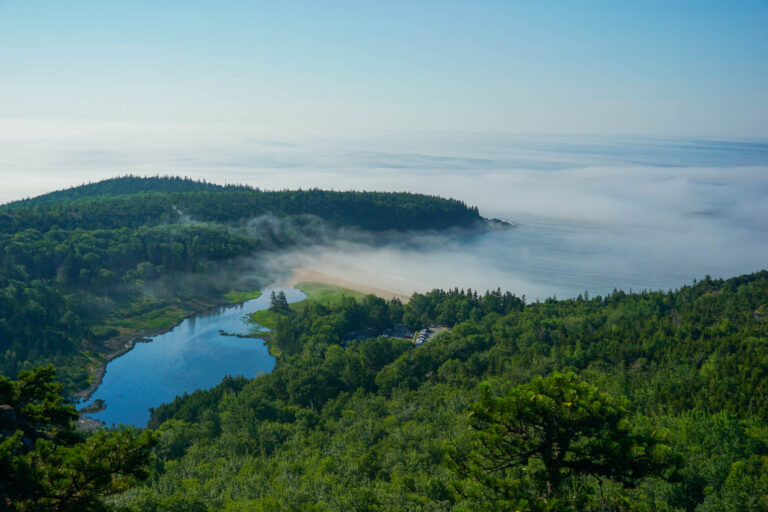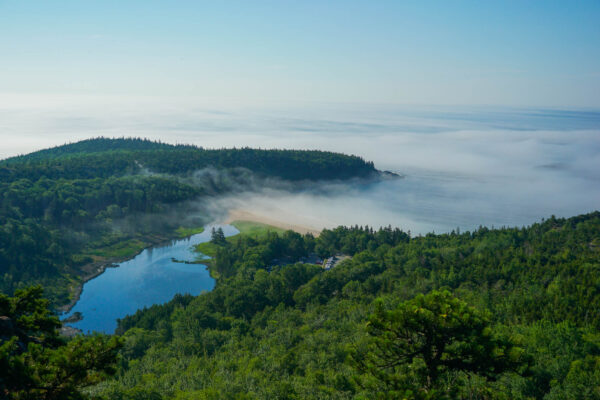 There are a number of reasons to love the Beehive Hike at Acadia National Park. It is intense, has some incredible views overlooking the water as well as the beach, more great summit views, a mountain lake, and so much more. This was our first hike in the park and really help set the stage for the journey to come. I mean, just look at those views!
But with the scenery of this one comes the intensity as it was one of the hardest hikes we did during our entire trip.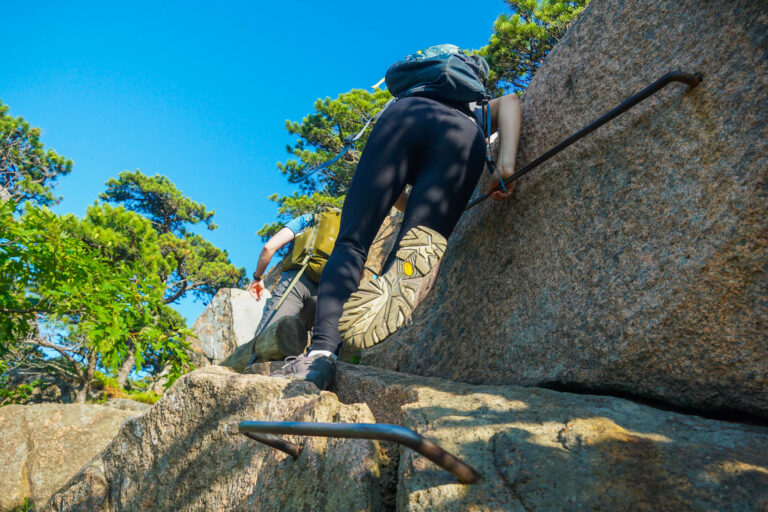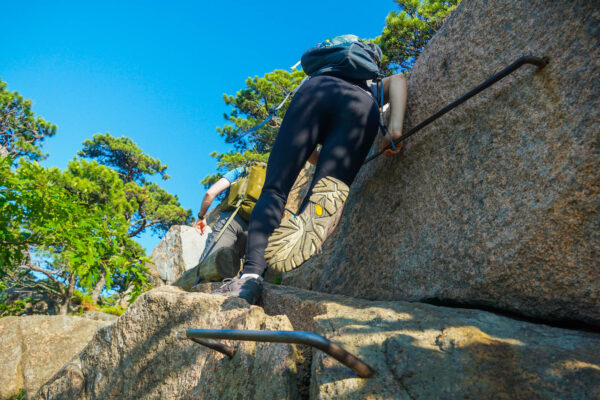 We consider this hike to be intermediate+ in intensity if only because there are some fairly steep sections with some not-insignificant drops as well as a few areas where you have to climb up iron steps embedded into the side of rocks (illustrated above). As someone who is terrified of heights in this capacity, I have to admit I didn't find it too bad. But it is worth noting that the trails in Acadia that have these elements are typically one-way, so you really have to commit to going forward all the same once you get started.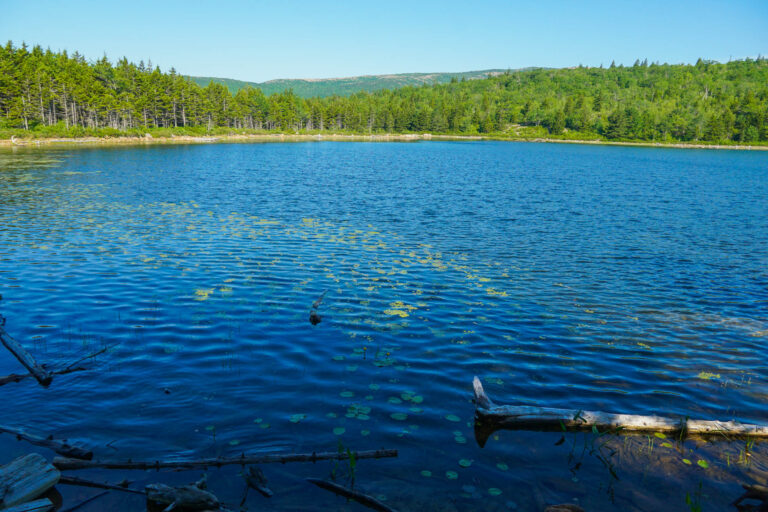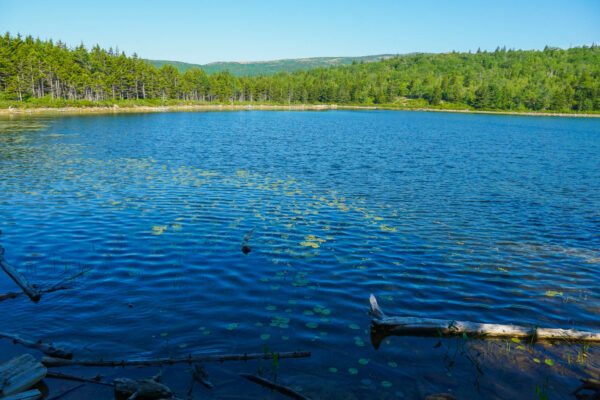 For those who don't like the idea of climbing up a few iron steps, there is an easier walk up the back of the mountain to reach the summit (go up the Bowl Trail at the split shortly after the parking area). Keep in mind that doing this would turn the trail into an out-and-back hike as opposed to the loop.
Likewise, for those who do the complete loop, be sure to skip the shortcut down the Bowl Connector Trail on your way back. Instead, continue to the end of the Beehive Trail to see a gorgeous mountain pond, aptly named The Bowl, which is perfect for a quick dip to cool off if you wear a swimsuit! From there you can descend on The Bowl trail to the aforementioned split near the parking area.
Additional Information: The parking lot at the Beehive Loop fills up quickly and even at 7 am we could only get street parking on the main road. By the time we finished 90 minutes later the road was so full that we'd be hesitant on recommending hiking up the one-way section due to the crowds- so go early (this will be a common point in this one)!
The Bubbles Hike and Jordan Pond
Distance: 5 Miles, Difficulty: Easy to Intermediate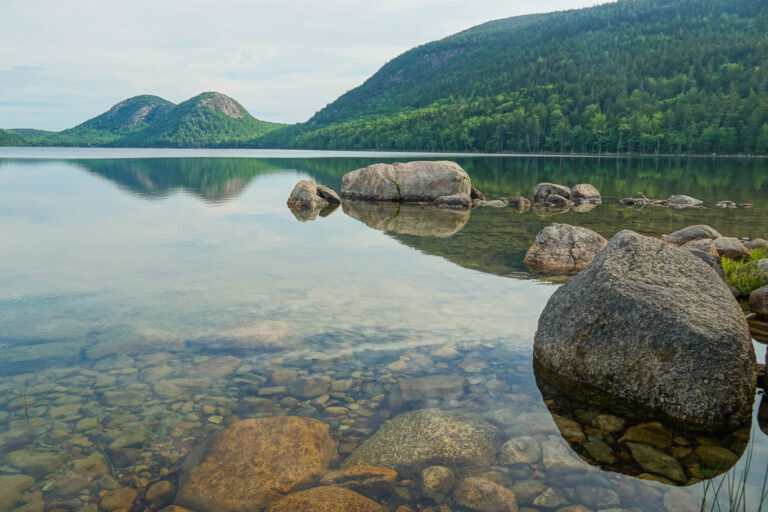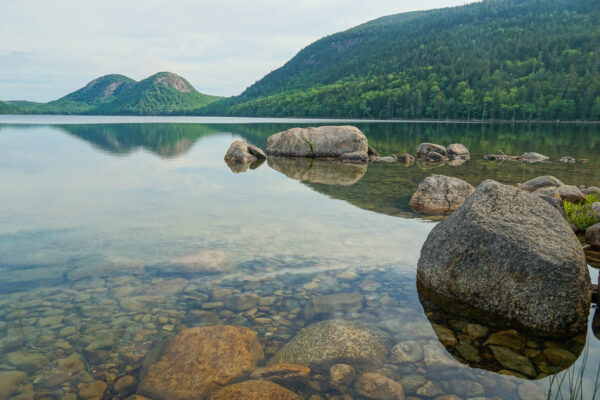 Jordan Pond and the Bubbles are one of the highlights of Acadia National Park because, for the 3.5-mile lake trail at least, it is rather accessible and has some stunning views as you can see above with Jordan Pond in the foreground and the Bubbles in the background!
But for hikers like us, you can also combine Jordan Pond with a trip to the summit of The Bubbles to take in gorgeous views of the lake as well as see Bubble Rock- a decently sized boulder perched on the edge of a cliff (it really looks like it could fall off at any moment)!
Although we coupled these two hikes together, they could be done separately as well. In this case, the loop around Jordan Pond is quite easy with the right side (heading away from the lodge) being wide and flat and the left side being a planked walkway that can, at times, get congested as it is somewhat narrow with extended railings for passing every 50 feet or so. The Bubbles Hike is where things become more intermediate if only because you're climbing up rocks to reach the summit.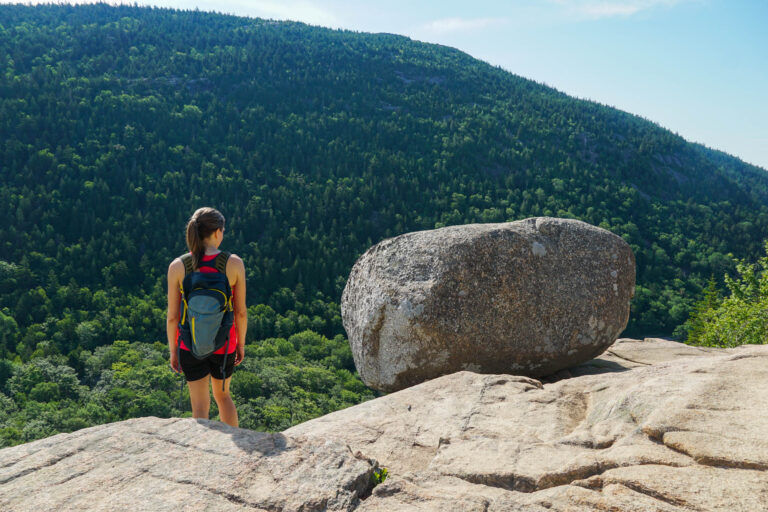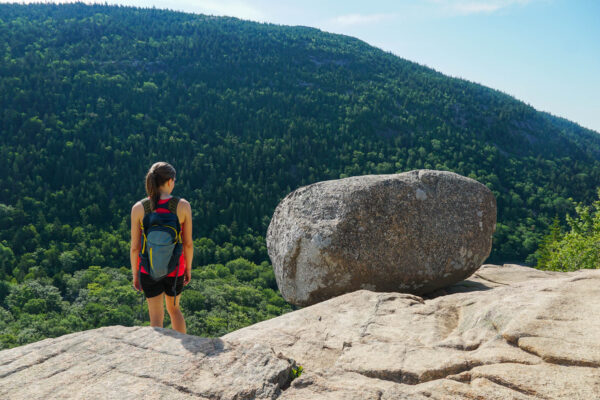 There are a few points on the Bubbles Hike where you will have to use iron steps embedded into the rocks, but these are quite short and were on par with the Beehive (if not slightly easier). A couple of segments are uniquely positioned that require you to squeeze in between some rocks or utilize some natural hand-holds to pull yourself up. As such, this is a different kind of challenge but we found it to be more of a mental hurdle than being difficult in practice. Much like those trails, this would be a one-way loop and once you commit to go up the first segment you are set for the rest.
Additional Information: The parking lot at both Jordan Pond and The Bubbles fill up quickly. On our first day we couldn't get a spot after 11 am so we had to return the second day and parked with ease before 8 am. By the time we left, the parking area was nuts again. So plan an early arrival at this one too!
Gorham Mountain Loop
Distance: 2 Miles, Difficulty: Moderate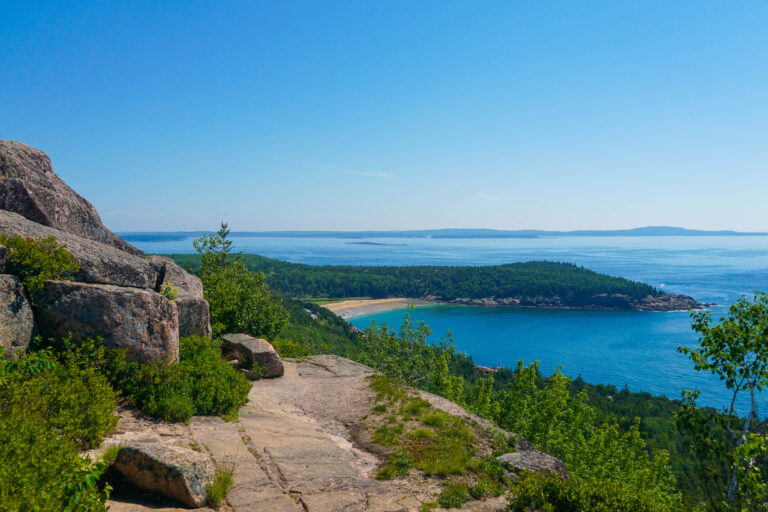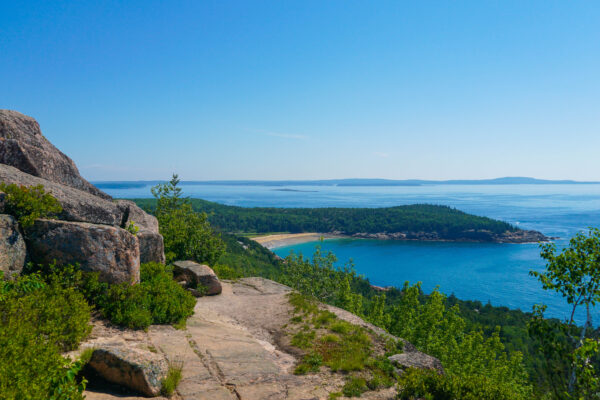 Gorham Mountain is located along the Ocean Path and is one of those trails that through-hikers often combo up (along with the Beehive, above). As we needed a break from the intense sun we drove down the road to the Gorham Mountain parking area and made a leisurely stroll up to the summit and back for more sweeping vistas (and of course views of the beach).
We would go as far as saying that the sweeping views from Gorham Mountain are wider and more enjoyable than that of the Beehive, but in being less challenging we didn't have that euphoric payoff feeling that you get summiting some of the other trails here.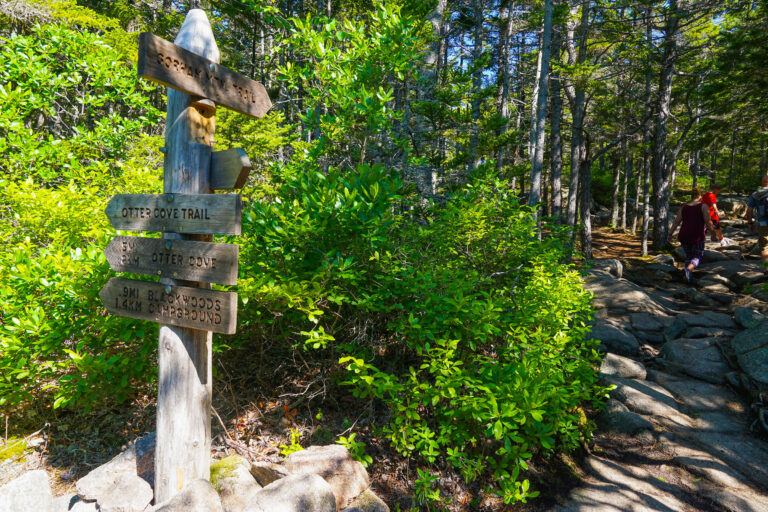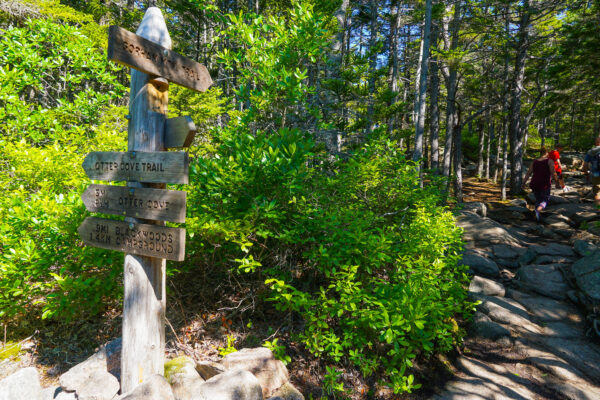 We consider Gorham Mountain Loop to be moderate if only because you are climbing up a rocky trail more or less constantly to the summit. The rocks are of sufficient size that you must watch your footing, but there are no iron ladders to deal with like in other hikes discussed here. Still, the intensity of this one can add up even if it is among the easier trails we hiked on!
Beech Cliff Loop Trail
Distance: ~2 Miles, Difficulty: Intermediate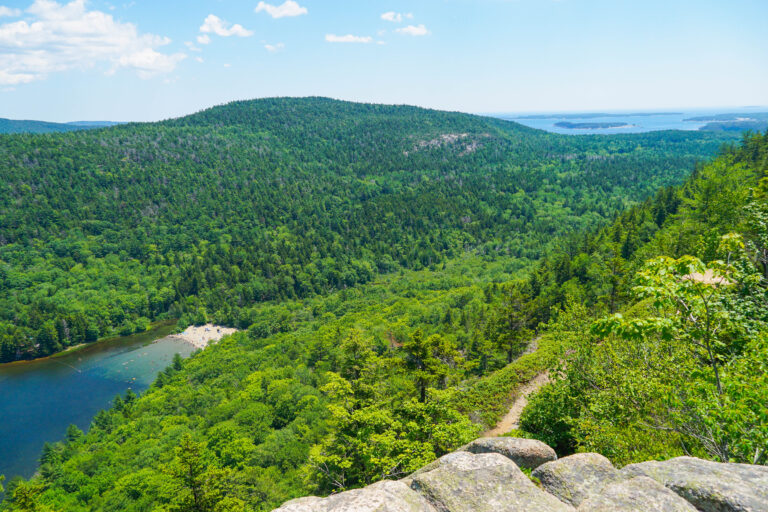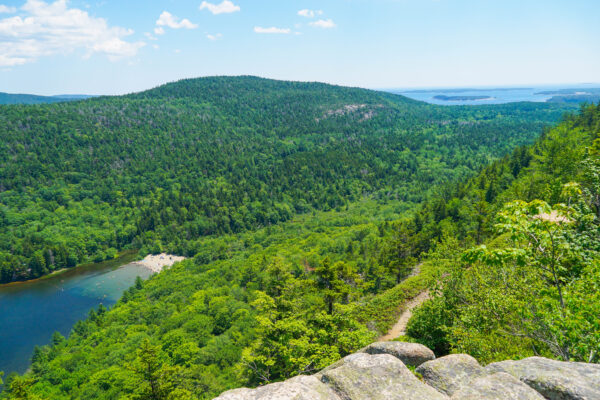 As we mentioned above, many of the popular trails in Acadia National Park fill up rather quickly during the day (especially in the peak of summer travel). As such, when this happened we headed west to the lesser-explored sections of the park (in our opinion) and enjoyed a hike around the Beech Cliff Loop Trail near Echo Lake.
When it comes down to it, this is one of those places where you can make the trail as long or as short as you want. You can climb up the cliff loop trail and return down via Canada Cliffs Trail. You can hike to the Valley Trail, or even make a bigger day of it by doing the Beech-Mountain Loop Trail too!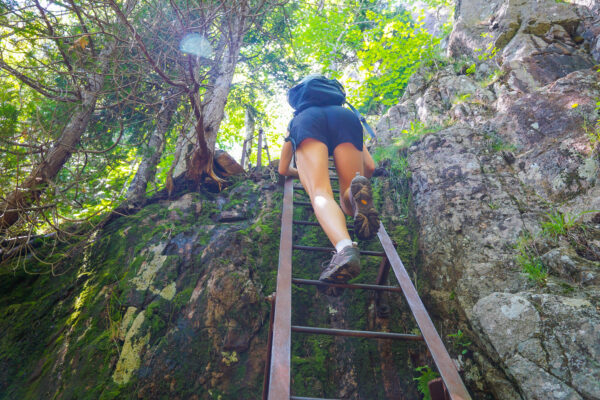 But no matter what you do, you will likely climb up the Cliff Loop Trail from the Echo Lake Parking area, and this was seriously the most intense segment of our day.
The reason we consider this one intermediate is only because there are four six-to-ten-foot tall ladders you must climb towards the start of the path. These ladders are steep and don't leave much room for error, but unlike the iron rungs on the Beehive are proper ladders. Personally, my fear of heights felt more intense on this one even though it wasn't too bad overall. But, much like the Beehive, once you commit to the first one you just have to keep going- then some awesome views of the lake will be your reward!
Cadillac Mountain Summit
Distance: 1-2 Miles, Difficulty: Easy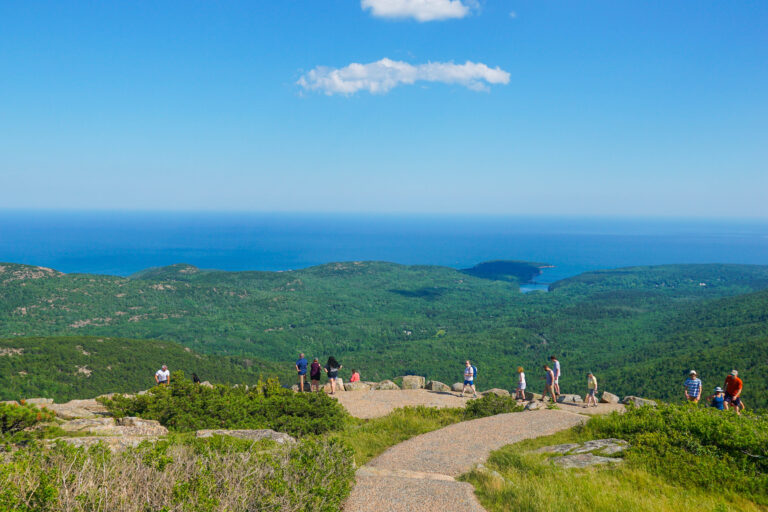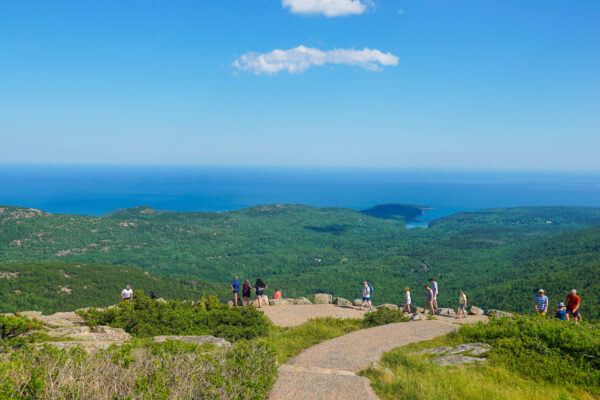 Out of all of the places we visited in Acadia National Park, none were more impressive than the summit of Cadillac Mountain. During our trip, entry into this was regulated with advanced ticket sales at set timeslots, and we greatly appreciated how this helped with crowd control. Why? You need it to soak in the views!
The summit of Cadillac Mountain has a nearly 270-degree view to the coast and bays around Bar Harbor and is, well, stunning.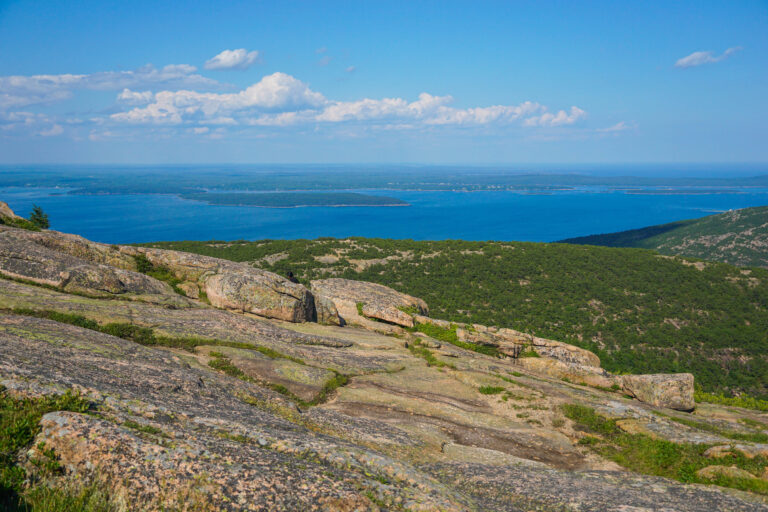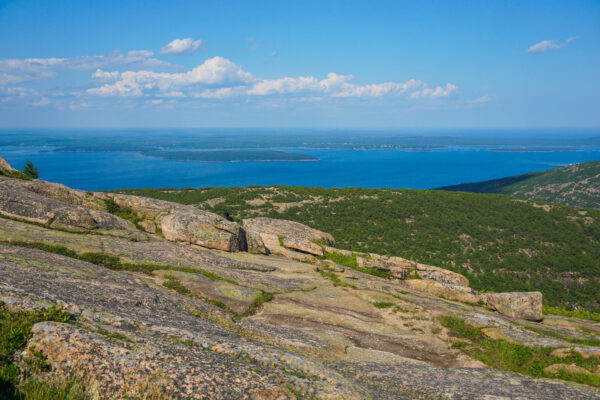 Visitors here often like to arrive for sunrise and sunset, but to be honest we were happy coming up later in the day and taking a leisurely stroll around the summit (after all the hiking noted above, you can imagine we were exhausted). So while you can take longer and more intense hikes along the mountain, really you can also simply head up to the summit for a stroll to take in the views. As such, we consider the Cadillac Mountain Summit to be an easy hike that can be a leisurely stroll for 45-60 minutes.
Additional Information: Timed tickets for Cadillac Mountain typically only regulate when you enter and allow you to stay at the summit as long as you like. So even if you can't get a good sunset timeslot, you may be able to get one a bit earlier and just hang out for a while. Missed your permit for this one? You may still be able to visit via a day tour from Viator.
Tips for the Best Hikes at Acadia National Park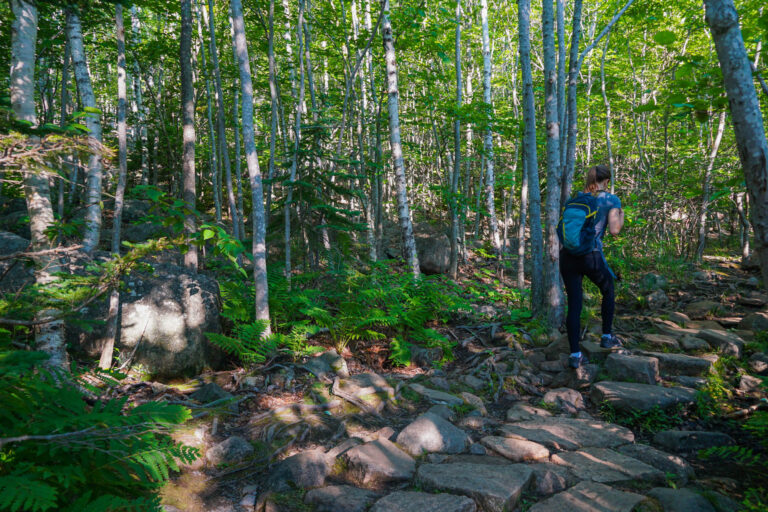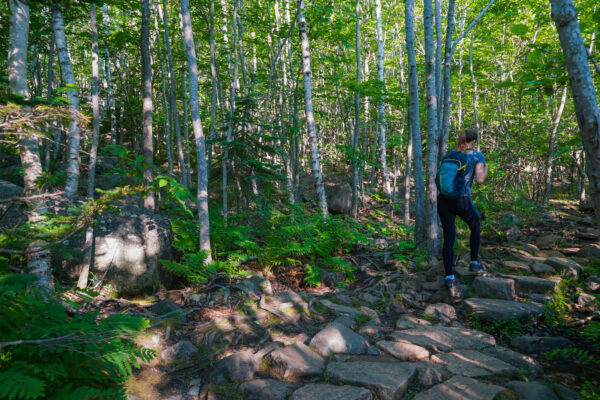 When it comes to hiking at Acadia National Park, the first thing you need to know is that many of the loop trails (like those mentioned above) are predominantly rocky. Think small-to-moderate boulders and not crushed gravel when we say rocky. You'll definitely be maneuvering on rocks both going up and going down and many are not the most accessible apart from, say, the Ocean Trail and the Jordan Pond Loop- so wear appropriate footwear here and be extra careful after rain.
From there, we'd say every trail above is well marked at the trailhead and at intersections with visible signage. We did note that all the trails had the same color blaze (blue in 2021) and some of the blazes were on the ground just as much as they were on the trees (which is what we conventionally expect when hiking). There were also some larger stretches where we saw no blazes at all, so having a map on your phone like on AllTrails or other equivalent maps was especially helpful at times- although I can count on one hand the number of times we stopped and questioned where we were going during our entire visit.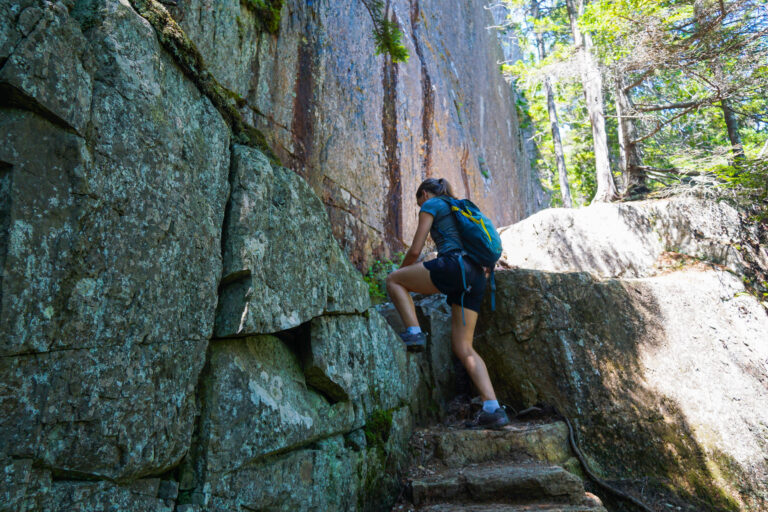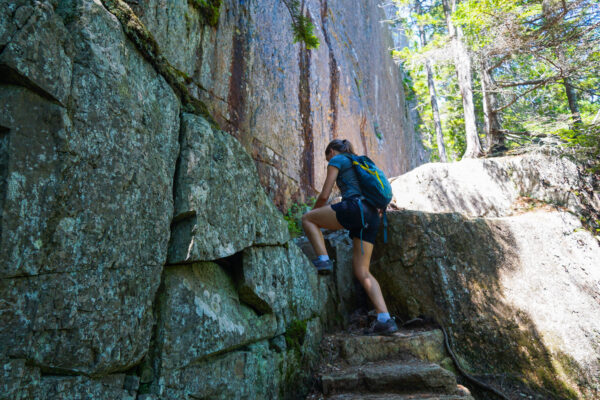 One thing we did note when hiking is that some paths that look like they could be trails (but are not actually the right way) are often blocked out either by a row of rocks or tree branches stacked in a neat pile/row. If it looks like someone arranged items like these with a specific purpose in mind, odds are good it is a sign to tell you not to go that way. When in doubt, revert back to your map if GPS positioning is available.
Overall, the hikes at Acadia National Park are simply stellar and there are many options for all skill levels. While those who approach the intermediate and advanced hikes will need to commit to continuing on the trail as many routes are one-way only, apart from the Precipice Trail (which we did not get to hike due to closure), the above ones only had a few small concerns specifically around rocks and climbing some built-in ladders.
Despite my fear of heights, I found many of these trails to be quite manageable but could also see it being a point of concern for those who aren't experienced hikers or have a more pronounced fear of heights than I do. As such, if the above commentary and photos are setting off any alarms in your head, you may want to take heed of them- but personally, I ended up finding the trails quite rewarding all the same.
Acadia National Park truly is gorgeous!
Where is your favorite place to hike in Acadia National Park? Comment below to share!
Looking where to stay in Bar Harbor? Check out apartment rentals on VRBO!
About Jeremy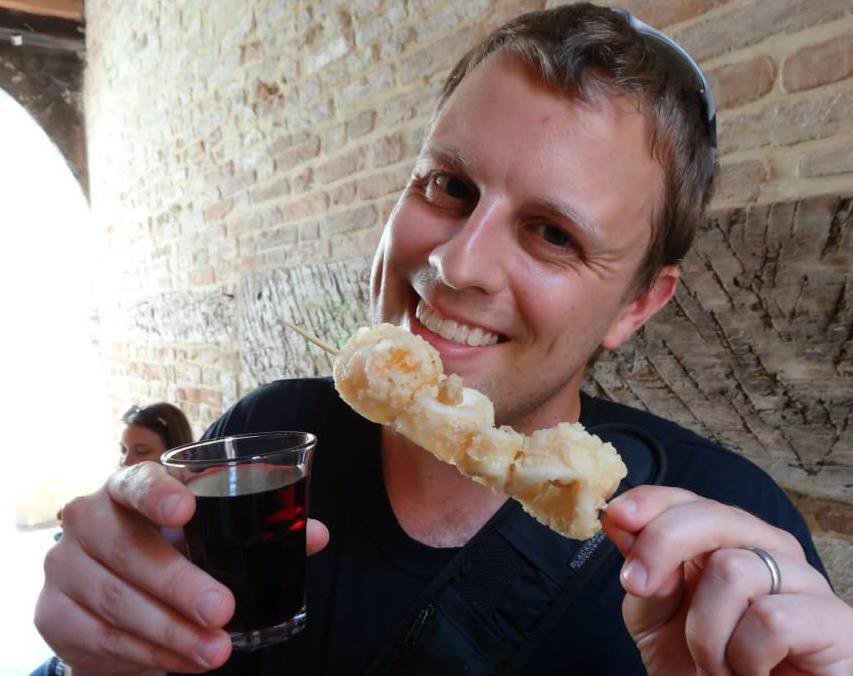 About the Author: Jeremy is a full-time travel writer based in Pittsburgh and primary author of this site. He has been to 70+ countries on five continents and seeks out new food, adventure activities, and off-the-beaten-path experiences wherever he travels.