Last Updated on July 20, 2022 by Jeremy
Disclaimers: Our site uses demographic data, email opt-ins, display advertising, and affiliate links. Please check out our Terms and Conditions for more information. Listed prices and attraction details may have changed since our visit and initial publication.
When you visit Acadia National Park in Maine, exploring is incredibly easy. You simply hop in your car, drive around the Loop Road, park at various trailheads and overlooks, and get out and explore that way. In fact, the park is laid out so well that you can see an incredible amount of its beauty without hiking at all!
But if you want to see even more of Acadia National Park beyond what you can get from the Loop Road, you're going to have to trade four wheels for two as a good section of the interior of the park is only accessible via the vast carriage trail network found within!
What Can You See on the Carriage Trails at Acadia?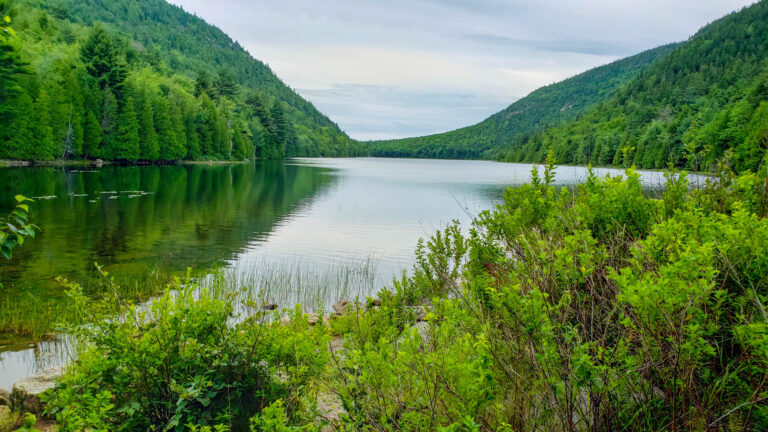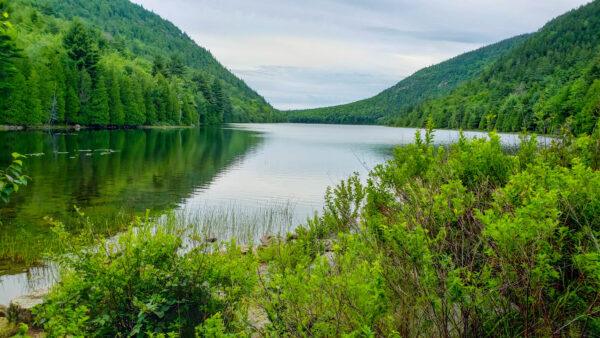 When you think about driving around Acadia National Park, the Loop Road is more or less just that- a loop around the (rough) perimeter of the park. While there are ways to get into the interior of the park, mostly via long-distance hiking, there is a decent amount that you can only see via the carriage trail network which connects some of the smaller lakes to the more conventional sights like Jordan Pond.
This network provides a much more intimate experience in exploring Acadia as around one bend you may see a small lake with blooming water lilies, the next you are in the middle of the forest, at the top of the following hill you have a gorgeous view down to the bay, and this cycle repeats multiple times over the course of your ride.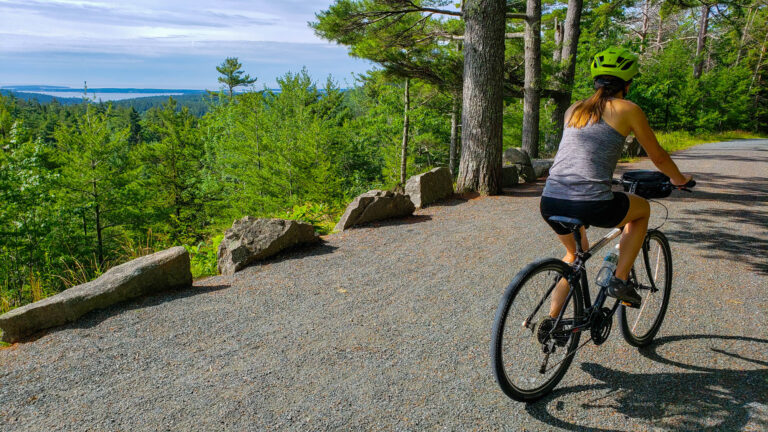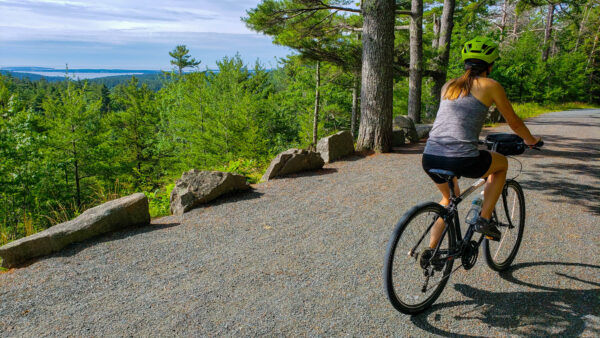 While I would be hesitant on saying that there is any specific highlight worth seeking out when riding the trails (as opposed to making a dedicated stop when driving the Loop Road), it is the sum of all of these sights enjoyed while riding a bike that makes the carriage trails worth getting out on.
As such, your outing here may be less about what you want to see specifically and more about devising a route that works to your abilities as a biker. Plan for the longest outing you can comfortably do at your skill level, devise your route with the tips we've outlined below, and soak up the beauty of Acadia while on two wheels!
Plan Your Carriage Trail Route Out in Advance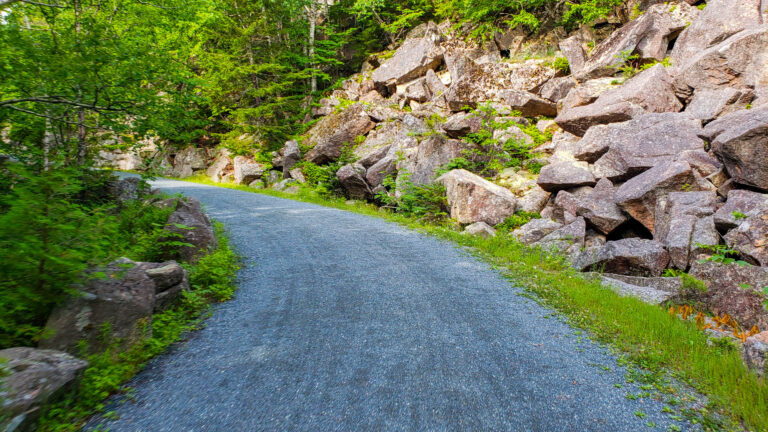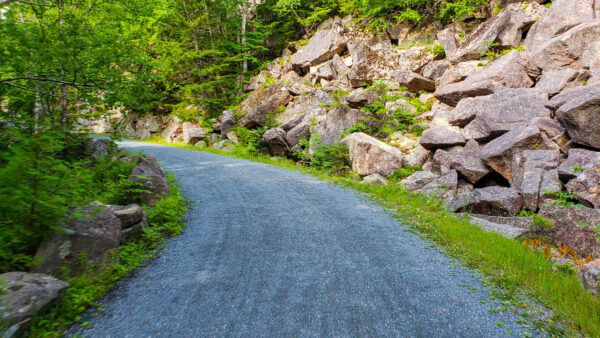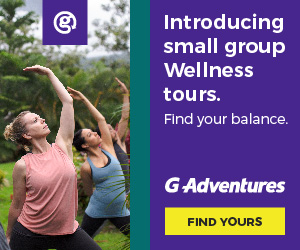 Now, it would be easy for us to simply say rent a bike and go for a ride, but honestly, the carriage trails at Acadia require a bit of advance planning not so much for what you can see but more for building a route that is best for your skill level.
There are a few reasons for this which we dive into in greater detail below:
First, despite the name carriage trails evoking ideas of flat surfaces for leisurely horse and buggy rides, this couldn't be further from the truth in the context of biking. Most of the trails have modest grades associated, and some have exceptional grades that can make for some fairly intense rides.
The maps in the park don't really showcase trail grade, so you will want to try and plan your route in Google Maps to try and see what sections have extreme grades (this is easier said than done as the maps don't pull in all the trails, but with some time you can get pretty close).
Second, the trails in the park are not named and the only navigation system you have available are numbered signposts at intersections between various trails. So at marker 15, for example, there is no arrow for 14 or 16, you just need to know that turning left will take you to one marker and turning right will take you to another. As such, grab a map at your bike rental store and start thinking of your route in terms of which markers you want to hit and the direction you'll have to turn at each.
Third, carriage trails close regularly for maintenance- often due to weather damage or overuse. During our visit, nearly half the trails were closed and made for a hard time figuring out how to do a loop instead of an out-and-back (we had to bike on the Park Loop Road from town to Jordan Pond to complete it as you can see in the photo at the end of this article). Once again, getting a map at the bike shop is key here as you can have them mark what routes are closed at any given time and then plan accordingly.
Finally, during peak season, the park is exceptionally busy. This is true on the main roads with cars but also bikers on the carriage trails. As most bike shops in Bar Harbor do not open until 9 or 10 am, which is pretty late in the day for biking purposes in the heat of summer, you may want to approach things differently and take your bike out the night before to get an early start the next day.
At Bar Harbor Bicycle Shop, we were told to come about an hour before they close and they'd let us rent a bike for the next day while only charging us a nominal overnight fee ($5 per bike) and starting the rental time at 9 am the next morning. We checked out our bikes, stored them at our apartment rental, and left rather early next morning (7am) to avoid riding on the surface roads during the crazy mid-day traffic. 25 miles later we were finished by 10:30 am and had the bikes returned to the store just when most other visitors were getting started for the day. Win!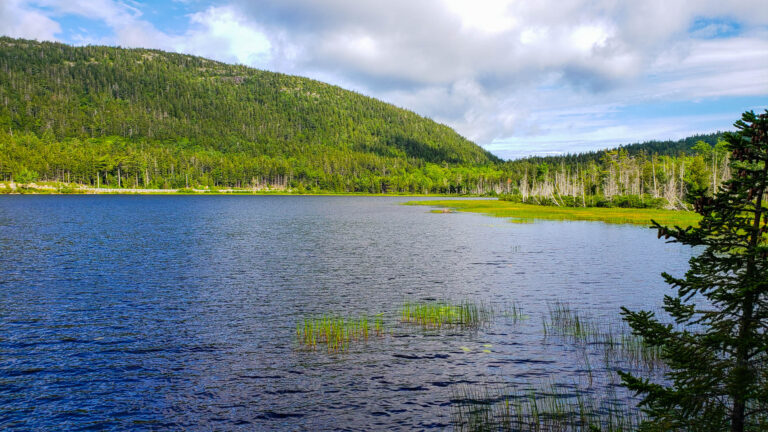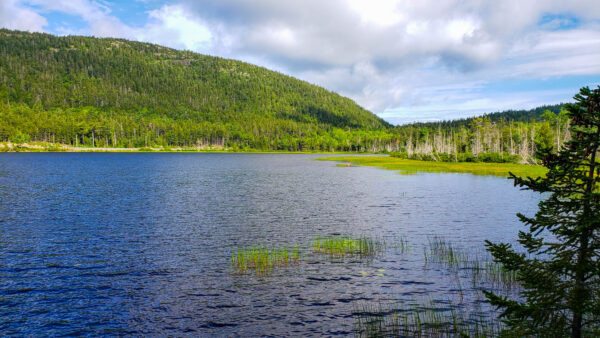 All of this came together for a really great outing because getting our bikes out in advance let us learn about the trail closures, have time to plan a route in our room, and get up and go without any waiting the following morning. It truly worked out to be the perfect system for exploring the carriage trails at Acadia and is something we highly recommend for all visitors- if you can manage overnight storage at least.
Our Acadia Carriage Trail Route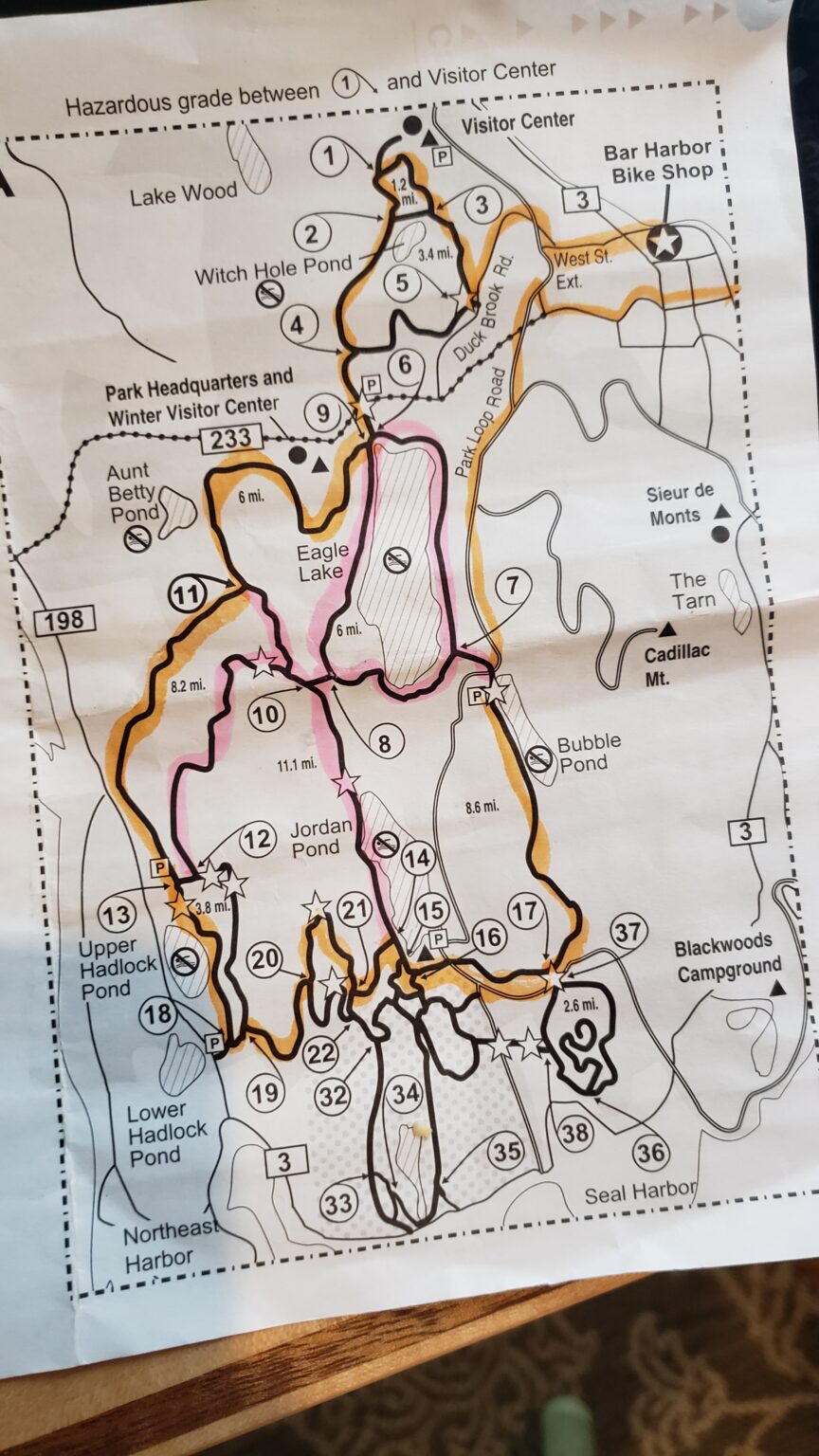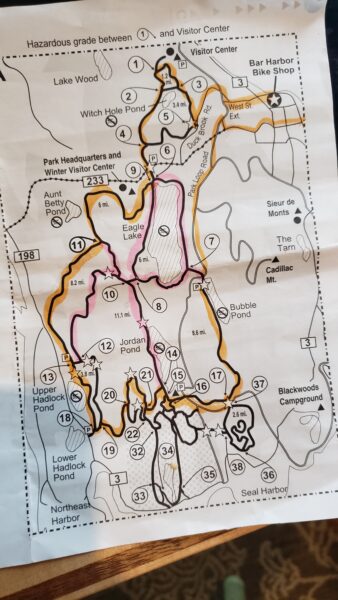 As mentioned above, there were many trails in the park that were closed for maintenance during our visit, and these can be seen in the above image in pink.
After getting the above map, we planned our route based on the easiest grade changes for the ride as we are traditionally rail-trail bikers (read: flat) as opposed to hilly mountain bikers. Our path went in a clockwise direction out of Bar Harbor to the entrance near Eagle Lake and Bubble Pond just near marker 7 (as the closer carriage trail was closed) and then proceeded to the markers as highlighted in orange- specifically 17, 16, 15, 14, 21, 20 19, 18, 13, 11, 9, 4, 2, 1, 3, and 5.
Had all of the trails been opened, we probably would've entered at marker 5 and hit 4, 6, and 7 before continuing on our route above as this would've skipped the few miles on the Park Loop. Likewise, if you want a shorter ride you can cut out the loop between 4, 2, 1, and 3 just by detouring from 4 to 5. There is a small hill here but we thought the scenery was worth the extra few miles riding at the end.
The clockwise direction was good for a few more reasons that are worth highlighting:
Hitting the surface roads early in the morning (7 am) ensured we had minimal competing traffic with cars. Biking on the main road is challenging during busy hours and we encountered many equally rude bikers and drivers when exploring the park. Don't be those people- share the road!

The hardest part of the ride was heading back into town after leaving the carriage trails. There is a detour sign for bikers to avoid the busiest of roads. We ignored this and took the shortest path and honestly wish we had followed the sign to be on some less-trafficked streets.

This clockwise direction put the (arguably) biggest uphill ride first thing and got it out of the way within the first 30 minutes. This was immediately followed by a wonderful downhill section that we thought would've been especially painful to have in reverse after biking 20+ miles!
Finally, it is worth reiterating that nearly all of the trails have some form of hills. They're really unavoidable at this park as only a few segments are truly flat. You'll still be hitting uphill bits throughout the ride it is just that we felt this direction was far easier simply to stack the biggest/longest hills early on. Expect some decent climbs later all the same.

The extremely southern segments of the park, around markers 32-38, seemed to have the biggest grade but having not biked on them first hand we cannot comment on the intensity.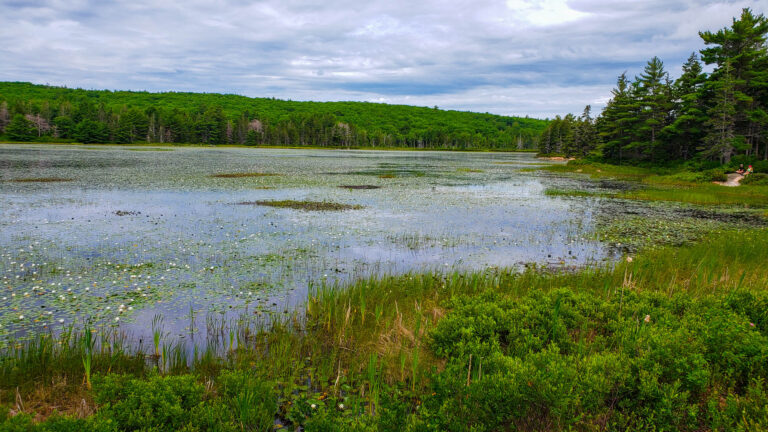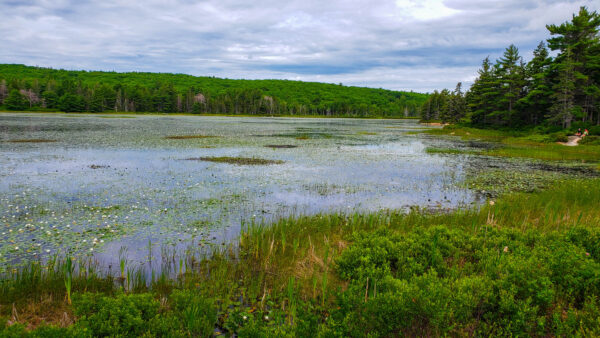 Overall, while we may not say that there is one must-see highlight you can only see from the carriage trails at Acadia National Park, these are more a wonderful way to get out and see the beauty of this great park from a different vantage point.
So if you are bikers like us, you know what you have to do- rent bikes for the day and go explore Acadia!
Have you biked the carriage trails at Acadia? Comment below to share what you think!
Curious on how many days you need in Acadia? Check out our article at the previous link to read our thoughts!
About Jeremy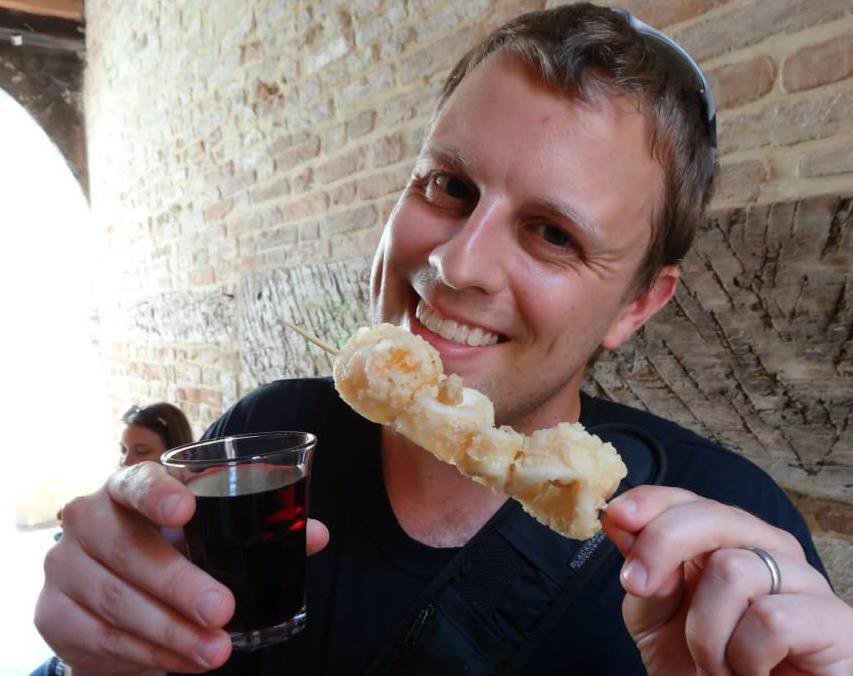 About the Author: Jeremy is a full-time travel writer based in Pittsburgh and primary author of this site. He has been to 70+ countries on five continents and seeks out new food, adventure activities, and off-the-beaten-path experiences wherever he travels.