Published by Jeremy. Last Updated on August 5, 2022.
Disclaimers: Our site uses demographic data, email opt-ins, display advertising, and affiliate links. Please check out our Terms and Conditions for more information. Listed prices and attraction details may have changed since our visit and initial publication.
Acadia National Park just outside of Bar Harbor, Maine, is one of those places where it is somewhat tricky in figuring out how much time you need to explore and truly do the park justice.
On one hand, with great weather and the north's long summer days, you can hike an incredible amount of trails within the park in just a single day. We hit it so hard on our first day there that if you told me had to leave I would've been more than content. We really saw a great cross-section of the park in a short period of time. On the other hand, frequent rain, solid crowds in prime months, and the nearly four-hour drive from Portland add on some considerations that may make you want to extend your stay.
We ultimately settled on four nights in Bar Harbor and felt this was the perfect amount of time to really explore Acadia National Park and the region at large.
How Much Time You Need at Acadia is Relative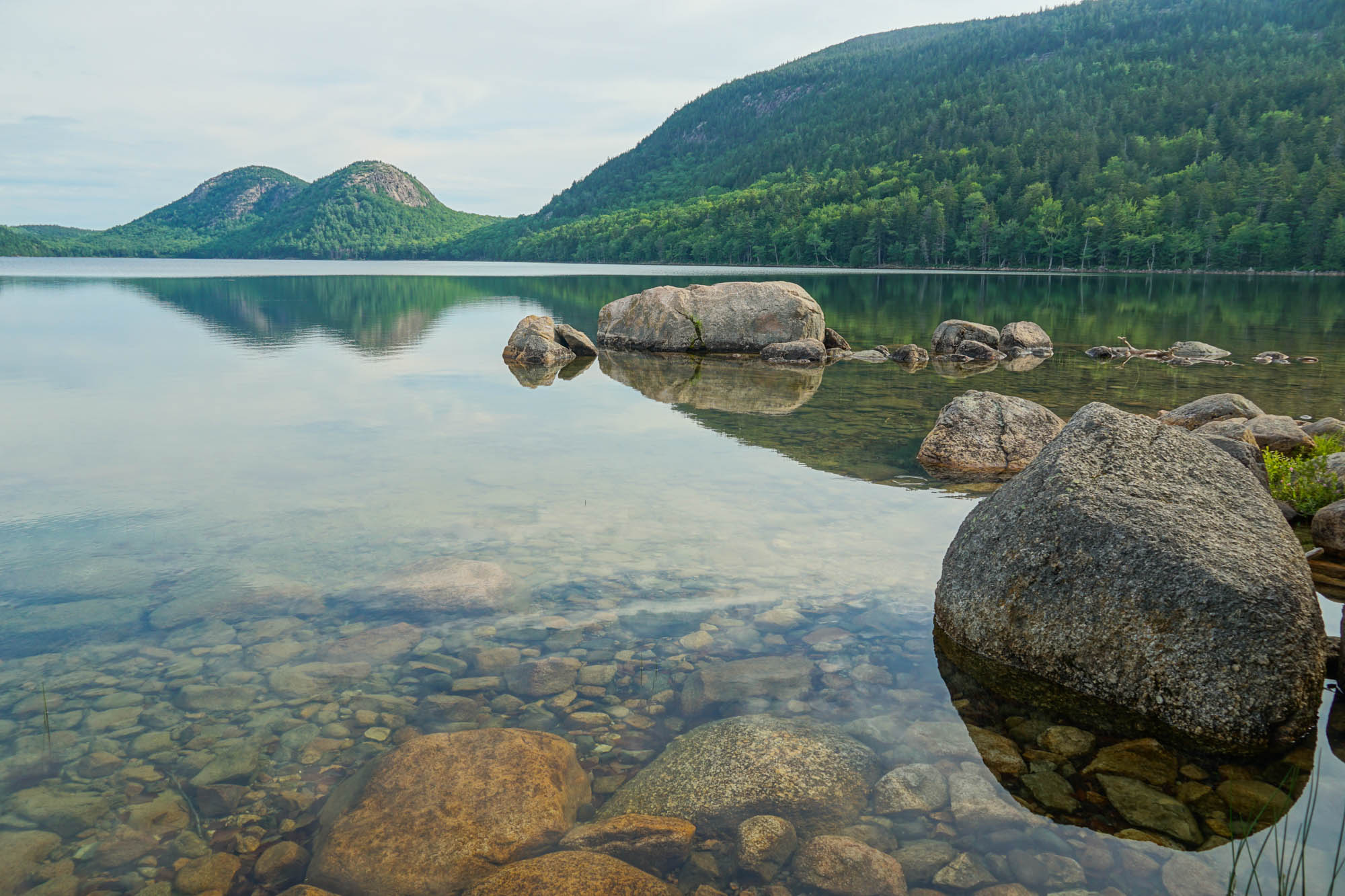 As mentioned at the start of this article, if you are lucky and have great weather you really can hit a stellar cross-section of Acadia National Park in a single day.
On our first morning, we were able to drive the Loop Road in its entirety, hike several trails (the Beehive, Gorham Mountain, and Echo Lake specifically), hit up Thurston's Lobster Pound, took an evening stroll around Cadillac Mountain with an advanced entry reservation, and still had enough time to clean up before heading out to dinner in Bar Harbor and walking around The Shore Path trail at sunset.
Note: Acadia National Park has been tinkering with reservations for popular trails in recent years. While we cant guarantee what may require advanced registration by the time you visit, be sure to look out for this as it is likely going to be more prominent in the coming years due to crowds. If you missed a reservation timeslot, you may want to see if you can hop on a tour with a 3rd party like Viator.
This was with a 6 am wakeup and a 7 am start, but during our visit just after the summer solstice, the 5 am sunrise meant we could've started even earlier had we been so motivated. You really have a lot of daylight in the height of summer.
The only major part of the park we missed on the first day was exploring Jordan Pond and the Bubbles as this section of the park was so busy by 10 am (when we made it over that way) that it was nearly impossible to find a parking spot without a long wait and a bit of luck. We returned here the next day and were parked and out on the trails by 8 am without a single issue.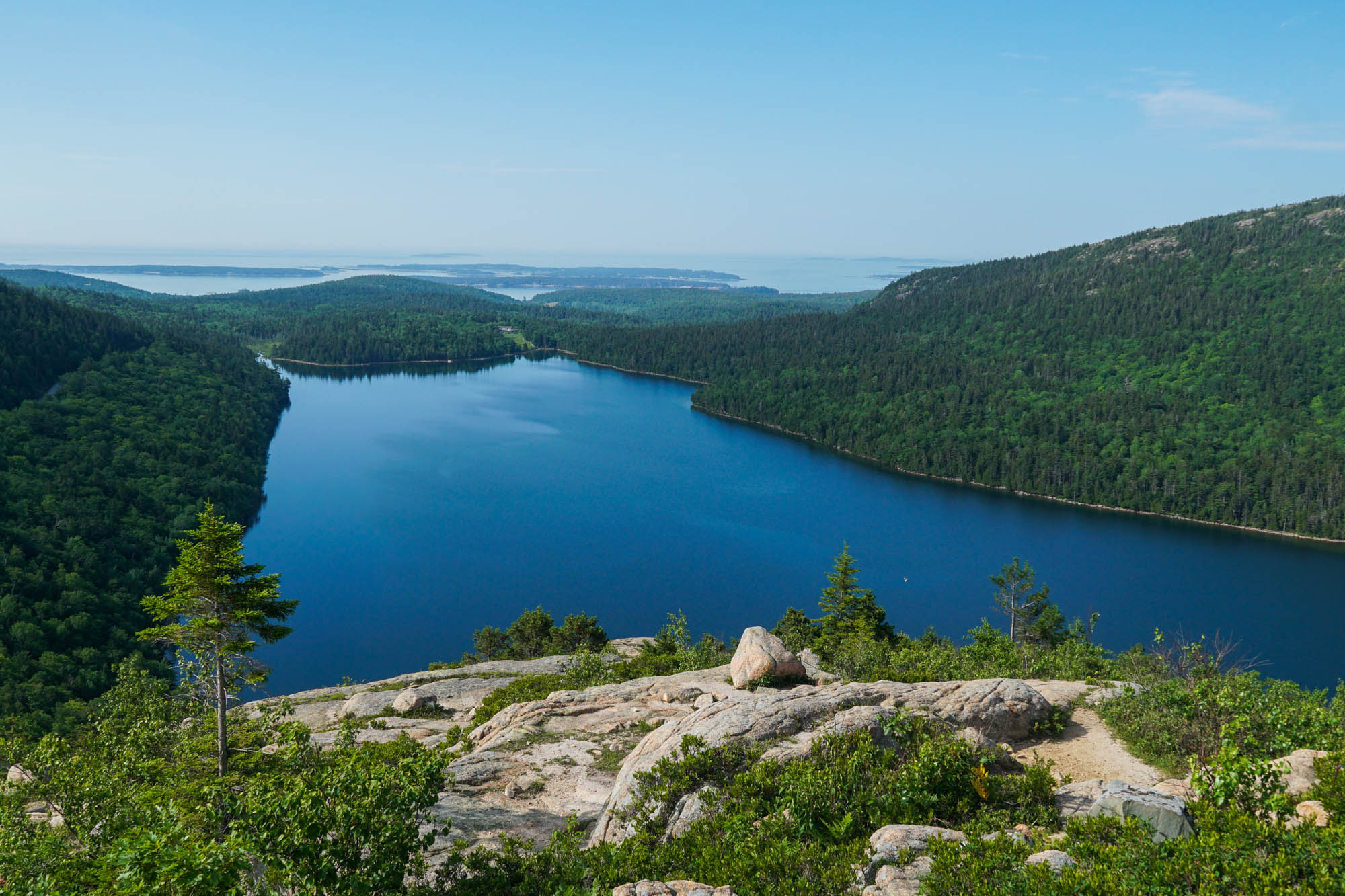 This is the first issue you will want to consider when visiting Acadia National Park- the crowds.
In July, Bar Harbor was so popular that virtually every hotel had a No Vacancy sign posted, and even with getting up at 6 am to go hiking we found it almost impossible to find a convenient parking spot to hit the well-known trails after about 10 am. It was at this point each day that we moved on to the Southwest Harbor section of the park to hit up some lesser-used trails and spent some downtime at our apartment rental in town as well.
If you are visiting during prime months, adding on a day to account for this is a great idea.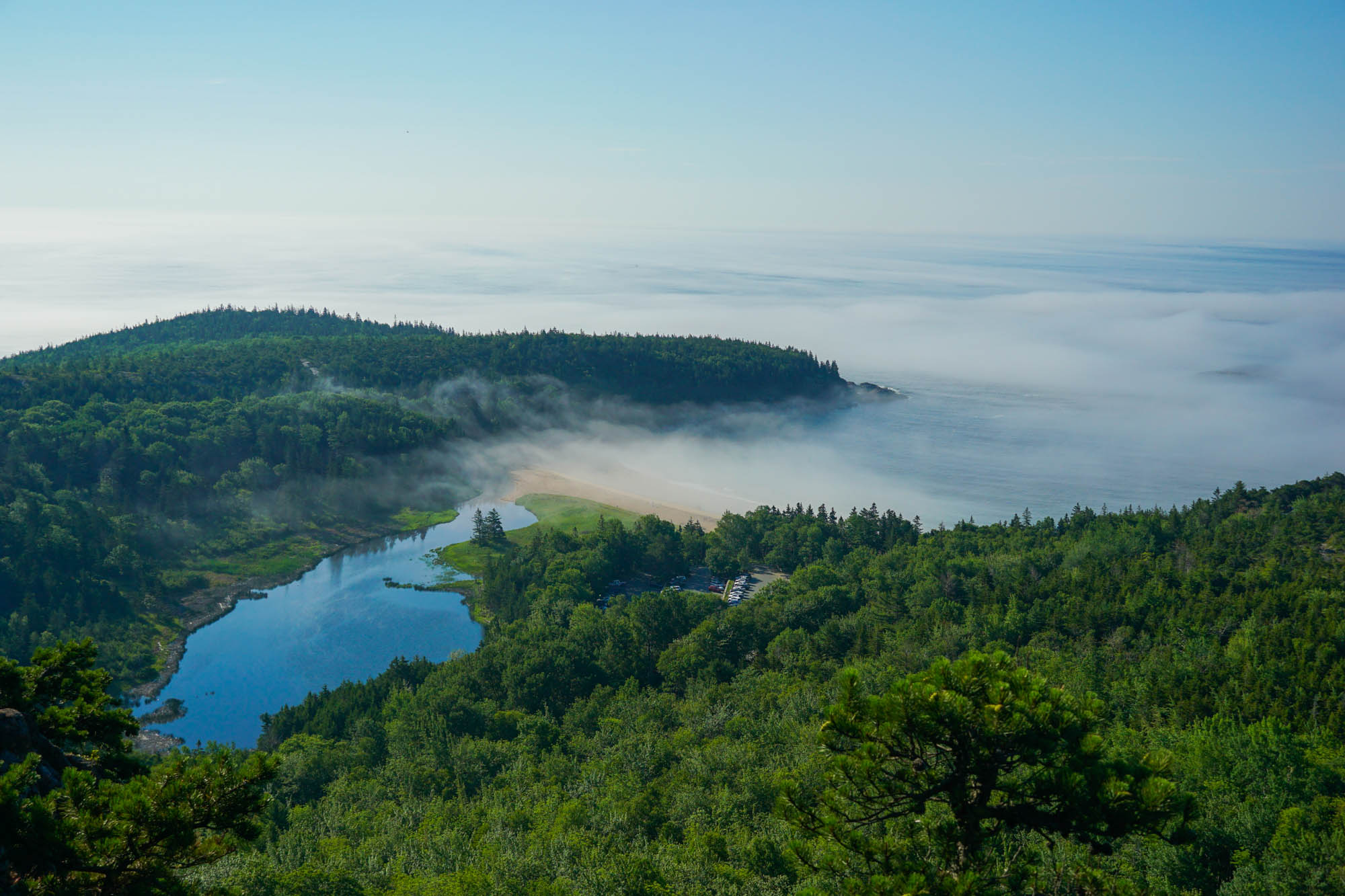 The second issue is simply the weather- it rains a lot in Maine (3-5 inches per month in Bar Harbor practically year-round) and you'll want to experience this one in perfect conditions. Hiking many of the rocky trails in the rain would be unsafe and unenjoyable in our opinion.
We actually had the opposite problem when visiting Bar Harbor in that it wasn't rainy but instead had an unseasonable heatwave with multiple days over 90 degrees and intense humidity. Another push for getting up early, but another reason why you should add on an extra day here as well- you don't want to spend your entire trip to Acadia in the rain (or extreme sun) if you can avoid it. Having an extra day or two simply hedges your bets with this concern.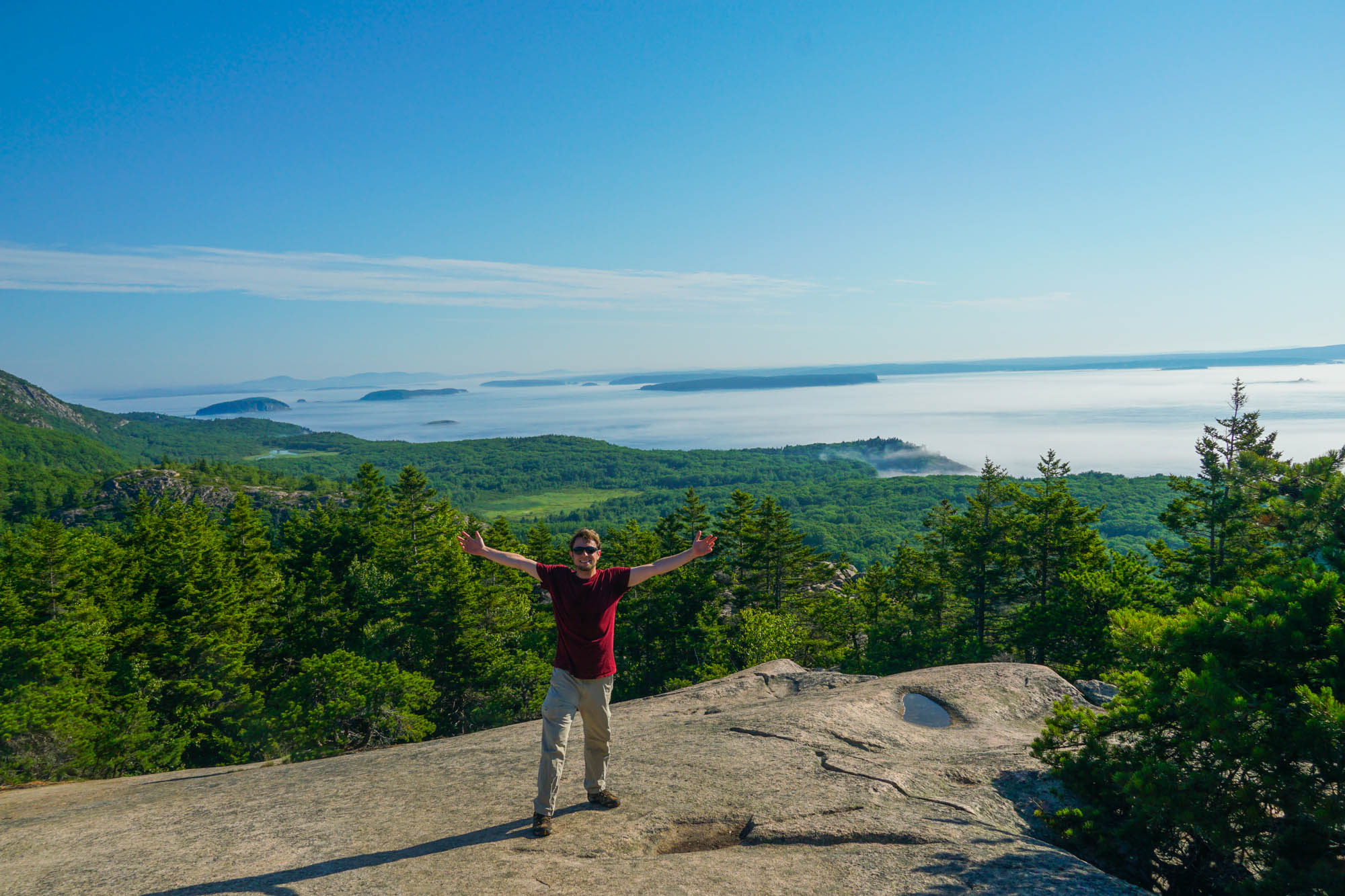 Finally, there is far more to do in Bar Harbor than simply drive around the Loop Road and hike. The carriage trails at Acadia National Park are great for a half-day bike trip, you can walk across the sand bar in Bar Harbor if the tides sync up to your schedule (the tide schedule didn't work out for us), and there are many sightseeing boats that go out around the coast including whale watching tours, lobster tours, and nature tours around Acadia as well. We spent a half-day doing the former (as all the boat tours were sold out once we knew we had our fill of hiking), but if any of these outings are important to you then add on one more day on top of the rest for this as well.
So, now we are at a minimum of three full days to explore Bar Harbor and Acadia National Park and do it justice. Now, if you're not flying into Bangor airport (an hour away), you also have to account for the fact that you may be taking a nearly four-hour drive to the park if taking the highway from Portland, and possibly a five or six-hour drive if detouring on US-1 to check out the coastal villages and lighthouses in Maine. So these should have their own dedicated days set aside as well if you are driving in.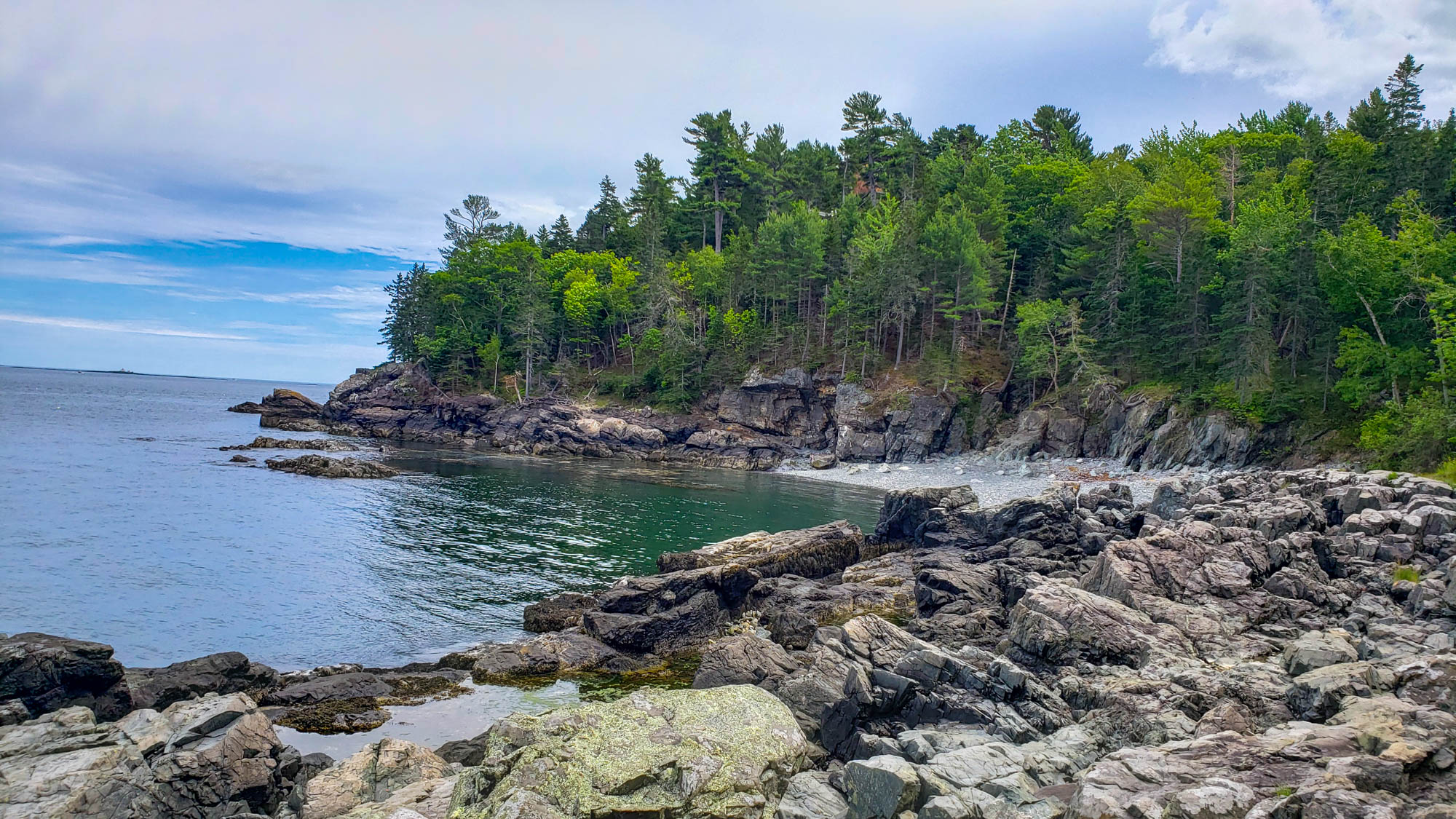 This is how we settled on our final Acadia National Park itinerary- four nights, five days.
Can you get by with less? The answer is, of course, yes- but you'll be taking some risks with the weather and possibly having to cut out some extra excursions like biking, taking a boat tour, or riding up-and-down the coast for the views. Do you need even more time? As with most national parks, it is really hard to say no to more. National park passes are good for a week and the more time you can allocate, the better off you'll be.
We just wouldn't do anything shorter than four nights as there are far too many risk factors that could detract from your experience!
Looking for an apartment rental in Bar Harbor? Click here to check out options on VRBO! Note that parking in Bar Harbor is tricky and we recommend staying in places that have dedicated parking spots or a permit for convenience.
How many days did you spend at Acadia National Park? Did you enjoy it or feel like you needed more? Comment below to share!
About Jeremy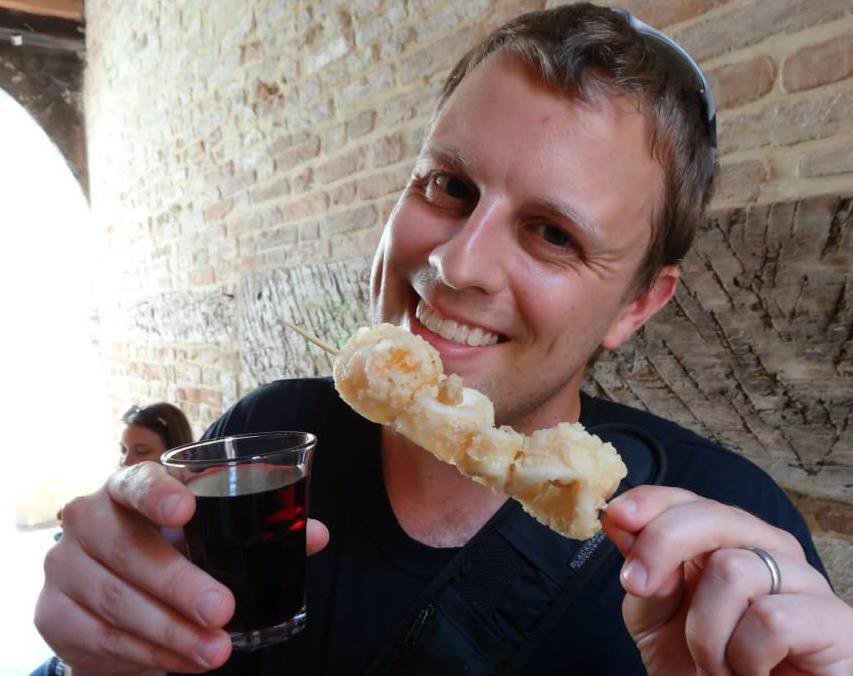 About the Author: Jeremy is a full-time travel writer based in Pittsburgh and primary author of this site. He has been to 70+ countries on five continents and seeks out new food, adventure activities, and off-the-beaten-path experiences wherever he travels.