Published by Jeremy. Last Updated on June 19, 2023.
Disclaimers: Our site uses demographic data, email opt-ins, display advertising, and affiliate links. Please check out our Terms and Conditions for more information. Listed prices and attraction details may have changed since our visit and initial publication.
There were two foods we knew we were going to eat our weight in when visiting Maine- lobster and oysters. We jumped into both of these headfirst and truly had an exceptional dining experience when eating our way around Maine restaurants.
As lobster and oysters on their own are relatively straightforward dishes, we also sought after one variant of the former to try just a bit differently. Enter the lobster roll- a truly wonderful creation that you absolutely must try when in Maine.
In retrospect, we realize we actually had seven lobster rolls in Maine, and in this one, we wanted to talk about each of them in greater detail!
A Note About Lobster Prices in Maine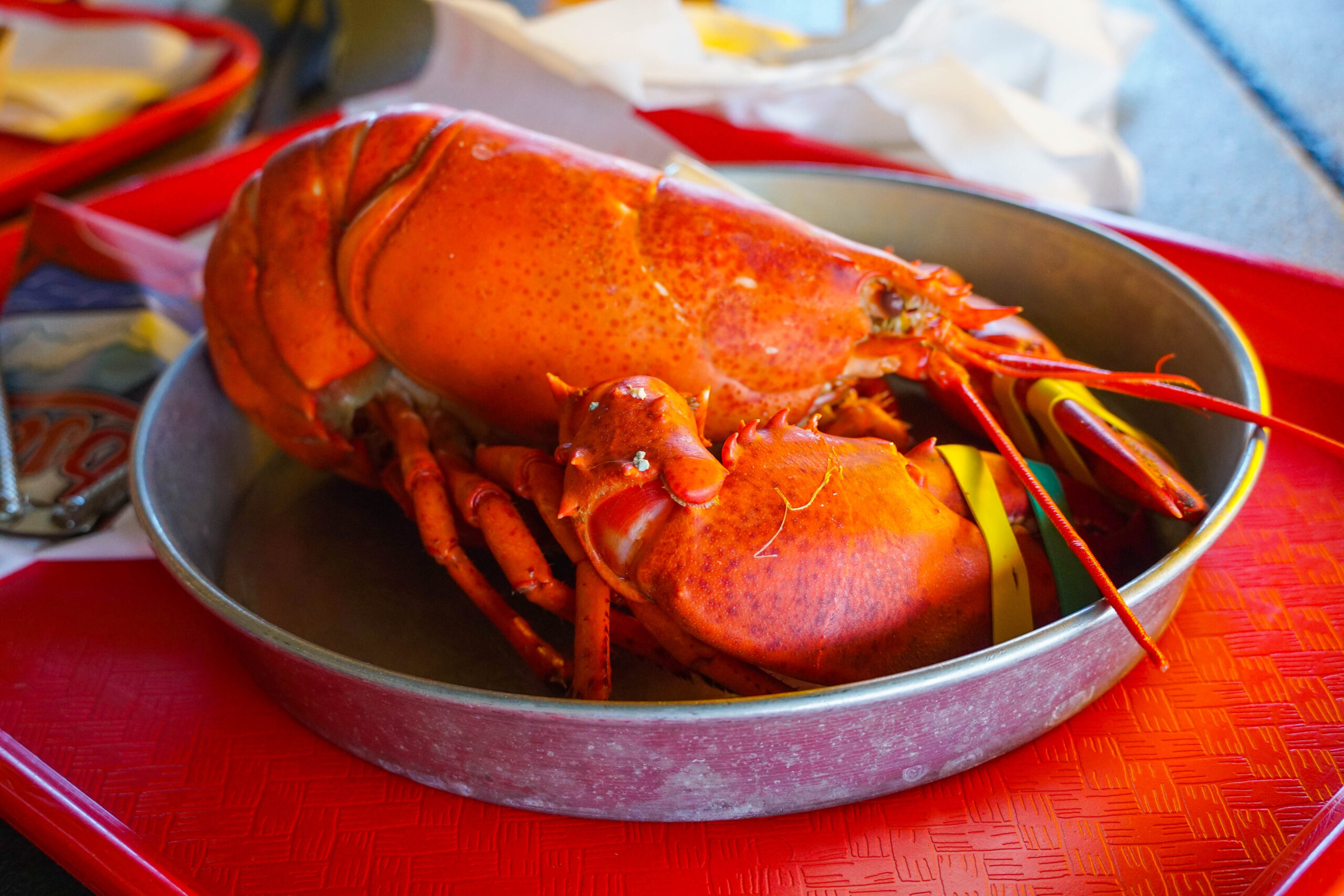 When it comes to enjoying lobster in Maine, there is one major thing to consider- the price can vary wildly.
During our most recent visits, everyone we met from Maine was bemoaning how expensive lobster was. They would always reference a random year in the past where lobster was far more affordable. As we did not have the luxury of visiting in these past years, we had to make do with what we could. But this brings up an important point that lobster very much is a "market price" kind of food and prices can be all over the place.
We may quote a lobster roll price in this article and it could go up 10% next week or it could go down 30% in a month. It really is that volatile. Some small rolls were in the $20 range, most were in the $25-$30 range, some artisan ones (or those from high-end restaurants) pushed over $30, and a few places even sold large lobster rolls (for two) that were north of $40!
As such, although we're going to try and tackle the price-to-value of each spot below, keep in mind that it will vary considerably when you actually visit- these should just be rough guidelines. Market forces will dictate how much you actually pay when you are in Maine.
Note: Many places included below will indicate the price directly on the menu when you are there. We found that most of the places that simply list M/P for market price tend to be significantly more expensive than these counterparts.
Eventide Oyster Co.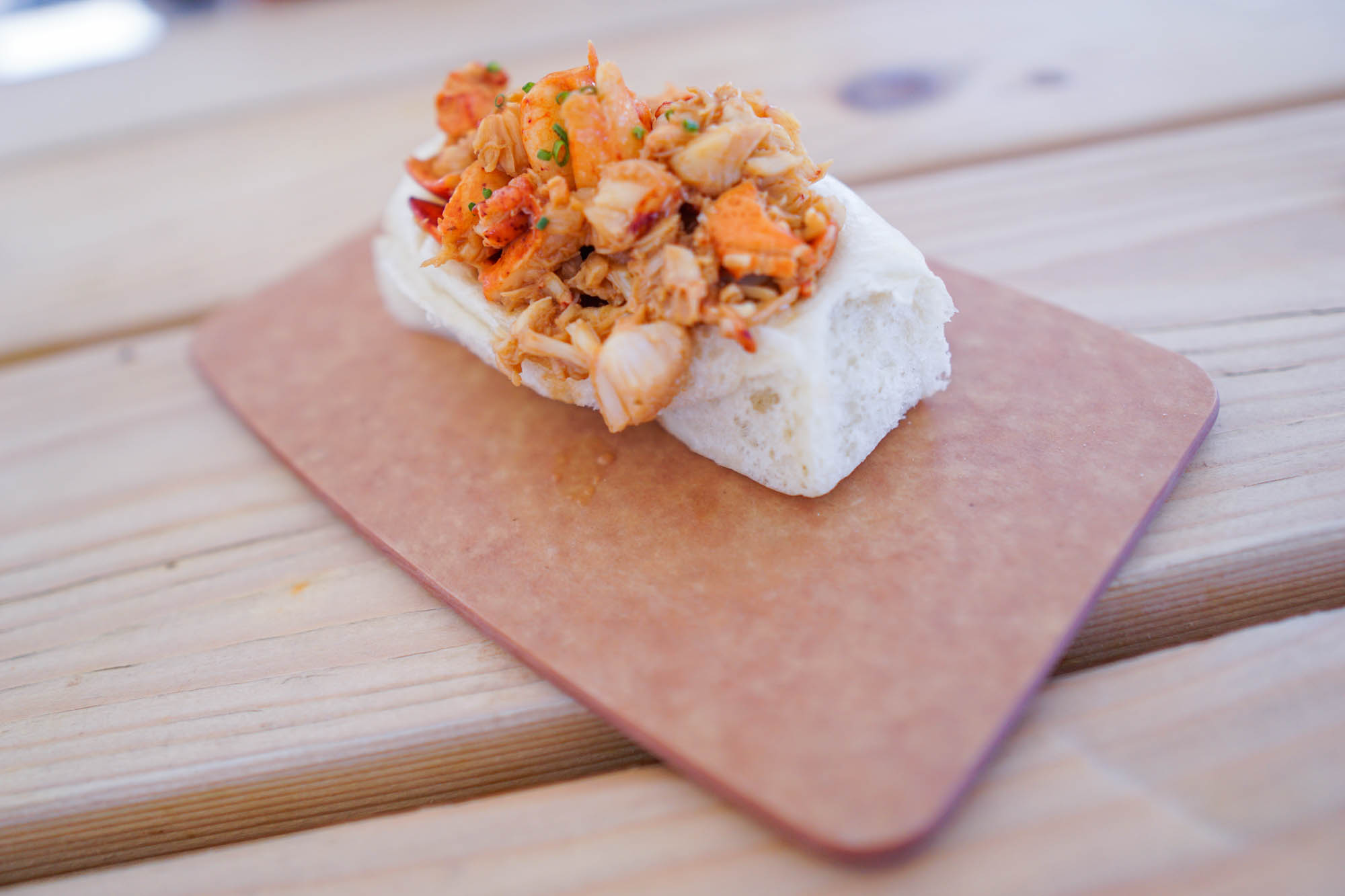 Eventide Oyster Co. was one of our first restaurants in Portland, Maine, and throughout our entire trip stood out as being one of the best. Think incredibly fresh oysters from many farms, inventive dishes (koji-cured steelhead trout, anyone?), and of course a stellar lobster roll!
This one serves warm lobster meat in a doughy, steamed bun that is topped with brown butter and chive. This is not conventional as far as Maine lobster rolls go (warm lobster rolls are more Connecticut style), but the combination of flavors was oh-so-good. In fact, it may have been one of those perfect bites we are always in search of as the butter and lobster combo was simply divine.
At just about $16 this one was also among the cheapest lobster rolls we had but comes with the caveat that it was also the smallest- split between the two of us this one amounted to just two bites each. We likely would've needed two to be of similar size to others in this list, so in that respect, it is a good one to share as an appetizer (or as a side to a slew of oysters, as we did) as opposed to going all-in as your main entree.
While this one accepts reservations, during our visit post-COVID most of the seating was reserved for walk-ins. We arrived before they opened and got seated right away but those who were just behind us had a 60-90+ minute wait! Plan accordingly if you wish to visit this one.
Eventide Oyster Co is located at 86 Middle Street in Portland.
Bite Into Maine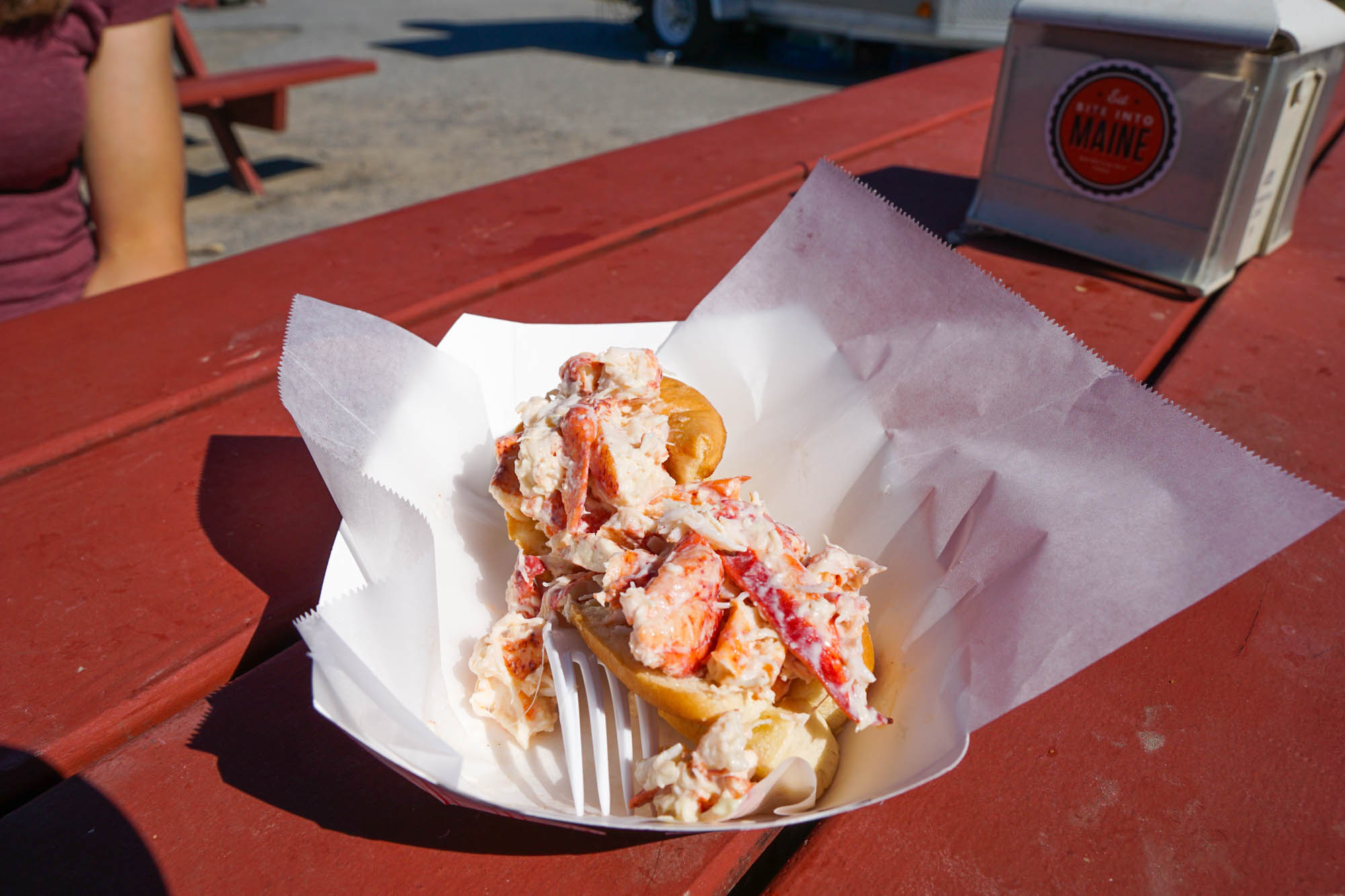 Bite Into Maine is a popular lobster food truck in Maine that holds its own against other, ahem, franchise-oriented lobster trucks that are taking the country by storm.
We stumbled upon this one by chance when visiting the Portland Head Light in South Portland as this food truck can be found there on a somewhat regular basis (we also later saw another truck by the same company at Allagash Brewing which seems to be semi-permanent as well). We weren't really needing another lunch at this point, but when there is a lobster roll available we had a rule of buying one and dealing with our waistline issue later.
What is interesting about this one is that you can order small or large lobster rolls and pick from one of six different styles including traditional Maine and Connecticut styles, Picnic Style (coleslaw, celery salt, and butter), or with more unusual flavors like Chipotle, Wasabi, or Yellow Curry. We opted for the Wasabi roll as the bit of heat in the spicy mayo made for a nice flavor combination to balance the sweetness of the lobster (that being said, we stuck to more traditional lobster rolls after this one simply to enjoy the meat).
The downside to this one is that the decently sized roll clocked in at just under $30 including tip and was the most expensive lobster roll we had in Maine! While we appreciated the unique flavor combinations in this one, we have to admit that the price point hurt.
Bite Into Maine operates several food trucks in and around the Portland area. During our visit, they had two semi-permanent locations at the Portland Head Light in South Portland as well as Allagash Brewing but this could be liable to change.
Pai Men Miyake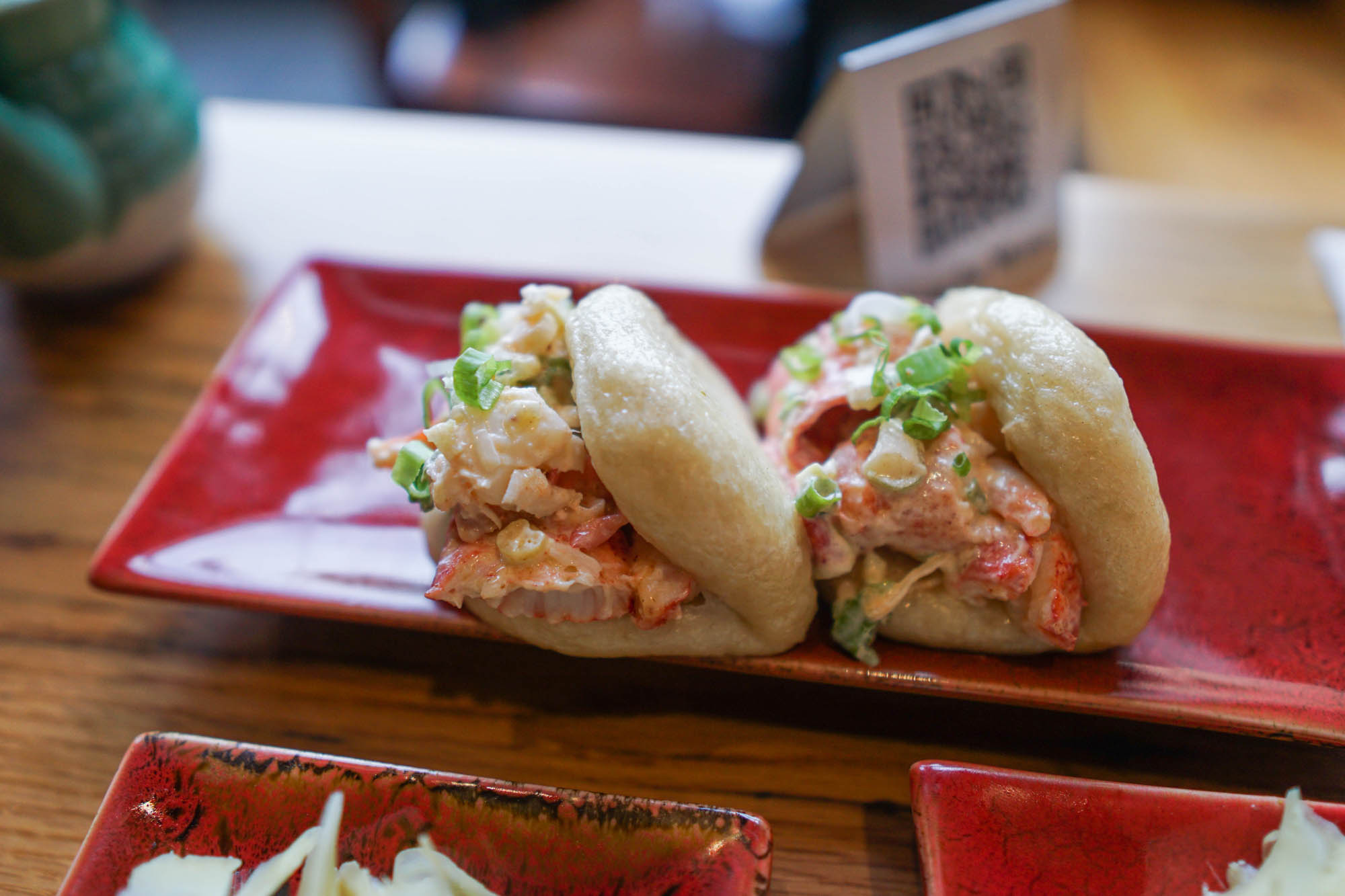 We want to start this one out with a simple disclaimer- Pai Men Miyaki does not sell traditional lobster rolls. Pai Men Miyaki is a wildly popular Japanese restaurant that makes some of the best seafood-oriented dishes we've had not just in Maine but anywhere outside of Japan (seriously, the unagi and scallop sushi rolls were unparalleled).
So while we really want to rave about the other dishes, for this one we want to talk about their lobster bao buns as they are an Asian equivalent to the lobster roll in just about every respect!
An order here comes with two perfectly sized bao buns (great for splitting) made with Kewpie mayo, lemon, truffle oil, and scallion. Much like the lobster roll at Eventide Oyster, you may just get a few bites out of this one (making it a good appetizer at the $18 price tag over an entree), but offered a delightful balance between the doughy bun, the sweet lobster, and the tangy mayo.
Pai Men Miyaki is located at 188 State Street in Portland. This one was not accepting reservations during our visit and we arrived about 10 minutes before they opened and got seated right away. Those who arrived just a few minutes later had a 60-90 minute wait!
The Landing Store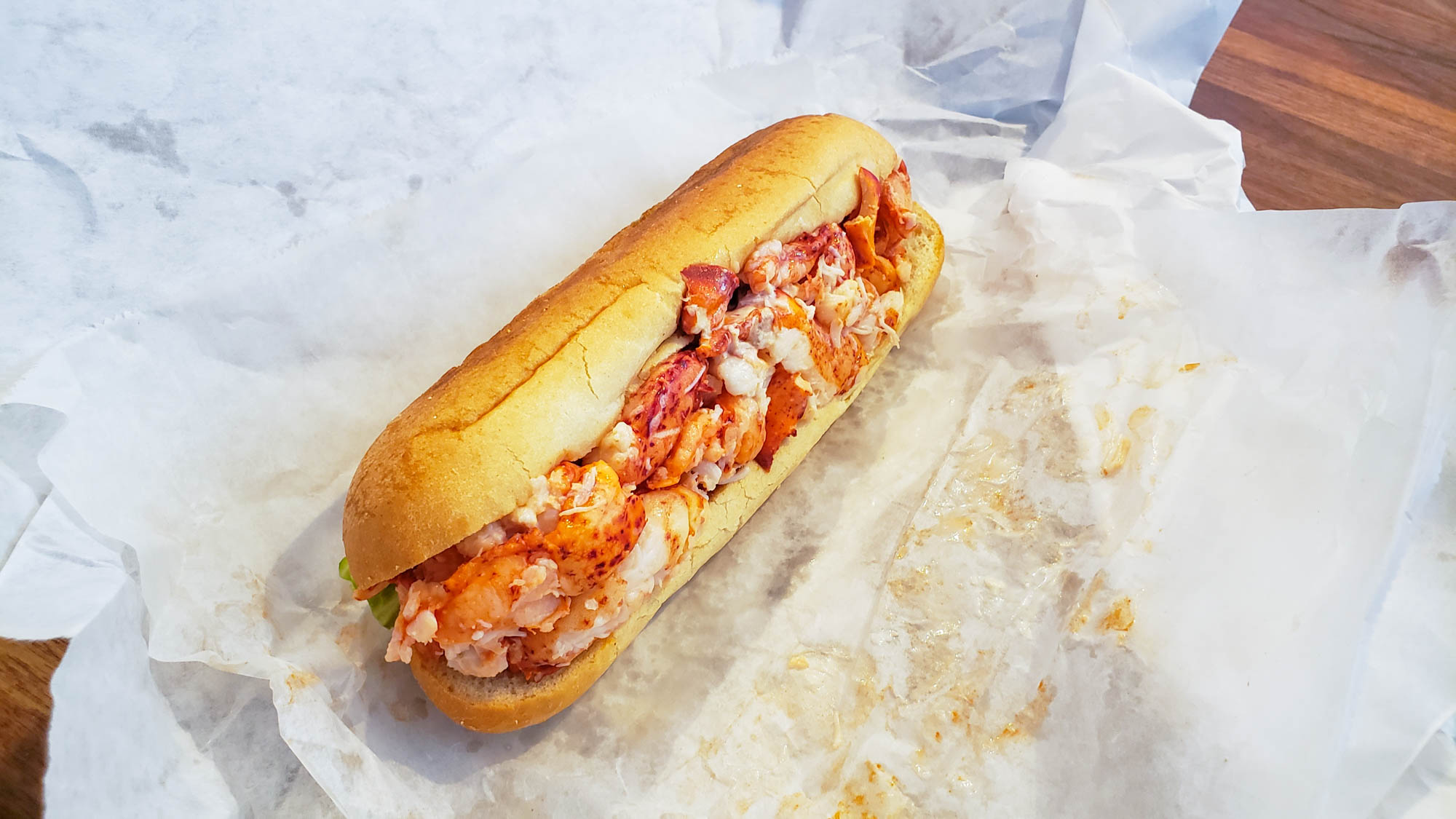 Up until visiting The Landing Store, we had only experienced lobster rolls in higher-end restaurants and food trucks. But lobster rolls can be found all over Maine and they are even found on menus at diners and sandwich shops as well.
This was truly the case at The Landing Store in Kennebunk where local friends took us to get a fast-casual roll at this unassuming takeaway deli.
The Landing Store is the kind of place that isn't going to be on most travelers' radars but is instead a kind of go-to spot for locals who want a quick meal or (as we did) to pick up food for a day at the nearby beaches.
In a way, this one is the perfect deli roll in all respects. A large, toasted bun, ample amounts of tender lobster meat with minimal toppings, and of course a great price- a large lobster roll was more than enough to satisfy the two of us and ran just about $25 after tax.
Simple, cost-effective, and hit the spot.
The Landing Store is located at 157 Summer Street in Kennebunk.
the Highroller Lobster Co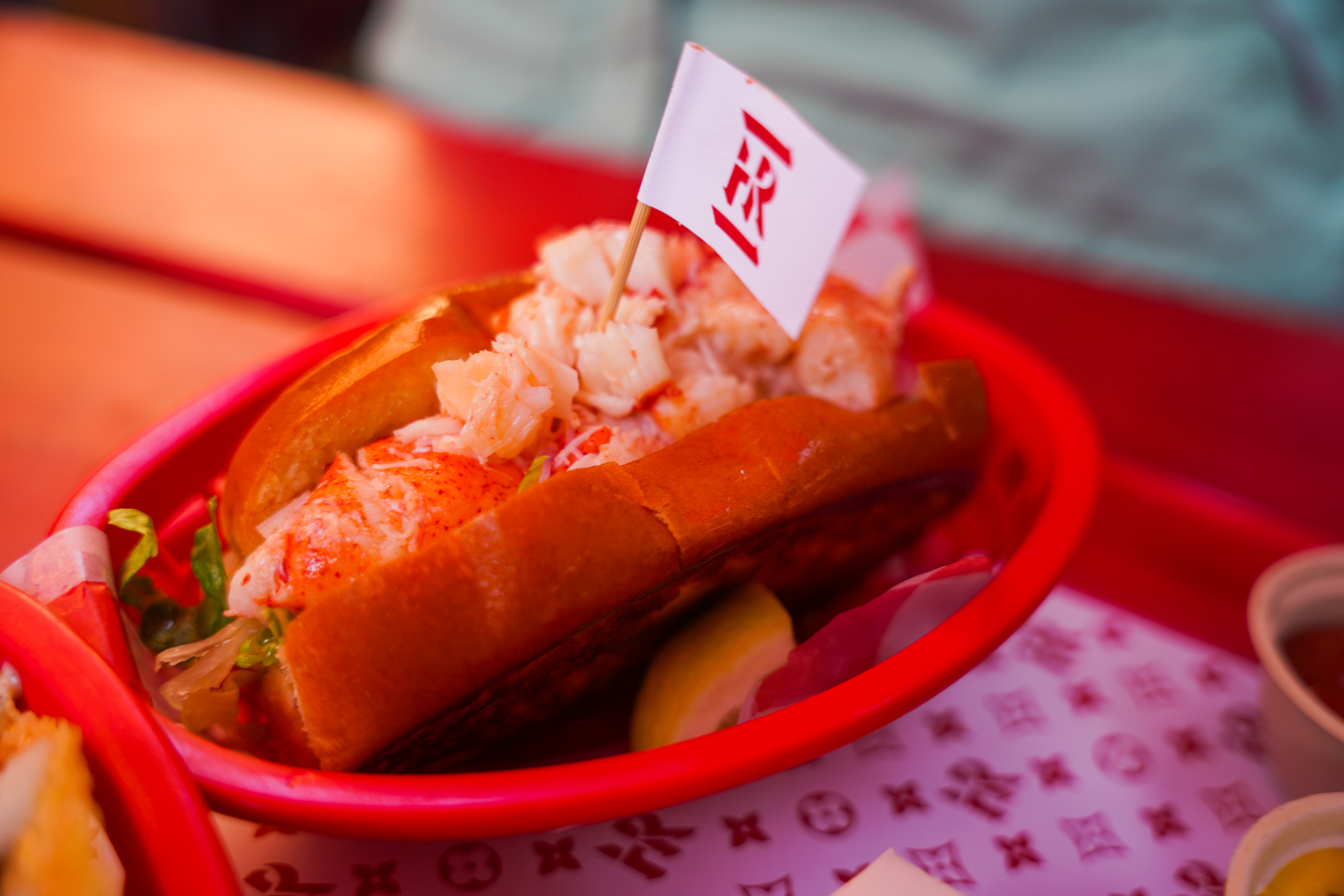 If you've eaten your share of lobster rolls while on a trip in Maine and want something a bit different, The Highroller Lobster Co in Portland is for you.
This one makes high-end lobster rolls, tacos, grilled cheese, and more in a fast casual setting. The lobster rolls can come in small (2 ounce), regular (4 ounce), or as a flight of three smalls where you choose your own sauces from conventional (drawn butter or lobster ghee) to more unusual (charred pineapple mayo, for example).
Our 4 ounce lobster roll was loaded, quite flavorful with lobster ghee, and filled us up. Not a bad stop if you've visited a lobster pound or three and want something a bit different!
The Highroller Lobster Co is located at 104 Exchange Street in Portland.
Jordan Pond House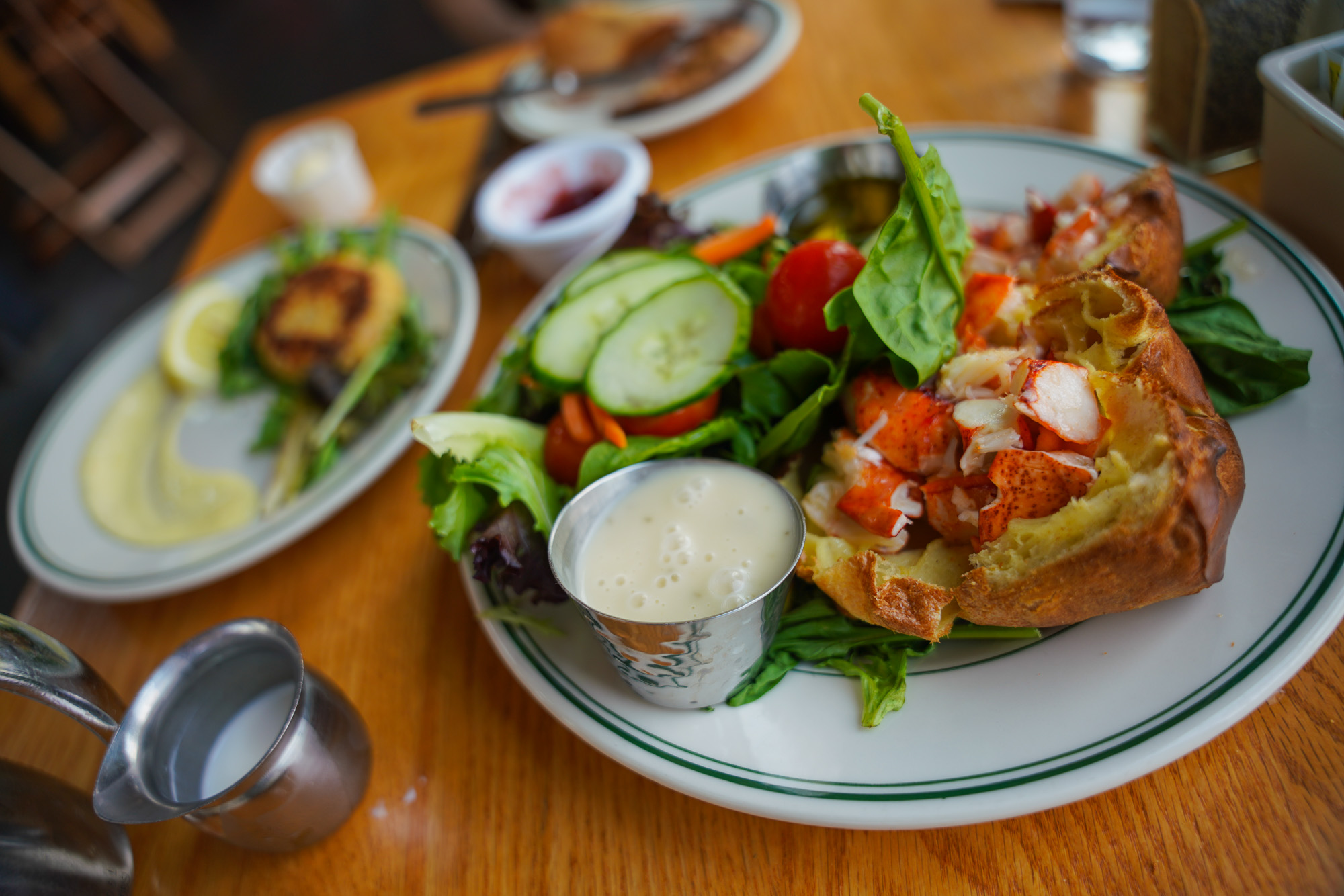 Jordan Pond House is famous for their popover rolls that are often served with local jam. This one also typically offers a popover lobster roll where the doughy, buttery popover is packed with fresh lobster meat.
While this one was quite good, the market price of the lobster roll made it one of the most expensive we have had in Maine- further proving the point that if M/P is listed on the menu, you probably dont want to know what the price is.
That said, lobster in a famous popover? Fine, twist my arm to try it once.
Jordan Pond House is located inside Acadia National Park at Jordan Pond.
The Barnacle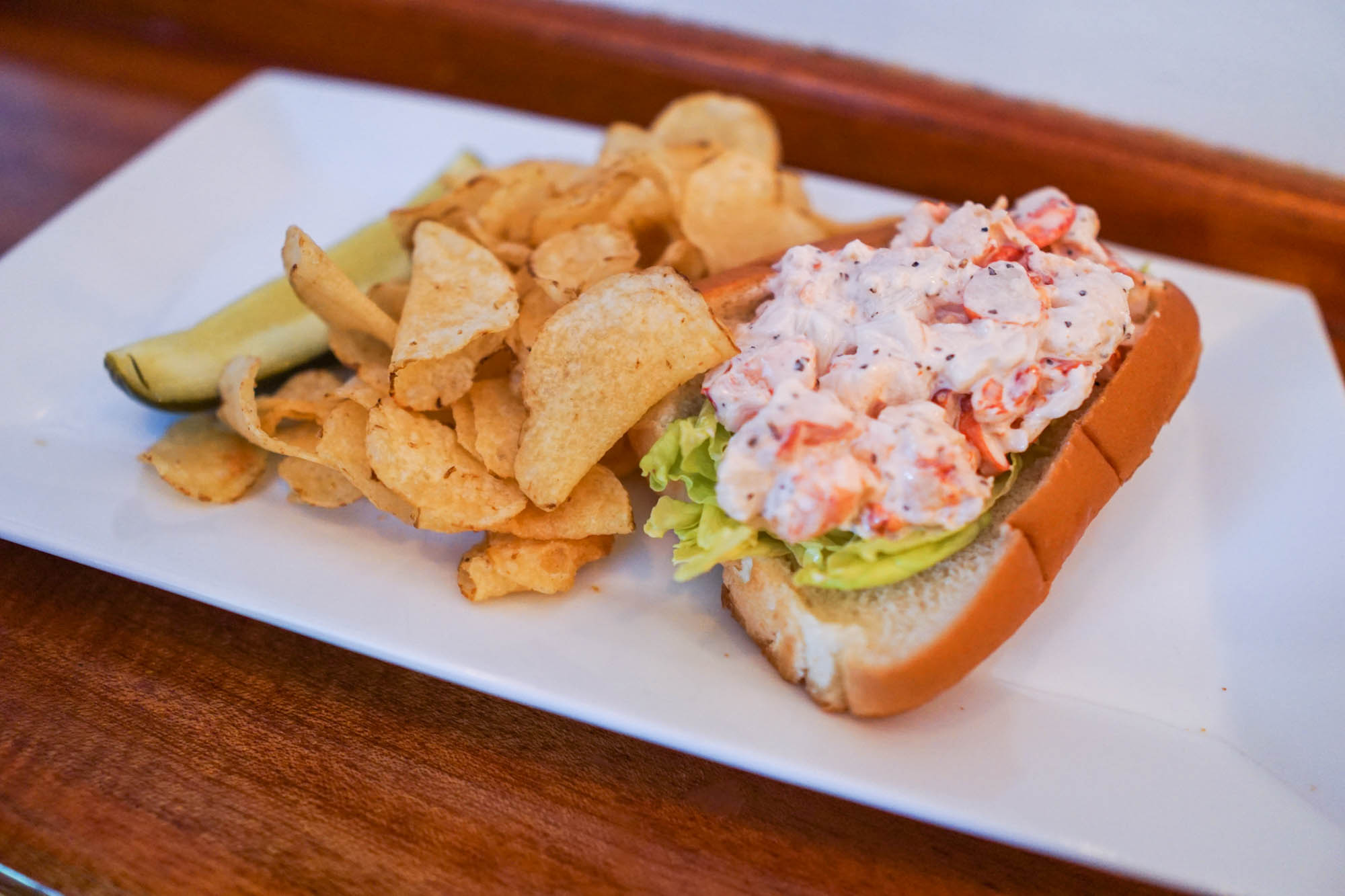 The Barnacle in downtown Bar Harbor is one of those spots that if you blink you'll likely miss it. Despite being located on the main street it is rather small and, for lack of a better word, is really just a bar!
But if you know what you're in for at this one, you'll do well to walk inside.
Not only does The Barnacle have a great selection of Maine craft beer, but they also have a rather limited menu featuring oysters, lobster rolls (periodically, at least- we've heard this one isn't on the menu all the time), and more. If you know anything about us then you should know that trio was music to our ears and naturally that is exactly what we ordered.
The lobster roll during our visit was both small (about eight bites in total) and expensive (roughly $28), but the pieces of lobster meat were of a pretty generous size and coated in a light layer of mayonnaise, seasoned with a bit of salt and pepper, and rested on lettuce over a toasted bun. A bit expensive for what you get, sure, but also a great deal when you consider virtually every other restaurant in Bar Harbor had a 60-90 minute wait and we walked right in here!
The Barnacle is located at 112 Main Street in Bar Harbor.
Thurston's Lobster Pound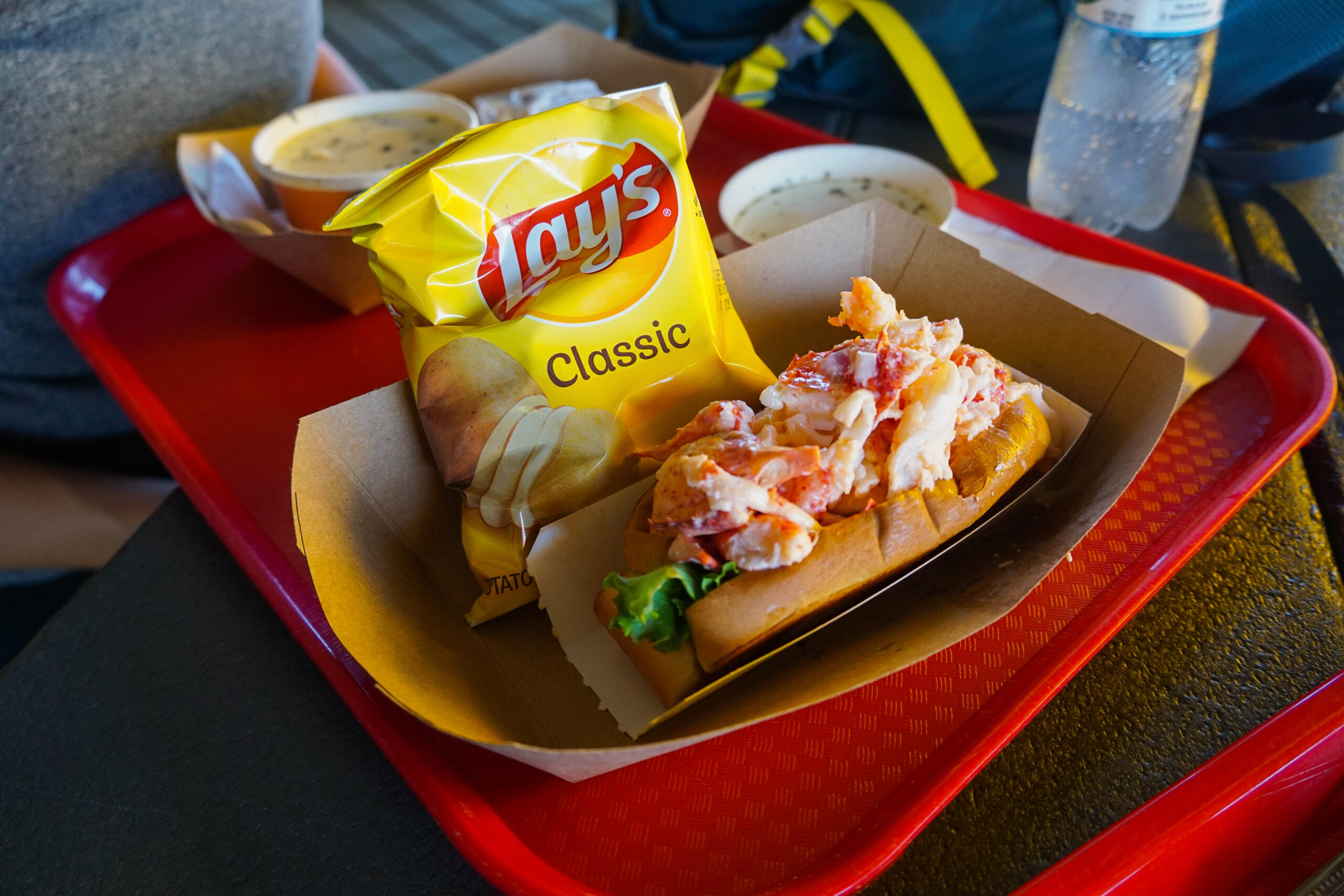 For our final two spots, you're going to have to go for a bit of a drive out of the cities. We're heading to the lobster pounds along the coast which ended up being our favorite stops of the trip!
If you don't know what a lobster pound is, we'll give you the short version here. They're coastal restaurants, often right on the water with stellar views, that typically fish their own lobster or acquire them directly from the fishermen. This means just-caught seafood, often sold by the pound (hence lobster pound), and a discount from what you'd otherwise see at nicer restaurants in the city (we estimated about 30% compared to comparable restaurants in Bar Harbor).
Thurston's Lobster Pound is located just outside of Bar Harbor and is as gorgeous as it is delicious. Located right on the harbor, we saw several boats loaded with lobster traps all while enjoying our lobster and lobster roll from their massive, multi-story deck.
The "small" lobster is of fairly generous size and had some of the biggest hunks of meat we had in Maine. Although we thought the bun could've been toasted a bit more like others on this list, the price at just north of $20 more than helped us feel like we got our value here. On a second visit, we splurged for the jumbo roll which was more expensive but included significantly more meat!
Thurston's Lobster Pound is located at 9 Thurston Road in Bernard. You can easily reach this one while exploring Acadia National Park with only a nominal detour (~30 minutes from Bar Harbor). Note that Thurston's Lobster Pound operates seasonally and may be closed from late fall through spring.
McLoons Lobster Shack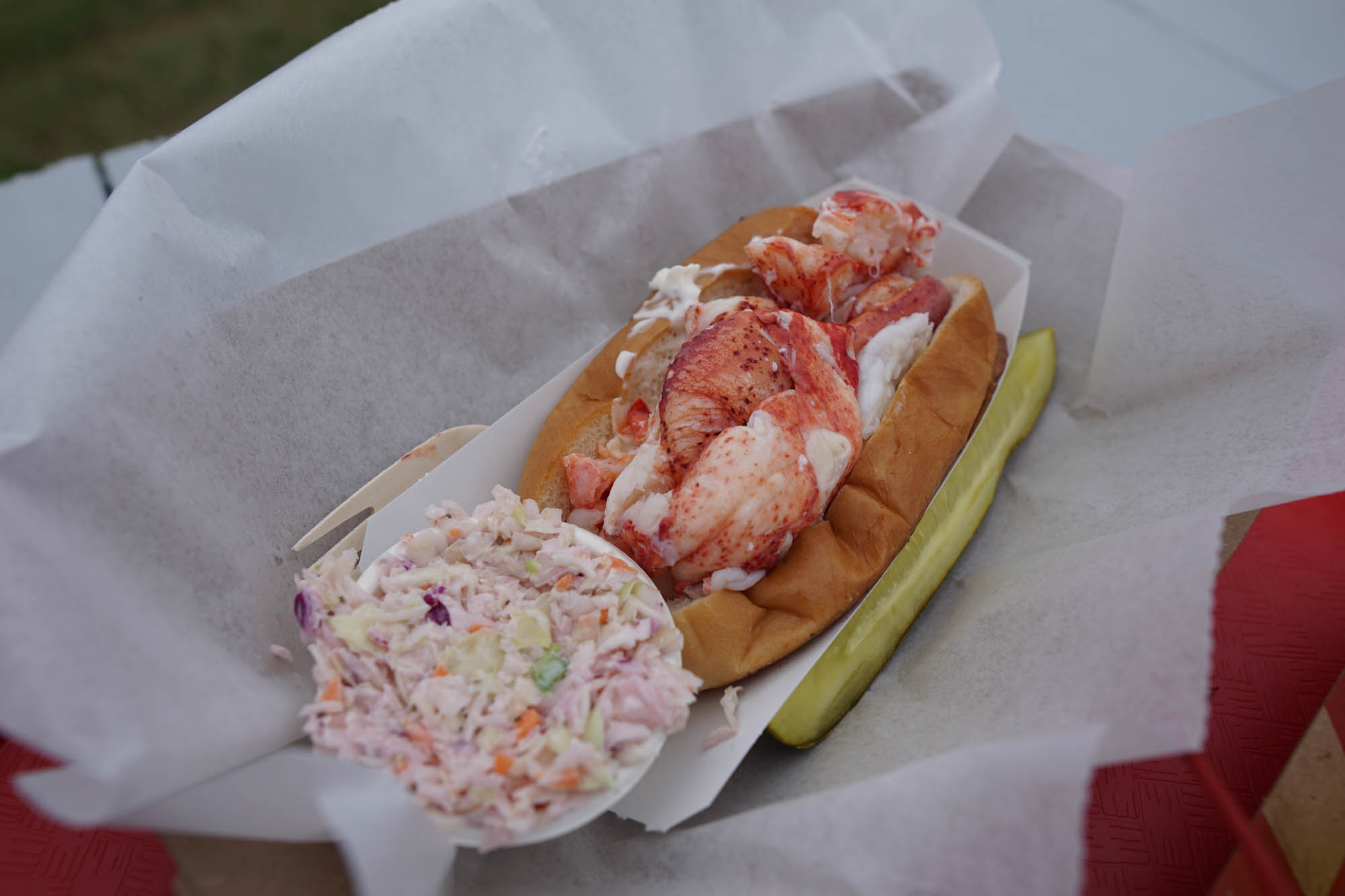 McLoons Lobster Shack is another lobster pound that requires a bit of effort to reach. This one is located near Owls Head Lighthouse in Thomaston and is a brief drive off of US-1 between Portland and Bar Harbor.
If you make the trek, you'll be rewarded with what is perhaps the most beautiful harbor view we had on our trip, perfectly cooked lobster, and massive rolls with the largest pieces of claw meat we've had, all for just about $20 (as of our visit, at least). The lobster roll was so good here that we almost went back and got a second even after having an entire 1 1/4 lb lobster, clams, and sides to go with this.
We were stuffed, but we really should've had another because we could!
McLoons Lobster Shack is located at 315 Island Road in Thomaston. Like other lobster pounds, McLoons only operates seasonally.
Do you have a favorite lobster roll in Maine? Comment below to share. When we go back we'll give it a try and may add it to this list!
Looking to rent an apartment during your travels around Maine? Click here to find a great stay!
About Jeremy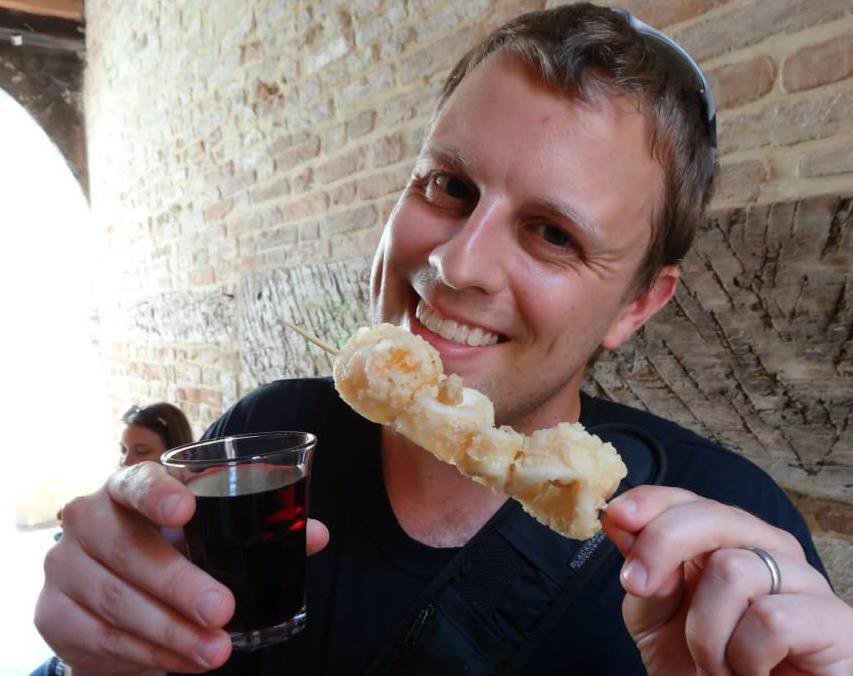 About the Author: Jeremy is a full-time travel writer based in Pittsburgh and primary author of this site. He has been to 70+ countries on five continents and seeks out new food, adventure activities, and off-the-beaten-path experiences wherever he travels.