Last Updated on February 3, 2023 by Angie
Disclaimers: Our site uses demographic data, email opt-ins, display advertising, and affiliate links. Please check out our Terms and Conditions for more information. Listed prices and attraction details may have changed since our visit and initial publication.
Salt & Steel in Bar Harbor, Maine, is a modern fine dining restaurant that utilizes local and seasonal ingredients to serve up delicious and creative plates.
Walking down Main St. in Bar Harbor on our first night in town, the spot immediately stood out to us as it looked new and was located inside an old house- from the outside it was absolutely adorable. After looking up the menu we decided to give it a try on our next night in town.
Salt & Steel Checks All the Right Notes in Bar Harbor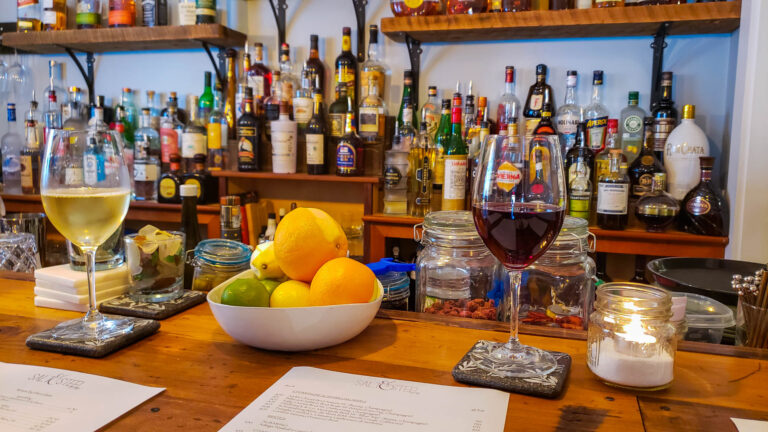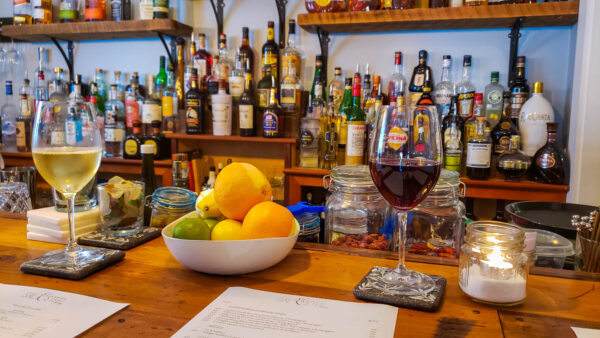 Although we weren't able to snag a reservation (Bar Harbor is quite a crazy place in the summer!), we were able to grab two seats at the bar. We ordered glasses of wine while we perused the menu which was split up into small plates (like clams, a cheese plate, a veloute, and more), pasta (like gnocchi and risotto), and large plates including pork belly, chicken, and halibut.
On our visit, there were no oysters on the menu which I was a little bummed about, but Jeremy reminded me that we'd had oysters every day for the past week and that we could probably take a break from them for one day. He was wrong, of course, but we did get over this one pretty quickly.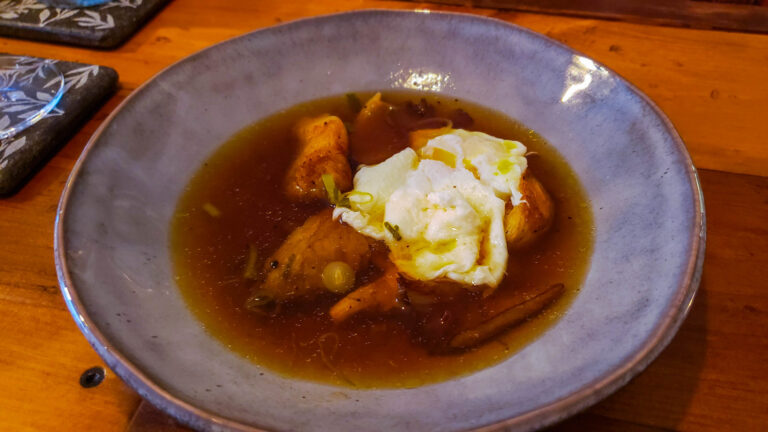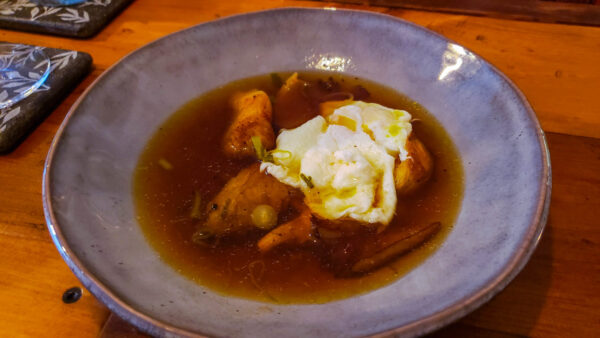 Looking at the small plates, we knew we had to start with the foraged mushrooms with chive oil, mushroom broth, poached egg, and fermented green garlic. The dish was rich and earthy with its super umami broth. A hint of pungent chive and garlic brought some balance.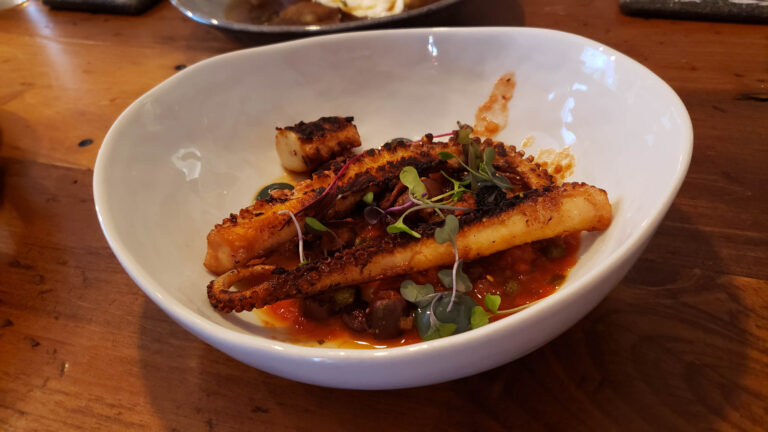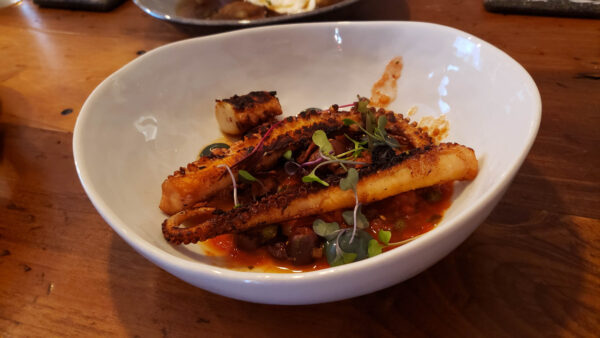 We also tried the octopus small plate with a puttanesca sauce. There was a beautiful char on the octopus which gave a good bite and flavor. The puttanesca had a poignant brininess from the capers and a hit of acid from tomatoes, which was all rounded out with some creaminess from a sesame aioli. We could have eaten several plates of this!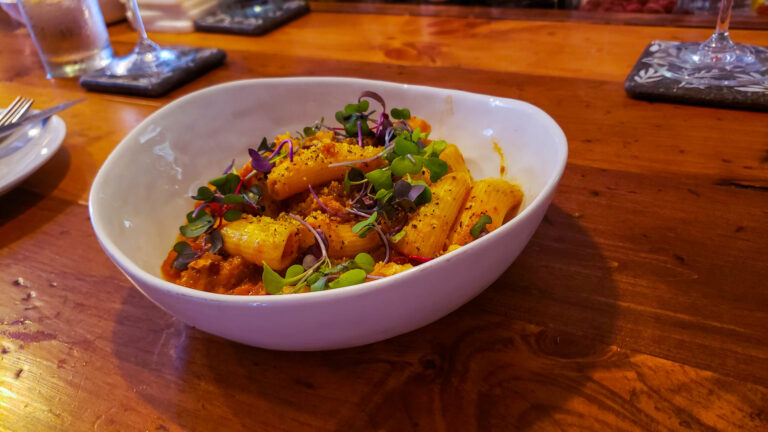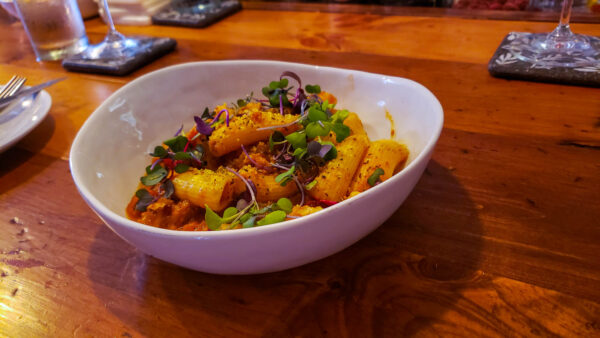 Next up was a pasta course – we tried the Maine hake bolognese which included rigatoni with a house-made hake sausage, tomatoes, and oregano. The pasta was cooked al dente, and the hearty flavors and textures of the bolognese tricked us into thinking it was made with meat. Simply delightful!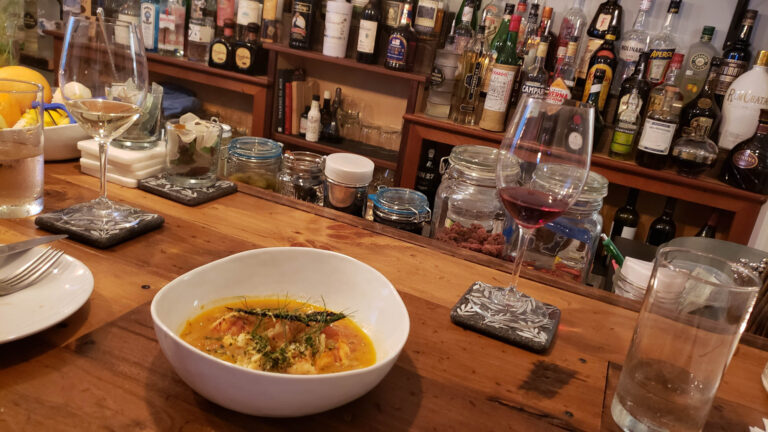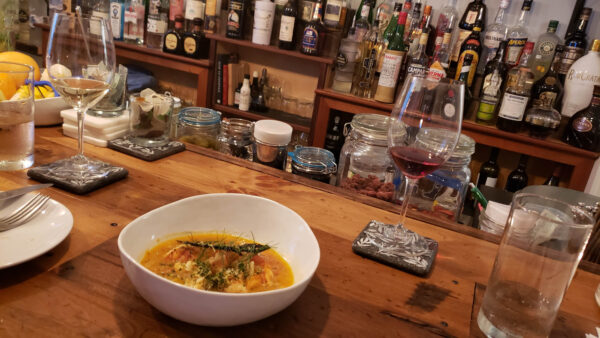 For our main course, we split the lobster cassoulet with beans, tomatoes, and lobster in a seafood-based stock. The flavor of the stock was absolutely on point, and it was punctuated with the bright flavors of parsley, garlic, and lemon from a gremolata. Although we could have used much more lobster meat in the dish, overall we absolutely loved the flavors here.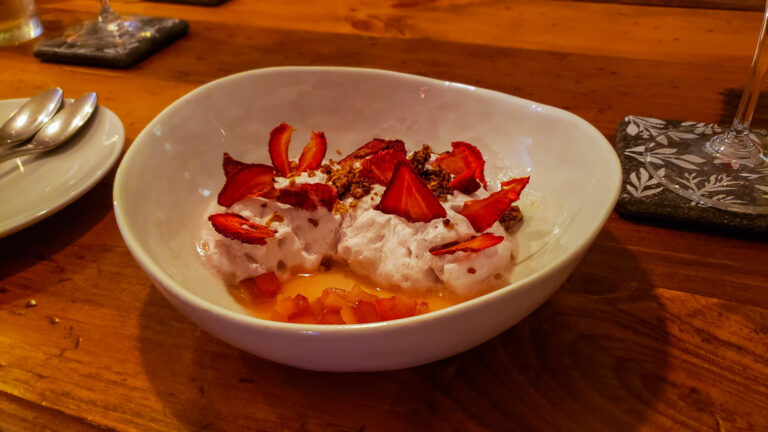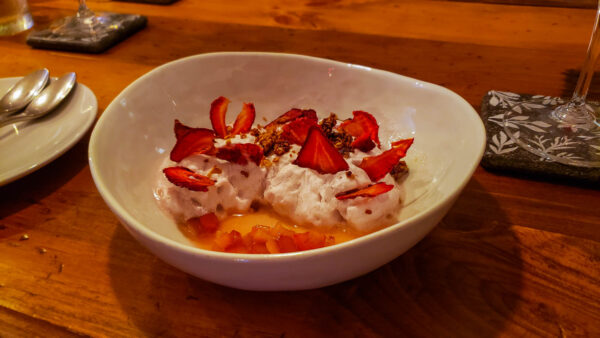 For dessert, we shared the strawberry and coconut mousse with crunchy streusel, light and airy mousse, crispy glazed rhubarb slices, and dehydrated strawberry slices. It was a refreshing end to a delightful meal!
Although Bar Harbor has its fair share of good restaurants, most of them are either old school seafood spots or pub-type places. Salt and Steel fills a niche for new fine dining in Bar Harbor, and it does so with finesse and creativity. We will definitely be back on our next visit!
Salt and Steel is located at 321 Main Street in Bar Harbor, Maine.
Looking for advice on Acadia National Park while you are in Bar Harbor? Check out our articles on our favorite Acadia hiking trails, the Carriage Trails, and a breakdown of how many days you need in Acadia outright!
About Angie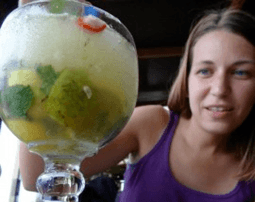 About the Author: Angie is a contributing author. She has been to nearly 60 countries and seeks out the best restaurants, bars, bakeries, and other unique food items wherever she goes- often with her husband, Jeremy.