Last Updated on January 24, 2022 by Jeremy
Disclaimers: Our site uses demographic data, email opt-ins, display advertising, and affiliate links. Please check out our Terms and Conditions for more information. Listed prices and attraction details may have changed since our visit and initial publication.
As I am a Marriott hotel credit card holder, I sometimes prioritize staying with this hotel chain as a means to rack up points and qualified stays to leverage them into future, grand vacations.
So when we saw that Marriott had a resort on the beach in Hilton Head Island (a truly prime location on the beach and perhaps the biggest property as well), we knew what we had to do. We snatched up a partial ocean view room and planned for a nice long weekend right on the water.
While we do think this one is a fair bit expensive for what you get (granted, everything is expensive in Hilton Head), if accessibility to the ocean is of utmost importance to you, the Mariott Hilton Head Resort & Spa will not let you down.
Marriott Hilton Head Amenities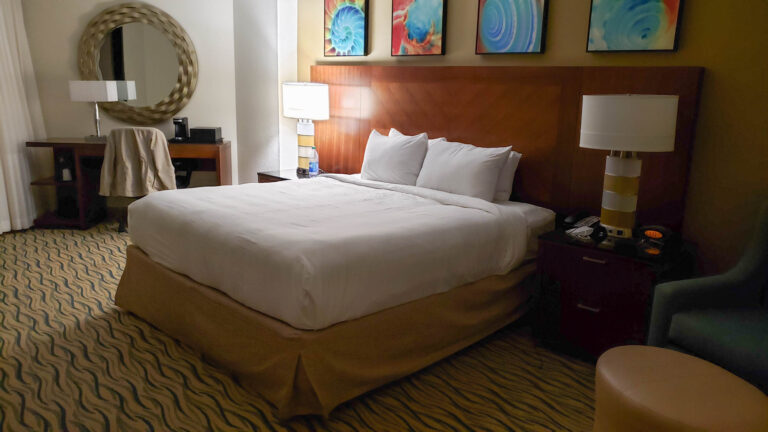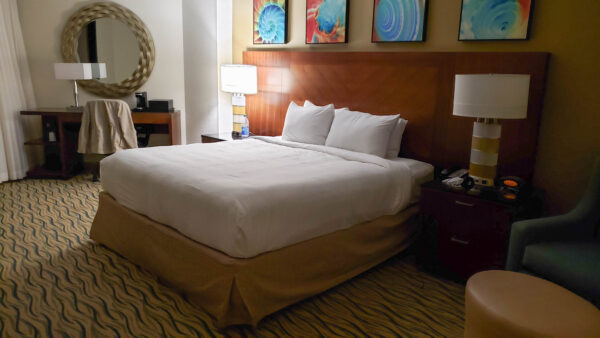 During our stay, we purchased a partial beach view room as a means to save a bit of money while still having some beach views. We knew this would be an expensive stay because of this, but if you want any sort of water views in Hilton Head you should be prepared to pay for it. Affordable waterfront accommodations (with views) are nearly impossible to come by.
So, let's get to it and first discuss the room!
Our king room with partial ocean view was spacious and had many conventional amenities you'd expect from a hotel chain such as Marriott. We quite enjoyed the comfortable bed, blackout curtains, and always appreciate having a mini-fridge, especially at a beach destination, to store some snacks during our stay. Apart from that, the only real standard of note was the size as the room was just a bit bigger than what you'd expect from a conventional hotel room.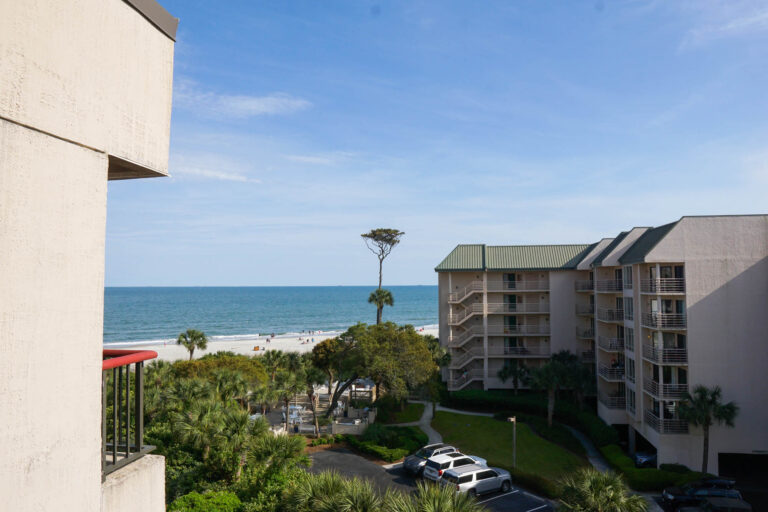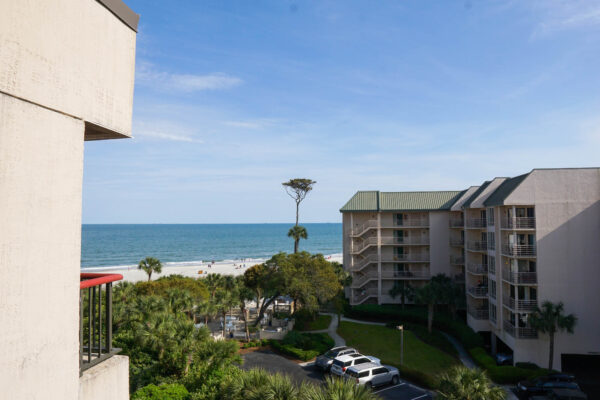 As far as the beach view is concerned, the partial view element here should be highlighted in every literal sense of the word. The reason for this is that the rooms labeled partial view are built into low-rise buildings that run perpendicular to the beach at an ever-so-slight angle (you'll notice this when looking back at the resort more than in our photos). The angle is prominent enough such that every room in these buildings can have a modest view of the beach, but the bulk of your view will likely be other rooms- especially if your room was further back like ours was.
So in the grand scheme of things, looking out from our room I'd say 40% of the view was the beach, and the rest other rooms as you can see from the photo above. Partial view indeed.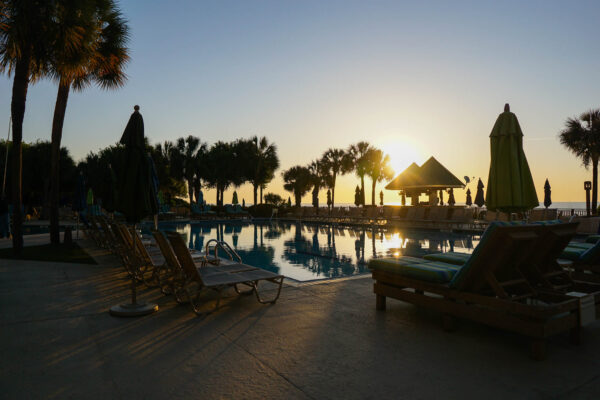 From here, the resort has a number of amenities including a gorgeous pool with cabana rentals, bike rentals, beach-side yoga select days of the week, an indoor pool, and a whole lot more. As a few of these came with a surcharge not included in the room rate (or even the resort fee, for that matter), we opted to skip them. But the hotel really is the kind of place where you can spend all your time without having to leave at all.
We, of course, went exploring and opted for this hotel primarily for the beach view and points all the same.
Are There Gold Status Perks at the Marriott Hilton Head?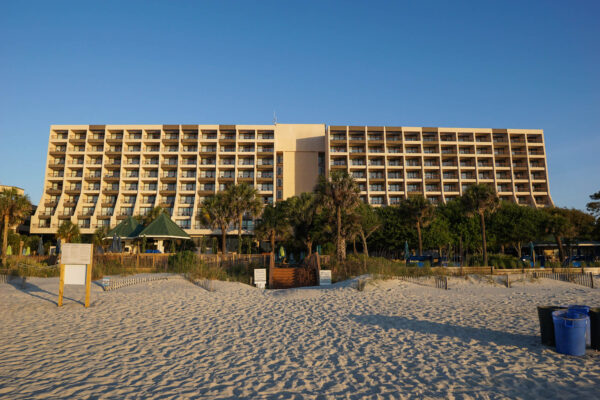 As a gold status holder, I have to admit I was a bit disappointed at the Mariott Hilton Head as there was seemingly no benefit for gold holders. We were not able to get an enhanced room upgrade and a request for a late checkout was only able to be accommodated for one hour (as opposed to what would've been three hours had the gold member perk been available).
This, in a way, makes sense. The hotel is incredibly popular and I would not be surprised if it was near or even at capacity during our stay. This likely holds true in most of the months from late spring through early fall, so if you are hoping for any extra perks that come with status here, we'd suggest tempering expectations. Many of these are simply far too tricky to accommodate when the hotel is as busy as it is.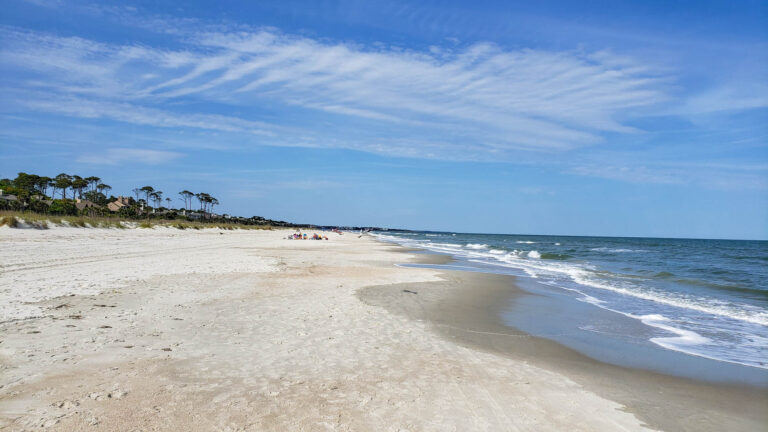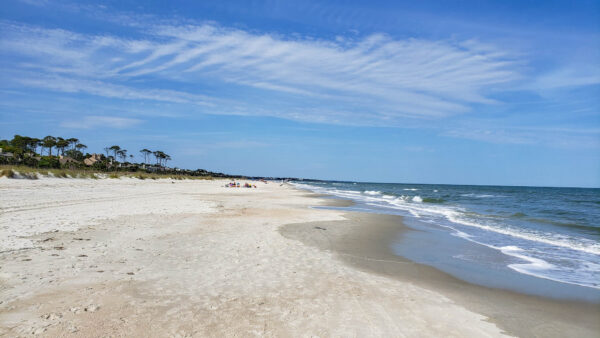 Overall, while the Marriott Hilton Head is indeed a nice hotel and one of the only true "resorts" right on the beach in Hilton Head (as far as we can tell, at least), it comes with a price attached. All-in our stay in a partial beach view room exceeded $400 per night inclusive of resort fees. So while Hilton Head island may have many options that may be more suitable for the budget-conscious, it is hard to put a price on a beach-front resort if that is what you seek.
At the Marriott Hilton Head, you'll get just that.
Marriott Hilton Head is located at One Hotel Circle in Hilton Head, SC.
Looking for things to do on Hilton Head? Check out the nature areas of Sea Pines Forest Preserve and Pinckney Island National Wildlife Refuge to break up your beach time a different kind of nature!
About Jeremy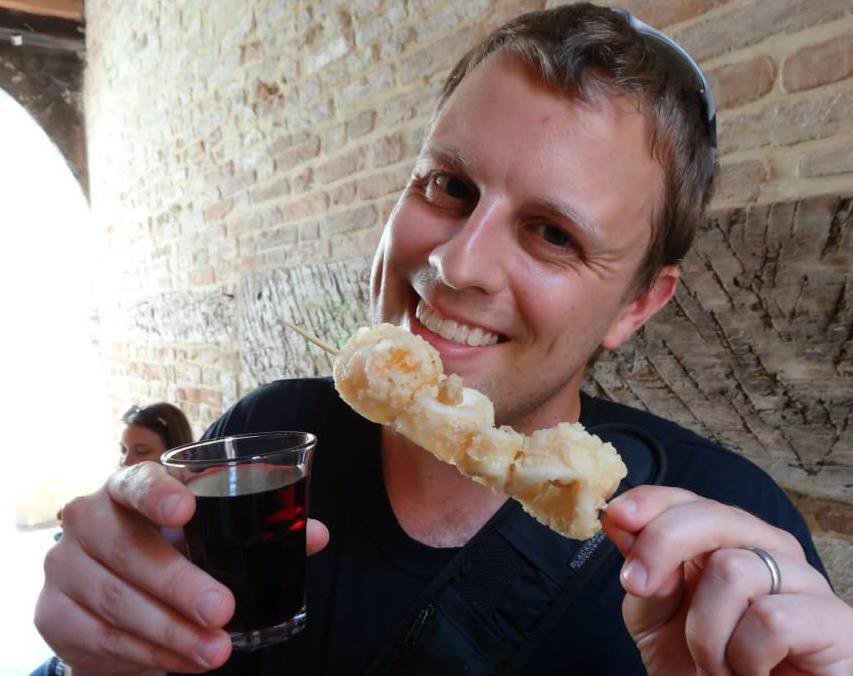 About the Author: Jeremy is a full-time travel writer based in Pittsburgh and primary author of this site. He has been to 70+ countries on five continents and seeks out new food, adventure activities, and off-the-beaten-path experiences wherever he travels.