Published by Jeremy. Last Updated on January 24, 2022.
Disclaimers: Our site uses demographic data, email opt-ins, display advertising, and affiliate links. Please check out our Terms and Conditions for more information. Listed prices and attraction details may have changed since our visit and initial publication.
Pinckney Island National Wildlife Refuge is a 4,053-acre park managed by the US Fish and Wildlife Service. It is a collection of salt marshes, forest, and tidal creeks on protected land located between Hilton Head Island and Bluffton, South Carolina.
In fact, prior to visiting Hilton Head I had no idea that this park was there, and only thought of stopping for a visit when heading out to Bluffton to explore more Hilton Head breweries. Naturally, as soon as I saw the sign calling out the national wildlife refuge, I knew I'd have to return for a visit.
And what a visit it was!
What You Can See at Pinckney Island Wildlife Refuge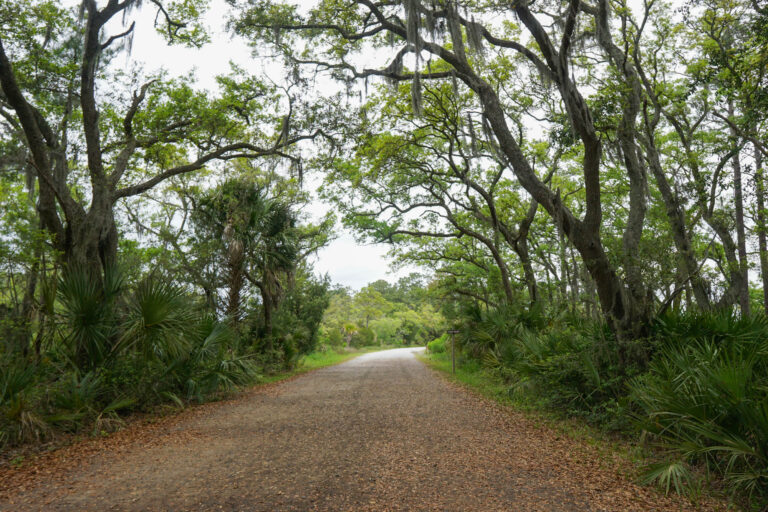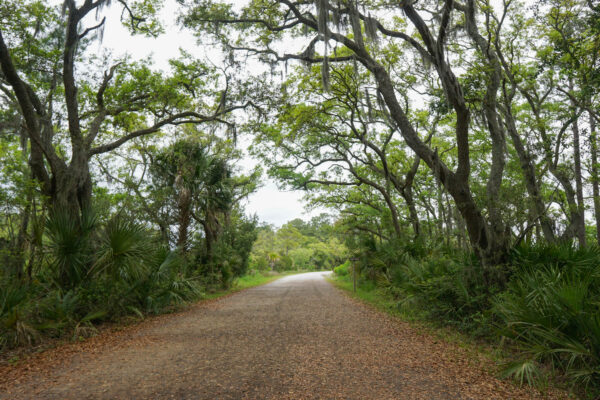 It doesn't take long after arriving at Pinckney Island to realize this place is special. You'll start seeing the beauty of this park within steps of the parking area (actually, the parking area is pretty gorgeous too), and as you get into the core of the park nature and animal viewing opportunities open up more.
So, what can you see? Well, the map actually is a bit of a giveaway here as some of the highlights are literally named. There is the Ibis Pond, Osprey Pond, and several viewing points at various tips of the island (and we saw many, many Ibis at the Ibis Pond). Along the way, you can see salt marshes and tidal creeks as well plus forested land.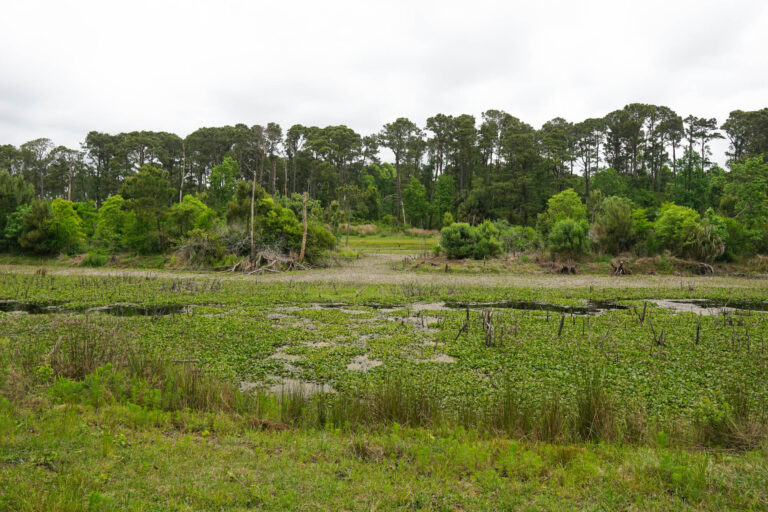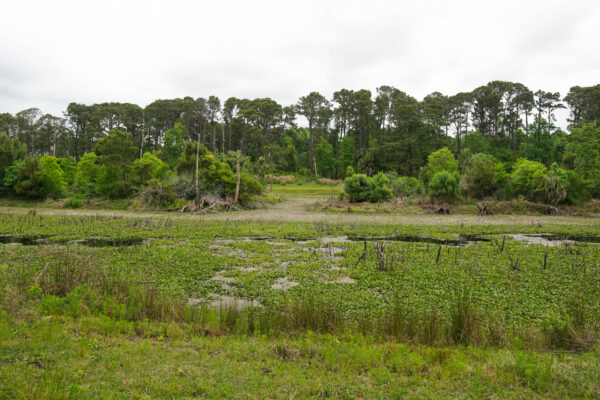 Animal viewing opportunities are, of course, not guaranteed, but we did see many small crabs at low tide as well as an alligator coming out to enjoy a mid-day rainstorm that we, unfortunately, got caught in during our hike. It was quite close to the trail but didn't seem to mind us at all.
Our photos here are a bit of a tease if only because I had a wide-angle lens on my camera and could not get some closer shots of the wildlife. In any case, odds are good you'll be bound to see several animals in addition to the natural scenery which makes this park a must-see for anyone who likes to get outdoors beyond the beach when visiting Hilton Head.
Hiking at Pinckney Island Wildlife Refuge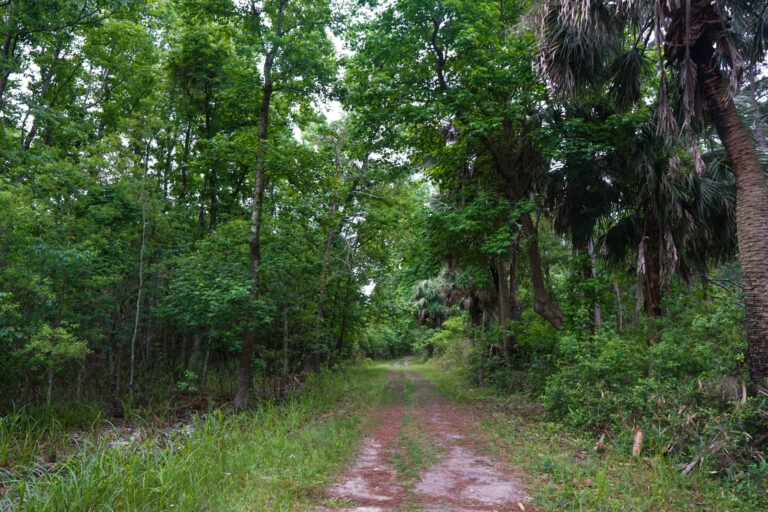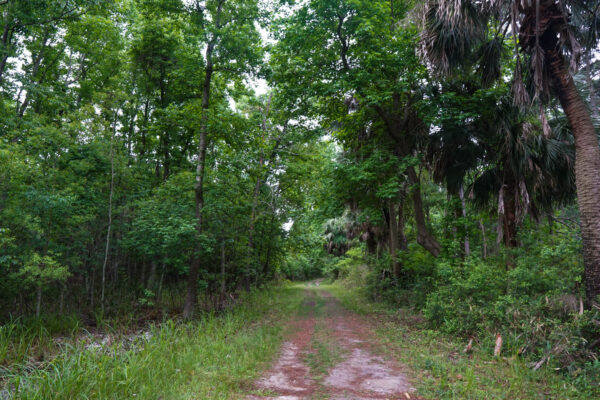 When it comes down to it, calling this park a place to hike may be a misnomer. The trails here are flat and well maintained, so exploring may be best described as a leisurely stroll over proper hiking. There is little grade or terrain change to speak of (at least in the sections we visited).
But there are a few important things you probably should note about this park when visiting.
First, the trails are a mix of dirt and gravel paths. If it had rained recently, odds are good you may encounter some mud. The trails are relatively smooth and we saw some runners on them, but some segments have larger rocks than others, so you'll do well to wear proper footwear for these conditions all the same.
Second, while there are some loop hikes available within the park, it is worth noting that these do not begin until after a one-mile walk from the parking area. It is a pretty hike in, we'll admit, but if you wish to see any highlights as shown on the map, keep in mind that you'll have a minimum of two miles walking just to get in and out of the park to see those. Everything else would require additional mileage on top of that.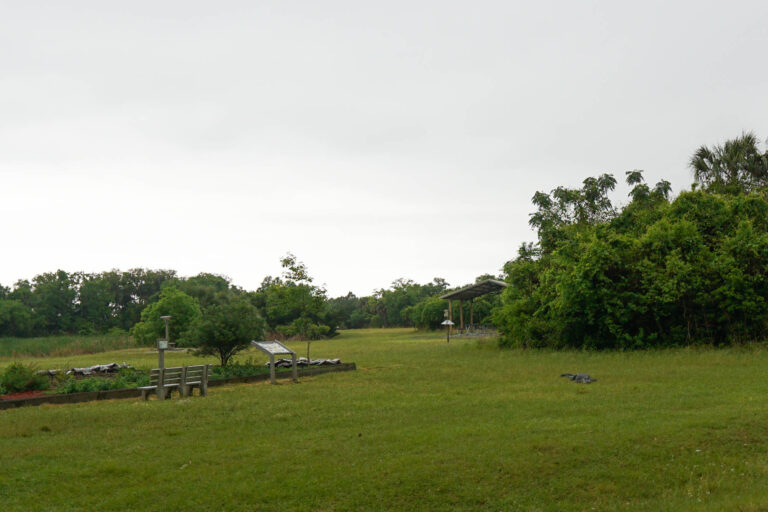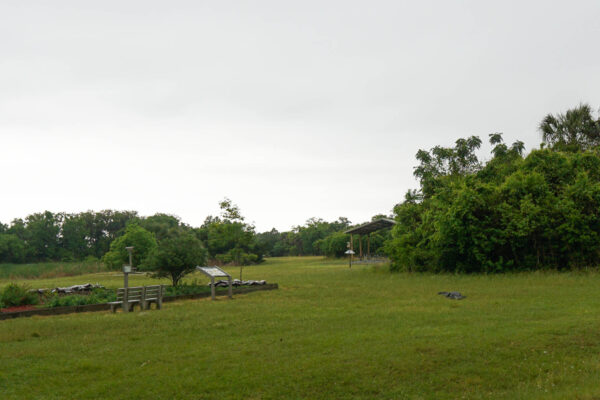 Skull Point in the south is easily 4+ miles round trip. White Point in the north is 8+ miles round trip (rough estimates). If you're looking to visit some of the ponds at the center of the park, plan for about 4-6 miles as well.
This is why we recommend planning for a half-day at Pinckney Island National Wildlife Refuge. To see any sort of "highlight" you will need to commit to 4-8 miles, and if you wish to do it all you could easily make it a 10+ mile day.
For most walkers, you can probably walk a short segment in a couple of hours, but you'll also need to allocate some time to stop and appreciate the scenery (plus read the signs found along the way). As such, a half-day is a good starting point for time allocation unless you have a bike to help cut down on the time.
No matter what you do, we highly recommend checking this park out as it was truly the highlight of our visit to Hilton Head.
Looking for more places to hike on Hilton Head? Check out Sea Pines Forest Preserve on the south end of the island! Or, if you want more things to do in Hilton Head, click the previous link!
Looking for somewhere to stay during your Hilton Head Island vacation? Check out the Marriott Resort & Spa where we stayed!
About Jeremy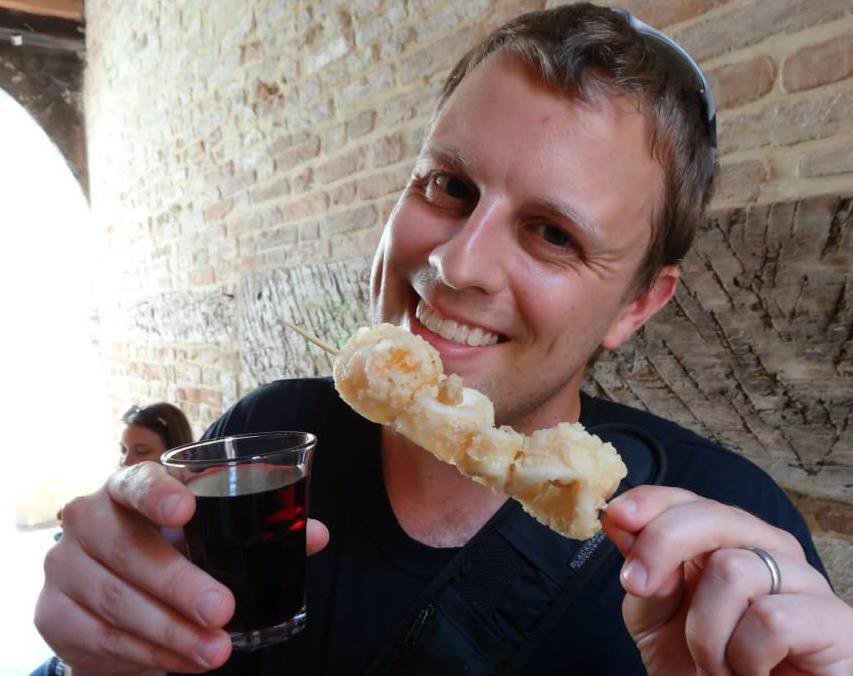 About the Author: Jeremy is a full-time travel writer based in Pittsburgh and primary author of this site. He has been to 70+ countries on five continents and seeks out new food, adventure activities, and off-the-beaten-path experiences wherever he travels.