Last Updated on July 29, 2020 by Angie
Disclaimers: Our site uses demographic data, email opt-ins, display advertising, and affiliate links. Please check out our Terms and Conditions for more information. Listed prices and attraction details may have changed since our visit and initial publication.
There's something special about being in the right place at the right time. On our recent trip to Puerto Rico, we were serendipitously in the right place at the right time on La Ruta del Lechon, an area in rural, mountainous Guavate known for its roadside restaurants that roast whole pigs.
Although these restaurants are open on weekdays, we had heard that weekends are really where it's at. On weekends the road is one giant street party with music and dancing, and it's so crowded that it's common for your car to get blocked in. Well, not only did we visit on a weekend, we visited on Christmas weekend.
Christmas day, specifically.
You see, eating lechon on Christmas is a Puerto Rican tradition and we were definitely in the right place at the right time.
Arrive Early for Christmas at La Ruta del Lechon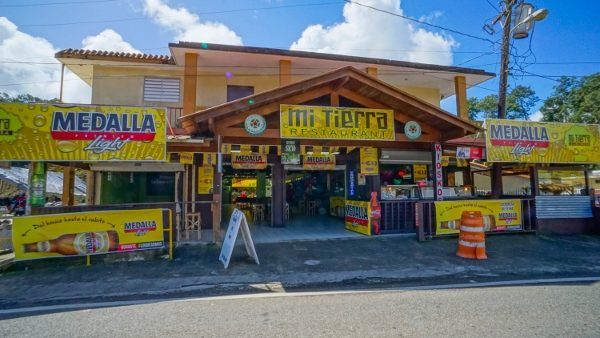 We arrived around 11am on Christmas morning (a Sunday) on a stretch of Route 184 which houses lechoneras Los Pinos, El Rancho Original, and Don Felo, just to name a few.
We easily got a parking spot (which cost a few bucks) behind one of the lechoneras, but there was already a good amount of traffic and lots of people milling about.
Lechonera Los Pinos is one of the most famous spots in this stretch, having garnered the attention of celebrities like Anthony Bourdain and Andrew Zimmern, so we headed straight for it.
Our excitement grew as we ogled the golden, glistening roasted pig displayed out front of the restaurant and noted that the slogan on their sign was something to the extent of "Where every day is Christmas."
We hopped in line and studied the menu board hanging from the ceiling.
Despite the menu being in both English and Spanish, we definitely felt a little intimidated as we were the only gringos within miles. Luckily we stumbled through the cafeteria-style ordering process with a mix of pointing, Spanish, and English.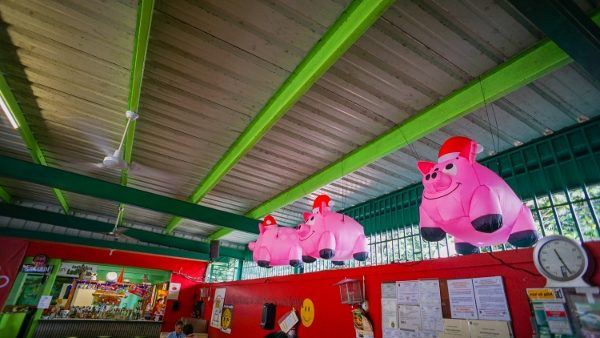 Besides, obviously, a massive plate of pork, we also ordered some arroz con gandules (humorously translated as rice with loafers on the menu board), some platanos maduros (sweet plantains), and some Medallas to wash it all down. We grabbed a seat and got to work.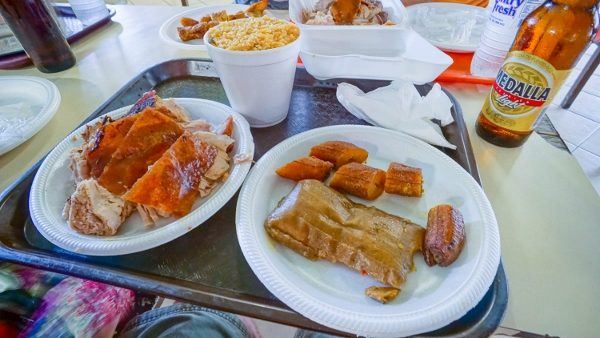 Was the pork everything we hoped it would be? In short, yes. We had lechon asado a few other times on the trip, and nothing compared to the pork we had here: supremely tender, moist, and smoky. And the skin- oh, the skin.
The skin was like stained glass: brittle, crunchy, porky, fatty, delicious. It was so good that we couldn't resist polishing off the entire massive plate.
Although the pork was what we came for, the sides were tasty, too. The rice was rich (pork fat?) with a nice seasoning, and the plantains were a good caramelized, sweet counterpoint to all the richness on the plate.
A Local Party in Puerto Rico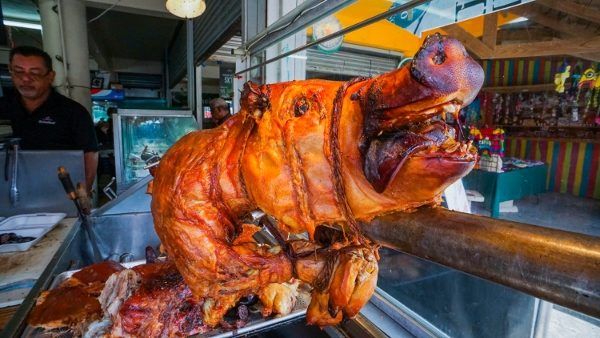 We were still the only gringos within miles, and we enjoyed watching Puerto Rican families sit down around the tables eating family style from mounded plates of pork. To them, it was just another Sunday on La Ruta del Lechon, but to us, it was a once in a lifetime experience.
After stuffing our faces, we walked up and down the road, which was starting to get quite busy with a huge lineup of cars vying for parking spots. We peeked into the little stalls between restaurants that sold random souvenirs like t-shirts, hot sauces, and knockoff purses.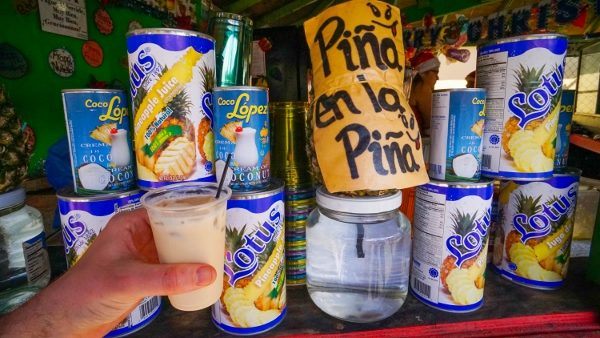 One of our favorite discoveries was a stall selling coquito, a coconut-rum beverage generally served around Christmastime in Puerto Rico.
Typically, coquito contains rum, coconut milk, sweetened condensed milk, and spices like cinnamon and vanilla, but we were surprised when we got to pick what kind of alcohol we wanted in ours.
We opted for both the traditional rum version as well as one made with Baileys. Both were very rich but sublime, and we giddily sipped on these while we continued making our way down the street.
The music and dancing started to pick up as we checked out the very pretty setting of lechonera El Rancho Original. A creek ran by the building, and a few covered areas with seating were built along side the creek amidst lush vegetation.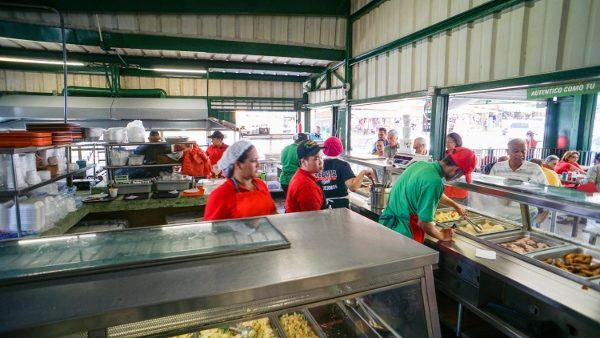 Although we would have loved to stay at La Ruta del Lechon all day, our stomachs were full and we had completed our mission, so we chose to get out while we still could.
If you love pork as much as we do, this is one Puerto Rican experience you won't want to miss- it's definitely something we'll remember forever!
Looking for more things to do in Puerto Rico? Take a short flight over to the island of Vieques to check out the Vieques Bioluminescent Bay or the gorgeous Vieques beaches which are some of the best in the world! Or, while you are in Old San Juan, try some Puerto Rican rum!
About Angie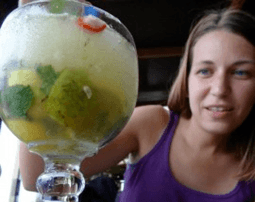 About the Author: Angie is a contributing author. She has been to nearly 60 countries and seeks out the best restaurants, bars, bakeries, and other unique food items wherever she goes- often with her husband, Jeremy.