Last Updated on February 7, 2023 by Jeremy
Disclaimers: Our site uses demographic data, email opt-ins, display advertising, and affiliate links. Please check out our Terms and Conditions for more information. Listed prices and attraction details may have changed since our visit and initial publication.
There are many Puerto Rican beaches to choose from during a visit to the island. But those who are looking for the very best should head over to territory's smaller island of Vieques as they are home to some of the region's best!
We'll be the first to admit that some of the Vieques Beaches are had to come by.
But don't worry, we checked them all out during our five-day visit, and after our exploration of the island we have come to the conclusion that these nine are the very best that cannot be missed.
So jump in your 4-wheel drive Jeep and hit these awesome beaches during your visit to Vieques. You won't regret it!
La Plata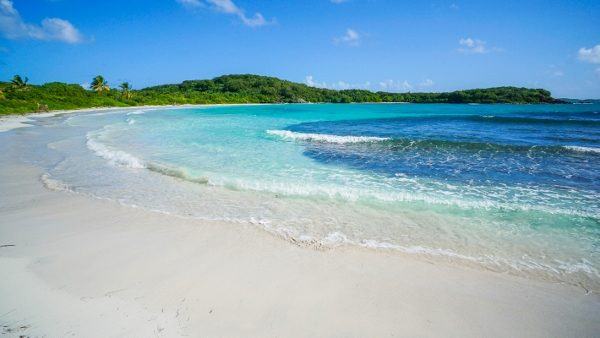 La Plata is the furthest beach from Esperanza along the southern coast, and follows a windy and bumpy gravel road to its shores. For those who are adventurous enough to make this journey with your Jeep, a breathtaking white-sand beach with minimal visitors will be your reward.
This beach has the perfect mix of white sand, clear waters, and calm waves which makes it an idyllic spot to spend a morning. Be sure to wade over to the nearby beach of La Platita to check out the rock stacks.
Wade a bit away from the shore to avoid some of the underwater rocks, though!
La Chiva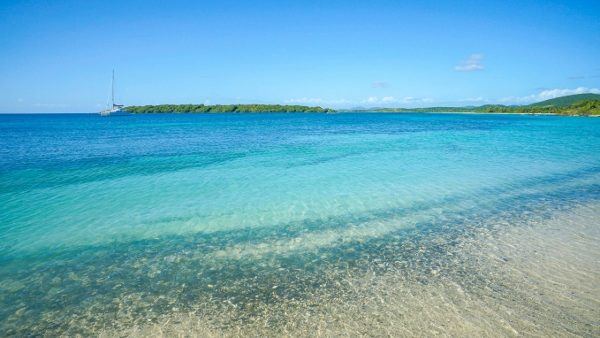 The beach of La Chiva is also known as the Blue Beach. Although this name is a bit meaningless in the official capacity, you will be blown away by the blue colors of the sea in this one as they are some of the most beautiful on the island!
This beach has two separate sections that are broken up by some boulders, with the higher parking coves accessing one (which had rougher waters during our visit) and the lower numbers hitting the second, much larger one (with calmer waters during our visit).
Be sure to walk west after parking in the lower spots as the beach is quite large and the crowds dissipate quite a bit once you get away from the parking areas!
Playa Negra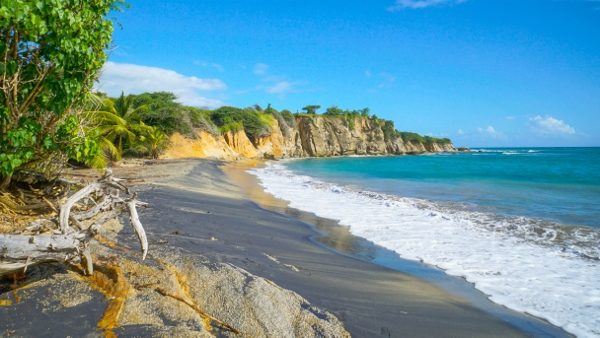 If you are looking to visit Vieques' black sand beach, Playa Negra, be prepared for a hike. This unique beach is located approximately 10-minutes off the main road through a windy and twisty trail in the jungle.
Once you reach the end, a stunning black sand beach will be your reward. The waves here can be a bit rough, meaning this one is not the best for swimming, but it is well worth the trek out for a brief walk along the shore all the same.
Pata Prieta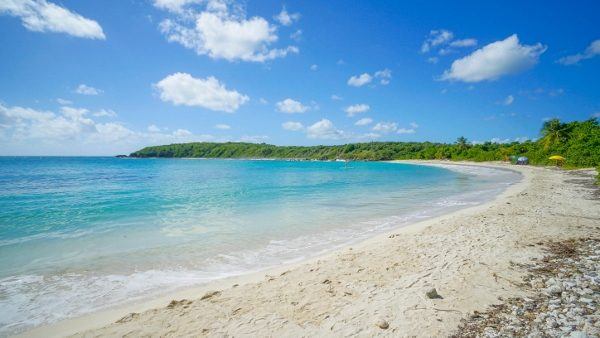 Out of all of the beaches featured in this guide, Pata Prieta is most certainly the smallest.
Located on the southern coast of the island amongst many of the other beaches featured in this guide, this beach is in a small cove that offers minimal waves, clear waters, and impeccable beauty. During our visit we found that this one feels more crowded due to its size, but the beauty more than makes up for it!
Media Luna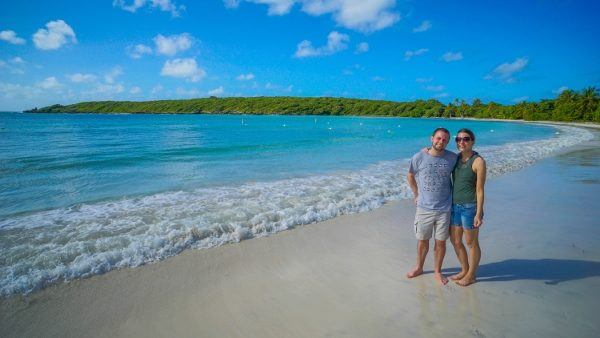 Out of all of the beaches we visited in Vieques, Media Luna is perhaps our favorite.
This beach has the gorgeous white sand of La Plata, the cove formation of Pata Prieta, and a beach size that is roughly in between the two- meaning it is very easy to spread out and not be near a single soul on the beach for a good part of the day.
Be sure to go out far into the water in this one (near where the buoys end) as the sand becomes exceptionally soft and is a sensation unlike any we've had anywhere else. You'll know it when you feel it.
Sun Bay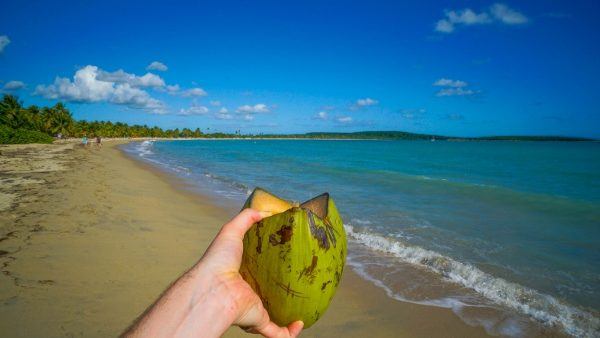 The large beach of Sun Bay is the second closest beach to Esperanza and is easily reached by walking along the coast or via a short drive to the public parking lot where many of the Vieques Bioluminescence Bay tours begin in the evening (click the previous link to read about our experience).
We recommend the walk as these two beaches connect via a short sandbar that makes for a rather iconic view you do not see often (be careful for broken glass on the beach closer to Esperanza, however).
Once you are on Sun Beach, the infrastructure and amenities are some of the best on the island. Be sure to buy a coconut from the local purveyor and get it filled up with rum for an added kick!
Caracas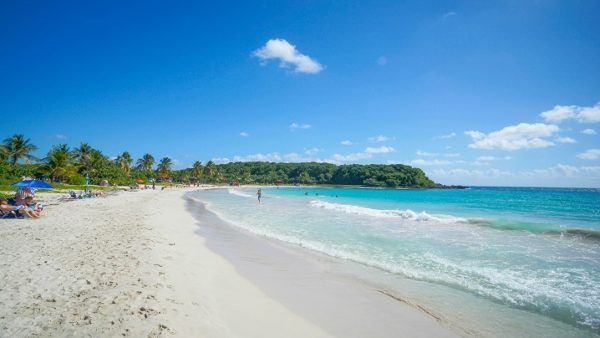 Caracas Beach is located a bit further from Esperanza, and offers a decent parking area with numerous shelters similar to Sun Bay. For those who like such amenities, this is one of only a few beaches outside of Sun Bay that has some infrastructure that is well worth a visit.
It is a bit smaller than Sun Bay, and a lot larger than some of the smaller coves, making it a good option for those who like a nice mid-sized beach that is bustling with visitors.
Punta Arenas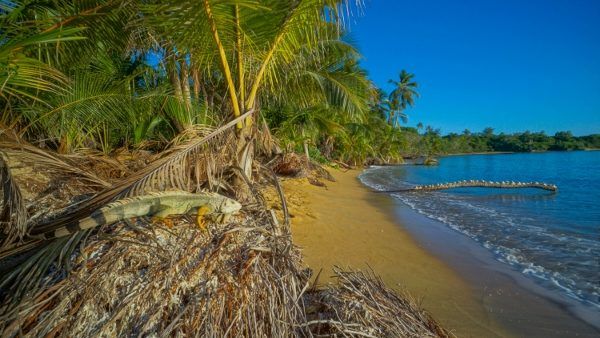 The beach of Punta Arenas is known as the green beach, but the only thing that is green here is the lush jungle that surrounds it on all sides.
The journey into this one is daunting in its own right, meaning only those with a sturdy 4-wheel drive should venture in, and the mosquitoes and bugs of the jungle may make you not want to stick around much long once you're there.
That being said, this beach is perfectly located for sunset and is still worth it for even the most brief of visits.
Playa Grande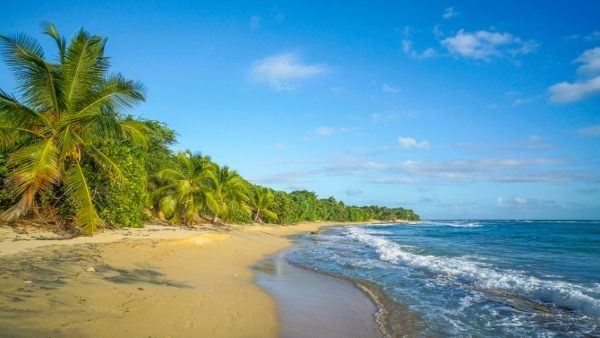 Playa Grande is the largest beach on Vieques, and for a tiny island such as Vieques, when we say large, we really mean it.
This beach goes on for what seems like miles upon miles, and is so long that you can keep on walking, and walking, and walking and will likely get tired before reaching the end.
Even with driving to the very end of the road, we only scratched the surface of this one due to its sheer size.
This is why we consider Playa Grande the best walking beach on Vieques, as the high waves and sometimes rocky ocean floor makes this one less desirable to swim in when compared to others on this list.
Overall, as a beach destination Vieques truly has something for everyone. Whether you want the infrastructure of a main public beach, to relax in a secluded cove, or to simply walk along some of the best Puerto Rican beaches, this island will not let you down. Just don't forget that Jeep rental!
Spending time in San Juan before or after your Vieques trip? Be sure to rent a car to visit La Ruta del Lechon– the road of pork! Or if you want to stay close, go Puerto Rican rum tasting!
Looking for a day tour in Vieques? Check out these great options on Viator!
For frequently asked questions about Vieques, check out the following!
Where is Vieques located?
Vieques is a small island in Puerto Rico just a couple of miles to the east of the territory's main island. Flights from San Juan take about 25 minutes and flights from Fajardo take only a few minutes.
Should I rent a car on Vieques?
Yes. Vieques is best enjoyed with a Jeep rental as some of the beaches are a bit hard to reach otherwise.
Where should I stay in Vieques?
As the island is small, there really is no bad place in Vieques. Most visitors stay near Vieques town (north) or Esperanza (south). We stayed near Esperanza and enjoyed it.
How many days do you need on Vieques?
Vieques can be enjoyed in three days, but you can extend your stay out for many days to spend more time on the island's beaches.
What else is there to do on Vieques beyond beaches?
Vieques is home to what is considered to be the most active bioluminescent bay in the world. Don't miss going out on a kayak at least once!
About Jeremy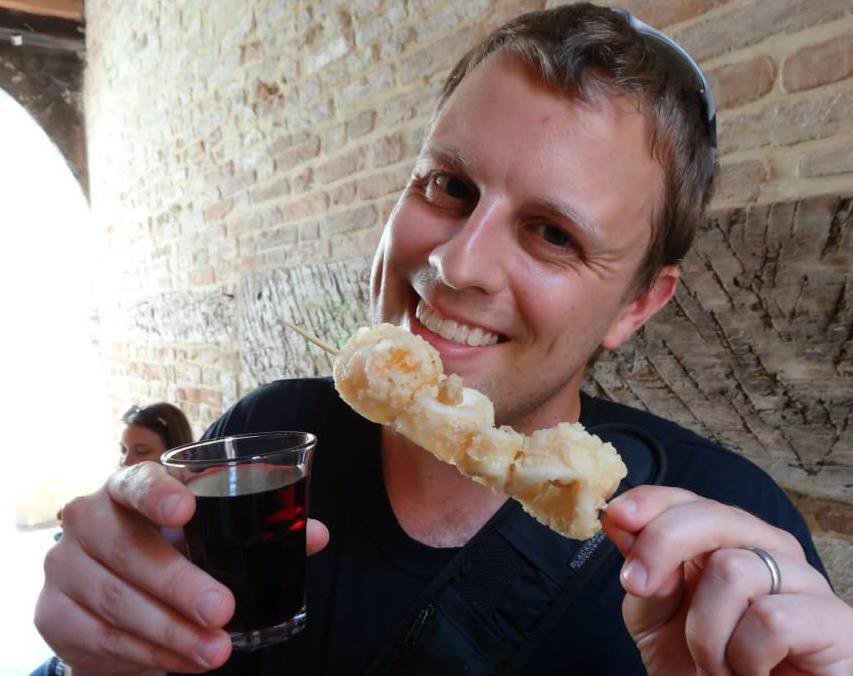 About the Author: Jeremy is a full-time travel writer based in Pittsburgh and primary author of this site. He has been to 70+ countries on five continents and seeks out new food, adventure activities, and off-the-beaten-path experiences wherever he travels.