Published by Jeremy. Last Updated on September 19, 2023.
Disclaimers: Our site uses demographic data, email opt-ins, display advertising, and affiliate links. Please check out our Terms and Conditions for more information. Listed prices and attraction details may have changed since our visit and initial publication.
I'm becoming quite the beer snob in recent years, and have made it a habit to visit as many breweries as possible when visiting a new city. Naturally, I subsequently publish brewery guides after the visits (like my Cincinnati breweries and Cleveland breweries articles to name a few), and plan on continuing this trend wherever possible.
I've visited Frederick, Maryland, a few times over the years and have been able to try several of the city's unique breweries. One thing jumped out at me from many of the ones that I visited in that they had large draft lists with an impressive variety of styles (something I can't say for beer scenes in other cities).
So if you find yourself in the area and are looking for a great beer, you may want to consider one of the following!
Idiom Brewing Co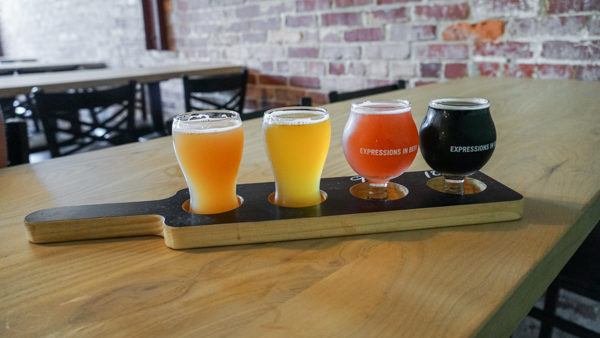 Idiom Brewing is my kind of place as they serve up a diverse draft list full of conventional and non-conventional brews alike.
During my visit, the draft list was skewed heavy to fruited beers with a Strawberry and Lactose Blonde, Blackberry and Lime Sour, Watermelon and Cucumber Gose, and more- perfect beers for a hot summer day. While I enjoyed the relatively strong fruited beers inside (I'm an air conditioning kind of person), the brewery features seating outside along Frederick's gorgeous creek walk as well!
Another aspect of the beers that I enjoyed here was that most clocked in at around 5-7%, including the Imperial Milk Stout, which offered enough of a boozy kick while also not overpowering many of the subtle flavors that come out in brews such as these.
Idiom Brewing Co is located at 340 E Patrick Street in Frederick, MD, right on the creek walk.
Attaboy Beer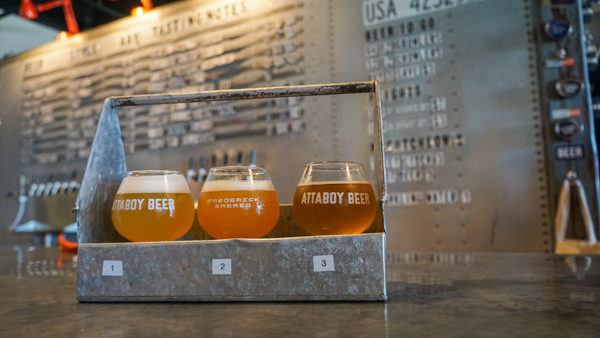 Located just a few blocks away from Idiom is Attaboy Beer (and just steps away from the creek walk as well!).
Attaboy follows in a similar fashion to Idiom but has a bit more of a conventional draft list which during my visit included a Biere de Garde, Pale Ale, a few IPAs, Grisette, and a fruited IPA. The Golden Strong was one of my favorites, and clicked in at a solid 8.7% ABV and offered a nice orange and honey flavor that we a bit on the subtle side. Likewise, the fruited IPA brought out a lot of delicious tropical notes thanks to its addition of guava and passion fruit.
My only regret at this one apart from the smaller draft list is that a flight only features three beers. But that just means you'll have to get two in order to try them all!
Attaboy Beer is located at 400 Sagner Avenue Suite 400 in Frederick, MD, just a block away from the creek walk.
Rockwell Brewery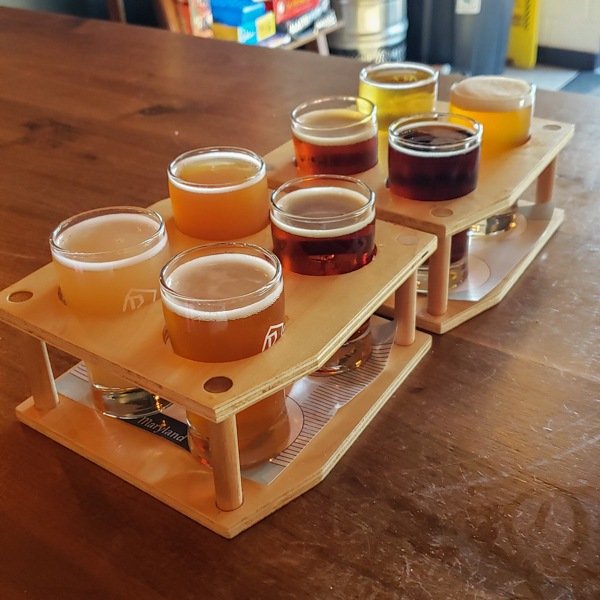 Rockwell Brewery is another place that has something for everything, with options ranging from the conventional milk stout or Irish red to more unusual radlers and shandies, double dry hopped IPAs, and fruited kettle sours- so if you have a group with varied beer tastes, this is the place to go.
But perhaps my favorite of all of them was the Belgian Quad- a super malty brew that clocks in at 12.7% ABV (but goes down like an 8%). The beer had some rather nuanced flavors including a nice caramel that came out while sipping as well. Perfect for a flight!
Rockwell Brewery is located at 880 N East Street Suite 201 in Frederick, MD, right next to Family Meal- a great restaurant I ate at during my visit!
Olde Mother Brewing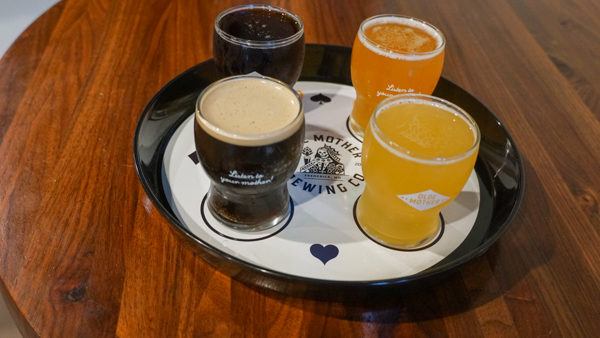 While the draft list at Olde Mother skewed towards IPAs during my visit, the IPA selection was quite varied with conventional New England IPAs, double IPA, sour double IPA, and more.
To be a bit different, I rounded out my IPA selections with the Nitro Cho Cho (a chocolate milk stout) and the Uptown Brown (a brown ale with notes of cinnamon and toasted coconut).
While I would simply say that the brews here are clean, conventional iterations of many of their styles, I do have to appreciate the large variety in IPAs from my visit as it does provide some great options for those who want to taste their way around different hop profiles in a single flight. I know what I'll be doing next time!
Olde Mother Brewing Co. is located at 526 N. Market St. in Frederick, MD.
Flying Dog Brewery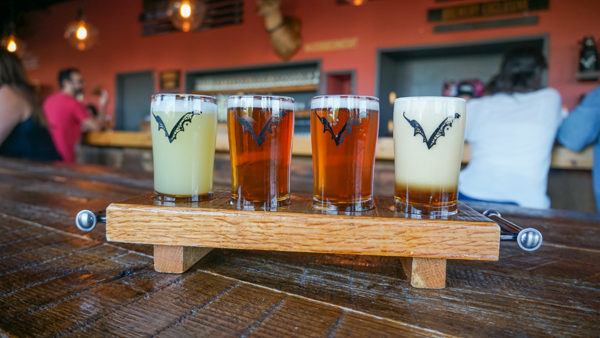 Finally, we come to what is perhaps the most famous brewery (at least, the one with the largest distribution) in Frederick- Flying Dog!
Flying Dog historically has not been my first choice of brews when I see craft beer on a shelf, but I was anxious to try this one out all the same when visiting Frederick. Like most huge breweries, they often contain brewery exclusive beer, and, naturally, that is what I was wanting to try.
My flight contained a Raw IPA (brewed without boiling, offering a fuller flavor profile), Tiki Leaks (a mai tai blonde), Fever Dream (an American IPA), and Double Dog IPA on Nitro (whose photo looks a bit absurd due to the bubbles- my bad).
To be honest, the Fever Dream and Double Dog IPA fell a bit flat, roughly in line with my experience with this brewery. But the Raw IPA and Tiki Leaks offered some rather amazing flavor profiles that I can't say I've had at any brewery, anywhere. And of those, the Tiki Leaks was one of those beers I wish I could drink all day, and only regret arriving two minutes before last call (my mistake) such that I couldn't get an extra pint to enjoy while there.
Finger's crossed it'll be available next time or, more importantly, will be distributed!
Flying Dog Brewery is located at 4607 Wedgewood Blvd in Frederick, MD.
There are certainly more breweries in Frederick, Maryland, worth checking out, and next time I make it out that way I'll be sure to visit some more and update this guide accordingly!
My visit to Frederick was hosted in part by Visit Frederick; however, I visited several of the breweries featured in this guide on my own. As always, all opinions are my own.
Looking for more things to do in Frederick? Check out the treetops course TreeTrekkers Frederick or the National Museum of Civil War Medicine!
About Jeremy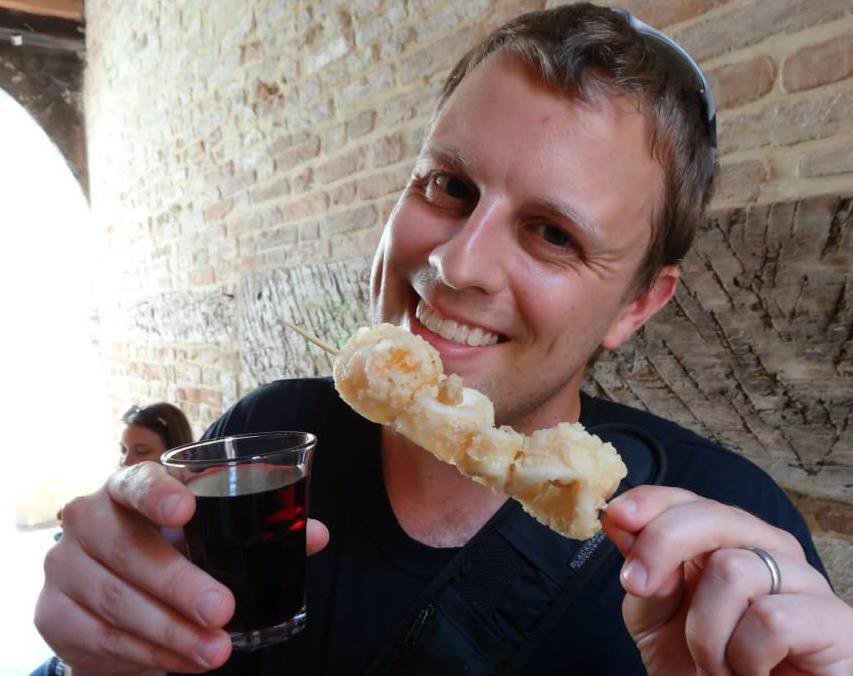 About the Author: Jeremy is a full-time travel writer based in Pittsburgh and primary author of this site. He has been to 70+ countries on five continents and seeks out new food, adventure activities, and off-the-beaten-path experiences wherever he travels.