Published by Jeremy. Last Updated on February 24, 2023.
Disclaimers: Our site uses demographic data, email opt-ins, display advertising, and affiliate links. Please check out our Terms and Conditions for more information. Listed prices and attraction details may have changed since our visit and initial publication.
When we travel, especially in the USA, we love to explore a city via its breweries. When we are able to return many times over to hit them all, even better.
We've been to well over 50 breweries in Pittsburgh (our home), 10 breweries in Cincinnati, and, since we live quite close to Cleveland, have decided to try and visit all of the city's top breweries during our frequent visits as well!
As such, this post is a summary of all of the breweries we've visited to-date, what we like (or dislike) about each, and why you may want to visit for a beer.
So if you're looking for recommendations of breweries in Cleveland, this one is for you!
The BottleHouse Brewery and Meadery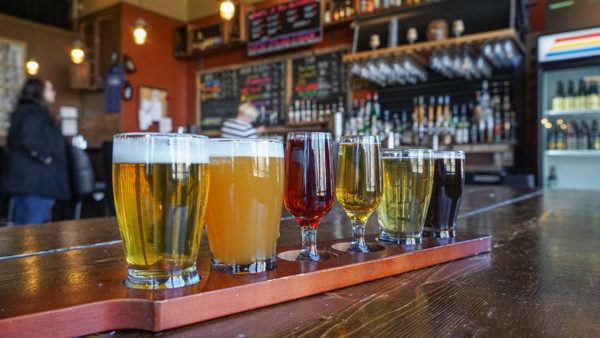 The BottleHouse is an interesting brewery as the facility also makes sour beers, meads, and ciders. In fact, it would be fairly safe to say that the draft list during our first visit was almost evenly split between the alcohol types which is something we can appreciate.
Naturally, we had to try a flight and opted for a bit of everything
For the beers, we tried Fox Devil Wild (a rather light Belgian Tripel despite being 9%), Erie Coast (a hazy IPA that was refreshing but could've used a bit more hop punch), and the En Foret sour (a wild ale made with pear and honey that had a really strong punch of the added flavors and the wild sour).
The ciders were among our favorites, and we sampled the Concerto (a delightfully fruity cider made with red plums) and the Aria (a crisp goldrush cider that we could drink all day).
The meads, on the other hand, were a bit too sweet to fit with the flight. The Wanderer (including maple syrup and spices) and Ritual (aged in Syrah French oak barrels) were good, but likely should be something enjoyed on their own as to not clash with other strong flavors of cider or wild beer.
Overall, we're big fans of the variety here and look forward to returning!
The BottleHouse Brewery and Meadery has two locations, one on the west side and one of the east side of Cleveland. We visited the Cleveland Heights location at 2050 Lee Road.
Boss Dog Brewing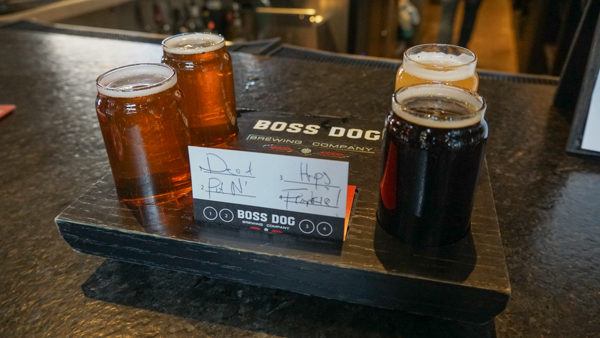 Boss Dog Brewing is located just down the road from BottleHouse in Cleveland Heights and makes for a great one-two combo if looking to brewery hop.
The beer styles here are much more conventional, and during our visit we sampled four in a flight. These were the Dead Man's Double IPA, the Millennial Hipster (a hazy IPA), Put-N-Berry (a fruit beer with berry notes), and Frankie Short and Stout (an oatmeal coffee stout made with Phoenix Coffee beans).
While the two IPAs were fairly conventional in their flavor, the Put-N-Berry and the Frankie Short and Stout offered some really interesting flavors of fruit and coffee respectively. So for this particular spot, we definitely would be on the lookout for unique creations such as these, as they were a notch above the rest.
Boss Dog Brewing is located at 2179 Lee Road in Cleveland Heights.
Jolly Scholar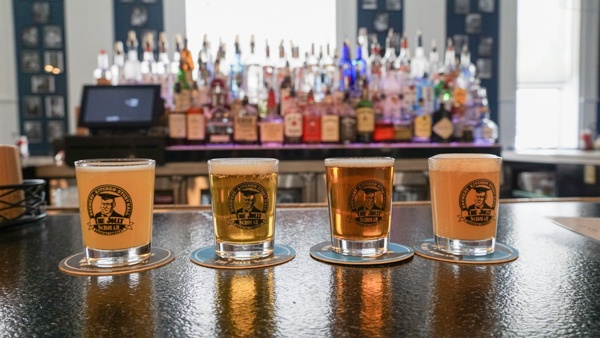 The Jolly Scholar is an interesting brewery as it is quite literally located inside Case Western Reserve University's campus. (If only we were all so lucky in our school days!)
In being on a college campus, getting to this one is a bit odd as I ended up walking through a common area of the Thwing Center where numerous college kids were studying in order to get to the brewery. But once you are inside it feels like a rather nice gastropub with approximately 15 beers on tap. And, as I visited on a Tuesday afternoon, there was not a college student in sight- win!
During my visit, I ended up sampling five beers- the Tyndall Effect (a New England IPA), the Salted Caramel Coffee Porter, Dew of the Universe (a 10% Triple IPA), O'Peaches (a fruit ale), and the Shake Shifter (a Milkshake IPA).
The beers here were all fairly clean iterations for their respective styles, if only perhaps a bit light on the strong flavors you would come to expect overall. My favorite of the bunch was the Salted Caramel Coffee Porter as it had a bit more robust flavor profile that lingered a fair bit.
Still, the beers here were all decent, and if you find yourself on Case Western's campus soon (perhaps while visiting the art museum nearby), you really should stop here for a pint or flight.
is located on Case Western's Campus inside the Thwing Center at 11111 Euclid Avenue.
Goldhorn Brewery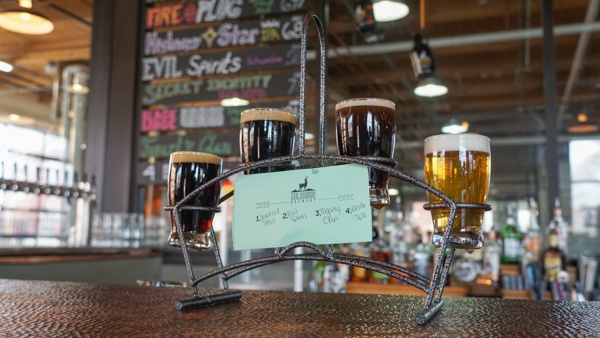 Goldhorn Brewery is located in Cleveland's east side and occupies a deceptively large space (Hub 55 complex). The brewery offers a lot of visual imagery from the Slovenian legends about the goldhorn, with many stories and images painted on the walls.
The brewery has about 10 beers on tap with some European favorites like Kolsh and Schwarzbier to name a few.
During my visit I tried a flight of four- the Imperial Stout (a 10+% Imperial Stout), Evil Spirits (a dark lager from Germany), Fogarty Clan (a dry Irish stout), and the White IPA (a hopped Belgian Witbier). The latter was definitely among my favorites as it is rare to come across a hop-forward witbier, and had a rather unique flavor profile!
Goldhorn Brewery is located at 1361 E 55th Street on the east side of Cleveland.
Noble Beast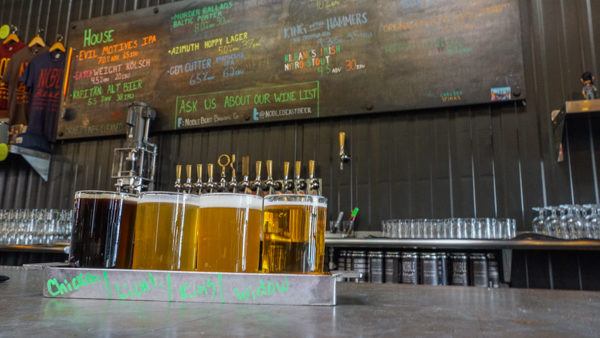 When we first read Noble Beast's beer menu, it read like what you would expect from a higher-end brewery. Namely, about nine beers on tap, a good assortment of creations from conventional IPAs to more unusual brews like a Lichtenhainer (a low ABV German that is the definition of easy drinking) or Chick'n Waffles Imperial Stout (a milk stout with hot sauce and maple and aged in bourbon barrels that hit 12.1% ABV).
Naturally, when it comes to the latter, I was intrigued.
In addition to the Licthenhainer and the Chick'n Waffles stout, my flight was rounded out with The Widowmaker (a 10% Belgian Tripel) and King of the Hammers (a 9.3% Triple IPA).
Just to get it out of the way, the Chick'n Waffles was unbearably bad, and that is a description I do not normally use for any beer. The flavor combinations simply did not work for me and could've done without any hot element at all and still been branded the same.
Ignoring that one, the three other brews were quite clean and easy drinking, despite the fact that two were 9-10%. I'm quite okay with that!
Noble Beast is located at 1470 Lakeside Avenue in downtown Cleveland.
Masthead Brewing Co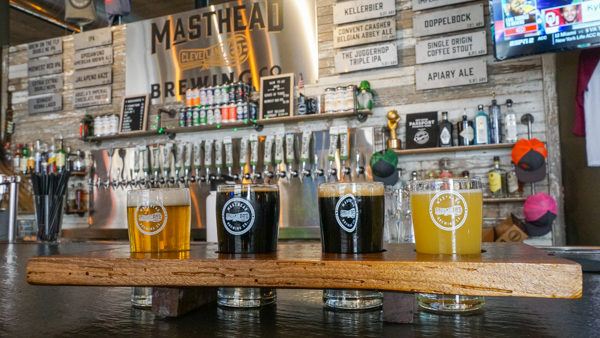 Located just a few blocks away from Noble Beast is Masthead Brewing, a massive brewery located in the heart of downtown Cleveland.
This one is among the largest breweries I've visited to-date in Cleveland and has a comparable draft list of 20 beers to go along with it. Beers were as conventional as a lager to more unusual options like an Apiary Ale made with honey or a Jalapeno Hazy New England IPA. Suffice it to say, if they don't have a beer for you, odds are good you don't like craft beer.
Continuing my trend of ordering flights, I opted for four- the Bourbon Barrel Aged Abuelas Chocolate Porter (12.5% ABV), the Single Origin Coffee Stout, the Extra! Extra! New England IPA, and the Brute Force Double IPA.
I don't want to particularly highlight any one beer here because, to be honest, they were all excellent. This is one of those places that I wish I could work my way down a single beer style (such as New England IPAs or Imperial stouts) and appreciate the nuance of the flavors that are available.
But, as I was hitting a number of breweries in a single day, I had to limit myself to this delightful sample.
Masthead Brewing is located at 1261 Superior Avenue in downtown Cleveland.
Bookhouse Brewing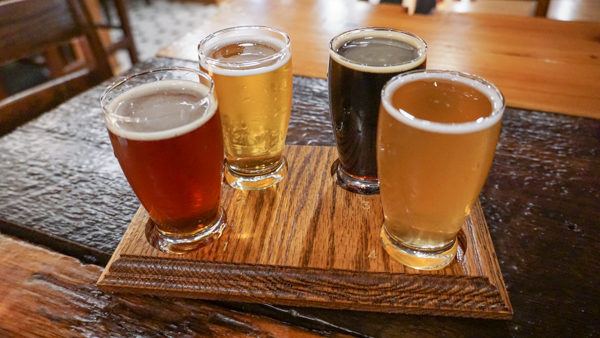 We stumbled upon Bookhouse Brewing by accident after leaving Ohio City Galley just one block away (sister restaurant of Smallman Galley and Federal Galley– two of our favorite restaurant incubators that started in Pittsburgh and are now expanding all over the country). Not being ones to say no to a brewery, we had to pop in to check it out and enjoy a flight.
The ambiance of this one is what jumped out to us first. It is more reminiscent of a coffee shop or, I suppose more appropriately, a book store. It is one of those places you want to sit back and relax in for quite some time, and having a beer on hand is never a bad thing in situations such as these.
During our first visit, we tried four beers- Reasons to be Cheerful (12.5% Belgian Quad), Rivers of Memories (a sweet Imperial Milk Stout), the Bookhouse Cider, and Three out of Five (a sour Gose). These were all solid and clean iterations of their styles, with the Belgian and milk stout standing out as being two rather delicious iterations.
The brews don't stray too far from the mold of their styles, but when it comes to delicious brews, doing the classics right is all we need.
Bookhouse Brewing is located 1526 W 25th Street in Ohio City.
Saucy Brew Works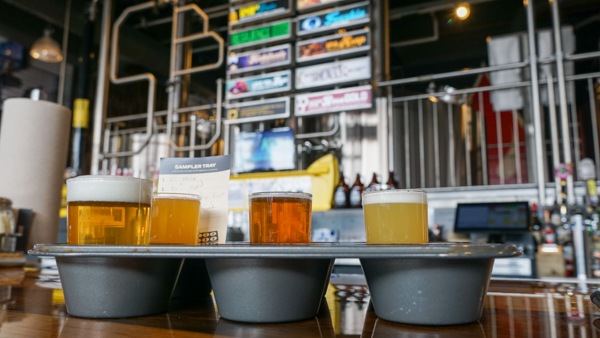 Just a few blocks away from Bookhouse is Saucy Brew Works, a brewery that took me completely by surprise.
During my visit, I sampled a flight of four, including the B.F. Hefe (their Bavarian hefeweizen), b3 (a French-style Biere de Garde aged in wine barrels), Forgot the Kiwis (a tropical IPA), and Born of Oak (a barrel fermented French Saison).
These beers offered some really robust and complex flavors, and in the case of the b3 and the Forgot the Kiwis, are helping push new flavor profiles in beers which we can always appreciate. In fact, the entire menu reads like a list we really want to drink, and my only regret was that I was unable to sample more in my first visit.
This brewery also has a rather robust food menu, with a large pizza option, that I look forward to trying on a return stop as well!
Saucy Brew Works is located at 2734 Detroit Avenue in Cleveland.
Great Lakes Brewing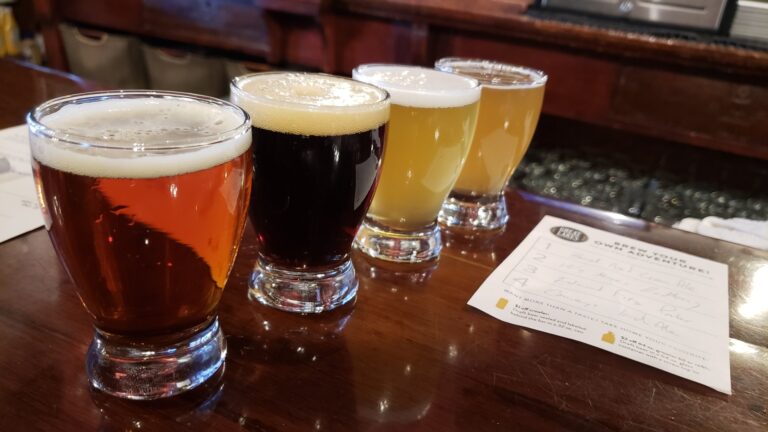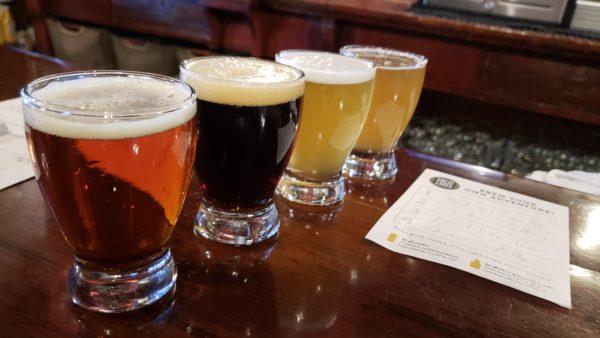 Great Lakes Brewing is the original Cleveland microbrewery and is located just across the street from the famous West Side Market. The brewery is housed in a stunning facility with an even more impressive basement bar that really deserves to be seen.
But this is where my compliments of the brewery end as many of their beers are simply behind the times.
I am certain that when this one was founded in 1988 their beers were leaps and bounds better than any others out there, but now, 30+ years later, the new breweries are quickly outpacing them for complex flavor profiles and mastery of beer styles.
In fact, I'll be honest in saying was not a fan of any beer in my flight that I left most of them partially full. A rarity for me.
If you are not a craft beer fan and are looking for something a bit different than the major domestic manufacturers, Great Lakes is likely to please as being a step above. But if you are into the craft beer scene this one will likely fall flat on most accounts (except for, perhaps, a unique one-off pending on the draft list when you visit).
Great Lakes Brewing is located at 2516 Market Avenue.
Market Garden Brewery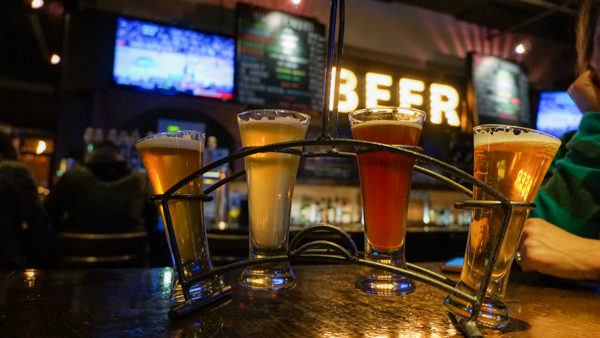 Located just down the road from Great Lakes is Market Garden, another massive brewery known for its regional can distribution.
In a way, I would describe this brewery comparable to Great Lakes, but more enjoyable to our palates. While it was founded much more recently (2011), many of their beers are approaching craft iterations of conventional beer styles.
The biggest difference, in our opinion at least, is that Market Garden Brewery is also reaching out into more unconventional beer territory with gems like a Cabernet Barrel Aged Belgian Quad (coming in at 15.5% ABV), a Lime Wit with Tangerine, and some surprisingly delicious IPAs.
While we weren't supposed to get the Quad in a flight, our bartender made an exception and served it anyway. Suffice it to say, it was one of the best beers we had in our entire visit. Shame we couldn't drink any more of it!
Market Garden Brewery is located at 1947 W 25th Street in Cleveland.
More Cleveland Breweries Coming Soon!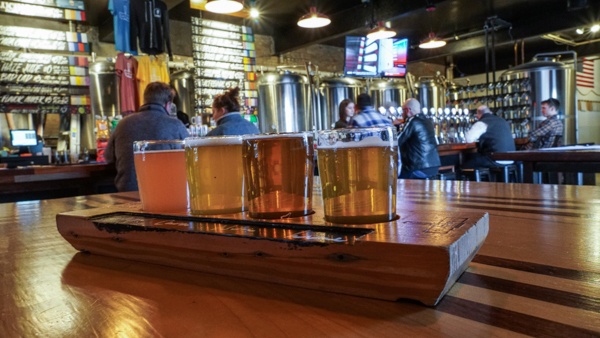 Are we missing your favorite brewery? Don't worry, we'll be coming back to Cleveland soon in order to try some more. Comment below to let us know about it and check back to see our thoughts after we visit!
For more things to do in Cleveland, check out our friends at The Cleveland Traveler!
About Jeremy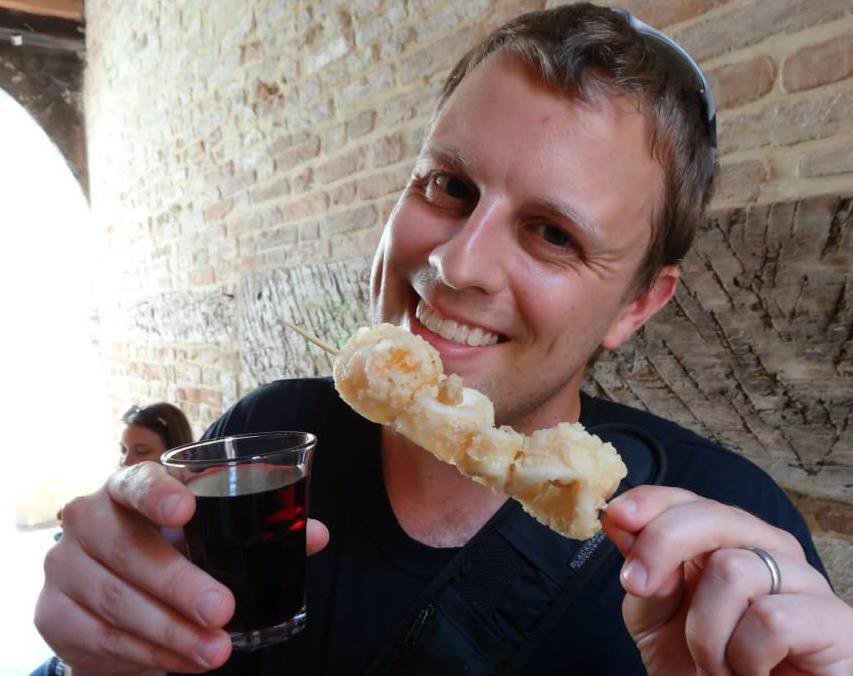 About the Author: Jeremy is a full-time travel writer based in Pittsburgh and primary author of this site. He has been to 70+ countries on five continents and seeks out new food, adventure activities, and off-the-beaten-path experiences wherever he travels.