Published by Jeremy. Last Updated on February 7, 2023.
Disclaimers: Our site uses demographic data, email opt-ins, display advertising, and affiliate links. Please check out our Terms and Conditions for more information. Listed prices and attraction details may have changed since our visit and initial publication.
Out of all of the natural formations out there in the world, one of our favorites is waterfalls. These beautiful walls of water can take on various shapes and forms and are awe-inspiring every time we see them.
As far as New York waterfalls are concerned, they're among some of the very best in the country- and many are just as inspiring (if not more) than the iconic Niagara Falls!
Since we are frequent travelers in upstate New York, we wanted to share a few of our favorites today (although the below are certainly not a collection of them all- there are a ton of waterfalls in NY worth checking out!). So if you find yourself on a New York road trip between Rochester and Syracuse, or are perhaps checking out wineries in the Finger Lakes, be sure to detour to these great falls!
High Falls in Rochester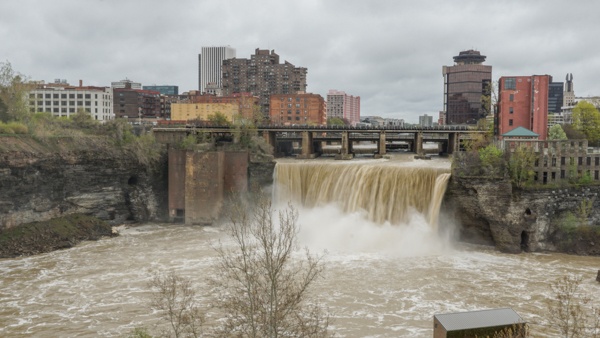 We always love it when waterfalls are located right in city centers, and at High Falls in Rochester, you get just that. This 96-foot waterfall accents the city quite well, and is perfectly viewed from the famous Genesee Brewery located just across the river.
So while you can take this one in from lookouts and a walkway crossing the Genesee River, we really have to say, it looks even better with a beer in hand.
High Falls is located in central Rochester. The Genesee Brew House is located at 25 Cataract Street.
Pratts Falls Near Syracuse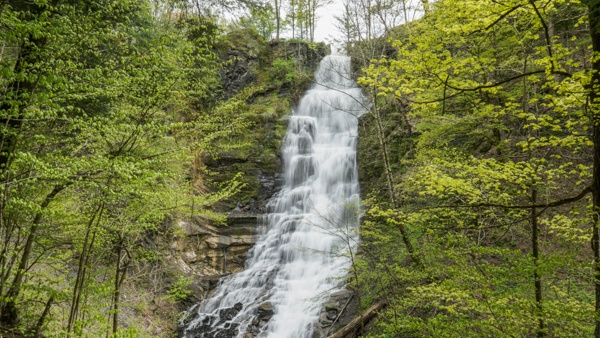 Pratts Falls is one of the more striking waterfalls I've visited in Upstate New York, and when you catch a glimpse of the 137-foot cascade you'll understand why- it is staggering!
The top of the falls are easily accessible from a flat walkway, but the view looking down is a bit obstructed. The best view of the falls (featured image) is from a short walk down a hiking trail. While the trail is quite short (~5 minutes each way), it is steep, which could be a struggle on the return for some who are not regular hikers.
Pratts Falls is located at 7671 Pratts Falls Road in Manilus, NY.
Delphi Falls Near Syracuse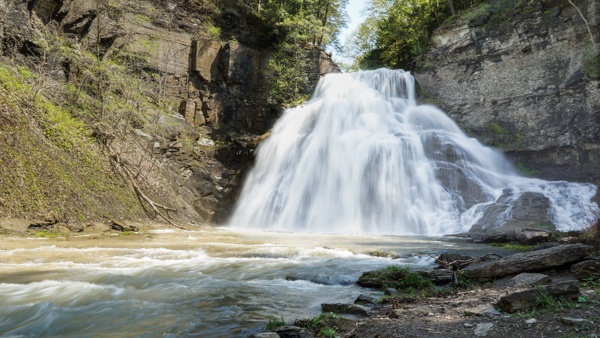 Delphi Falls is one of the shorter waterfalls I've visited in New York, which is truly saying something because this one is still a respectable 65 feet tall. But what this one may (emphasis on may) lack in height, it makes up for in width. The cascade starts at a somewhat chokepoint at the top and expands out into a beautifully-wide waterfall before reaching the river below.
The best part about Delphi Falls is that it is accessible in just a short, two-minute walk from the parking area. Out of all of the parks we've been to for waterfalls, this would be the most accessible in every sense of the word (the trail is flat and fairly wide up until the point this picture was taken- but is gravel).
Delphi Falls is located at 2006 Cardner Road in New Woodstock / Cazenovia, NY.
Tinker Falls Near Syracuse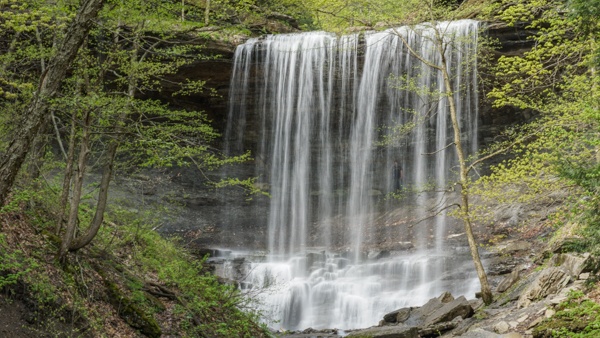 Much like Delphi Falls, Tinker Falls is on the shorter end of the spectrum at about 50 feet in total height.
The trail to this one, unfortunately, ends a fair bit away from the falls themselves (photo taken with a telephoto lens), but those who are willing to trudge through a stream (~4-5″ deep) will be able to continue along a path to walk up and even behind the falls to get a unique vantage point! (Although the hike is a bit precarious.)
While many visitors may skip the final walk in the stream, the view for this one is easily reached in just a few minutes from the parking area. The trail is mostly flat and wide but is a bit uneven at times.
Tinker Falls is located just off Route 91 in Tully, NY.
Taughannock Falls Near Ithaca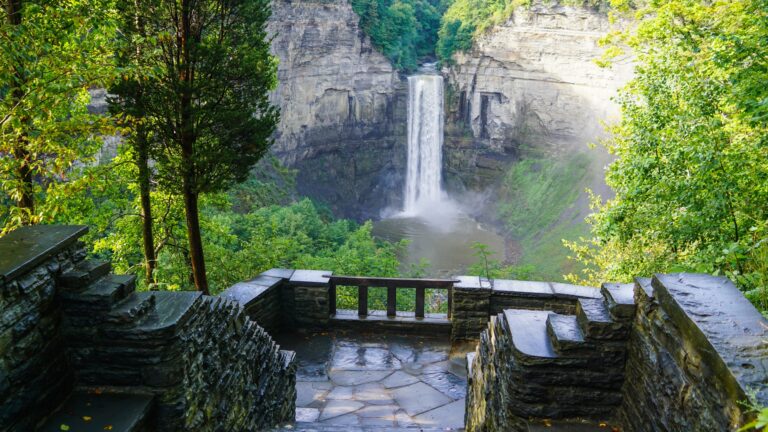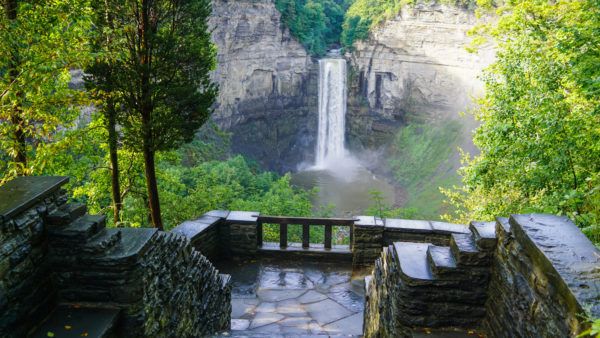 At 215 feet, Taughannock Falls is the tallest waterfall I've visited in Upstate New York, and its drop is quite imposing.
Part of this is because you are able to view it from a viewing platform across the canyon (above photo). But the second is that you can also visit from ground level (below photo)!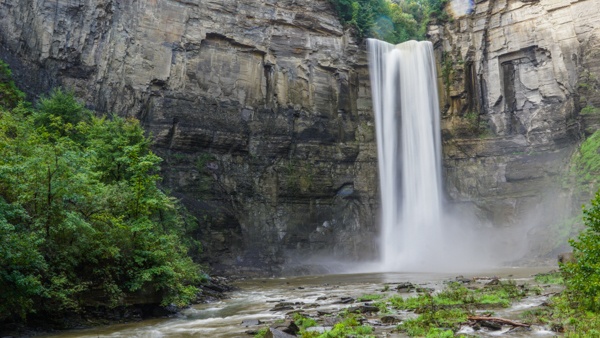 The top trail is easily accessible from the parking area, while the lower trail is an easy walk for most even though it is ~15 minutes from the parking area.
It should be noted that the area near the falls is prone to rock falls, and we had to dodge some rather large ones during our visit. As such, be careful if getting close below.
Taughannock Falls upper trail is located at 2381 Taughannock Park Road and the lower trail is located at 1740 Taughannock Blvd.
Lucifer Falls Near Ithaca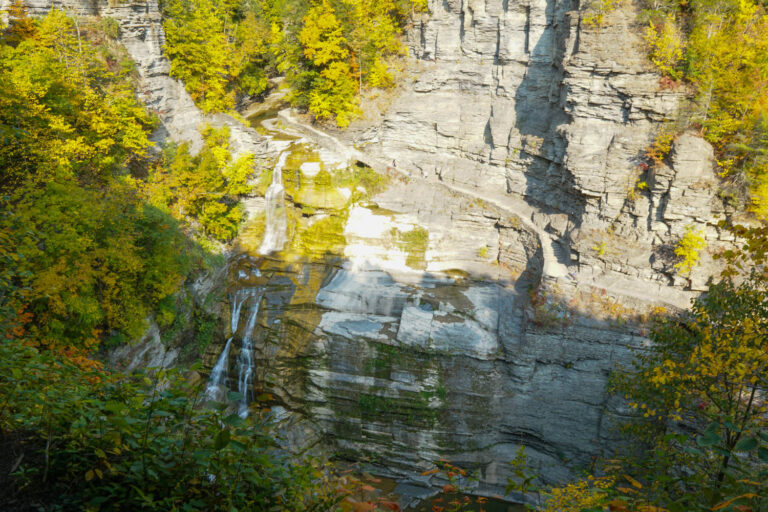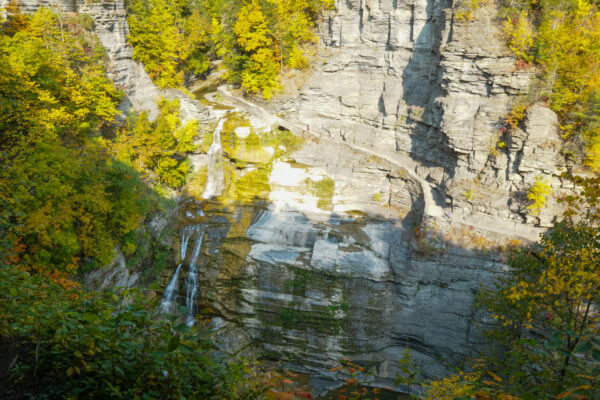 While we think you should visit Robert Treman State Park just south of Ithaca purely because the gorge and rim trail loop is a gorgeous, 4-mile hike, perhaps Lucifer Falls will be a selling point if you are on the fence.
This 115-foot cascade is a stunning focal point that is visible from both trails roughly a half-mile from the upper lot in the park. The fact that you can enjoy this one both up close (from the gorge trail) and at a distance (from the rim trail) makes for a great viewing experience you do not get at some of the other waterfalls featured in this guide. And if you can't commit to the complete 4-mile loop, a connector is found about 0.75 miles from the upper lot to allow for a much more navigable loop.
Robert Treman State Park is located at 105 Enfield Road in Ithaca.
Buttermilk Falls Near Ithaca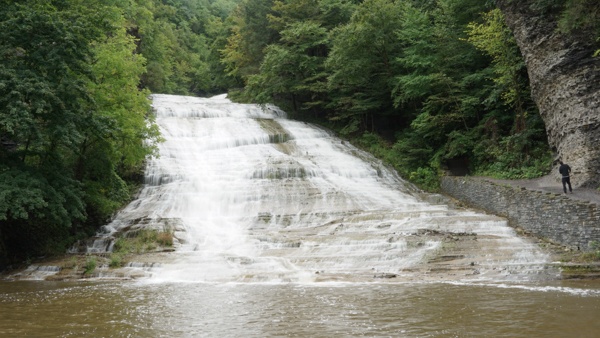 On the surface, Buttermilk Falls doesn't look like a 165-foot tall waterfall. There are two reasons for this.
First, the waterfall is split into two roughly equal height cascades plus several shorter ones in between where the cascade twists around the gorge. Second, the waterfall is at a fairly mild angle giving it more of a flowing river look than typical falls (which was excellent for a photographer like me!).
Buttermilk Falls is easily accessible from the parking lot in a short walk; however, a staircase trail does lead up the falls along the right side (pictured) for those who want to explore the upper sections a bit more.
Buttermilk Falls is located at 112 E Buttermilk Falls Road in Ithaca.
Shequaga Falls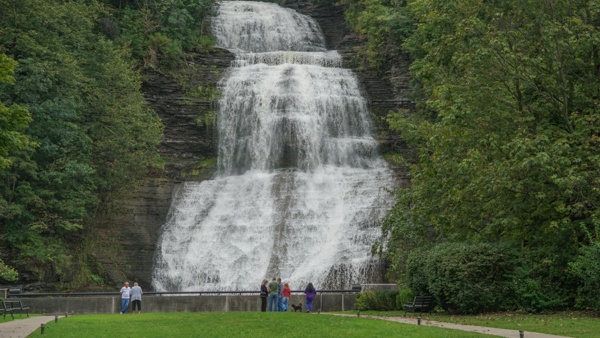 Shequaga Falls (or She-qua-ga) is interesting because it is located right in the heart of the village of Montour Falls. It is right off a side road in the village, with houses located in viewing distance from the impressive, 156-foot cascade.
Naturally, this one is accessible on paved walkways in the park and is only steps away from the roadside. Even better? It is only a seven minute drive from Watkins Glen and just one minute from Aunt Sarah Falls (both below), so you really can hit a number of waterfalls rather quickly!
Shequaga Falls is located at 109 S Genesee Street in Montour Falls, NY.
Aunt Sarahs Falls Near Watkins Glen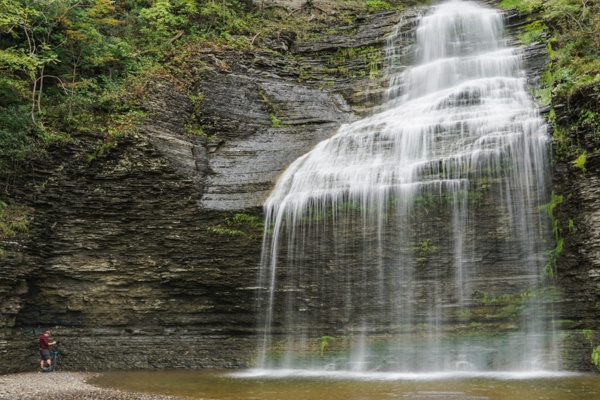 Aunt Sarahs Falls is an unmarked waterfall off of Route 16 near Watkins Glen and Shequaga Falls. The exact height of this waterfall appears debatable (as a portion is said to not be visible from the road) but it is best seen with a well-timed visit around the rains. This one is typically low flow unless right after a few rainy days, so you may visit and find this one more of a trickle than a waterfall, but we got quite lucky during our trip all the same.
Aunt Sarahs Falls is located just off of Montour Townsend Road (Route 16) near Watkins Glen. A small parking area is available across the street though it is unmarked. You may have to climb over a road barrier to access this one.
Hector Falls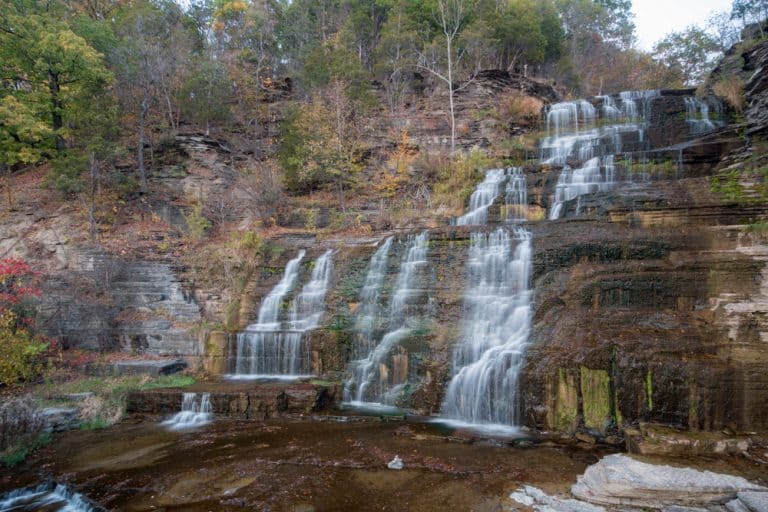 Hector Falls is a 165-foot waterfall close to Watkins Glen, but only 50 or so feet is visible from the roadway.
This one is visible from the road (route 414) so it is an easy glimpse without stopping, but those looking to visit there is a pull-off on the southbound side where you can get out to see the falls. It is worth noting, however, that you'll have to cross a busy road so extreme care needs to be taken.
Hector Falls is located on Route 414 about 3-4 miles south of Watkins Glen. Image provided courtesy of our friend Uncovering New York who we have explored the state with several times.
Waterfalls at Watkins Glen State Park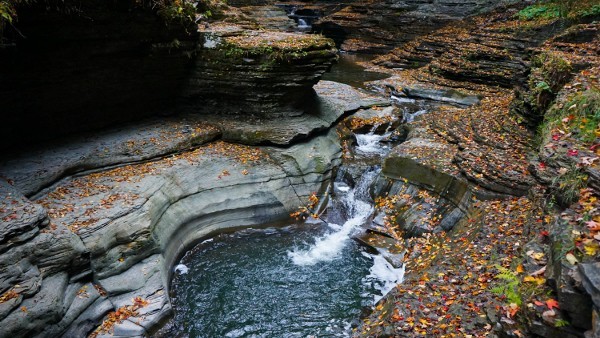 Finally, we come to Watkins Glen State Parks, one of the most stunning parks in Upstate New York. While most of Watkins Glen is known for its interesting rock formations and gorges, making it perfect for a half-day of hiking, there are many waterfalls to be seen there as well (sadly, our photos of these don't do it justice).
So if you're looking to check out waterfalls while also having a stellar hike, there is no place better than this great spot on Seneca Lake!
With regards to accessibility, walking around Watkins Glen is fairly easy, but there are stairs and some uneven surfaces to deal with. Likewise, the park does close sometimes after bad weather.
Watkins Glen State Park is located at 1009 N Franklin Street in Watkins Glen.
Do you have a favorite waterfall in New York? Comment below to share and we'll try and visit in our next trip to the state!
Looking to check out some museums nearby when visiting the above waterfalls? Check out some great museums in upstate New York for learning the region's history. Or head down to Corning to check out the Corning Museum of Glass!
About Jeremy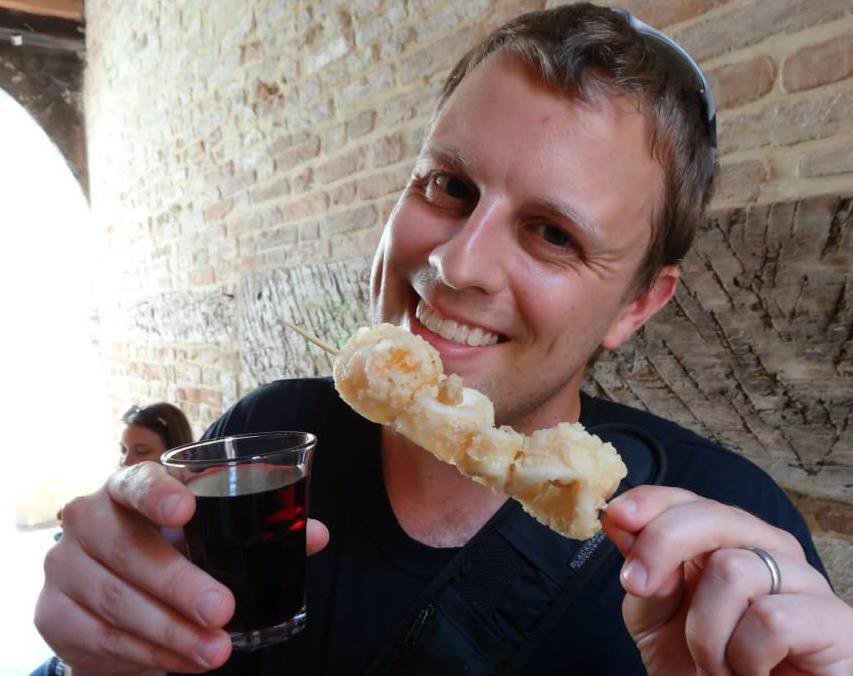 About the Author: Jeremy is a full-time travel writer based in Pittsburgh and primary author of this site. He has been to 70+ countries on five continents and seeks out new food, adventure activities, and off-the-beaten-path experiences wherever he travels.