Last Updated on January 10, 2022 by Jeremy
Disclaimers: We were hosted for this experience. Our site uses demographic data, email opt-ins, display advertising, and affiliate links. Please check out our Terms and Conditions for more information. Listed prices and attraction details may have changed since our visit and initial publication.
When it comes to drinking, we absolutely love going to breweries. There is something amazing about seeing how local grains, hops, and other ingredients can combine with a bit of ingenuity to create something delicious.
As such, when we travel we try and hit up as many breweries as possible. So when I took a road trip across upstate New York, it should be no surprise that I hit up as many New York breweries in Syracuse, Rochester, and everywhere in between.
While I certainly have not been to all of them (New York produces one of the largest volumes of beer per capita in the country), I have hit quite a few and wanted to share an assortment of them in this guide today.
So if an upstate New York road trip is in your future, give some of these breweries a try!
Genesee Brew House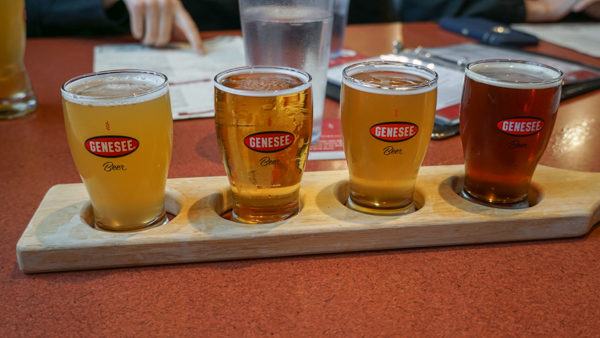 Genesee is one of the most famous breweries in New York, and some would consider this one responsible for the popularity of Cream Ale in the US to begin with. This brewery was founded in 1878, and rose in popularity in 1960 after the addition of the Cream Ale- their answer to popular European Pilsners and Lagers.
Today the brewery focuses heavily on their core line, but the brewhouse also features an array of European style brews like Bock, Kolsch, and Oktoberfest, and other more unique creations to modernize to the country's changing beer palate.
Whether you visit for a Cream Ale or a more modern hazy New England IPA, a visit to the brewhouse is best served with an order of pretzels and a view of High Falls just across the way. No other brewery in this guide can feature a waterfall with your brew!
Genesse Brew House is located at 25 Cataract St in Rochester, NY.
Roc Brewing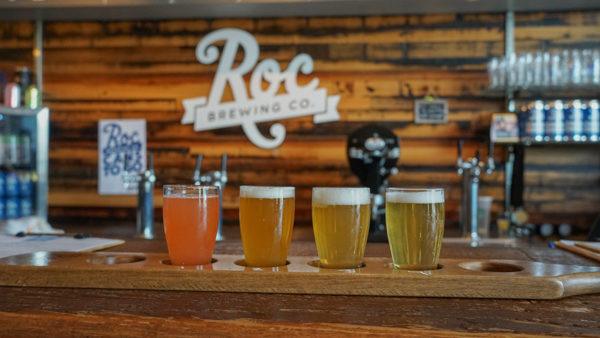 Of the new brewing scene in Rochester, Roc Brewing is one of the oldest. Founded in 2011, this brewery cranks out some novel creations including juicy New England IPAs, an Imperial IPA named Whoopass (and a sister Triple IPA named Kickass), sour ales, milkshake IPAs, and more.
My visit to this one was just on the heels of the Celebration of Cream Ale party, to celebrate the style that was invented by Genesee (above). For this event, nearly all of the local breweries came together with their own cream ale brews, and I was able to sample one of the remainders known as Roc Candy Watermelon- a cream ale that had a tart watermelon kick just like the namesake candy.
A true winner and one of my favorite beers from my entire road trip- don't miss this event if you are able to make it!
Roc Brewing is 56 S Union St in Rochester.
Lunkenheimer Craft Brewing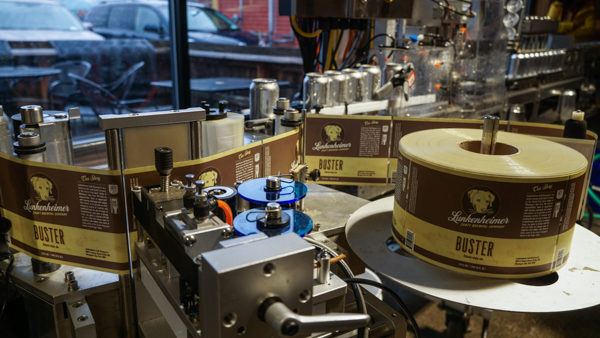 Lunkenheimer is an award-winning brewery in Weedsport, NY, with traditional brews like American IPA, Cream Ale, and a sweet Milk Stout as well as European favorites like AltBier, Scottish Export, Kolsch, and more.
The brewery has won awards for its Buster (Kolsch) where it won Bronze in the 2017 Commonwealth Cup and silver in the 2018 Denver International Beer Competition as well as the Toasted Coconut Porter which won bronze in the 2019 NYS Craft Brewers Competition.
The brewery is in process of an expansion into a new location across the street from their facility, and we're looking forward to seeing what award winner they come out with next!
Lunkenheimer Craft Brewing is located at 8920 N Seneca St in Weedsport, NY.
Prison City Brewery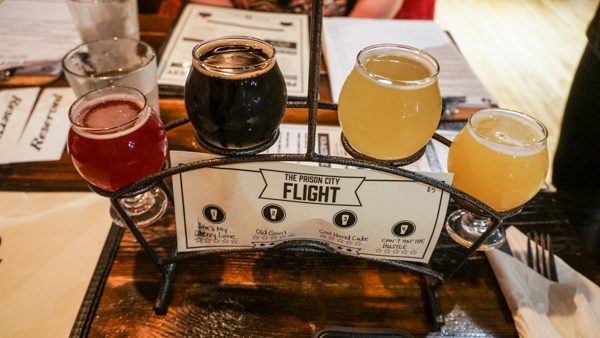 You don't have to be a resident of Auburn's maximum security prison to enjoy a beer from Prison City, and we're quite happy this is the case.
This brewery features an array of unique brews with prison-style names like the Bleek Worden (an award-winning beer made with Belgian yeast), the Nope on a Rope IPA (an IPA with Kolsch yeast and several hops varieties), Old Gaol (an Imperial Stout), The Great Escape (brewed with Chardonnay grape juice), KCBC Solitary Confinement (a dark sour), and more. As the draft list here is quite long, you'll definitely be wanting to get a flight (or two) to try them all!
When visiting Prison City Brewery, be sure to go with an appetite as the brewery also features a rather delicious food menu as well.
Prison City Brewery is located at 28 State Street in Auburn, NY.
Summerhill Brewing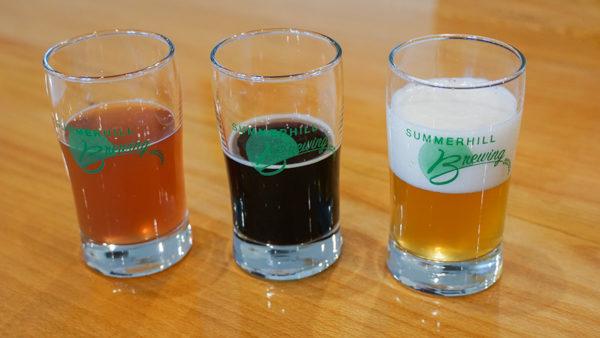 Summerhill Brewing is one of those brewery success stories we love to hear about. It started in the head brewer's garage, where patrons would swing by, park on their street, and have a beer on weekends (hooray no zoning restrictions!).
Since then Summerhill has expanded to a gorgeous barn on a hilltop with stunning views of the countryside, ample seating, a large production facility, and much more planned for the future for events, growing grains/hops, and more.
In being a smaller brewery that just underwent expansion, most of the beer styles here range among the traditional, with an interesting naming structure like Farmer's Tan (an American Ale), Summer Hillbilly (a fruited wheat series), Naked Neighbor (an Amber named for a nudist colony nearby), and more.
Sometimes simple, easy drinking beers with a great view is sometimes all you need, but I expect this one to have some more fun with the styles as they get the new brewery up to full capacity.
Summerhill Brewing is located at 14408 NY-90 in Summerhill, NY.
Heritage Hill Brewhouse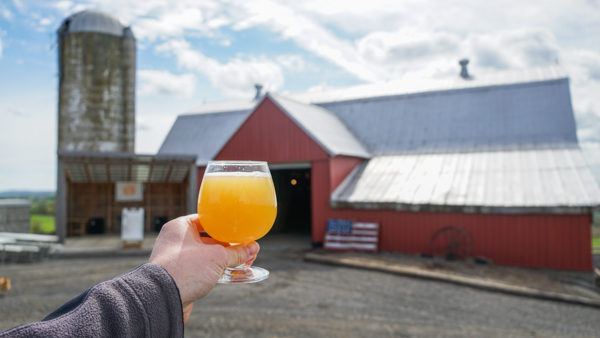 Many breweries in New York have opened in recent years due to legislation that makes it easier to operate as long as they use a certain percentage of New York grains. Heritage Hill takes this one step further and grows almost all of their grains themselves!
This brewery is settled on a hilltop in Pompey, NY, just outside of Syracuse and features delicious brews, farm grown and raised foods, stunning views, and even a glimpse of Syracuse in the far distance.
The beer style here may err on the traditional side of things, but when made with local grains made, quite literally, on the farm, you end up with some of the finest iterations of the styles you'll ever have. For Hefeweizen fans, be sure to try the Lot 47- their 100% New York made Hefeweizen that tastes exactly like its German counterparts- a real treat (and feat) for a US brewery!
Heritage Hill Brewhouse is located at 3149 Sweet Road in Pompey, NY.
Willow Rock Brewing Company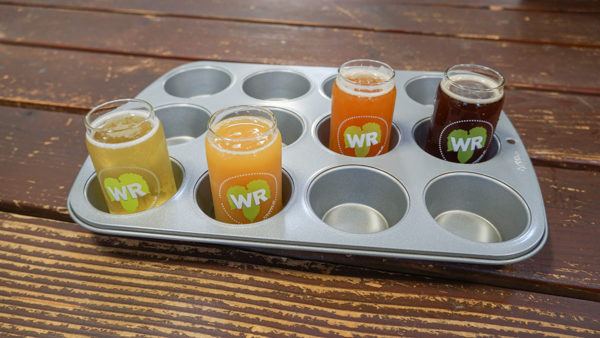 Willow Rock Brewing Company is located just outside of Syracuse proper and features a mix of conventional brews as well as unique creations like Kakaw (a fruit beer made with cacao fruit juice), Sugar Smacks (a brown ale made after the breakfast cereal), Membeer Berries (a fruit hefeweizen), and more.
During my visit most of the unusual creations were only available in cans, so my flight included some of the more traditional brews that were clean iterations for their style, but did not pop as much as I suspect some of the unique options do. As such, I'm going to have to re-visit this one shortly for more!
Willow Rock Brewing Company is located at 115 Game Street in Syracuse.
Middle Ages Brewing Company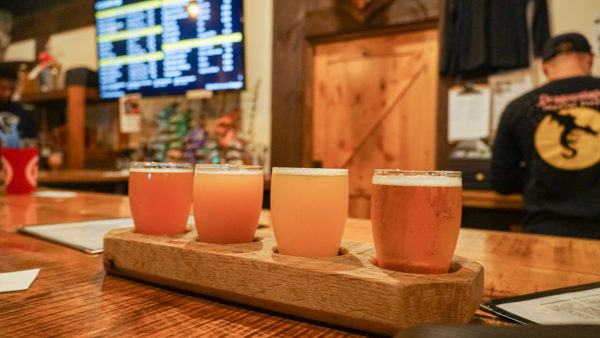 Middle Ages is one of the oldest breweries in Syracuse (established 1995), and as such has a lot to show for its long history.
If variety is what you seek, Middle Ages is the place to be. This brewery has nearly 20 drafts with a spread of New England IPAs, Milkshake IPAs, fruit beer and wheats, porters and stouts, other pale ales, and more.
Whether you want to go conventional or unusual (the strawberry milkshake IPA with lactose and Imperial Wheat were personal favorites), this one will have something to please just about everyone.
Middle Ages Brewing Company is located at 120 Wilkinson Street in Syracuse.
Talking Cursive Brewing Company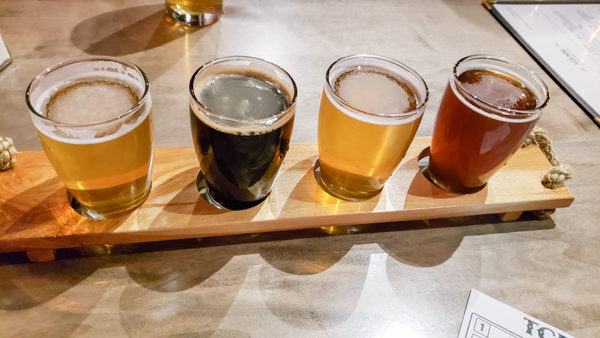 Talking Cursive Brewing was one of those spots that surprised me during my exploration of breweries in New York. While many of the beers here follow the typical molds of Pilsner, Extra Special Bitter, IPAs, and more, the brewery also has some rather unique takes on these styles with an Orange Cream Pale Ale, a brown ale with sweet potato, and rye IPAs gracing the menu as well.
Normally when a brewery just does the standards well, we call them clean, easy drinking beers. There is nothing wrong with that, and we mean it as a sign of respect. Talking Cursive is on the high end of this thought as, apart from a few variations mentioned above, the styles are simply exceptional iterations of popular brews. The fact that you can get them within a short walk of downtown Syracuse and we have a win in our books!
Talking Cursive Brewing Company is located at 301 Erie Blvd in Syracuse.
Liquid State Brewing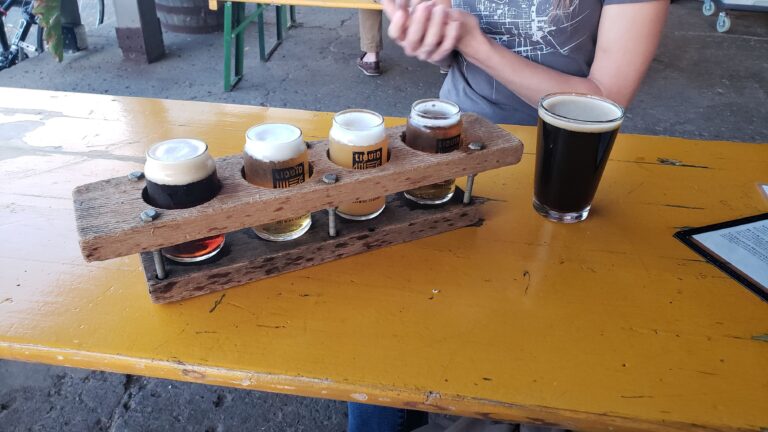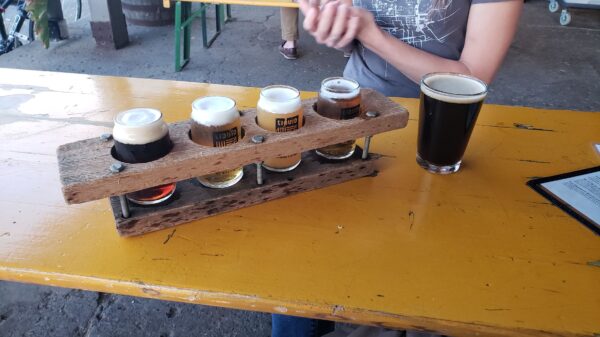 Liquid State Brewing is the kind of brewery any college town needs. A large space in the heart of town, a draft list of nearly 20 beers, and a variety of delicious brews ranging from IPA to German, Belgian, fruited sour, and more- perfect for when your group's taste is varied.
While we could go into great detail with all of these, it is really the variety that had us hooked on Liquid State and we made two trips in a single weekend in order to sample the entire list. Brews here can come in pre-made flights, or you can get half or full pours of nearly all of the options (high ABV beer is only available as a 13 oz pour, however).
Angie gravitated towards the IPA here as they had complex hop profiles and settled on the DIPAs which were more nuanced than overly juicy or sweet while I had my fill of the Belgian Tripel which would hold up to many producers in the country itself. Delightful!
Liquid State Brewing is located at 620 W Green Street in Ithaca.
More Upstate New York Breweries Coming Soon!
We are frequent travelers in New York and planning on visiting more breweries soon. If your favorite hasn't made this list, it means we haven't visited yet, but would love to hear where to go next in the comments below!
For more brewery guides, check out our collection of Pittsburgh breweries, Cincinnati breweries, and Cleveland breweries! Or, if you fancy yourself a wine drinker, check out our guide to our favorite wineries in the Finger Lakes!
Some of the above breweries were visited as part of a media trip in the region. Others I visited on my own selection. As always, all opinions are my own.
About Jeremy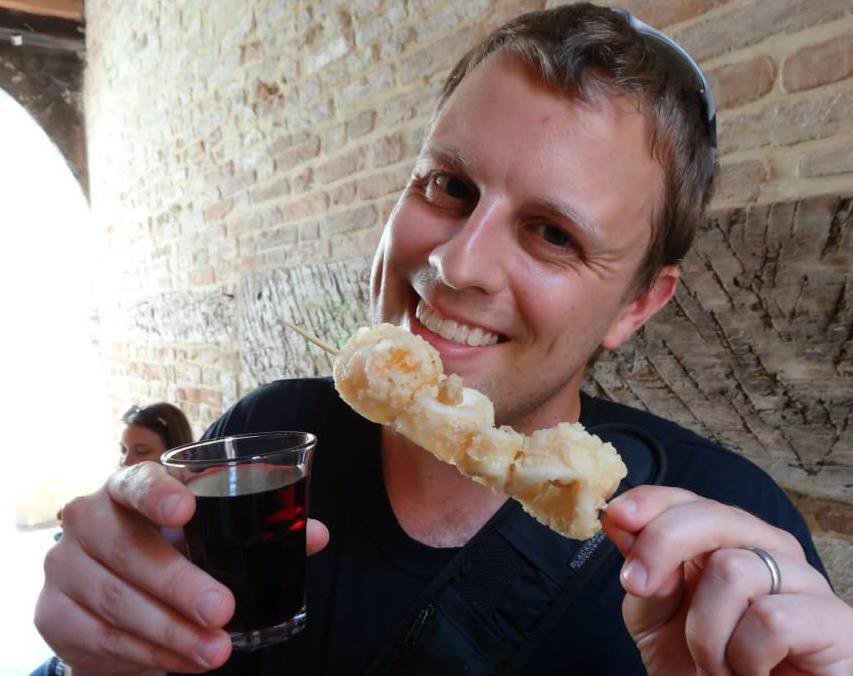 About the Author: Jeremy is a full-time travel writer based in Pittsburgh and primary author of this site. He has been to 70+ countries on five continents and seeks out new food, adventure activities, and off-the-beaten-path experiences wherever he travels.