Last Updated on February 3, 2023 by Angie
Disclaimers: Our site uses demographic data, email opt-ins, display advertising, and affiliate links. Please check out our Terms and Conditions for more information. Listed prices and attraction details may have changed since our visit and initial publication.
Pujol is one of the most sought-after dinner reservations in Mexico City. Chef Enrique Olivera's restaurant has landed on all sorts of "best of" lists, including The World's 50 Best Restaurants, and his work has helped put Mexico City on the map as a fine dining destination.
Seeing as reservations open a year in advance, and our trip to Mexico City was somewhat last-minute, we initially didn't think we were going to be able to experience this institution. However, after obsessively checking the reservations for cancellations every day we were in Mexico City, we finally scored a dinner reservation one afternoon for that same evening. (Read more about how we got Pujol reservations here.)
There are a couple of dining options at Pujol, include a taco omakase experience at the bar, and a la carte or prix-fixe menu options in the main dining room. We were lucky enough to score a spot in the main dining room and knew we had to go for the prix-fixe option. At about $130 USD for seven courses in early 2022, the prix-fixe option is definitely a great value compared to these types of dinners in the US or Europe, for example.
Pujol Offered a World-Class Dining Experience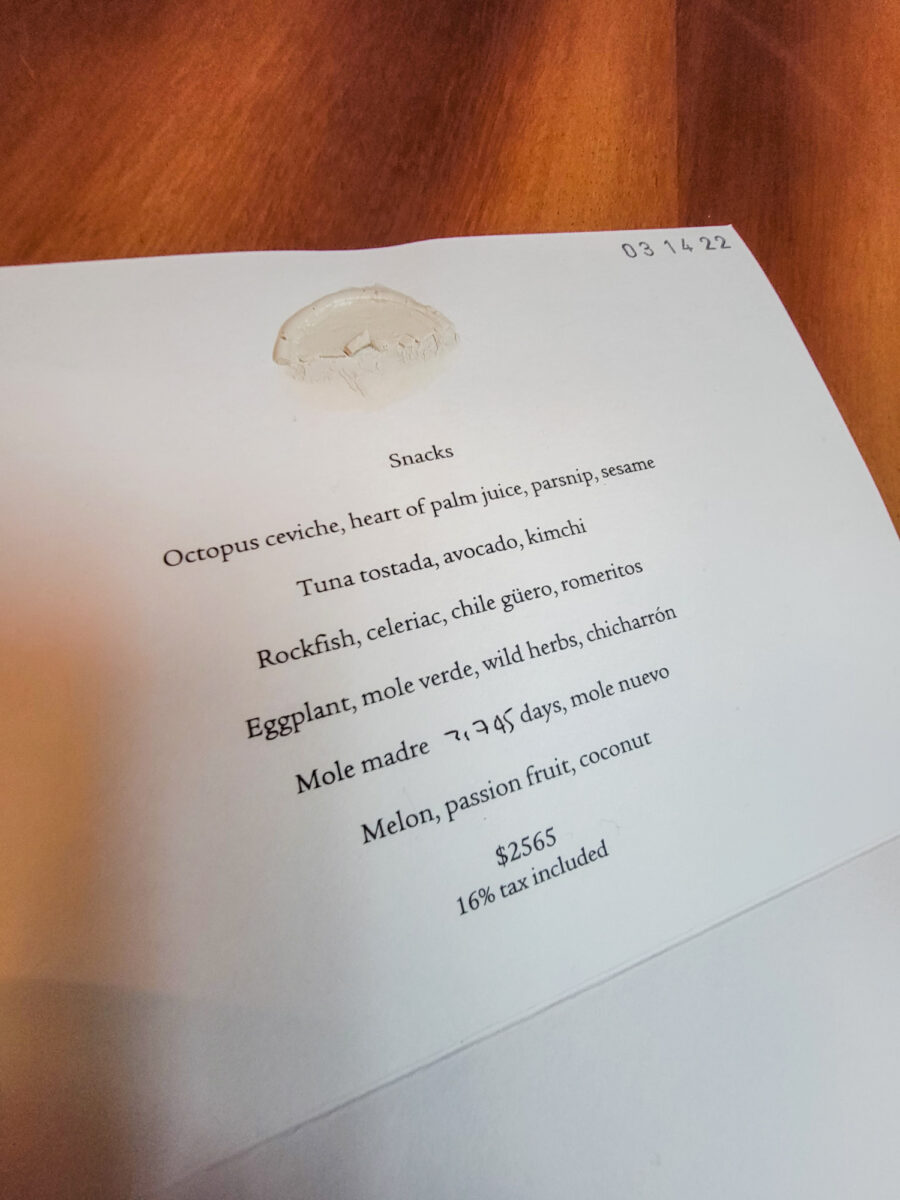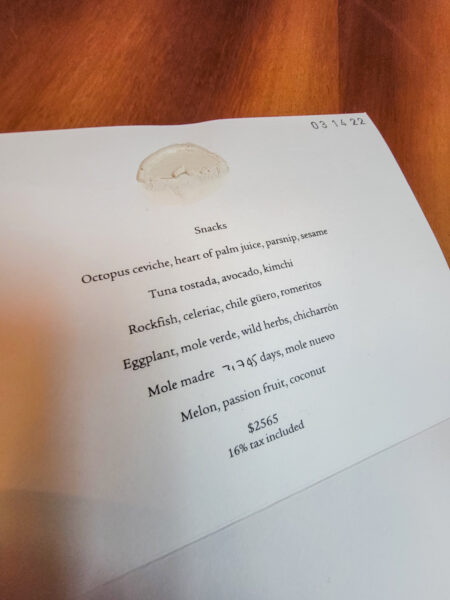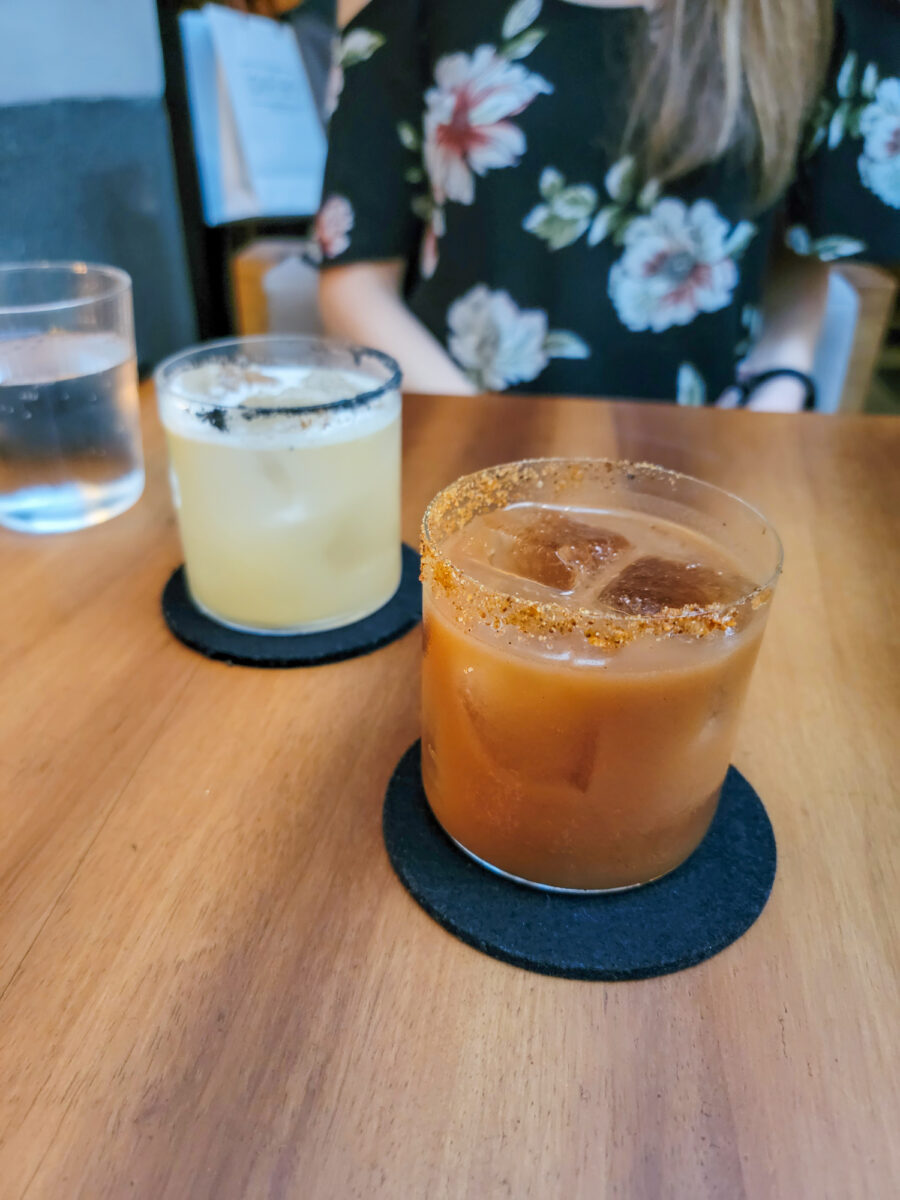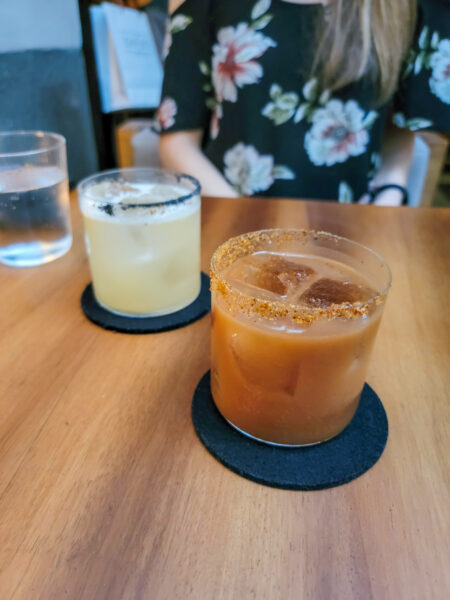 We arrived in the posh Polanco neighborhood and made our way inside the equally posh restaurant space. We perused the drink menu and decided to start with some cocktails, a ginger margarita which was nice and spicy, and a well-balanced sweet/sour tamarind margarita.
Soon our server brought the prix-fixe menu card that outlined all the courses, followed by our first "snacks." A large dried pumpkin arrived at the table filled with smoking corn husks – the smoky smell was intoxicating- and two mini corn cobs on skewers, covered in chicatana ant butter. The butter was creamy and smoky with chili, and a little nutty from the ants.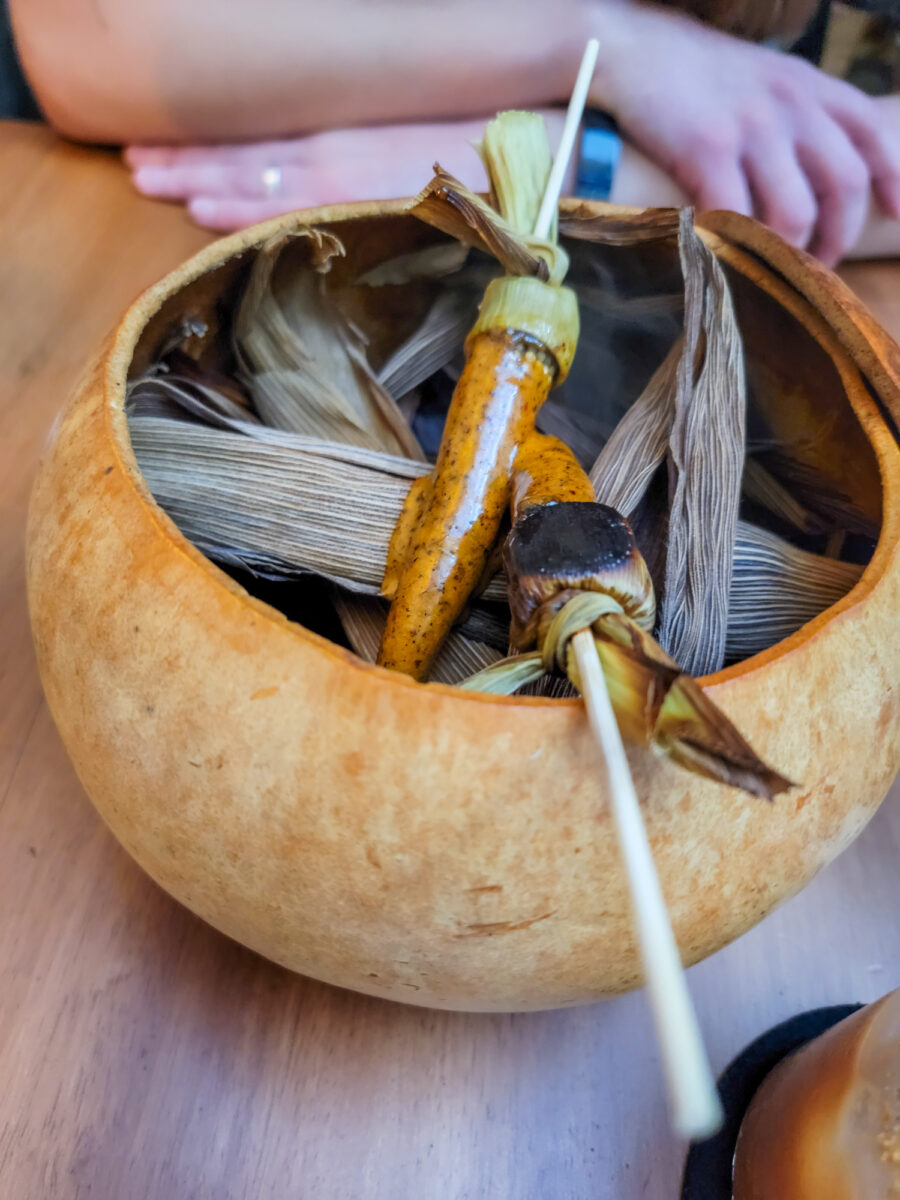 A little bite was served alongside the corn dish, a lettuce wrap "taco" enveloping a smooth avocado puree and macadamia nuts (or cilantro blossoms for me and my tree nut allergy).
We finish our cocktails and order a bottle of wine – the sommelier helps. We say we're looking for a high acid Mexican wine and he recommends a Pinot Noir or a Cabernet Sauvignon. Unsure that the Cabernet Sauvignon would match the seafood-heavy menu, we opt for the Pinot Noir. It ends up being a really nice match, a little bit vegetal which complements the herbs in the dishes well.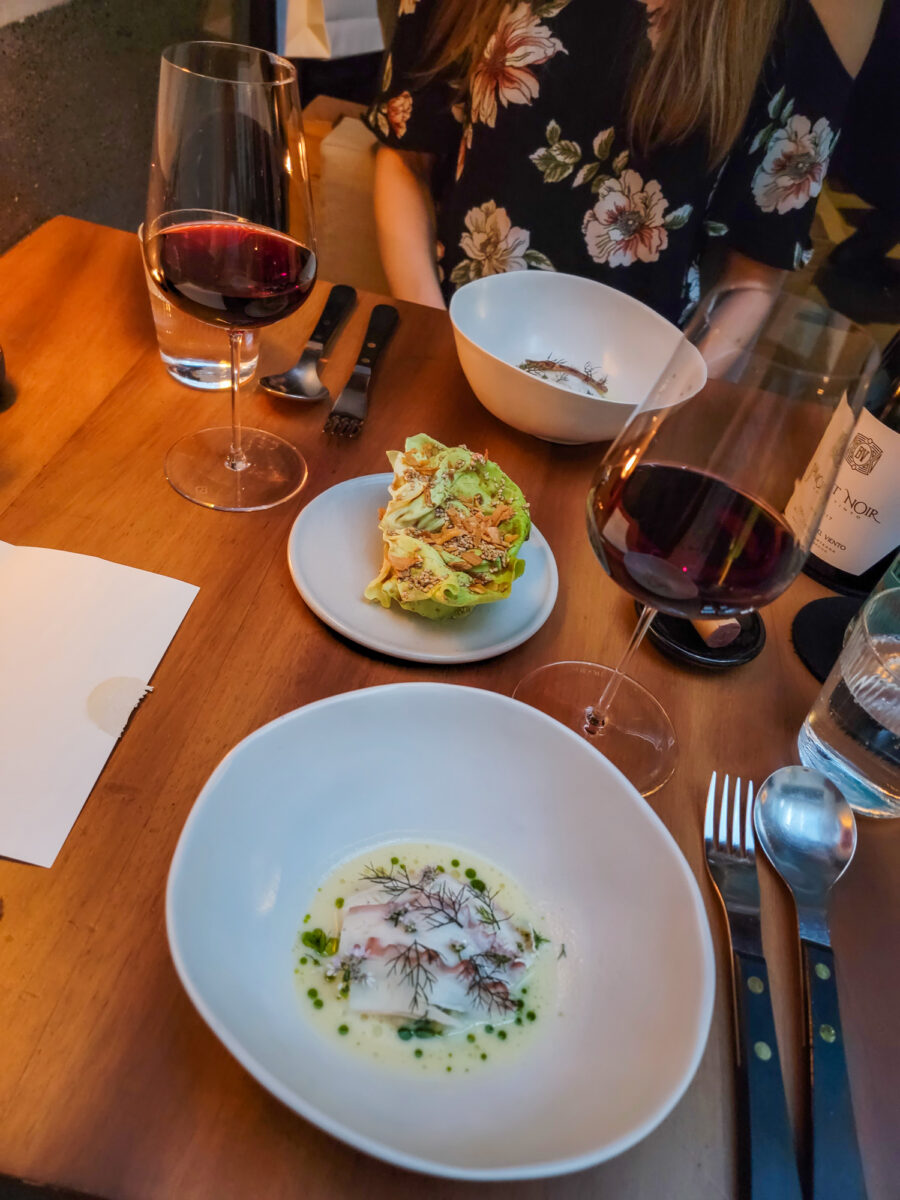 Next, an octopus ceviche appears. Very thin, tender slices of octopus are bathed in a heart of palm leche de tigre with tomatoes and cucumber bits, and a parsnip puree on the bottom. To accompany the dish is a lettuce wrap, topped with crunchy sesame seeds and tamarind that is a little sweet and so very interesting – we are told to make a taco with the octopus. We love that so many of the dishes involve eating with your hands!
Looking for a great day trip in Mexico City? Check out some awesome tours from Viator!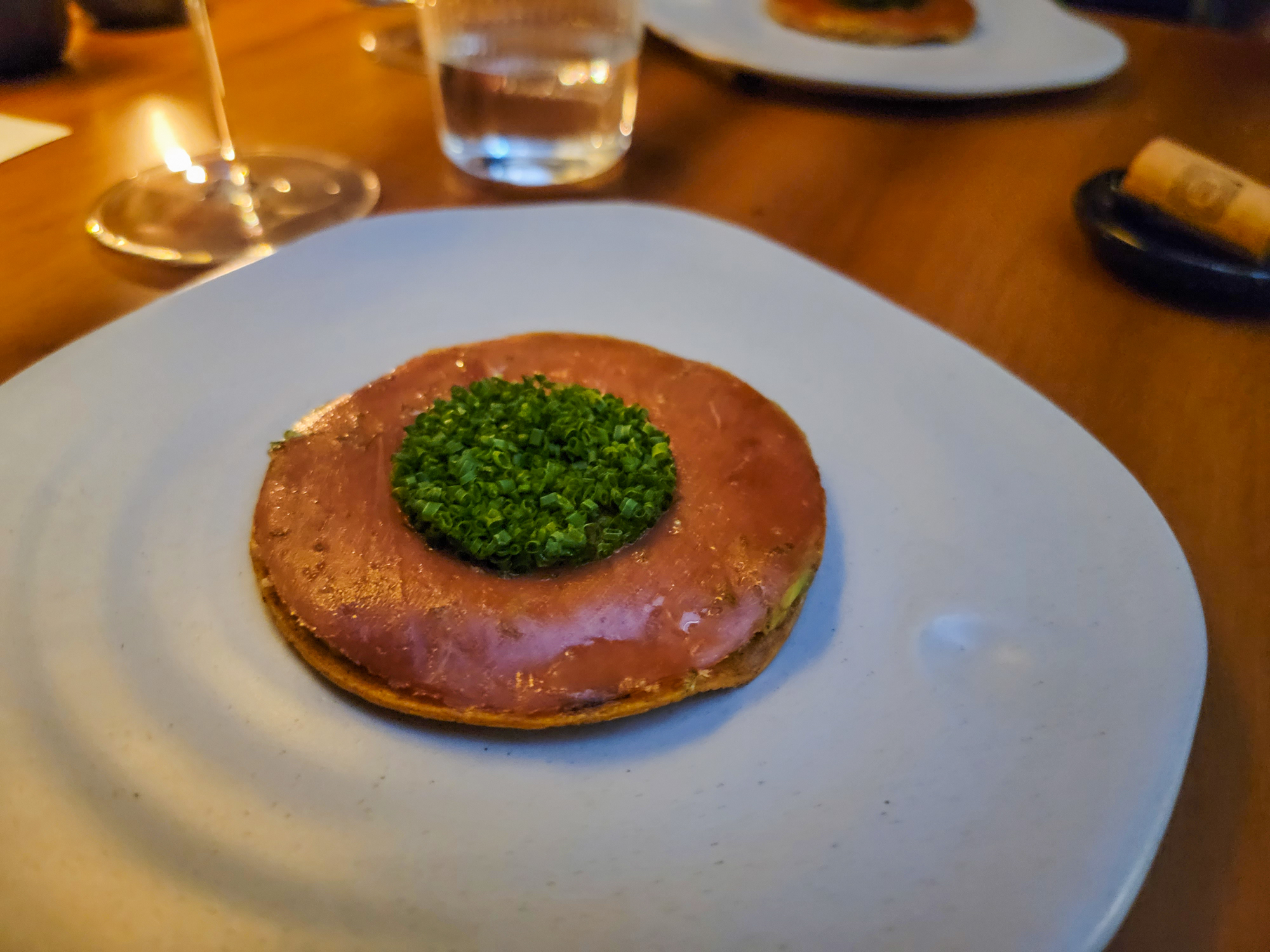 A tuna tostada is served next; it's topped with a blend of housemade kimchi and tuna that creates a pate of sorts, with a center dollop of chives. The kimchi flavor was very subtle (we would have loved even more of it) and the dish was a tiny bit underseasoned.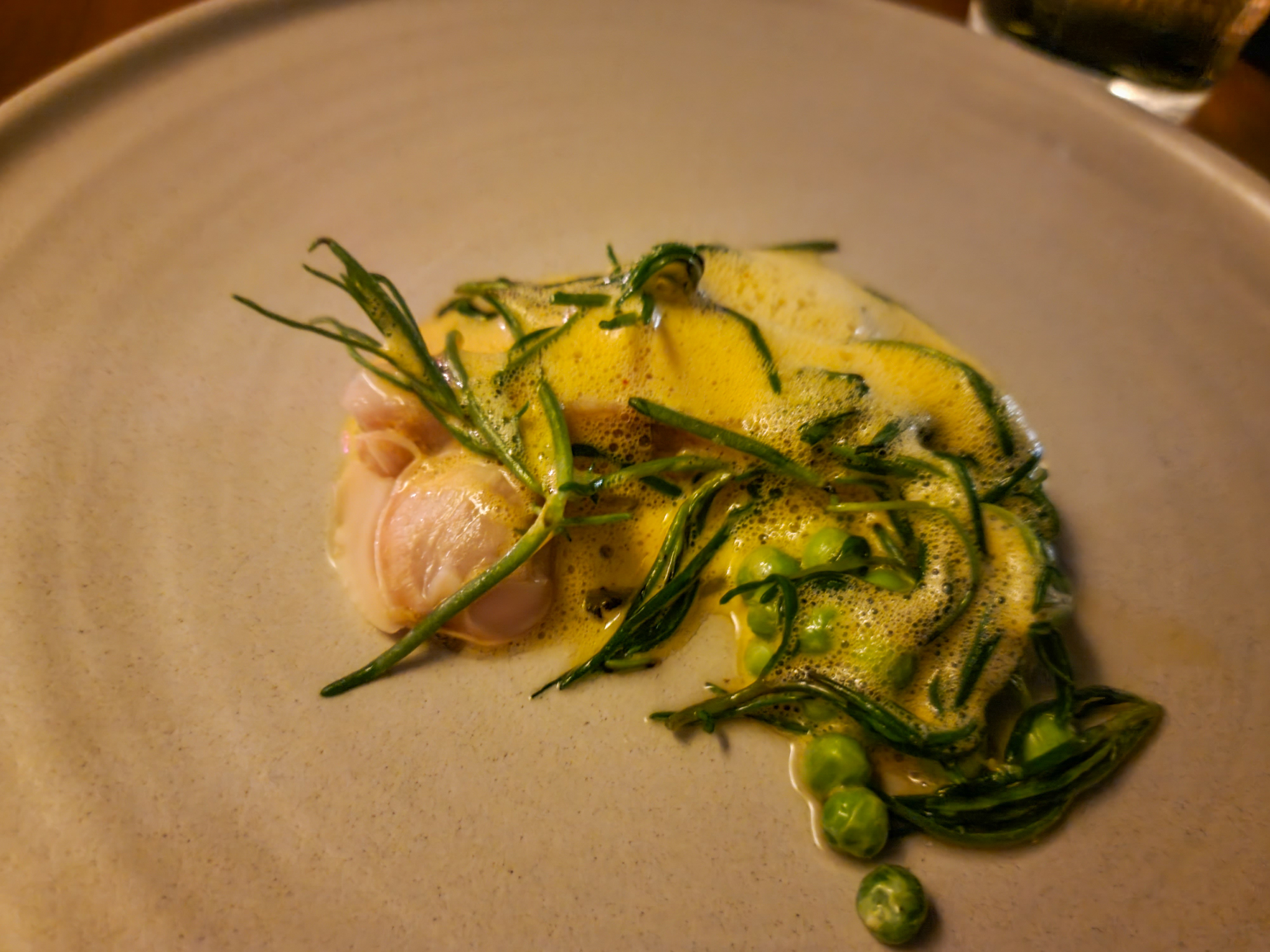 Our favorite dish of the night was the rockfish. Served with an anise and chile guero foam, it rested on top of a celeriac puree. Romeritos, a wild herb that looked like rosemary but had a parlsey-like taste, dotted the plate. The fish was just barely kissed with heat, so it was ceviche-like and just a little meaty. So heavenly!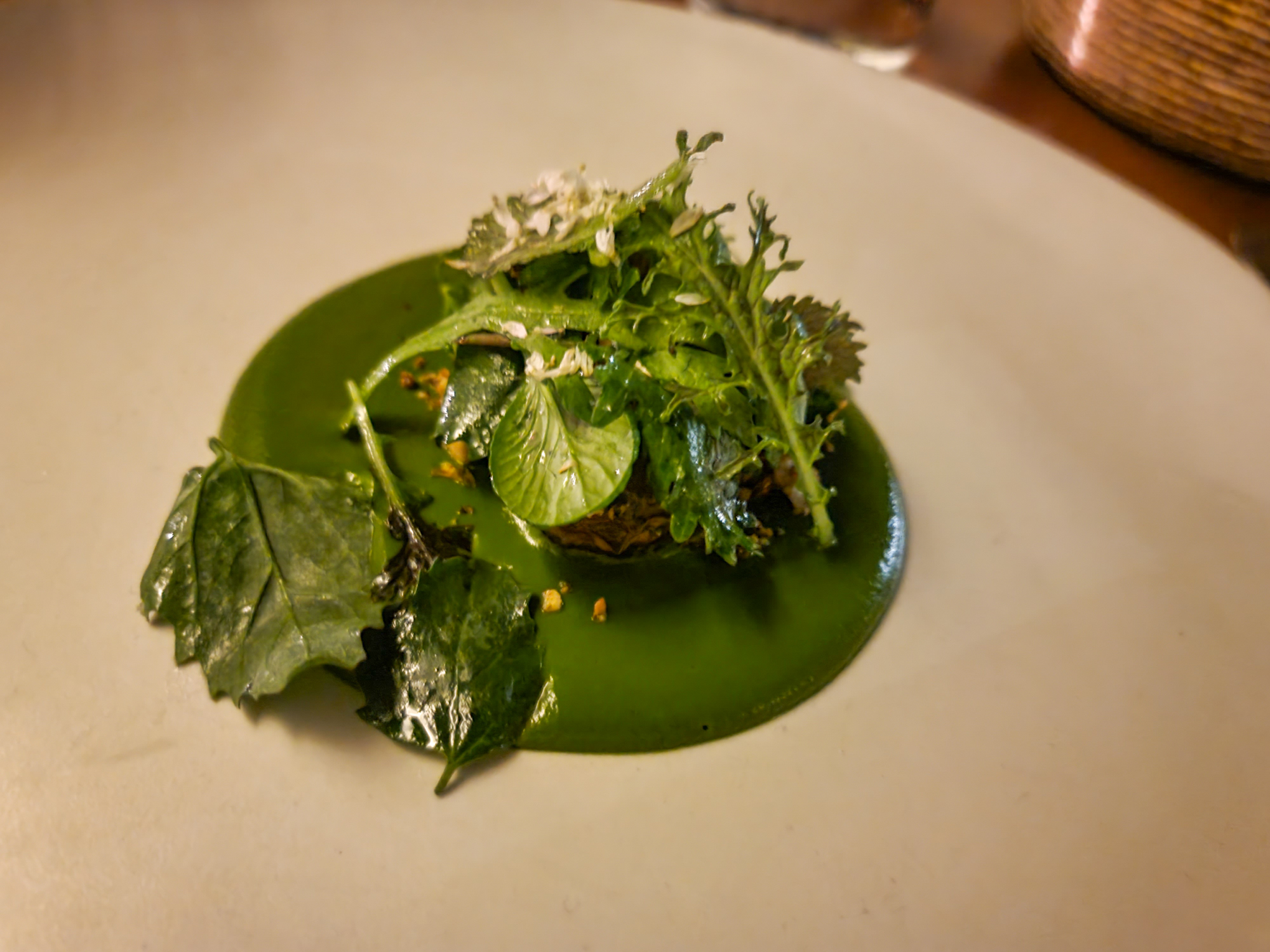 The main course was next, which consisted of a roasted and mashed dollop of eggplant served on top of a green-tasting "mole" of spinach and broccolini. Fresh, housemade warm tortillas came to the table – both blue corn and yellow corn – that we used to scoop up the dish. The tortillas are so incredibly amazing with fresh, vibrant, sweet flavors that I never knew could exist in a tortilla.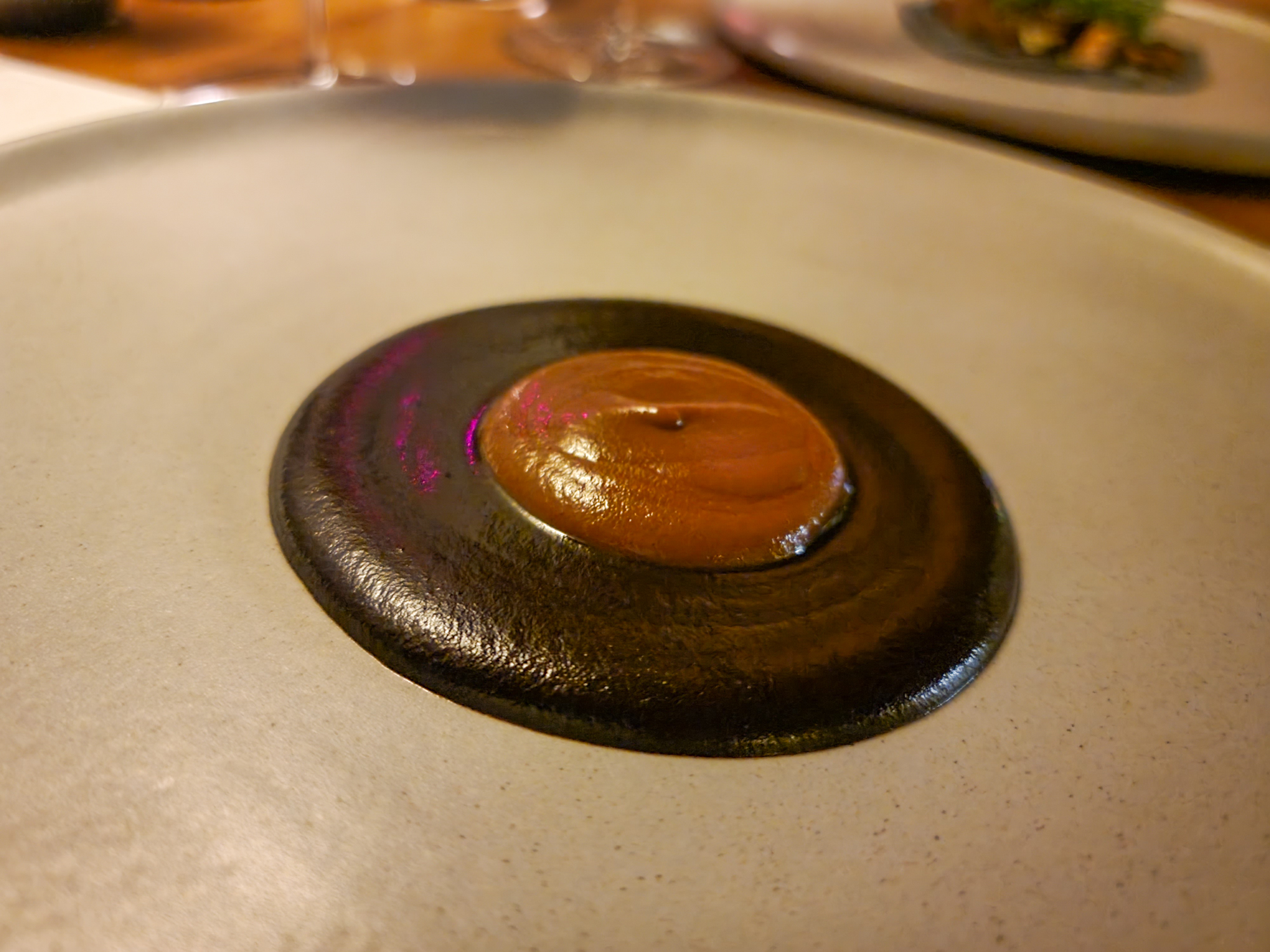 Next, one of the most famous Pujol dishes: the mole madre. This mole is made in a solera style in that as new mole is made it is added to the previous batch, meaning that some of the very first mole that Pujol made is still in this batch (ok, it's an infinitesimal amount, but it's still a cool idea). The menu card proclaims that on the day we had it, the mole was 2,745 days old.
The mother mole is served simply in a large circle on the plate, with a lighter colored "mole nuevo" in a smaller concentric circle. I could not partake of this dish due to my nut allergy, but Jeremy said they were both amazing – the mother mole was chocolatey and rich, while the new mole had a bright acidity.
Instead of mole, my dish was a taco full of mushrooms, which was still good and went perfectly with our Pinot Noir.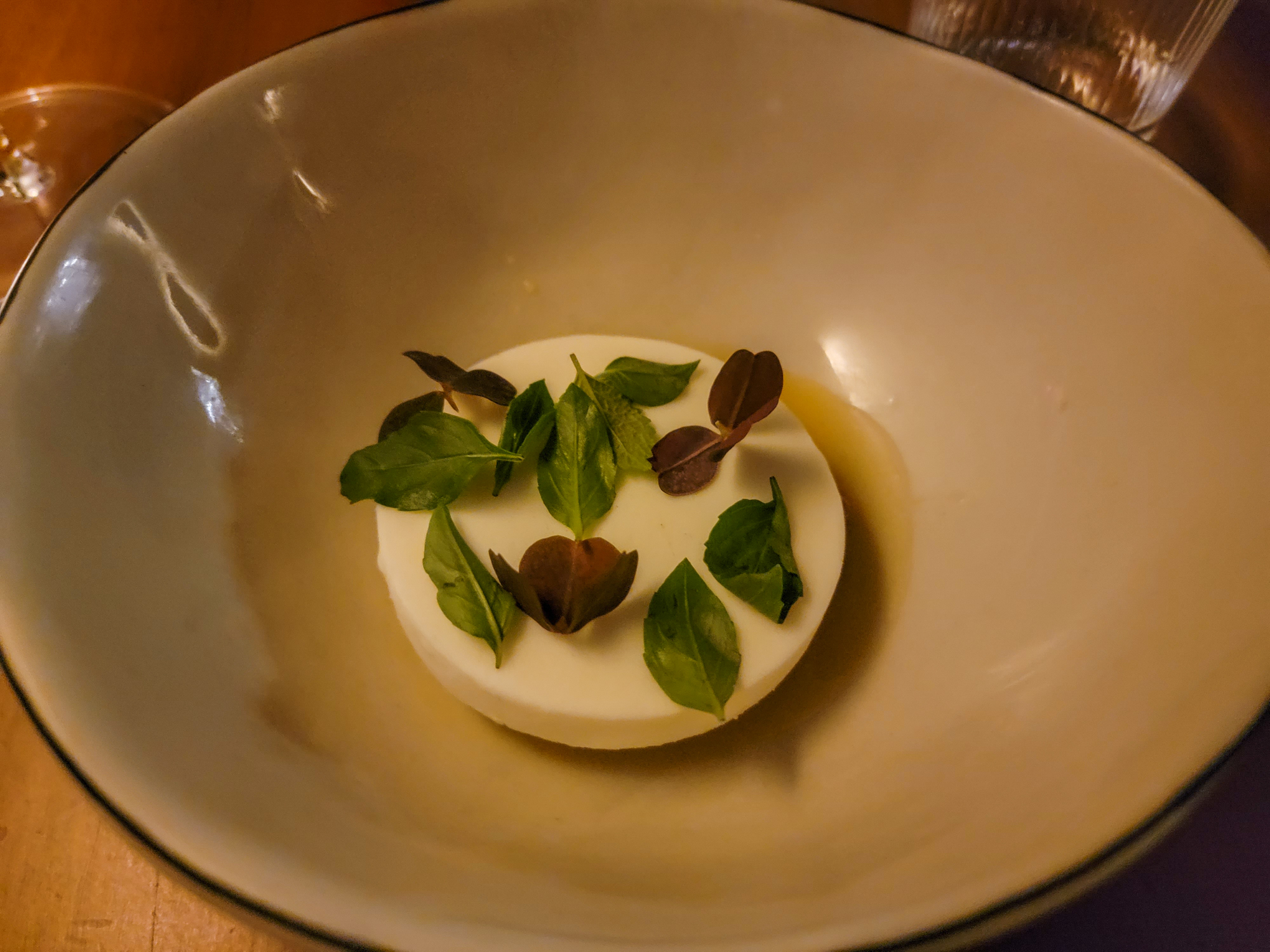 For dessert, a very delightful thin disk of coconut ice cream was layered on top of a tangy passion fruit puree. Pieces of honeydew melon and passion fruit gel were also spread around the plate.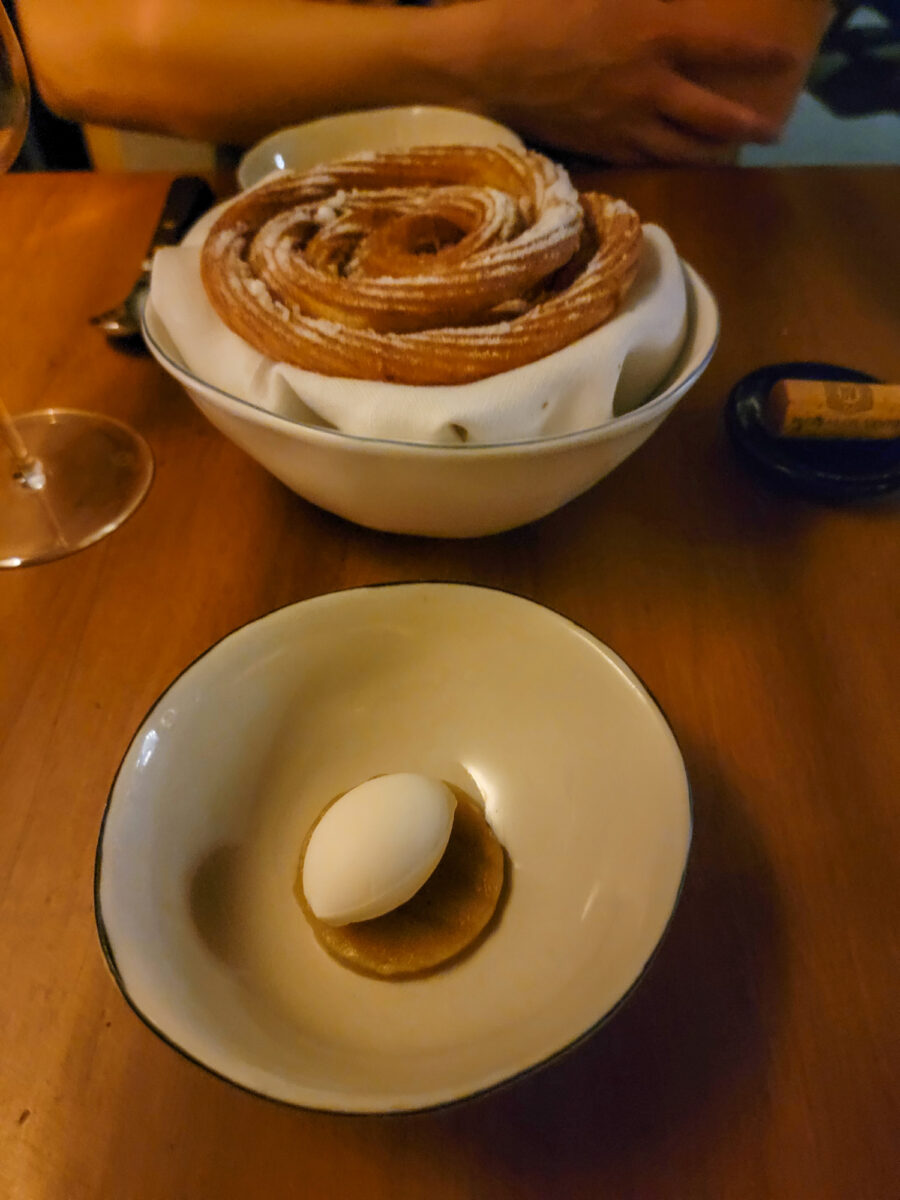 Just when we thought it was over, there was one last surprise – a churro! It was super light and served with a little dish of apple cinnamon and vanilla sorbets. This dish evoked pure joy in us!
Service was very prompt and efficient throughout the whole meal, maybe a little bit too much so as there were always lots of servers milling about. But at the end of the meal we were truly happy. Not one particular dish was mind-blowing, per se, but it was overall a truly lovely meal and experience.
Pujol is located at Tennyson 133 in Mexico City's Polanco neighborhood.
About Angie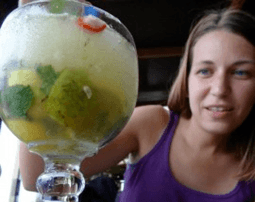 About the Author: Angie is a contributing author. She has been to nearly 60 countries and seeks out the best restaurants, bars, bakeries, and other unique food items wherever she goes- often with her husband, Jeremy.