Published by Jeremy. Last Updated on March 11, 2021.
Disclaimers: We were hosted for this experience. Our site uses demographic data, email opt-ins, display advertising, and affiliate links. Please check out our Terms and Conditions for more information. Listed prices and attraction details may have changed since our visit and initial publication.
The Finger Lakes region of New York is not all about wine, even though Finger Lakes wineries are one of the major reasons we visted. To find out what else this amazing part of the state has to offer we spent quite a bit of time away from the vineyards to explore the nearby cities and museums.
The city of Corning, just south of Seneca Lake, is not famous for wine.  This city is home to one of the largest glass producers in the country as well as one of the largest glass museums you'll ever see.
We may be raving about the wine in the Finger Lakes just like everyone else, but this particular museum truly was the highlight of our visit.
The Best Collection of Historical Glass We've Seen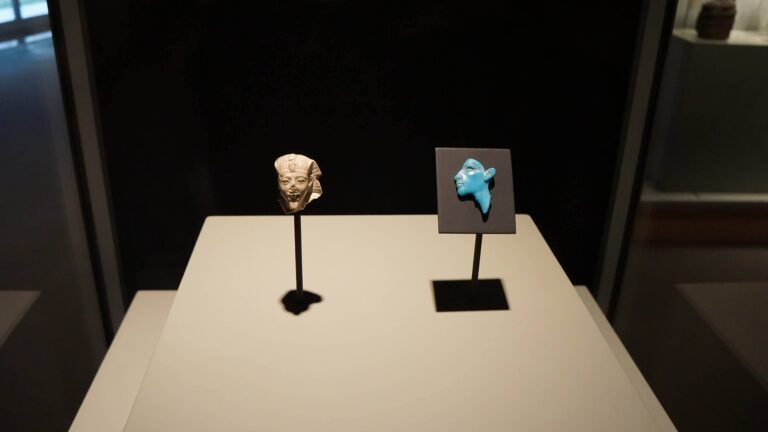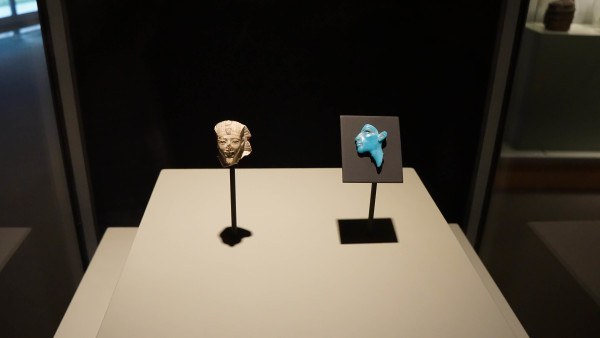 As with most museums, the Corning Museum of Glass has a wing of the building dedicated to history- in this case, the history of glass. Showing off how glass making began thousands of years ago and how it was improved upon century after century until modern times, this wing of the museum does far more than tell you about the glass making process: it shows you the glass.
Having a visual understanding of how glass has evolved over thousands of years leaves an impression in a way that words cannot.  Sure, its neat to know how glass making started, but it isn't until you see glass from ancient Egypt (which is 3,500 years old) that you truly get an understanding of what was going on.  As the centuries pass in the exhibit, so too do the skills and techniques used as glass making rose in prominence.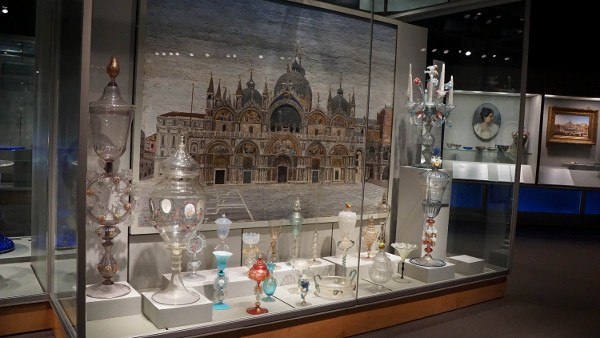 One of the treasures of the museum that is not widely displayed in this exhibit is the fact that many of these techniques were lost to the ages. Thankfully, a team of glass makers at the museum are working tirelessly to try and fill in the gaps as they attempt to recreate many of the gorgeous pieces that are out on display to revive the otherwise lost techniques.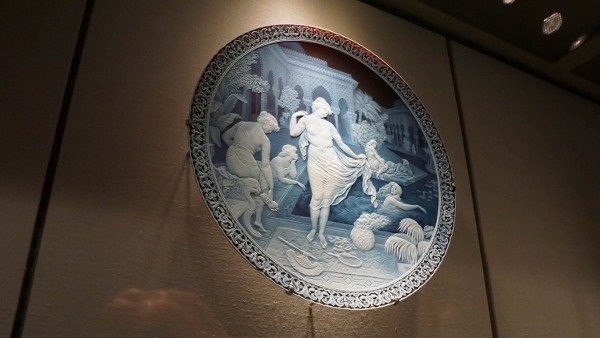 When it comes to preserving and sharing art, knowing that a museum is also reviving lost art makes the experience far more interesting and inspiring.
Modern Art, Classical Art, and More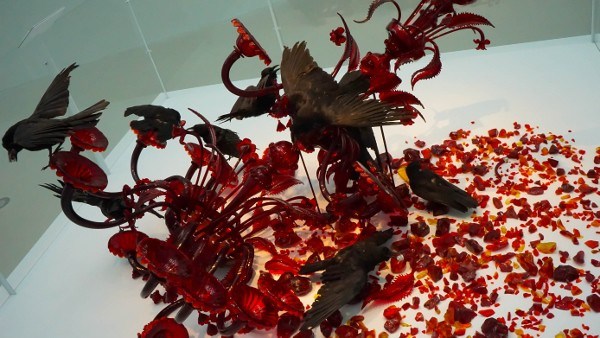 In addition to the great examples of how glass-making has changed over the years, the museum also has a robust collection of art pieces ranging from the traditional all the way to modern art that is sure to make some of the traditionalists cringe.  (Case in point, the wrecked chandelier above.)
It took a moment for us to realize, but the modern art scene really has not done much in the way of glass in recent years as most of the work we've witnessed around the world has either been made for practical use or for refined decorations.  So in the instance like the chandelier above, it was a bit refreshing to see someone take a more formal art form and do something crazy with it- even if that meant smashing a chandelier that costs more than what most people make in a year.
All in the name of art, right?
Multiple Ways to Learn About Glass Making
One of my favorite features of the Corning Museum of Glass is the multiple ways you can learn about the glass making process first hand- taking this museum from a collection of gorgeous and historical glass pieces to a premier attraction in the state.
The first experience is at the small-scale the demo stage where you can watch a brief, twenty-minute presentations on how simple glass pieces are made.  The on-site artist makes the piece in rapid fire while a staff member narrates the glass making process.  We'd be happy if this is all that was available, but the museum offers more than small demos like this one (of which there are several).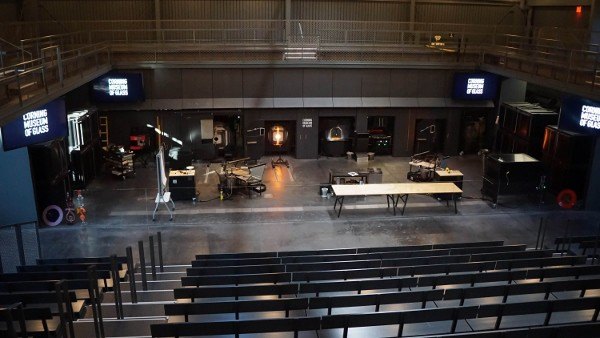 The working arena offers a look into larger scale glass production, and here a team of artists puts on larger themed shows, instructional presentations, and, in the off-season, works to assist artists-in-residence who are designing pieces for their next show.  Our visit coincided with the latter, and we got to witness part of a week-long takeover of the arena where the artist's vision for new and unique glass works came to life.  This wasn't a choreographed show full of instructional how-to's or cheesy gimmicks.  No, this was an artist actually making pieces for a show right in-front of our eyes.  My only regret was that we couldn't stay longer to enjoy this one, as this was something we could've spent all week enjoying.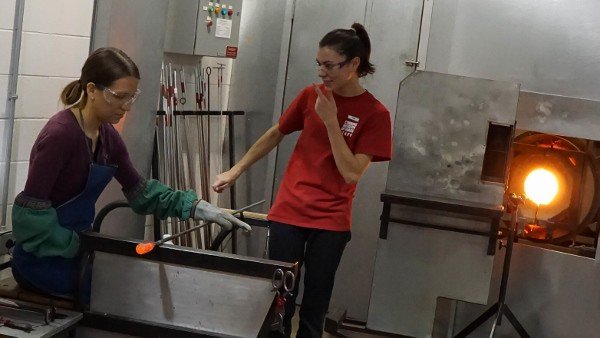 The final opportunity offered at the museum to learn about glass making is through doing it yourself at their instructional lab for visitors.  It comes at an extra charge to make glass yourself (roughly $20-$30 per person), and you have the opportunity to pick one aspect of the glass making process and apply it to the creation of a product- be it a flower (glass forming), a seasonal item (in our case a pumpkin- glass blowing), and a few other products which use techniques including flame working, fusing, and sandblasting.
After witnessing the professionals make glass all day, we can safely say that it wasn't until we tried our own hand at glass pulling that we came to appreciate how hard glass making truly is.
You'll Need Hours at the Corning Museum of Glass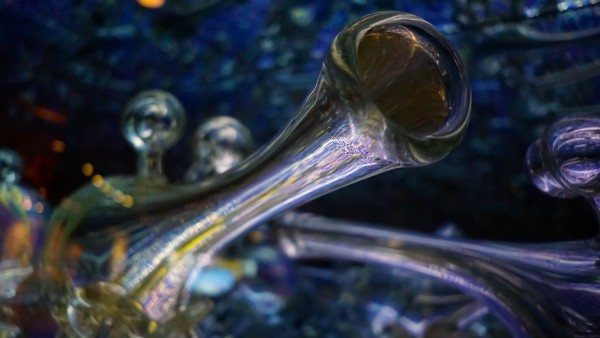 The one thing that shocked me the most about the Corning Museum of Glass was not its size, we knew it was huge, but that we would need a full day to visit.  The museum has so much going on, from hundreds of display pieces to hours upon hours of live sessions, you truly could visit this museum for a full day and only just begin to experience it all.
The one nice thing about this is that your ticket to the museum is actually valid for two days, so if you wanted to visit the museum one day and then head up to Seneca Lake in the afternoon for wine tasting, you don't have to feel too conflicted as you can go back for more the next day.
Unfortunately for us, we were busy on our second day and missed out on going back to watch more from the artist-in-residence in the arena and the other demonstrations we missed.
Luckily, we're already planning our return visit. 
We'd like to thank the Corning Museum of Glass for inviting us to visit.  As always, all opinions are our own.
Looking for more things to do in the Finger Lakes? Check out Watkins Glen, the gorgeous New York waterfalls, or the other great Finger Lakes museums!
About Jeremy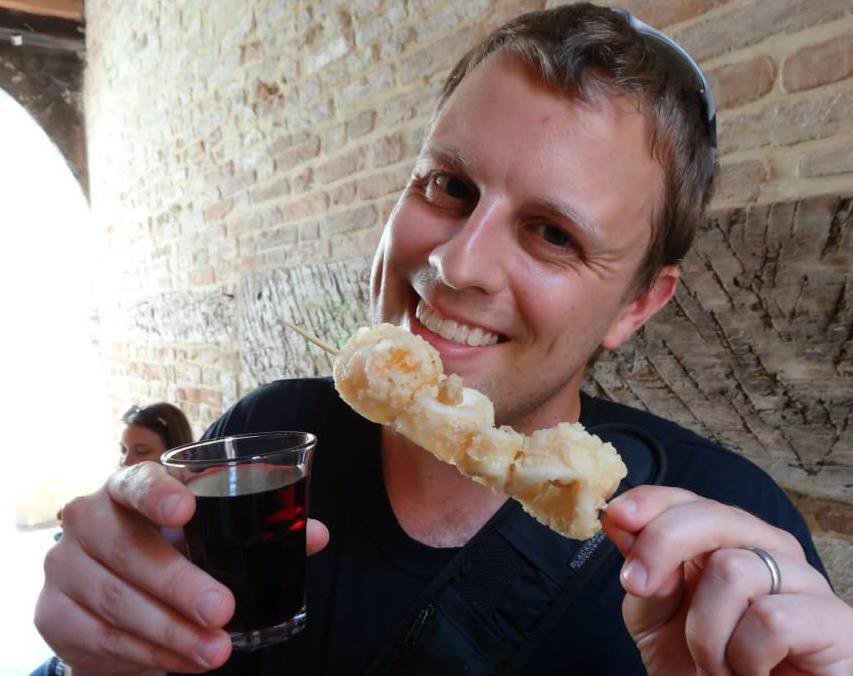 About the Author: Jeremy is a full-time travel writer based in Pittsburgh and primary author of this site. He has been to 70+ countries on five continents and seeks out new food, adventure activities, and off-the-beaten-path experiences wherever he travels.