Published by Angie. Last Updated on February 3, 2023.
Disclaimers: Our site uses demographic data, email opt-ins, display advertising, and affiliate links. Please check out our Terms and Conditions for more information. Listed prices and attraction details may have changed since our visit and initial publication.
We knew we would be eating good when we visited Savannah, but it wasn't until we really started to explore the best restaurants in Savannah that we started to understand just how good we would be eating.
Southern food? Check. Seafood? Check. Chef-driven creations that make us want to weep with joy? A few of those too.
Savannah is a stellar food city, and we can't help but share a few amazing restaurants we enjoyed in this one.
The Grey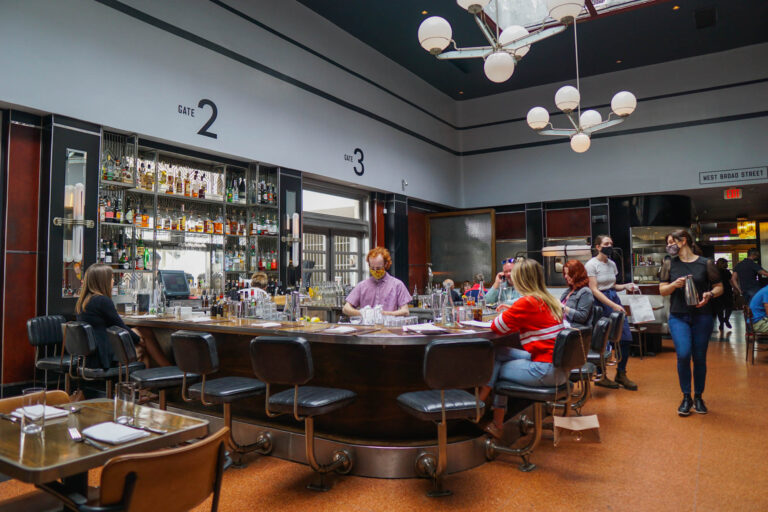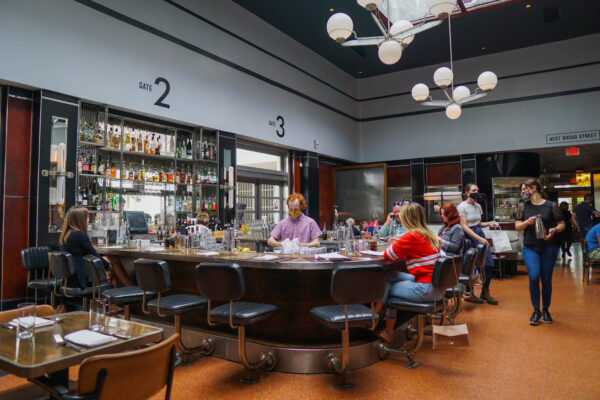 We first heard about The Grey when watching the feature on chef Mashama Bailey on Netflix's Chef's Table series (season 6 episode 1).
Learning about her background in championing southern cuisine would've been enough to get us into whatever establishment she ran, but hearing about this one being home in a 1930s art deco Greyhound bus station made it all the more alluring for the aesthetics as well as the food.
Due to our schedule we were only able to make it in for brunch and enjoyed a feast of dishes like crab beignets, duck pastrami, fried chicken and hoe cakes, and more in the wonderful ambiance of the barroom (which was the former departures lounge for the bus station). The meal left such an impression on us that we returned the next week to get more.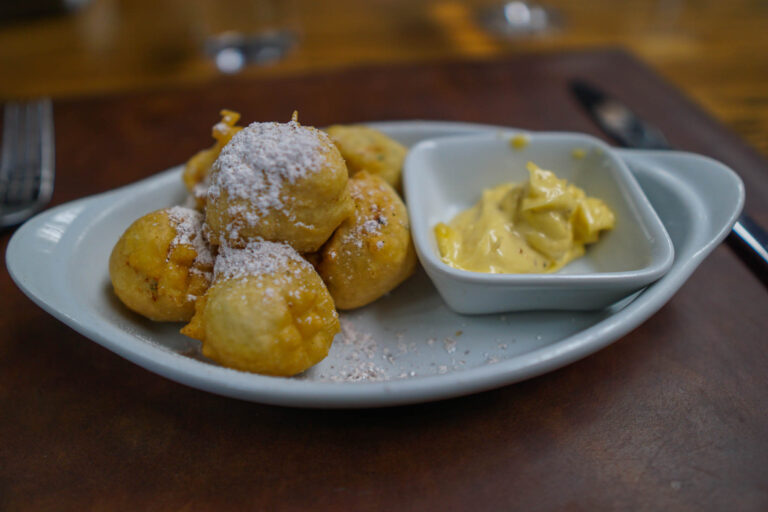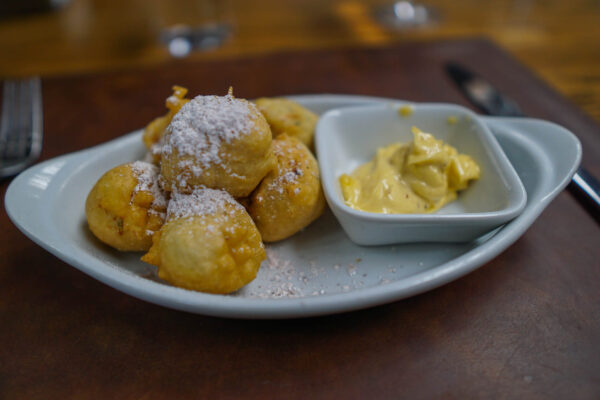 Whatever you do when visiting The Grey, if you are there for brunch you must grab an order of the crab beignets. These may look like traditional beignets on the outside, but the batter itself is quite thin. It hides a monster dollop of crab and mascarpone underneath that comes together for, what we believe, is the perfect bite of food thanks to the texture and flavor combinations you get from it.
We ordered it both visits, and kind of regret not ordering another plate. It is that good.
The Grey is located at 109 Martin Luther King Jr. Blvd.
Husk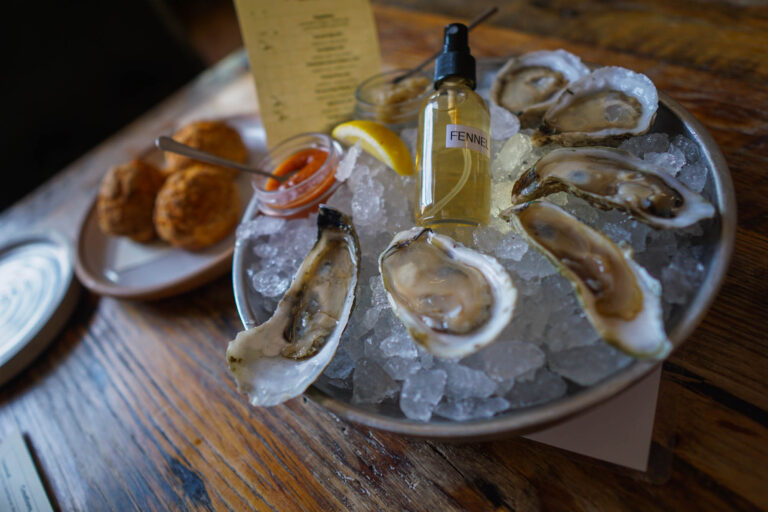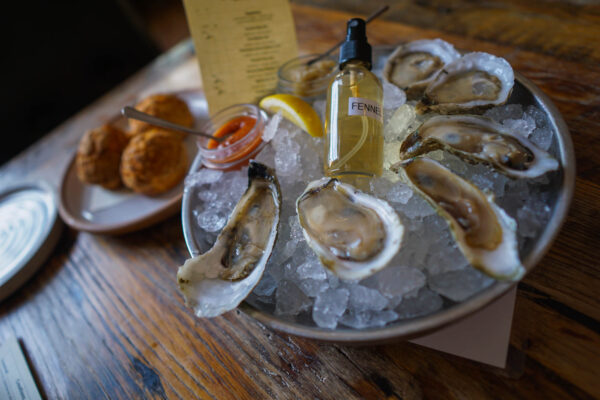 Our growing love of wine led us to find out about Husk- a fine dining restaurant located in a historic building in Savannah that celebrates southern cuisine paired with an impressive wine and spirits list.
You notice the elevated experience here as soon as you arrive as dining tables are set up in just about every room in the former mansion with an aesthetic to match (be sure to peak into the 2nd-floor bar- it is the house's former ballroom). From there, you'll be captivated by the menus- both food and wine.
On the food side of things, Husk has interesting options (rotating daily based on what is available) like trays of oysters with peanut horseradish and fennel spray, cobia, pimento cheese rolls, and more. Some southern elements may be subtle. Others may be more overt. But it is the kind of spot where you really can't go wrong with anything on the menu (plus a glass of wine).
Husk is located at 12 W Olgethorpe Avenue.
The Collins Quarter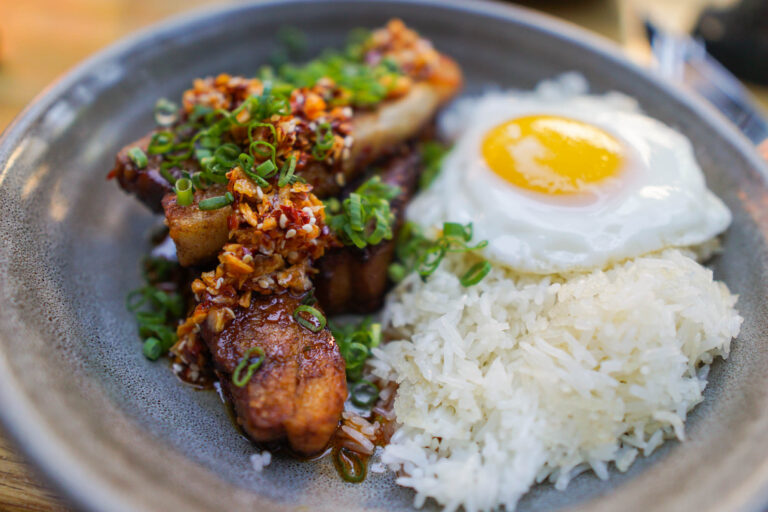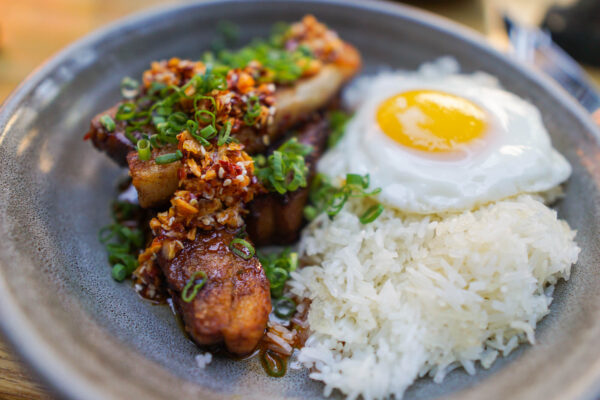 At first, we weren't sure if The Collins Quarter would've been a must-hit restaurant in Savannah. This one is styled after Melbourne's Collins Street for a cafe vibe and comes with an impressive modern dinner menu and is distinctly not southern.
But this one did have two things we love- it is found in a gorgeous converted house in the historic district and, during our visit at least, wasn't completely full of reservations such that they accepted walk-ins.
As it so happened, we didn't have dinner reservations one night and were fortunate enough to get a table right away.
Our meal here was a bit different from any of the other spots featured on this list. Think appetizers like chorizo and cauliflower fundido, pan-roasted fish in a three soy broth with a fried egg, and pork belly to name a few. But it was the execution of these dishes that really blew us away. Flawlessly cooked fish, pork belly with a texture that is crispy on the outside and literally melt-in-the-mouth on the inside.
We ate every bite and were tempted on ordering another round just because. That is something worth returning for.
The Collins Quarter is located at 151 Bull Street.
Leopold's Ice Cream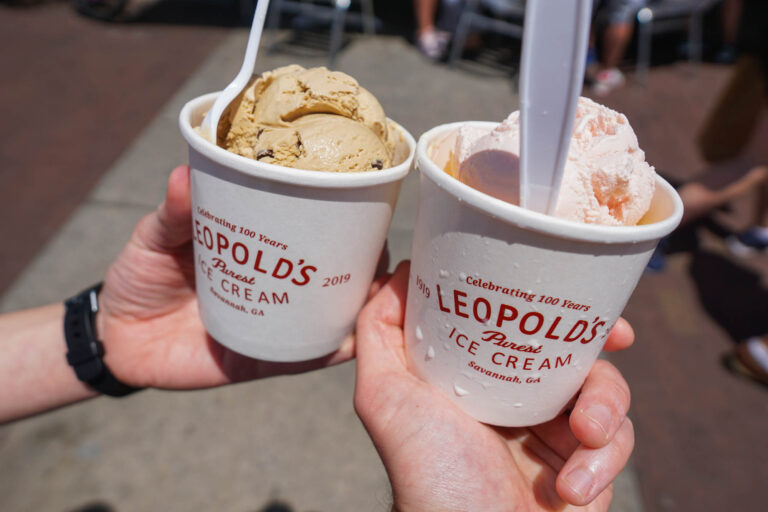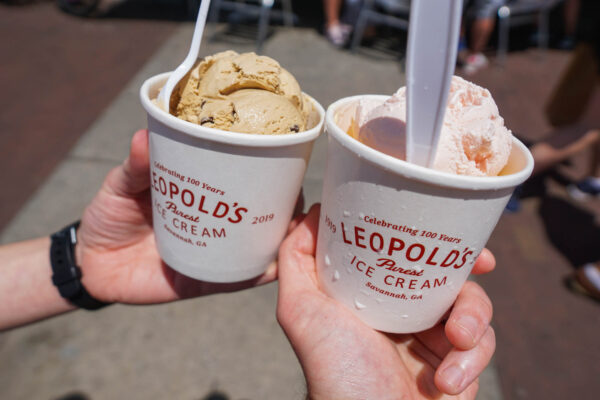 While we'd normally not call an ice cream parlor a restaurant proper, in Savannah, Leopold's Ice Cream deserves an exception- you can and should make this place a dedicated meal (translation: order that extra scoop).
This 100-year-old+ ice cream shop is an icon in the city, and visitors flock to try out their staple and monthly featured scoops day-in and day-out. So many visit their shop, in fact, that you can expect a 15-60 minute wait at all hours of the day just to get inside!
As such, you really should just plan to make a meal out of this one because with waits like that, you'll want to go for an extra scoop when you finally make it inside.
Now, as ice cream connoisseurs (who make ice cream at home regularly) we are sometimes suspect of shops that are a century old. The texture and flavor intensity of what was available back then relative to modern tastes often never seems to align. But at Leopold's well, this is the real deal.
Their ice cream is thick but not dense, creamy and not icy, and flavors that have mix-ins (like Cookies) have an abundance in every single bite. They have staple flavors like strawberry and chocolate and more unusual options like lemon custard, cherry blossom (April special), and a whole lot more. For those who like nuts, Georgian pecans can be found in a number of scoops as well!
Like we said at the start of this section, do yourself a favor and consider Leopold's to be a restaurant and not a dessert stop. You'll want that extra scoop (or three).
Leopold's is located at 212 E Broughton Street. If you miss Leopold's while in Savannah, they have shops in the airport as well but with limited flavors (the store pre-security seems to have more options than the kiosk post-security).
Mrs. Wilkes Dining Room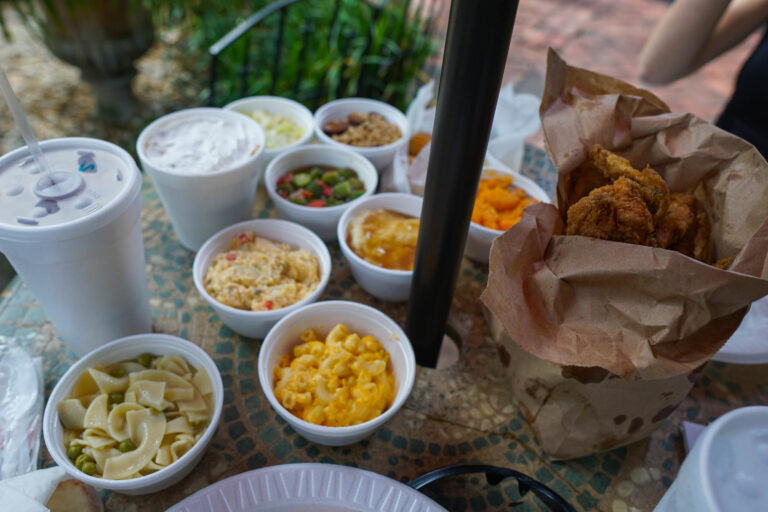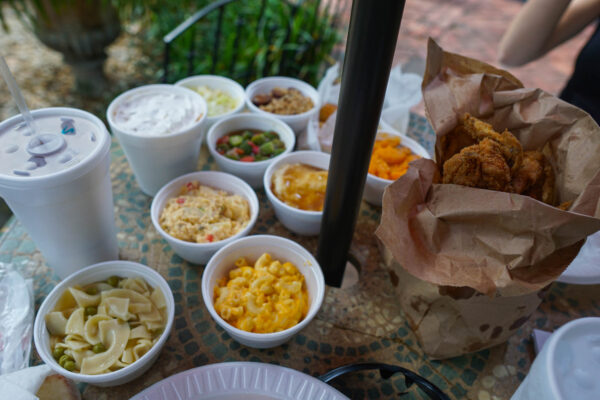 If there is a restaurant that could be the embodiment of southern hospitality, it would be Mrs. Wilkes Dining Room. If delicious, stick-to-your-ribs southern food is what you're looking for, you will definitely want to check this one out.
Mrs. Wilkes first purchased the property in the 1940s to be a boarding house and restaurant and is still serving up their communal style feasts of southern classics to this day. Fried chicken? You got it. Okra in a tomato and bacon sauce? Yep. Biscuits? They're incredible. Banana pudding? Don't skip out on that one.
Historically, Mrs. Wilkes Dining Room would open for lunch (promptly at 11 am with a long line of people arriving well before open) and patrons would sit around the table with strangers to be served the monster feast. However, we visited in early 2021 and were able to get individual orders served to enjoy outside. But, in true Mrs. Wilkes fashion, instead of one order of fried chicken and three sides, we were given two orders of fried chicken and seven sides for the cost of one.
Southern hospitality indeed, but we have to admit we look forward to returning when we can enjoy this one in its family-style dining room!
Mrs. Wilkes Dining Room is located at 107 W Jones Street and is cash only.
Bonus – Byrd's Famous Cookies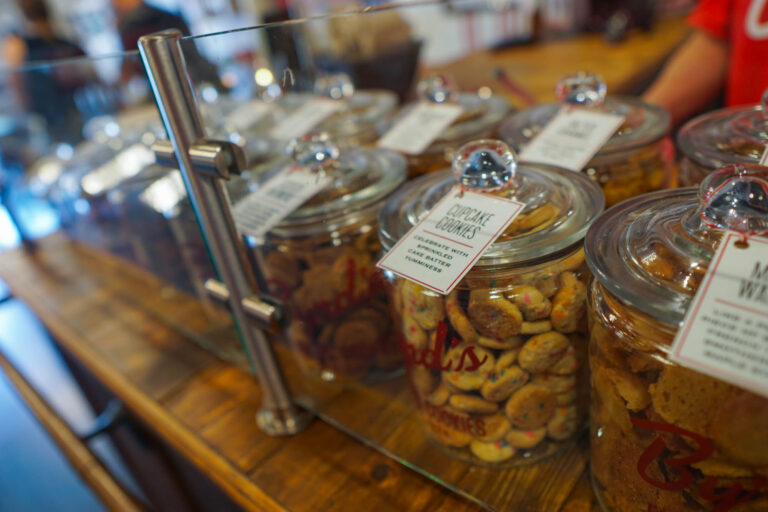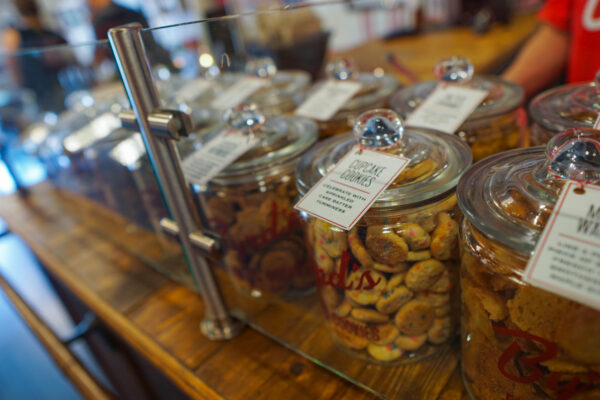 As a bonus, we wanted to briefly mention one more spot you need to check out when in Savannah- Byrd's Famous Cookies.
This one is not a restaurant but deserves a mention all the same for their unique and delightful cookies. These bite-sized cookies have been pleasing the masses since 1924 when the original scotch oatmeal flavor was released (and is still a must-try to this day). Since then the cookie company has an array of sweet and savory flavors with a few like Georgia Peach and Key Lime being especially delicious (they put the flavors in the cookie as well as in the powdered sugar on the outside- a double hit!).
Do yourself a favor and walk into the store as you walk down River Street. Go in for the samples and leave with a bag (or three). You won't regret it!
Byrd's Famous Cookies has several Savannah locations but the most accessible to us is at 423 East River Street right on the water.
What is your favorite restaurant in Savannah? Comment below to share and we may check it out on our next visit!
Looking for the best bars in Savannah for a pre or post-meal cocktail? Click the previous link to check out some of our favorite speakeasys!
About Angie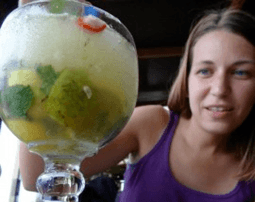 About the Author: Angie is a contributing author. She has been to nearly 60 countries and seeks out the best restaurants, bars, bakeries, and other unique food items wherever she goes- often with her husband, Jeremy.