Published by Jeremy. Last Updated on January 13, 2022.
Disclaimers: Our site uses demographic data, email opt-ins, display advertising, and affiliate links. Please check out our Terms and Conditions for more information. Listed prices and attraction details may have changed since our visit and initial publication.
You may know that Savannah is a rather liberal city when it comes to alcohol. The historic district allows for open containers in plastic cups and the city was said to be quite wet even during the days of Prohibition. There is even a popular quote in Midnight in the Garden of Good and Evil that goes as follows:
"If you go to Atlanta, the first question people ask you is, "What's your business?" In Macon they ask, "Where do you go to church?" In Augusta they ask your grandmother's maiden name. But in Savannah the first question people ask you is "What would you like to drink?"
To put it simply, Savannah likes a good drink. If this speaks to you the way that it does me, well, you're going to have a great time when visiting.
Naturally, when we heard about the city's cocktail bar and speakeasy scene, we knew we had to try out as many as we could. If you are looking for a stellar cocktail, the following truly are some of the best bars in Savannah!
Artillery Bar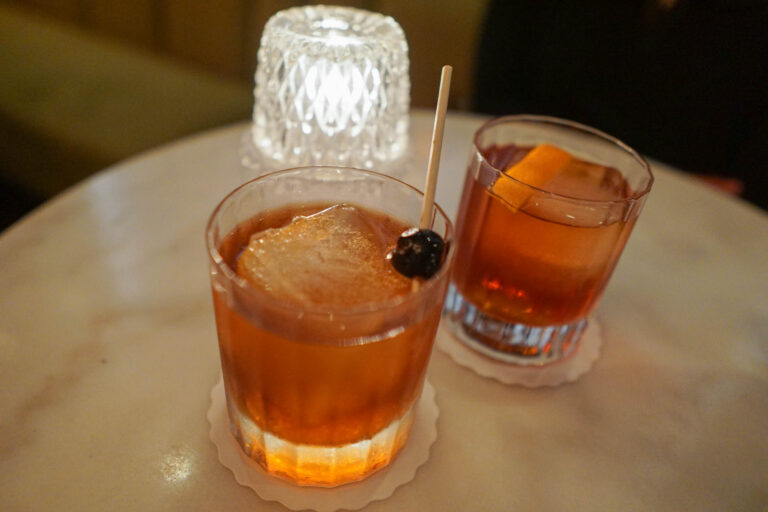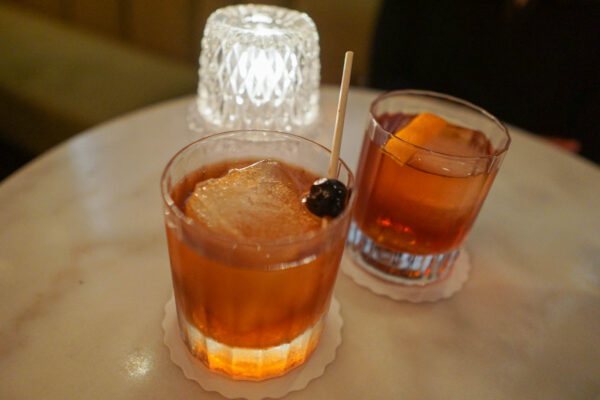 Odds are good you'll walk past Artillery on Bull Street and, if during the day, not give it a second look. Or, if you do, you may wonder what it is inside exactly (hint: it's a cocktail and wine bar).
This one dazzles with the aesthetics before you even walk in through the doors as the bar is found in a former armory- hence the name. Throwbacks to the past are found at every corner and modern design elements are done in such a way that this bar simply feels timeless.
From there, you'll do well to dive into the menu to explore the robust wine selection as well as approximately 35 cocktails available. Each has the ingredients meticulously laid out as well as glass shapes for good measure (a feature I adore as it helps me avoid mules and anything in a Collins glass). But perhaps the true highlight was the service as our waiter could tell, rightfully so, that we were struggling with such a large menu.
He swooped in, asked what we were looking at, what cocktails we like, and instantly directed us to ones that would best suit our tastes. I ended up being directed to The Doc (featuring rye, china china, bitters, spearmint, and smoked pipe tobacco) while Angie settled on the classic Vieux Carre (made with Armagnac, rye, vermouth, benedictine, and bitters). Let's just say, these did not let down.
I was directed to The Doc mostly because I said I like spirit-forward cocktails and was eyeing a couple that were smokey thanks to having mezcal. I was recommended this one as a hybrid between and Old Fashioned and Manhattan with a whisp of tobacco smoke infused to give a herbal and smokey note to it (it hit all points). Angie's Vieux Carre had a similar elevation to it thanks to the Armagnac and rye combo, and these two packed quite the punch such that we didn't even need a second round. But oh did we really want it.
Overall, if you want a high-end cocktail bar experience with some of the most knowledgeable bartenders around, Artillery should be on your list.
Artillery Bar is located at 307 Bull Street.
Peacock Lounge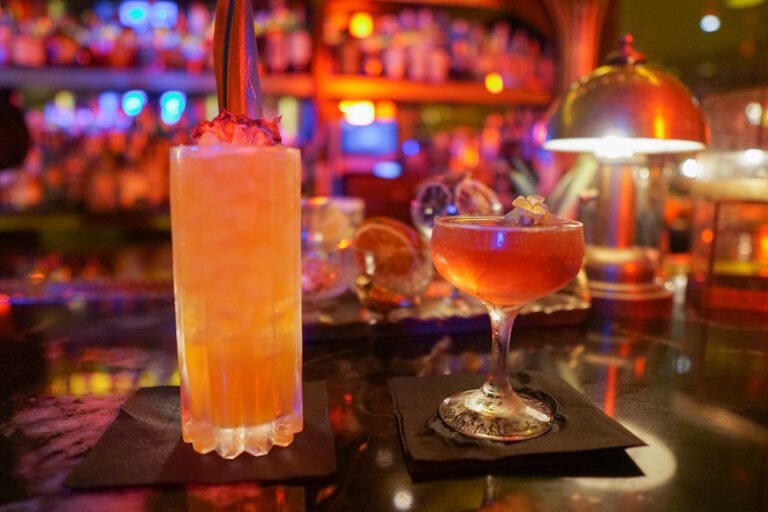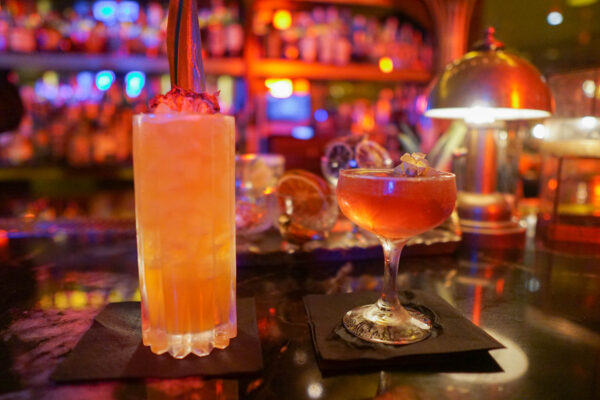 Peacock Lounge is what we think you would get if you took one part speakeasy and blended it in with one part night club. It has the timeless elegance of what you'd love from a speakeasy (plus a back alley entrance to the basement bar below Flock to the Wok- a great Savannah restaurant we might add) as well as night club elements like bottle service for tables.
Unlike the other two cocktail bars featured in this guide, Peacock Lounge has, by comparison, a much smaller cocktail menu- roughly six house originals and six classics at the time of our visit.
While this is a solid cocktail list in its own right, we only mention this because the menus for draft beer, cans, wine, and spirit bottles for table service are all just as long- making this a well-rounded bar no matter what you are looking for.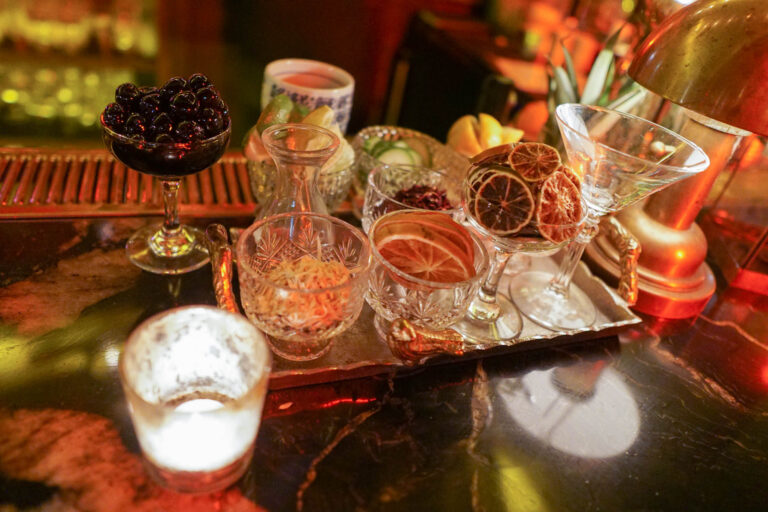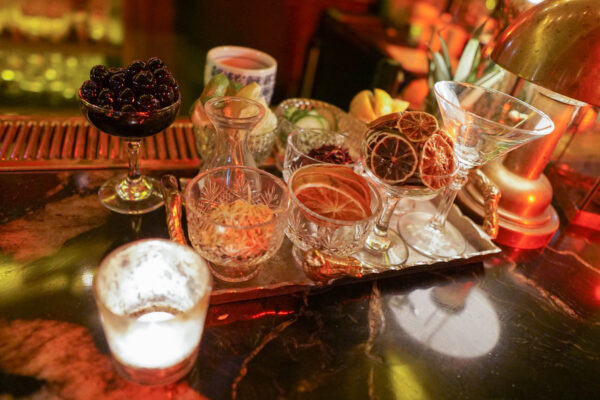 We, naturally, went with the house creations and had two cocktails- the Birds of a Feather (rum with coconut water, pineapple liqueur, lime, and bitters) and Guardians of Royalty (vodka with elderflower, creme de framboise, and bubbles).
Birds of a Feather was, to me, lacking ever-so-slightly in the flavor intensity department. I got the rum, I got the coconut, but was hoping for a bit more of a punch from the pineapple and lime to bring it all together. This was offset by the Guardians of Royalty; however, as it was an exceptionally balanced cocktail with just a kiss of elderflower that simply worked.
Delicate and refreshing is all we need in that one!
Peacock Lounge is located at 37 Whitaker Street under Flock to the Wok.
Alley Cat Lounge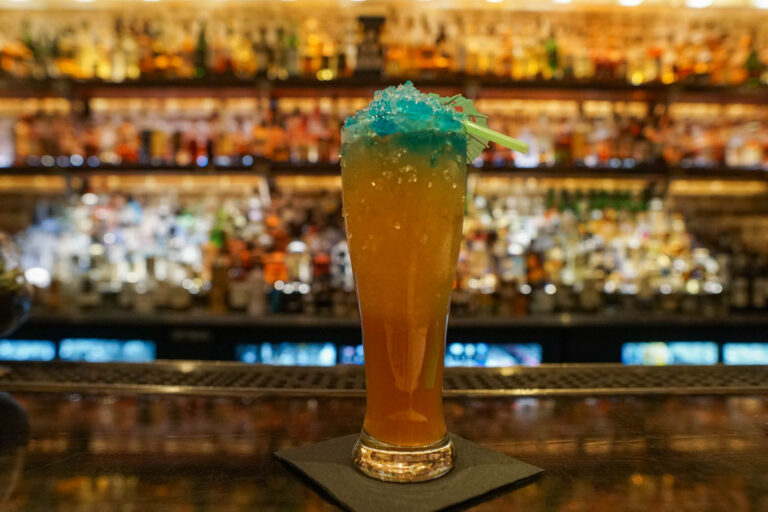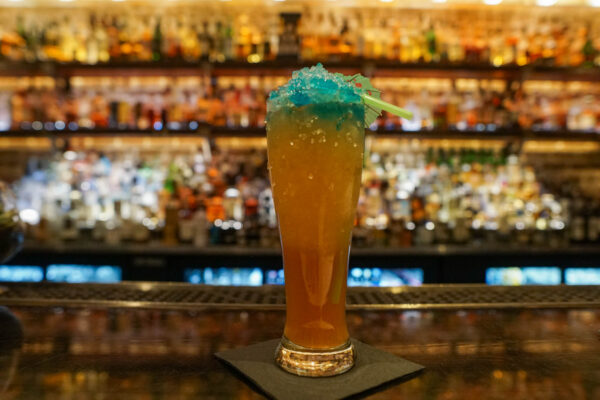 The final cocktail bar in Savannah we visited was Alley Cat Lounge- another speakeasy whose entrance to the basement bar is found in a back alley on W Broughton Lane.
If any bar has what we'd consider a tried-and-true speakeasy vibe, it most certainly would be this one. But you'll quickly move on from the ambiance after sitting down as the menu, printed in the format of an old newspaper, features a selection of their roughly one hundred cocktails available!
As such, if you need a bar that will satisfy every interest, you've found your place. If you want a tiki cocktail? They have many. Spirit-forward twists on classics? They have you covered. Or perhaps just the classics? Naturally, you can get those too. This is truly my kind of bar and my only regret is that we could only visit once.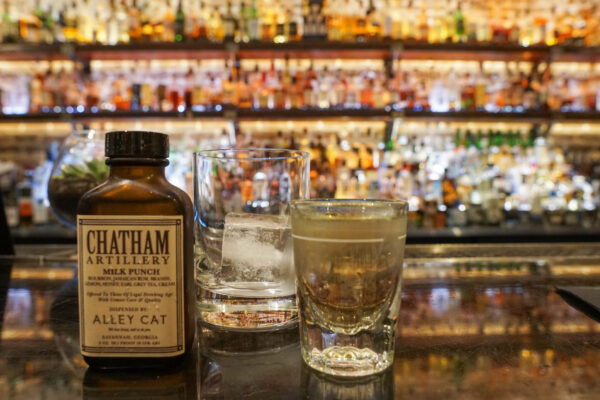 One of the best things about Alley Cat Lounge is that they say every cocktail has a story, and when you work your way through the newspaper of drinks you will learn about the cocktail, the history and inspiration for it, as well as other fun facts are thrown in as well. As we said, you'll quickly move on from the vibe here as the stories of the cocktails will ensure you stay for another round.
To say it took us a while to decide on our first round is an understatement.
In this one particular bar, we'd normally say to find your favorite style cocktails and find the ones that are the closest house takes on them and you'll be pleased (their papers are organized by drink type so it is easy to sort through). But no matter what you do, someone in your party should add on the Chatham Artillery Milk Punch- a specialty of the bar made of bourbon, Jamaican rum, brandy, lemon, honey, Earl Grey tea, cream (seemingly clarified), and a chaser of Champagne to mix in as you see fit.
It is a cocktail that is truly unique to Savannah (and the bar) and is worth all the fanfare it receives and then some.
Alley Cat Lounge is located at 207 W Broughton Lane.
Do you have a favorite bar in Savannah that we should check out next time we're in town? Comment below to share!
Looking for the best restaurants in Savannah or perhaps Savannah breweries? Click the previous links to check out some of our favorites! Or if you're looking for a day trip, Check out tours from Viator!
About Jeremy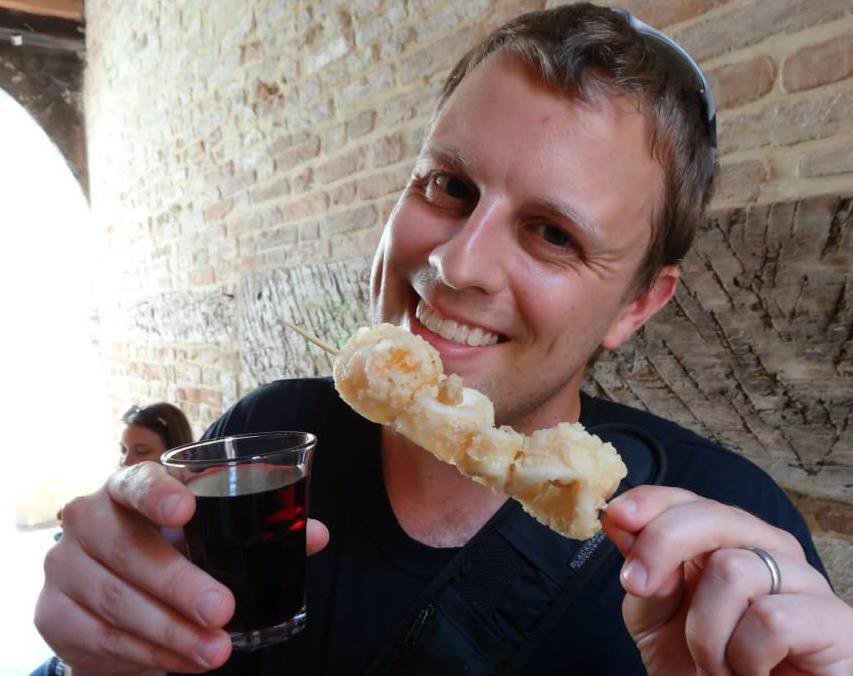 About the Author: Jeremy is a full-time travel writer based in Pittsburgh and primary author of this site. He has been to 70+ countries on five continents and seeks out new food, adventure activities, and off-the-beaten-path experiences wherever he travels.