Last Updated on November 18, 2022 by Jeremy
Disclaimers: Our site uses demographic data, email opt-ins, display advertising, and affiliate links. Please check out our Terms and Conditions for more information. Listed prices and attraction details may have changed since our visit and initial publication.
When it comes to drinking, Savannah sure knows how to do things right. The city seems to pride itself on its drinking scene (among many other historical features, of course) and is one of just a few major cities in the country where the bulk of the historic district allows for open containers.
Yes, you read that right. In the old town of Savannah, you can walk around with a beverage in a plastic container and drink as you please.
But as far as the craft brewery scene is concerned, well, Savannah is only just getting started. During our visit, we were able to make it to five Savannah breweries and wanted to share a bit more about what you can expect in this one!
Moon River Brewing Company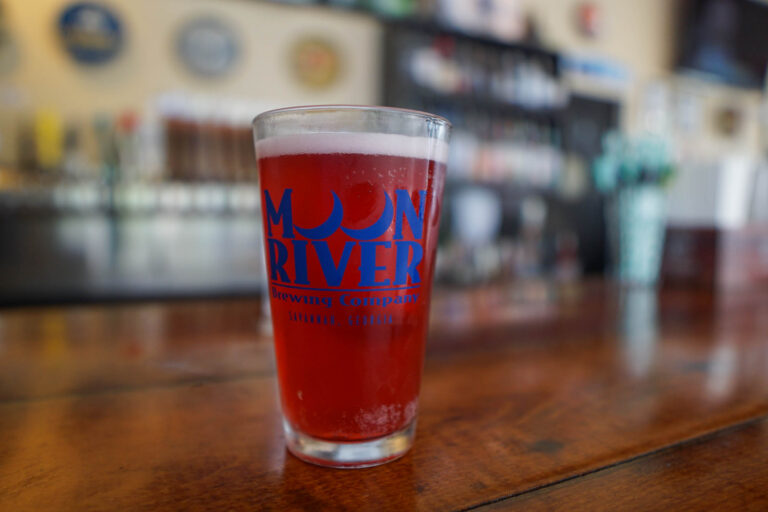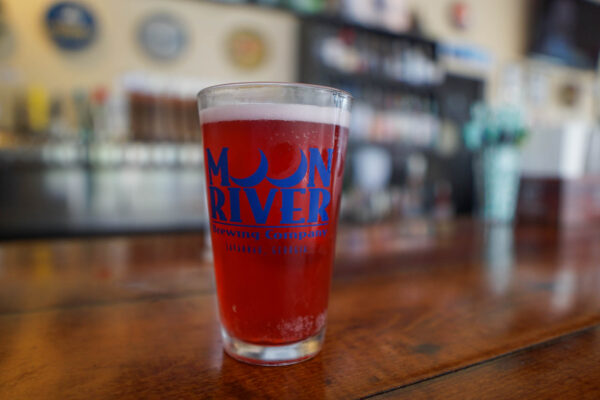 Moon River Brewing Company is the oldest brewery in Savannah and is one of just a few located in the historic town center (in a rumored haunted building- although every building in Savannah is rumored to be haunted). This one offers a large indoor and outdoor space and also hits the open container law options quite well thanks to its easy accessibility.
During my visit, I had trouble picking out what I wanted to try for two reasons. First, they did not offer flights. Second, there was a decent spread of IPA, fruited sours, porters, and more that I wanted to try (plus a barrel-aged that had just kicked right before I arrived). So while I can say that I appreciated the tartness and subtle fruit flavors in the draft I had, unfortunately, I cannot speak much more on this spot beyond the one- the lack of flights made it a bit limiting.
That being said, if you need a walking around beer in Savannah, you can't mess with this wonderful option!
Moon River Brewing is located at 21 W Bay Street.
New Realm Brewing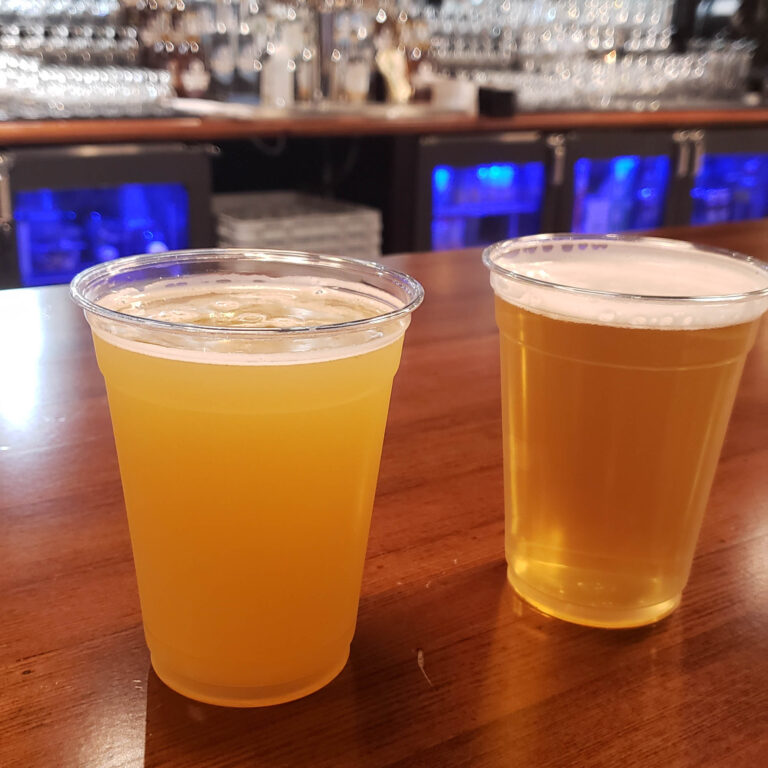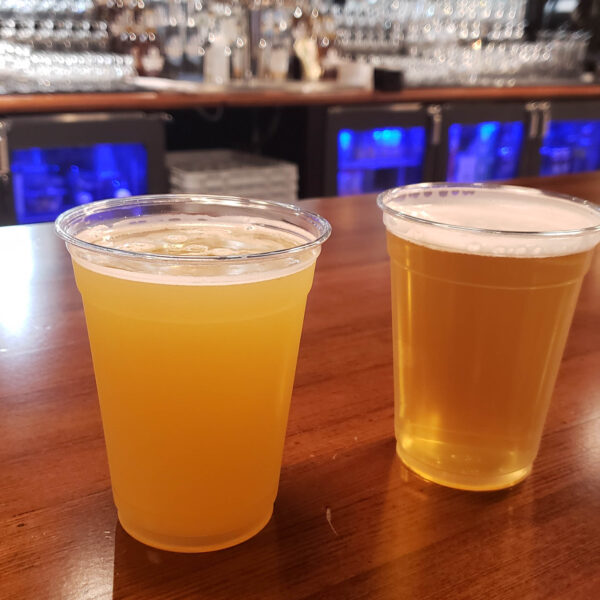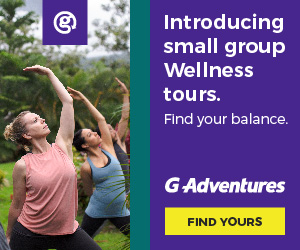 We almost missed New Realm Brewing in Savannah because this one was so new it wasn't even on any maps yet- we only saw it when walking down Broughton looking for a bar to order a beer to go to enjoy on our ghost tour. Had we not looked down the side street and saw the monster sign, we probably would've missed this one entirely.
As it turns out, this one is a combo brewery, distillery, and restaurant and is an expansion outpost from the Atlanta-based producer (they also have locations in Charleston and Virginia Beach, too).
During our visit, we were a bit bummed that the brewery only had a selection of IPAs, Pilsners, and Lagers on draft, but grabbed a quick IPA and Lager to enjoy on our walking tour. These were both nice clean iterations of the styles, but the lack of variety on the draft list gave us pause to return on this particular visit. Since then it looks like they've broadened their horizons with some sours, German, and Belgian varieties on draft too- if only we visited a few weeks later!
In either case, this brewery has an absolutely stunning space in Savannah with two floors of bars, a gorgeous distillery visible in the production area, and of course, food!
New Realm Brewing is located at 120 Whitaker St.
Two Tides Brewing Company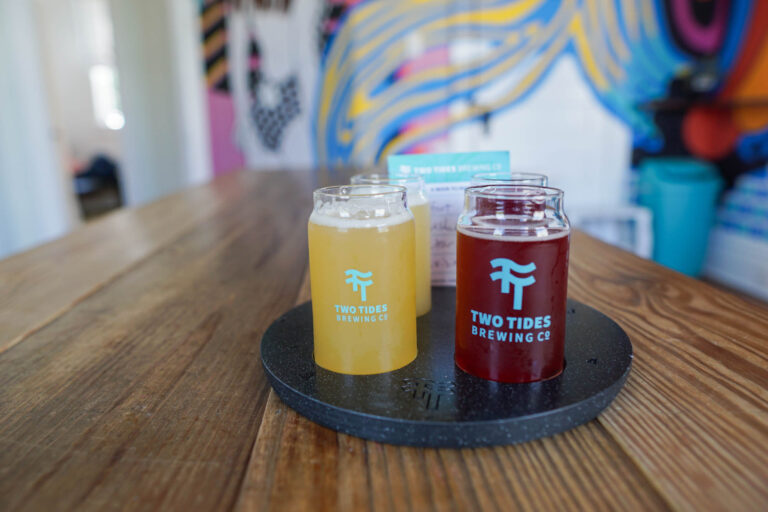 To visit Two Tides Brewing Company, you're going to have to go on a little jaunt outside of the historic center of Savannah. This one is located on 41st Street and is just about one mile away from the southern end of Forsyth Park (keep walking down Bull, turn right on 41st, and you can't miss it).
But while this one may be a decent walk (or drive) away from the old town, those who make the effort will be rewarded with an exceptional draft beer list.
This one says they "thrive on experimentation" and warn visitors that the menu can change frequently, so we'd be hesitant on saying any brew is available for long. But to give you an idea of some styles of beers we had there was a breakfast sour with pineapple, blueberry, banana, coconut, pancakes, and maple syrup; a peach and raspberry cheesecake sour; an imperial porter conditioned on Oreos, cocoa, marshmallow, vanilla, and lactose; as well as some incredibly juicy New England IPAs to name a few.
So if experimental brews with a strong leaning towards fruited sours, stouts, or IPA are something you enjoy, you'll do well to make the trek out to 41st Street to check Two Tides out.
Two Tides Brewing is located at 12 W 41st St.
Hop Atomica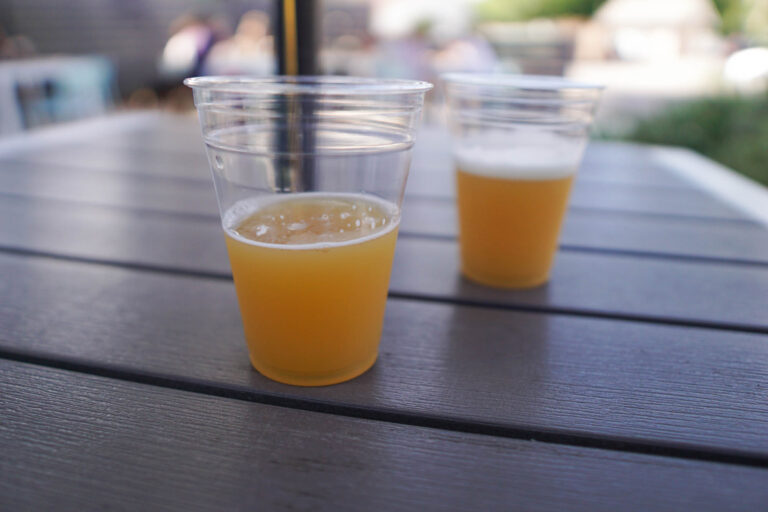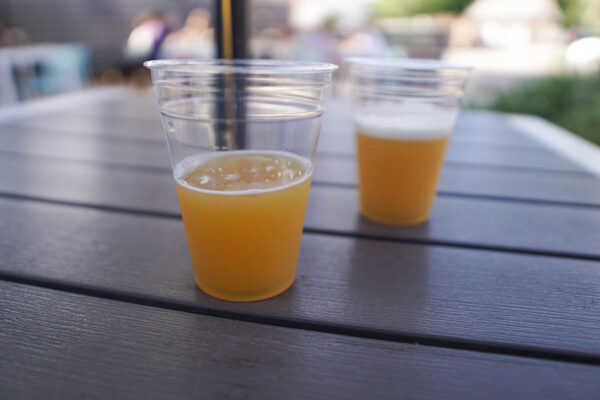 If one brewery isn't enough to convince you to head south of the old town, how about a second one? Hop Atomica is located on 39th street just about 10 blocks away (east and north) of Two Tides, meaning you can make this a one-two stop on your Savannah breweries crawl!
While we could make the case that Hop Atomica is similar to Two Tides in that they also have an abundance of IPA and fruited sour, their draft list had a bit of a broader spectrum that we also appreciated. On the unique side of things, we were able to sample a Mangonada which was a mango smoothie sour with a chamoy syrup rim, a Japanese rice lager, and of course some more juicy IPA for a good mix.
One of the best parts about Hop Atomica is that they also have an in-house scratch kitchen serving up pizza and tacos and you'll do well to place an order (of both, preferably) if you are hungry when visiting. The food is delicious!
Hop Atomica is located at 535 E 39th Street.
Southbound Brewing Company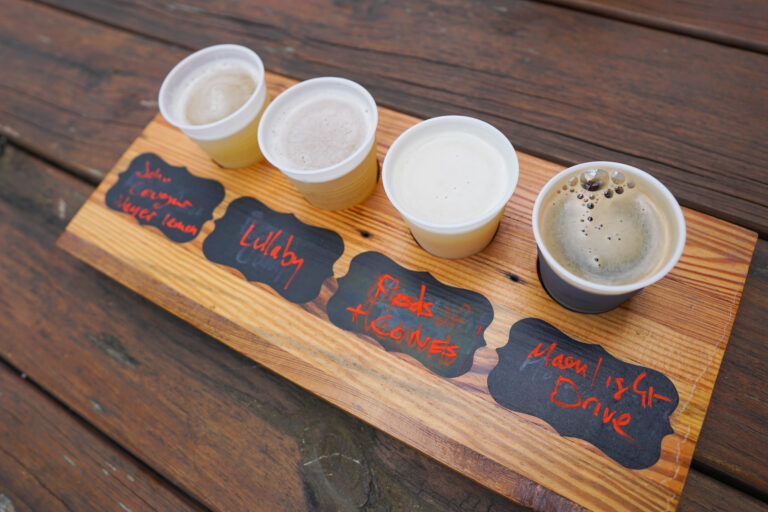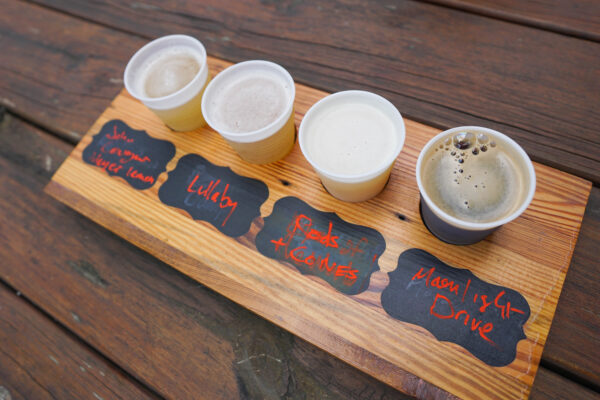 Southbound Brewing Company is located a bit closer to the old town of Savannah, but visitors to this one will likely hop in their car to drive over to the taproom to avoid walking west down the busy Bay Street (we visited this one right before heading back to the airport as it was on the way).
During our visit they had a rather robust spread of brews including conventional styles like Imperial Stouts and IPAs as well as flavored brews like the John Cougar Meyer Lemon (a lemon gose) and Lullaby (chamomile wheat). I personally found the flavors of these brews to be quite good but were perhaps a bit lighter in body than what I'd typically prefer. Still, great to enjoy on a hot Savannah day as they'll go down quickly.
We were also able to track down a can of their Eyes of the World Double IPA for their anniversary release and was branded as having notes of mango, passion fruit, and dank citrus and they were certainly not kidding. If juicy tropical IPAs are what you seek, honestly this one may have been the best brew we had in all of Savannah!
Southbound Brewing is located at 107 E Lathrop Ave.
Looking for Savannah cocktail bars instead? The city has a number of great speakeasies you should check out as well!
About Jeremy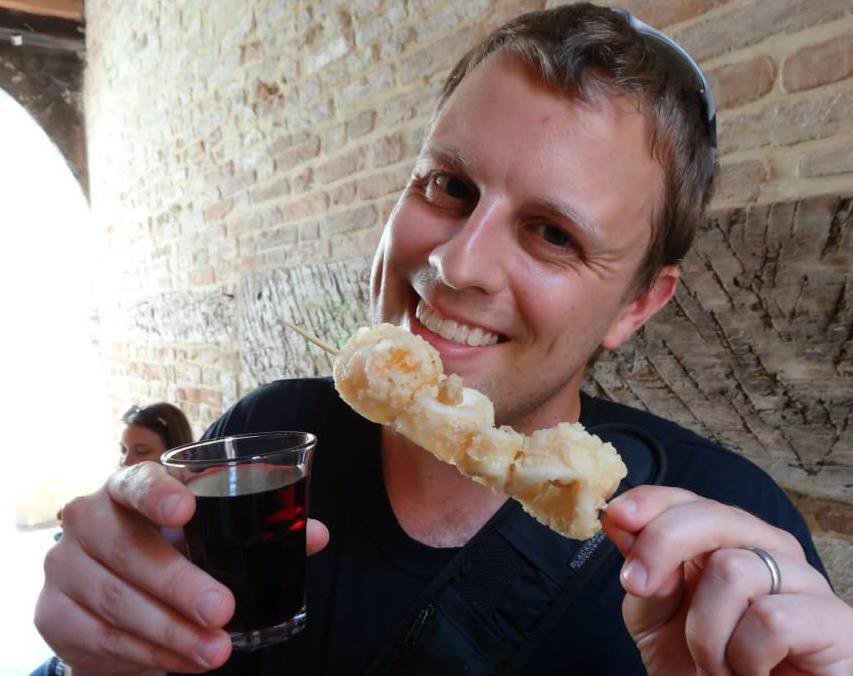 About the Author: Jeremy is a full-time travel writer based in Pittsburgh and primary author of this site. He has been to 70+ countries on five continents and seeks out new food, adventure activities, and off-the-beaten-path experiences wherever he travels.