Last Updated on January 23, 2023 by Jeremy
Disclaimers: We were hosted for this experience. Our site uses demographic data, email opt-ins, display advertising, and affiliate links. Please check out our Terms and Conditions for more information. Listed prices and attraction details may have changed since our visit and initial publication.
Prior to visiting Tempe, AZ, I did not know what to expect.
I knew that the city was located in the Sonoran desert, just outside of Pheonix. I also knew that it was a college town, being home to Arizona State University (ASU). But it wasn't until I really dove in during my first visit that I really got to discover the many awesome things to do in Tempe, AZ.
Today, I want to share some of those spots. So whether you want to eat, enjoy the city's libation scene, or be active, Tempe has a lot in store for you!
A Ton of Hiking Near Tempe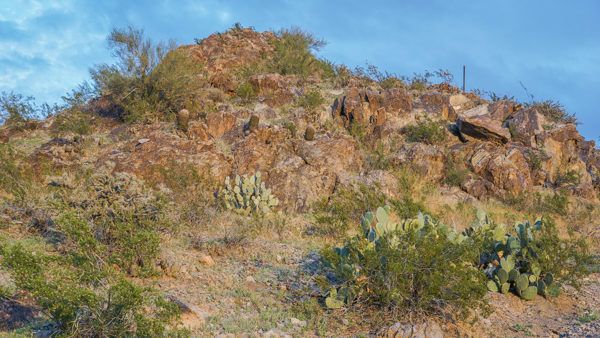 When I first think of the desert, hiking is not the first thing that comes to mind. But in Tempe, you really should consider it.
Within the city limits itself is the famous "A" Mountain (also known as Hayden Butte, although no one locally calls it that). This 1,500 foot butte is located in the heart of the city just steps away from the business district on Mill Avenue.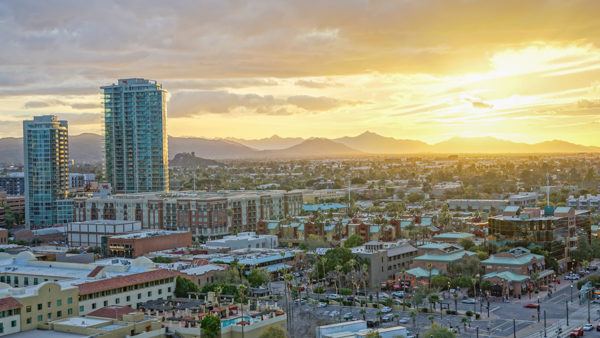 This means you can take a stroll up for sunset and back in well under a half hour, and then walk just across the street to grab dinner at one of Tempe's restaurants!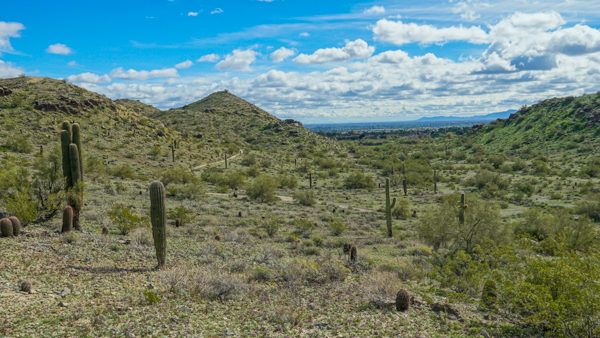 For those who are looking for a bit more of an outing, a trip to Pima Canyon in South Mountain Park is for you.
South Mountain Park is located about 30 minutes southwest of the city and comes in at a whopping 16,000 acres- making it one of the largest metro parks in the country! The Pima Canyon section of the park is closest to Tempe and offers several miles of hiking trails with beautiful views including glimpses of the skylines of Tempe and Phoenix!
For those looking for a morning hike before the desert heat kicks in, Pima Canyon is definitely worth a visit. Just be sure to take water and prepare your route in advance as the signs are not the best (click the link above to read more from my hike!).
Visit the Desert Botanical Garden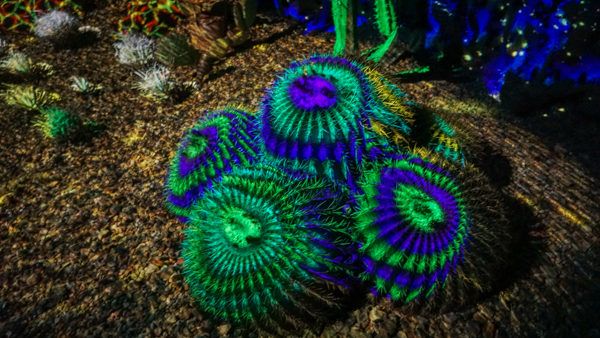 During my visit to the Desert Botanical Gardens I was able to experience a stellar night-time exhibit, Electric Desert, which was a limited time performance running from October 2018 to May 2019 (although special night-time exhibits are fairly common).
The show consisted of several themed areas where the plants and cacti had a dazzling light display projected on them (accompanied by music). As I later found out, the plants were 3d mapped in order to plan every single light experience perfectly- an impressive level of detail!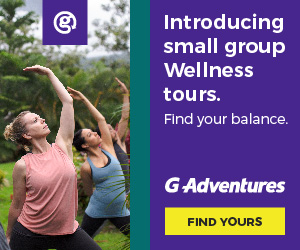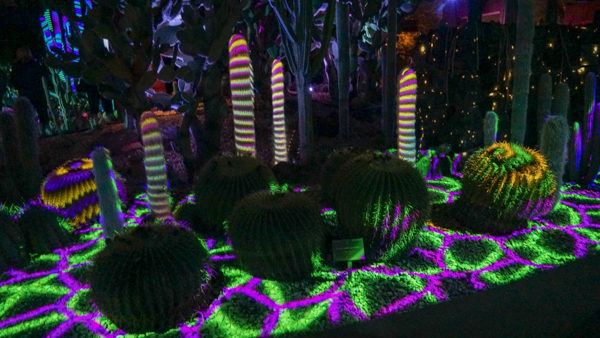 The star attraction was a 20-minute show projected on a butte that created a monumental visual experience with impressive details (such as the cacti getting their own light projections differing from the main landscape for a bit of pop).
Overall, it was a pretty surreal experience.
While I sadly could not visit this one during the day, there is something oddly alluring about visiting a desert landscape at night (safely I might add) that should be on everyone's radar if available when visiting Tempe.
Desert Botanical Gardens is located at 1201 N. Gavin Parkway in Phoenix, just outside of Tempe proper.
Enjoy the Thriving Restaurant and Libations Scene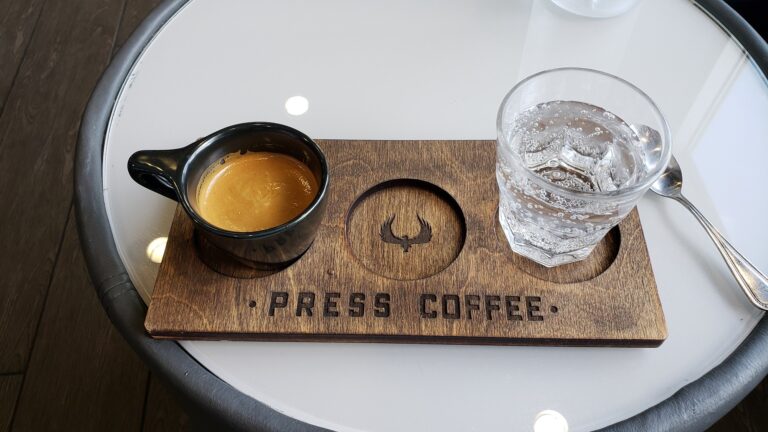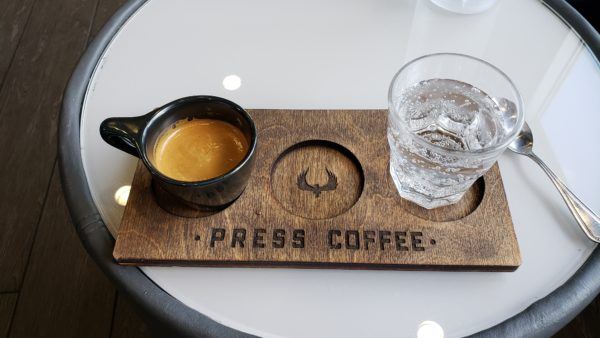 It seems like many cities across the country are having a revival of dining and libations, and Tempe is no different.
Despite being known as a college town, Tempe is a hotspot for restaurants of all caliber, a number of up-and-coming breweries, third-wave coffee shops, and even an award-winning distillery.
During my visit, I made it my mission to visit as many of these spots as I could (especially coffee and libations focused), and my only letdown was that I simply did not have enough room in my stomach for more- there are a ton of spots to enjoy in Tempe!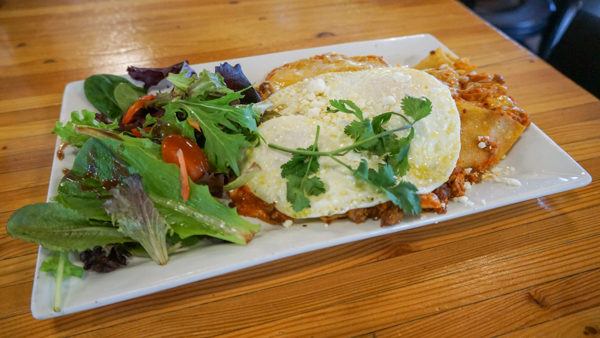 Many options are located in the popular business district along Mill Avenue (just next to ASU's campus) and include gems like The Handlebar (gastropub), Daily Jam (breakfast and lunch), Pedal Haus (brewpub), and, a few steps away, Culinary Dropout (American fare with a stellar bar program).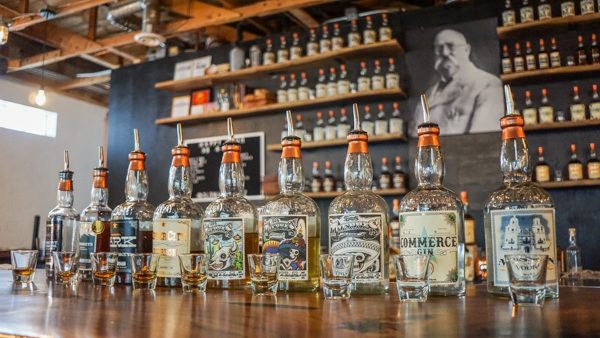 Just blocks away from Mill Avenue is even more options, and on the north end include Press Coffee Roasters and The Shop Beer Co. brewery and to the south includes Cartel Coffee Lab, Arizona Distilling, and Perfect Pear Bistro (a health-focused American comfort food spot).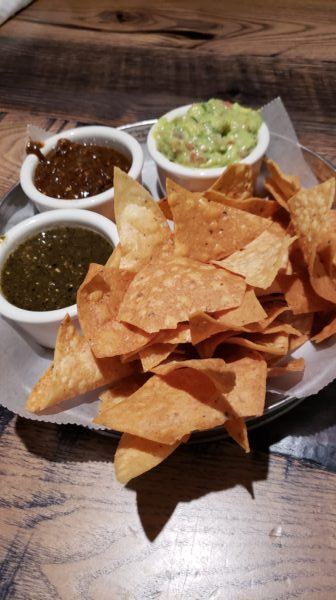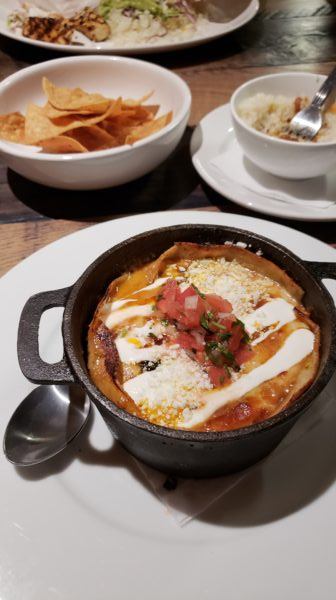 But for a real gem in Tempe's dining scene, you'll want to drive or take an Uber to the city's south end to check out Cotton & Copper (high-end cocktails) and Ghost Ranch (high-end southwest cuisine- get the Aztec Cake if they have it). These restaurants were the stars of my visit and a place that would be first on my hit-list in a return trip.
For a perceived college town, well, all I can say is that I wish my college drinking and dining experience was up to the level that Tempe is.
It is delicious, and I was only able to barely begin scratching the surface at the above!
Go Mountain Biking with Arizona Outback Adventures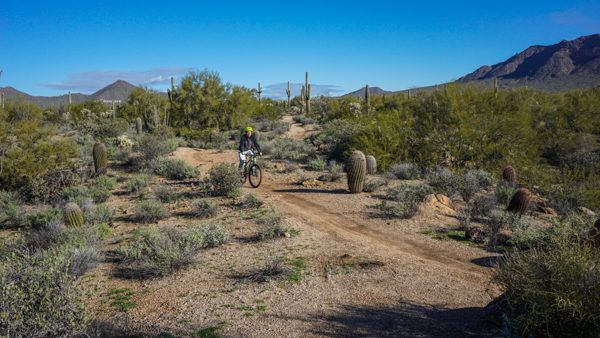 If you hit up Tempe's drinking and dining scene like I did, you're going to need a bit of activity beyond the hiking mentioned above, and going out on a mountain biking trip with Arizona Outback Adventures (AOA) is exactly the thing you'll need to burn off those excess calories.
AOA hits up many spots around the state, but during my Tempe visit I was able to go out on a two-hour bike ride around Usery Mountain Regional Park, near the Superstition Mountains about 30 minutes east of Tempe.
While not traditional mountain biking, going off-road in the desert was a wonderful experience and a great way to see the gorgeous landscape of the Sonoran desert!
Explore ASU's Campus and Museums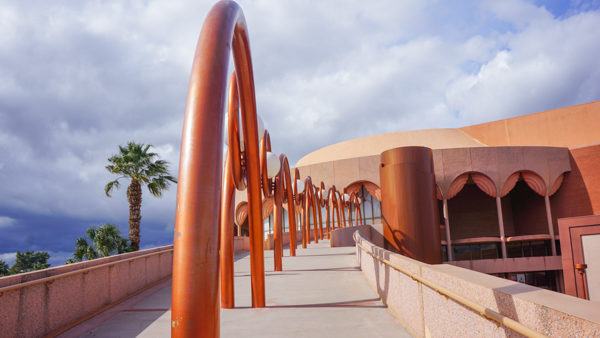 The ASU Gammage, is a stunning theater designed by the legendary Frank Lloyd Wright (of Fallingwater fame) and is home to numerous events including touring Broadway shows.
Even better is that this one is open for free tours on most Mondays and is a great way to learn about Wright's amazing work up-close (including why the design was originally meant for Baghdad and how it came to be in Arizona!)
While I was unable to take photos inside due to a Broadway show being set up, suffice it to say the inside of this one is just as impressive as the outside, and really should be seen!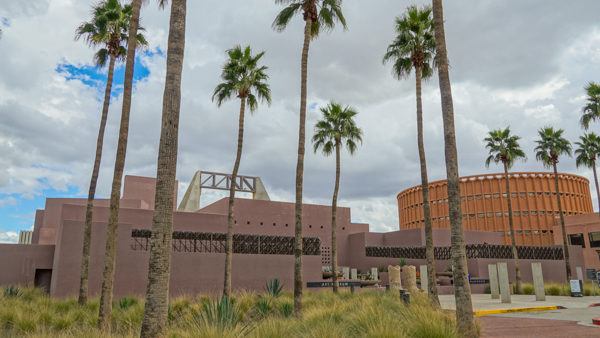 Right next door is the ASU Art Museum, a free museum that is located in another beautifully designed building with a number of different kind of art installations to enjoy. Whether you stop in for a few minutes, or longer to a deep dive, it is great to have access to such art right in the heart of Tempe.
Both The ASU Gammage and ASU Art Museum are located on-campus just off of Mill Avenue and are a short walk away from the business district mentioned above.
Take a Boat Out on Tempe Town Lake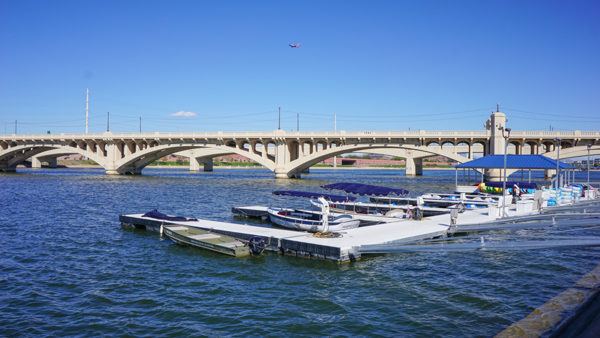 Tempe Town Lake is an interesting spot because this particular lake is actually manmade!
The lake is 225 acres and covers a distance of nearly two miles, meaning that whether you want to get out and boat, paddleboard, or simply walk or jog along the river trail there are a number of options to take in the gorgeous views of a spot that, in all honesty, shouldn't exist in nature at all!
We'll never say no to a lake in the middle of the desert.
Tempe Town Lake is located at the north end of Tempe, just blocks away from the popular business district on Mill Avenue.
Where to Stay in Tempe?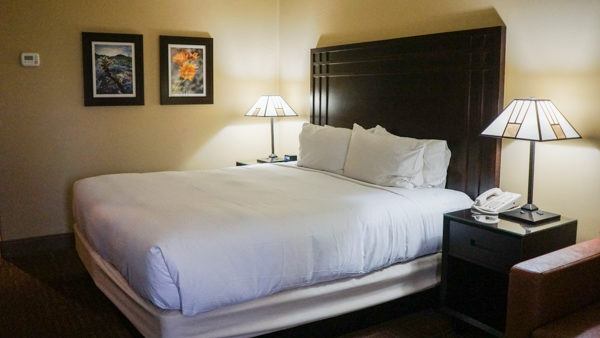 Tempe is an interesting city as it is located, quite literally, just 10 miles away from Phoenix. (In fact, its proximity to other towns like Scottsdale and Mesa came as a bit of a surprise to me.)
That being said, the city is accessible directly from the airport via the Skytrain which means that visitors may not necessarily need a car unless you plan on hiking in far off places (even here I took an Uber to spots like Pima Canyon and it was still cheaper than having a car over the course of my visit).
That being said, for those who want to stay right in the middle of it all should consider the Tempe Mission Palms hotel, which is a stunning property located just steps away from many of the restaurants, college campus, and just steps away "A" Mountain as mentioned above!
Other properties worth considering also include the AC Hotel by Marriott (a great value option if you can find a sale price) and the Frank Lloyd Wright-inspired DoubleTree by Hilton (where I stayed- a bit further away from the action but has a hotel shuttle).
When it comes down to it, there are a number of incredible things to do in Tempe, AZ, and during my brief visit I was only able to take in a cross-section of it. But as far as destinations are concerned, I am quite looking forward to returning for more as soon as possible!
About Jeremy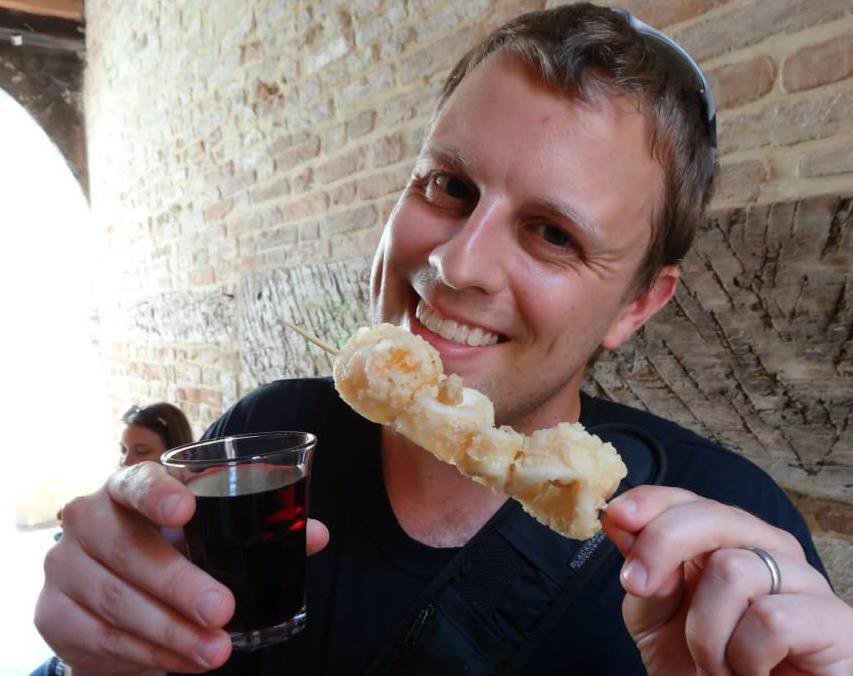 About the Author: Jeremy is a full-time travel writer based in Pittsburgh and primary author of this site. He has been to 70+ countries on five continents and seeks out new food, adventure activities, and off-the-beaten-path experiences wherever he travels.