Published by Jeremy. Last Updated on July 21, 2022.
Disclaimers: Our site uses demographic data, email opt-ins, display advertising, and affiliate links. Please check out our Terms and Conditions for more information. Listed prices and attraction details may have changed since our visit and initial publication.
When it comes to booking a hotel in Old San Juan, if you are a Marriott loyalist, you have two great options- both from the Sheraton brand.
One is the Sheraton Old San Juan and the second is the Sheraton Puerto Rico Hotel & Casino. While the former is what we would call the only true branded hotel in Old San Juan proper, those who are visiting the San Juan region may want to take a hard look at both before committing to a property.
Thankfully, I was fortunate to stay at both of the Sheraton hotels in San Juan on a recent visit and thought I'd share a review of each with side-by-side comparisons to help you plan your stay!
The Sheraton Old San Juan is Dated, But Close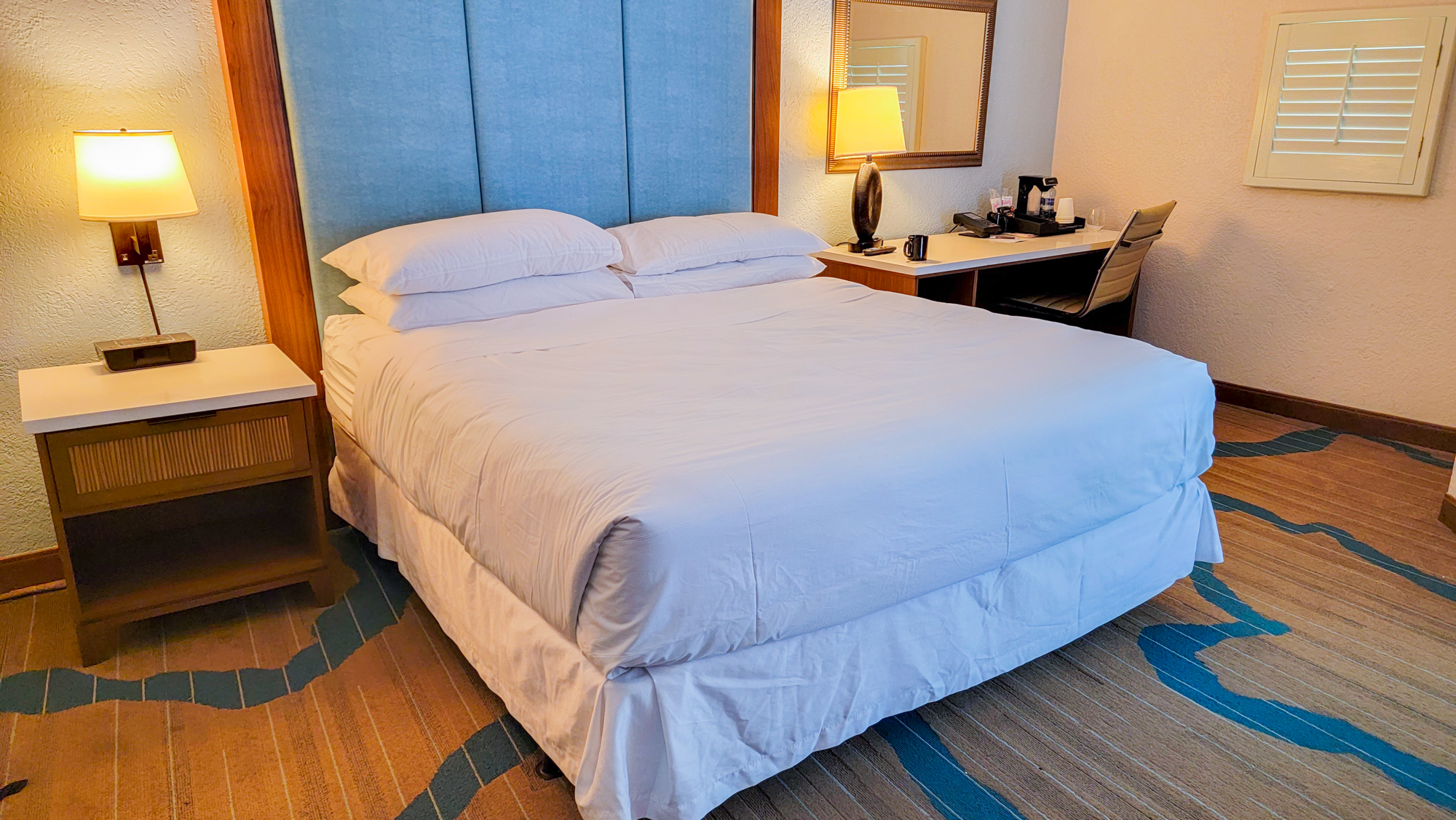 At its core, the Sheraton Old San Juan stands out as one of, if not the only, branded hotel located in the historical city center. Its proximity to highlights like Castillo San Felipe del Morro, Castillo de San Cristobal, Barrachina and other popular San Juan bars and restaurants, and the cruise port is unrivaled. If you book a hotel purely on location, it is hard to say no on this element alone as you can be virtually anywhere within Old San Juan in a 10-20 minute walk.
Unfortunately, while the hotel is rather nice as a whole, outside of the lobby it also feels dated.
Think older style room decor, low functioning air conditioning that never quite hit its target, and island-style shutter blinds that let in a ton of light in the morning. Amenities outside of the room are nice enough, including a small rooftop pool with views of the cruise port, but they are not going to be a star selling point for most visitors. The proximity to Old Town San Juan and, if you're lucky, a room with a view of the castle or port, are truly the major selling points here.
So if you value location above all else, this hotel is for you.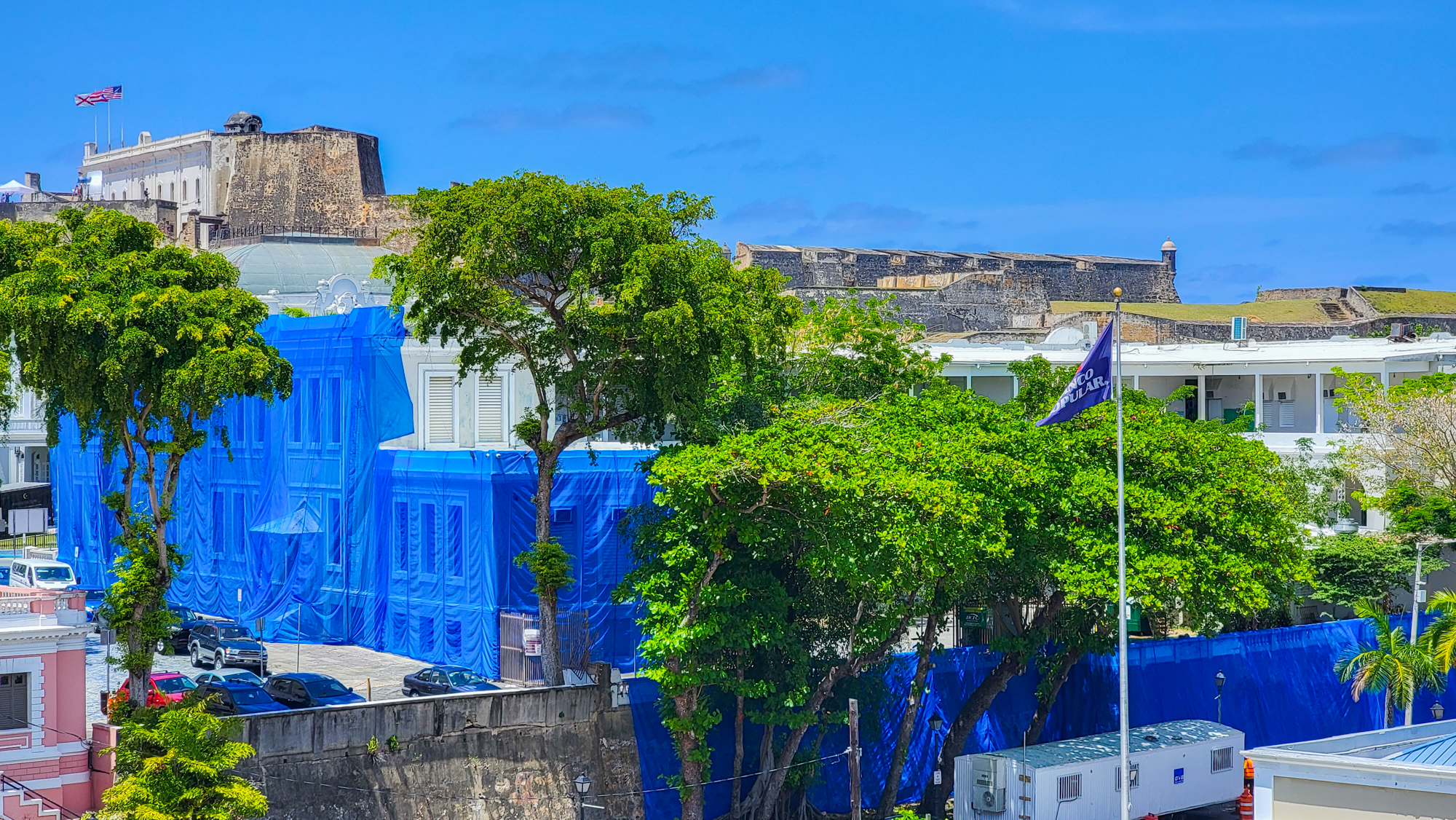 When booking a room at the Sheraton Old San Juan, you'll also do well to also check out the "service fee" schedule as well which was about 17% during my visit. This appears to apply to all hotels in San Juan and is likely not unique to the property (more on that below). On a weekend with an inflated room rate, this increased our bill by $50/night despite not using any of the facilities and a weeknight with a slightly cheaper price point increased the bill by $25/night. Add on tax (~11% on my visit) and you can see how the fees rise fast. Ouch.
For those who hold status via the Marriot Bonvoy Program, you may be in luck for an upgrade here too. As a platinum member, I was upgraded to a suite on both of my stays which had ample space and the views mentioned above (one stay with the castle and city, one with the port).
Sheraton Puerto Rico Hotel & Casino is Modern, But Far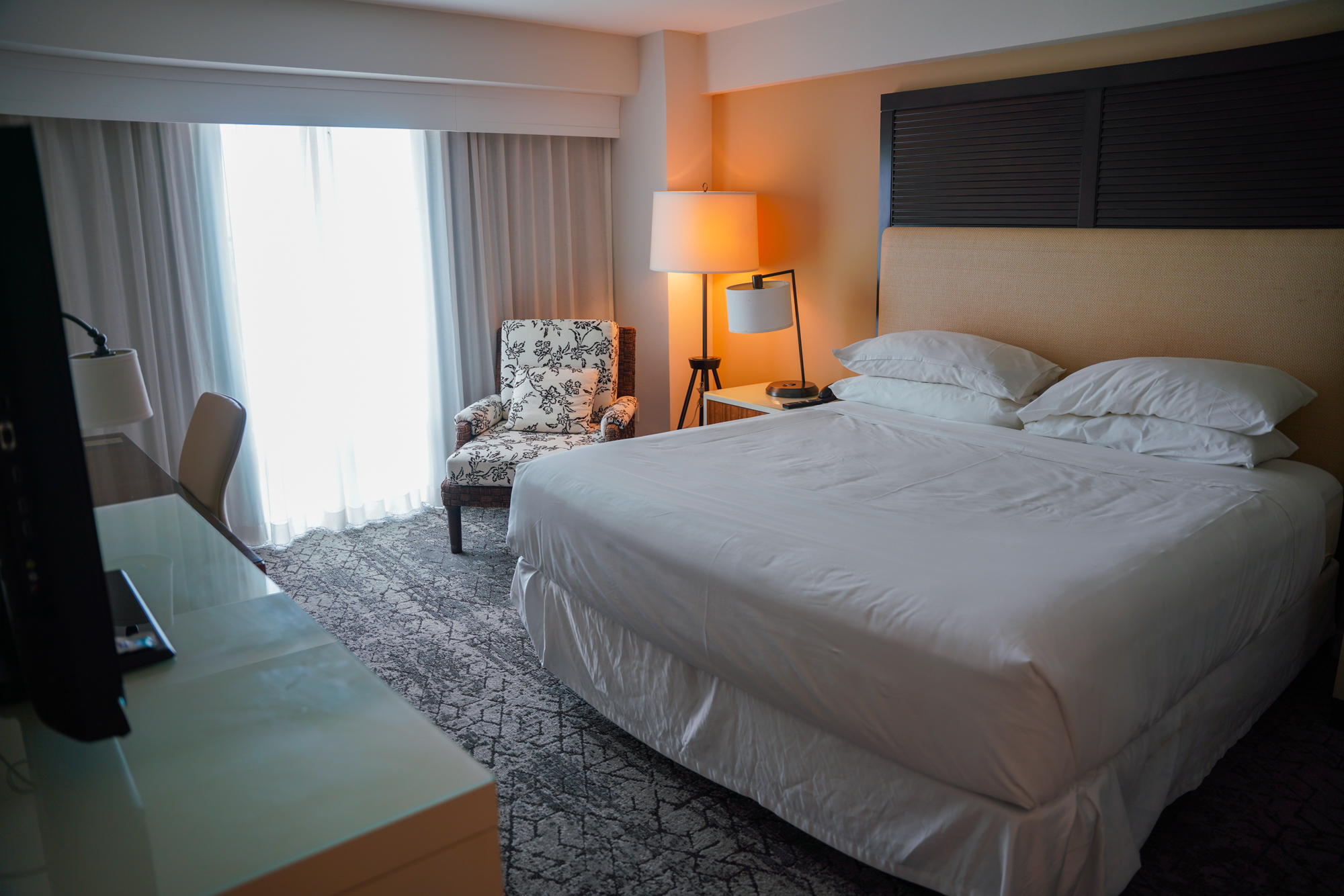 The second Sheraton property in the San Juan area is The Sheraton Puerto Rico Hotel & Casino located just outside of Old San Juan proper next to the convention center. While we would still call this one a San Juan Hotel, it is much closer to Miramar, Condado, and other subbarrios than it is to Old Town San Juan proper.
If we called the Sheraton Old San Juan dated, the Sheraton Puerto Rico Hotel & Casino is the opposite. It is newer, larger, and has better amenities all around. Think higher-end details like blackout curtains in the room, a fourth-floor infinity pool with a decent view (admittedly, of Distrito T-Mobile entertainment complex), a lively pool bar, an on-site casino, and much, much more.
So if you value amenities above all else, this hotel is for you.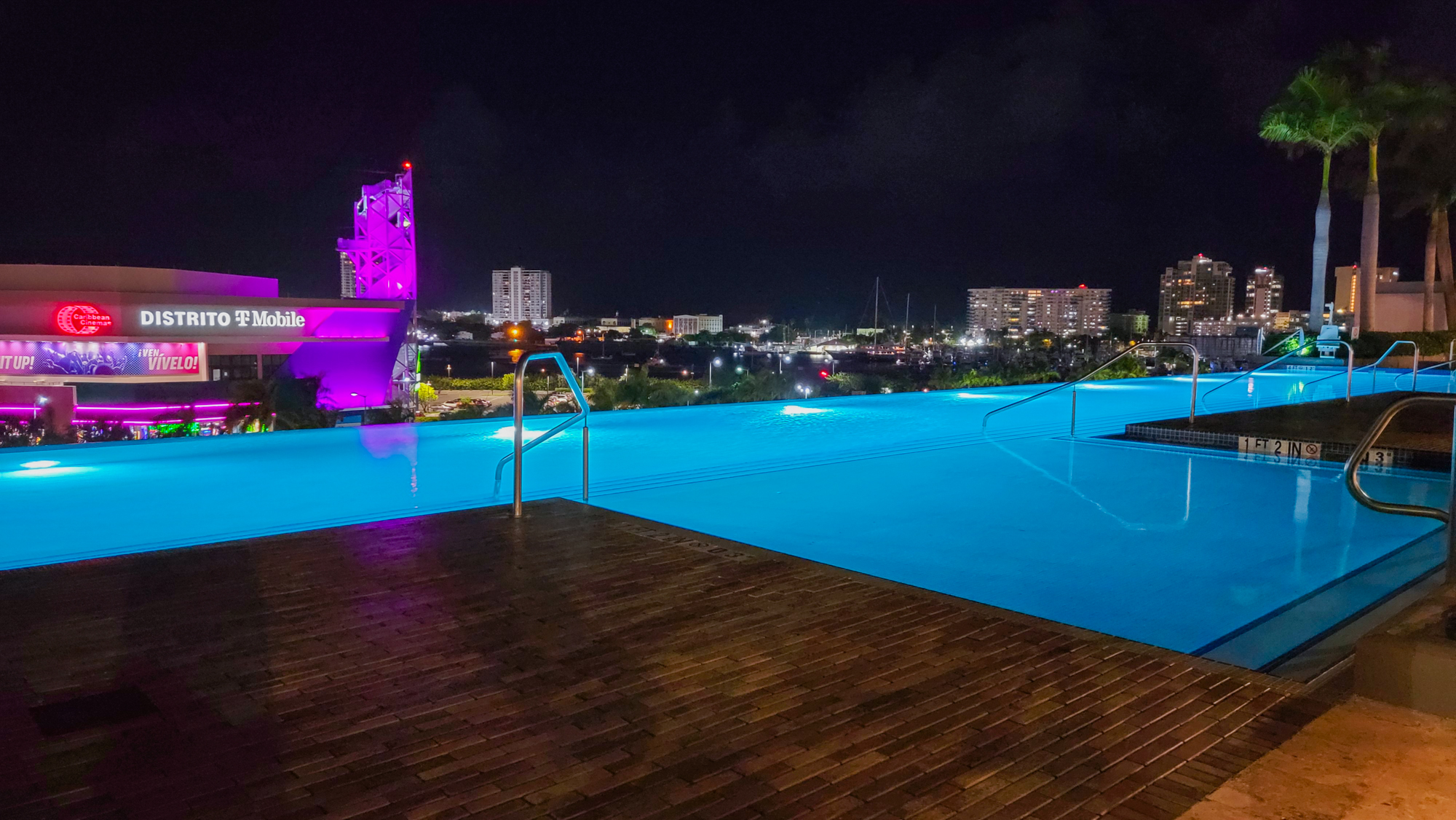 If you aren't dining on-site, there are several bars and restaurants within walking distance; however, few are Puerto Rican in style and the area at large feels a bit like what we would call Vegas lite (with all the good, bad, and ugly that goes along with that). That being said, you are also a lot closer to the nicer restaurants in Miramar and Condado which we preferred over the options in Old San Juan. You'll just probably want to Uber to them.
In fact, transportation is really the only downside to this particular hotel. If you do not use the hotel's on-site shuttle (which runs to Old San Juan and a nearby beach about once an hour- reconfirm frequency before booking), Ubers generally ran anywhere from $5-$15 each way pending surge pricing during our 2022 visit. So if you are looking to go into Old San Juan or out to dinner, be sure to account for this in your budget as well.
Like the Sheraton Old San Juan, this hotel also charges the same 17% convenience fee but brands it as a "destination fee" as opposed to a "hotel service fee". But as I got a cheaper nightly room rate at this hotel, the fee ended up being slightly less than the Old Town property at large. Just expect it going in that between tax and fees you're going to be looking at somewhere of about a 28% increase on top of the base rate virtually anywhere in San Juan.
For Marriott Bonvoy members, my platinum status got us upgraded to a rather comfortable suite but sadly did not have a great view. Only half the rooms have a view of the pool area, and the back half of the rooms look out at other hotels and parking lots- although we had a very narrow view of the ocean in the distance which was nice. So your mileage may vary here if a view is what you seek.
Which is Better? Depends on Your Needs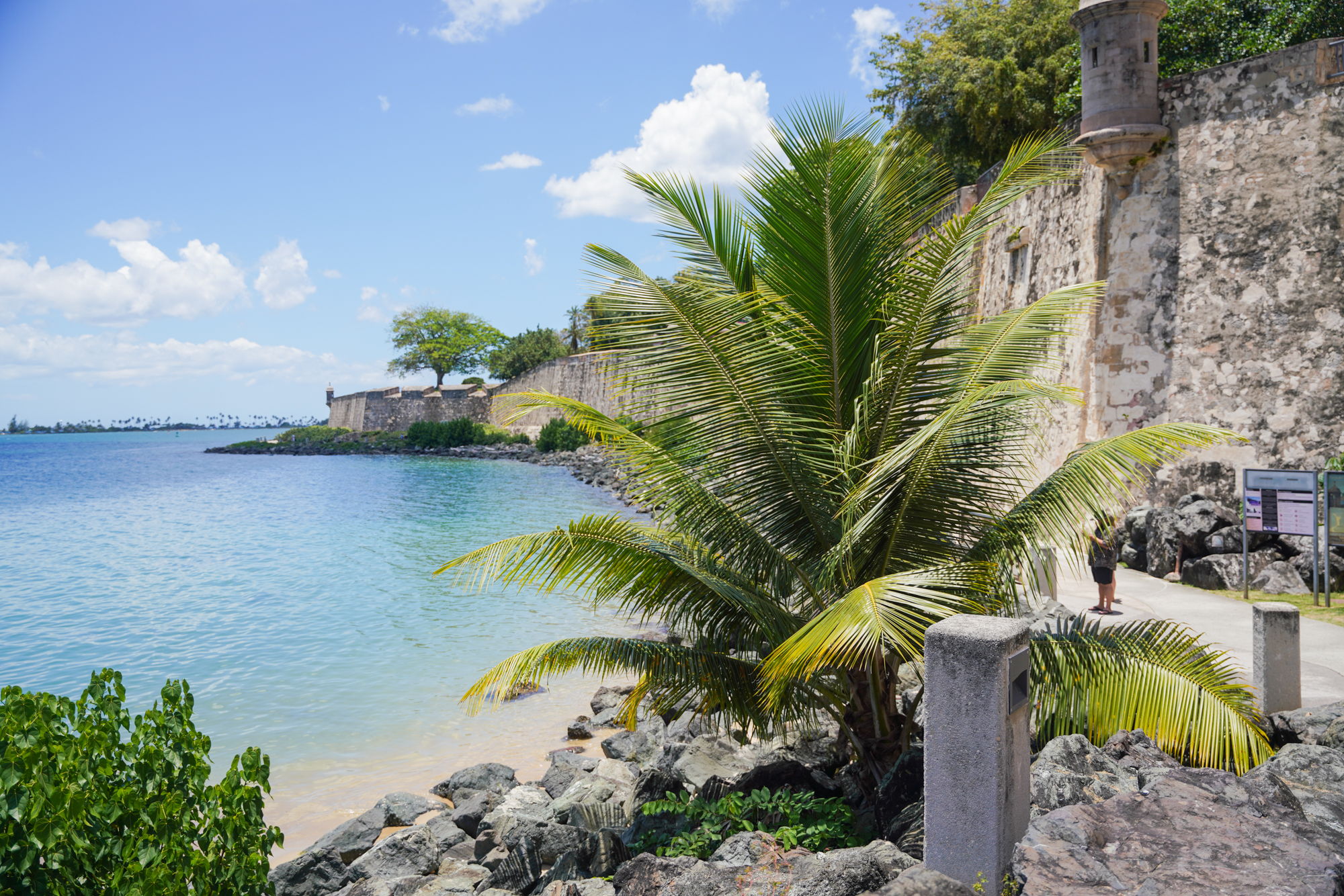 The hard part about deciding between the Sheraton Old San Juan and the Sheraton San Juan Convention Center is that there are clear perks and drawbacks to both.
The convention center property has wonderful amenities and rooms but is not close to Old San Juan such that you may have to rely on Ubers or shuttles to get around. The Old San Juan property has the perfect location for walking around but is a bit dated and, to be quite honest, can be rather expensive for what they offer.
This is why picking really is more a personal preference over anything- specifically whether you value comfort or location more. (Sadly, I'll be honest that the Caribe Hilton appears to be a much nicer branded property than either Sheraton- but admittedly it often comes at a far greater price point. As a Hilton diamond member as well, I look forward to staying there on our next visit.)
So when it comes down to it, you have to decide if the trade-offs for your preferred property styles are worth it to you, and that is really that. Personally, we would trend slightly to the convention center property for its amenities and easier access to the restaurants in Condado/Miramar and would take the shuttle and Uber fees as the tradeoff insofar as the prices were similar or slightly cheaper to cover the difference. But as always, your mileage may vary here.
Not a Hotel Loyalist? Consider an Apartment Rental Instead
For those who value staying in the heart of Old San Juan and do not like the tradeoffs listed above, we would be remiss if we didn't mention that the city is set up quite well for apartment rentals– often at cheaper price points than most hotels and with even better locations in the heart of old town or the nearby beaches.
So if you find yourself in the camp of valuing location above all others, we honestly have to throw out this one as well- you may want to simply stay in a San Juan apartment. We have done this in prior to visits to San Juan, and honestly think they hold up just as well, if not better, than some of the chain hotels outright (pending price, of course).
In either case, whether you pick a Sheraton property, an apartment, or another brand's hotel is only the starting point. The true benefit is that no matter what you'll do you will be in San Juan, and that is really all that matters. This Caribbean gem is not to be missed!
To book the Sheraton Old San Juan, click here. To book the Sheraton San Juan Hotel & Casino, click here. To book an apartment in San Juan on VRBO, click here.
About Jeremy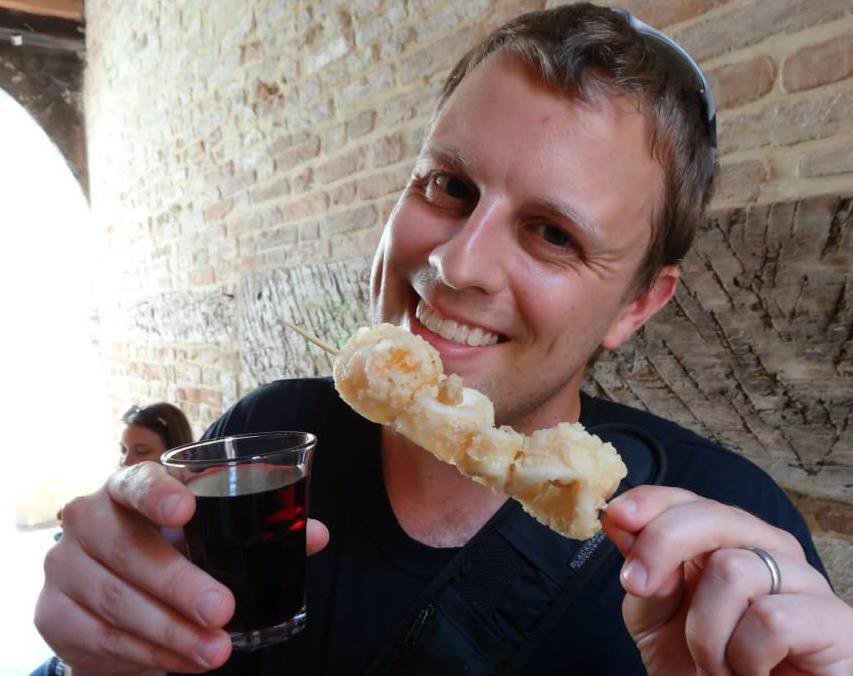 About the Author: Jeremy is a full-time travel writer based in Pittsburgh and primary author of this site. He has been to 70+ countries on five continents and seeks out new food, adventure activities, and off-the-beaten-path experiences wherever he travels.