Published by Jeremy. Last Updated on July 21, 2022.
Disclaimers: Our site uses demographic data, email opt-ins, display advertising, and affiliate links. Please check out our Terms and Conditions for more information. Listed prices and attraction details may have changed since our visit and initial publication.
If there is any cocktail that immediately evokes thoughts of a palm tree-lined beach, it is the Pina Colada.
This cocktail, made of rum, coconut, and pineapple, is the quintessential beach drink and is one we have come to love simply through our frequent visits to its birthplace- San Juan, Puerto Rico.
But the origin story of this classic is, shall we say, heavily debated. Two iconic establishments lay claim to creating this refreshing beverage, and we did what any enterprising cocktail lover should do in order to get to the bottom of the debate- we went to both.
Enter the Barrachina, which claims to have invented the Pina Colada in 1963, and the Caribe Hilton, which claims to have invented this classic in 1954. So who really made it first and, more importantly, which is better? We had to find out.
Barrachina Pina Coladas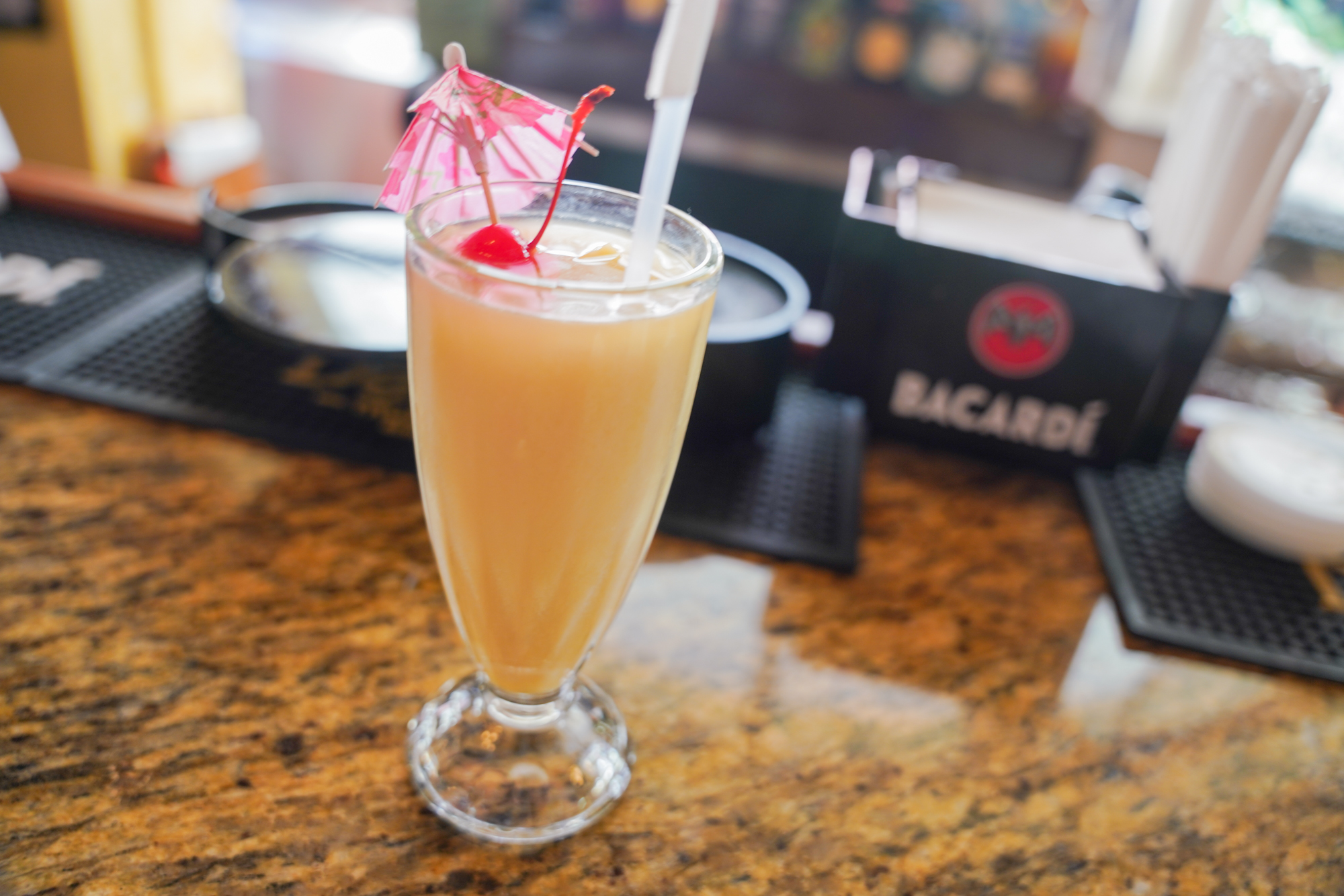 For many years, visitors to San Juan were often told that Barrachina is the home of the Pina Colada. The storefront has a plaque on the front stating the origin story that Ramon Mingot first made the beverage in 1963 and tourists have been visiting ever since.
The Pina Colada here is most assuredly made for the masses.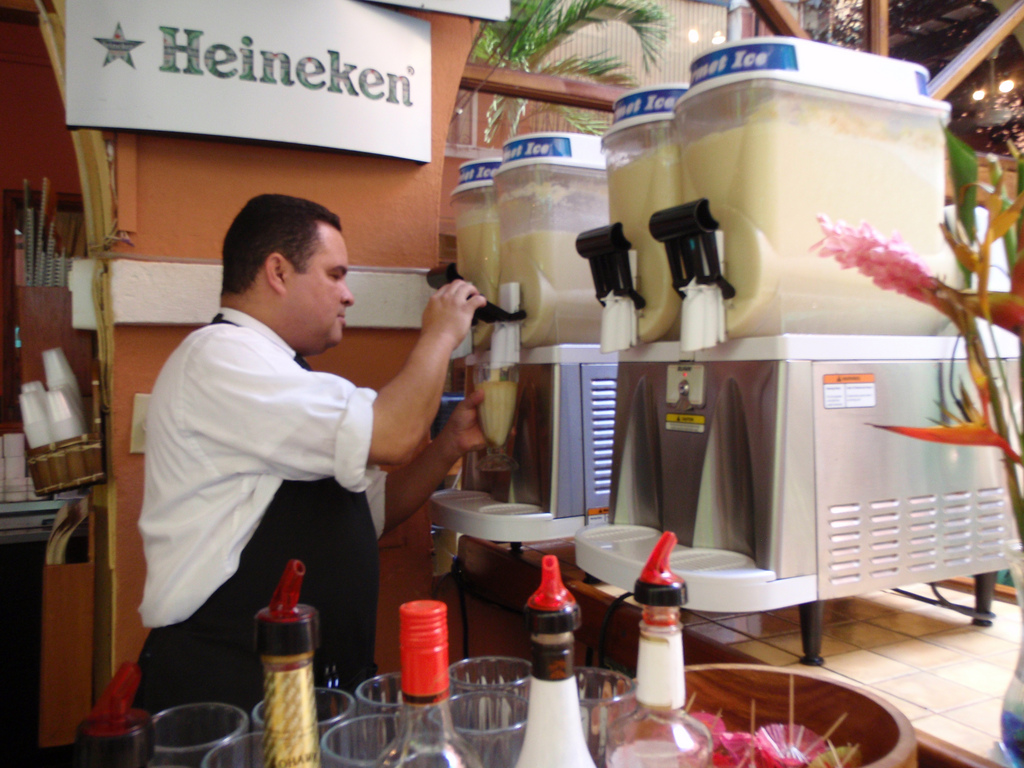 A tall, fountain shop glass is first filled with a heaping pour of rum, an pre-frozen Pina Colada mix is then served on top with an umbrella, maraschino cherry, and pineapple wedge. (Although if you want one to go, San Juan's friendly open container laws allow you to get one in a plastic cup, too- great for if they have a line to get in.)
The cocktail itself is a sweet one, and we have to admit tastes heavier on the pineapple juice over the coconut flavor. We also would not be surprised if it was canned juice over fresh, but this is not necessarily a bad thing here unless you have a strong opinion against that particular pineapple flavor (I do and thought this one wasn't overpowering- but it was noticeable).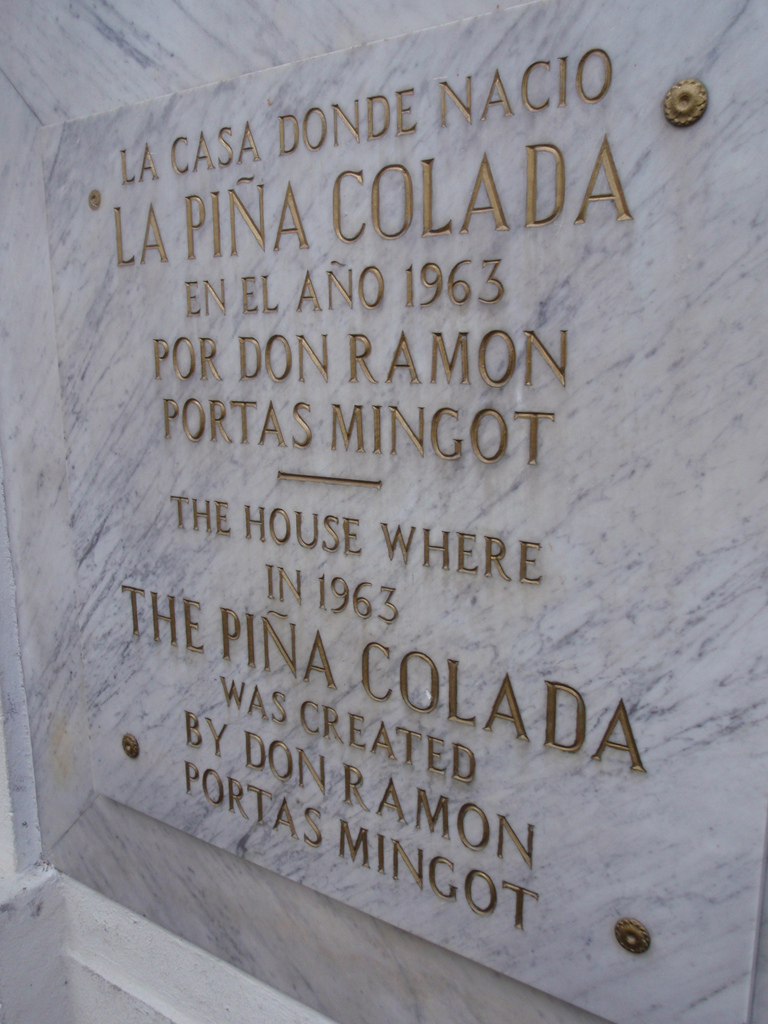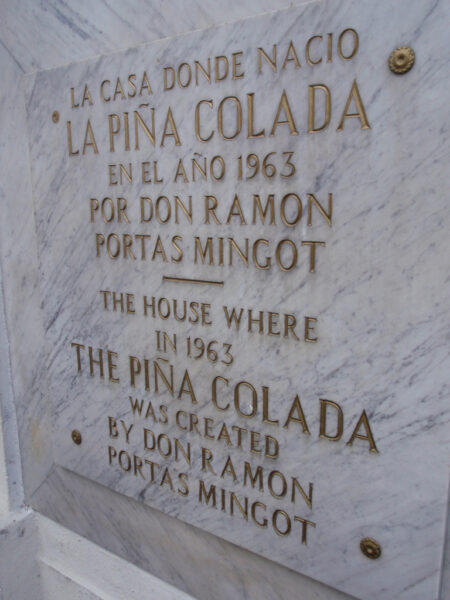 This one goes down fast, almost begging you to have another, and another, and perhaps one more, but our mission for a second beverage lay just a short Uber ride away.
Pina Coladas at the Caribe Hilton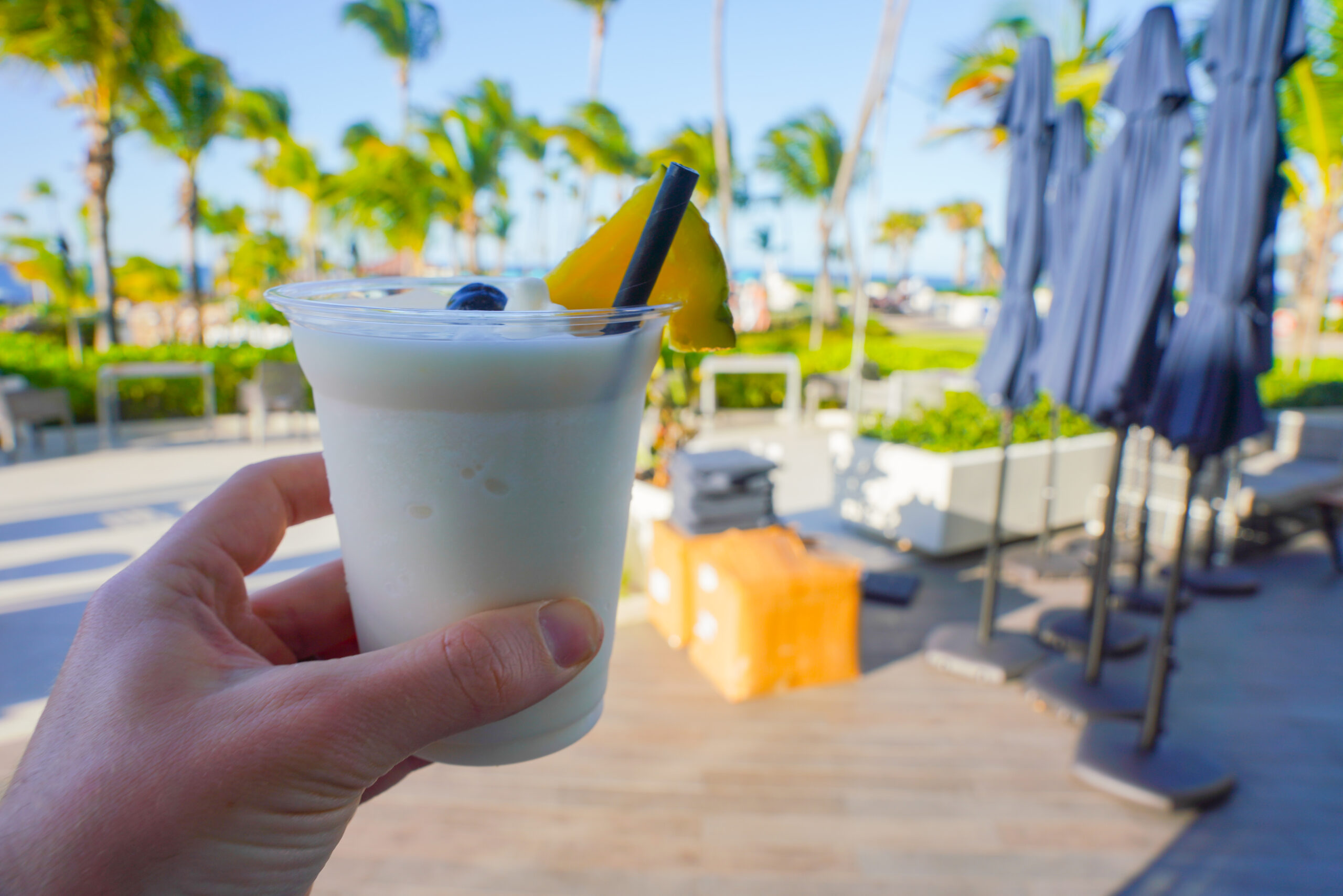 The Caribe Hilton is one of those properties you need to see to believe, but to do so you'll need to take a taxi or Uber out of Old San Juan to the eastern edge of Puerta de Tierra.
As far as San Juan resorts are concerned, this one has it all- a sprawling complex, a stellar pool, a gorgeous beach, and so much more. At the hear of the lobby is the Caribar Bar & Terrace which also features a robust back wall exhibit with its own story of the origin of the Pina Colada.
Here, they claim the drink was invented in 1954 by Ramon Marrero (who worked at the bar for many decades) which helped them lay claim over Barrachina's edge.
But what is the drink like?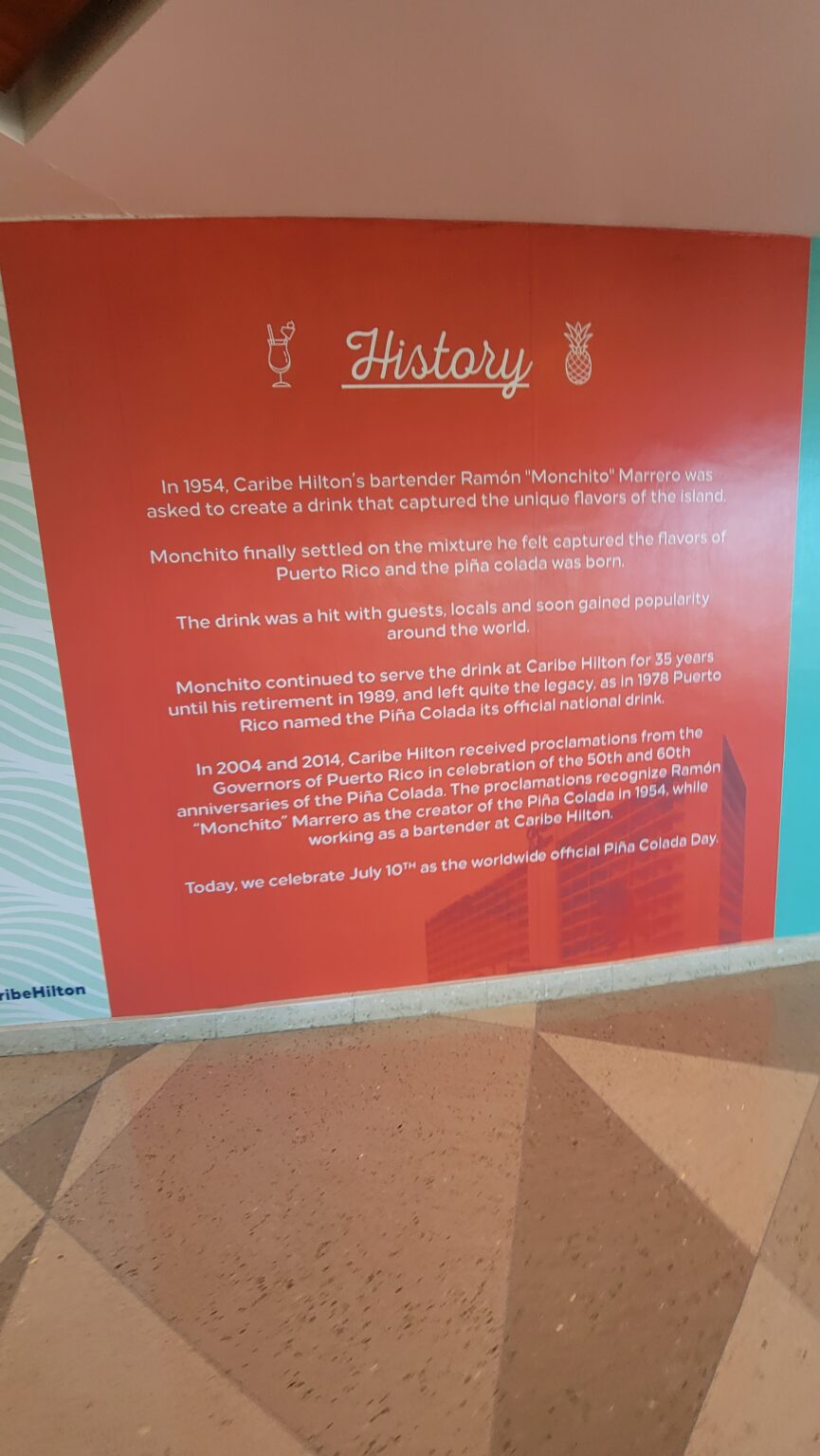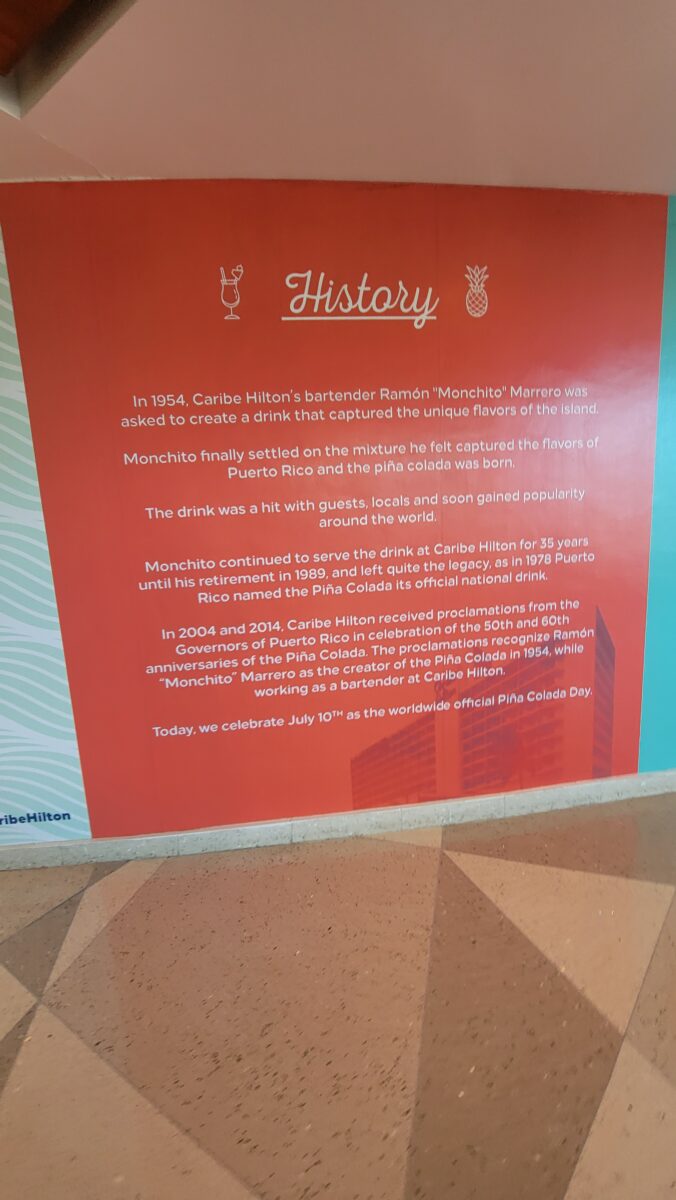 The Pina Coladas at the Caribe Hilton are made from scratch in a blender with what appeared to be a premade juice mix, rum, and ice getting blended to order. Much like Barrachina, it is served with a pineapple wedge and cherry (in our case a black cherry and not maraschino like at Barrachina), and you are welcome to enjoy it inside or on an outdoor patio overlooking the pool and water.
The cocktail itself is a fair bit less sweet than Barrachina and much more balanced on the coconut and pineapple flavors. Some purists may love this more, as it was a well-balanced cocktail all around, but we do admit they are so similar that these are the only two predominant factors- oh, that and the fact that the Caribe Hilton's cost about 50% more than Barrachina's. That sticker shock will be the most noticeable of all.
Still, it is hard to say no to a delicious beverage with the kind of view you can get at the Hilton. If you were trying to replicate such views in Old San Juan, odds are good your drink will be fully melted by the time you found one!
So, Who Invented the Pina Colada (and Which is Best?)
While it looks like the Caribe Hilton invented the Pina Colada purely because 1954 is older than 1963 by our math, some rumors still persist that blur the lines.
Over our visits, we were told tall tales that a bartender worked at both places (questionable at best), that Barrachina is a "true" Pina Colada thanks to their pineapple forward nature (technically not wrong), and other odd statements suggesting only recently found documents helped favor, would you guess, the claims of both.
Did we see said documents? Of course not. But this is fight is part of the fun.
As of now, it seems like the Caribe Hilton is the current victor of the pina colada origin story, but as these things go we would not be surprised if a new document comes to life in the future that would push the claim back elsewhere. It always does.
But which one is better?
To be honest, you can fight over these just as much as their origin story. Personally, my sweet tooth prefers the pineapple-forward creation at Barrachina, but we also appreciate how well balanced the one is at the Caribe Hilton.
We are glad to have been able to try both in the same day, but we also have to admit that the $15 in Uber charges round trip from Old San Juan and the 50% cocktail markup make the Hilton's a hard sell unless we are nearby or perhaps even staying at the hotel properly. (Especially when there are other bars in San Juan, like Antiguo 26, that make some stellar iterations that blow both of these out of the water.)
So, to us, the victor of the flavor battle may be Barrachina. But if you do both to decide for yourself when visiting, the winner will be you regardless of which one you prefer.
That really is the best part of a rivalry, after all.
Barrachina is located at 104 C. de la Fortalzea and the Caribe Hilton is located at FW77+HR5, C. Los Rosales in San Juan, Puerto Rico.
Looking for where to stay in San Juan? Click the previous link to check out our reviews of the two Sheraton properties in the city!
About Jeremy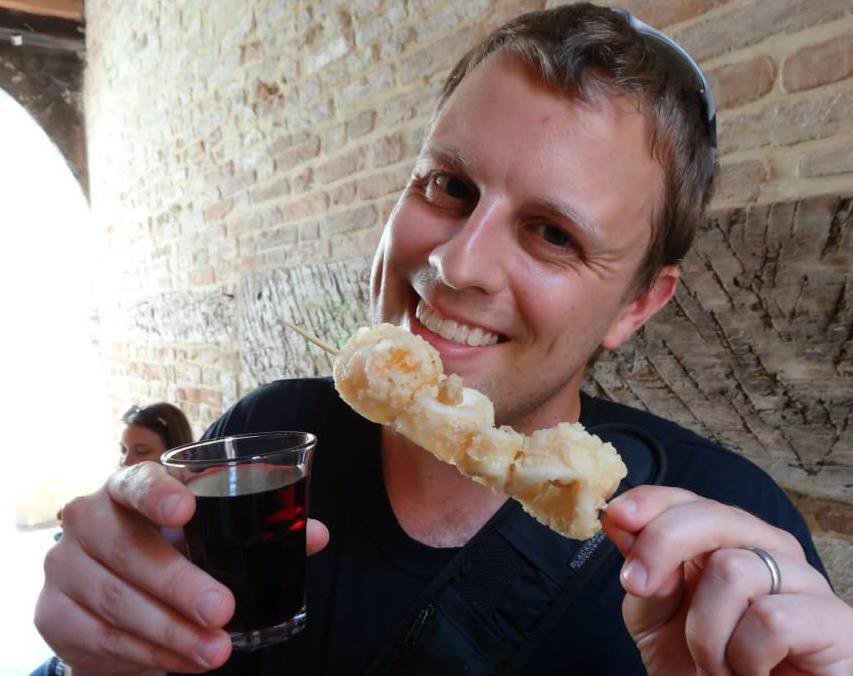 About the Author: Jeremy is a full-time travel writer based in Pittsburgh and primary author of this site. He has been to 70+ countries on five continents and seeks out new food, adventure activities, and off-the-beaten-path experiences wherever he travels.