Last Updated on September 19, 2023 by Jeremy
Disclaimers: We were hosted for this experience. Our site uses demographic data, email opt-ins, display advertising, and affiliate links. Please check out our Terms and Conditions for more information. Listed prices and attraction details may have changed since our visit and initial publication.
When visiting cities around the USA, one of my goals is to visit as many of the local craft breweries as possible. From checking out the Pittsburgh breweries at home to breweries in Cleveland, Cincinnati, and others, I really like to get out there and sample new brews.
So naturally hitting up the breweries in Erie along the aptly named Lake Erie Ale Trail was on my agenda when exploring the region. In this one, I wanted to share some of the spots I hit up along the way.
The surprise? Virtually every brewery I visited had some fantastic brews. This is a great ale trail!
Erie Brewing Company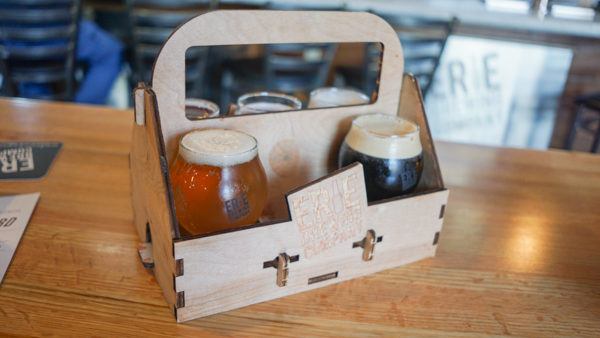 Erie Brewing Company is one of the larger facilities in the area and also offers one of the more robust draft beer lists of any Erie brewery I visited (just about two dozen beers on draft).
During my visit, I opted for a flight of five and sipped them while staring out into their impressive brewery space behind the taproom (of which you can walk partly into via a free, self-guided tour).
My flight included the Derailed Black Cherry Cream Ale, Cherry Bomb, Haze Formation Hazy Double New England IPA, Utterly Delicious, and a Prototype IPA with Kiwi. I feel like describing a beer as being immensely drinkable is overused, but it is appropriate for this selection here.
While I thought that some of the fruited offerings were lacking a bit in the intense flavors I look for, the Cherry Bomb sour hit the boxes for me and would be the one I would get again and again.
Erie Brewing Company is located at 6008 Knowledge Parkway.
Lavery Brewing Co.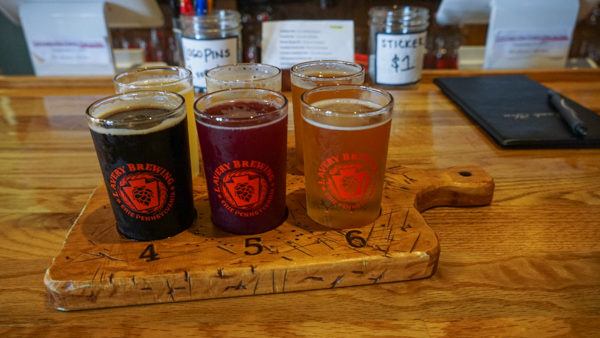 Although Lavery Brewing's tap room is modest in size, it makes up for it in having about a dozen beers on draft that runs the full spectrum of beer styles.
During my visit on the more conventional side, the brewery had Greatest Hits of the 80s (a rather light/mild DIPA), Pretty Visitors (an oat pale ale), and Lace Curtain (a dark Belgian clocking in at 9.3%). On the less conventional side, I opted to try Guava Tango Fruit Tart (a fruited Berliner Weisse), the Blueberry Pree (flavored saison hitting 7%), and That's Gold Darling (a Horchata pastry stout also at 7%).
While the Belgian and oat pale ale were really nice iterations for their styles with a clean flavor profile, I gravitated to the Blueberry Pree and the Guava Tango Fruit Tart for their rather strong fruit flavors. The Horchata pastry stout was also among the more unique concepts for beers I've had (anywhere), but tasted a bit light on the Horchata end even if it was a delicious pastry stout all the same.
Overall, I was pretty happy with the wide variety of brews at this one.
Lavery Brewing Co. is located at 128 W. 12th Street and has a second location in Titusville, PA.
The Brewerie at Union Station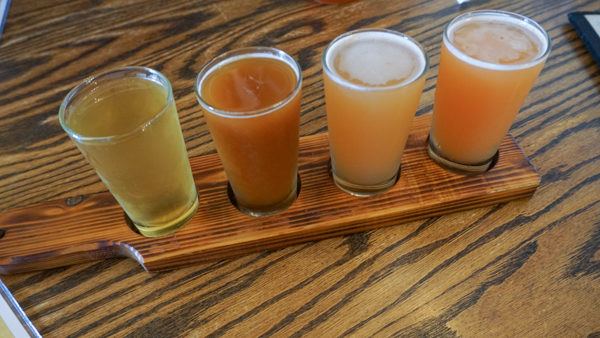 Before you even go inside The Brewerie at Union Station, you'll recognize that this spot is unique- not for its beer, but because it is literally located in a train station (that is still used as an Amtrak stop upstairs). You walk into the grand hall that once welcomed train passengers and instead see brewery equipment!
It is our kind of place.
I went to this one to double up on a flight with lunch, and ended up with their Railway Hefeweizen (a rather light iteration that missed the mark), Candy Gram for Mongo (a sweet beer made from, I was told, peach, mango, and habanero), Sour Peach Kids (a fruited sour), and Strawberry Lime Mosaic (a smoothie IPA that was also a bit light on the fruit flavors).
The clear winner was the Candy Gram for Mongo. This was a sweet, fruity beer that did not taste like beer at all. In fact, it tasted like you were drinking a boat drink cocktail, and was one of the most intriguing beers (if not the most) I had during my entire visit to Erie. Package this up in cans, buy them all, and enjoy.
While the Railway Hefeweizen fell flat a fair bit, the Candy Gram more than made up for it.
The Brewerie at Union Station is located at 123 W. 14th Street. I was hosted as a guest of Visit Erie when visiting The Brewerie.
Arundel Cellars and Brewing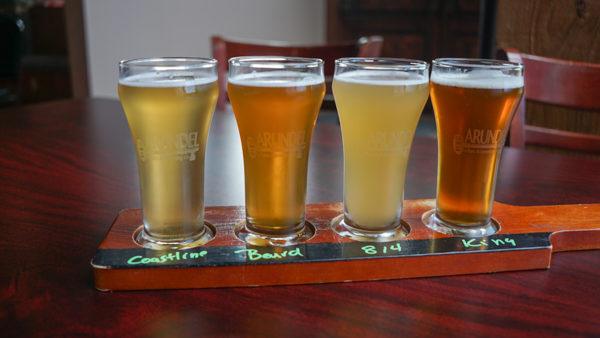 I knew going into Erie that it was going to be a bit odd to explore the Lake Erie Ale Trail in a region of the state that is mostly known for wineries. I did not realize that one of the breweries I would visit was actually a winery that decided to also brew beer.
You can imagine the look on my face when I rolled up to Arundel Cellars and Brewing just outside of Erie proper and was entering a tasting room surrounded by gorgeous grapevines. I was in heaven (although it pained me to only sample the beer).
This spot offered up just over a dozen beers, and I selected four for my flight- Coastline Drive (a blueberry wheat), Bearded Knight (a 9% Belgian), 814 Guava Grapefruit Sour (made in partnership with The Brewerie, above), and King Snipe (a mosaic-hopped IPA).
Much like my thoughts on the Strawberry smoothie IPA from The Brewerie, I thought the fruit flavors in Coastline Drive and the 814 were a but muted from my personal preference but they did have some rather nice nuance all the same. The King was an interesting IPA as it focused purely on isolating the flavors of a single hop (which I can fully appreciate). But ultimately the winner for me was the Bearded Knight, a delightful Belgian that had the hallmark flavors of any Tripel you'd find over in Europe.
Drinking that while looking out over the vineyard was one of the highlights of my trip exploring Erie breweries!
Arundel Cellars and Brewing is located at 11727 E Main Street in North East, PA.
Nostrovia Brewing Co.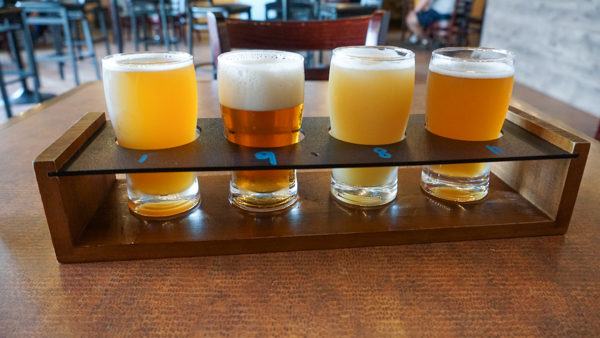 Nostrovia Brewing honors Erie's Polish and Russian immigrant communities with using the phrase that is often considered to mean "cheers" or in slang "let's get drunk" depending on the context. On that note alone, we already appreciate it.
I visited this one shortly after they opened and tried a sampling from their ~10 beer draft list including their Hefeweizen (a nice iteration a lot closer to German styles than others in this guide), a New England IPA (that was sadly overly bittered for the normally citrus-forward variety you expect), a Helles Bock on Nitro (that had a really nuanced flavor profile and a bit of sweetness), and an Apricot Wheat (that was overwhelmingly delicious with strong apricot notes).
While most of the other beers on draft were fairly standard beer styles (Irish Red, Helles Bock, Kolsch, etc.), the flavor profiles of the beer (New England IPA notwithstanding) certainly highlights the quality of their brewing abilities and makes me excited to see what comes next!
Nostrovia Brewing Co. is located at 4415 E Lake Road- just east of the city.
Black Monk Brewery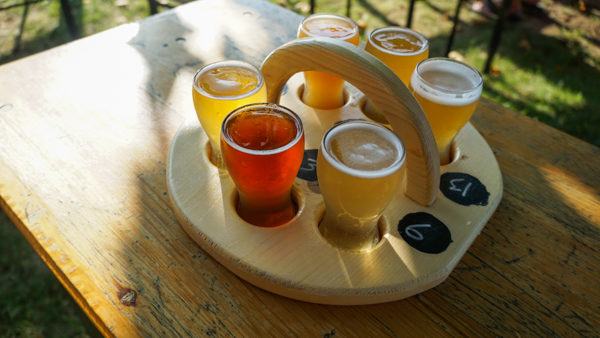 Out of all of the beer styles there are in the world, all things Belgian is among my favorite. When I find a place that does one exceptionally well (like Arundel), I'll remember it for as long as possible. But when a place does many Belgians well, well, I lose my mind a little bit.
Black Monk Brewery is that kind of place.
Of the 16 beers on draft, six were pure Belgian varieties, and I'll be generous in calling the Hefeweizen an honorary 7th (close enough for European brews). The rest of the draft list was balanced out with Scottish and amber ales, a porter/stout, and a few various IPA styles.
While I would say that I enjoyed my IPAs that I had on my flight, I kept going back to my three Belgians. The Belginator (a 9% Tripel), Kingdom of Desire (9% Belgian Strong), and After the Storm (a "light" 5.5% Single) were all divine. I probably would've stayed and ordered a full pour of one (likely the Belginator), but as it was my third brewery stop of the day and with a six sample flight, well, I was tapped out.
Just get a Belgian when you go here and thank me later.
Black Monk Brewery is located at 3721 W 12th Street- perfect for a stop after visiting Presque Isle State Park.
Voodoo Brewery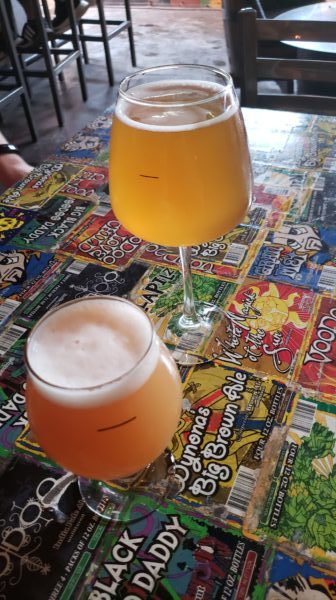 Finally, we end with a brewery that I <em>did not visit</em> on my trip to explore Erie breweries, but am including because I have visited their Pittsburgh location many, many times.
This one is Voodoo Brewery, a popular brewery with taprooms all over western Pennsylvania, Erie included.
Voodoo is one of those breweries that produces rather exceptional beers of all styles and offers up a mix of annual brews and seasonal/rotating specials on draft at any given time.
We almost always gravitate to the IPAs when available at this one, but also enjoy the June Gloom (a Hefeweizen) when it makes its summer appearance as well. But what makes this one a fan favorite is their barrel-aged beers, brews that, when available on draft or bottles, sell out almost immediately. While this is the kind of place that any beer drinker can hit and find something delicious, IPA fans and those who like aged brews (and can plan their visit accordingly for the latter) are in for a special treat.
Voodoo Brewery is located at 101 Boston Store Place. Voodoo has several other locations around the state. We did not visit this location for this article but are featuring it as we are frequent visitors of the Pittsburgh location and know their beer quite well.
Have you been to any of the above breweries (or others) on the Lake Erie Ale Trail? What did you think of them? Comment below to share!
I was hosted in part by Visit Erie as part of my trip to the city to explore the ale trail. As always, all opinions are my own.
About Jeremy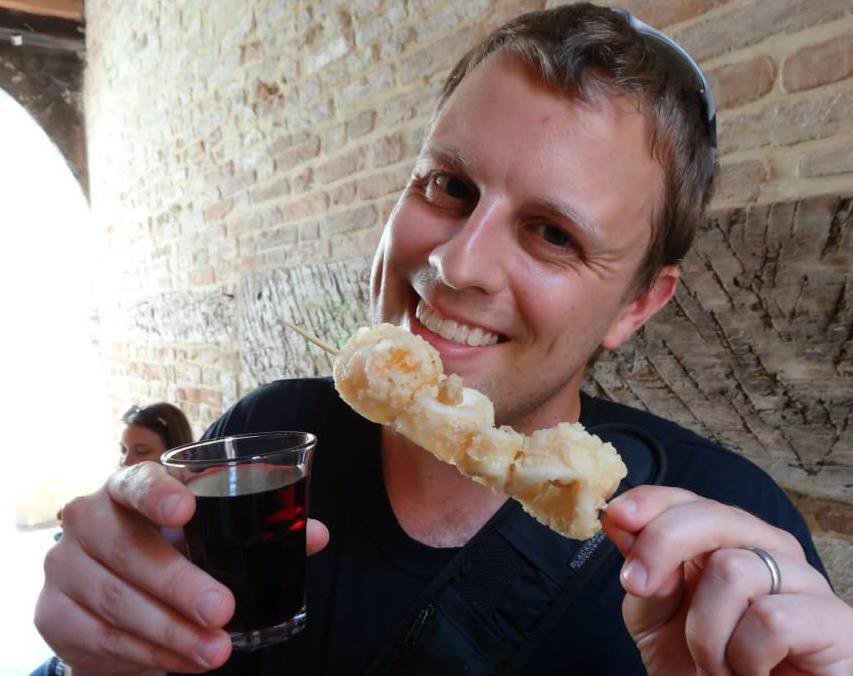 About the Author: Jeremy is a full-time travel writer based in Pittsburgh and primary author of this site. He has been to 70+ countries on five continents and seeks out new food, adventure activities, and off-the-beaten-path experiences wherever he travels.