Last Updated on August 11, 2023 by Jeremy
Disclaimers: Our site uses demographic data, email opt-ins, display advertising, and affiliate links. Please check out our Terms and Conditions for more information. Listed prices and attraction details may have changed since our visit and initial publication.
So you're planning a trip to try and see the northern lights in Sweden- awesome! If you are lucky, you really are in for a treat.
But to have the best odds of seeing the aurora borealis, you need to head into the Arctic Circle in winter, which, for Sweden, may likely include potential destinations of Kiruna and Abisko. The former is a city that is home to the country's furthest north airport, and Abisko, an hour north from there, is home to some of the clearest skies in the country.
Travelers exploring the Arctic Circle of Sweden tend to stay in one of these two destinations during a visit, but making a decision between the two has several considerations to keep in mind.
We personally stayed in Kiruna and took a night trip to Abisko, and in this one share a bit more about our thoughts on each and how we'd change it up for a future trip.
Kiruna – Larger Town But a Few Quirks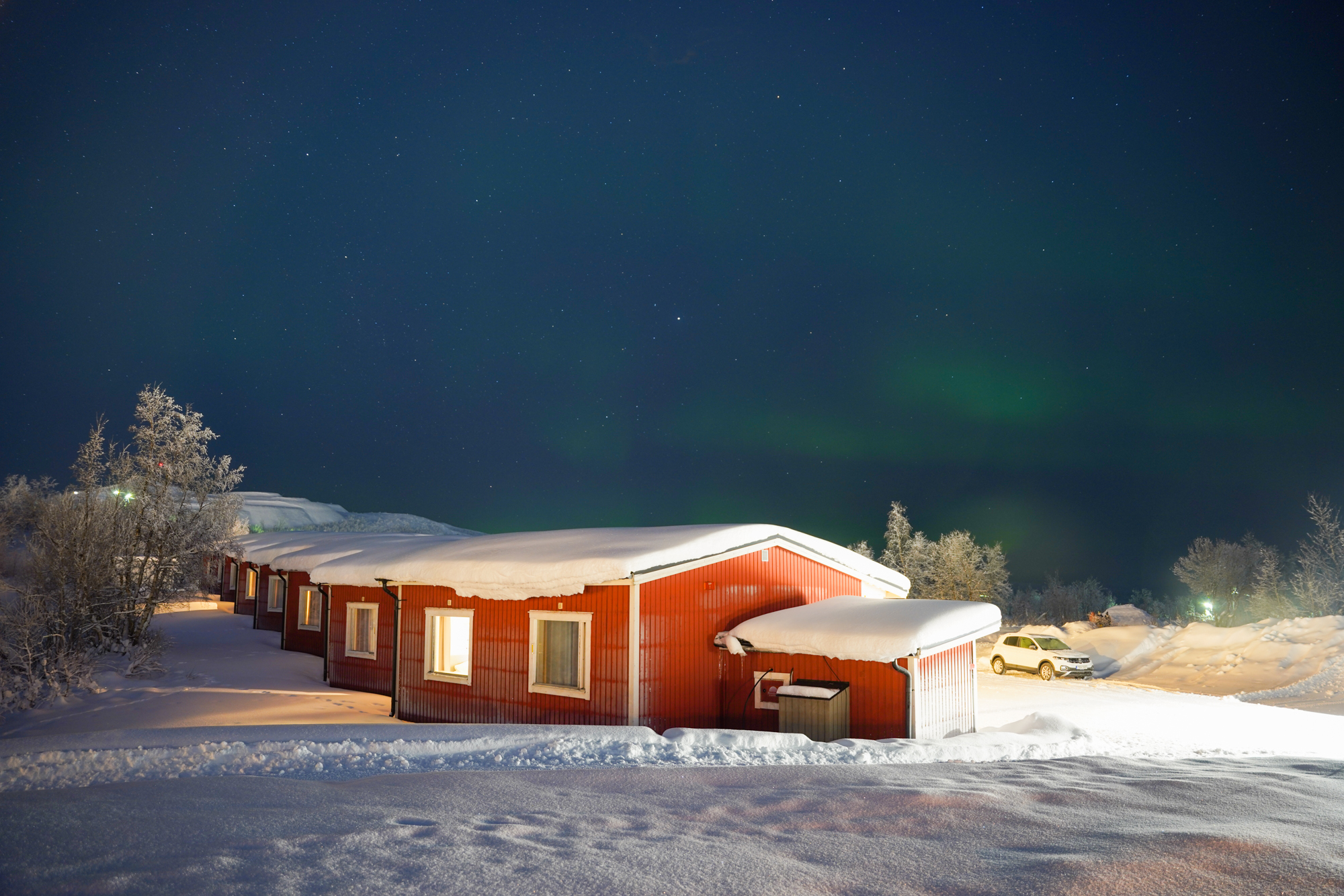 Kiruna is the northernmost city in Sweden and one of the most populated places in the Arctic Circle in Europe. This is predominantly because Kiruna is home to a large iron ore mine (more on that below), and the city's infrastructure has built up considerably to support it.
As the city is also a popular tourist hub, guests enjoy several amenities here beyond northern lights viewings, and the town has an abundance of hotels, camps, restaurants, and nature activities that can be enjoyed solo or on a day tour.
Perhaps one of Kiruna's most significant selling points is that it is also home to the northernmost airport in Sweden. Just 90 minutes is all it takes to get to the Arctic Circle from Stockholm, and you'll be in the city in no time from there. As we were hitting the Arctic Circle on somewhat of a budget, insofar as you can use that phrase of having a budget in Scandinavia, this all came together for a good sales pitch for us to visit Kiruna over other areas nearby.
But there are also some downsides to consider when staying in Kiruna.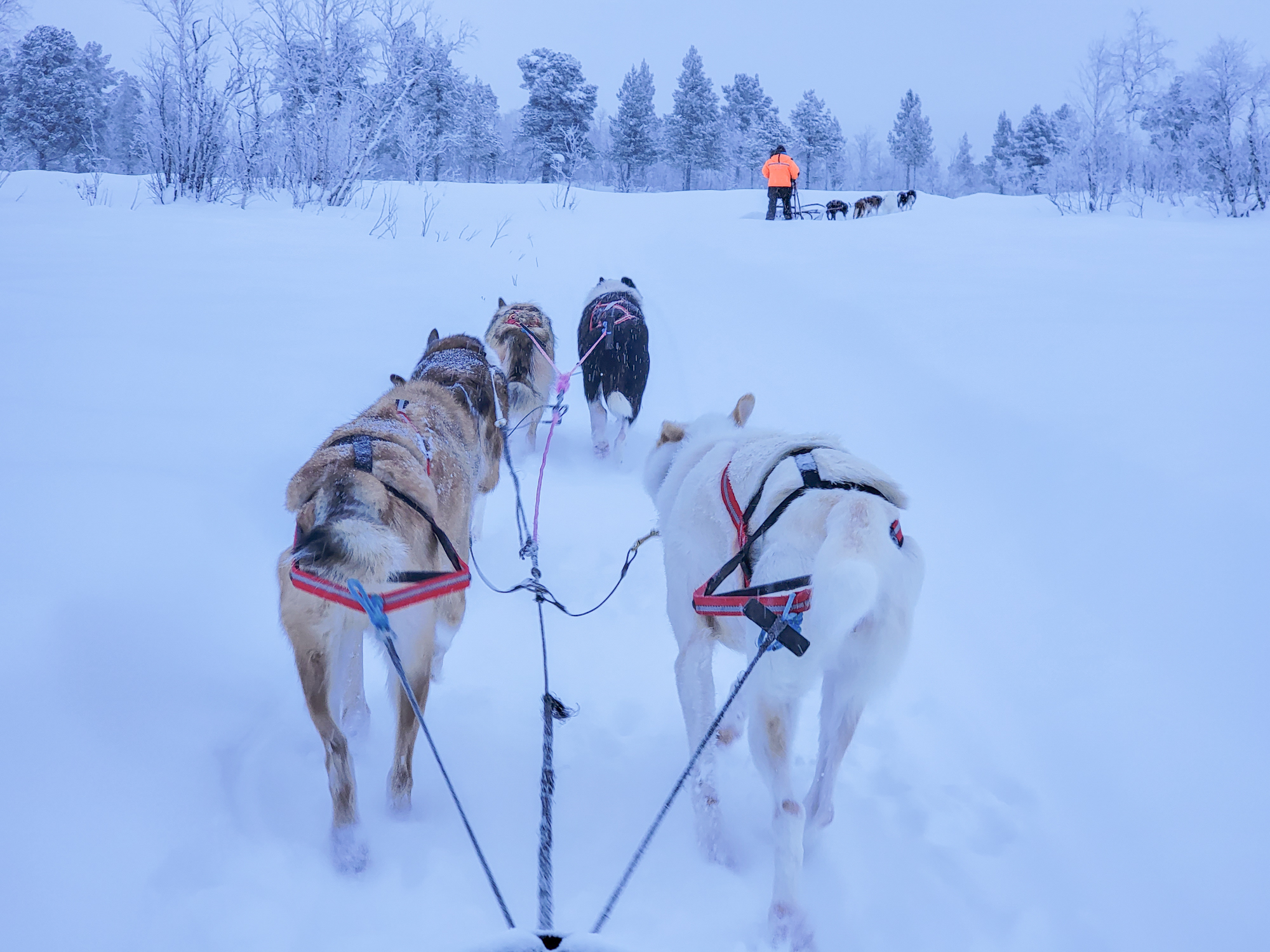 First, the town is near an active iron ore mine which has put the city at risk of collapse due to its intense underground activities (we could hear explosions from the mines in the middle of the night, it is that close!). It may sound like something out of a movie, but many buildings in Kiruna are being actively moved to the "new town" several miles down the road in the coming decade with an anticipated completion date of approximately 2035.
As such, amenities within walking distance could be sparse depending on what section of town you are in, as businesses are moving to the new town area regularly- sometimes taking the entire building with them!
We stayed at Camp Ripan, which was still in the "old town" as of our visit in early 2023, and we were shocked by how many empty business and restaurant spaces there were in the old town as many relocated to the new town area. Short of taking a taxi over, at the considerable price tag that goes with it, we had to make do with the limited options we could find within walking distance.
Second, as Kiruna is fairly large (est population about 23,000), there is notable light pollution at night. The camp we stayed at was near snowmobile and ski paths on the outskirts of the city, so we could walk into the woods somewhat quickly to see some darker skies while still being able to walk into the old town proper. Still, the notable light pollution made weak northern lights viewings difficult even when the lights were easily seen in nearby Abisko.
For all other outings, we had to pay for somewhat expensive guided tours to get us out into the wilderness- some of which amounted to a driver simply taking us out to a remote spot and back. This one is hard to avoid when you don't have a car, but it was something we still had to account for all the same. (Thankfully, our hotel had a plethora of tours that we booked, making this one easy, albeit expensive.)
To look up hotel options in Kiruna, click here.
Abisko – Small But With Dark Sky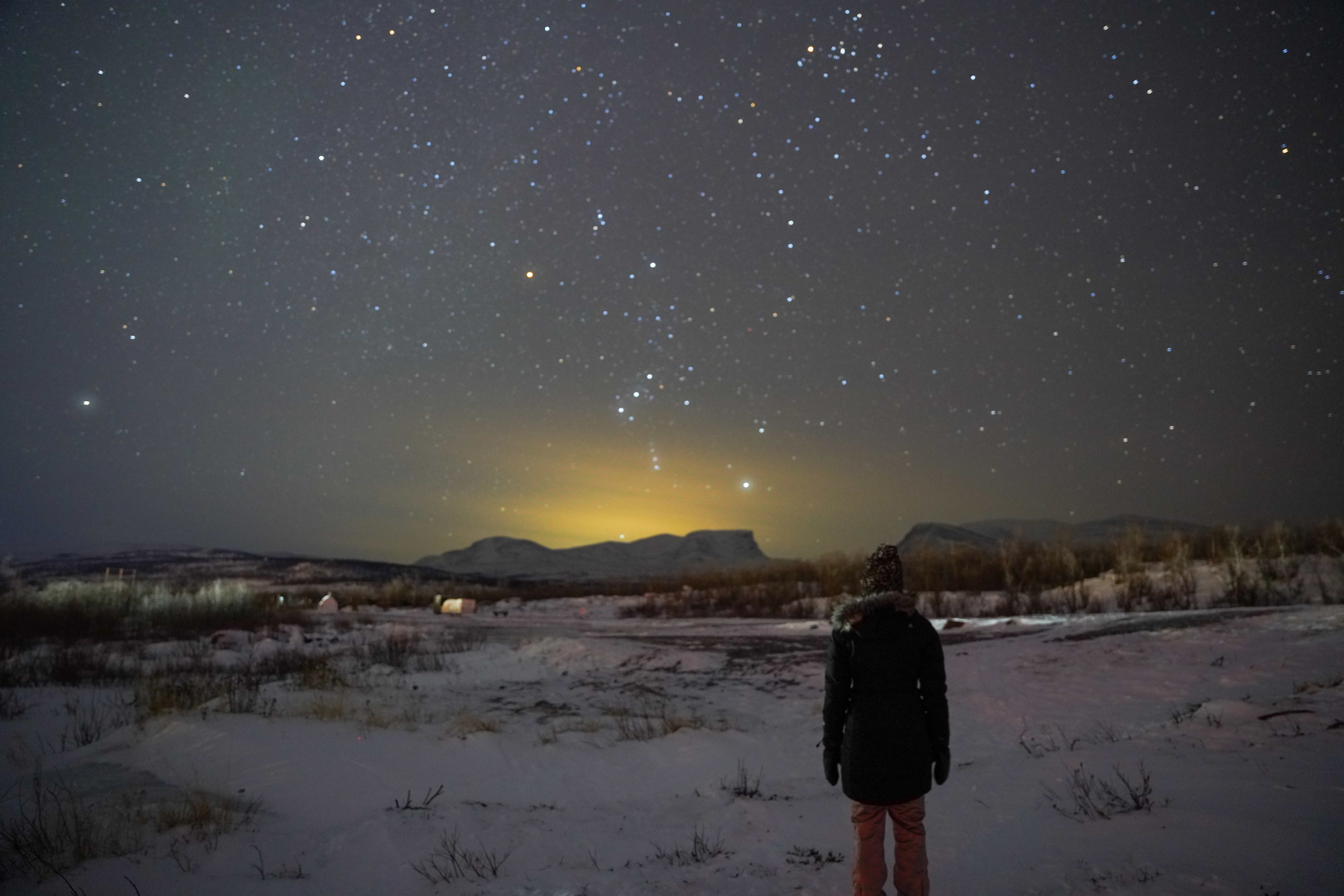 On the flip side, you have Abisko, located just about an hour north of Kiruna by car. This town is the gateway to Abisko National Park, and what it lacks in size, it makes up for in beauty- particularly for clear skies.
This is because nearby mountains act as a rain shadow over the region. Clouds that come in from the coast are blocked by the mountains more than elsewhere, creating a clear patch of sky over Abisko- more than you would otherwise expect for where it is located. As this one is also quite remote due to its distance from nearby towns (like Kiruna, an hour away, or Stockholm, 17 hours away by train), this means that Abisko is home to some of the clearest skies in northern Europe- ~50% of days are said to be clear!
When we were visiting on a night trip from Kiruna, all we had to do was exit the guest house we had dinner at, walk three or four minutes away from "town," and look up to see an impressive number of stars and the northern lights- even on a weak display. Compared to Kiruna, where we had to walk quite further away from our hotel to minimize nearby light pollution to see another faint display, it was a remarkable difference!
Note: Both northern lights displays mentioned above were considered weak, about KP1 or KP2 at best. When the northern lights are intense, say KP4 or KP5 and higher, visibility is said to be exceptional in both Kiruna and Abisko, even with light pollution concerns insofar as it is not cloudy. That said, Abisko's higher percentage of clear skies is worth repeating one more time- your odds are simply better there in most cases.
Much like with Kiruna, there are some downsides to consider when staying in Abisko.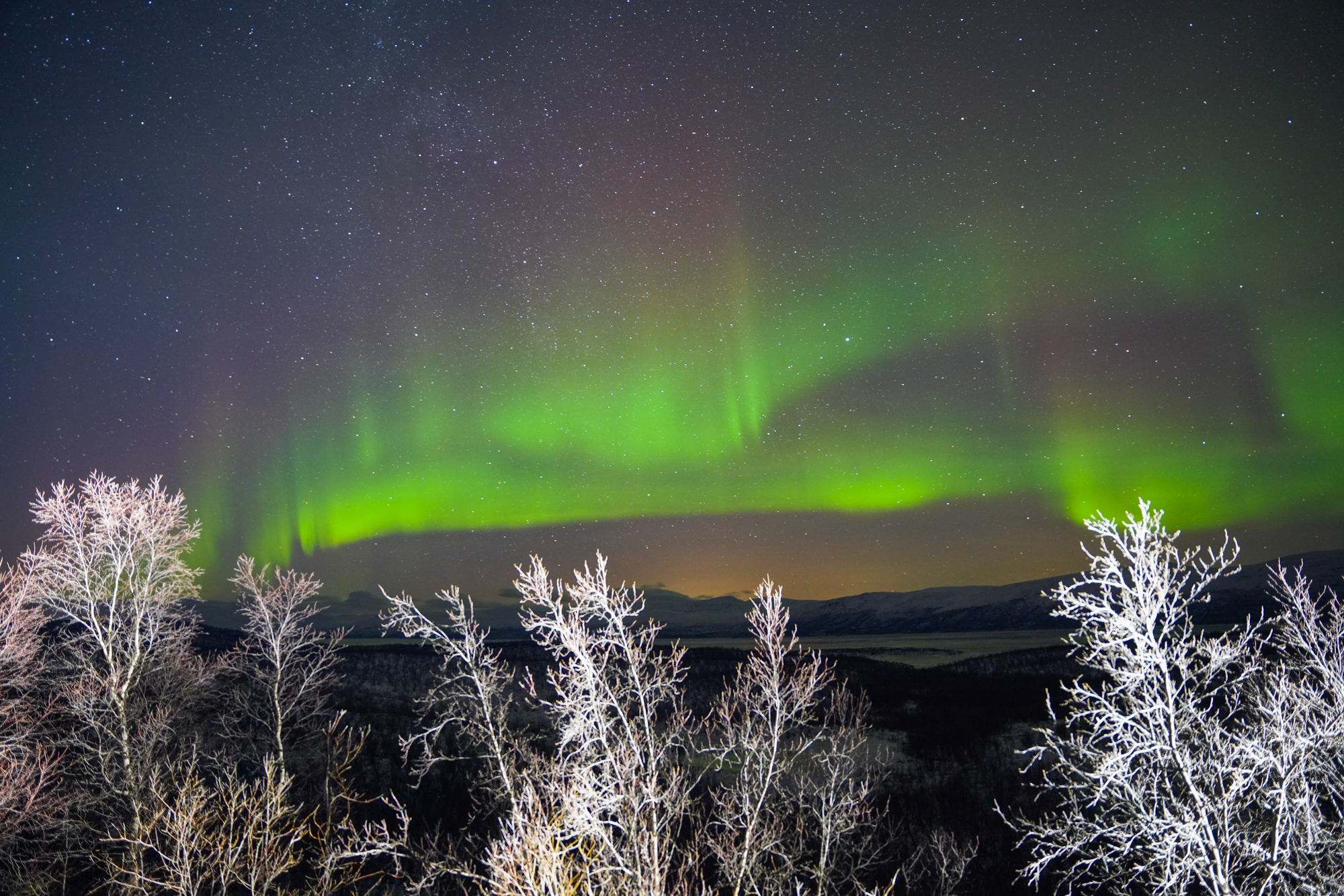 First, Abisko is small. Think population 85 small. The town is predominantly tourism-driven, and most businesses are either guest houses or tour operators with limited other infrastructure in sight. As such, don't expect much when it comes to any conventional city amenities here (although the dinner we had at our stop was delicious!).
Second, due to the limited number of guesthouses, do not be surprised if places book up significantly far in advance during peak northern lights season- perhaps even more so than in Kiruna or elsewhere.
Third, as Abisko is known predominantly as a dark sky destination, it does seem that daytime activities are far less plentiful than in Kiruna. Yes, some companies may offer skiing or other exploration of the park. But, to us, it felt like a larger variety of popular winter activities like dogsledding, visiting the ice hotel, and more could be found near Kiruna over Abisko proper. (Some of these can even be arranged as day tours from Abisko, taking you down to Kiruna outright!)
So while you can find great things to do during the day in Abisko, the highlight here is being in the park at night.
To look up hotel options in Abisko, click here.
Which is Better? It is Hard to Say!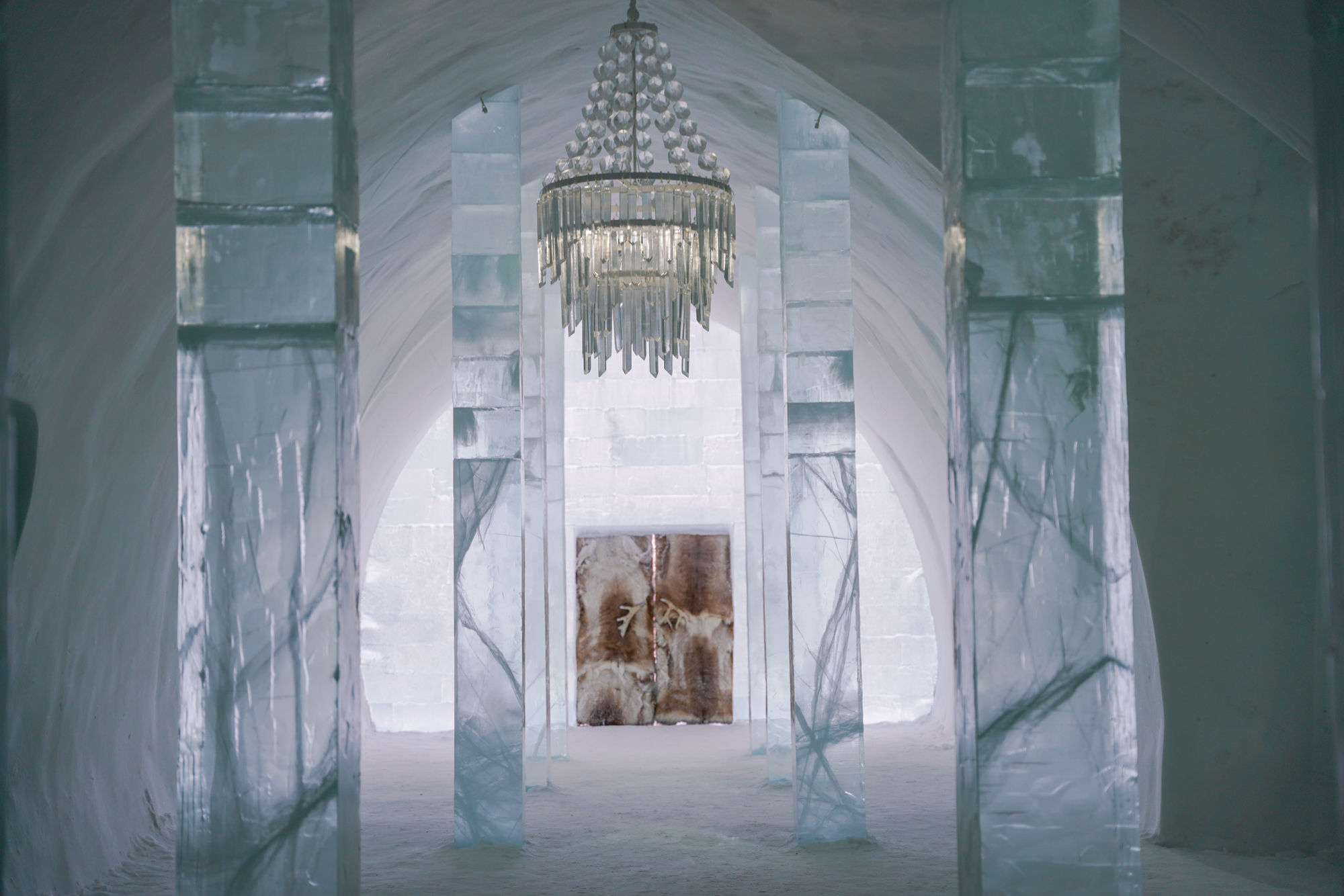 When it comes down to it, choosing between Kiruna and Abisko is one of those decisions that will be highly personal to you, with perhaps the best option being a bit of time in both if your schedule allows.
We picked Kiruna because we liked having more amenities (even when accounting for the town moving) and winter activities during the day. If we were to go bust on seeing the northern lights, our logic was at least we could still have a lot of fun when the sun was up for a few hours each day with cross-country skiing, dog sledding, checking out the ice hotel, and more.
All those activities were new for us, and we wanted to enjoy them just as much as getting lucky with the northern lights. We felt like we had better options available around Kiruna in that respect. As it was cloudy for most of our stay with low aurora activity, it was a good decision in retrospect because of the weather and solar activity.
That said, after taking a night trip to Abisko, we are deadset that a future visit will be to stay in Abisko and perhaps take the train/bus over to Norway and onward north to Tromso to make a more extensive trip out of it. The dark sky at Abisko truly is unrivaled, and I'd argue that your odds are much better for northern lights there than just about anywhere else in Europe. Of course, you still have to have some luck on your side for solar activity!
Since our northern lights viewing was good, not great, and only visible when we were in Abisko on a night tour, we are already planning a trip back to the Arctic Circle to improve our chances. If that trip is in Europe, Abisko will certainly be part of the itinerary without hesitation.
But those who do visit Abisko will want to keep the remoteness in mind. Limited activities, even fewer guesthouses, more restrained dining options, and increased transportation costs to get to the airport (Kiruna) and for day tours are all worthy considerations to remember. The Arctic Circle is not what most travelers would call cheap!
Ultimately, for those who want to experience the best of everything (and may not be able to subsequently move on to Norway as we would in an ideal world), the best option here is hitting both Kiruna and Abisko on a single trip given enough time. But, if you had to pick one, we'd likely err on the side of Abisko for most visitors, especially if you prioritize the northern lights over other activities. That said, we also can see how Kiruna could still be a popular alternative if any of the above conditions jump out to you as vital as they were for us.
Just be sure to keep an eye on the current status of the town moving, and plan your visit accordingly!
Looking for more northern lights articles? Check out our tips on how to read aurora forecasts and camera settings for the northern lights!
Book a Train Ticket in Europe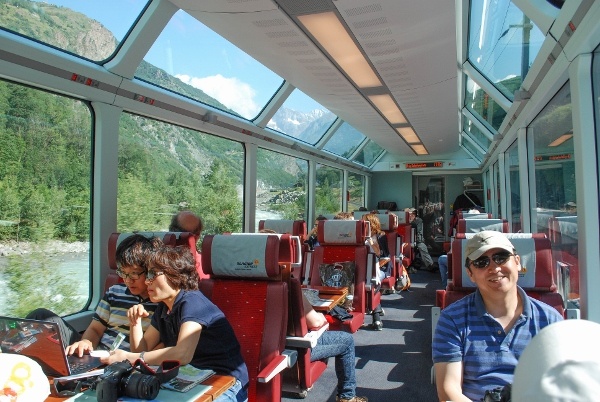 Want to learn more? Check out our Omio review!
About Jeremy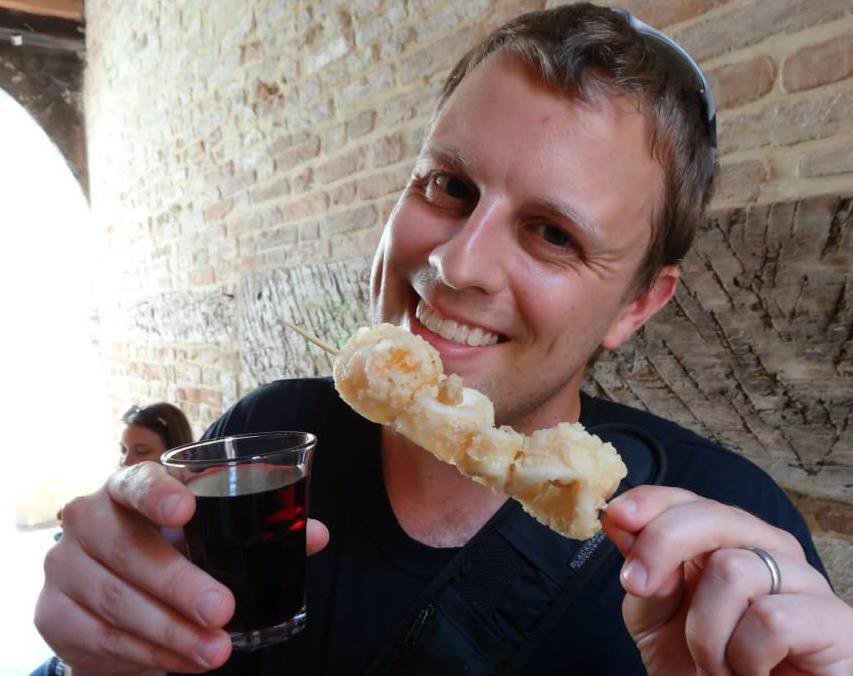 About the Author: Jeremy is a full-time travel writer based in Pittsburgh and primary author of this site. He has been to 70+ countries on five continents and seeks out new food, adventure activities, and off-the-beaten-path experiences wherever he travels.