Last Updated on February 3, 2023 by Angie
Disclaimers: Our site uses demographic data, email opt-ins, display advertising, and affiliate links. Please check out our Terms and Conditions for more information. Listed prices and attraction details may have changed since our visit and initial publication.
The Yeatman, a two-star Michelin restaurant in Vila Nova de Gaia in Portugal, provides a once-in-a-lifetime gastronomic experience. From the elegant pre-dinner drinks and snacks in the bar area to the over-the-top plating and molecular gastronomy techniques, to the "kitchen snack," the surprises and delights during our meal at The Yeatman were unlike any other restaurant we've ever been to.
Plan to Go All Out When at The Yeatman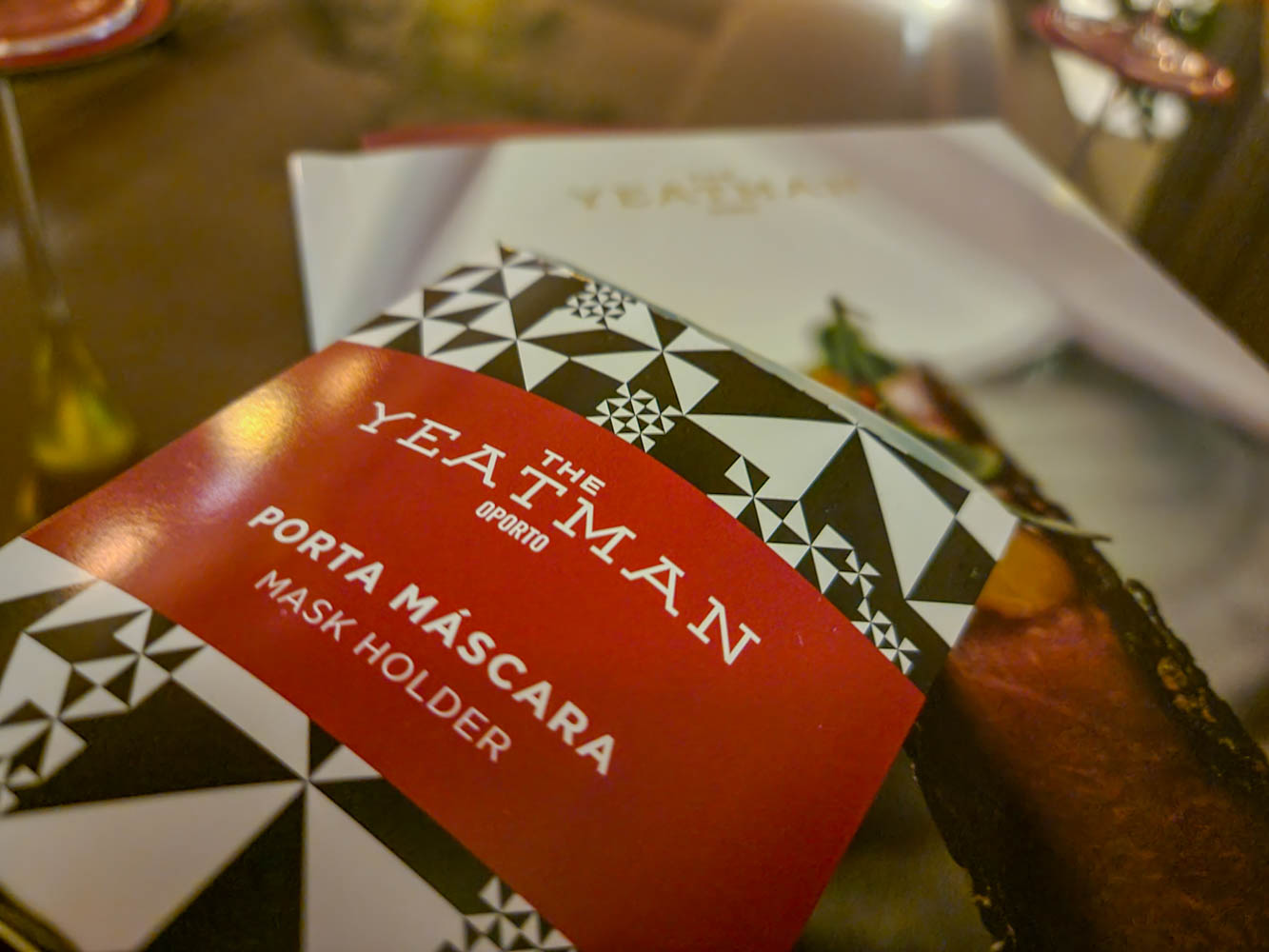 My stomach was doing flips in anticipation as we walked up the hill to The Yeatman. We stepped into the hotel and found the host booth and were ushered into the bar area for aperitifs, where my nerves quickly gave way to awe: The Yeatman and the adjacent bar area have a fantastic vantage point overlooking Porto and the Douro River.
From our seats at a cozy corner velvet couch, we were offered glasses of Portuguese sparkling wine which had a great balance of acidity and creaminess. We were handed a menu of sorts outlining the experience to come (about a dozen different courses), and the sommelier came over to discuss the drink options for the evening. There were two wine pairing options, a seasonal wine selection, and The Yeatman Selection which included higher quality wines for about double the price of the seasonal pairing. We opted to go all-in with The Yeatman Selection pairing.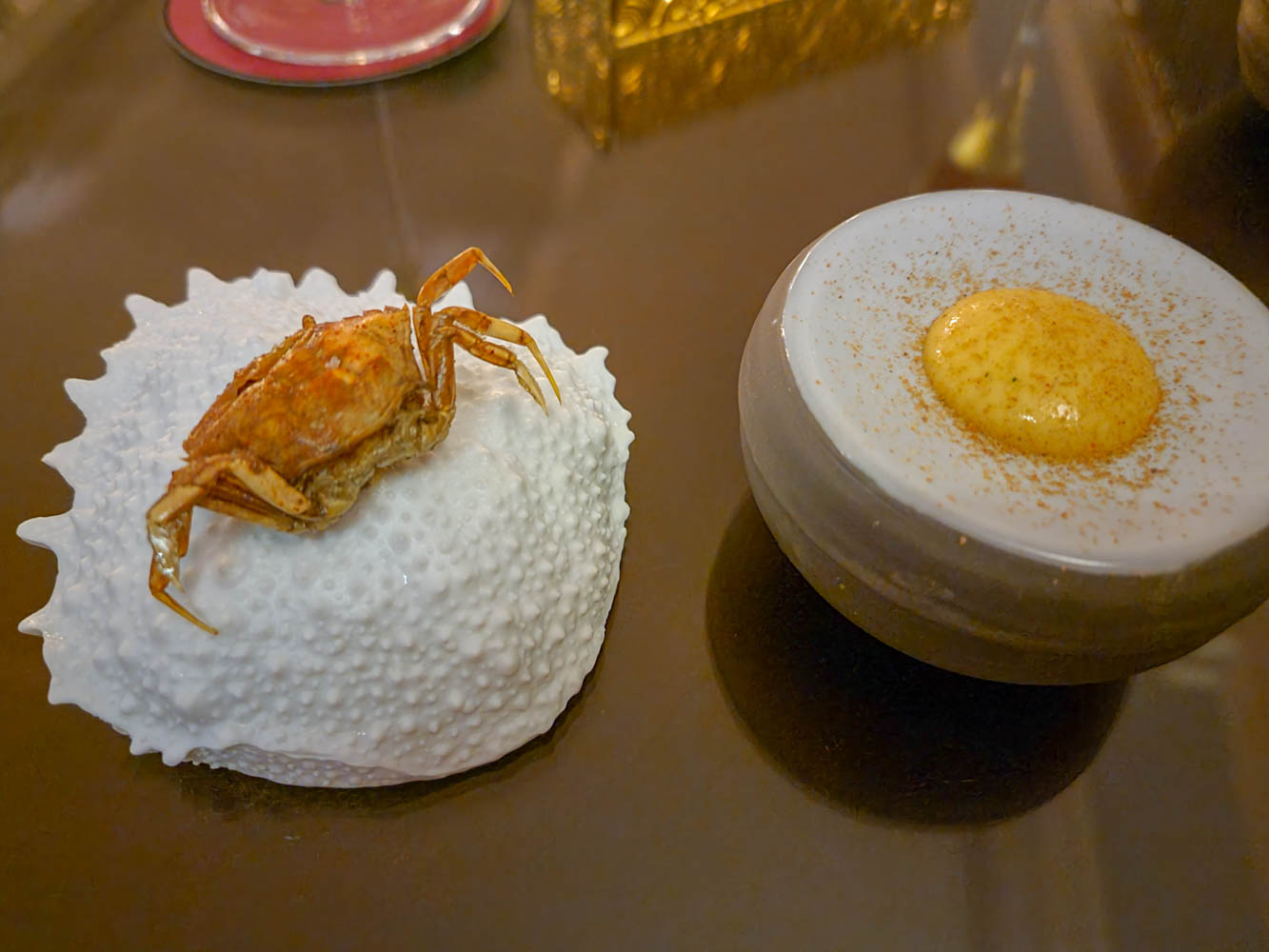 Still in the bar area, we were served a trio of small nibbles to start. First, a nori cup with amberjack crudo, kimchi, and a ginger gel which was crispy and spicy. Then, an entire tiny soft shell crab served with Sriracha mayo and sprinkled with crab powder – delightfully crunchy with such concentrated crab flavor. The final plate in the trio was a one-bite BBQ chicken sandwich with a very crispy exterior and smokey pulled chicken in the middle. We were already in love with everything about the experience – and things were just getting started!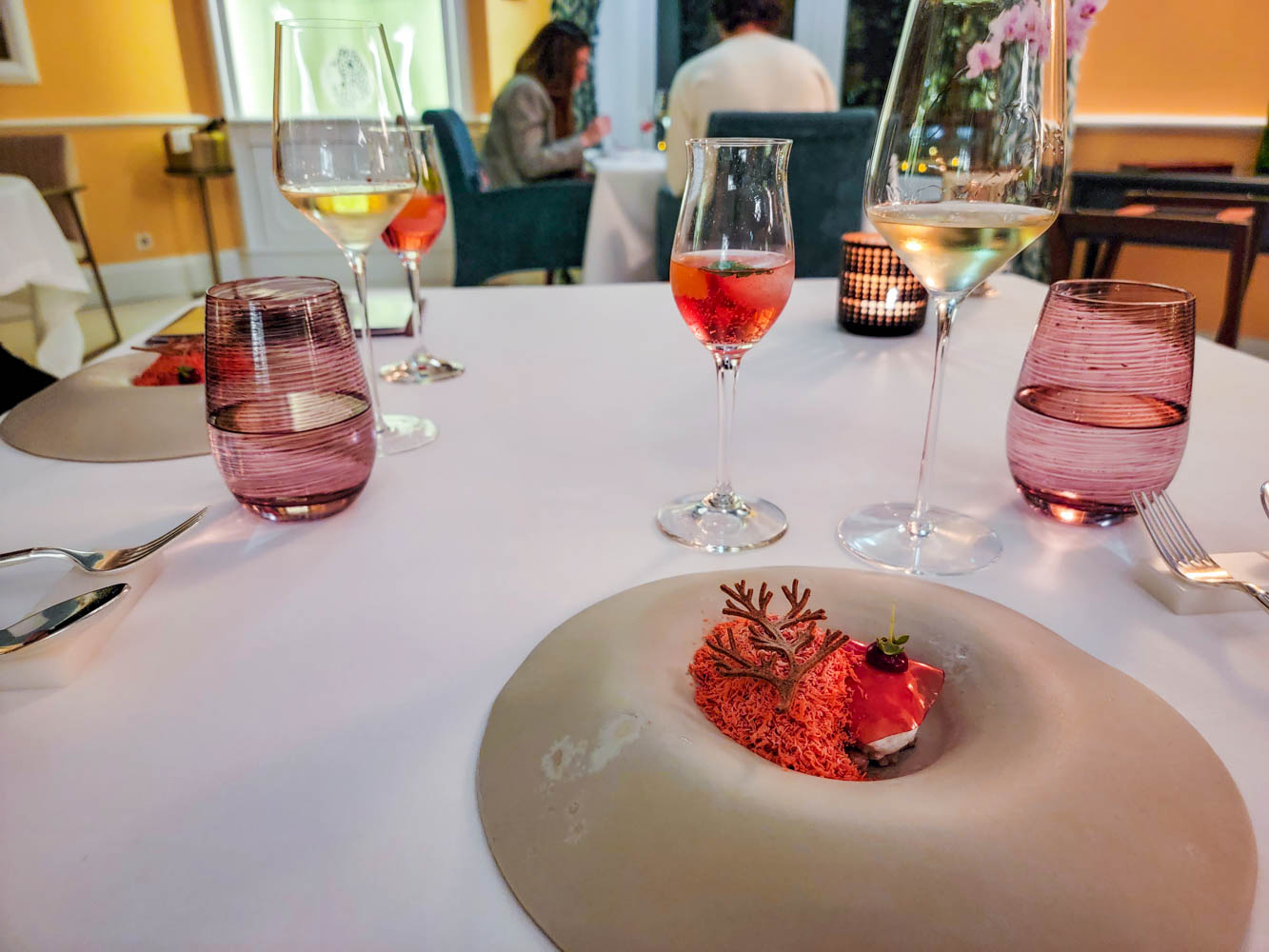 Next, we were escorted to the main dining room with a traditional feel and yet more windows with stunning views over the city. The first course was a playful oyster course with two dishes, one an oyster removed from the shell, topped with a huge mound of caviar, and served with two tableside sauces including an umami dashi. The other half of this course was rice crackers shaped like oyster shells and filled with crudo and shaved ice. A crisp Alvarinho paired nicely with the course.
The whimsy continued with the next course where everything served was pink, including an accompanying Croft Pink canned cocktail made with ruby port and tonic. The food was also pink: raw tuna topped with a yogurt sauce, foie gras, and a garam masala flavored cracker shaped like coral. It was amazing how the color of the dish changed our perception of the flavor. The color along with the yogurt and the garam masala tricked us into thinking it was sweet, but a bite of foie gras quickly snapped our palates back to the savory.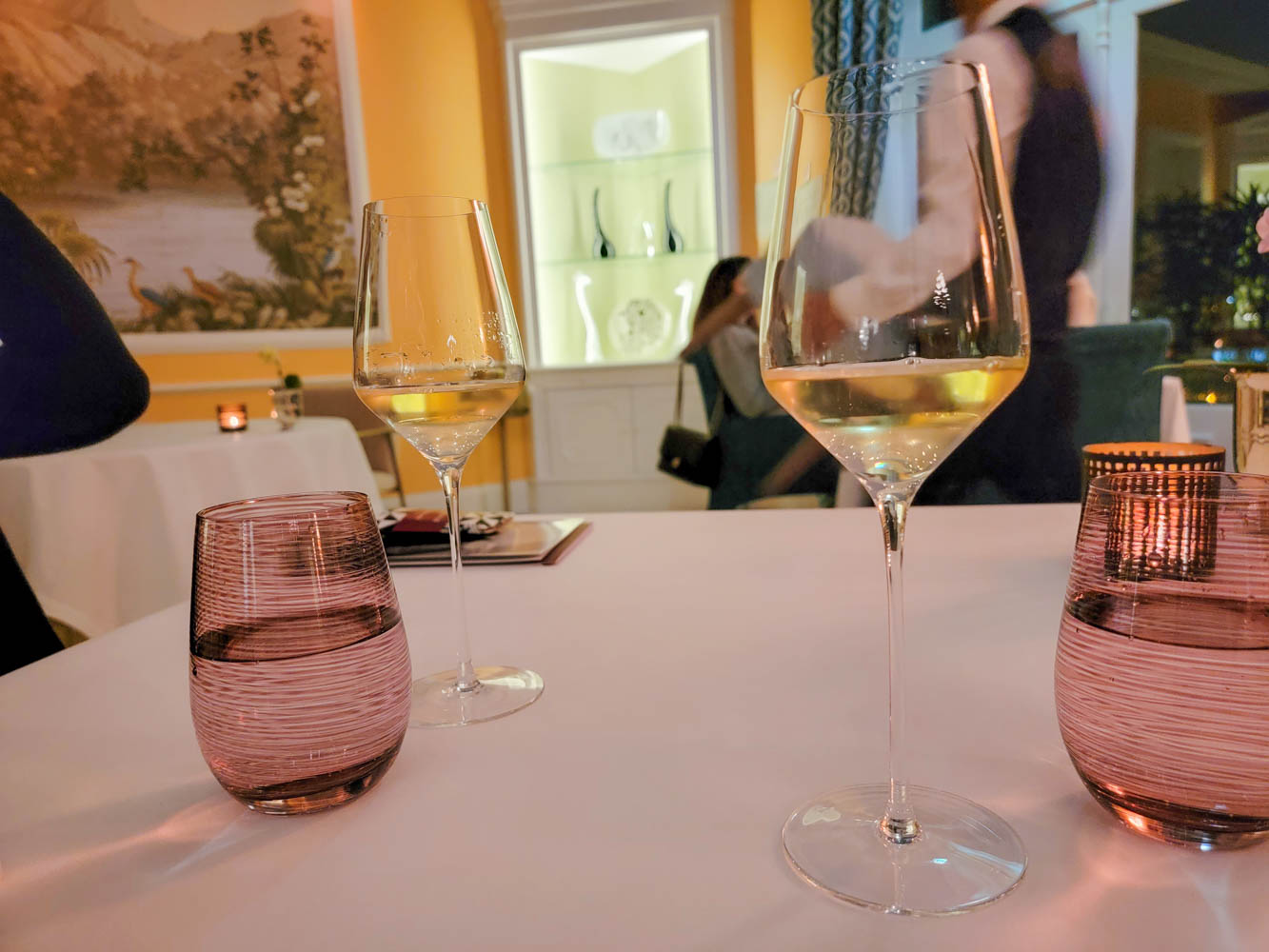 A delightful fish course followed – a beautiful, meaty filet of turbot served in a deep white bowl with a stunning green sauce made of chives and spring onions, and topped with different delicate leaves. To accompany the fish was a lightly oaked white from producer Amora Brava from the Dao. It was during this course that we discovered if you finished your wine, they came around and topped you off – things were about to get interesting!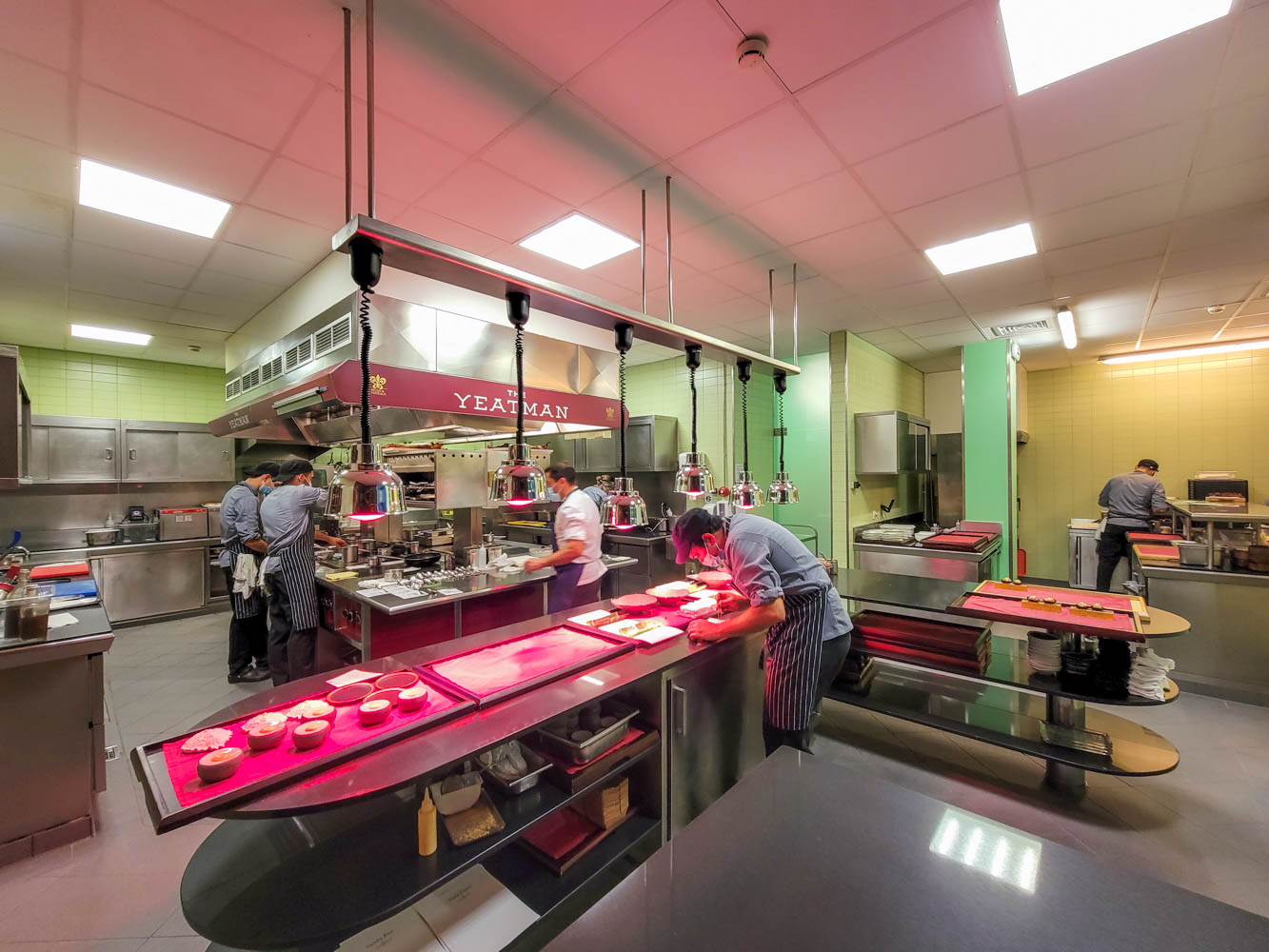 Next up we got a surprise: we got to go back to the kitchen where we had a cuttlefish waffle served dramatically on top of a crispy octopus decoration and served with a curried hollandaise. We were introduced to the kitchen staff, and they explained the different stations in this kitchen and discussed the many other kitchens in the building. Touches like this really put this dining experience over the top!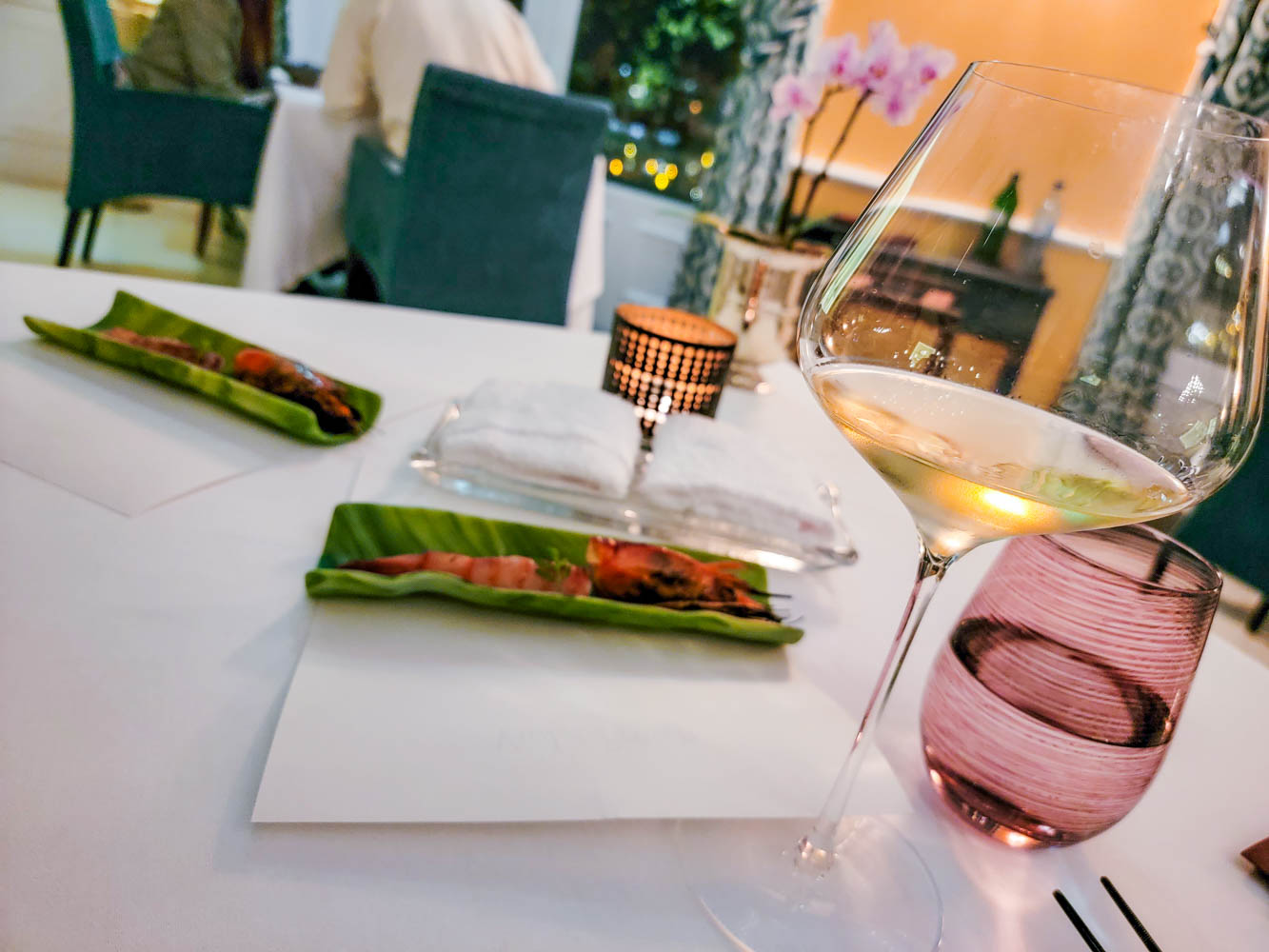 Violet prawns were showcased in the next course. We were served a small green soup-like dish studded with seafood and salicornia (sea asparagus) and then presented with an entire violet prawn wrapped up in paper that was unfolded dramatically at the table. We were instructed to squeeze the head juices into the soup, and then eat the prawn with our fingers. The prawn was the essence of shrimp, unlike any other flavor we'd had before.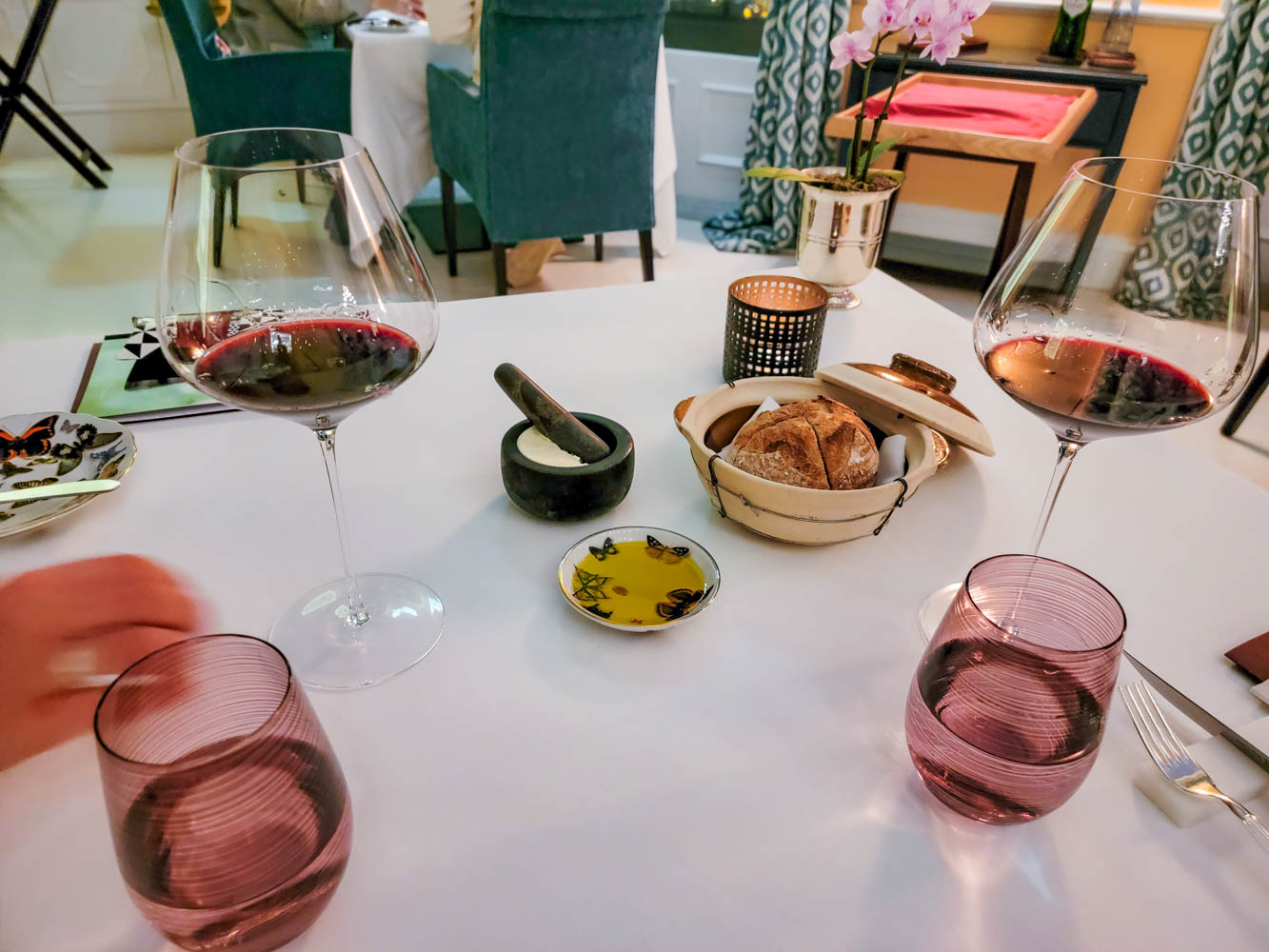 Before progressing into the meat courses, we had a perfect little bread course: a mini loaf of crusty bread served with olive oil, house-made butter, and flaky salt.
The first meat dish was a truly amazing suckling pig course with a luscious piece of meat with intensely crispy skin and a tableside brown sauce with hints of baking spices. A salad on the side showcased a green pepper sauce that was creamy and yogurty. The sauce went oddly well with the red wine for the course, the Principal Grande Reserva from producer Colinas de São Lourenço- it brought out a vegetal/green note in the wine. We enjoyed the wine so much that we snagged a bottle back in Porto to take back home with us.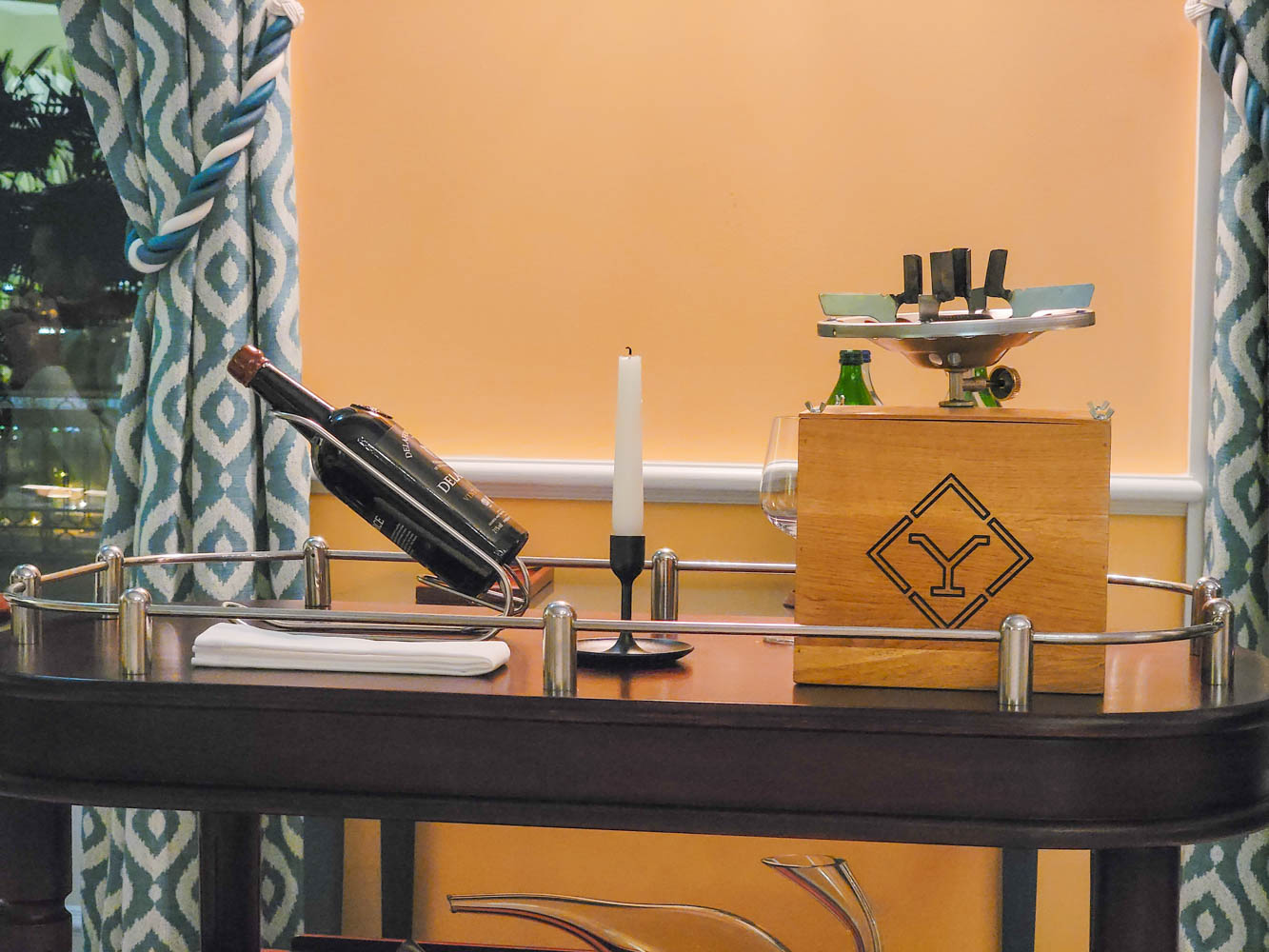 Next, a first for me: pigeon topped with truffles and served with cabbage and beet foam. The fruitiness and earthiness of the beets were delightful with the meat. During this course, there was a sideshow as we got to witness the opening of a 1977 Delaforce vintage port! We watched them use the hot Port tongs and then ice water to break open the bottle, and then a funnel and decanter to decant. Truly mesmerizing!
The Dessert Courses Will Get You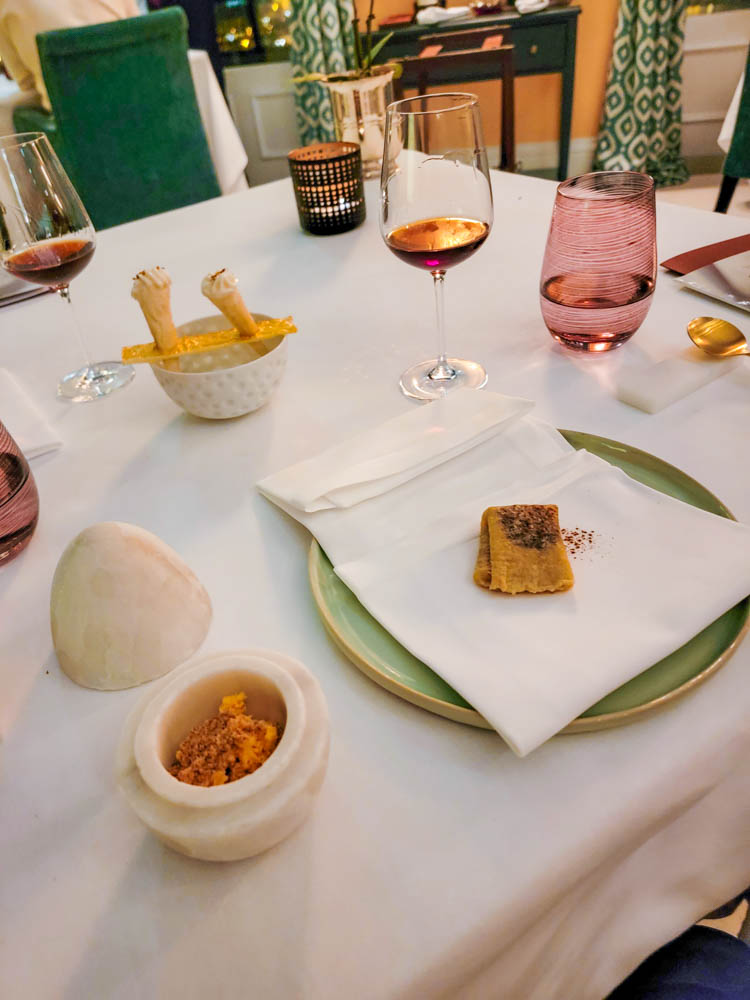 The onslaught of desserts then began, starting with a Taylor 1968 single harvest port paired with a chocolate "tripe" for Jeremy and a crepe filled with a custard cream for me due to my nut allergy. A heavy egg-shaped dish made of stone was served alongside: the top of the egg was pulled off to reveal what looked like crumbled egg yolks, but was really a mixture of different custards. The pairing with Taylors was excellent.
Finally, the vintage port! It was simply luxurious and delightful, served with a fig course including fresh white figs and various sorbets, creams, and sauces. It was all very light and floral, served with an orange juice drink in a super funky blown glass container with a built-in straw.
Just when we thought things were winding down, the sommelier brought out a bottle of Madeira after we had expressed interest in Madeira earlier in the meal and were asking him where to try it in Porto. We were given very hefty pours of this very special Madeira- service like this is the kind of thing that makes The Yeatman simply spectacular (we thought this even more so when we saw how much the bottle was going for at Garrafeira Nacional– the pours could've easily been $50 each!).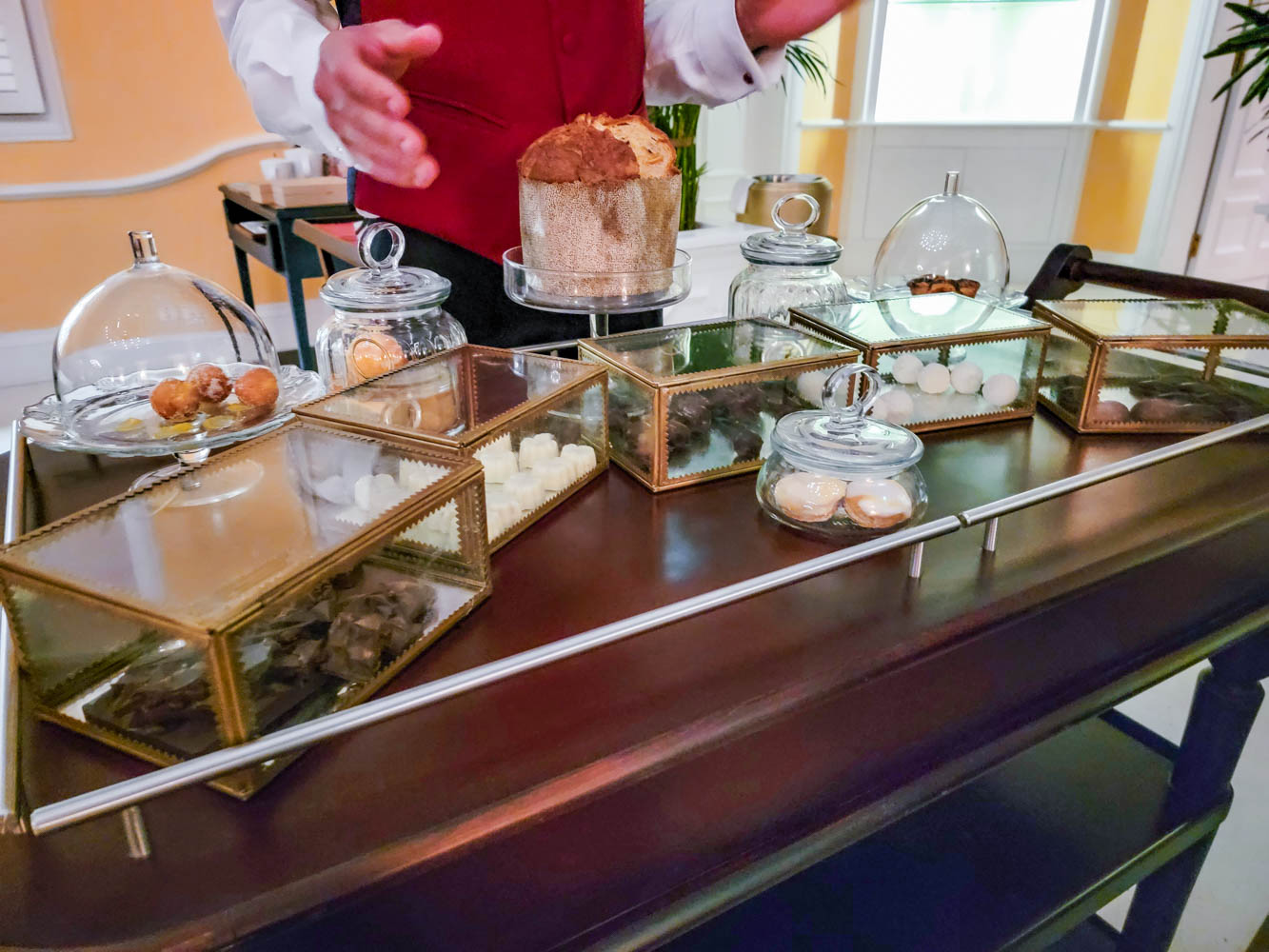 Having lost count of the number of dessert courses we'd had at that point (and the glasses of wine we'd had), we thought we were ready to pay the bill. And then a dessert cart showed up with dozens of different cookies and bites. We picked an obscene number of them out including mini pasteis de nata, cookies, blueberry-filled chocolates, and orange creams. We were, without question, bursting at the seams.
We linger for a while before realizing it's 12:30 AM. We ask to go out on the deck behind the bar to take some photos, trying to comprehend everything that just happened in the last 5 hours as well as the beauty down below. Then it was time for the long (short) stumble down the hill back to our hotel. All that wine caught up to us, but we did not care in the slightest.
The Yeatman won our hearts and bellies with their impeccable service, whimsical and playful presentation of food, excellent wine pairings, and overall pure deliciousness. If we ever find ourselves back in Porto, it's definitely on our list to dine here again. I suppose we need to start saving our pennies now!
The Yeatman is located at Rua do Choupelo, 4400-088 Vila Nova de Gaia, Portugal.
Looking for more great meals in Portugal? Check out our Belcanto review in Lisbon or DOC review in the Douro Valley!
Book a Train Ticket in Europe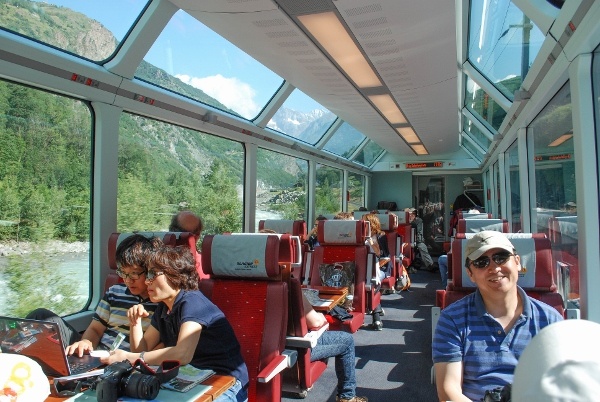 Want to learn more? Check out our Omio review!
About Angie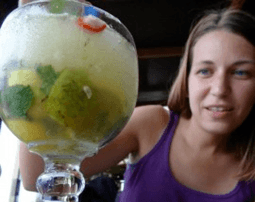 About the Author: Angie is a contributing author. She has been to nearly 60 countries and seeks out the best restaurants, bars, bakeries, and other unique food items wherever she goes- often with her husband, Jeremy.