Last Updated on February 3, 2023 by Angie
Disclaimers: Our site uses demographic data, email opt-ins, display advertising, and affiliate links. Please check out our Terms and Conditions for more information. Listed prices and attraction details may have changed since our visit and initial publication.
Portugal is a culinary wonderland, so we knew we had to try and hit at least a few Michelin-starred restaurants on our recent trip.
Our first stop was in Lisbon at Belcanto – a two-star Michelin restaurant that is also one of The World's 50 Best Restaurants. Given these accolades, we had high expectations going into the meal, but Belcanto managed to even exceed those. From the impeccable service, intriguing wine pairings, and perfect mix of traditional and inventive flavors, we were simply in heaven.
Belcanto Isn't Just a Meal, But a Dining Experience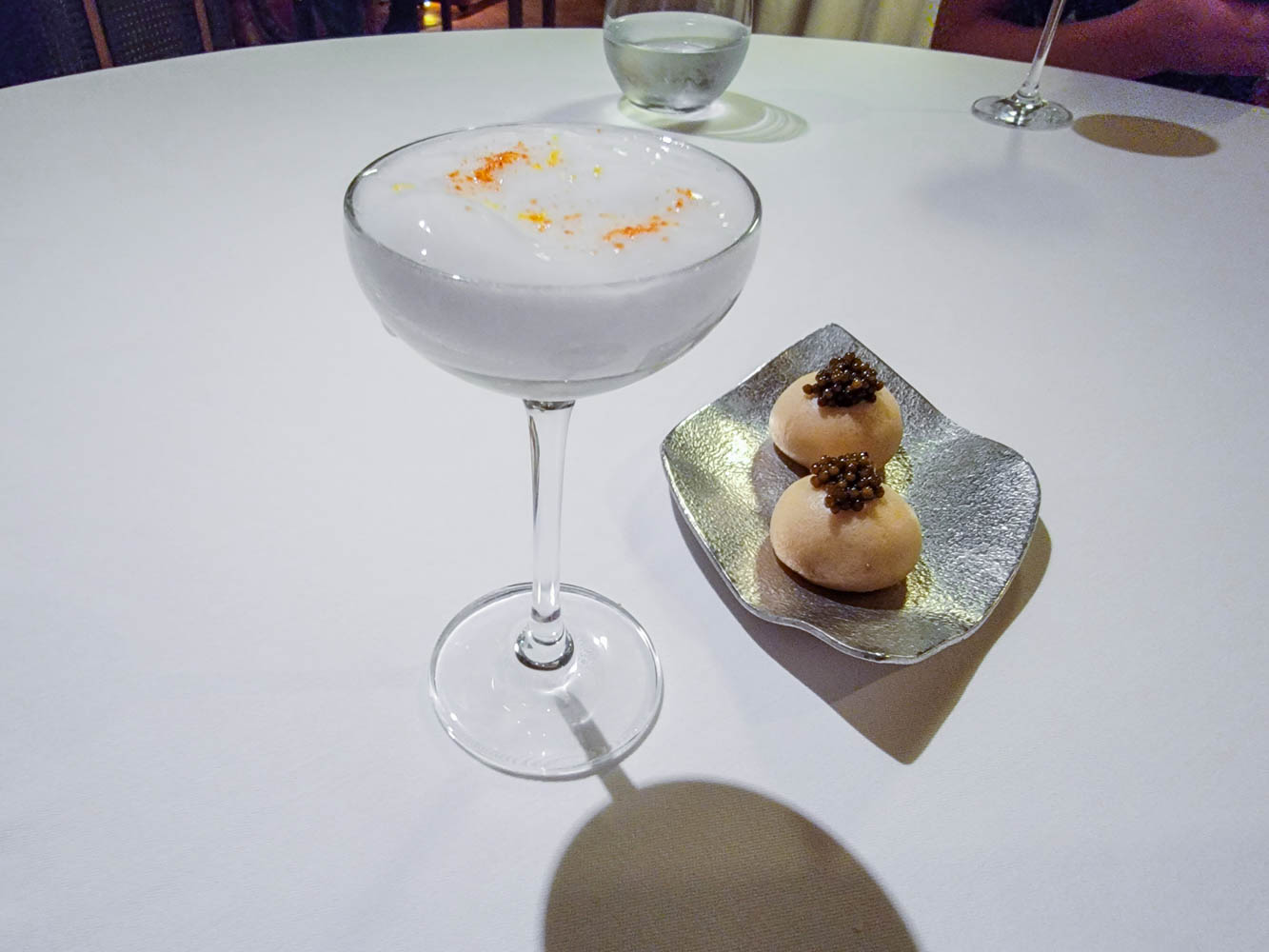 Stepping into Belcanto, we were awed by the stone walls and ceilings with dramatic arches- apparently the restaurant used to house a convent. The beauty of the space definitely complements the beauty of the food!
To start with we were offered a small bite of pillowy brioche topped with caviar, and a mini cocktail with elderflower liqueur, lime foam, and paprika salt that was reminiscent of a margarita.
We had a look at the menu and knew in approximately two seconds exactly what we wanted – the Evolution tasting menu with the add-on wine pairings. Belcanto offers two different tasting menus, one that leans more traditional and is at a slightly lower price point (the Belcanto menu), and one that is pricier and more innovative (the Evolution menu). Each has an optional wine pairing that is priced relative to the food menu. Although they also have a la carte options, when you start adding up the price of appetizers and entrees, to us it really made more sense to go for the tasting menu and worry about the bill later.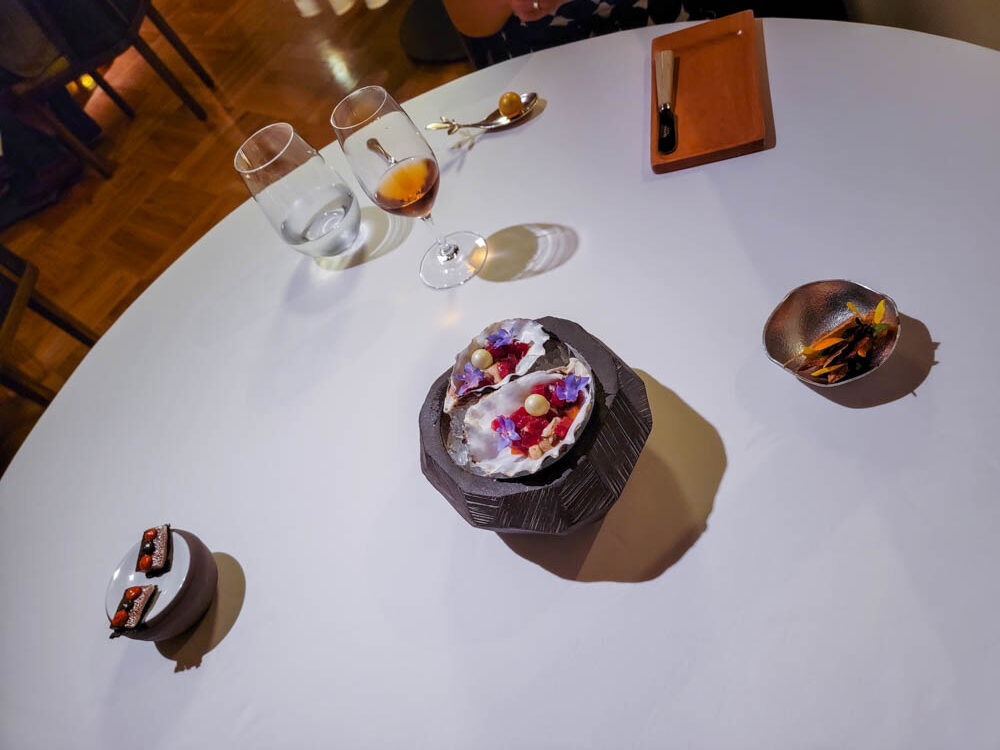 Our first course was a quartet of bites and it was one of my favorite parts of the meal: tuna tartare served in oyster shells, a gold-colored foie gras sphere, a roasted chicken bite with crispy skin bits, and sardines with eggplant and roasted red pepper sauces. The wine pairing was a 5-year old Barbeito Madeira that blew our minds – the savoriness and oxidation in the wine perfectly accompanied all of the umami going on in these bites.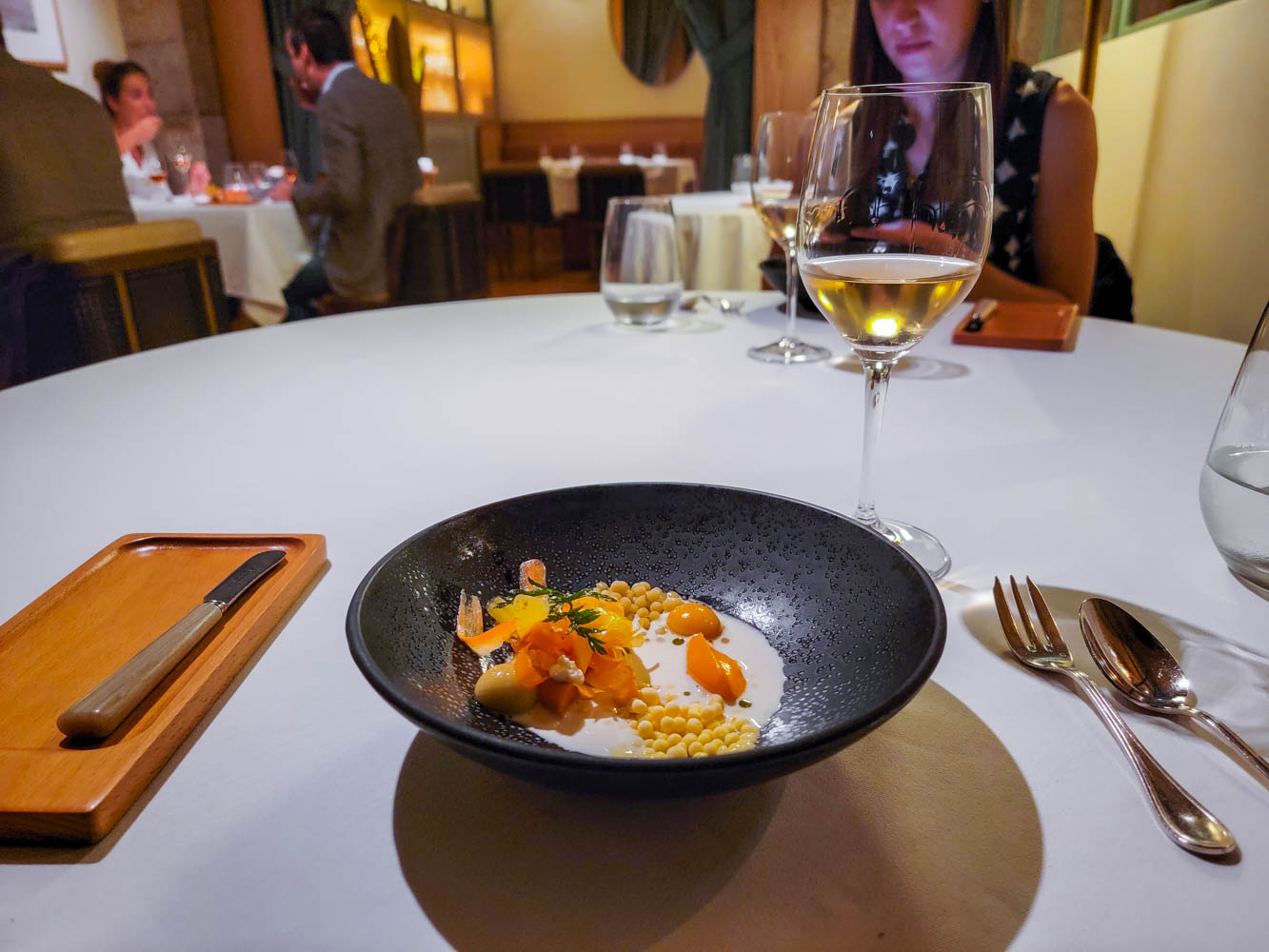 Next up was a vinho branco from Limo that was savory and also an excellent pairing with a carrot dish. The carrots appeared in all sorts of different textures and flavors along with lupine bean "caviar" and larger spheres that burst with cumin and olive flavors. Just brilliant!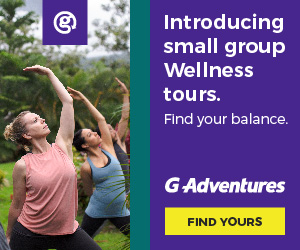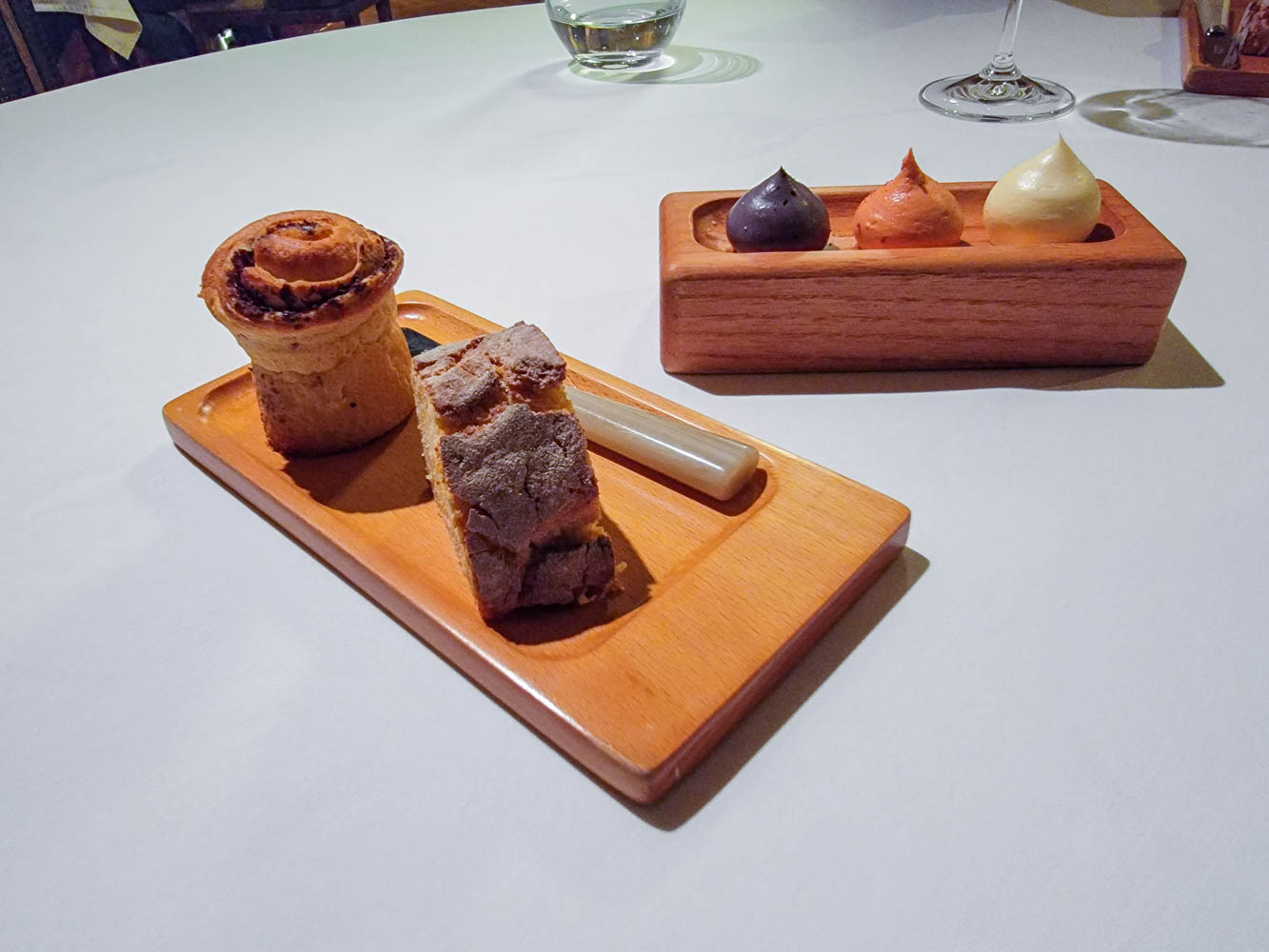 A bread course followed with four different options; we opted for olive bread and an amazing cornbread with a thick, crispy crust. And of course, there was butter- three different kinds, to be exact. One was plain, one was pink colored with pork sausage and tomato dust sprinkled in, and one that was mixed with rosemary ashes that were pitch black and very smoky.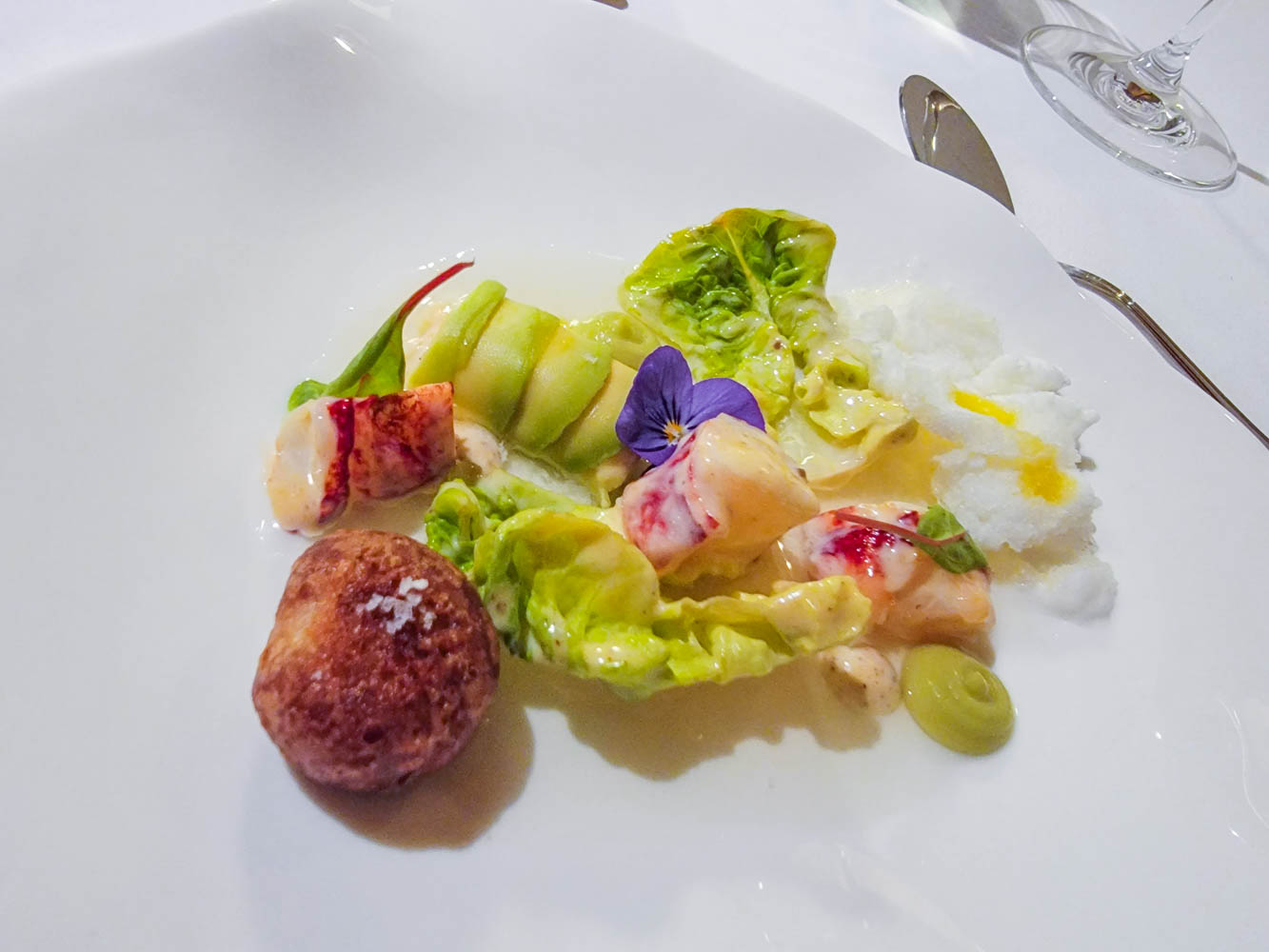 For the salad course, we had their take on a Caesar salad with huge chunks of lobster, avocado, tomato water, and lettuce. There was a delightful component with a shaved ice texture that was simultaneously creamy, plus a fried potato ball that was crispy and smooth and perfect. The wine pairing was a delightful Bical from Bairrada.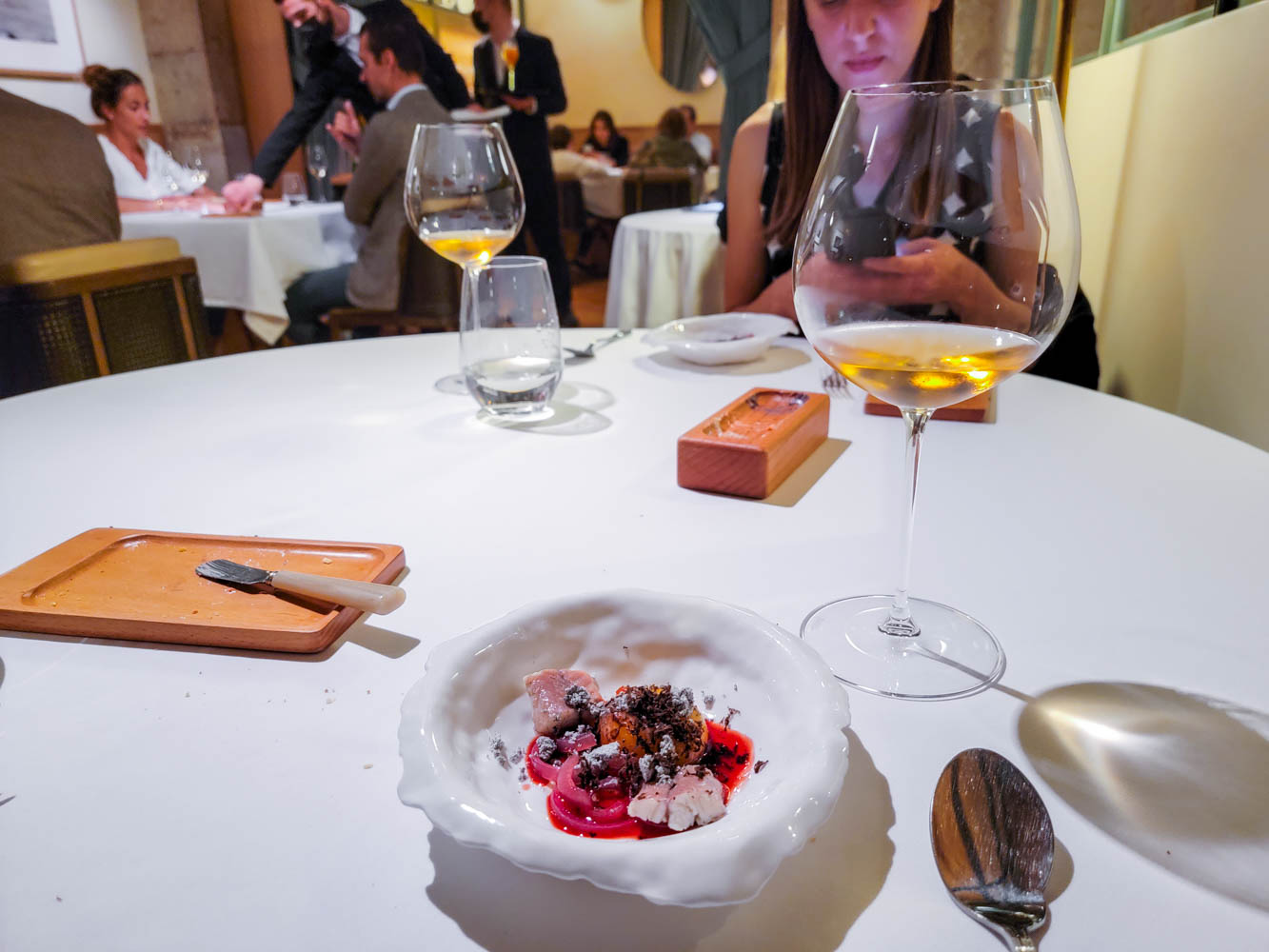 An umami bomb course followed: a cured egg yolk with smoked eel, beet, pickled onion, truffle, and ash. An Encruzado/Cerceal Branco white blend from Sao Joao from the Dao cut the richness of the dish perfectly.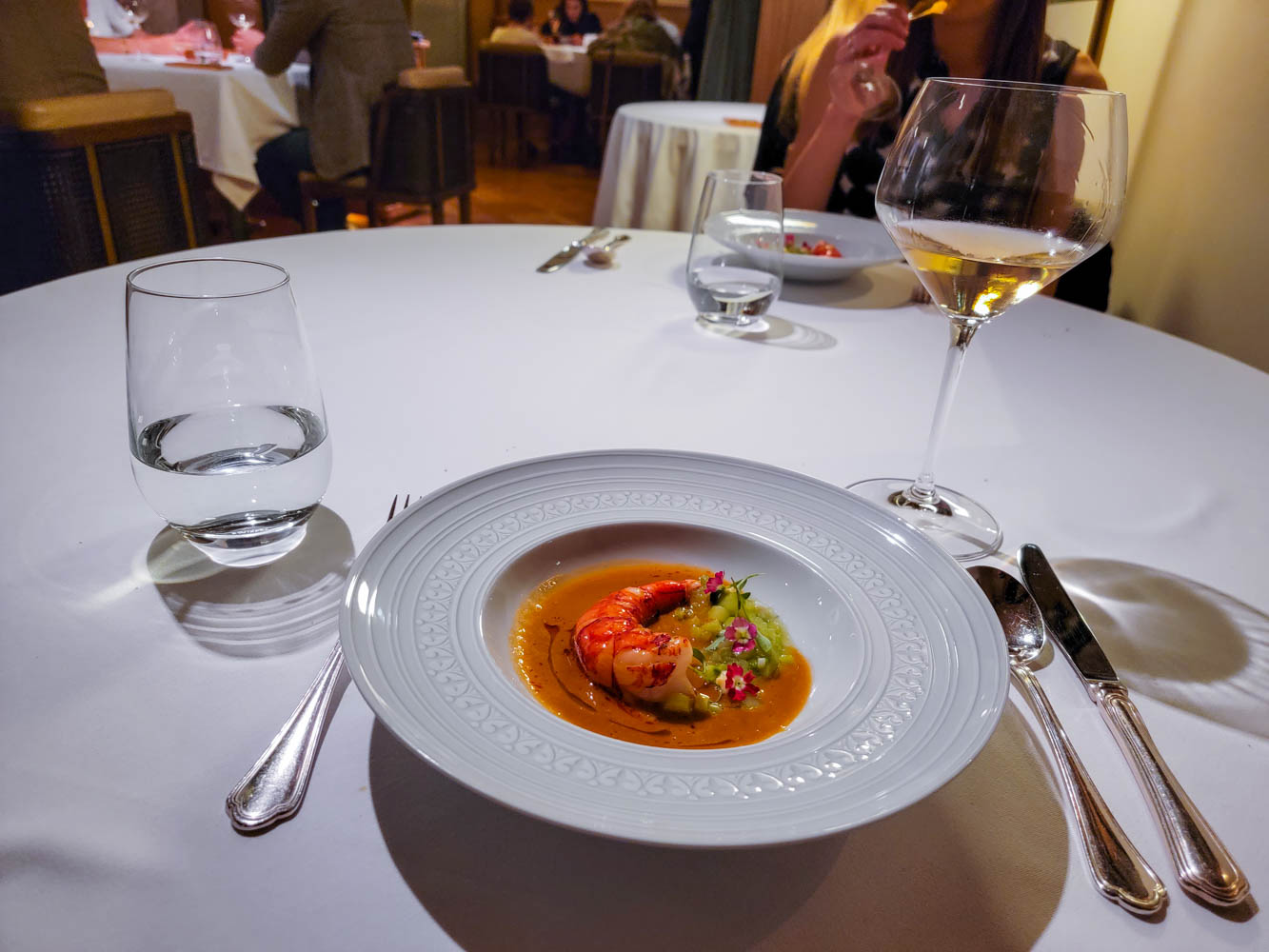 The subsequent course was a marriage of traditional ingredients with unconventional flavors: a scarlet shrimp in a red Thai curry broth. The shrimp itself was beautiful, plump, and juicy, and bits of apple and asparagus in the broth added a little texture. The wine pairing was an Alvarinho aged on the lees – such a unique wine!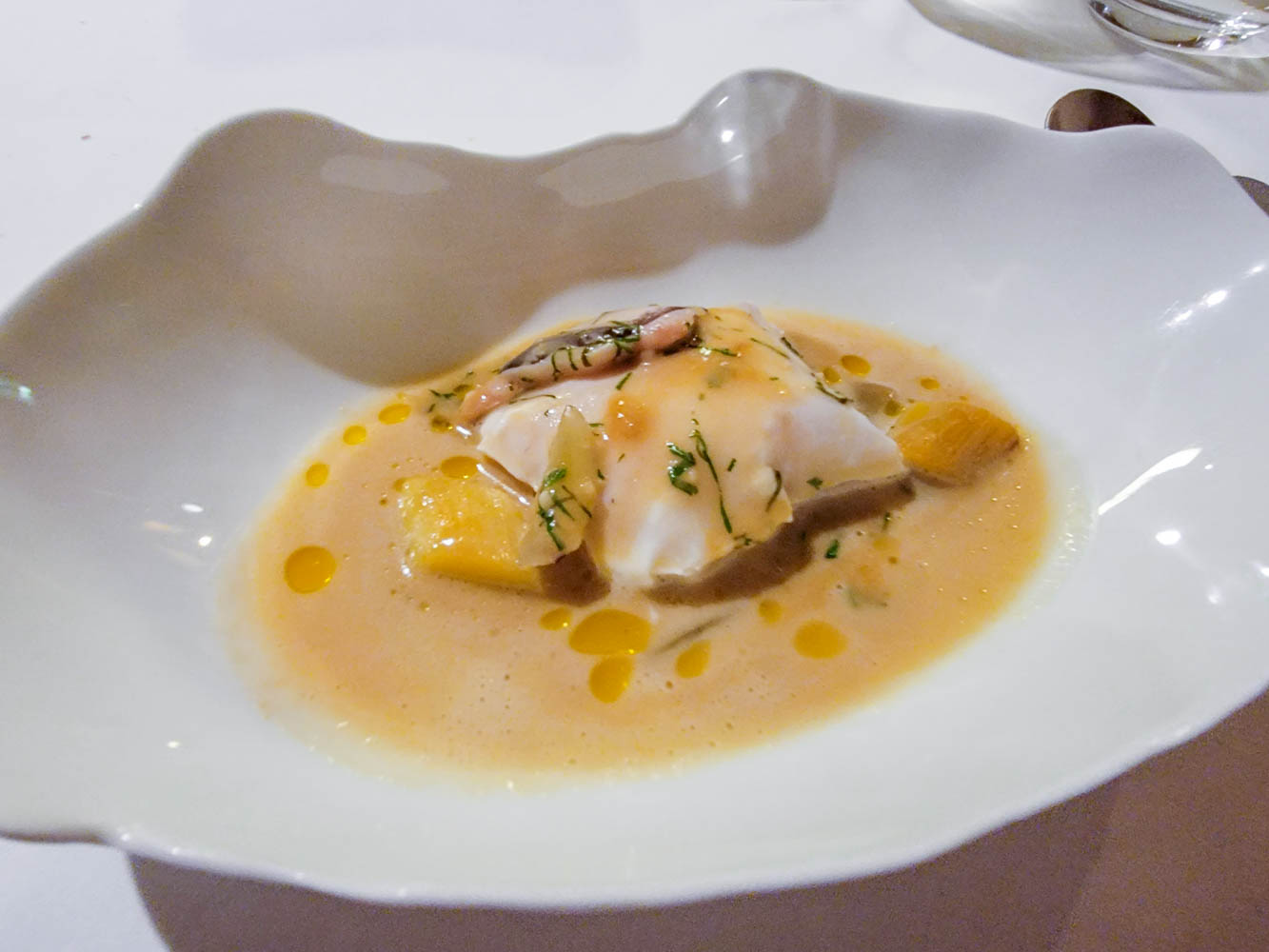 The next dish came to the table with a fig leaf on top of the plate, which the server slowly lifted to reveal the delicate aromatics of a hake filet from the Azores bathed in a seafood stock. On the side we were served several slices of bread with an insanely delicious fig and prosciutto butter. This wine pairing was unique as it was the chef's own collaboration with Douro producer Niepoort; it was crisp and mineral and a fine complement to the fish.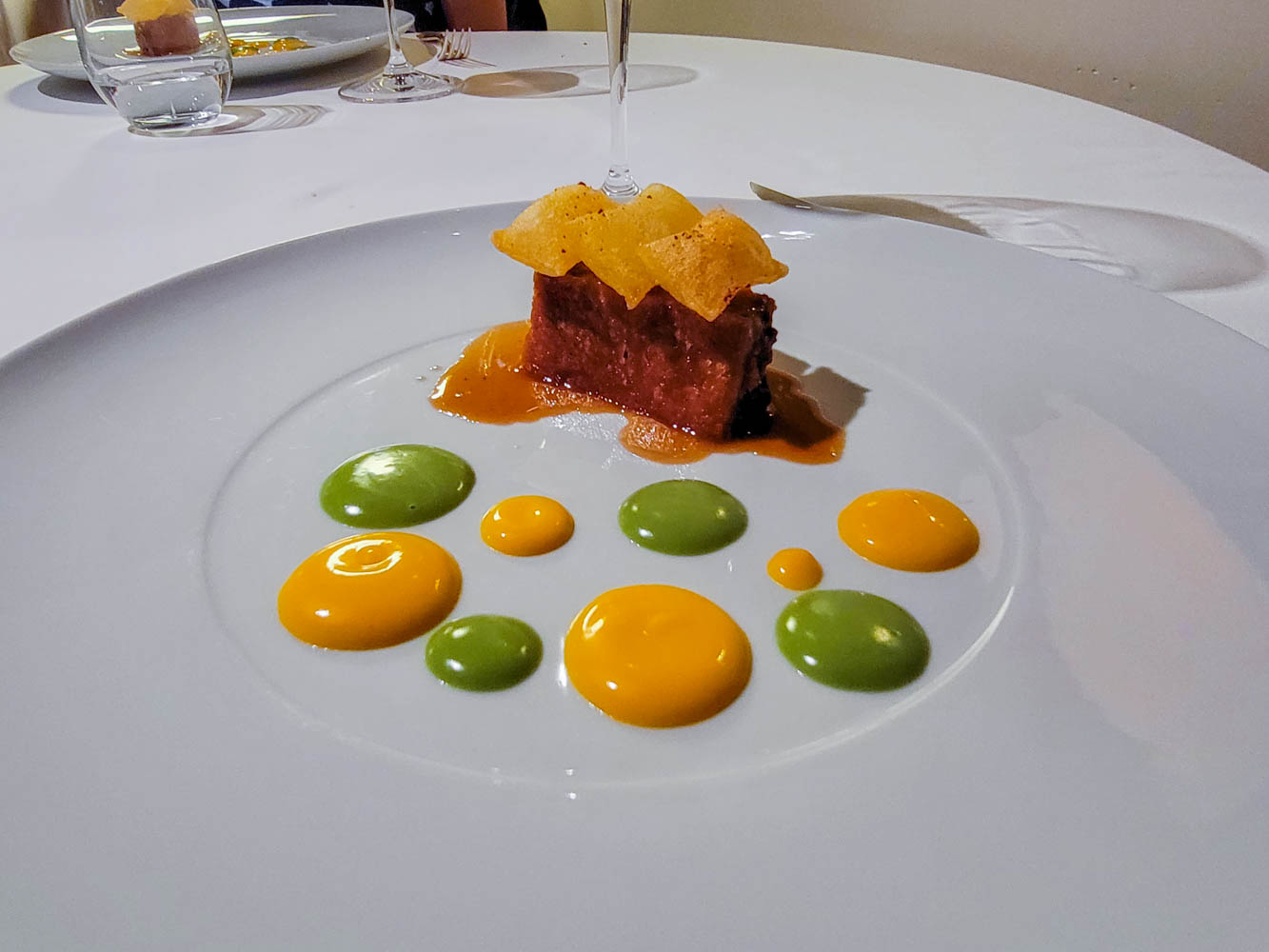 At this point we were nearly bursting, but we still had our favorite dish to come: a deconstructed suckling pig sandwich with super juicy, fatty meat and ultra crispy skin; delicate and crispy egg souffle pillows; and watercress and mango sauces for some delightful contrasting sweetness. A Touriga Nacional/Tinta Roriz blend from producer Lemos from the Dao was a full-bodied and tannic complement to the richness of the meat.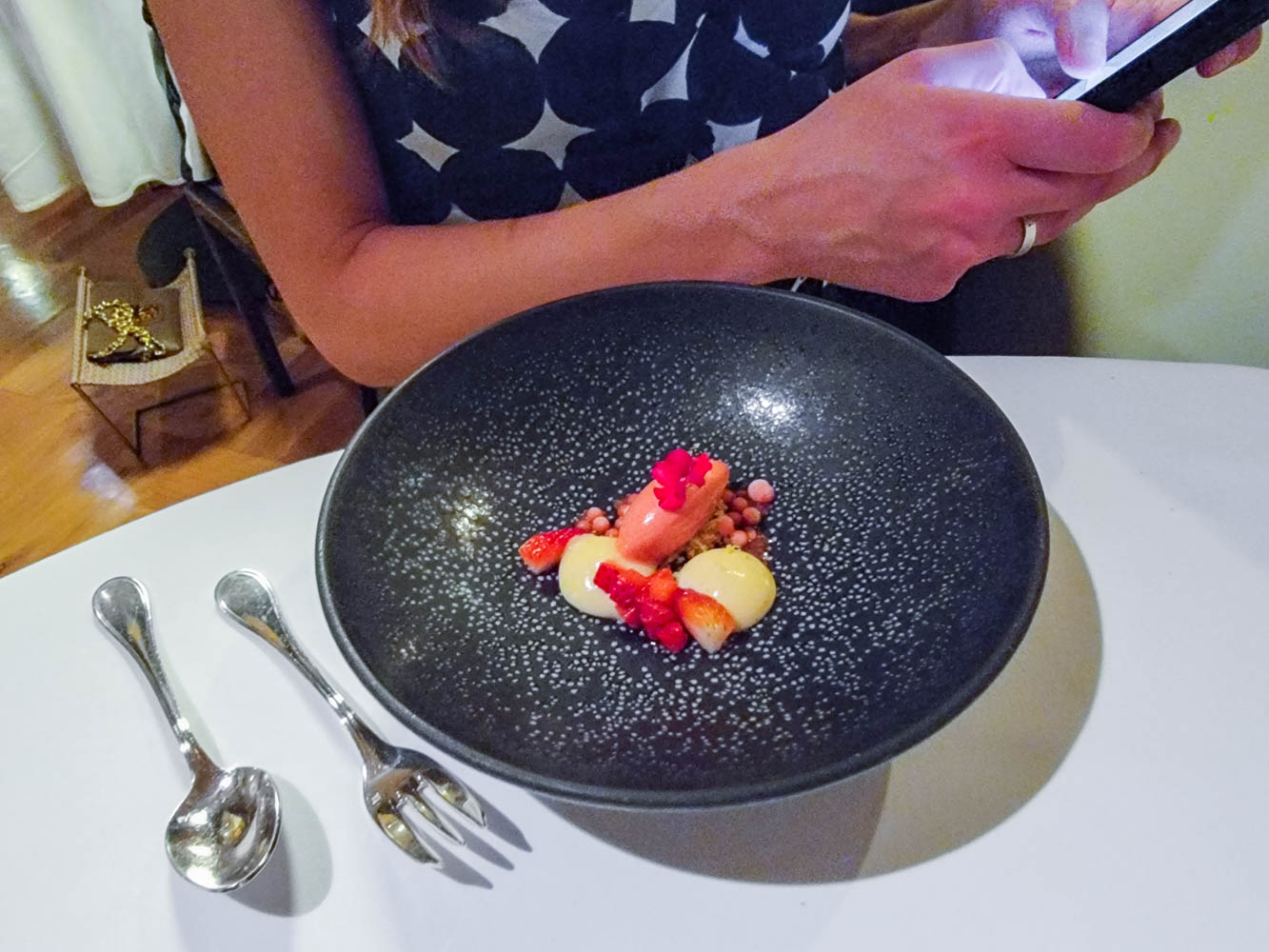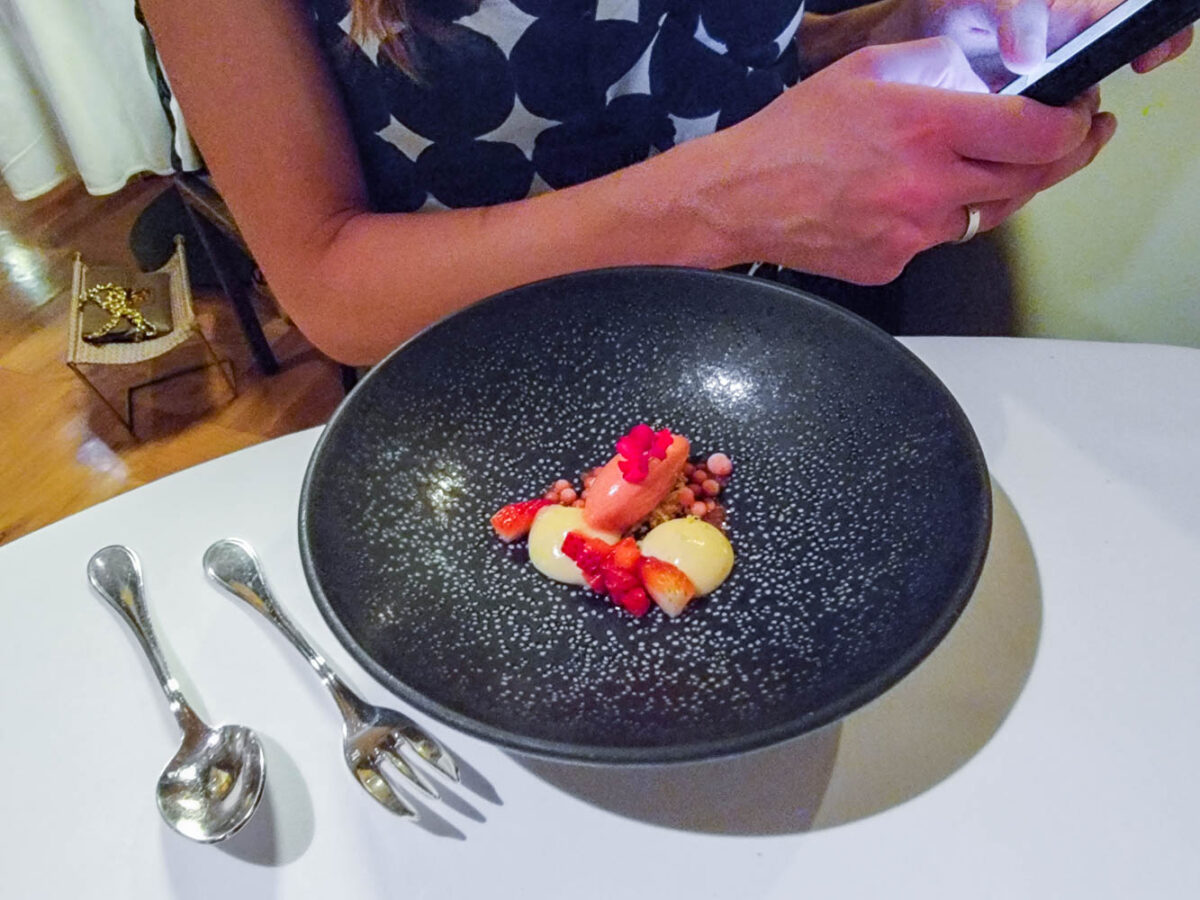 If we could incorporate one thing from Belcanto into our daily lives back at home, it would be the concept of "pre-dessert." Don't want a gluttonous, luxurious, over-indulgent night to end? Try adding in a pre-dessert! My pre-dessert was a light and fruity dish with strawberries and tomatoes formed into lots of different purees and custards. It was simple and palate-cleansing and was served with a luscious late harvest Semillon from the Douro.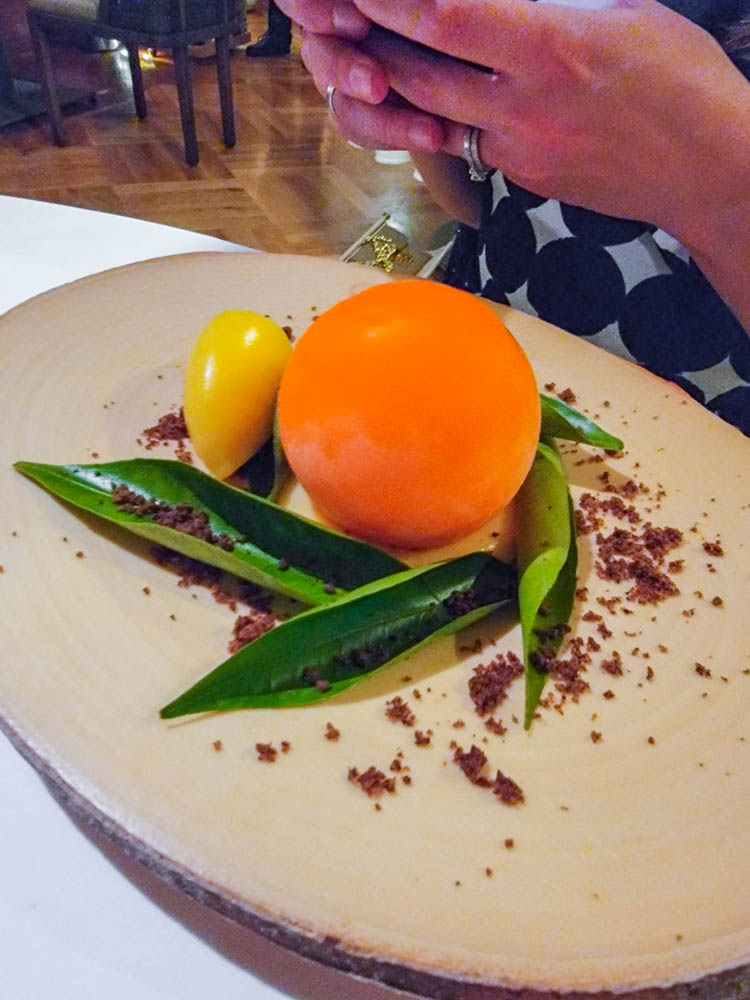 For the finale, we had the "mandarin" dish that has been around for over a decade (and we can see why!). This one looked like an orange but the sphere was made of an orange sorbet filled with orange foam, and it was served on top of a mandarin curd. Leaves on the plate were covered in a chocolate cookie crumble meant to resemble mushrooms as if the orange had fallen on the forest floor. But the most whimsical part of the whole meal was the napkin that we were provided – one shaped like a sleeve that we were to slip onto our arm. The reason? We were meant to feel like a kid again, wiping our mouths on our sleeves.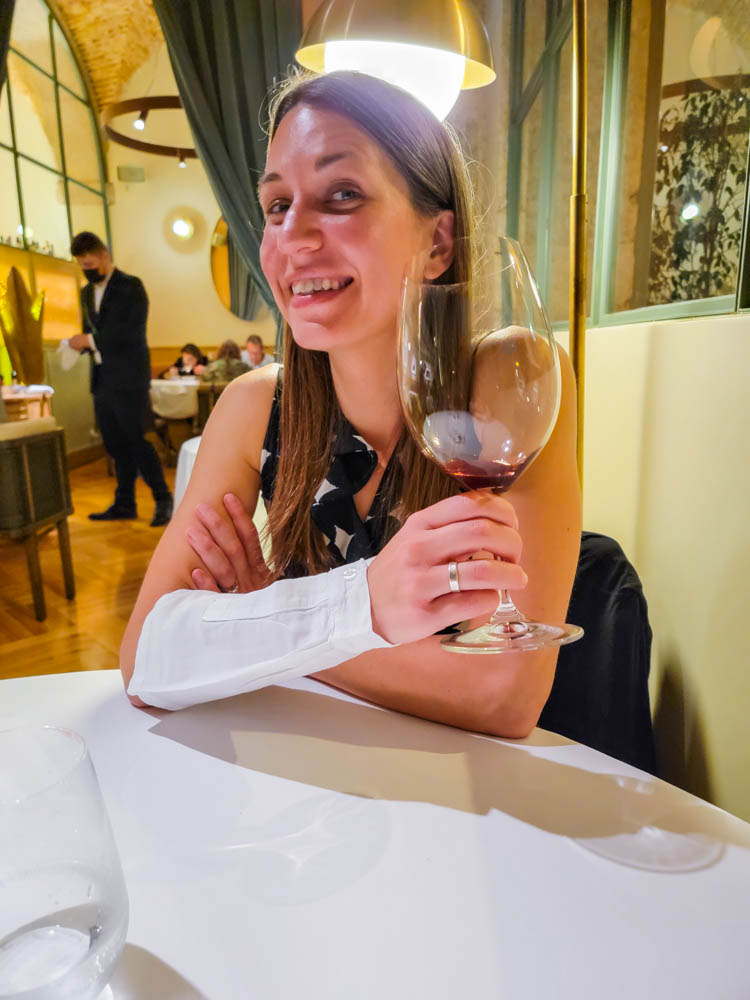 An espresso and a mini donut filled with orange cream topped it all off while we tried to comprehend everything that happened in the last three hours. The service component at Michelin-starred restaurants always fascinates me, and the service at Belcanto was no exception. Everything was seamless, helpful, unobtrusive, and extremely attentive to my nut allergy. We particularly enjoyed chatting with the sommelier who was so passionate about wine and food pairings, and we especially hit it off after discussing our own wine studies.
Belcanto strikes a flawless balance between whimsy and tradition, serving up plates that are intriguing yet somehow familiar, stunningly beautiful, and above all, mouth-wateringly delicious. If you are looking for a meal to splurge on in Lisbon, this one most certainly checks all the boxes for us.
Belcanto is located at R. Serpa Pinto 10A, 1200-026 in Lisbon.
In need of a hotel near Belcanto? Check out The Ivens by Marriott. We stayed there for a night during our stay in Lisbon and absolutely loved the ambiance, amenities, and wine list at the bar and, most importantly, it is quite literally just around the corner from Belcanto (~2 minutes by foot)!
Looking for more fine dining in Portugal? Check out our review of The Yeatman in Porto and DOC in the Douro Valley!
Book a Train Ticket in Europe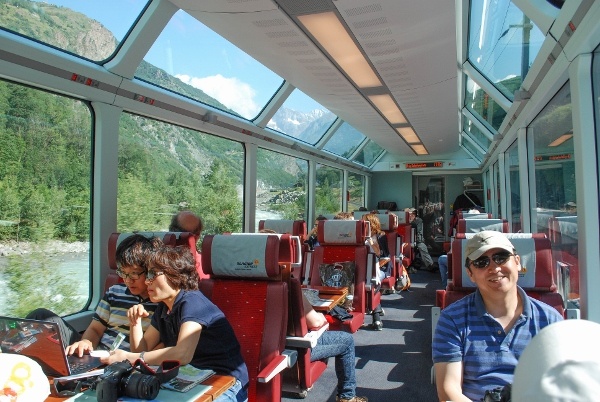 Want to learn more? Check out our Omio review!
About Angie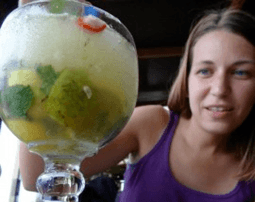 About the Author: Angie is a contributing author. She has been to nearly 60 countries and seeks out the best restaurants, bars, bakeries, and other unique food items wherever she goes- often with her husband, Jeremy.