Last Updated on February 3, 2023 by Angie
Disclaimers: Our site uses demographic data, email opt-ins, display advertising, and affiliate links. Please check out our Terms and Conditions for more information. Listed prices and attraction details may have changed since our visit and initial publication.
Dining options in the Douro Valley are limited if you're not staying in one of the town centers, but DOC is one of the saving graces of the area. Set along the Douro River about midway between the towns of Peso da Regua and Pinhao, DOC offers tasting menus and a la carte options from Michelin-starred Chef Rui Paula.
While it took us a bit of a drive to reach this one (nearly 45 minutes from our quinta, in the pitch-black night), it was worth it to have such a lovely dining experience in the wine region.
A Prix Fixe Meal at DOC in the Douro Valley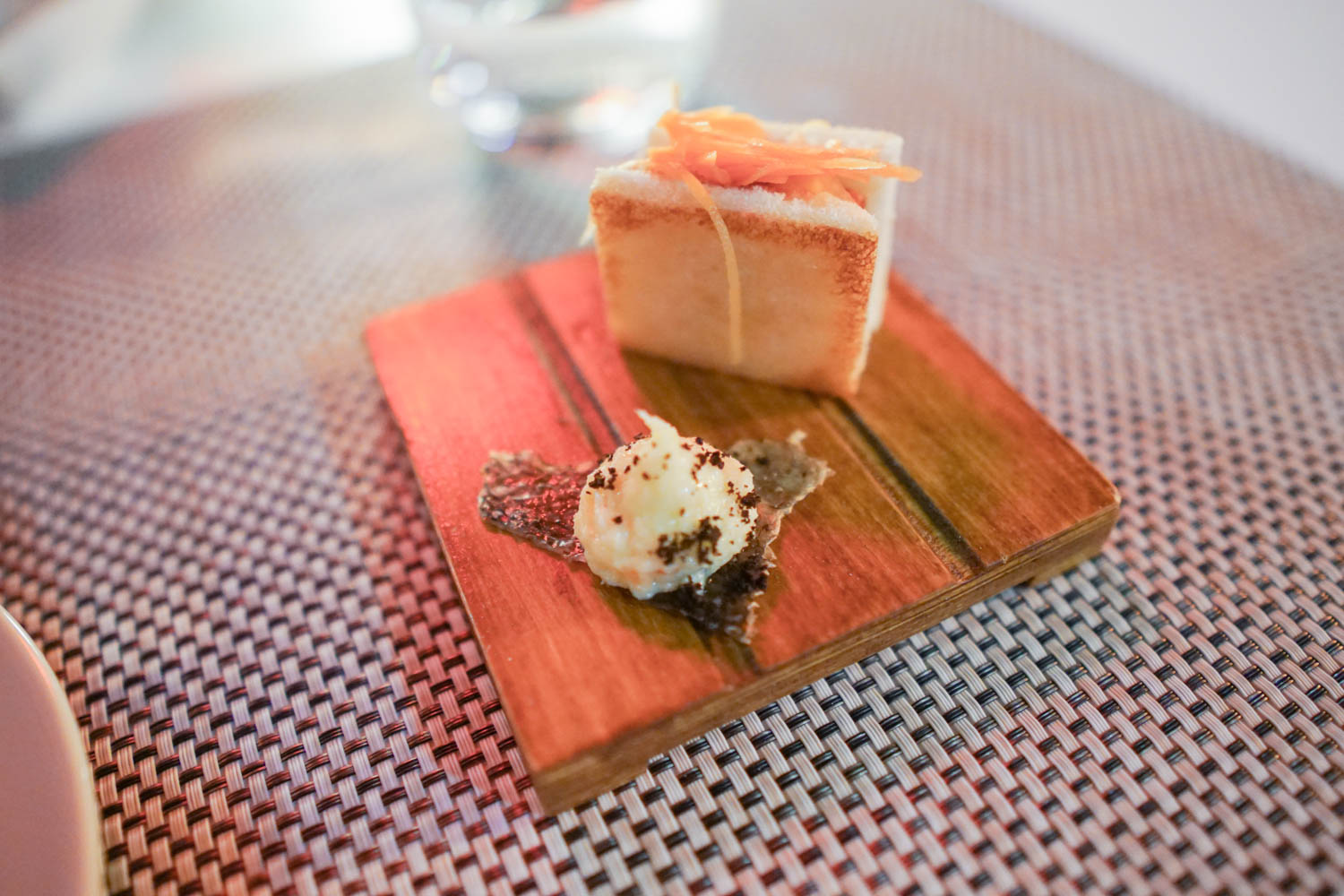 Although it was a little chilly the evening that we dined at DOC, the outside deck area along the river was just too inviting to pass up. We couldn't see the surrounding hills and terraces of the valley, but we enjoyed snuggling up with blankets and heaters and being along the peaceful water.
DOC offers a la carte options but we decided to make a night of it and order the Essence tasting menu, plus one wine pairing featuring all Portuguese wines. Our meal started off with bread and olive oil, plus a welcome bite with crispy salt cod, a salt cod mousse, and what can only be described as a carrot dog – a smoked carrot bite sandwiched between bread slices. So cute and tasty!
The onslaught of wine then began with a sparkling wine with bracing acidity. It was a very hefty pour, and we questioned what we were getting ourselves into given that we had been port tasting all day and Jeremy had to drive back through the windy twisty hills to our hotel. It was a good thing we only ordered one wine pairing to share!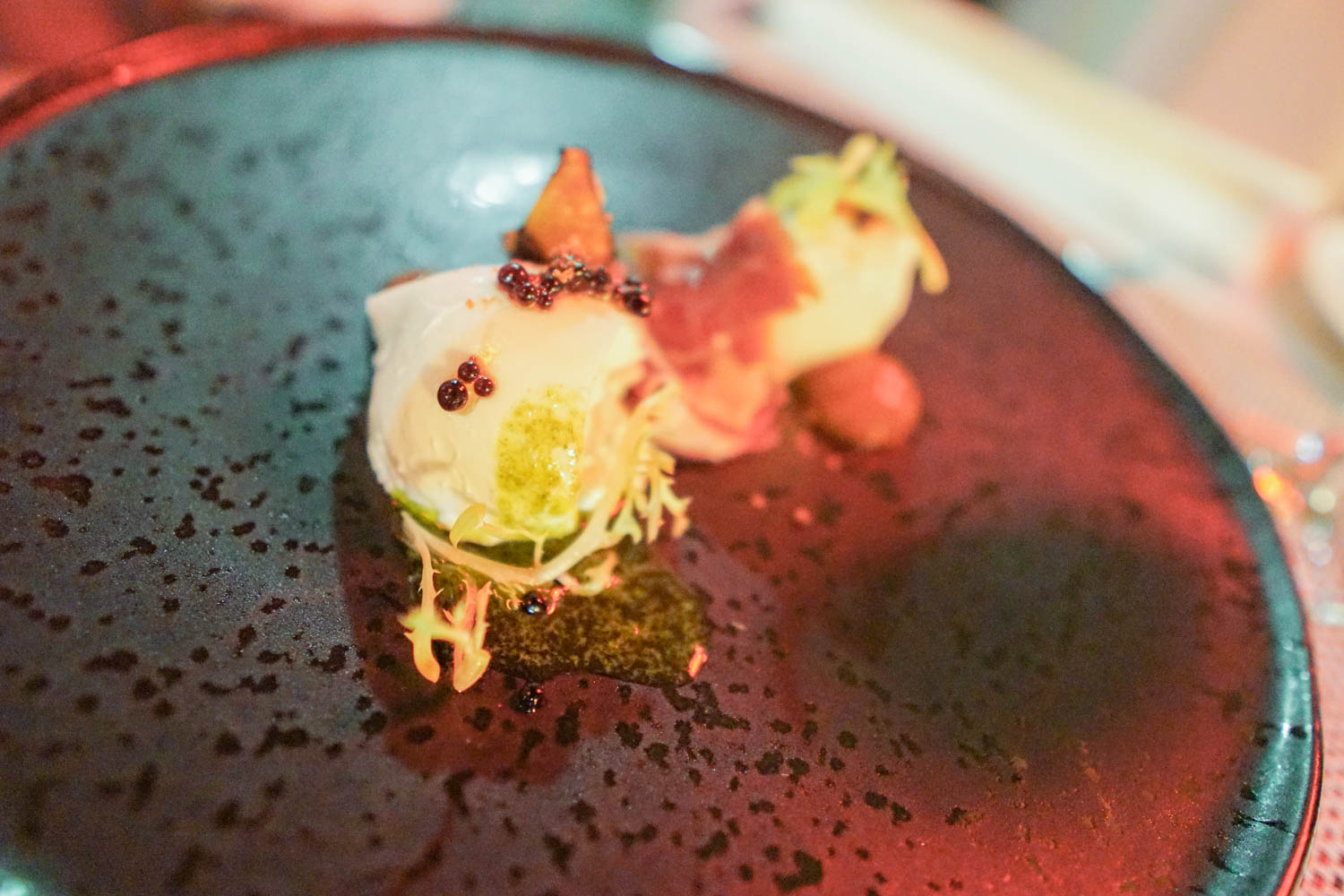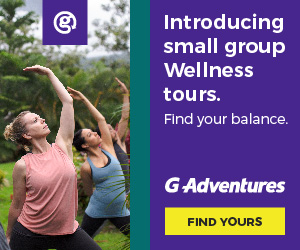 On the Essence tasting menu, the first course was a fig and burrata dish with dollops of amazing fig jam, a slice of broiled fig, and a creamy hunk of burrata with a few slices of pata negra.
The next course was sea bass and corn ceviche with corn two ways – actual fresh corn plus a corn puree- served with a high acid white wine from Setembro that stood up to the acidity and pungent onion of the ceviche.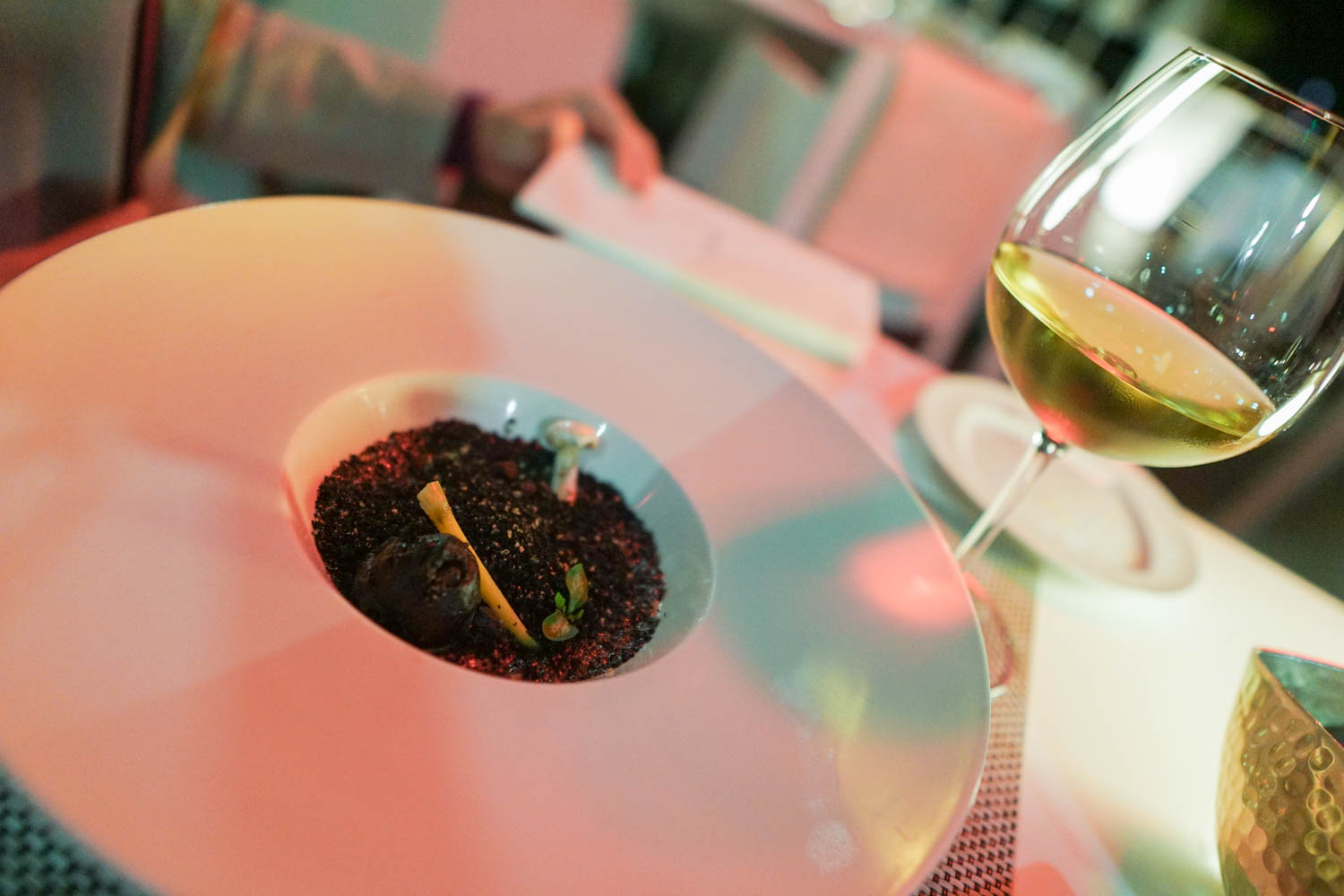 An oaked white wine from Susana Esteban was paired with the next two courses: a low-temperature sous vide egg with alheira, and grilled octopus. The egg and alheira was one of the most interesting dishes of the meal as it was our first intro to alheira, a bready, smokey sausage with a crispy outside and soft interior. We were told to mix everything in the dish together: the soft egg, crunchy breadcrumbs, mushrooms, and the alheira. The umami punch of the dish paired nicely with the acidity and hint of barrel notes of the wine.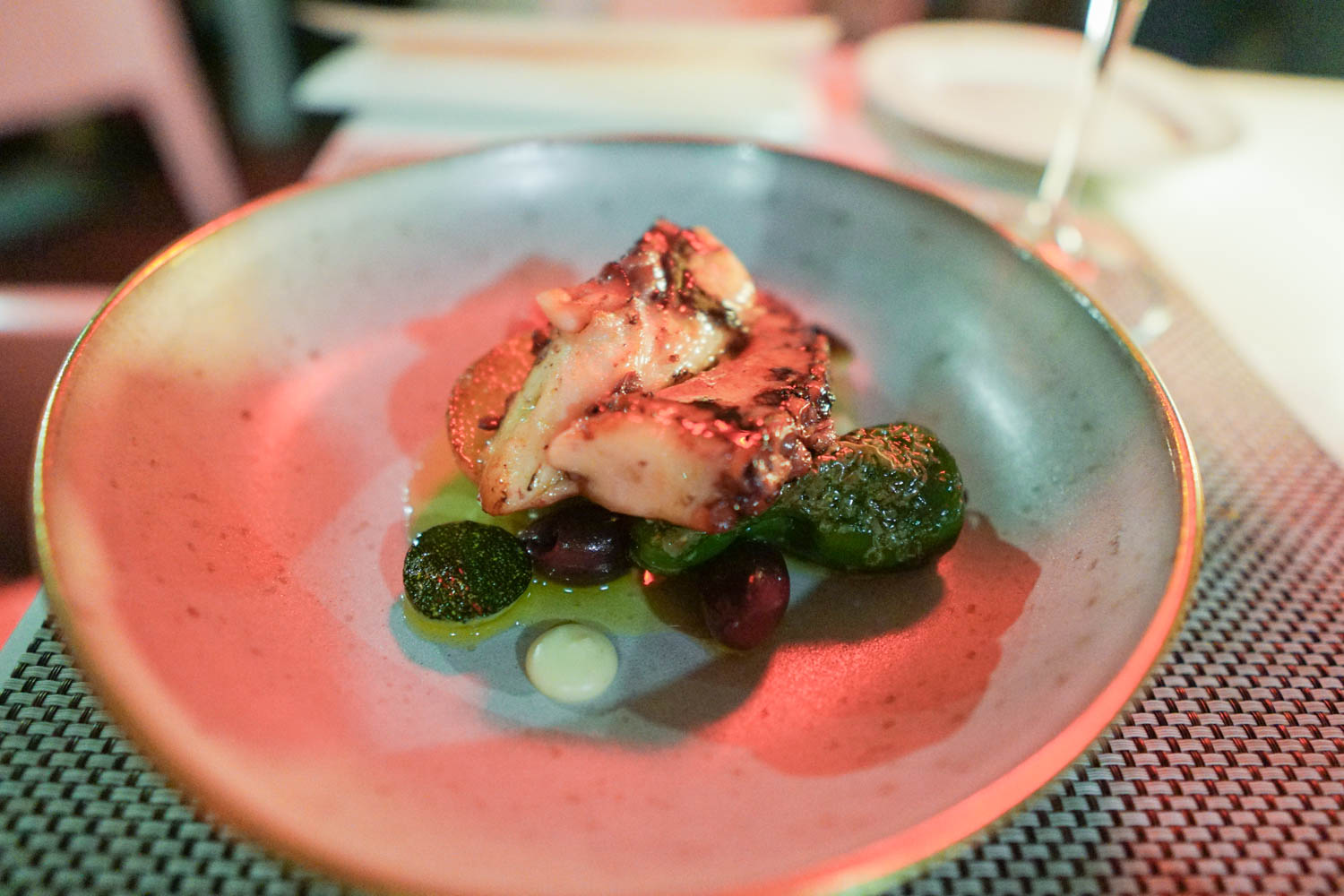 During our time in Portugal, we discovered that we love octopus, and the grilled octopus here was no exception. It had a perfect texture with a great grilled flavor. Olive oil was poured over it tableside for extra olive flavor, and huge chunks of garlic permeated the whole dish.
The next wine was quite possibly one of the best Portuguese reds we had on our trip: a 2016 Sousao from Quinta do Vallado. (It was so good we bought some at the Quinta the next day to take home!) Unfortunately, the lamb dish that was served with the wine was one of my least favorite of the night as the meat was a bit chewy and under seasoned.
A bit of whimsy came next with a palate cleanser full of pop rocks. Pop, pop! We smiled as our mouths exploded with pops and fizzles.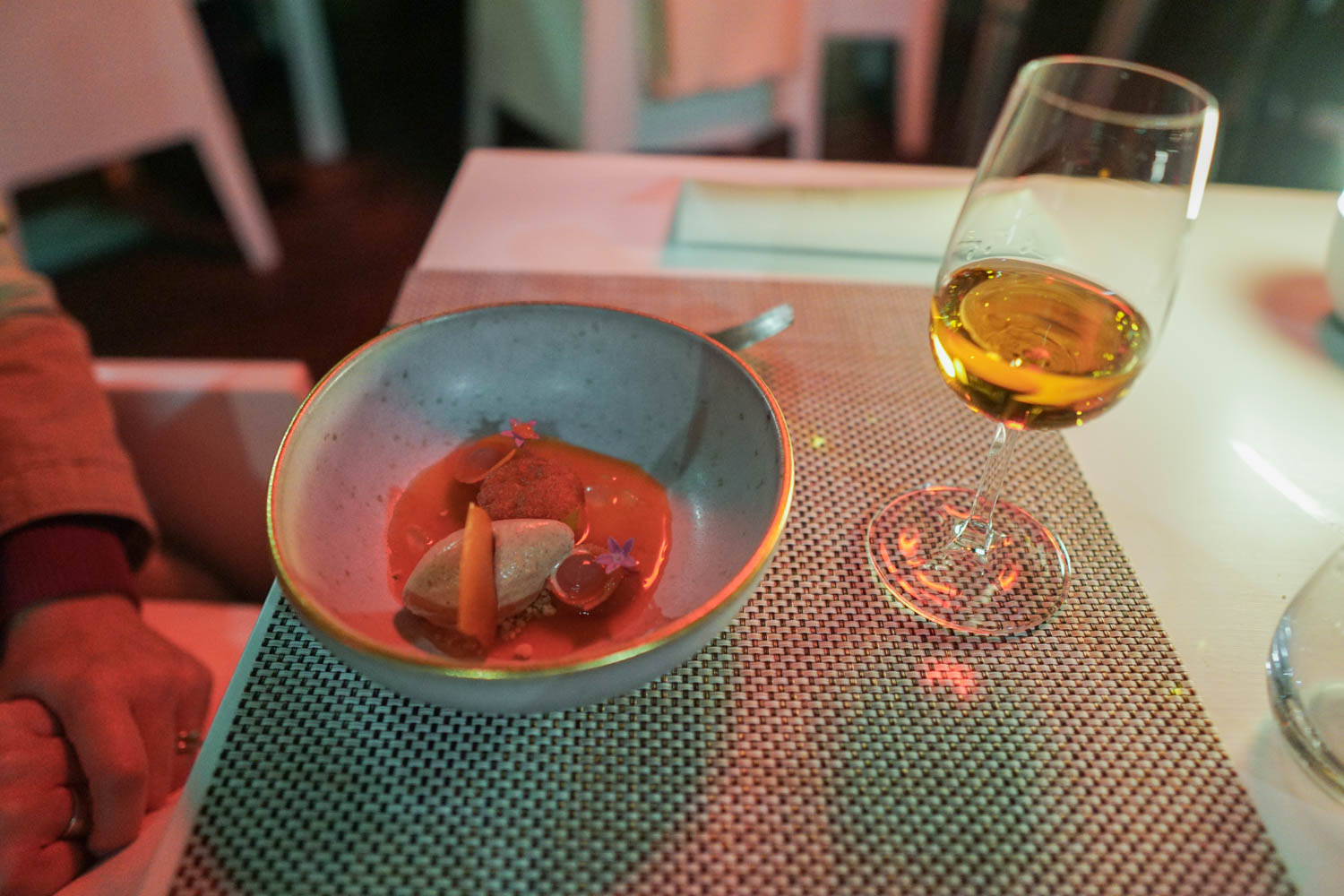 Finally, it was on to the pre-dessert, and one of my favorite dishes here: a carrot-flavored cake, cinnamon ice cream, orange sauce, and a candied orange peel. It was very intensely orange, which paired fantastically with a Rozes Noble Late Harvest wine.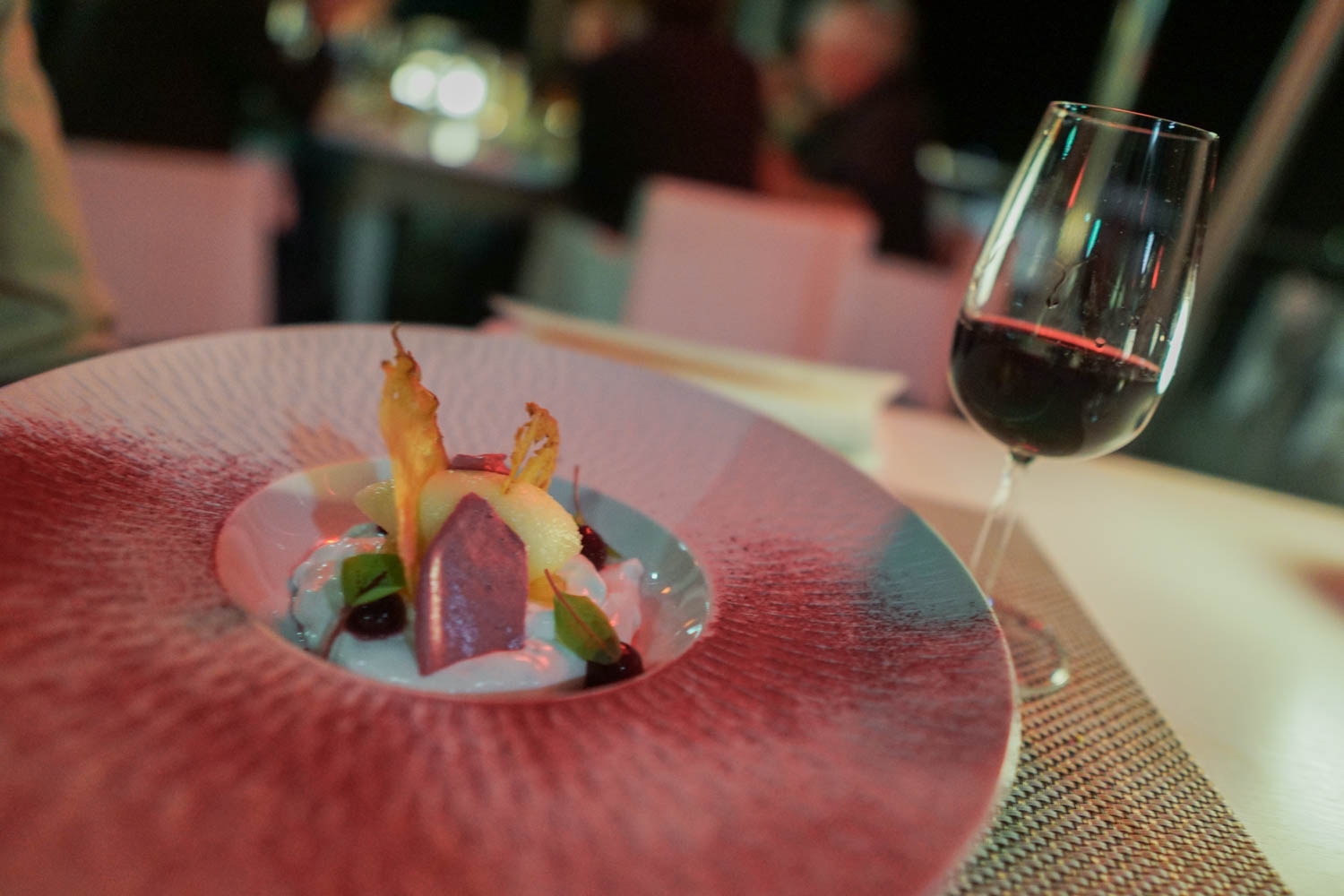 Last but not least, I had a substitute dessert (as the original one contained nuts) of chocolate, mascarpone, a coconut tapioca pudding with slices of dehydrated pineapple, and dollops of beet puree. The only downside was that because it was not the dessert from the regular tasting menu, it didn't pair well with the wine, an Adelaide vintage port from 2014.
Although this was a great fine dining experience, and certainly one of the best options in the Douro Valley, there was a definite contrast between DOC and the Michelin-starred restaurants we ate at during our trip around the country. The service was not as polished here, the dishes were not as elaborate, and the preparation of the main lamb course was kind of a letdown. Given those caveats, we still enjoyed our overall experience here and definitely recommend it if you're staying in the Douro Valley.
Doc is located at Cais da Folgosa, Estrada Nacional 222, 5110-214 Folgosa in Portugal.
Looking for more fine dining in Portugal? Check out our reviews of The Yeatman in Porto and Belcanto in Lisbon!
Book a Train Ticket in Europe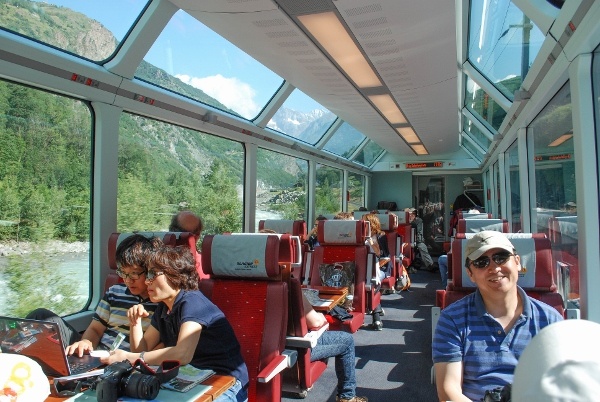 Want to learn more? Check out our Omio review!
About Angie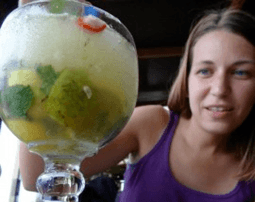 About the Author: Angie is a contributing author. She has been to nearly 60 countries and seeks out the best restaurants, bars, bakeries, and other unique food items wherever she goes- often with her husband, Jeremy.