Published by Angie. Last Updated on August 26, 2019.
Disclaimers: We were hosted for this experience. Our site uses demographic data, email opt-ins, display advertising, and affiliate links. Please check out our Terms and Conditions for more information. Listed prices and attraction details may have changed since our visit and initial publication.
The Forebay at the Hershey Lodge is a cozy yet classy restaurant that's perfect for a special evening out. The menu serves up creative comfort food that changes seasonally, and the wood and leather decor certainly adds to the comforting vibe.
And, as you might expect, chocolate appears throughout the menu to provide further opportunities for indulgence.
American Classics with Unique Flavor Combinations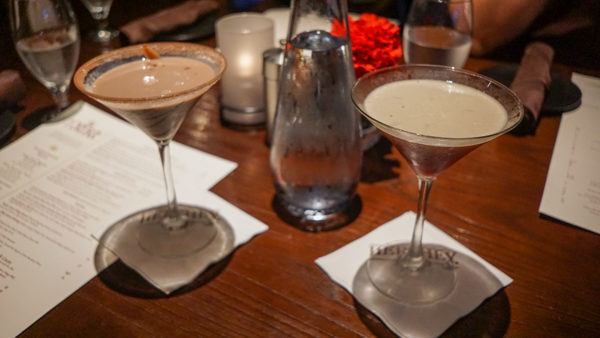 The menu offers lots of classics like steaks, chicken, seafood, and pasta, but the dishes are all prepared with unique ingredients and flavor combinations to keep things interesting.
As we settled in on our recent visit and perused the cocktail menu, our eyes went straight to the chocolate martinis, of course- you can't visit Hershey without sampling specialty cocktails created for the property.
We tried the special dark martini which was an extra rich and not too sweet drink, as well as the Danny Ocean, a tequila concoction with agave syrup balanced with tart grapefruit and lemon juices.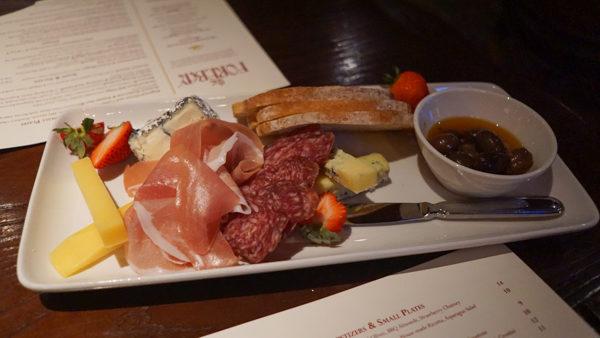 For our appetizers we started classic with the meat and cheese plate. This one is a very shareable plate with prosciutto, salami, three different kinds of cheese, bread, olives, fruit, and a sweet strawberry chutney.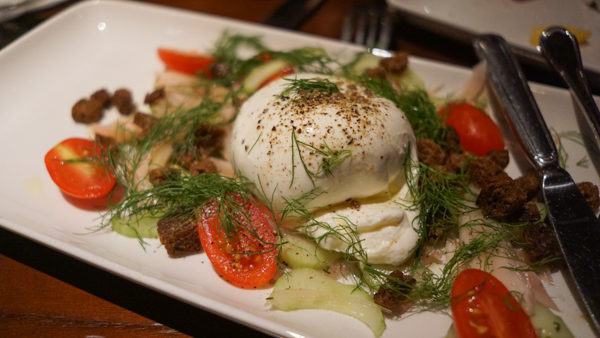 We also couldn't resist ordering the burrata with its pillow-like exterior giving way to a rich, creamy interior. Pickled fennel and a cucumber salad brought contrasting lightness and crispness to the dish. French onion soup rounded out our appetizer courses with a deliciously savory broth and melt-in-your-mouth onions.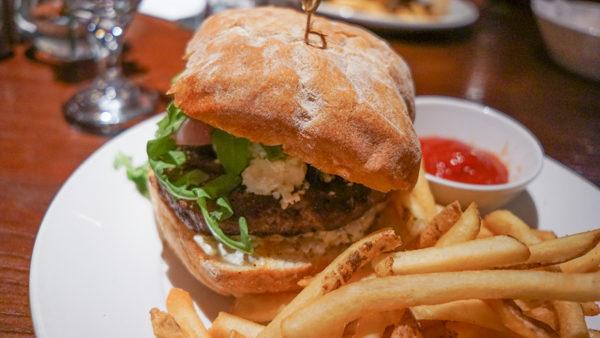 For our entrees we opted for the burger and the scallops.
The burger was made from ground lamb and topped with feta cheese, arugula, and an aioli, all served on a rich ciabatta style roll. The burger was a little on the dry side but the aioli kept things saucy.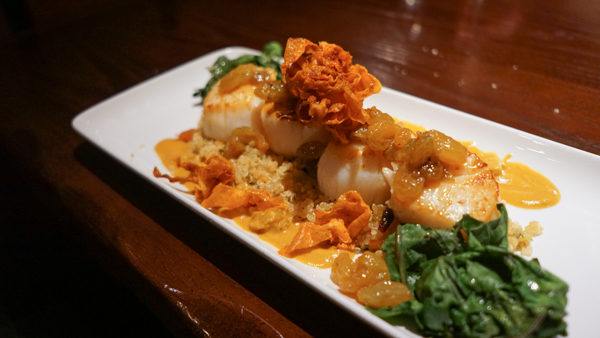 The scallops were a highlight of the meal.
Seared crispy on the outside and juicy on the inside, they were served with a quinoa and raisin pilaf and Swiss chard. Interesting crispy carrots provided some contrasting texture, while a tequila watermelon gazpacho brought acidity and hint of fruitiness.
Always Save Room for Dessert at a Hershey Restaurant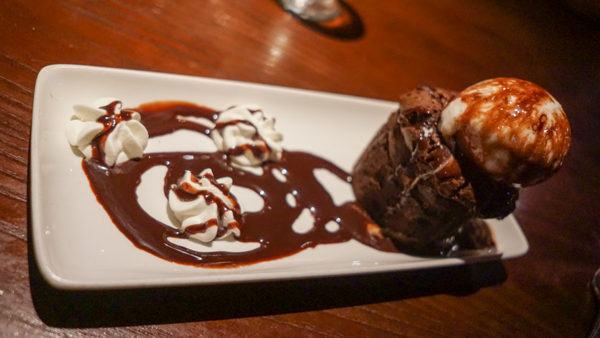 It's hard to save room for dessert here, but you absolutely must: molten chocolate cake, peanut butter chocolate cake, and dark chocolate creme brulee are just some of the super decadent chocolate dessert options.
We decided on the classic molten chocolate cake which came piled high with a scoop of ice cream and drizzled with gooey chocolate sauce.
The cake was perfectly rich and everything you could ever want in a chocolate dessert. Watching the warm chocolate ganache ooze out of the cake after we cut into it was most certainly the perfect way to end this meal.
Throughout the meal the service was friendly and polished. We also appreciated the attention to my tree nut allergy; our server was very helpful when I ordered my meal and alerted the kitchen appropriately.
If you're staying at Hershey Lodge or just visiting the area, The Forebay makes for an excellent evening out with great service, comforting food, and a classy ambiance.
The Forebay is located at 325 University Drive in Hummelstown, PA- on the Hershey Lodge campus. We'd like to thank Visit Hershey & Harrisburg for arranging our visit to The Forebay. As always, all opinions are our own.
About Angie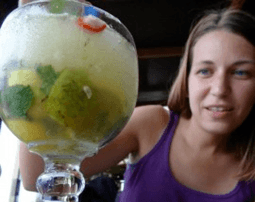 About the Author: Angie is a contributing author. She has been to nearly 60 countries and seeks out the best restaurants, bars, bakeries, and other unique food items wherever she goes- often with her husband, Jeremy.