Last Updated on January 23, 2023 by Jeremy
Disclaimers: Our site uses demographic data, email opt-ins, display advertising, and affiliate links. Please check out our Terms and Conditions for more information. Listed prices and attraction details may have changed since our visit and initial publication.
It has been a dream of ours to attend the Telluride Bluegrass Festival in Colorado for many, many years. This festival is often considered to be the best bluegrass festival in the world, and many of our favorite musicians are staple performers who love attending just as much as the fans do.
We finally made our dream a reality for 2022's festival, and we sure did learn a lot from our first (and hopefully not only) trip to this western Colorado gem.
So in this one, we wanted to share all the lessons learned from our first trip to the bluegrass festival in Telluride to help you have the best time possible when you go!
Disclaimer: This guide is long and is intended to be a comprehensive resource for all things Telluride bluegrass. That being said, we stayed at an apartment rental in Telluride and did not camp. As such, while we will briefly discuss camping information in this article, we do not have first-hand experience there for any extra insider tips as we do with other topics.
Why is the Telluride Bluegrass Festival So Popular?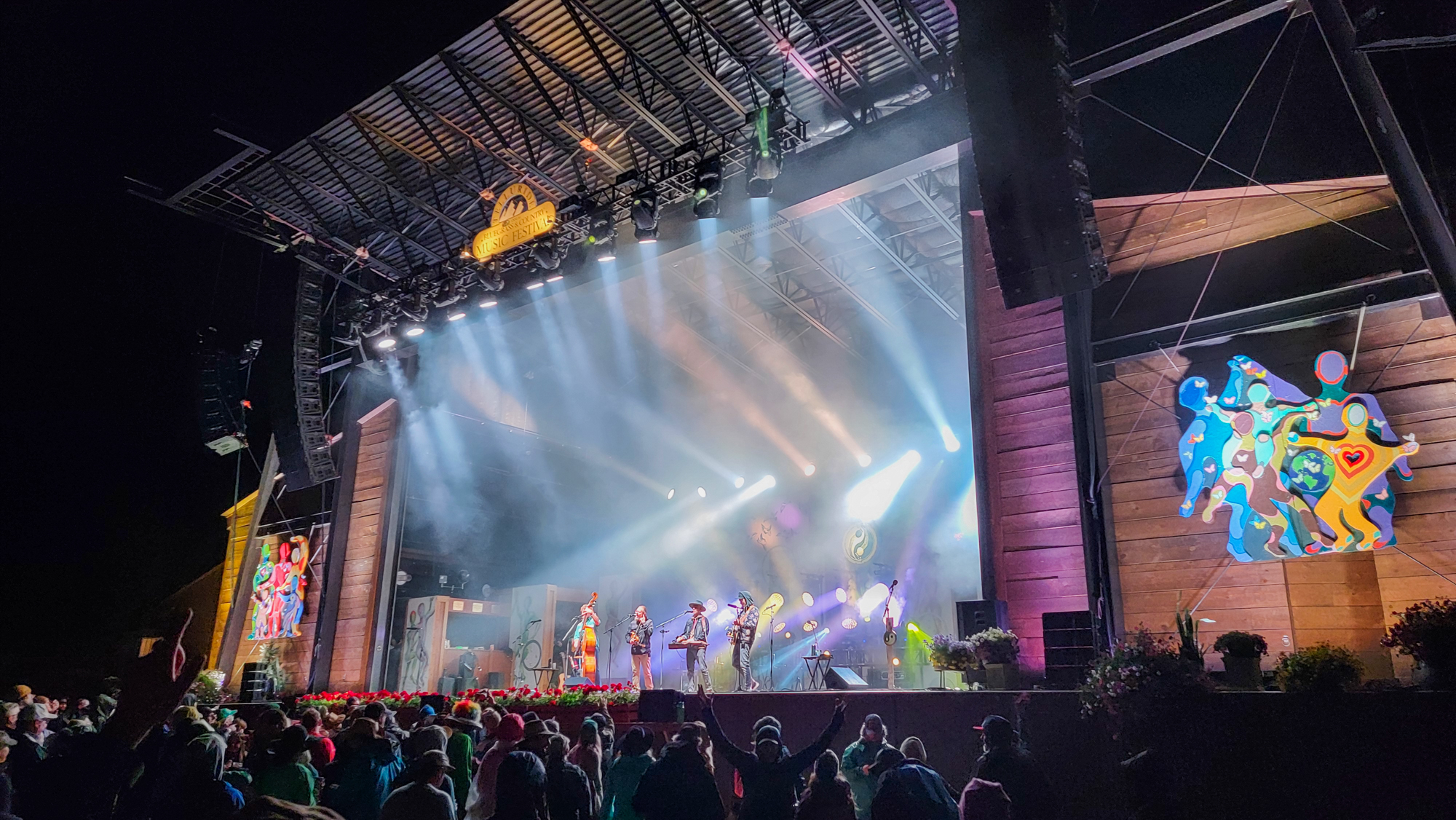 At its core, there are two main reasons why the Telluride Bluegrass Festival is popular.
First is the line-up. Telluride is known for attracting some of the biggest names in bluegrass for the four-day festival each and every year. Recent (and often, regular) performers have included the likes of Sam Bush, Bela Fleck, Jerry Douglas, Stuart Duncan, Edgar Meyer, the Punch Brothers, Infamous Stringdusters, Greensky Bluegrass, and many, many more.
Going beyond this, the festival breaks the mold at times with the addition of other bands that do not necessarily fall under the umbrella of bluegrass. In 2022, fans could enjoy the likes of Tenacious D and the Drepung Loseling Monks of the Mystical Arts of Tibet. In 2021, Dierks Bentley headlined the main stage the first night. We were even handed a fan petition to try and convince Dolly Parton to headline 2023 (wouldn't that be amazing?). The festival has even been able to have bands reunite for one-time performances as well.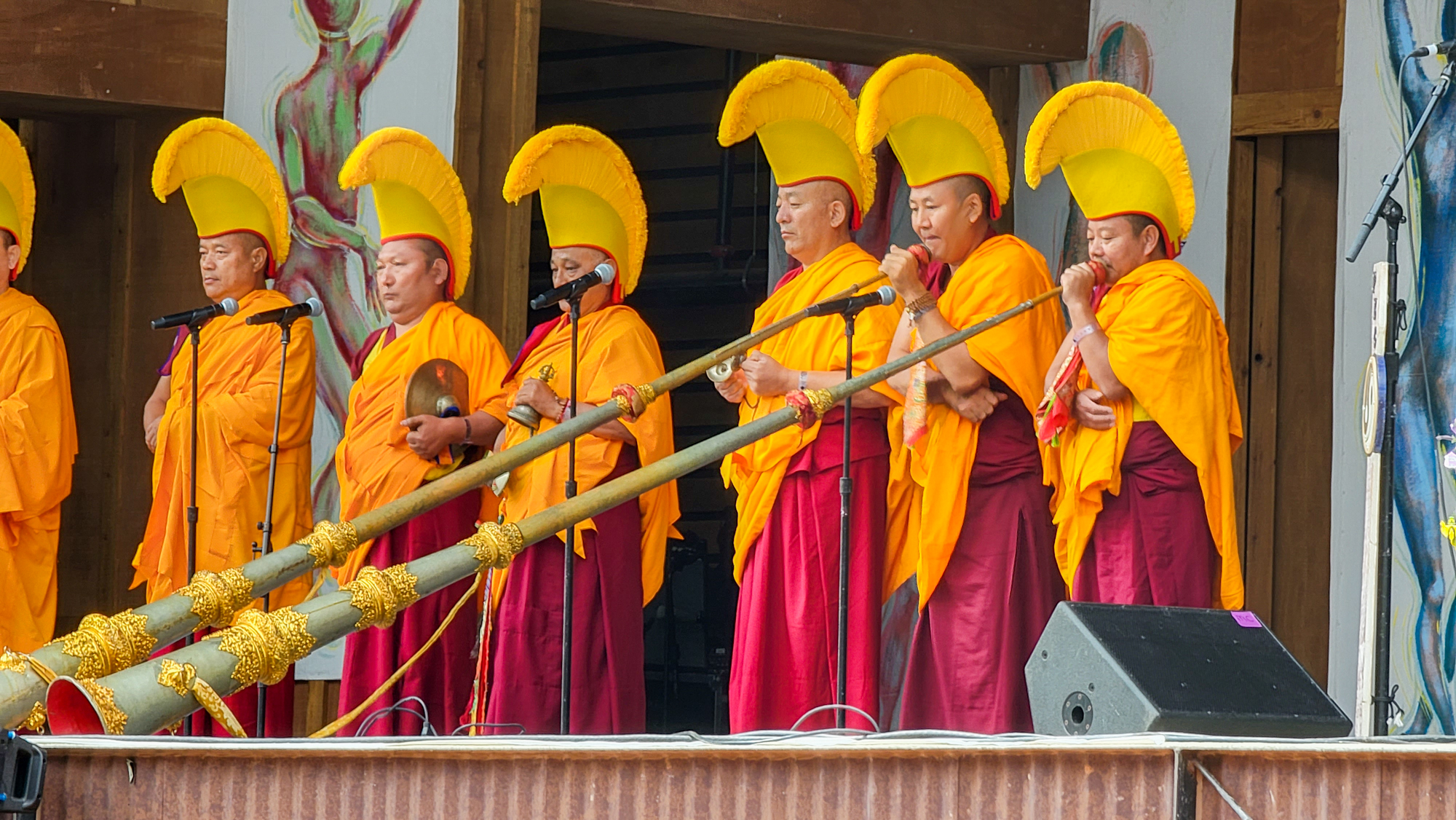 Another interesting aspect of the Telluride lineup is that it features a prominent bluegrass competition where the finalists play on the main stage, the winner gets a full main stage slot the following year, and is known for launching the careers of many, many musicians. Past winners have included the likes of the Dixie Chicks, Nickel Creek, Greensky Bluegrass, and more. Winning this one is kind of a big deal!
Throw on performances on secondary stages in town (the "Workshop" stage and NightGrass) and you have four days packed to the brim with music from some of the world's best musicians.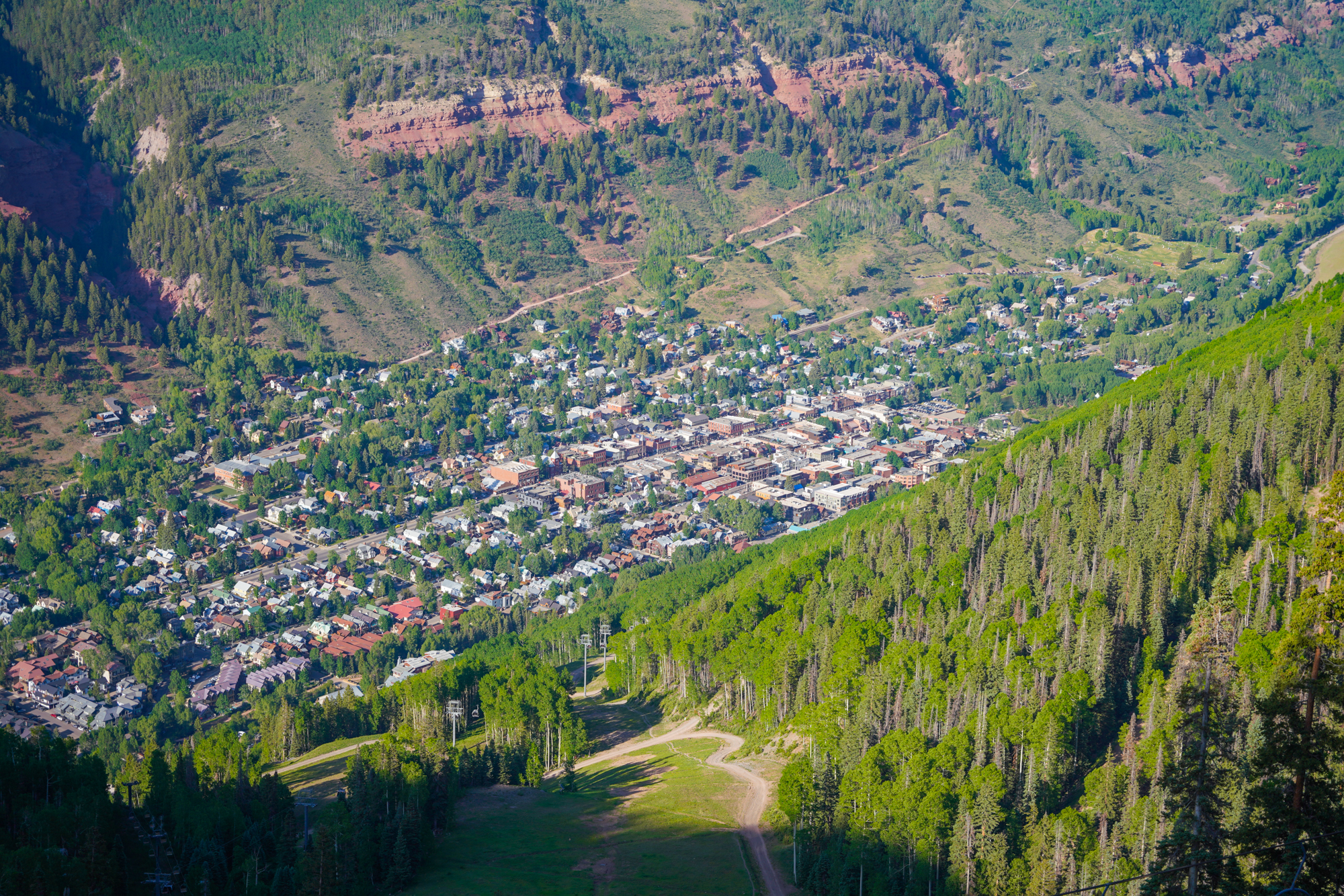 Second is the scenery. Telluride, Colorado, is simply gorgeous. Town Park, the festival venue, has a wonderful location right on the edge of town with views of Bridal Veil Falls and acoustics that, quite literally, allow the music to bounce off the mountain tops.
The scenery alone is worth a visit to Telluride at any time of the year, but doing so for a bluegrass festival? It is hard to ask for anything better.
How to Get Tickets to the Telluride Bluegrass Festival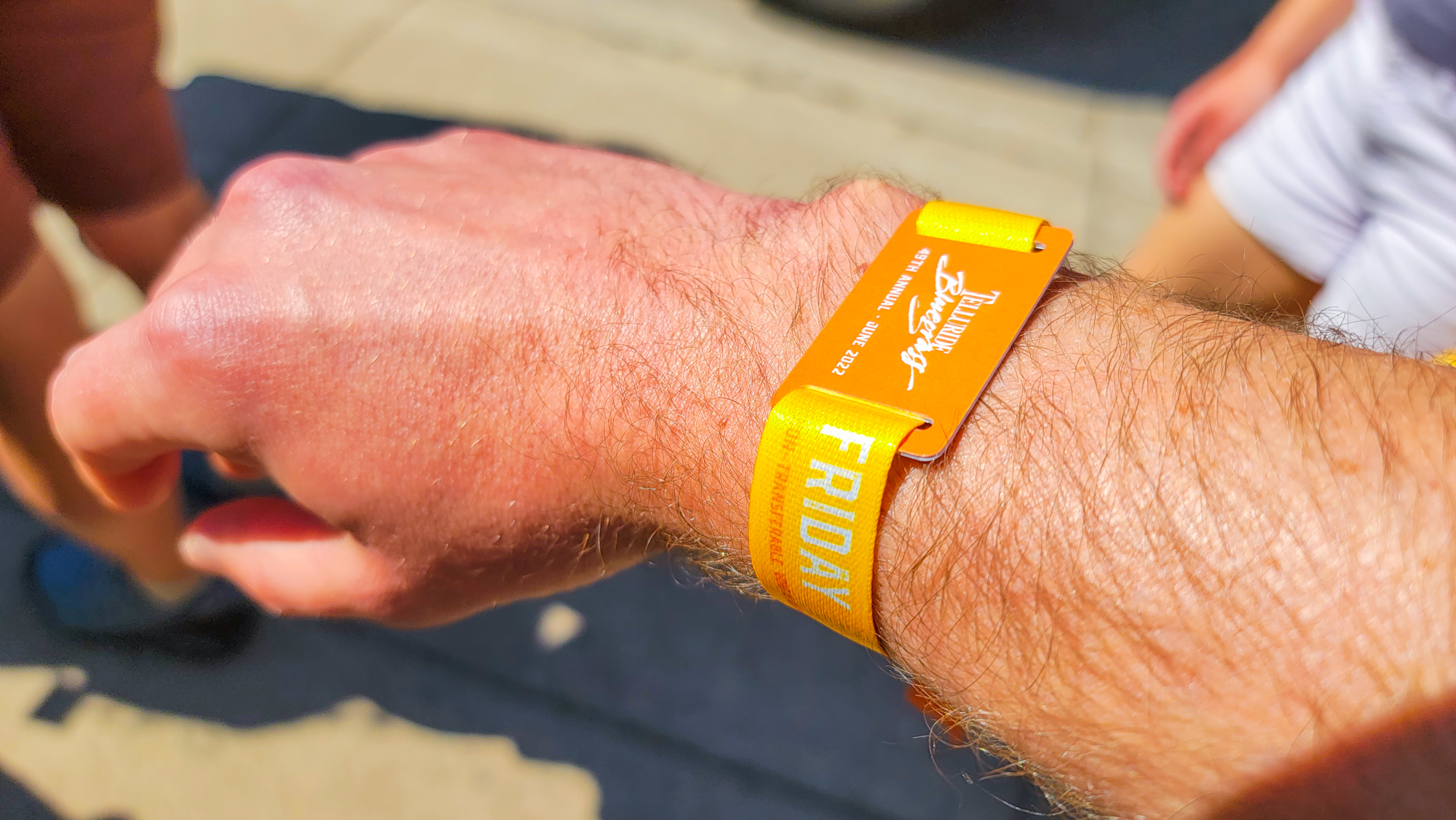 Tickets for the Telluride Bluegrass Festival work a lot like any other concert. On release day you are told to enter the online ticketing waiting room before they go on sale. At the release time, all those in the waiting room are assigned a random place in line and queue accordingly.
You are able to buy a four-day pass (at a ~25% discount over a la carte) or single-day passes to the festival; however, we were assigned an incredibly high number in the waiting room lottery and the four-day passes were completely sold out by our turn. As such, we only purchased Friday, Saturday, and Sunday passes and built our trip around that. Tickets were sent in the form of wristbands that would allow in-and-out privileges to the park. Those who bought a four-day pass had to wear their wristband all four days, whereas we replaced ours each day.
One of the biggest problems with buying tickets for Telluride is you simply cannot plan for much in advance. For our 2022 festival, the band list was announced before tickets went on sale but we had no idea who would play on which day, who the headliners were going to be (we made some educated guesses), and otherwise had very few details that could help us make our decision on if we should sacrifice that Thursday ticket or not. As it turns out, we ended up missing some pretty solid bands because of it (Tenacious D headlined, Bela Fleck was before that, and Chris Thile opened to name a few).
Naturally, we thought this was rather unfortunate. But with all things music festivals you have to roll with issues like these.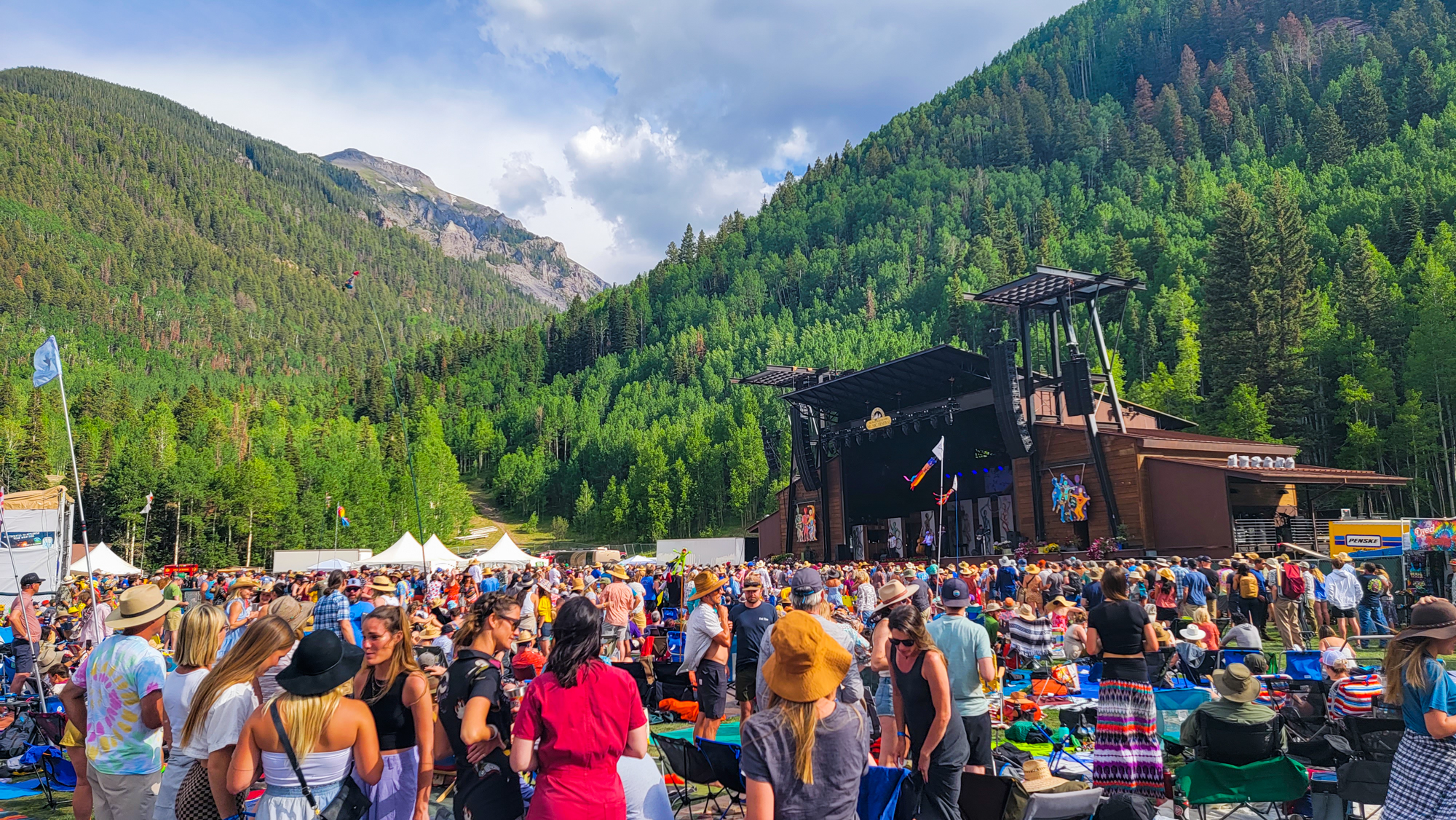 The same dynamic is true for NightGrass as well. Tickets for these shows are often sold on separate days, so you are likely not at risk of missing out if you wish to buy more than one ticket. But, much like with the main festival, you likely will be buying tickets before they announce who the headliners are on any given night, so there is a bit of a gamble here as set times often overlap- the only guarantee is the band you are buying NightGrass tickets for will obviously not be the headliner that night. Highly sought-after NightGrass tickets, like Punch Brothers who regularly close out the festival, sell out almost immediately but other, newer bands still had tickets available up through the day of their show.
The bluegrass festival has a pretty strong secondary market for scalpers and resellers as well, which could be positive or negative depending on how you look at things. We talked to many guests who bought a single-day ticket on the secondary market after the lineup was announced at incredibly inflated prices only to find out that day-of prices were much lower. While you can never guarantee that you'll find a good price last minute, we did see many scalpers at the gate every day, a ticket wanted / ticket for sale board, and even had someone straight-up offer us a Thursday wristband late in the evening just before the headliner came on stage (we were listening to the bands on the outskirts of the park by the gate but, sadly, had to turn this down- it was still very kind of them all the same).
Suffice it to say, while we had some negative experiences with buying tickets to Telluride, overall, it really wasn't that bad. Still, a little planning goes a long way here.
Where to Stay in Telluride – Camping vs Hotels vs Apartments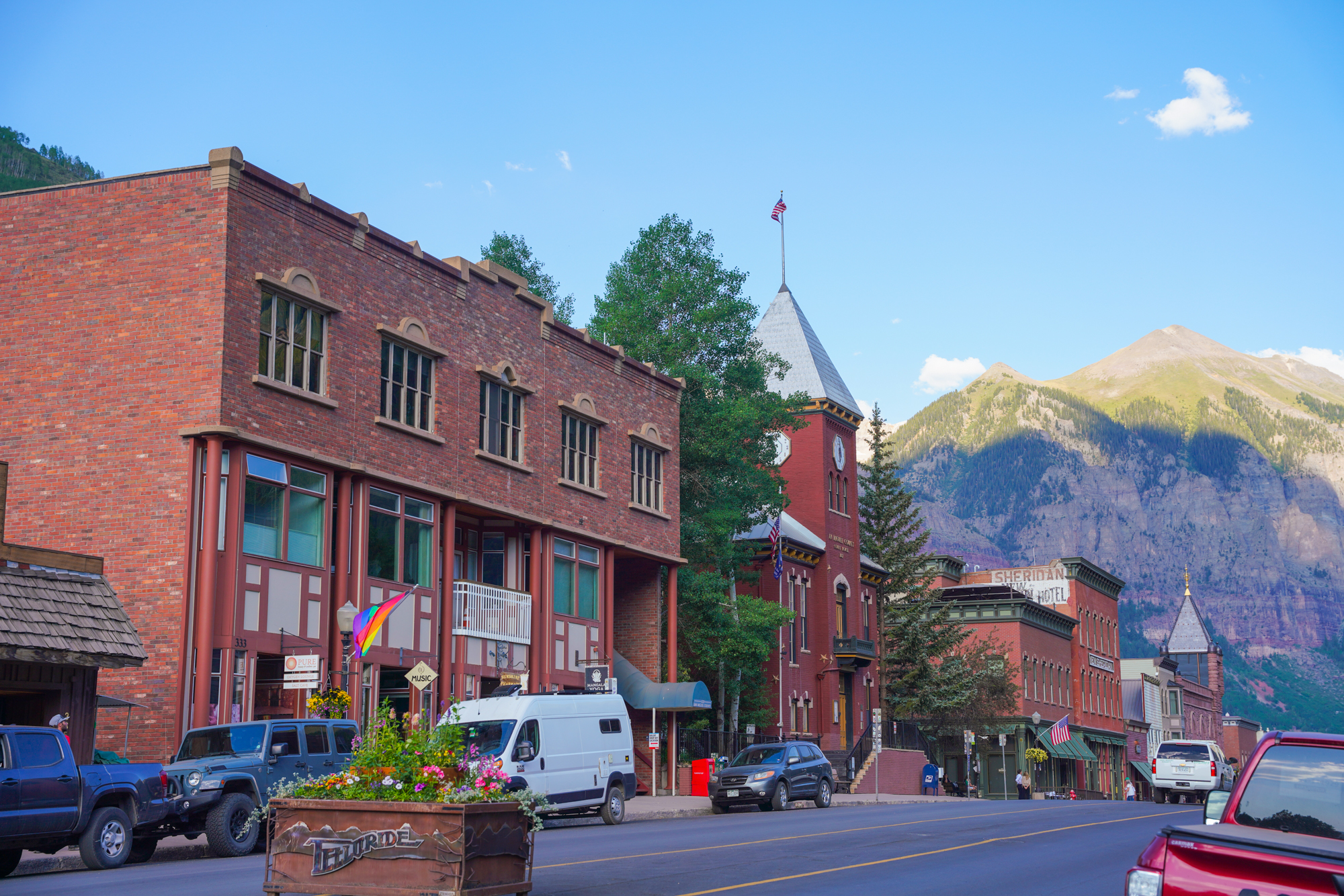 While our experience at Telluride was positive in just about every respect, there is one truly terrible part- figuring out where to stay in Telluride.
The problem is simply due to the fact that 10,000 people descend upon this small, mountain town where there is most certainly not enough accommodation for 10,000 people. There are hotels, and even a hostel on the outskirts of the city, but odds are good you're going to find those are booked up well before tickets go on sale. This presents a chicken and the egg scenario on what to do during your visit.
We waited until confirming we had tickets to reserve a room, and we were left with one of three options:
Camp at one of the grounds next to Town Park or near town.
Rent an apartment in Telluride. (Click here to check prices.)
Stay outside Telluride and drive in each day. This is a truly terrible option.
Camping would've, admittedly, been the easiest option if we could've managed it. There are camping options that include four-day passes, and fees to camp are fairly reasonable. That being said, we aren't campers, don't own camping gear, and also didn't want to deal with the logistics of taking all of that on the plane when flying out west. Likewise, in 2022 the festival seemed to be honoring previous holders who missed 2021 (due to COVID) and these tickets were more limited than usual- so at our point in line it would've been unlikely to get a camping spot to begin with.
Much like with rope drop for the festival, which we'll talk about below, camp culture is pretty insane for Telluride. We're told people camp out at the entrance of campgrounds days or weeks in advance just to be first in to score a prime spot. None of this sounds fun to us.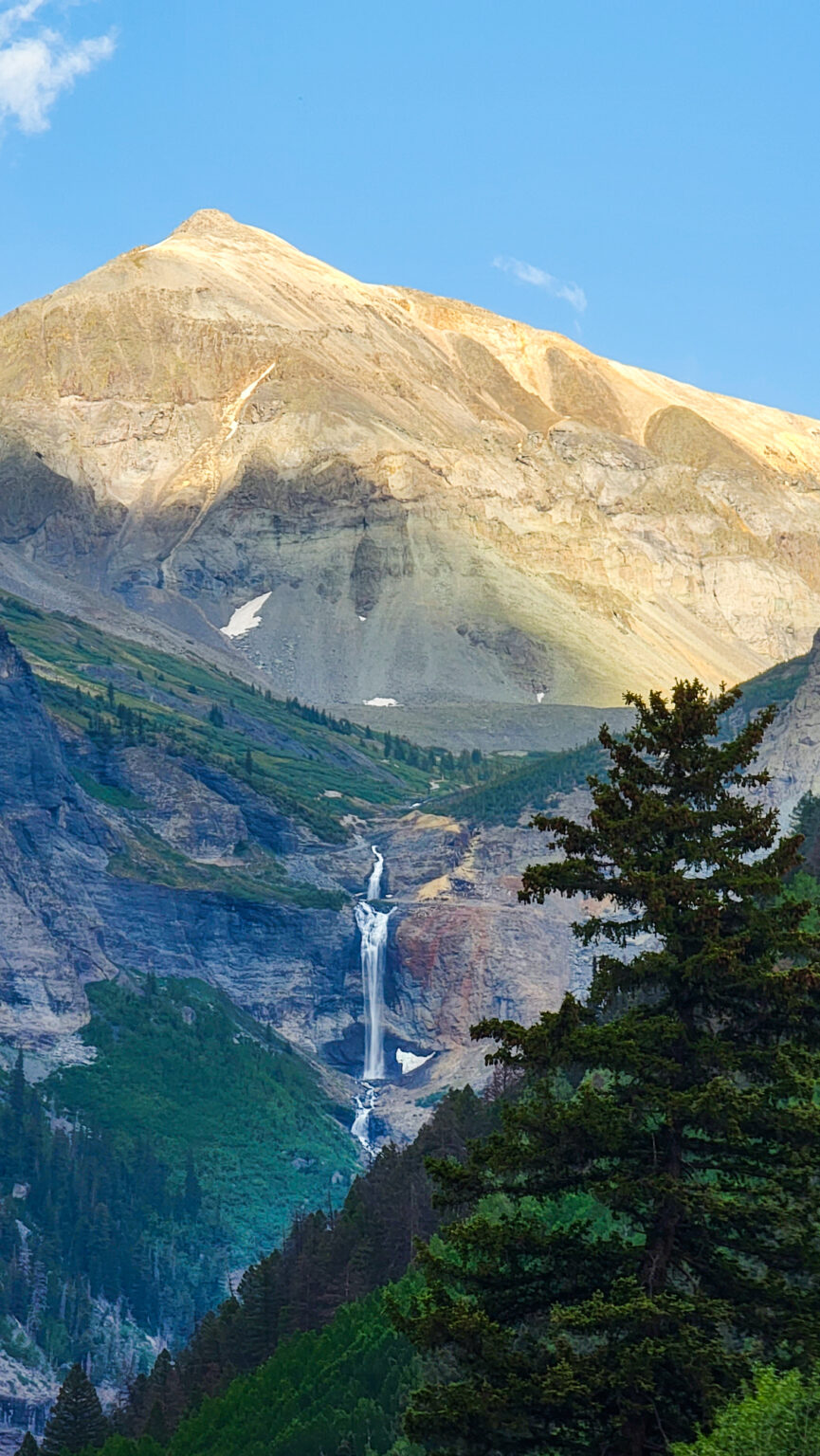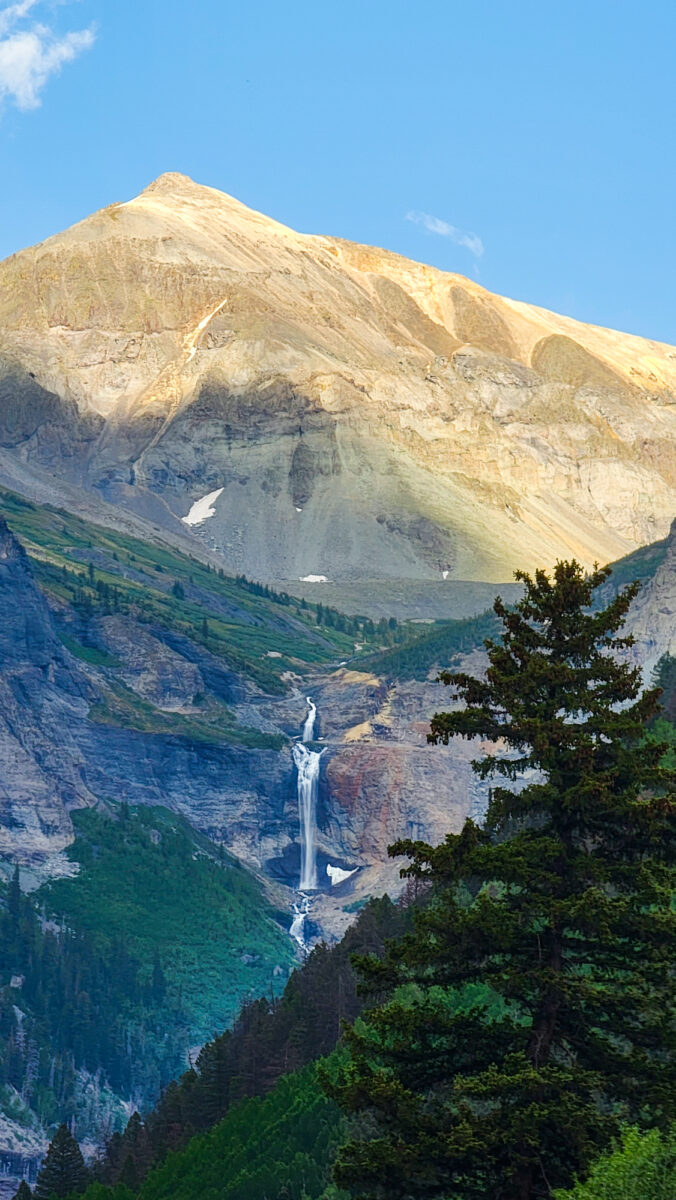 Renting an apartment in Telluride is your next option, and it'll take you just a few minutes to realize that prices skyrocket for the festival. Even before tickets went on sale we saw apartments for $750/night, $1,000/night, and even $1,500/night or more. In this respect, if you can find a deal well before tickets go on sale, you could very much come out ahead even if you had to buy tickets at a premium on the secondary market.
For us, it took looking 45+ minutes outside of Telluride to find apartment rentals for sub-$300/night, and we booked one of those right away as it was all we could afford.
It was a very big mistake. Thankfully, this one worked itself out in the end by sheer chance.
About two weeks before the festival, our host emailed us to tell us that the house was being sold and they would have to cancel our reservation. Cue panic. As it turns out, we found a last-minute apartment listing for ~$450/night over our dates, right in Telluride, and snatched it up right away without a moment's hesitation. It ended up being a significant premium over our original reservation but really made our experience that much better.
You have to understand how getting into Telluride works to gain a full appreciation for this situation.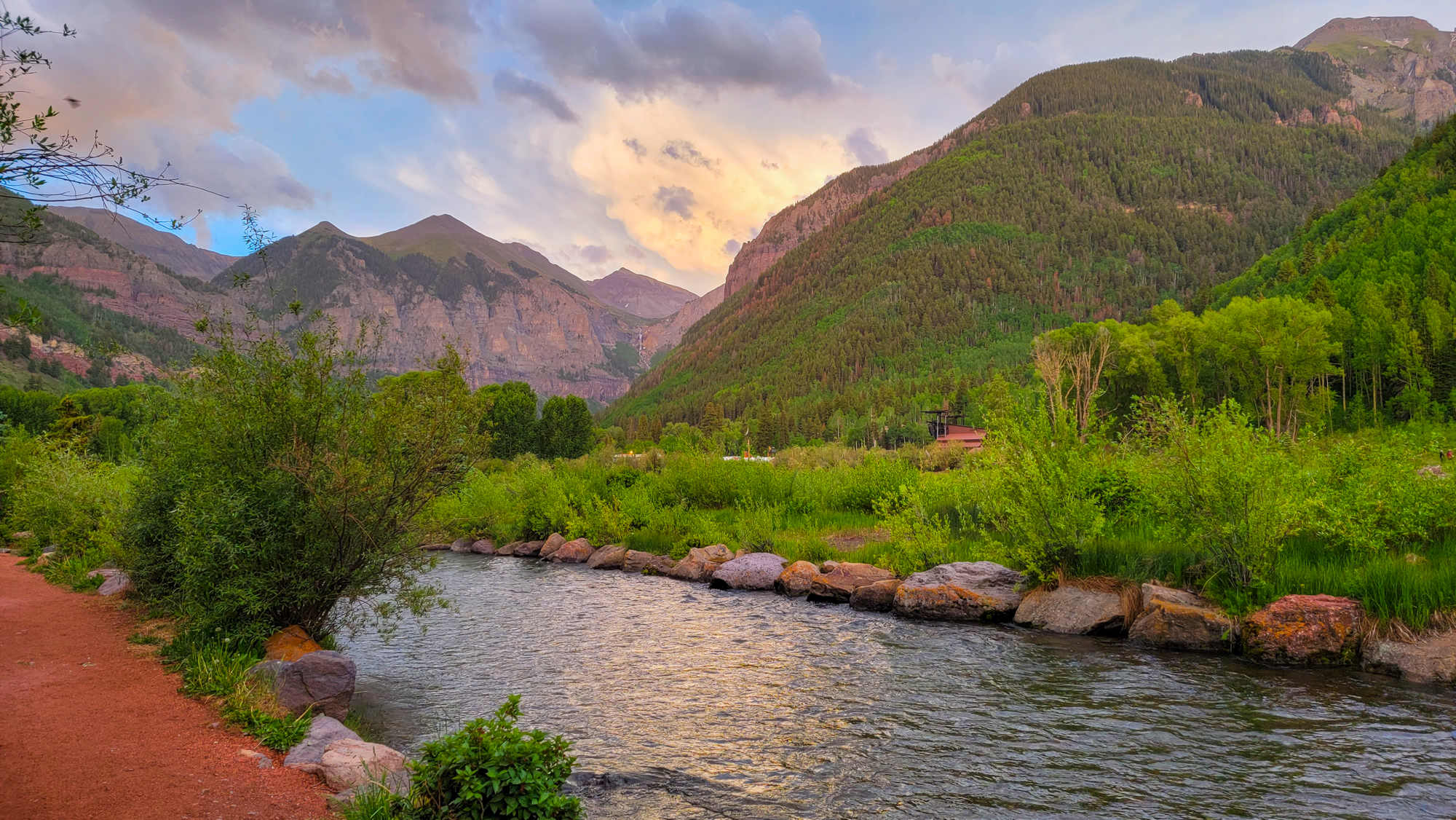 There is no parking in town for visitors unless you have a permit from your rental or campground. During our visit, Telluride issued a three-hour parking pass for those heading into town during the festival and that was all you are allowed. This means for day visitors you must park at a free lot near Mountain Village which is a ~15-minute cable car ride from Telluride (it is free and runs late in the evening- albeit possibly not to the end of some NightGrass shows). On the surface, this doesn't sound too bad, but let's paint a full picture here for absolute clarity because it is actually a nightmare:
You wake up at 6 am to get ready, drive 45-75 minutes to the parking lots near Mountain Village, take a ~15-minute cable car ride (with all your belongings, possibly waiting in line), walk ~10 minutes to Town Park to enjoy music until midnight (upwards of 2 am if you are staying for NightGrass), and have to manage the return walk to the cable car (again with all your belongings), take the subsequent cable car ride, walk to the parking lots, have a 45-75 minute drive to your rental only to repeat this process just a few hours later.
You have no place to drop stuff off in the middle of the day, no place to freshen up in the event of bad weather, and have to plan on making a fair number of sacrifices be it for sleep, seeing bands, eating, and more.
Now think of having to do this if you wish to enjoy an adult beverage during the festival. Now think of having to do this if you wish to enjoy other edible goodies that are legal in Colorado. Or, simply think about what this means if you value sleep and/or arriving for rope drop. Then, take all of this and keep in mind you will be driving on mountain roads, with limited or no lighting, plus steep drop-offs on one side for most of the drive, and that gas tends to be about $0.75/gallon more expensive near town as well. For one final sanity check, add on the fact that you have to do it upwards of four days in a row.
So what may look like "just a 45-minute drive" may end up taking twice as long and involve a number of convoluted steps along the way. We lost track of how many times we said to ourselves "we were really dumb" because we were really dumb thinking that was a good idea. It is not a good idea in the slightest and the cancelation was truly a blessing in disguise.
Depending on how much you value any of these points, the premiums for rentals in Telluride start looking pretty good (from a gas and time perspective alone we can safely say the premium of our rental paid itself off, but we did get lucky on price). From there, words cannot begin to describe how much we enjoyed our bed being a five-minute walk from our first NightGrass show at 2 am, and that is an intangible we can't even begin to apply a dollar amount to.
The point is you simply shouldn't drive into Telluride for the bluegrass festival each day. The furthest away any rational person should stay is within Mountain Village itself, if only because you just have a short walk and cable car ride to get to your room each night. If you have to be in a vehicle at any point in time you're simply going to have a bad experience. We can't, under any circumstances, recommend doing this. So either camp or spend the insane premium to stay in town. Just don't even consider other options.
How to Plan for Telluride Bluegrass Festival Tarp Run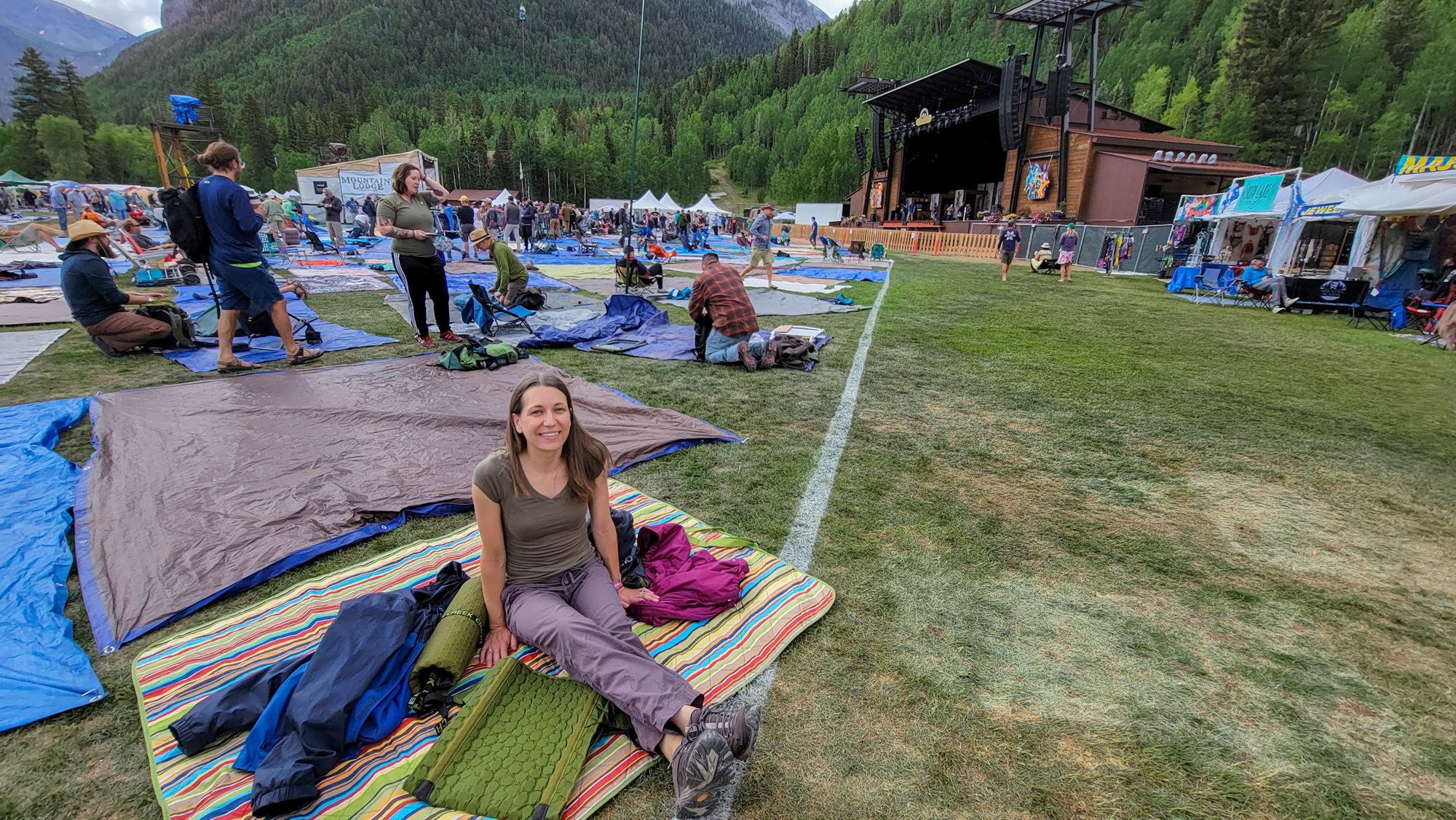 Oh tarp run, you are an iconic moment of the Telluride Bluegrass Festival.
As you would expect, the tarp run is when the gates of Telluride open for patrons to run and claim their spot within the park. As the rules state that once your tarp is down it is your space for the day (and that day only), you can imagine that being one of the first inside Town Park is highly sought after.
It is, in a word, insane, but works itself out for most people in a weird way.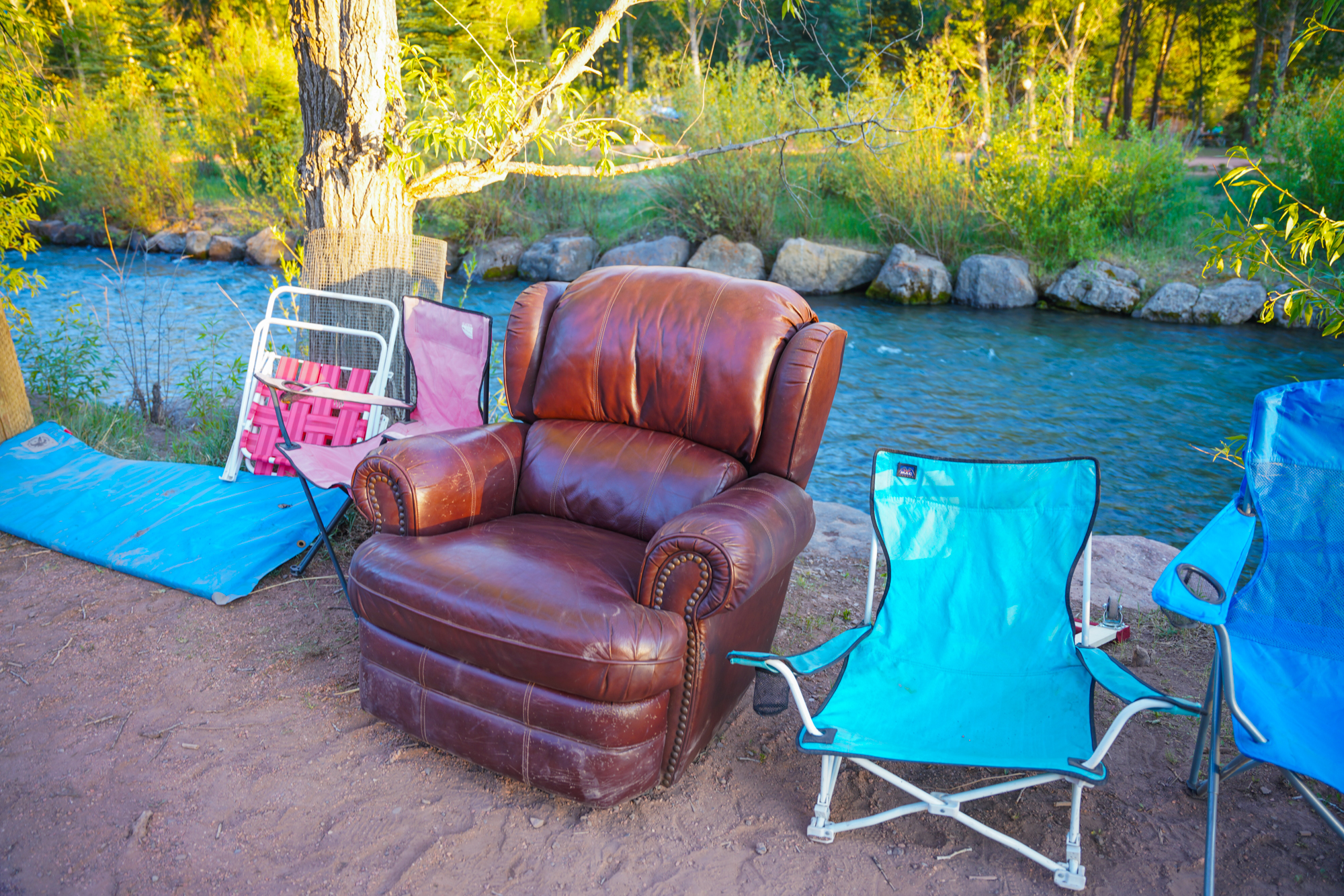 Those who want to be first in line are known to wait overnight in chairs in line at the gates (one camp-side and one city-side). A black market business has even come about where locals will charge hundreds of dollars per day to be a line holder overnight as well. This culminates with the playing of a bluegrass version of the William Tell Overture, and hundreds of concertgoers running at full speed to the stage. (Many of these runners promptly go back to their tent or apartment and sleep for a few hours since they've been up for 5, 6, 8+ hours already.)
We never got there early enough to witness this personally, but one day we were close enough to hear the music all the same. On our first day (Festival Day 2) we also asked people toward the front of the line how early they got there, and the first person we talked to said that at 5 am they were still ~200 in line. A hard no from us there.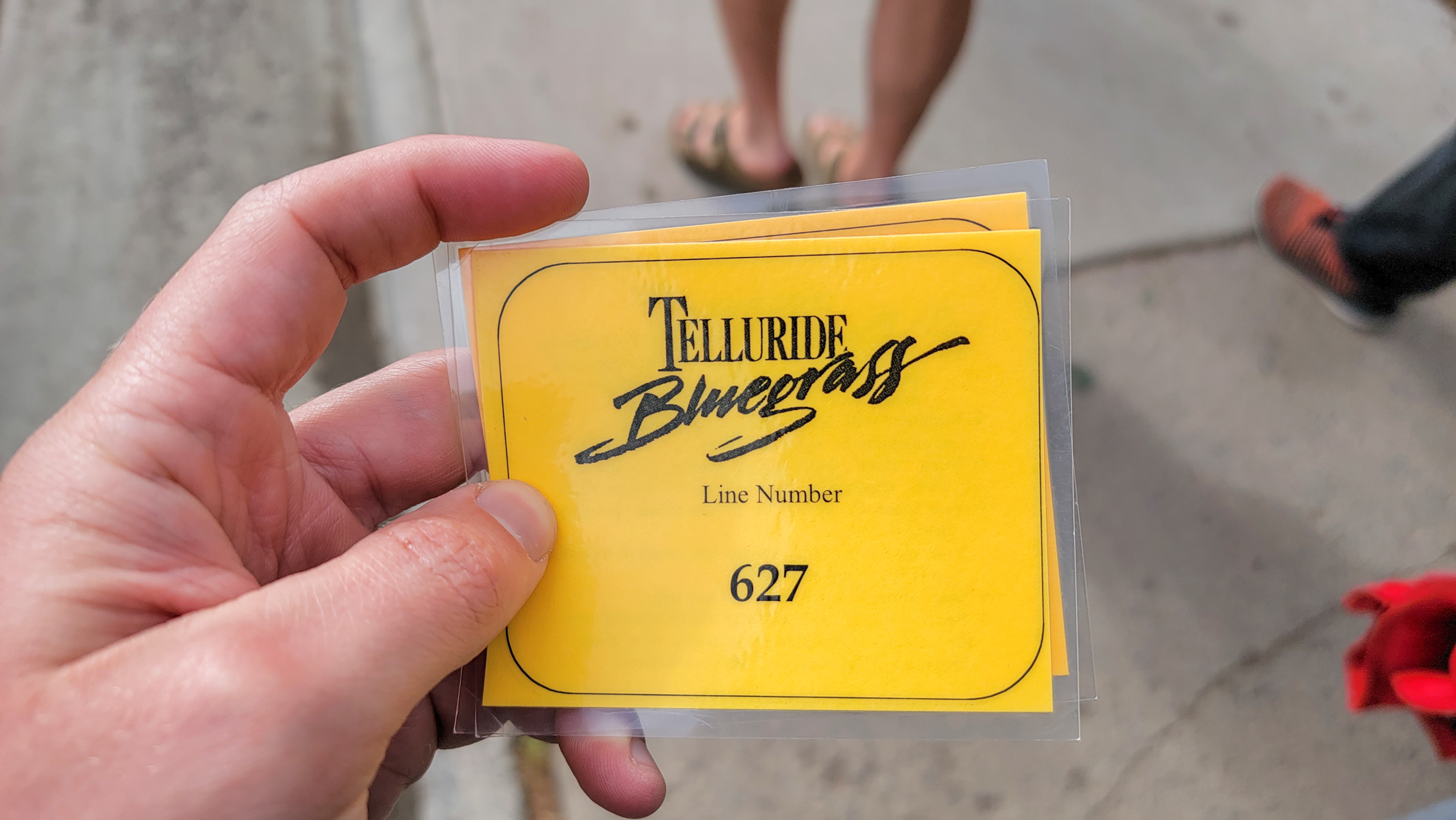 But there are some things you can do to help ensure you get a good spot in the park all the same. So for those who aren't going to get up in the middle of the night to be at the very front (or spend hundreds of dollars for a proxy), you may want to consider the following strategies:
Make sure you have your wristbands early. Don't wait until the morning of the show to pick up wristbands at the will-call window if you don't get them shipped to you. They did not let people in this line in until the main line was finished.
Get in line before the official rope drop time, even if just by 15-30 minutes. If you are in line early enough, workers will give you a number to ensure your place in line. We're told numbers start being handed out at 7 am and appear to stop just before rope drop or when they run out- we got in line about 20 minutes early on our second day (Festival Day 3) and were #627. Workers also check the bags of those who have numbers in advance so you do not have to go through a slower bag screen later on which is a perk of getting in early.

We just missed this on our last day and had to wait an extra ~10 minutes to get in while they waited for the run to calm down.

Don't head to Town Park; find the end of the line. On our first day, we walked down E. Colorado to Town Park only to find the line wrapped around on S Willow to E and W Pacific Avenue. So we had to walk practically all the way back to our apartment (roughly six blocks) and ended up much further back in line as a result. Had we known the line was on Pacific and not Colorado, we would've been a fair bit closer. While we can't guarantee this is how the line works every year, it is how it was routed every day in 2022. All things being equal, we got in line at exactly the same time as rope drop on our first day (Festival Day 2) and still were in the park within 30 minutes- they are great at line control.
The larger your group/tarp, the earlier you should get in line. Finding a good spot for a tarp big enough to fit eight people is going to be very hard for those who arrive late, but if you are a group of two with a small tarp/picnic blanket, you'll be able to squeeze in somewhere just fine.

On that very same last day we were able to score a spot at the front of the stage for the two of us without issue despite not getting in line until right at rope drop. Rain in the forecast probably helped this one a bit, too, if we are to be honest.

Have a plan for exactly where you will go before you get inside. Spending a few minutes wandering around is going to cause you to lose a prime spot. The front sides of the stages had openings every single day for smaller groups, prime spots in our opinion, but you may run the risk of people standing in front of you as the day goes on.
If you enter with more than one person, have one person claim a spot and another seek out a better upgrade. We did this after getting the idea from others doing the same. It may help you get that much closer to the stage!
The rope drop line gets better with each passing day and if there is bad weather. We cannot guarantee this one holds true every year, but on any given day the line felt shorter and shorter at any respective time, and the one morning where it was looking like rain had the shortest line of all. As such, don't be surprised if the line for Day 1 is worse than Day 2 and so on.
Keep in mind that the cleared walkway in front of the stage goes away for the final few acts of the night. As such, if you are towards the front of the stage be prepared for your "space" to effectively go away once the main acts come on (~5 pm onward). The crowds will fill in whether your tarp is there or not and the field behaves like any other standing-room-only concert.

We had to pack our stuff up and keep it close to prevent it from being trampled once this opened up.

Finally, you can always walk close to the front of the stage on the sides. The walkway in front of the stage has a "no standing" policy during the day, but the sides are open for standing at all hours. We never had an issue getting incredibly close for any performance, so don't sweat it if you can't get that great of a spot all the same.
While this genuinely sounds chaotic, it is worth pointing out that most patrons of the Telluride Bluegrass Festival are straight-up awesome people. Tarp space is well respected and there are generally little if any problems surrounding rope drop dynamics. The worst you'll likely have to deal with is someone standing in front of you during some/all of the sets, which isn't the worst thing since you can also stand up.
So whatever worries you have, odds are good they are unfounded to some degree- just be sure you get in somewhat early to snag a good spot all the same if this is important to you.
What to Bring to the Bluegrass Festival in Telluride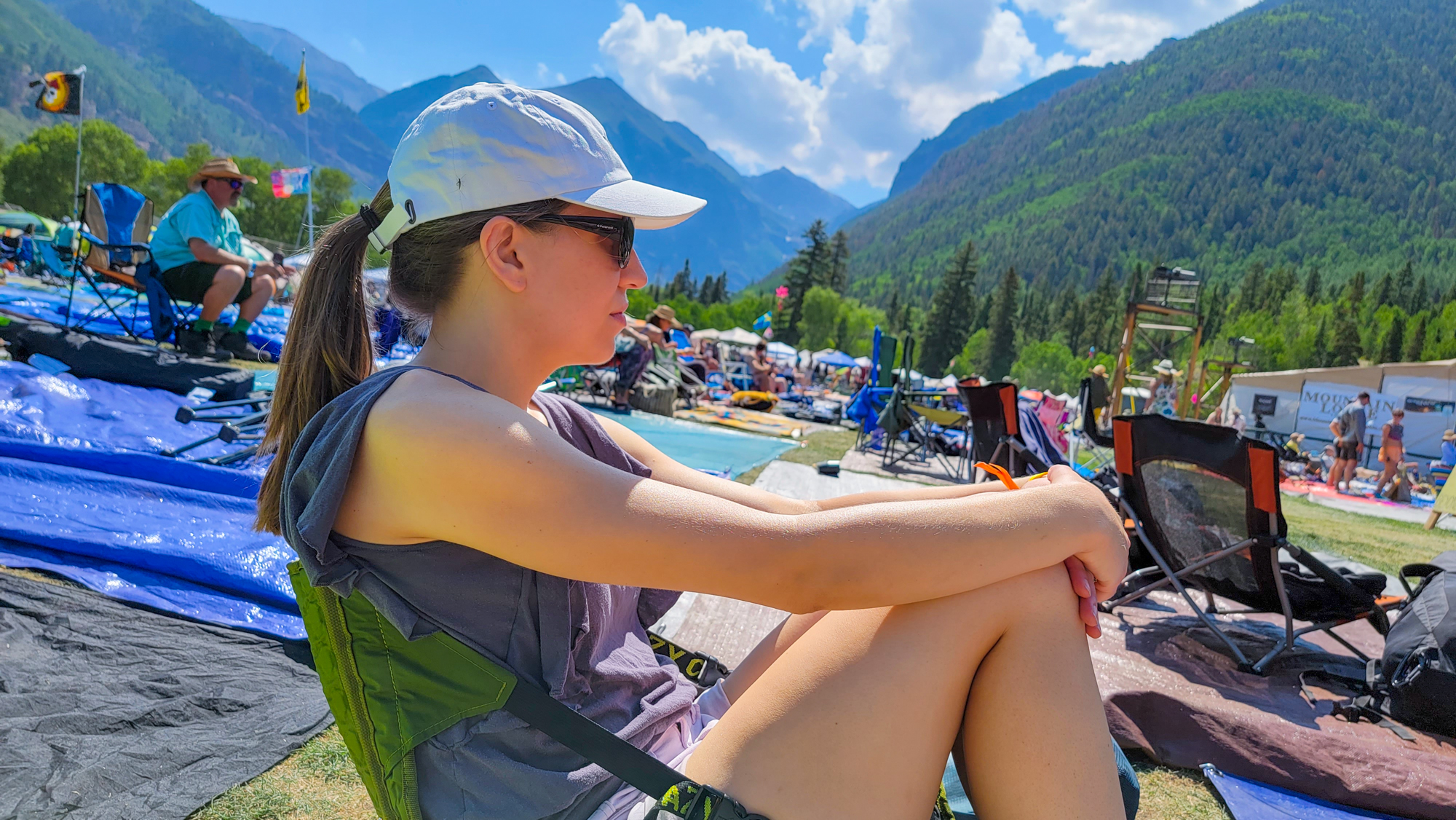 Before getting into this section, we should note that this discussion is about what you should bring into Town Park itself. Those who are camping during their stay for the festival will need additional items suitable for a four-day camp.
The Telluride Bluegrass Festival is fairly generous in what you can bring into the park during the event. Food? Yes. Water? Yes. Alcohol? No. Chairs? Yes with limitations. Pop-up canopy tents? Yes with limitations.
Packing for Telluride is really an experience unto itself and you'll need to think about taking more items than is readily obvious.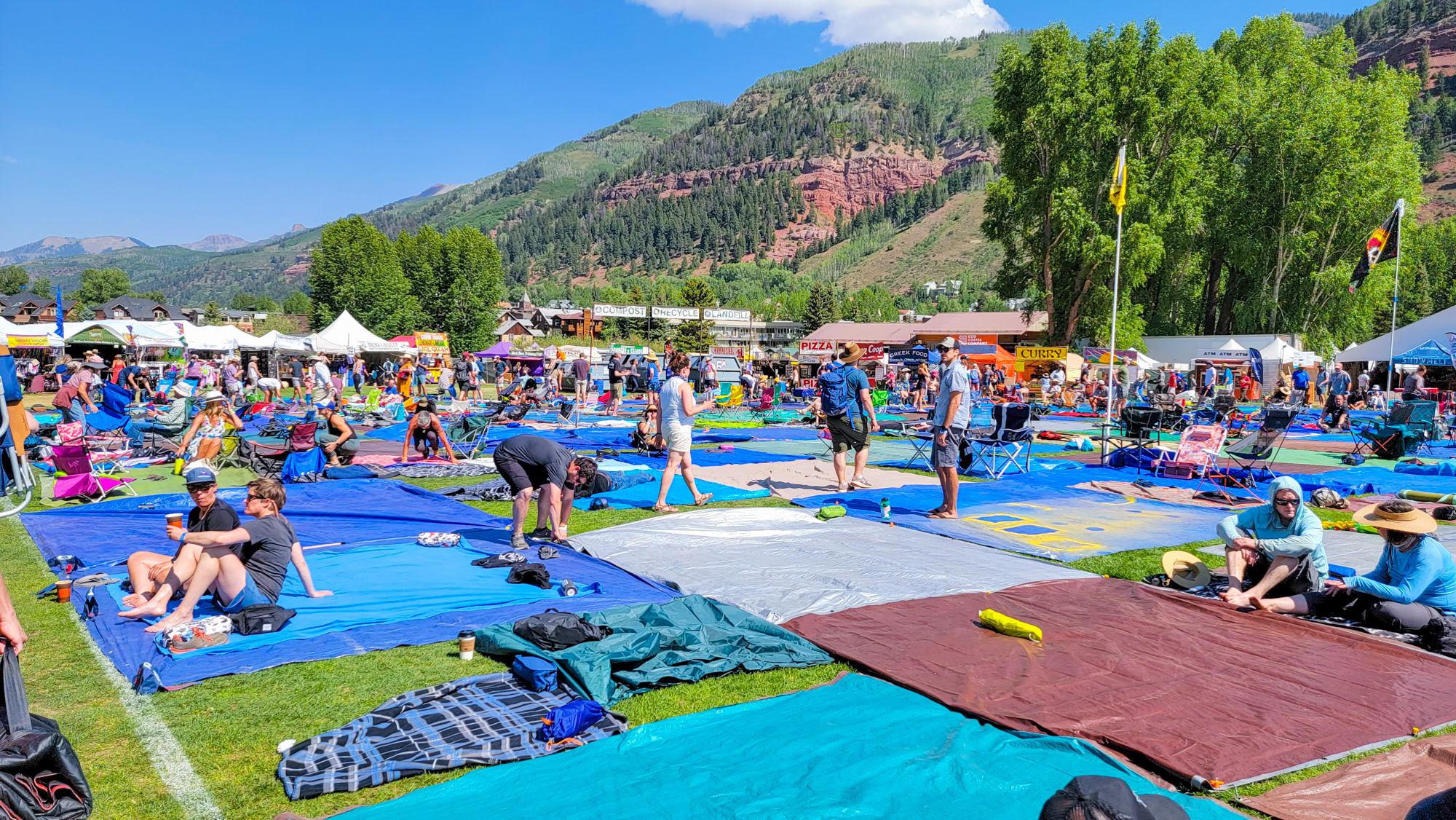 First, there are items you need for your space. If you plan on claiming a plot of land during rope drop you'll need a tarp or waterproof picnic blanket (max dimensions are generally 10′ x 10′- reconfirm this as rules may change), weights or anchors to hold them down, and if you desire some comfort, chairs to sit on. We purchased roll-up chairs with low backing and thought they were quite effective (note that Telluride also limits high-back chairs in the front section of the park too). Those who want to take a canopy tent are limited to setting up in the back section of the park, and we thought these were unusual as you will not be able to see the stage in that area unless you score a very front spot in that section.
Second, there are weather concerns. It can be extremely hot at Telluride. It can be extremely cold at Telluride. It can rain at Telluride. It can snow at Telluride. It can be very windy at Telluride. It can do all of these in one day (keep in mind you can be out from 8 am to 2 am or later). You'll do well to check the weather forecast ahead of your visit to see what kind of weather-related gear you need to pack. During our visit, we saw 80+ degrees and we saw 40 degrees. We had passing rains despite full rain forecasts (a common trend in the mountains), but never saw snow. As such, hats, sunglasses, sunscreen, rain jackets, ponchos, bag covers or dry bags, and any other items you need to protect your setup from the elements are necessary.
Finally, you'll want to take in food and water. While the food at Telluride is, in all honesty, pretty awesome, you'll do well to take in some snacks (we took dried fruit and granola bars), refillable water bottles, and other edibles to help you get through the festival (yes, we have a double entendre baked in there). The only real restriction here is that you cannot take in alcohol and will be taken away if found during bag check.
Food and Alcohol at the Telluride Bluegrass Festival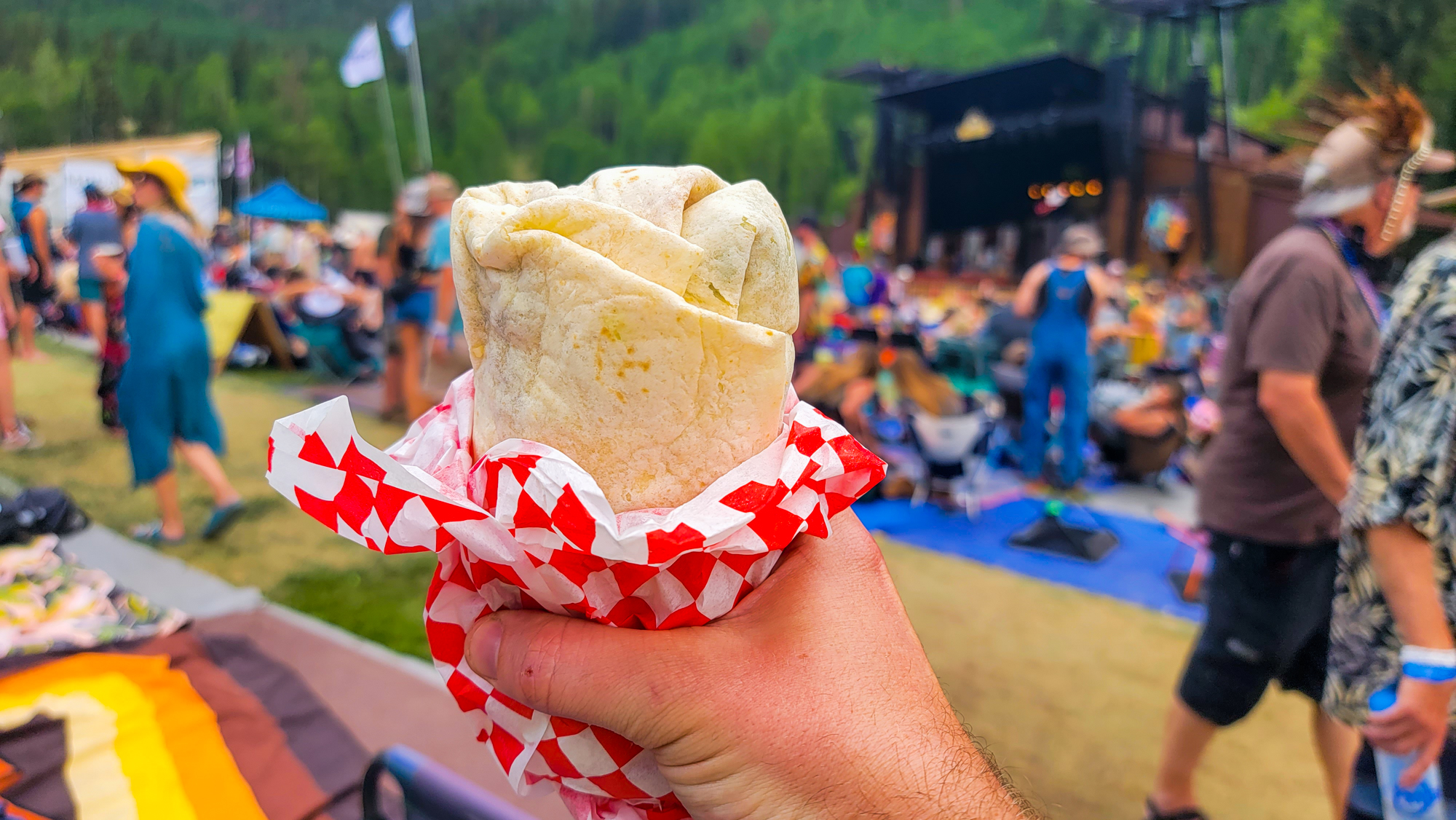 Generally speaking, when we think of food and alcohol at festivals we generally jump to the conclusion of poor quality, overpriced, and long lines. In fact, prior to attending, we were already planning when we would leave to go into town to eat purely because we didn't expect there to be anything good at Town Park.
Surprisingly, apart from a few key line issues which we'll mention in a minute, Telluride has none of these problems. The food and drinks inside the park are pretty fantastic, and that is truly saying something.
During our trip to Telluride 2022, the park offered numerous food vendors offering up items ranging from conventional festival food (one vendor only) to monster fish tacos, burgers and elk sausage, Asian dumplings, burritos and nachos, an artisan coffee tent, and so much more. An emphasis should be made on the quality of these because they felt like chef-driven food truck concepts and not conventional festival fare. All of these were reasonably priced in the sub-$20 per person range for a generous meal and most never had a line more than 10 people deep at any given time (so, ~15 minutes or so).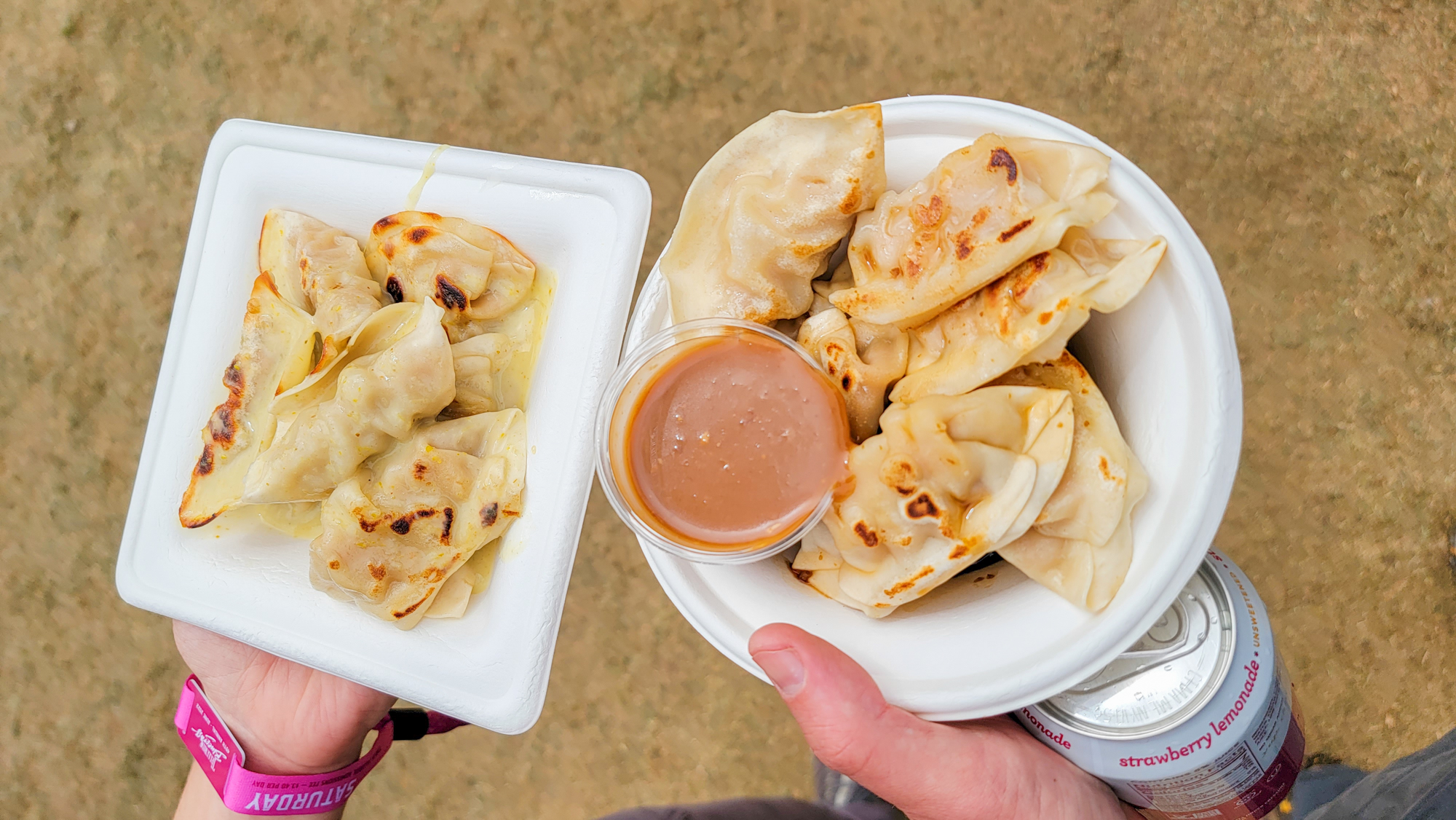 The standout winner, by far, was Sisters' Pantry- a dumpling maker known for 50+ deep lines and passionate followers who will wait in line every single year. Based on the line I saw on the first day, I decided to get in line just before they opened on our second day at around 11:15 am. It was here that I learned the glory from Telluride regulars who were doing the same. I ordered one of everything at their behest and it was so good I wish I would've ordered two of everything (not that I could've eaten anymore, mind you- the portions were generous). Suffice it to say, getting here right when they open is key because it would've been a long wait otherwise.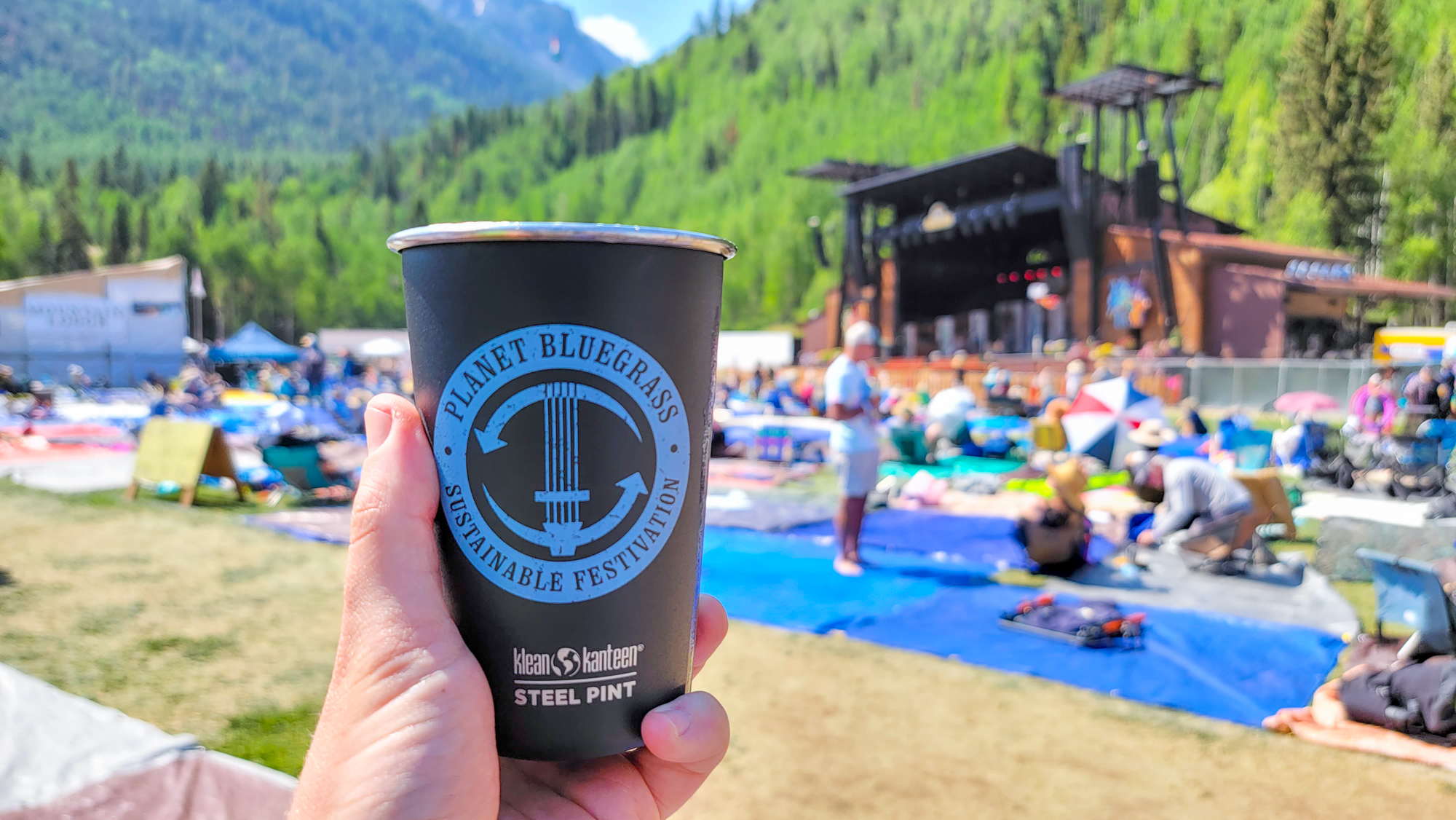 On the alcohol front, the festival had great sponsors for craft beer, cider, wine, cocktails, and seltzer. Most of these were relegated to one main alcohol booth although a secondary booth existed on the far side of the park as well for limited beer sales. Prices here were the biggest surprise as a pint of beer or cider ran about $8 and refills were available for $6. While regular beer purchases are served in flimsy plastic, we were able to buy a metal cup for $10 to get the refill price from the start. So as long as you have six beers over the course of the festival, you start saving money (we split beers in one cup and easily met this one).
A win for the environment and your wallet? We're in!
Speaking of the environment, the grounds have ample water refilling stations with ice-cold water and trash, compost, and recycling stations manned by volunteers as well. You really can tell they care here, and it did not go unappreciated.
From there, be sure to walk around the vendor area as well as other breweries and distilleries that may be present to offer free samples. We'll never say no to free beer, and there were a few gems we got to try as a result of simply paying attention. The dispensary vendors, unfortunately, could neither sell nor give out samples.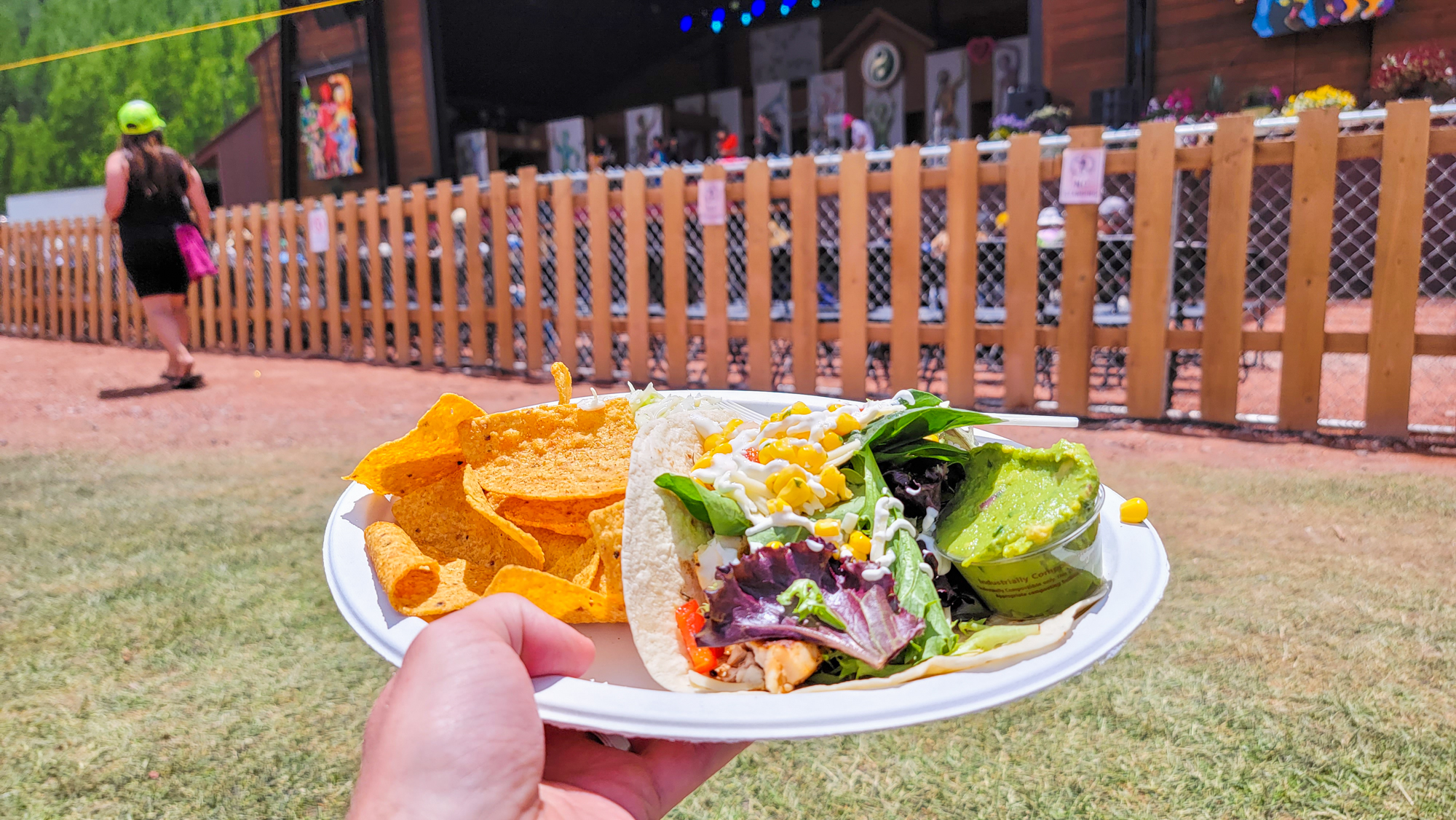 Finally, while most vendors accept credit cards, it is worth noting that we saw many vendors have their machines go offline at some point during the festival. This includes the big beer tent all the way to small vendors (you'll see "Cash Only" signs randomly pop up from time to time). There are ATMs available on-site but you'll do well to have some cash just in case as 100% credit card acceptance cannot be guaranteed.
If you are looking to eat or drink in town, you're in luck- Telluride has a disproportionately high number of amazing restaurants for its size. We can highly recommend 221 South Oak (fine dining- reservations recommended), Brown Dog Pizza (Detroit style pies), Stronghouse Brew Pub (gastropub with beer), and Smuggler-Union Brewery (great beer).
Workshops, NightGrass, and Other Activities in Telluride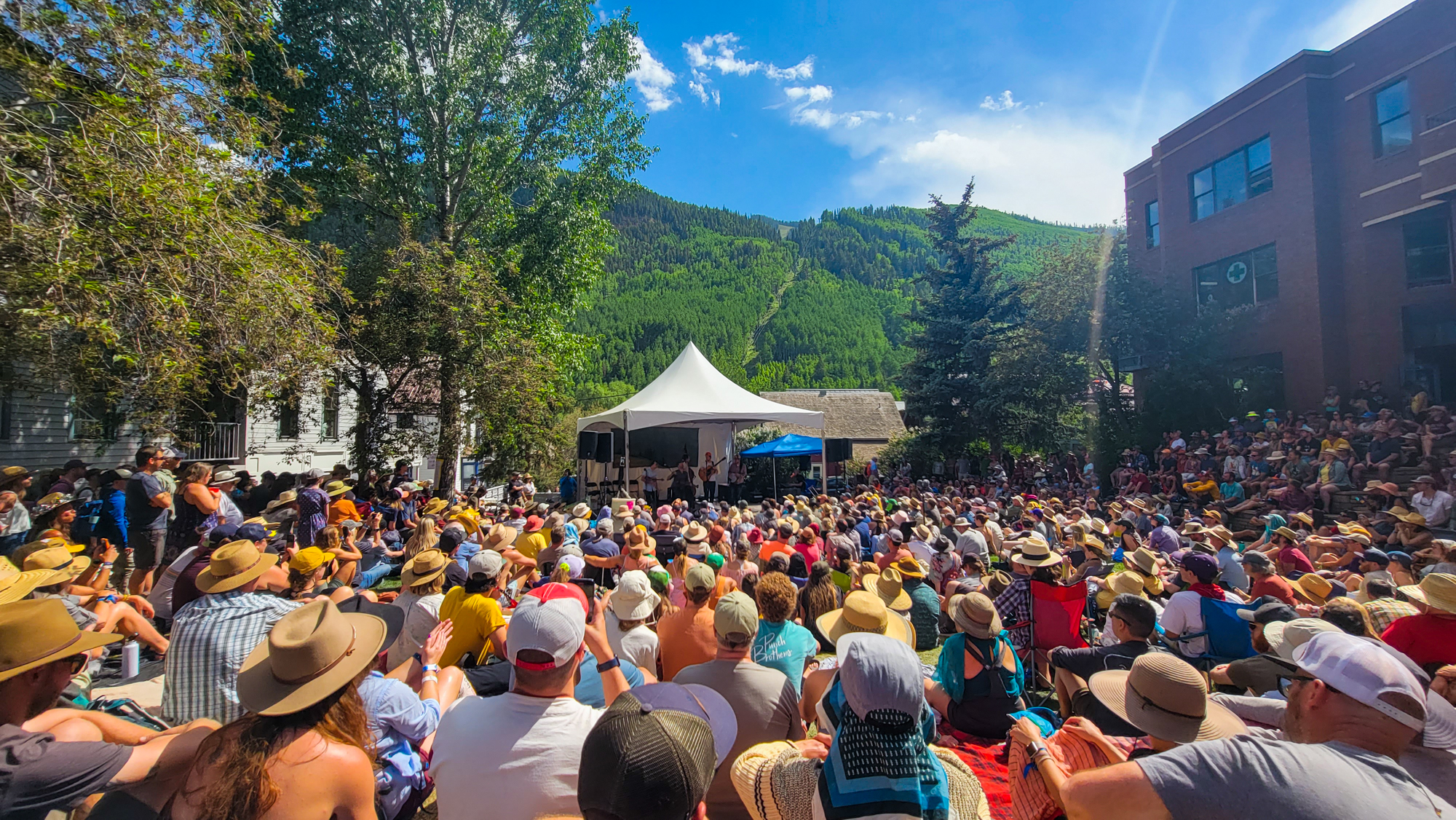 Simply watching bluegrass from ~10 am to midnight on the main stage is just one element of the Telluride Bluegrass Festival.
This one has far more going on during any given day including more performances at a free "Workshop" stage in town, ticketed late-night performances at music venues in the city (NightGrass), and more. Many visitors to Telluride have also reported simply seeing musicians walking around the streets or randomly playing in a park during the day because that is the kind of place Telluride is (we did not get so lucky, however).
This presents a dilemma that is often not discussed- you simply cannot do it all.
During the day, you will have to make a conscious decision on whether or not you want to watch music on the main stage or head into town for the "Workshop" performances (note: all of the shows we watched were simply intimate sets in Elks Park and not a learning workshop) or to even grab a meal. Missing main stage acts is unfortunate at any time, but you will have to be especially aware of the schedule as some Workshop acts can overlap with not one but two mainstage performers.
For us to hear the end of Big Richard and the entirety of Punch Brothers on the Workshop stage in 2022, we had to skip out on part of Rising Appalachia and the entirety of the Tim O'Brien Band on the main stage, and we barely made it back for the start of Lil Smokies. As such, it is a balancing act- but we do highly recommend checking your favorite bands out here as it is a neat experience.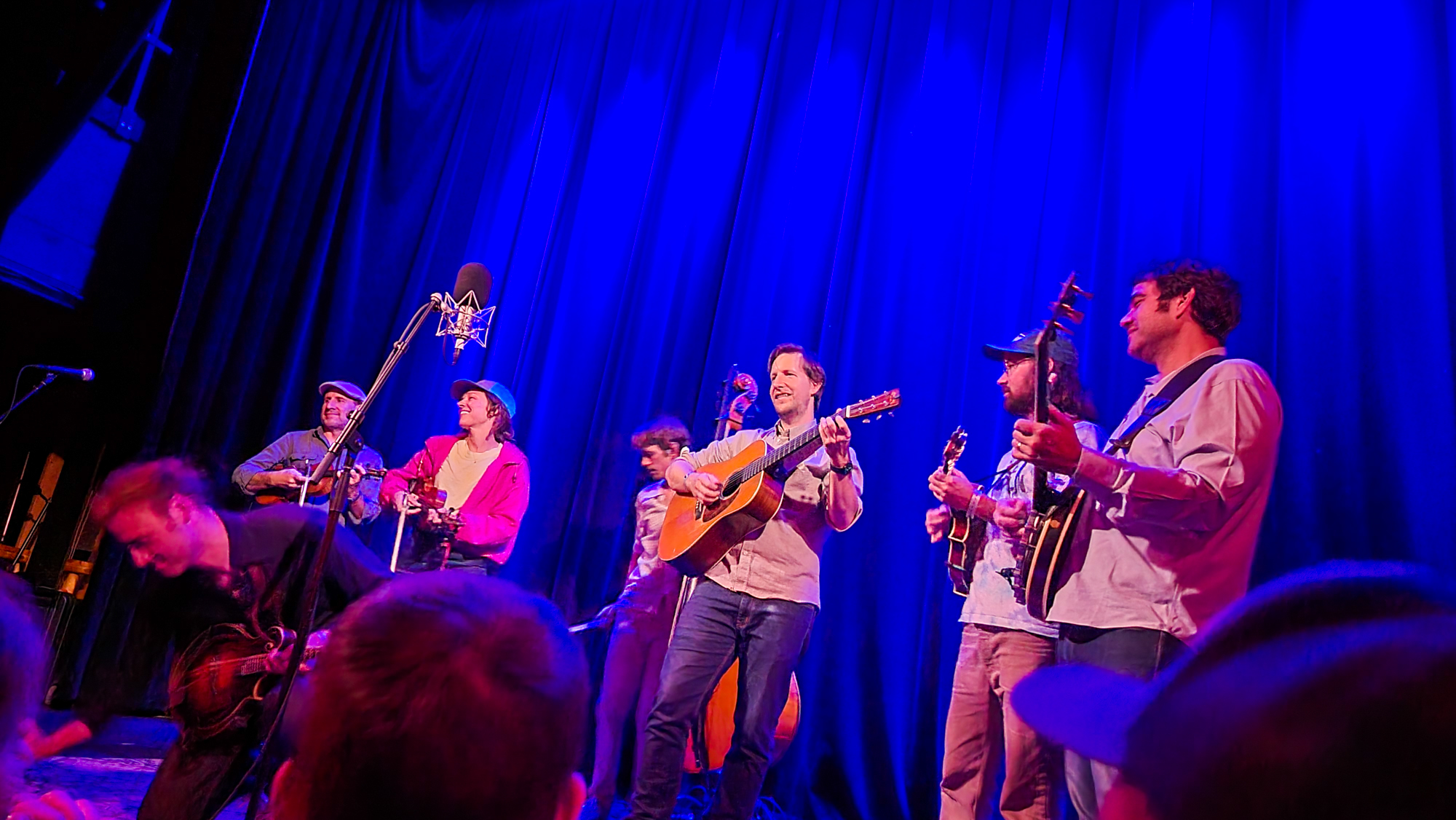 NightGrass also has an unfortunate overlap too, one that is perhaps a bit more severe as many acts are scheduled to start during (or just at the end of) the set for the final main stage performer. The issue here is that the stages in town can be anywhere from a 10 to 30-minute walk from Town Park and are general admission seating. So if you want to see the start of your favorite NightGrass band and/or get a good spot, odds are good you'll have to bail on the main stage performer for a bit of the set.
To make matters worse, NightGrass tickets often go on sale before main stage headliners/times are announced. We bought on faith that things would work themselves out, and admit we simply got lucky.
For us to get good seats at Infamous Stringdusters at the high school auditorium on the other side of town, we skipped headliner Greensky Bluegrass entirely (thankfully we had seen them before). For us to get good standing room spots at Punch Brothers at the New Sheridan, we had to leave Phil Lesh and Friends early. Could we have seen most of their sets and still got to the theaters in time? Maybe. The Infamous Stringdusters did start 45 minutes late and Punch Brothers were about 15 minutes late, but we also wanted the best spots possible and made a conscious decision to that effect.
As such, if you do any of these secondary activities, keep in mind that you, too, will have to make a decision on which sets to sacrifice from your schedule. There really is no way around it. For first-time visitors, you simply may not want to go too overboard on NightGrass as otherwise you may miss out on some stellar main stage headliners.
Buy Telluride Merch Early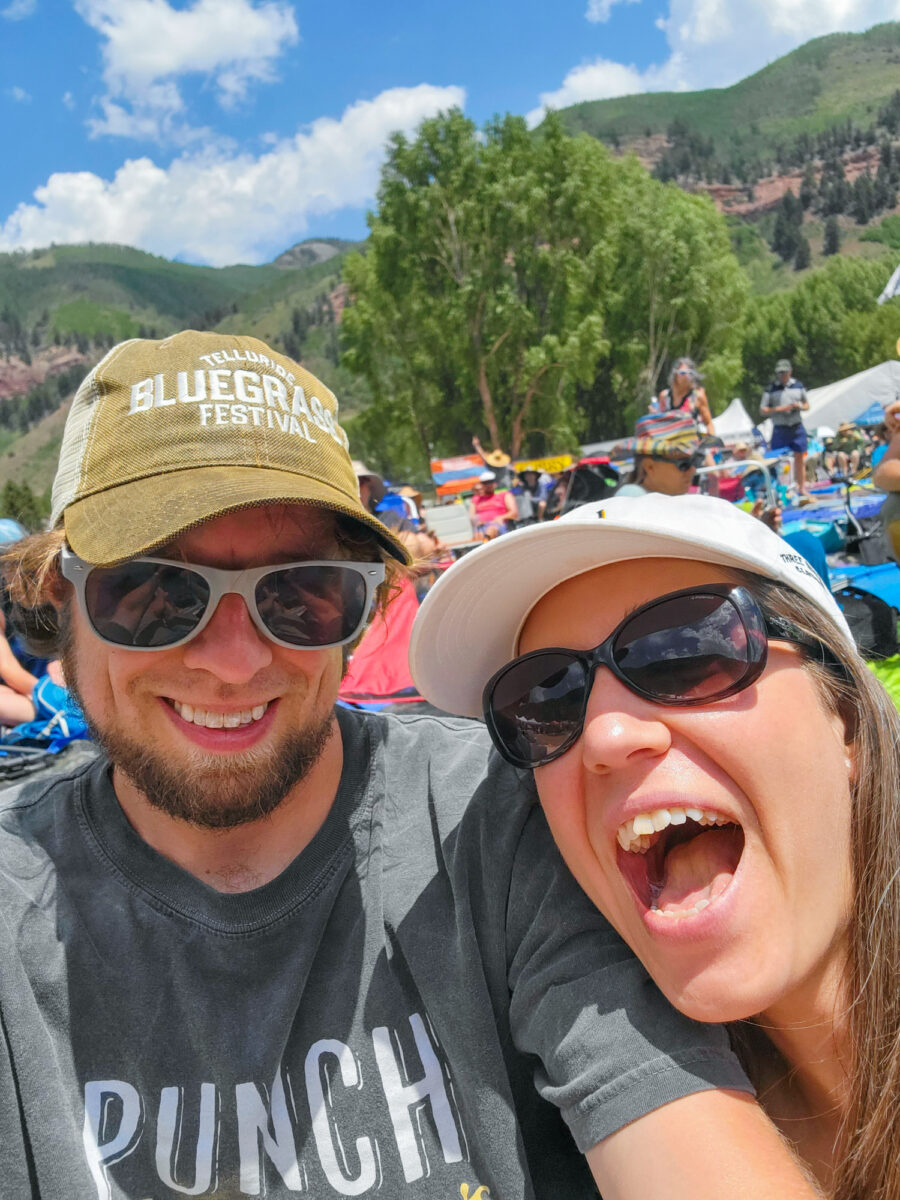 For those who want to purchase Telluride merchandise (which is, to say, everyone), you'll do well to visit the tent early. This is because the most sought-after gear sells out virtually immediately.
I asked a worker on Day 2 how long she expected merchandise to stay in stock, and the response was a laugh followed up with "many things have already sold out" which should tell you everything you need to know there.
That awesome shirt Angie was eyeing? Already sold out in all but XXL by noon on the 2nd day. I settled for a hat because there were simply no great options for me either (but oh do I love that hat!). Suffice it to say, the merch tent should be one of your very first stops after you arrive.
Plan on Attending More Telluride Festivals in the Future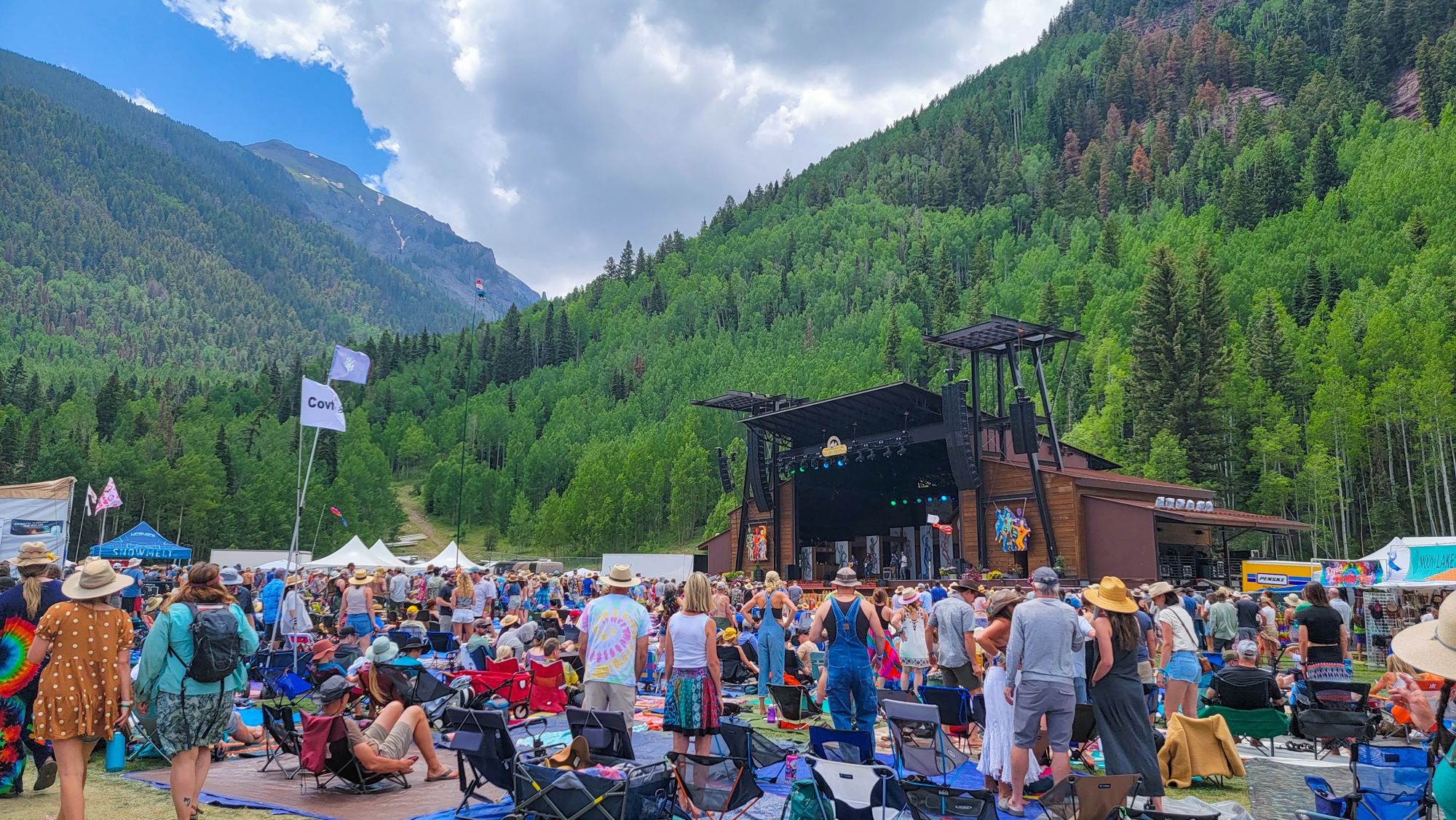 We knew we were going to enjoy Telluride going into the bluegrass festival. But while we went into this one as naive newbies, we left as diehards who wish to be regulars to the event.
To put it bluntly, there is nothing quite like the Telluride Bluegrass Festival, and Town Park is truly one of the best venues we have ever been to.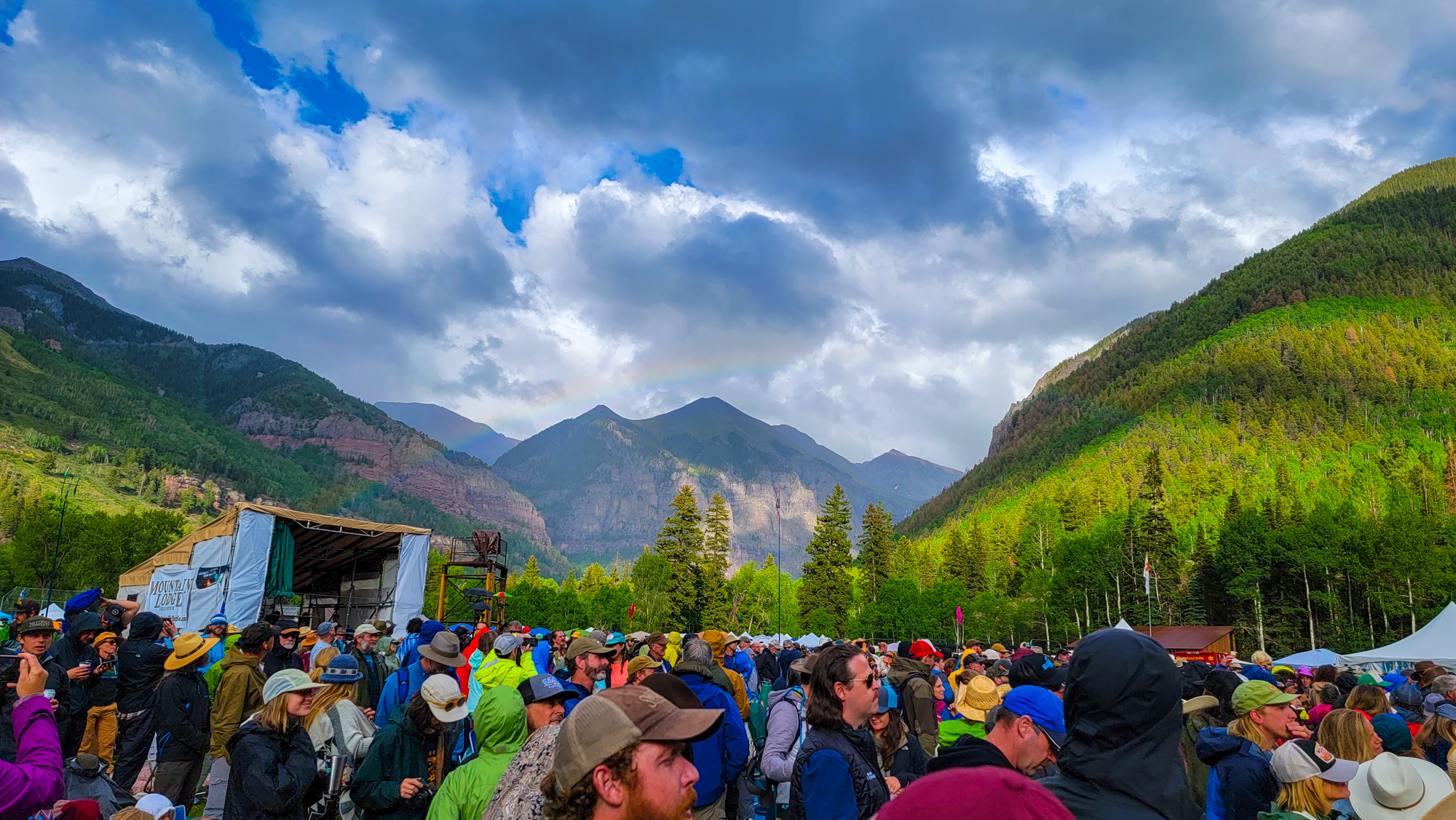 World-class musicians, a quaint mountain town, a crowd of many regulars who are straight-up awesome people, and one of the best views you can ask for (I mean, you can see a waterfall from the park and the music literally echoes off the mountains)? Yeah, there is a lot to love about the Telluride Bluegrass Festival.
As we had to make many decisions that caused us to miss some acts we otherwise would've loved to see, we determined there is only one logical solution- we have to go again!
Our only regret is we cannot afford to attend every year- because if we could, we would. There aren't many places or events in the world we could consider repeat visits like this, but Telluride is most certainly one of them. It is an experience you must have at least once in your life if you are a bluegrass fan, but don't be surprised if you leave immediately wanting to plan your next visit.
Make a Trip Out of Your Telluride Experience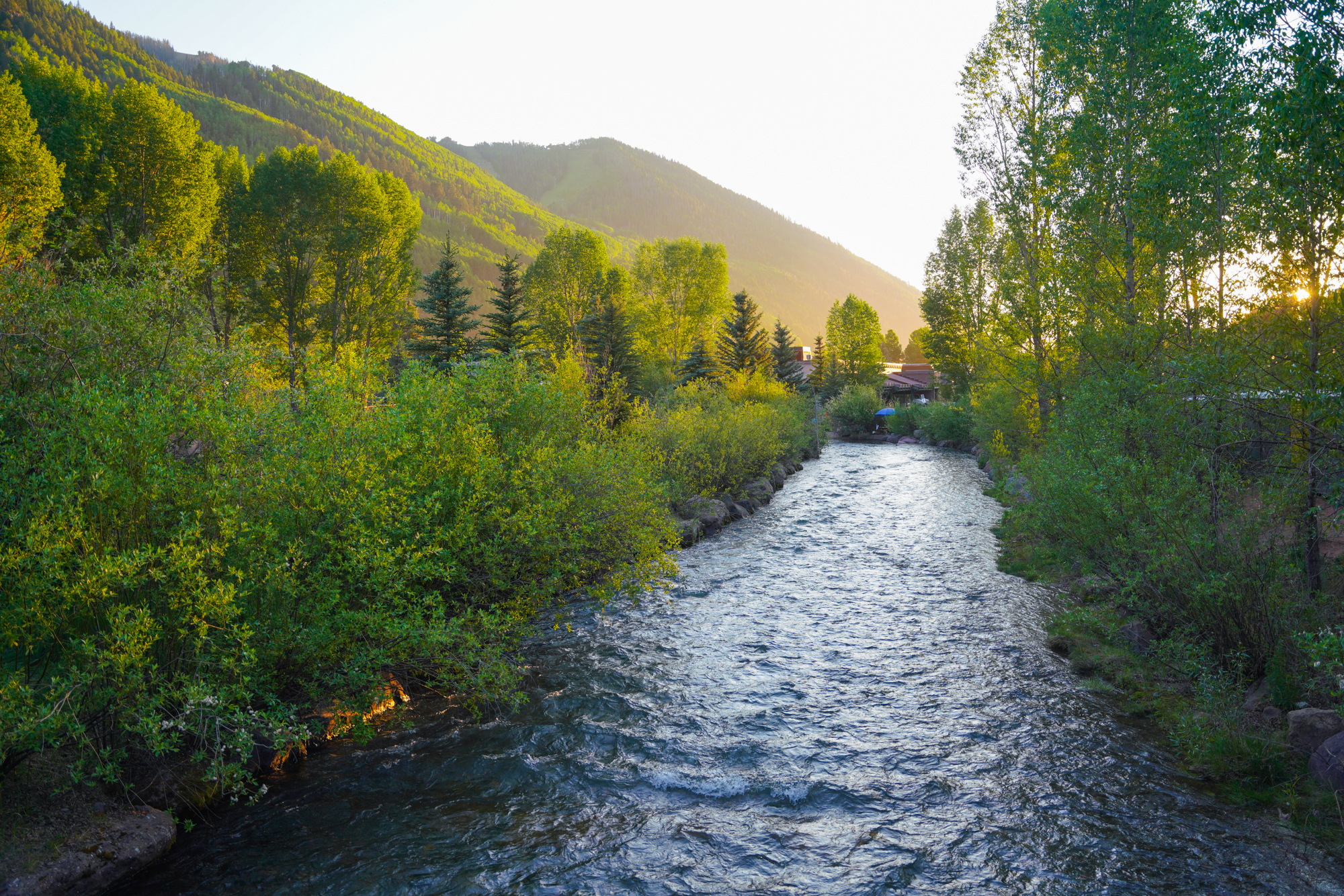 One final note is that Telluride is located in Western Colorado which, as we've said many times so far, is gorgeous. But it is also within short driving distances of four national parks (with several more slightly further away). You should make a trip out of it to explore other nearby spots like Black Canyon of the Gunnison National Park (just outside of Montrose, Colorado- the closest commercial airport to Telluride), Mesa Verde National Park (southwest Colorado), plus Arches National Park and Canyonlands National Park (near Moab, Utah) to name a few. We even dropped our car off in Denver to fly home to hit Rocky Mountain National Park as well.
All this comes together for a truly epic Telluride experience and resulted in one of the most memorable trips we've ever had. Just be sure not to make some of the same mistakes we did (seriously, just pay the premium to stay in Telluride) and you're going to have a pretty awesome time!
Have you attended the Telluride Bluegrass Festival before? Comment below to share any tips you learned from your visit!
Thinking of attending the Telluride Bluegrass Festival and need an apartment rental? Click here to check prices.
About Jeremy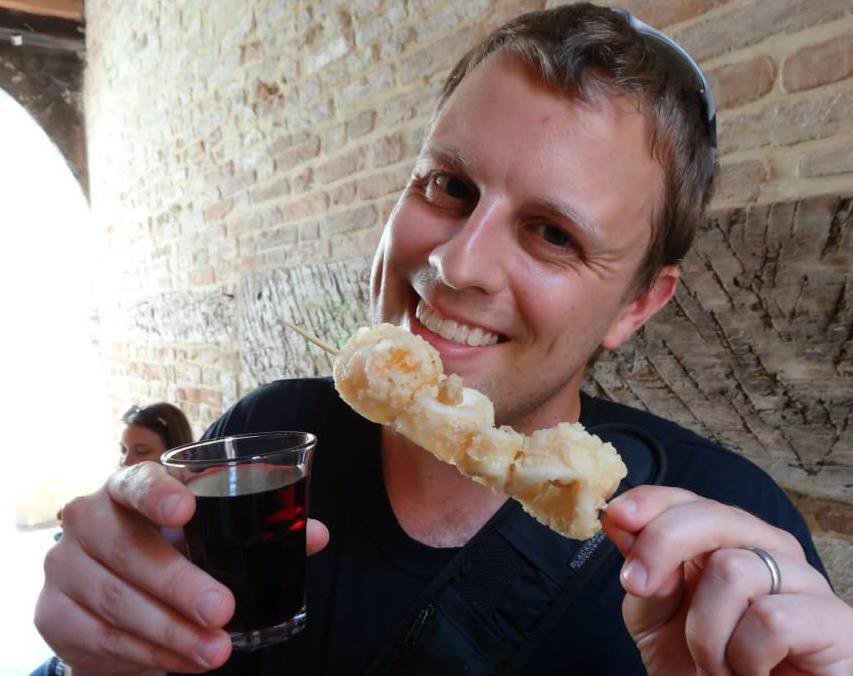 About the Author: Jeremy is a full-time travel writer based in Pittsburgh and primary author of this site. He has been to 70+ countries on five continents and seeks out new food, adventure activities, and off-the-beaten-path experiences wherever he travels.